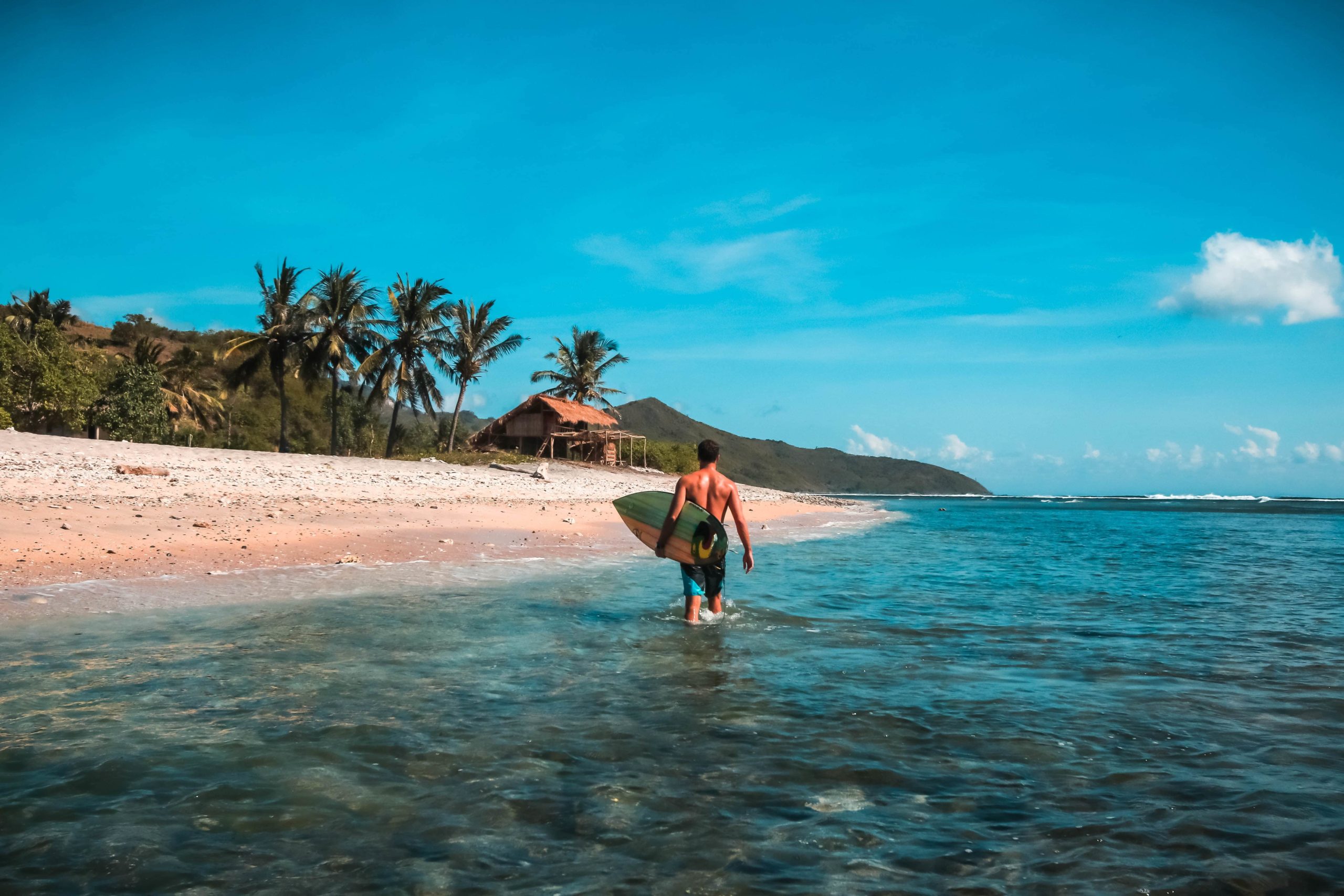 Have you ever heard of Lombok in Indonesia? If you haven't, welcome to our complete guide on surfing in Lombok, a magical island off the east coast of Bali. Normally known as a place to party, the surfing in Lombok is incredible thanks to the tides that rush in from the Pacific and Indian oceans. That makes the majority of the beaches on the island fair game for surfing-aficionados. Of course, some offer opportunities that you can only find in Lombok, and we'll point them out to you.
Although Lombok surfing is exciting and intense, there's no need to worry about newbies getting in the way. Yes, the entire region has experienced higher levels of tourism ever since Bali came to prominence on the world stage a decade or more ago. Still, it continues to combine the hustle and bustle of other surf spots with a small-town vibe, which you'll love.
Whether you go in the dry or wet season, you will have the time of your life. And, we want to make it that bit better by preparing you for what's to come on your Southeast Asian surf adventure. So, continue reading if you can't wait to learn about the best places to catch a wave, as well as how to get there and where to eat and drink.
Lombok has it all. Are you ready to see why?
Table of Contents:
Making it to your destination isn't as straightforward as reaching other popular destinations in Indonesia because Lombok is a little out of the way. However, it's well worth it when you get there, so don't be disheartened.
The first thing to do is to search for direct flights to Bali. There are two airports, but Ngurah Rai is the main international airport. From there, you can hop on a plane to Lombok's airport and make your way to your town or city of choice. It doesn't sound too challenging, so what was with the public service announcement at the start? Well, direct flights to Bali aren't common; it depends on your location.
Europeans usually have to fly to a major city in Southeast Asia, such as Bangkok or Jakarta, and catch a connecting flight to Bali and/or Lombok. If flights are out of your budget, there is a boat from Bali that's around $5-10, depending on the season. A tip: the conditions combined with Indonesia's poor maritime safety record means ferries can be unreliable.
Now onto the topic that you're dying to hear more about – surfing in Lombok. From beginner waves to intermediate or advanced breaks, the island has it all. You just have to choose the spot that matches your level for the sake of your experience. Then, you'll be able to get the maximum out of your trip!
Skip to:
Beginner Surf Spots in Lombok
Gerupuk is an inlet that's made up of a selection of small bays, making it perfect for people who want to improve their surf skills. 'Kiddies' is probably the most suitable for beginners as it's closer to the coast and doesn't feel particularly threatening. A right-hand reef break, it's only surfable on the biggest swells, so you'll get an excellent push and tow into the barrel.
Don-Don is a fantastic spot, too. Located in the middle of the bay, it's protected from the harshest swells, and newbies won't have to worry about massive rips and breaks. However, it's a brilliant ride because it breaks left and right when you do stand upright, almost like a rollercoaster!
When you've got more confidence, you can move onto 'Outside Left' and 'Outside Right.' The latter is very fast as it has two waves with steep drops, so get ready to hold on tight! 'Outside Left' is the least surfed of all the waves in Gerupuk due to the fact it runs over reefs. Still, the short, steep take-off is exhilarating.
The two waves in Ekas – Ekas Inside and Ekas Outside – are notorious for being excellent beginner swells. 'Inside' is a wide peak that breaks left and right, giving you plenty of time to practise your balance. Stick to the left to begin with as the right side of the wave is a lot quicker.
'Outside' is more daunting because it breaks near a cliff face. Still, don't let that stop you from attempting the heavier waves as they're hollow and a lot of fun. Ekas Outside is better at high tide.
Not to be confused with Kuta in Bali, Lombok's Kuta is great for novice surfers with less confidence. For one thing, the swells tend to be smaller here, and plenty of people use it to get used to the conditions. Second and more importantly, Kuta isn't as popular as Gerupuk or Ekas. Therefore, you won't have to worry about wiping out other surfers as well as yourself!
Intermediate Surf Spots in Lombok​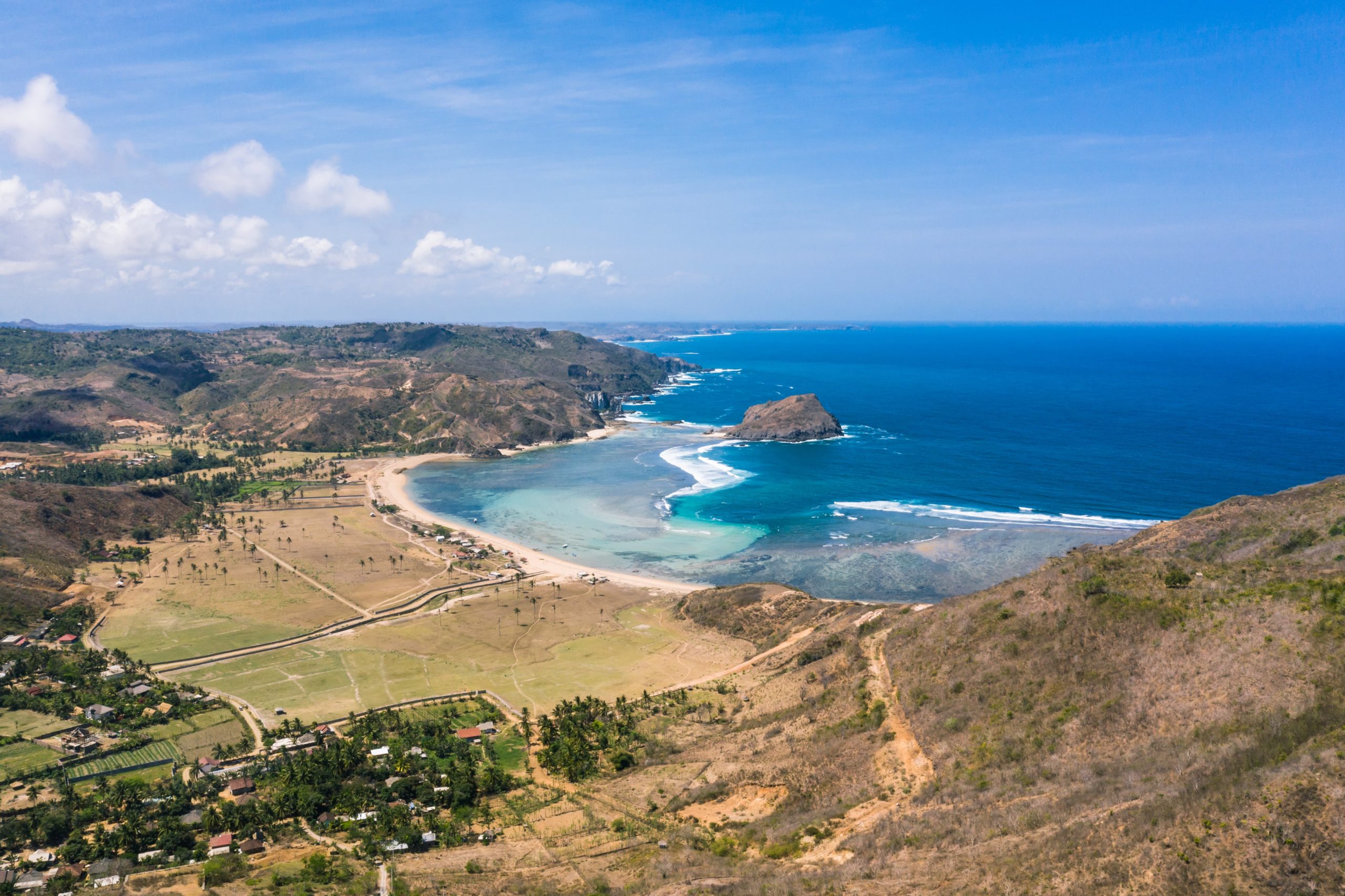 A bit more crowded than Kuta, Seger is a town that's only a couple of miles east. So, it's perfect for surfers who've mastered the beginner waves in Kuta and want another challenge. You'll get it as Seger Reef because the waves are incredibly consistent, which means the swells continue to hit time after time. And it's not only exhausting. As it's a reef break, it's a mix of risky and intense, especially when the wind adds more turbulence.
It's not accessible at low tide because it needs plenty of H2O to cover the jagged rocks below, so it's best throughout the Indonesian wet season (October to April).
Although surfing in Lombok doesn't get much tougher than Are Guling, it's not an overly crowded stretch of ocean. As a result, it strikes an unbelievable balance between fantastic surfing and tranquility. Of course, the latter is only available in fits and starts due to the powerful swells. There are two, yet the 'Right' one is considered to be among the best on the island, and some include Bali too. The swell can hit 10ft.
Please don't underestimate the 'Left.' Yes, the swell isn't as high, but this wave is unpredictable, and it's rare for it to break the same way twice thanks to its fast-peeling shoulder.
Proceed with caution. With the right conditions, Mawi is more than suitable for intermediate surfers. The swells are relatively short; however, they're heavy and hollow and full of power. Waves here tend to barrel, too. But, things get a lot tougher when the tide is low to middling as the area is a magnet for waves, and the consistency doesn't help.
Therefore, intermediate surfers or anybody who isn't confident should leave this spot until high tide. That's when the swells mellow out, making them easier to control.
Advanced Surf Spots in Lombok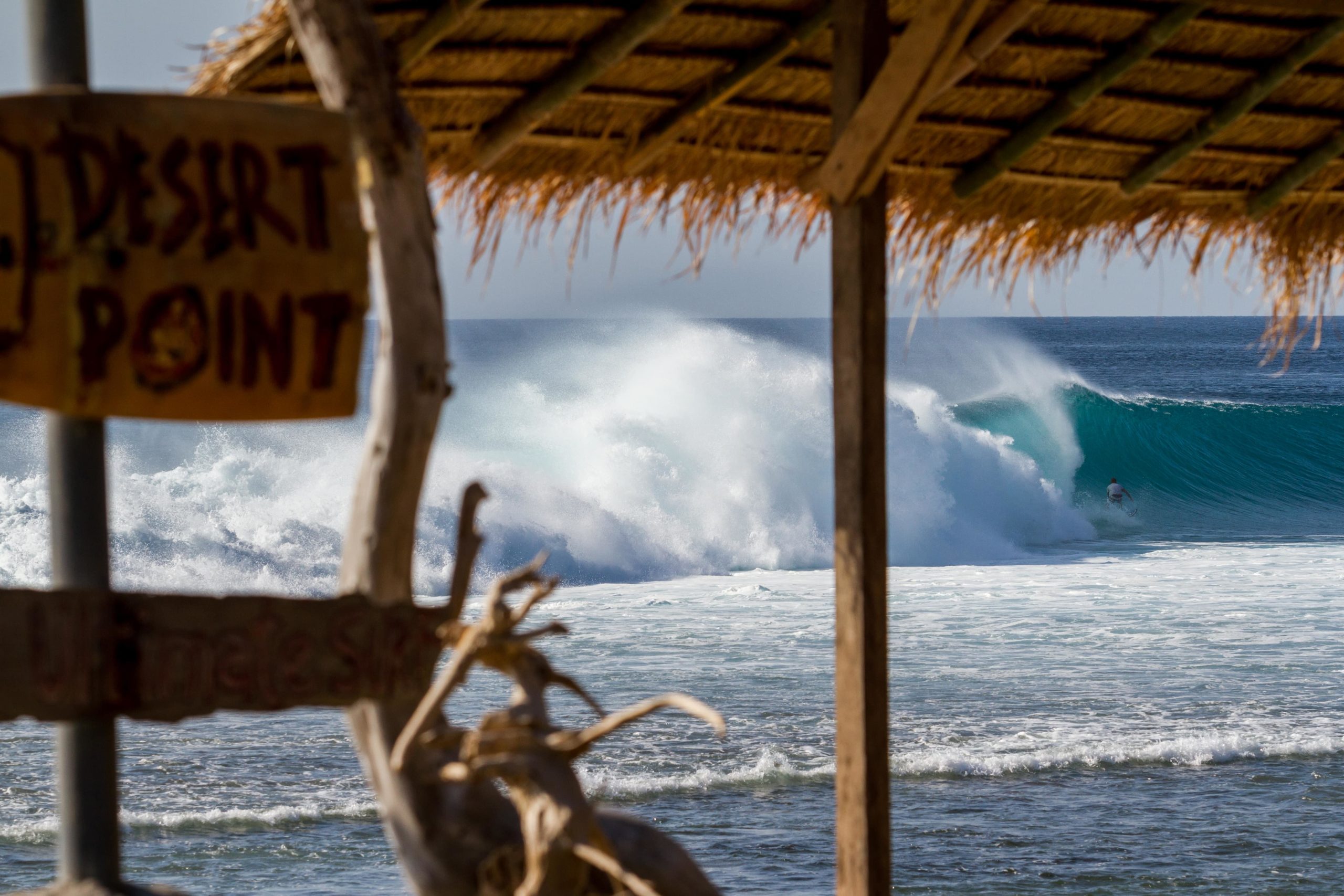 Serewah is one of the best places for surfing in Lombok, mainly for the fact it takes a long boat ride to reach it. Because of this, the waves here work even when the other spots are flat and offer nothing. Also, it's best in wet weather, which only adds to the difficulty level.
However, if you can handle the challenging conditions, you'll love the barreling, right-hand break that never seems to end. When it does, you can paddle back out for another go as the wave is consistent.
Surfing doesn't get much better than the waves at Desert Point anywhere in the world. It's that good that groups from Bali make their way over to the island, and Bali surfers are notoriously protective of their swells! When surfing is on, it's not hard to see why people flock here in their droves. Breaking over a reef, the powerful and hollow waves provide a left-hand barrel that is famous for tube rides 20 seconds in length and more. That's on a single wave!
Of course, you don't get surfing like this without lots of hazards. Aside from the sharp reef, Desert Point is unreliable and inconsistent. Plus, you need a big groundswell for it to work, and that only happens at low tide, exposing the reef.
It's safe to say you should only surf 'Bangko Bangko' if you have the relevant experience. Even then, it's about as scary as it gets concerning surfing in Lombok.
Surf-friendly Hotels in Lombok
Surfing comes first, and then you choose accommodation. With that in mind, the best places to stay depend on your waves of choice, here are some of our top choices for surf-friendly accommodation on the island.
Of course, there's a good chance you'll find yourself in or around Kuta at some point and you won't be spoilt for choice. Regardless, Pipes Hostel is an establishment that always ranks highly among visitors to the island and is one of the cheapest options at just $21 a night for a bed in their shared dorm. Its swimming pool and homemade skate park are a big draw, and its well-positioned in terms of the surfing hotspots.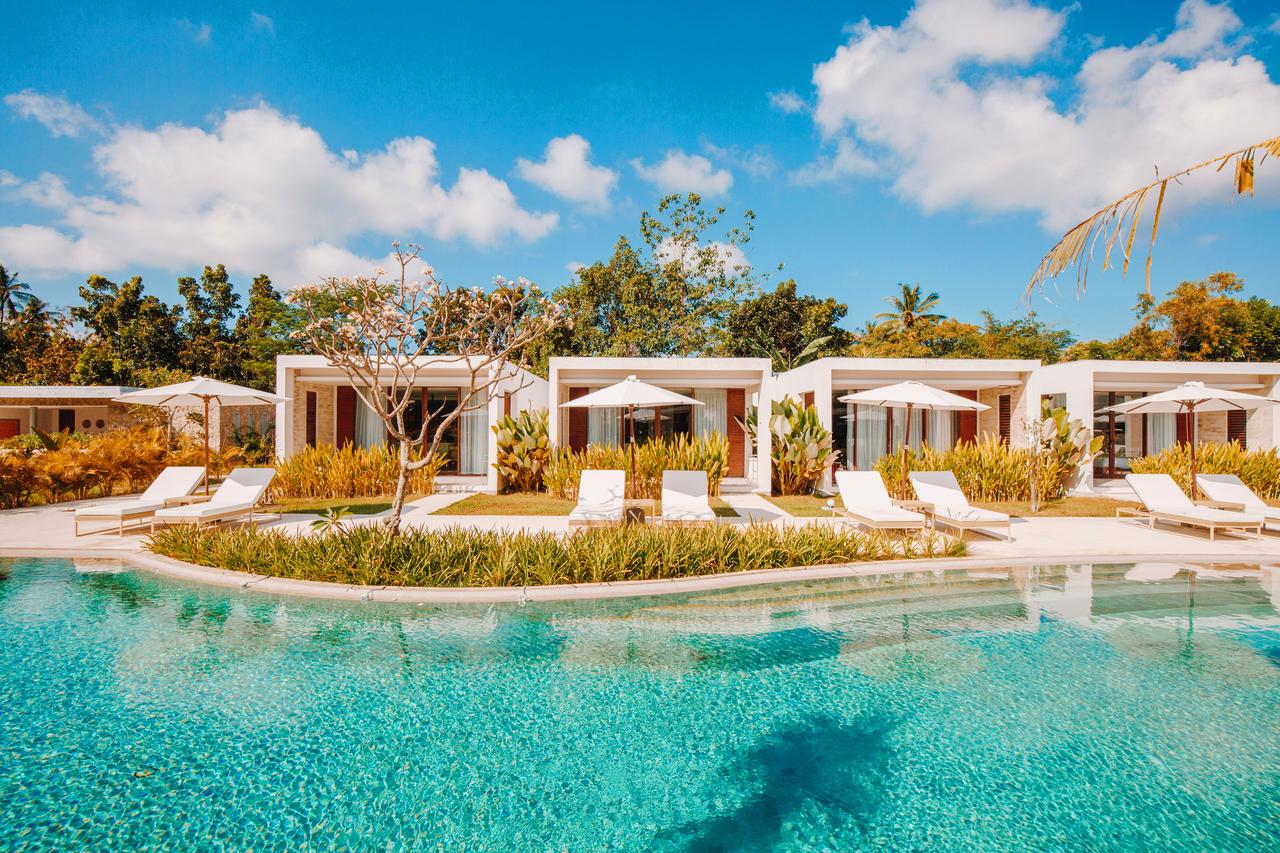 If you're looking for something a bit more high-end, you can't go wrong with Orgin Lombok. This small collection of luxury bungalows sits just outside the hustle and bustle of the main town, but still within walking distance of some of the most popular surf spots Lombok has to offer. Also, what makes this resort so great is that luxury doesn't come with a huge price tag; you can book a villa here from just $47 a night.
Kuta is a fantastic base for the surf spots on this list because it's no more than one hour away. The only exception is Desert Point, which is a three-hour drive. So, if you plan on testing yourself against this swell, your best bet is to stay in neighbouring Bangko Bangko. Accommodation is pricey, but the Wyndham Sundancer Resort is just about affordable at $118 a night, and welcoming of surfers.
Surfboard hire isn't as simple as you might assume. Although the surfing in Lombok is incredible, the shops aren't always trustworthy. Plus, lots of them focus on beginner equipment, and that might not be up your street.
An excellent piece of advice is to include the cost of surfboard hire with your accommodation. Surf camps, such as Nalua Surf Camp, doubles up as a surf shop and has a range of gear that should meet most people's needs. Alternatively, KimenSurf is the only "complete" surf shop on the entire island.
Aside from boards, it stocks everything from leg ropes to booties and rash vests, and it has a stellar reputation among regular visitors to Kuta.
The great thing about Lombok is that it's more than a surf destination. Therefore, the restaurants and eateries on the island reflect the guests that travel here throughout the year. That means there will be something that catches your eye after a long day of catching breaks and ripping swells.
El Bazar is the ultimate example. It might be floating in the Indian ocean, yet it offers some of the best Mediterranean food in Southeast Asia. There's a twist, though: it's Mediterranean ingredients with a Middle Eastern kick. You don't want to miss the kebabs, then, or the Morrocan falafels. Start with a mezze platter.
Milk Espresso is ideal if you prefer a light lunch after a day on the water. However, the speciality here is the massive breakfasts. The most important meal of the day comes with strong coffee that will keep your engine revving all day, too. 
Not everything is located in and around Kuta. A click or two out of Senggigi is Coco Beach. Known for its seclusion, you'll enjoy the quiet as much as the food! If you're searching for traditional Indonesian staples, then look no further than Nasi Goreng. A fried rice dish, it's a lot tastier and moist than it appears. The chefs at Coco also do a Madras that's well-received, even if it isn't a local recipe!
Vegans and veggies often find it tough to travel and maintain their diet. Thankfully, Soul Munchies has got you covered. As well as meaty treats, it has incredible recipes that centre on fruits and vegetables, and the flavours are as bold as the aesthetics.
Things To Remember About Surfing in Lombok
The dry season runs from May to September. The wet season goes from October to April, with a week or two before the dry season starts again. The seasons are essential for surfing, but also accommodation. October to April is a hectic time of year as it coincides with the Aussie spring and summer, so prices skyrocket and rooms are harder to find. 
Please book in advance if you plan on going in the wet season. May to Sept isn't as busy, yet the weather can be harsh. Make sure you pack enough protective clothing as well as sunblock to prevent burns as temperatures average more than 30°C daily.