9 of The Best Surf Resorts in Indonesia

Disclaimer: This article contains affiliate links. We may receive a small commission if you make a purchase through one of these links. Please read our Affiliate Disclosure for more information.
This is our pick of the 9 Best Surf Resorts in Indonesia.
Indonesia offers some of the best surfing in the world. Whether you are new to surfing and want to get straight out there and enjoy a memorable experience unlike any other, or you are a seasoned surfer looking for a new wave to conquer, you will find this in Indonesia.
Made up of over 17,000 different islands, there is a lot of coastline to this amazing country. And, where there is so much coastline, that means that there is likely to be some great surfing to be had. From Sumba to Bali, the Mentawai Islands, or Java, surfers from all over the world flock to the shores of Indonesia to enjoy some of the most breathtaking breaks known to man.
Wherever you plan on catching your waves in Indonesia, you will need somewhere to stay. Ideally, you will want somewhere that is close enough to a great set of waves so that you can get the most out of your time in the surf. However, with so many other great surfing breaks across the many amazing islands and beaches it is sometimes great to know that you can easily reach some different stretches of coast to enjoy.
To help you decide where best to stay on your Indonesian surfing holiday, here is our pick of the best surf resorts in Indonesia.
Lelewatu Resort Sumba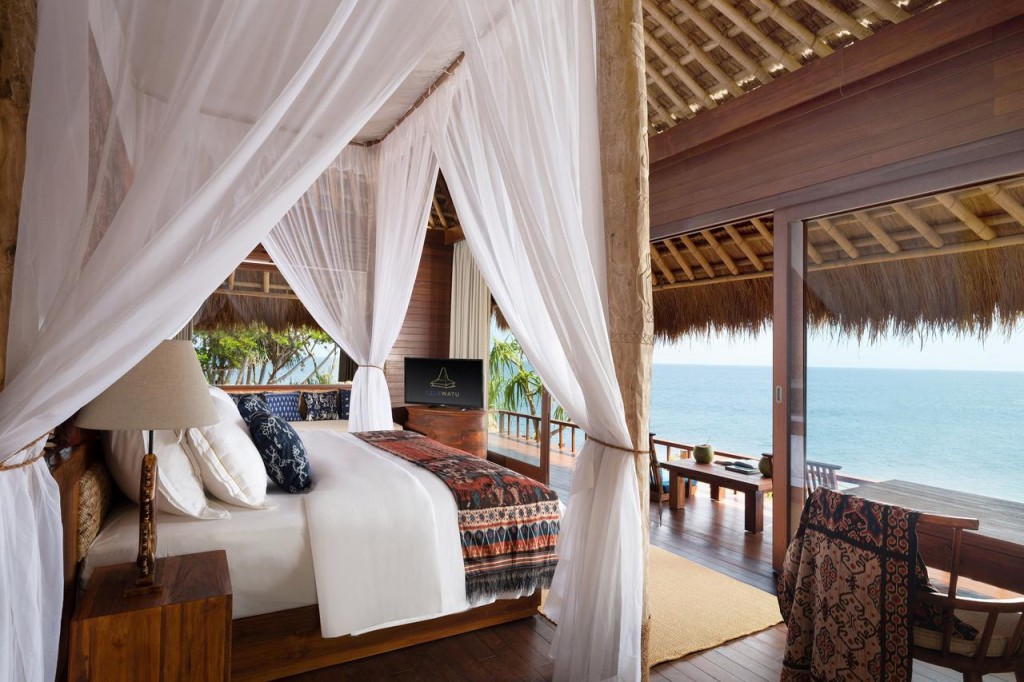 Located on the beautiful island of Sumba, an hours flight away from Bali, Lelewatu Resort Sumba is surrounded by unspoiled rainforests while looking out across the Indian Ocean from its amazing cliff-edge perch.
From the resort, you can take a trip out to experience the Lapopu Waterfall in Manupea Tanah Daru National Park. The national park is a place that is teeming with exciting wildlife including hornbills and 60 species of butterfly.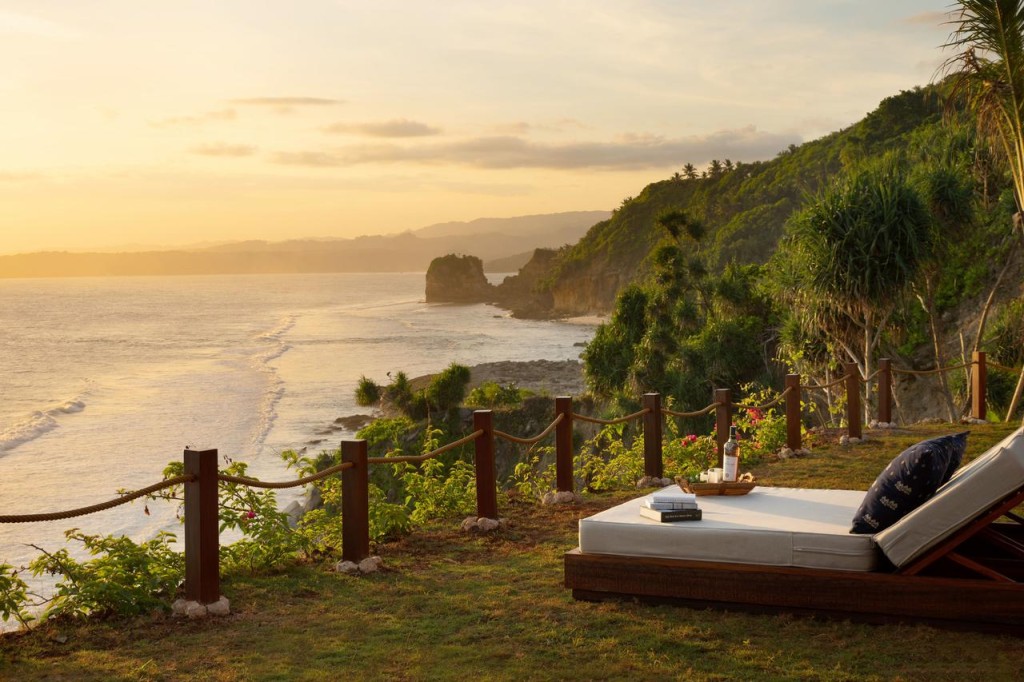 You can stay in a range of different villas with between one and four-bedrooms, each with their own pool, as well as the option to stay in Uma Humba which is built in a traditional Sumbanese style.
The resort includes its own spa, as well as the Bokoswu Restaurant and La Humba Lounge
NIHI Sumba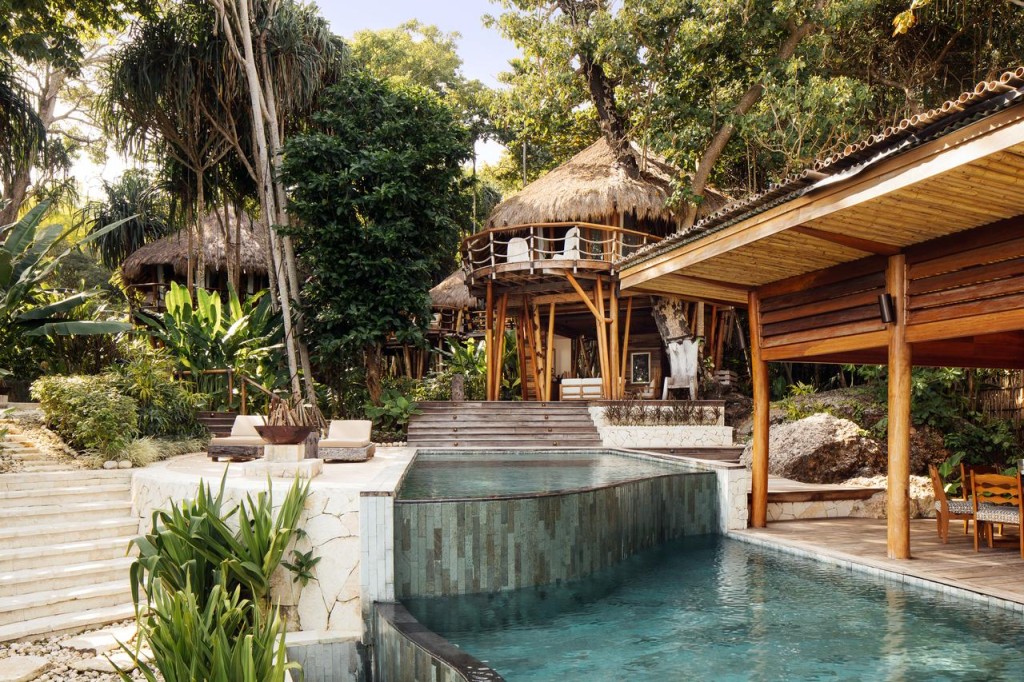 NIHI Sumba is a gorgeous resort on the edge of a beach where you can surf, swim with horses, enjoy a spa safari, relax at a yoga class with a beautiful sea view, take trips up to rice paddies and waterfalls, watch turtles taking their first steps into the ocean, ride horses at sunset, paddle down the Wanukaka River, go fishing, and enjoy kite surfing. With so many different life-affirming activities, you can enjoy the holiday of a lifetime here.
Of course, it is probably the surf that has drawn you to the island in the first place. NIHI Sumba Island is conveniently placed for you to enjoy one of the world's best waves. Often known as "God's Left", or "Occy's Left" (named after Mark Occhiupo) this wave rewards the brave with up to a 300m long ride. NIHI make sure that only ten surfers ride this wave each day, so you know that you won't be waiting in line for ages for this once in a lifetime treat.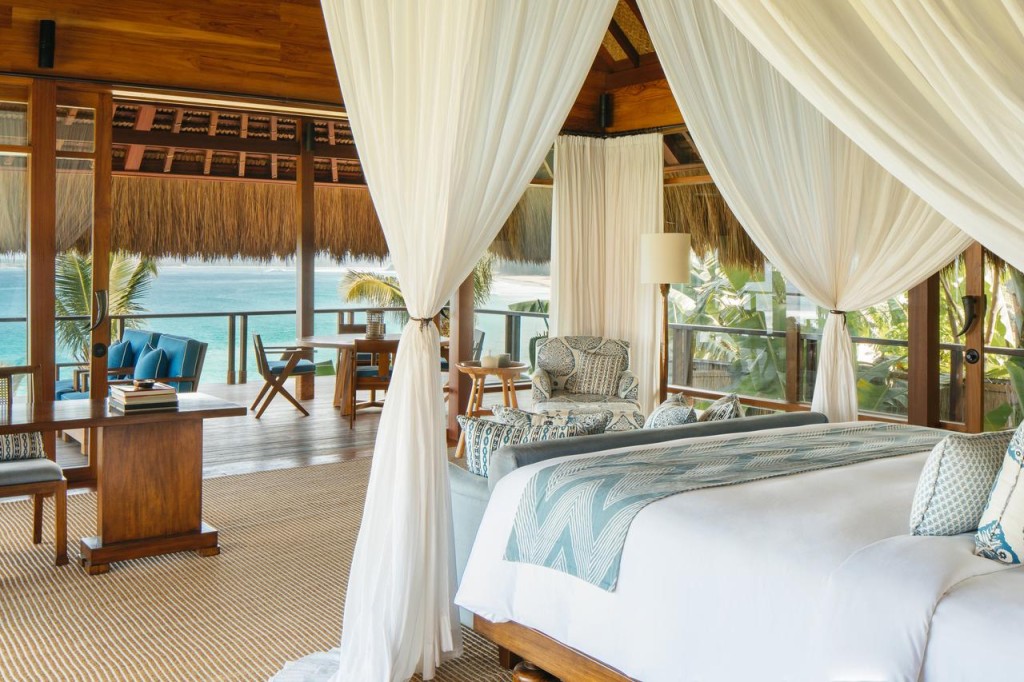 Each of the amazing, 28 uniquely designed villas has its own amazing infinity pool as well as spacious indoor and outdoor seating areas for you to relax. These villas are pure luxury and it is unlikely you will ever want to go home.
Aloita Mentawai Islands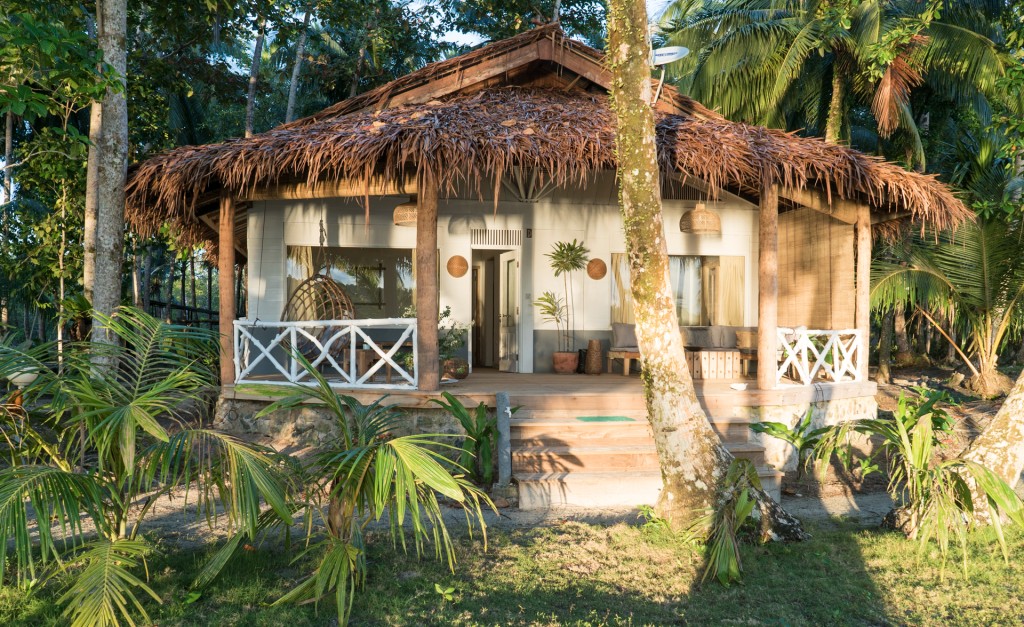 The Mentawai Islands are a paradise for surfers. Stopping at the Aloita Surf Resort will put you in the right place to be able to visit up to 70% of the top surf spots in the Mentawai Islands. Within five minutes boat ride, there are five of the best waves in the world, the famous Telescopes wave is just ten minutes away, and just outside the resort, you can enjoy a great left-hander.
Aloita Mentawai Islands is an intimate boutique resort that has just ten beachfront bungalows, each of which are surrounded by gorgeous tropical gardens and facing out onto a 2km long private white sandy beach.
The Slow Canggu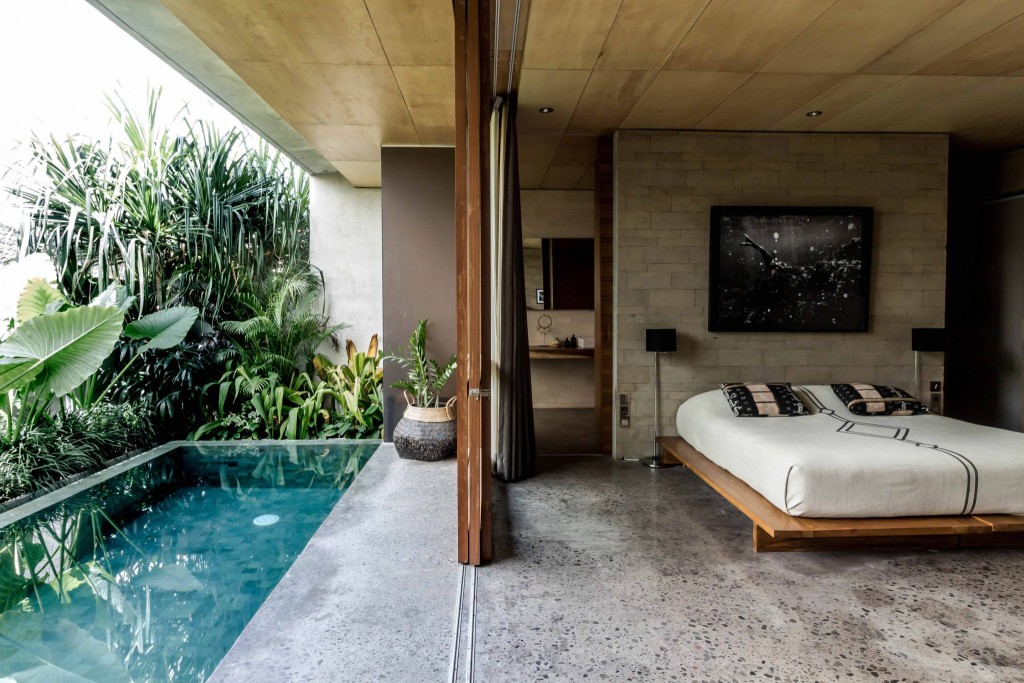 Fourth on our list of the best surf resorts in Indonesia is The Slow in Canggu. The Slow is a relaxing surf hotel that is right in the heart of the action on the main street. You won't need to go very far to find some awesome food and all of the best bars and shops in the area. It is barely five minutes walk away from one of Bali's most famous beaches, Echo Beach.
Echo Beach is known the whole world over and has three amazing spots for surfing, these include Echo, Sandbar, and Prerenan. Whatever your surfing style of ability, there is something on Echo Beach for you.
You are only going to be a few kilometres away from the Tanah Lot Temple which is well worth a visit if you can leave the pull of the sea for a few hours. The reason that you need to head up to this temple is that you will undoubtedly see one the of most fantastic sunsets that you will ever encounter.
The Slow is a pretty cool place. The decor is very detailed and everything has been crafted especially for this hotel. All of the walls are adorned with original artwork and photography, and the whole vibe of the hotel is chilled out, stylish, and very arty.
You'll find comfortable rooms with WiFi across the whole hotel. Each of the rooms carries through the same unique styling that you will have witnessed in the public areas of the hotel.
There is quite a lot on offer in the local area in terms of food and drink, but you really won't go far wrong with any of the meals that you can get in the hotel's own restaurant.
Uluwatu Surf Villas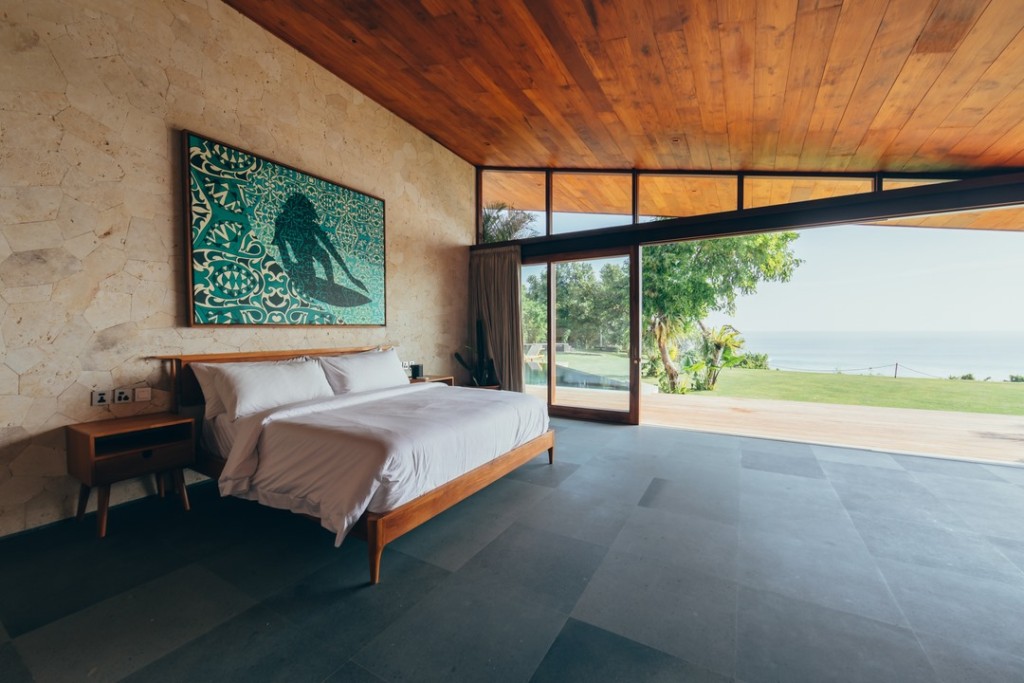 Uluwatu Surf Villas is a stunning selection of 17 different cliff front accommodations. As you can imagine, being on the top of a cliff will give you some outstanding ocean views. There is a staircase from the top of the cliff down to some of the most amazing Uluwatu surf breaks.
Because of your eagle-eye view of the surf, you will be able to tell when the tide and the swell are hitting that sweet spot. When you know that the time is right, you can get down there and enjoy the great barrels that this beach offers.
The villas are just a few minutes away from the famous Uluwatu Temple. For a bit of culture and serenity, it is worth a trip up to the temple.
The Uluwatu Surf Villas are great for activities. As well as being an excellent spot to enjoy surfing from, the resort is host to a fantastic yoga studio called Morning Light. There are numerous yoga and vinyasa classes that are run here, and out on the edge of the cliff. One of the best ways to enjoy your yoga is at sunset on the cliff edge.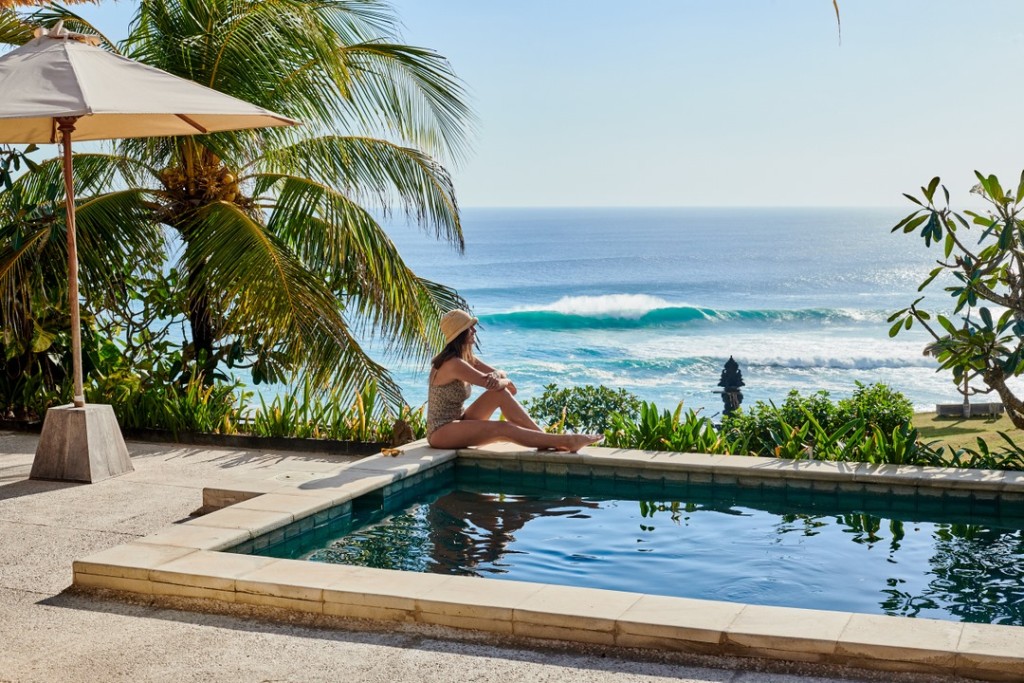 Elsewhere in the resort, you can swim in an amazing infinity pool, or, if you choose a villa with its own pool, you can get away from everyone else and enjoy some alone time.
The Mana restaurant has an amazing choice of food and caters well to people of all tastes. However, if you want to eat elsewhere, there are a selection of different places available in the nearby area.
With the popularity of the Uluwatu Surf Villas and the limited number of villas in the resort, it is always best to book early to avoid disappointment as dates fill up quickly.
Jawa Jiwa G-land Java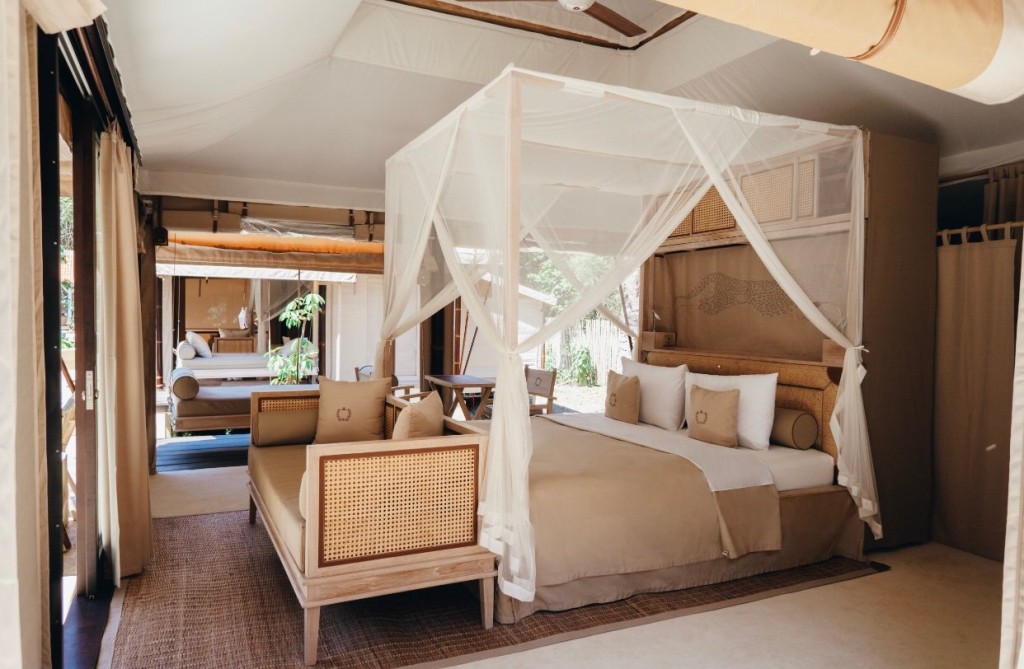 Hidden away among amazing tropical forests, Jawa Jiwa G-Land is a beachfront glamping eco-lodge that is right next to one of the best surfing beaches in the world; G-Land.
First surfed in 1972 by two American surfers who saw the wave from the plane and vowed to find the break, and they did! The break has several sections. Kongs, Moneytrees, Speedies, and Launching Pads. With some pretty big waves at G-land, it is not uncommon to ride for 300-400 meters at G-land.
The Jawa-Jiwa resort has yoga classes, clean and simple tents that are well-furnished, air conditioning and a serene sense of calm away from the noise of everyday life. This destination is certainly one of the most unique on our list of the best surf resorts in Indonesia.
Origin Lombok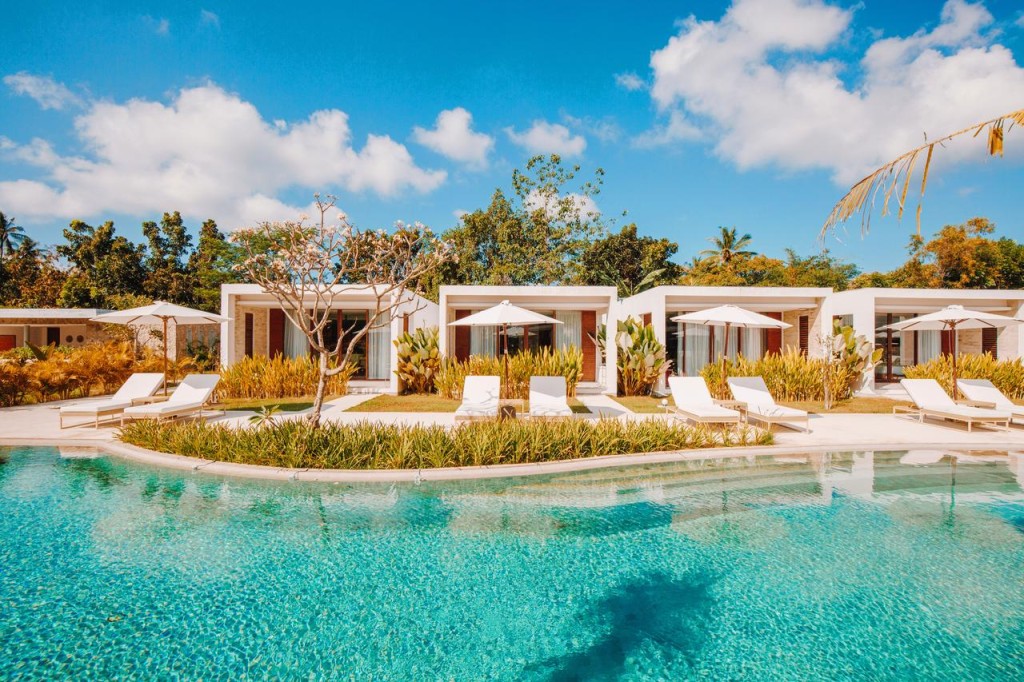 Lombok is home to some great surfing beaches and is popular among those that are keen to escape the queues found in Bali. One of the world's best left-handers, Desert Point can be found on the island.
Origin Lombok has its own surf classes. So if you are a complete novice you can go from never riding board to catching your first waves with a couple of hours.
Every morning there are yoga classes to get your body and mind focused ready for the next big wave. These classes are held in a beautiful outdoor space that is surrounded by rice fields and palm trees.
There is a range of different villas on offer at Origin. Some are located around the main pool, others have their own garden or shared access to a deluxe pool. There are also family villas within the resort.
Alaia Mentawai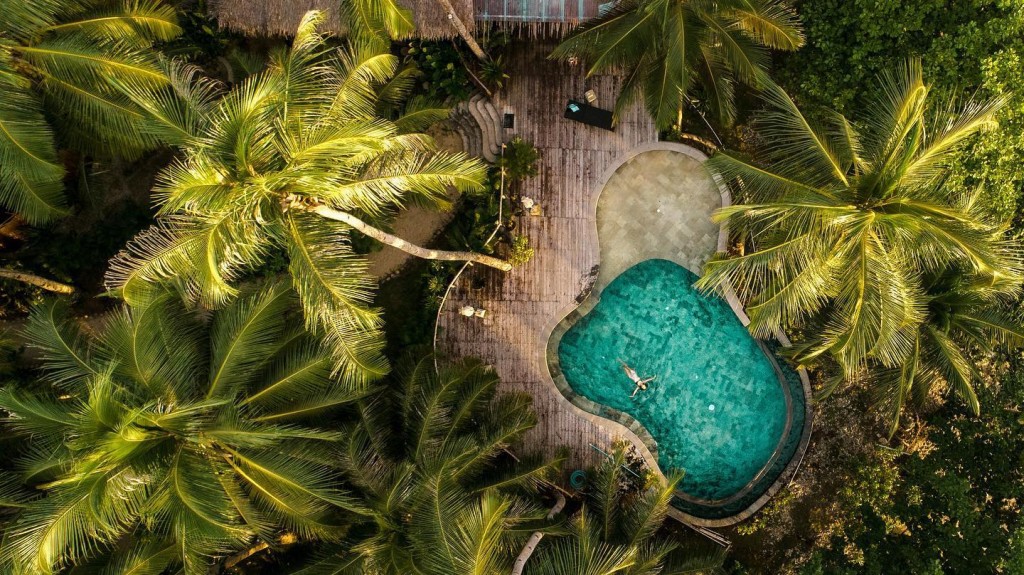 This small boutique resort is located in the Northern Mentawais. The area has beautiful coral reefs and tropic forests,
Alaia Mentawai puts you close to some amazing waves. You will be able to surf Alaia's, Aframes, Bankvaults, Bengbeng, Nipussy, Nokandui, and so many more. With so much choice you will find a huge variation in waves with something to suit every surfer. If you are looking for surf resorts in Indonesia where you can challenge your own surfing abilities, Alaia might be the base to do this from.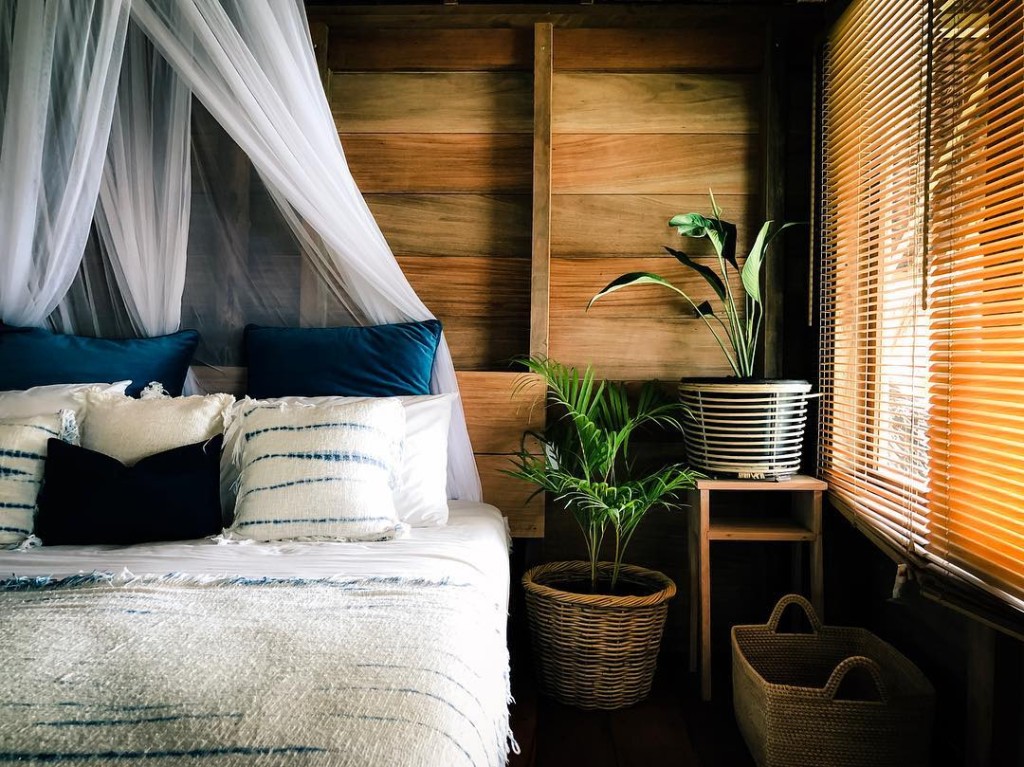 The resort is made up of just two villas. Each villa can accommodate up to five people. That means that at any one time, there will only ever be ten guests at the resort. It is more than possible that you could book the whole resort to enjoy between you and some friends.
All of the rooms have everything that you could imagine, including great views, air conditioning, and TVs.
There is a large bar, pool, and a restaurant at the resort that caters to all dietary tastes and requirements.
With a range of day trips available, there is enough to inspire you and provide you with the most relaxing holiday.
The Surf Motel Canggu Bali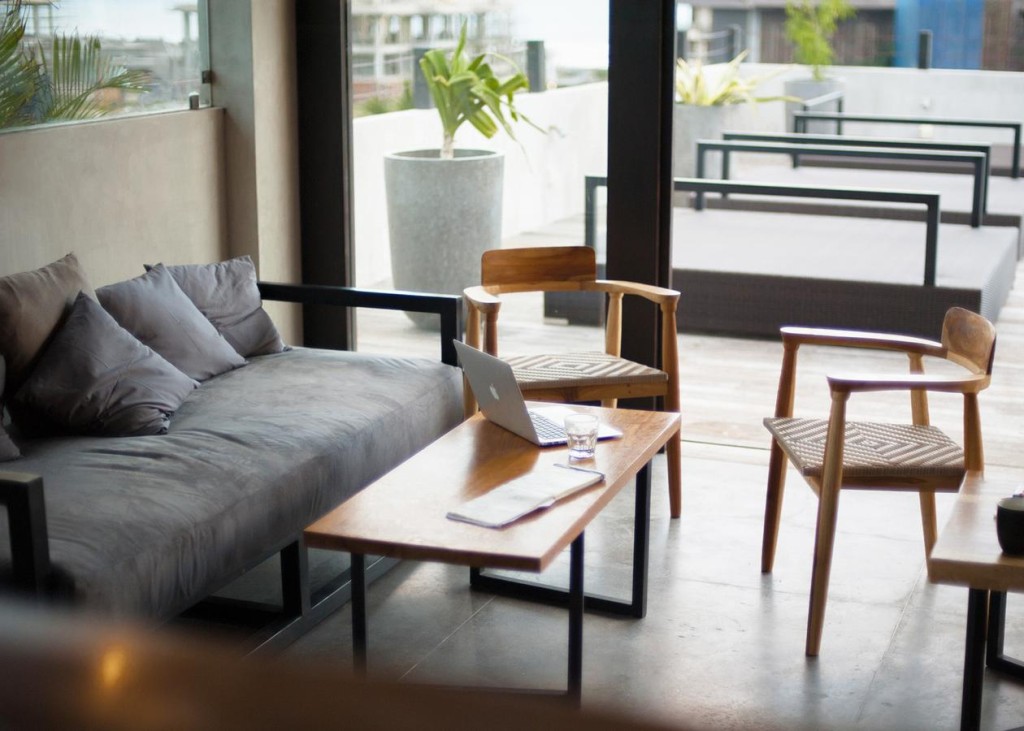 The Surf Motel is well placed to enjoy the Canggu area of Bali. From the hotel, you will be within a very short walk of the bars, restaurants, and shops situated in the town. Most importantly of all, you will be right next to Echo Beach where you can catch some of the best waves in Bali.
There are five floors to The Surf Motel, and above these sits a rooftop pool and some of the best views in the area. You can decide whether you want a room with a balcony or not. There is WiFi throughout the entire hotel, as well as the all-important air conditioning.
Hideaway Villas Uluwatu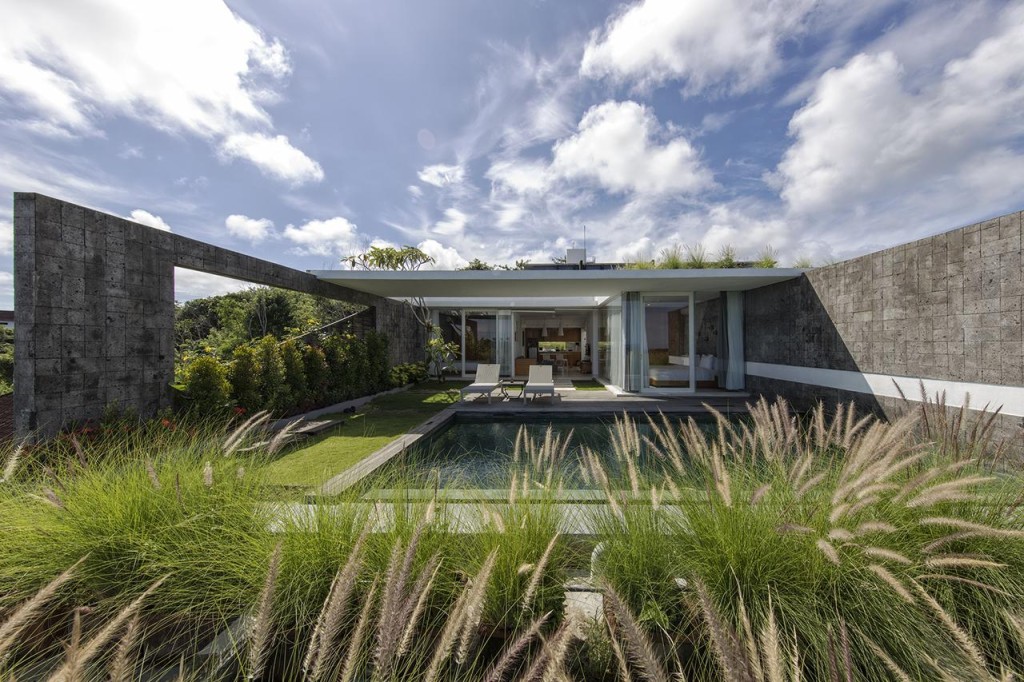 Last but not least, on our list of the best surf resorts in Indonesia is Hideaway Villas in Uluwatu.
Situated in an area of outstanding beauty, Hideaway Villas has some of the best panoramic views of the Indian Ocean. While you may not be right on the beach like you are in other resorts, the breathtaking views are worth the short drive to the fantastic selection of nearby beaches.
Within a fifteen-minute drive, you will be at Uluwatu beach known for its consistently good barrels. You can also easily reach Padang Padang which is a great spot for those surfers looking for a challenge. Also, close by is Sulban which is has a very reliable swell and always delivers great barrels.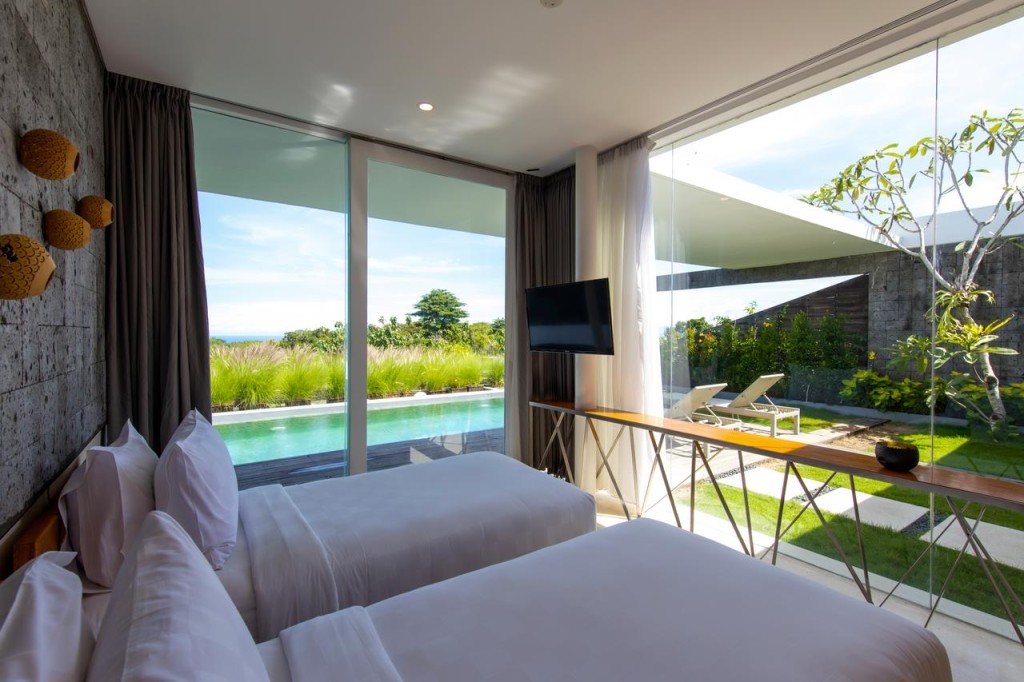 In terms of accommodation, Hideaway Villas has a mixture of one and two-bedroom villas. Several of these have their own private pool offering you the privacy to relax however you like.
There is also a spa within the resort which you can take full advantage of whenever you like as well as both indoor and outdoor restaurants serving a mixture of global cuisines that are sure to whet your appetite.
Of course, if you fancy eating elsewhere, a short taxi drive will take you to several great choices.
Enjoyed 9 of The Best Surf Resorts in Indonesia? Take a look at our selection of Surf Camps from around the world here.