6 of the Best Surf Camps in Ericeira

Disclaimer: This article contains affiliate links. We may receive a small commission if you make a purchase through one of these links. Please read our Affiliate Disclosure for more information.
Are you looking for the Best Surf Camps in Ericeira?
Great, let's get started!
A surf camp in Ericeira is not just about learning to ride the waves; it's a holistic experience that encompasses everything you need to become a skilled and confident surfer.
Whether you're a complete beginner or an experienced rider, these camps cater to all levels. Expect a well-rounded program that includes surf lessons tailored to your skill level, video analysis, surf theory sessions, and plenty of time in the water to practice and catch your first waves.
Beyond the surf instruction, Ericeira offers a charming and laid-back coastal ambiance. Explore the cobbled streets of the historic town, savor fresh seafood at local restaurants, and witness breathtaking sunsets over the Atlantic Ocean.
The surf camps in Ericeira provide not just a place to learn, but a community of like-minded individuals who share your passion for riding the waves and embracing the coastal lifestyle.
The Best Time of Year to Learn to Surf in Ericeira
Ericeira's coastal location and unique geography make it an ideal place to learn to surf. The best time to embark on your surfing journey in Ericeira is during the spring, summer, and early autumn months, from April to September. This period offers milder ocean conditions, with smaller swells and warmer water temperatures, making it perfect for beginners.
The gentler waves and favorable weather provide an excellent environment for mastering the fundamentals of surfing and building your confidence on the board.
The Best Surf Camps in Ericeira
Join us as we delve into these 6 surf camps in Ericeira. Whether you're looking to catch your first wave, refine your skills, or simply soak up the surf culture, Ericeira's surf camps offer an unforgettable experience that will leave you with lasting memories and a newfound love for the ocean.
So, let's get into it! Here's our pick of the Best Surf Camps in Ericeira.
The Salty Pelican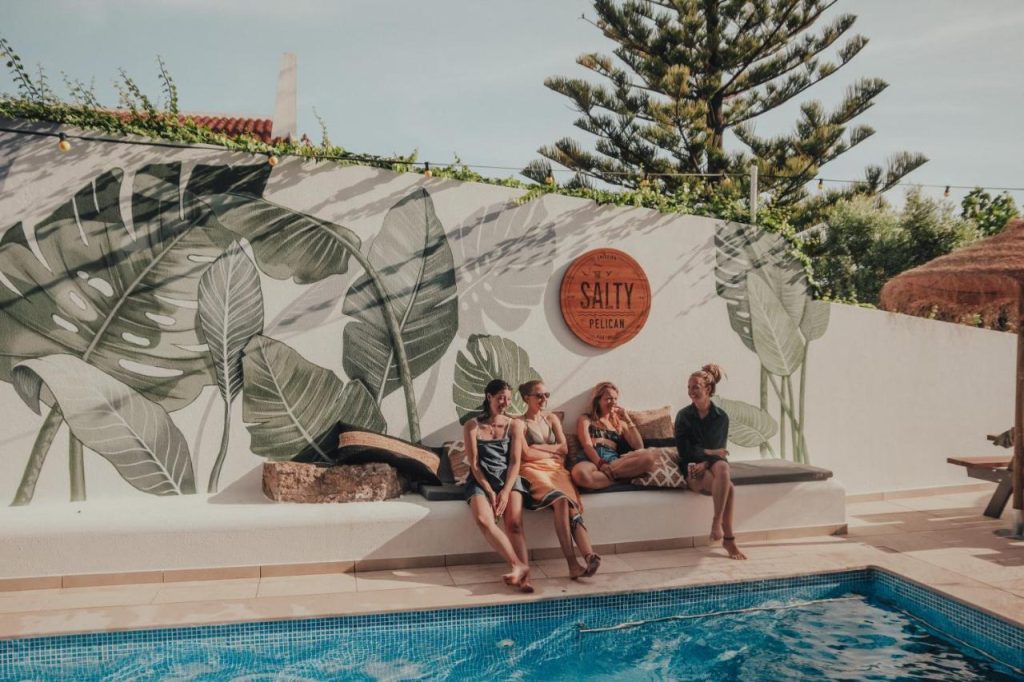 First on our list of the Best Surf Camps in Ericeira is The Salty Pelican.
Nestled in the heart of Ericeira, The Salty Pelican offers an unforgettable 8-day surf and yoga holiday that combines the excitement of riding waves with the serenity of yoga practice. This surf camp is perfect for those seeking a holistic experience that nurtures both body and mind.
The Salty Pelican boasts access to some of Ericeira's most renowned surf spots, suitable for surfers of all levels. Professional instructors provide personalized coaching to help you catch your first wave or enhance your existing skills. Quality surf equipment and a supportive learning environment ensure your safety and progression.
Daily yoga sessions complement your surf experience, promoting flexibility, strength, and relaxation. Enjoy breathtaking ocean views from the yoga deck, making your practice even more tranquil. Nutritious meals prepared with fresh, locally-sourced ingredients keep you energized throughout your stay.
Comfortable and cozy rooms create a peaceful retreat after a day of surfing and yoga. Socialize with fellow surfers in the communal lounge and garden area.
The Salty Pelican combines adventure and relaxation, making it an excellent choice for surfers seeking a balanced Ericeira experience.
You can book an 8-day package with The Salty Pelican now starting from €799 per person.
Hostel Surfcamp 55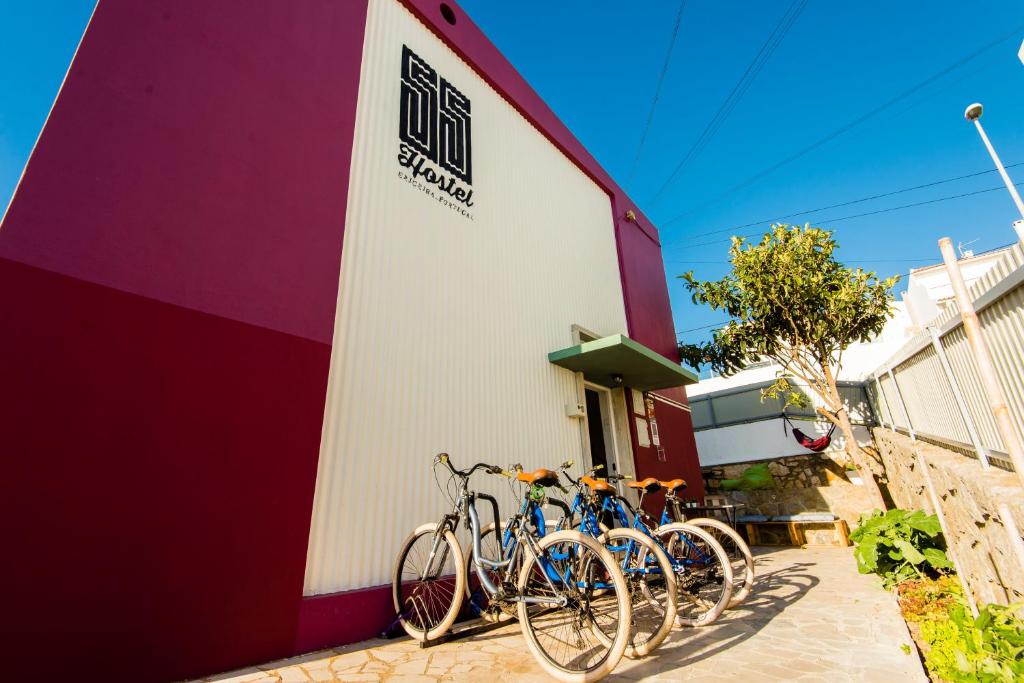 Second on our list of the Best Surf Camps in Ericeira is Hostel Surfcamp 55.
If you're serious about taking your surf skills to the next level, Hostel Surfcamp 55 provides a 10-day intensive surf coaching program in Ericeira. This camp is designed for surfers of all levels who want to fine-tune their techniques and ride the waves like a pro.
Highly qualified surf instructors focus on individualized coaching to help you reach your surfing goals. Access some of Ericeira's best surf spots, where you'll challenge yourself with different waves and conditions. Video analysis sessions also offer valuable feedback to accelerate your improvement.
Stay in comfortable and budget-friendly accommodations, perfect for surfers on a mission to ride the best waves. Hostel Surfcamp 55's communal areas provide opportunities to bond with fellow surf enthusiasts.
Beyond surfing, the camp offers activities like skateboarding, yoga, and barbecues to keep your adventure diverse and fun. Explore Ericeira's vibrant nightlife and soak in the local culture during your downtime.
Hostel Surfcamp 55 is a fantastic choice for surfers looking to elevate their skills through intensive coaching while enjoying the vibrant atmosphere of Ericeira.
You can book a 10-day package with Hostel Surfcamp 55 now starting from €661 per person.
Moka Surfhouse & Yoga Retreat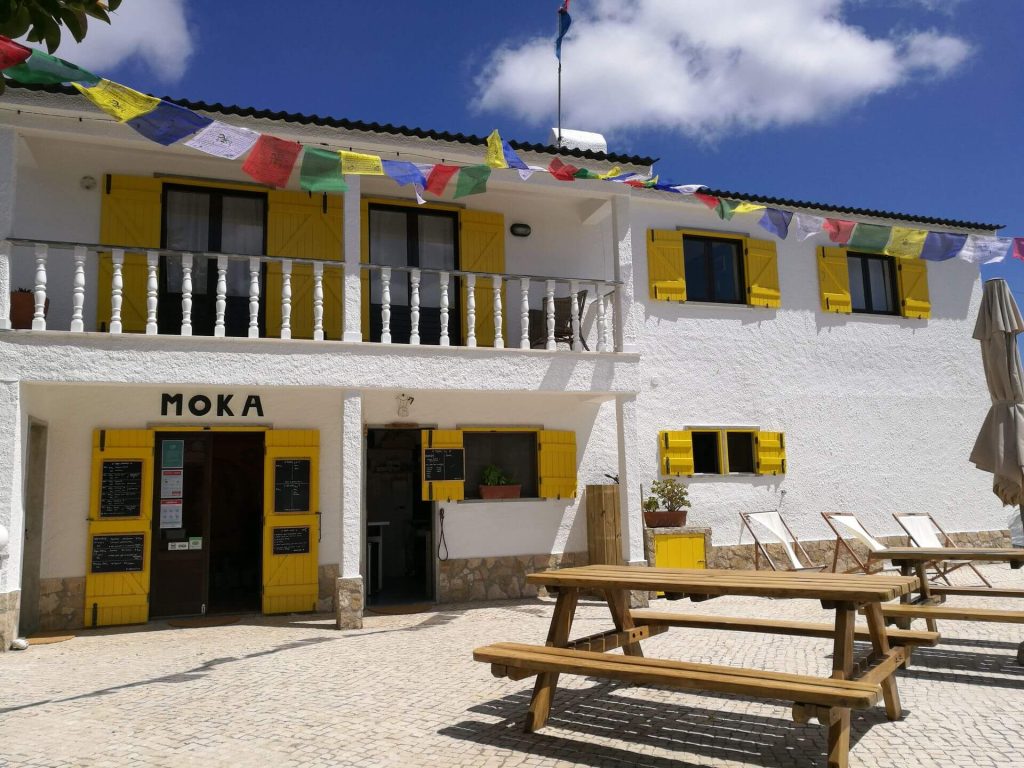 Next on our list of the Best Surf Camps in Ericeira is Moka Surfhouse & Yoga Retreat.
Moka Surfhouse & Yoga Retreat offers a 6-day surfing and yoga escape that immerses you in the beauty of Portuguese coastal life. Located in a serene area near Ericeira, this camp provides an intimate and personalized experience for surf enthusiasts.
Moka Surfhouse's team of experienced instructors tailors lessons to your skill level, ensuring rapid progress. Small group sizes guarantee individual attention and a supportive atmosphere. Explore Ericeira's diverse surf breaks and discover the thrill of riding world-class waves.
Daily yoga sessions, guided by certified instructors, help you enhance your flexibility and balance. Take in stunning views of the surrounding countryside from the yoga shala, enhancing your overall relaxation. After a day of surf and yoga, unwind in the cozy common areas and make new friends.
Choose from a variety of accommodation options, including shared dorms and private rooms. The surfhouse's communal spaces encourage socializing, fostering a sense of community among guests.
Moka Surfhouse & Yoga Retreat offers an intimate and rejuvenating surf experience in a tranquil setting, making it an ideal choice for those seeking serenity and adventure.
You can book a 6-day package with Moka Surfhouse & Yoga Retreat now starting from €524 per person.
Magikvanilla Surf Camp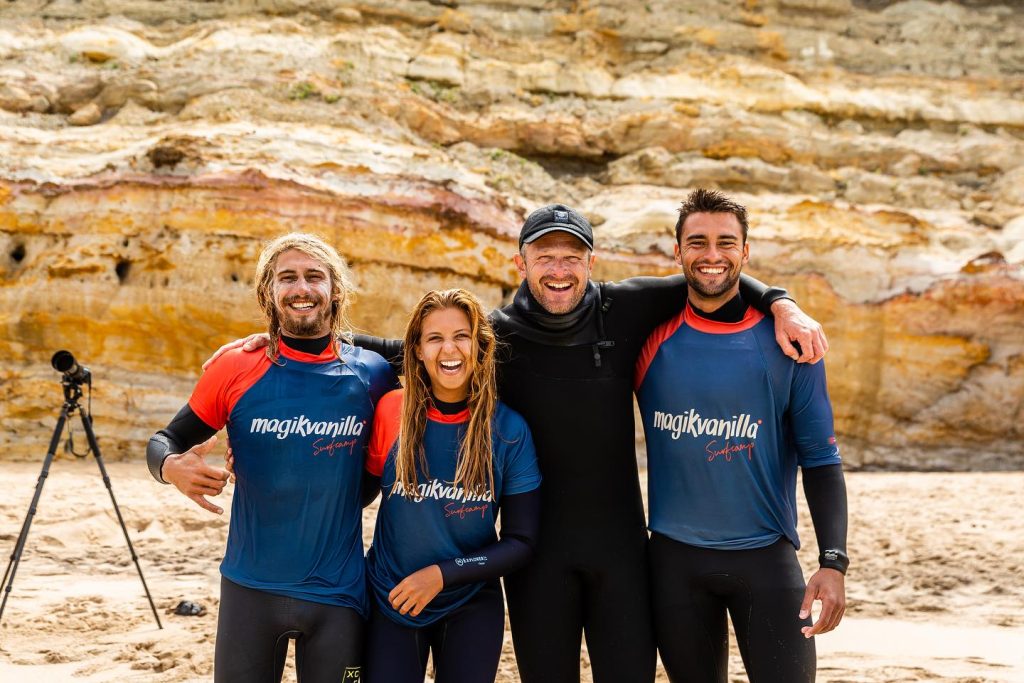 Next on our list of the Best Surf Camps in Ericeira is Magikvanilla Surf Camp.
Magikvanilla Surf Camp, on the outskirts of Ericeira, offers an immersive 8-day surf camp that seamlessly blends thrilling surf sessions with cultural exploration. For surfers seeking both the rush of catching waves and the richness of local culture, this camp is the perfect choice.
With a team of professional instructors, surfers of all levels can explore Ericeira's diverse surf spots. Whether you're a beginner catching your first wave or an experienced rider looking for new challenges, you'll find the right waves here. The instructors provide personalized guidance, ensuring safety and rapid skill development.
Beyond the surfboard, Magikvanilla invites you to dive into Portuguese culture. The camp includes visits to Lisbon and Sintra, two iconic destinations that offer a glimpse into Portugal's history and beauty. Explore the cobblestone streets of Lisbon, indulge in local cuisine, and marvel at the historic architecture. Then, venture into the enchanting town of Sintra, known for its fairy-tale palaces and lush gardens.
After a day of surfing and cultural exploration, you can unwind in the comfort of Magikvanilla's accommodations. The recently renovated camp exudes a relaxed surf-style atmosphere, providing the ideal setting for relaxation and reflection. Whether you're lounging in your room or sharing stories with fellow surfers in communal spaces, you'll find that Magikvanilla Surf Camp strikes a balance between adventure and tranquility.
You can book an 8-day package with Magikvanilla Surf Camp now starting from €455 per person.
La Casa Atlantica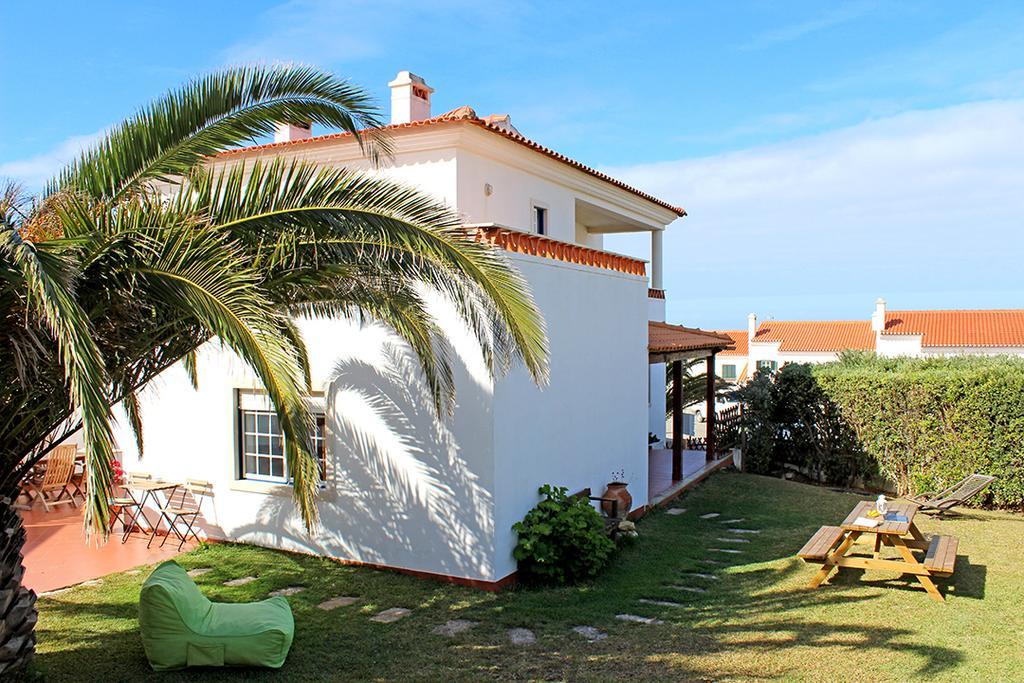 Next on our list of the Best Surf Camps in Ericeira is La Casa Atlantica.
For surfers seeking a shorter surf getaway, La Casa Atlantica offers a 4-day surf camp in Ericeira. This camp is all about providing an authentic and intense surf experience in Ericeira's laid-back coastal atmosphere.
What truly sets La Casa Atlantica apart is its sense of community. Surfing is not just about riding waves; it's also about forging connections with like-minded individuals. The camp fosters a welcoming and communal atmosphere, where you'll have the opportunity to bond with fellow surfers. The friendships formed here often extend beyond the camp and become a lasting part of your surf journey.
After a day of thrilling surf sessions, you can retreat to La Casa Atlantica's accommodations. The lodgings offer a cozy and comfortable environment where you can recharge for your next adventure in the waves. Whether you choose to relax in your room or gather with newfound friends in the communal spaces, La Casa Atlantica ensures that you have the perfect place to unwind.
La Casa Atlantica's 4-day surf camp is ideal for those looking to extract maximum excitement from a shorter surf adventure. It's all about immersing yourself in the world of surfing and creating lasting connections within the surf community.
You can book a 4-day package with La Casa Atlantica now starting from €400 per person.
Ericeira Chill Hill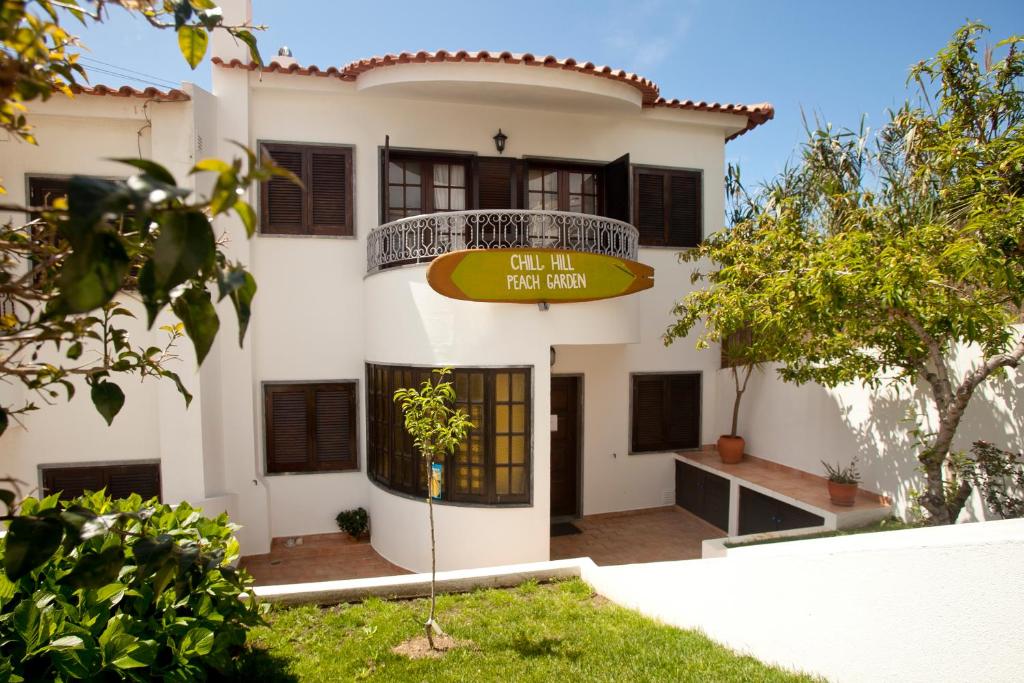 Next on our list of the Best Surf Camps in Ericeira is Ericeira Chill Hill.
Ericeira Chill Hill is the ultimate destination for those who are new to surfing and eager to catch their first wave. Their 8-day beginner surf camp is designed to provide a safe and supportive environment for novice surfers, ensuring a smooth entry into the exhilarating world of surfing.
Ericeira Chill Hill's primary focus is on making the sport accessible to beginners. Knowledgeable instructors guide you through the fundamentals of surfing, helping you build confidence in the water. Their patient and personalized approach ensures that you progress at your own pace, making each day in the surf an enjoyable and confidence-building experience.
In addition to beginner-friendly surfing lessons, Ericeira Chill Hill offers budget-friendly accommodation. Both shared and private rooms offer comfort and affordability, ensuring that your stay is both enjoyable and budget-friendly. It's the perfect place to unwind after a day of learning to surf.
You can book an 8-day package with Ericeira Chill Hill now starting from €269 per person.
Still need help finding the perfect Surf Camp in Ericeira? Visit Booksurfcamps.com HERE to get a list of top-rated surf camps, hostels, resorts and accommodations just for you.