6 of the Best Surf Hotels in Santa Teresa

Disclaimer: This article contains affiliate links. We may receive a small commission if you make a purchase through one of these links. Please read our Affiliate Disclosure for more information.
This is our pick of the 6 Best Surf Hotels in Santa Teresa, Costa Rica.
Just a few hours from the capital city of San Jose, Santa Teresa is a world-renowned surf destination on the Nicoya Peninsula. With its long stretches of coastline and consistent waves, it's no wonder that surfing Santa Teresa has become so popular. Beginners can take lessons at one of the many surf schools in town, while more experienced wave riders can enjoy the challenges of the nearby breaks. Either way, there's no doubt that surfing Santa Teresa is an unforgettable experience.
And what better way to complete the perfect surf trip than by staying in a comfortable and stylish surf hotel? Santa Teresa is home to a number of great surf hotels, each with its own unique atmosphere. Whether you're looking for a laid-back hostel or a luxurious resort, there's sure to be a surf hotel that's perfect for you.
So without further ado, here are our picks for the 6 Best Surf Hotels in Santa Teresa, Costa Rica:
1. Mint Santa Teresa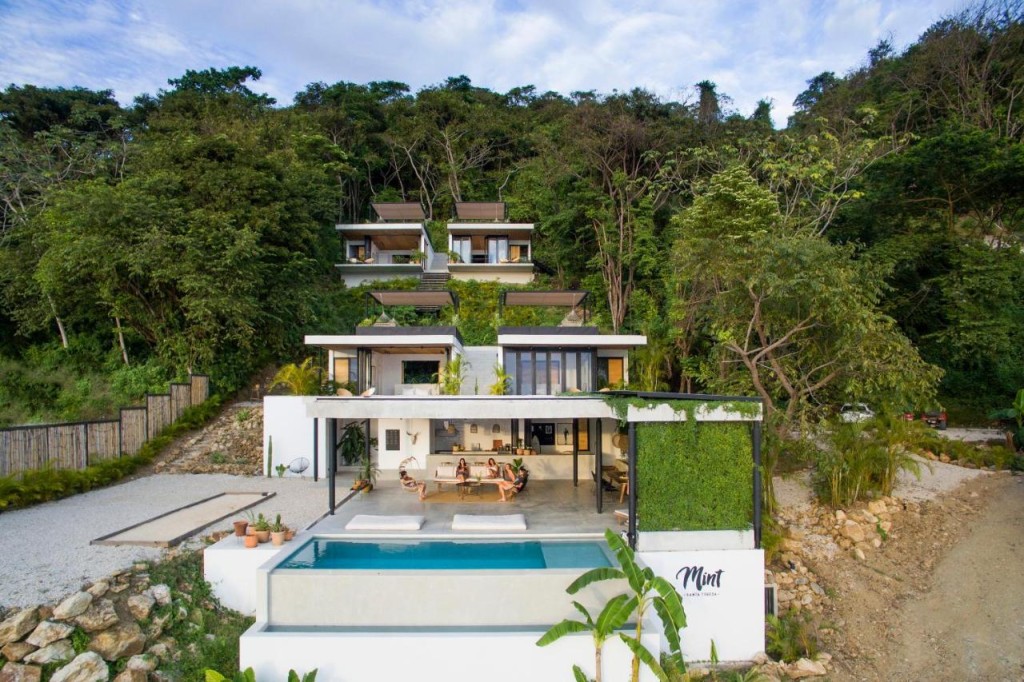 First on our list of the Best Surf Hotels in Santa Teresa is Mint.
Set on a hillside overlooking the Pacific Ocean, this adults-only guesthouse is a short walk from Playa Carmen.
The four understated rooms all feature king-size beds, air conditioning, an ocean view, and a private rooftop terrace. Amenities include complimentary breakfast, an infinity pool with stunning views of the ocean, and a sundeck and lounge.
The property was specially designed by Costa Rican architects and is filled with handpicked, locally sourced furniture, and design details.
The owners – Jonas and Johanna – have spent 6 years in the area and are on hand to show you the very best of Santa Teresa, including their favorite restaurants, excursions, and surf spots. If you'd like some surf lessons, a trip out in the area, a horse-riding excursion, or anything else Santa Teresa has to offer, Jonas and Johanna are happy to help.
Book a room now at Mint Santa Teresa from $180 a night.
2. Buena Onda Bungalows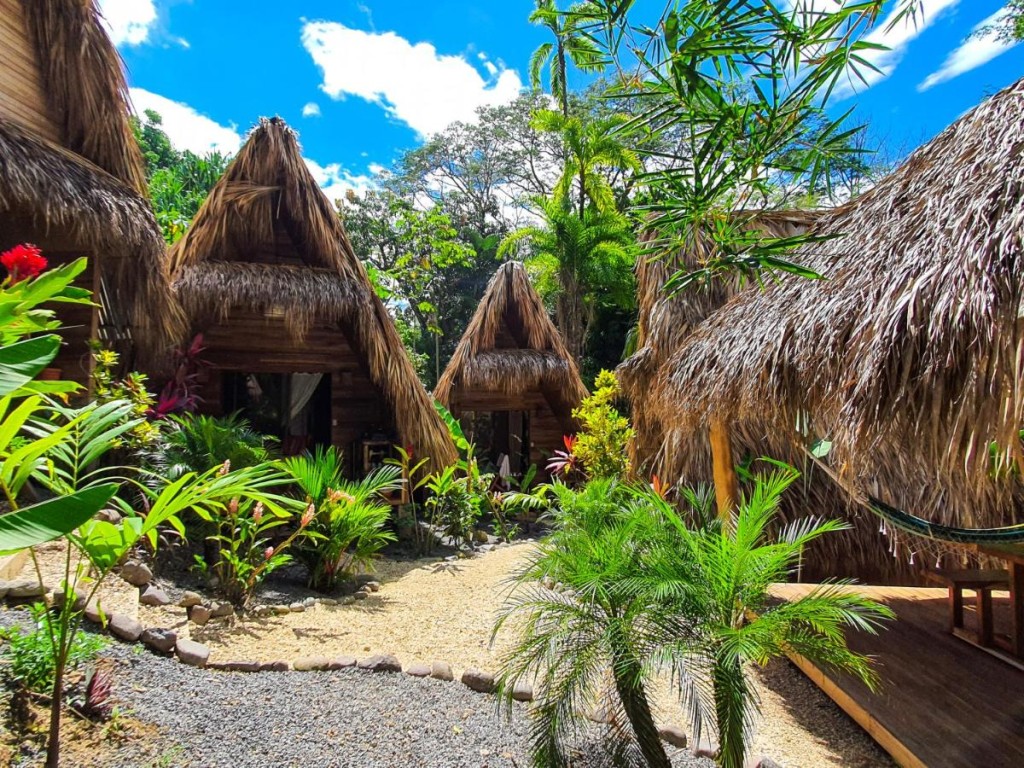 Looking for an eco-friendly and sustainable stay in the jungle, near some of the best surf spots in Costa Rica? Look no further than Buena Onda Bungalows in Santa Teresa.
These beautiful bungalows are built with all-natural, locally sourced materials and sit just 150 meters from Playa Santa Teresa. Whether you're a surfer, nature lover, or just looking to get away from it all, Buena Onda is the perfect place for you.
The resort is run by Alberto & Margherita, an Italian couple who have created a secluded oasis in the jungle. There are 6 private bungalows, each surrounded by lush foliage and built with sustainable materials such as wood, bamboo, and leaves. All of the bungalows have a private patio with a kitchen, bedroom, and bathroom – perfect for couples or small families.
In addition to the great accommodations, there is free Fiber Optic Wifi with 50 MG Speed, as well as a Co-Working Rancho, which is perfect for getting some work done or keeping up with your studies.
The resort also offers motorbike and quad rentals, so you can explore all that Santa Teresa has to offer. And for surfing beginners, they can arrange surf lessons on request.
Book a bungalow at Buena Onda Bungalows now starting from $155 per night.
See also: 5 of the Best Surf Camps in Santa Teresa
3. Hotel Nantipa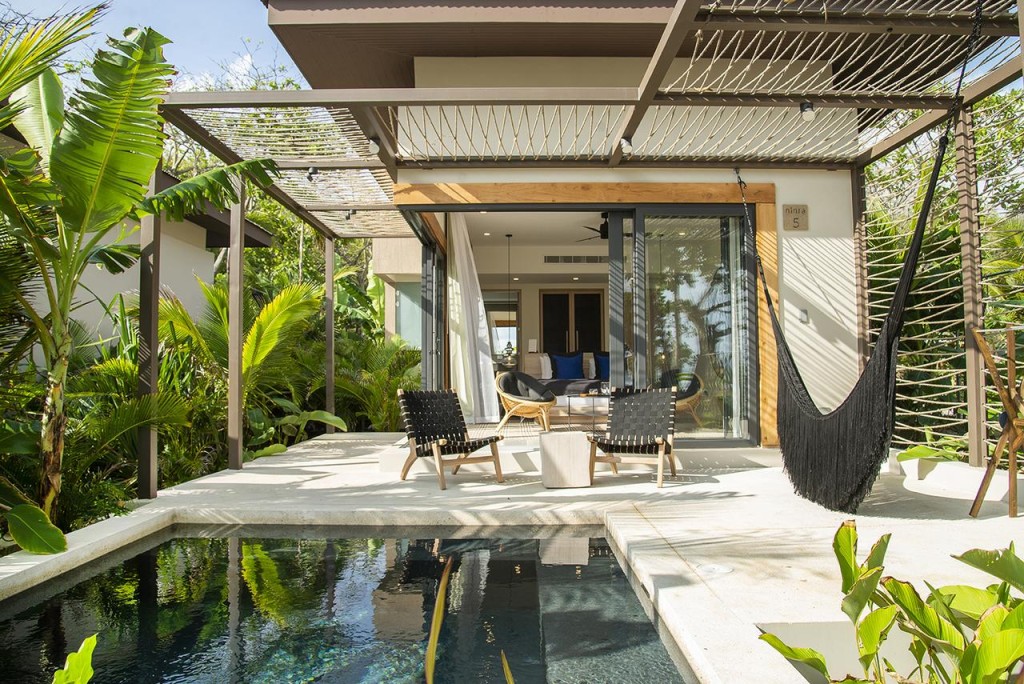 Next on our list of the Best Surf Hotels in Santa Teresa is Hotel Nantipa.
Located right on Playa Santa Teresa, this modern resort is perfect for surfers who want a more luxurious experience.
With its own on-site surf school and private beach club, it's the perfect place to learn how to surf or to improve your skills. The hotel also has its own yoga studio and spa, so you can relax and rejuvenate after a long day of surfing.
The rooms come with living areas and terraces with hammocks, perfect for relaxing after a long day. Plus, all rooms come with Wi-Fi, smart TVs, and minibars. If you upgrade to a bungalow, you'll even get your own private plunge pool.
And don't forget to check out the open-air, thatched-roof restaurant on the beach – it's the perfect spot to enjoy a meal with a view.
Book a room now at Hotel Nantipa in Santa Teresa from $369 a night.
4. The Green House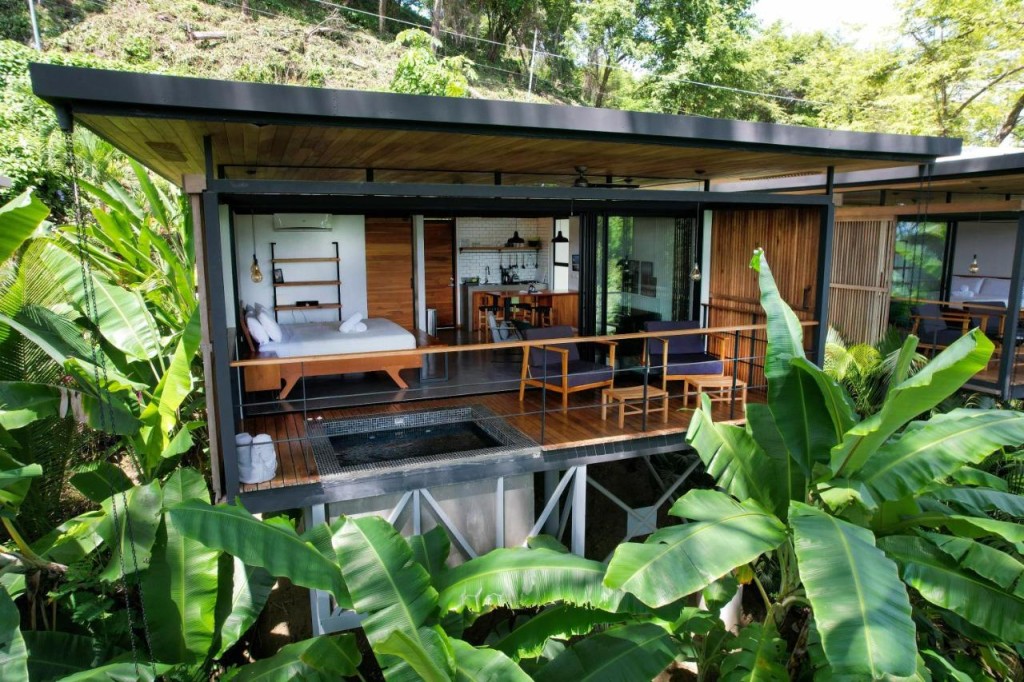 Nestled in the lush, forested hills of Calle Buenos Aires, about 300 meters above Santa Teresa, The Green House boasts incredible mountain and ocean views. It is the perfect destination for couples and groups of friends who are looking for more privacy on their surf trip.
The adults-only property is made up of three stylish, luxurious, and sustainably managed holiday homes, each with its own private pool, kitchen, stylish bathroom, and fiber optic high-speed internet.
Playa Carmen is just a 5-minute drive away, so the waves are still within easy reach. Plus the staff at The Green House are on hand to arrange airport transfers, car rentals, surfboard rentals, as well as organize tours and activities in the area.
So if you're looking for a private and romantic getaway, or a place to stay with friends, The Green House is the perfect place to call home during your next vacation.
Book at The Green House now starting from $410 per night.
5. SOMOS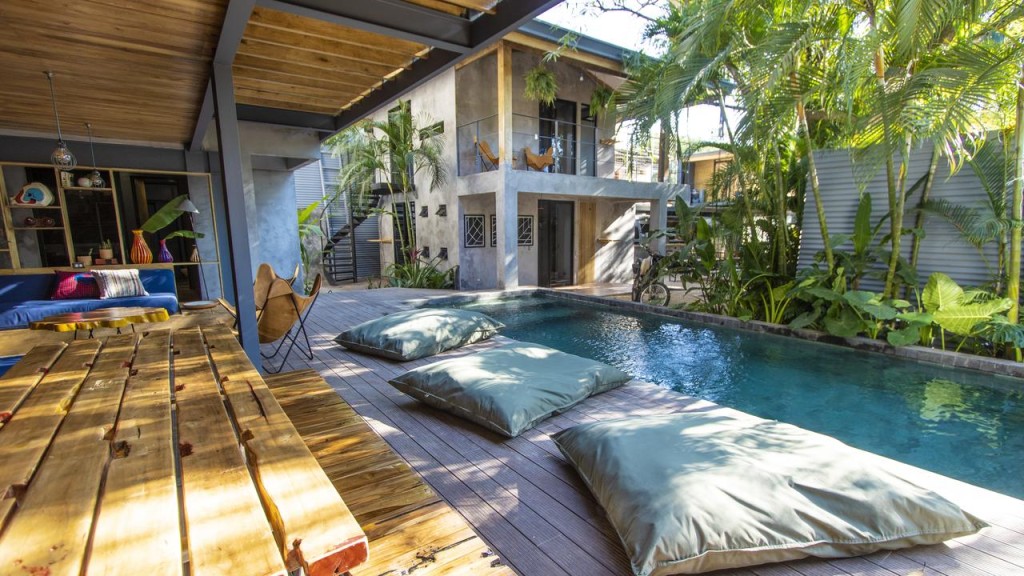 Looking for a place to truly unwind and relax on your next surf trip? Look no further than SOMOS in Santa Teresa. With its stunning natural surroundings, top-notch amenities, and friendly staff, this contemporary surf hostel is the perfect place to recharge your batteries.
Guests can choose between private rooms and dorms, all of which come with air conditioning, Wi-Fi, and private bathrooms. In the common areas, you'll find plenty of opportunities to socialize or simply take in the breathtaking views. Relax by the pool, enjoy a meal or refreshing drink at the SOMOS Cafe, or simply kick back and soak up the sun on the beach.
More than this, you can check out Somos' very own surfboard studio, where master craftsmen and board builders can design something unique for you.
And with Playa Santa Teresa only a 1-minute walk away, you can be in the water in no time.
Whether you're looking to relax in seclusion or meet new friends, SOMOS hostel is the perfect place for you.
Book a room at SOMOS now from $157 a night.
6. Blue Surf Sanctuary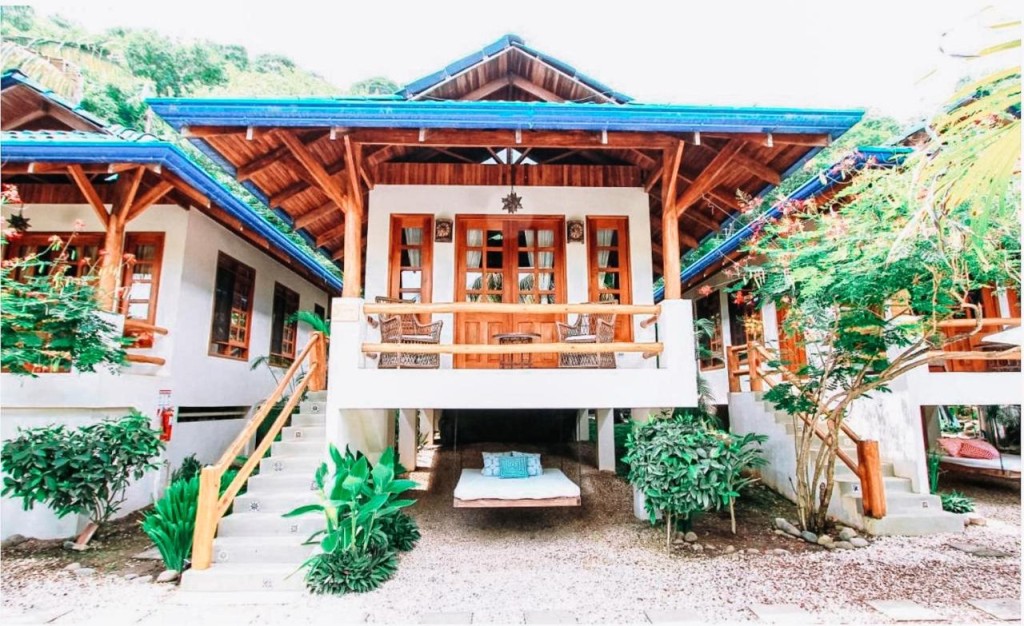 Last, but not least, on our list of the Best Surf Hotels in Santa Teresa is Blue Surf Sanctuary.
This private and cozy bungalow resort is surrounded by an assortment of tropical wildlife and greenery and is just footsteps away from Playa Santa Teresa.
The 4 fully furnished bungalows come equipped with everything you need for a comfortable and relaxing stay, including A/C, a ceiling fan, hot water, and a pillow top mattress. Each room also features a rainfall shower head, beautiful furnishings, organic soap, and an aromatherapy candle. Plus, the private verandas at each bungalow are the perfect spot to enjoy the stunning views of the surrounding area.
Amenities include a pool, which is perfect for cooling off after a long day in the sun, and a communal open-air kitchen where you can socialize with the other travelers. The team also offers surf lessons, board hire, tours, and activities to help you make the most of your stay.
Whether you're a seasoned surfer or a complete beginner, Blue Surf Sanctuary is the perfect place to catch some waves and reconnect with nature.
Book a bungalow at Blue Surf Sanctuary now starting from just $92 per night.
Surf Hotels Santa Teresa
When it comes to finding the perfect surf hotel in Santa Teresa, there are plenty of options to choose from. Whether you're looking for a private and romantic getaway or a place to stay with friends, there's something for everyone.
So what are you waiting for? Book your stay at one of these top Surf Hotels in Santa Teresa and start planning your perfect surf trip today!
Enjoyed our guide to The 6 Best Surf Hotels in Santa Teresa? Take a look at our Complete Guide to Surfing Santa Teresa in Costa Rica.