5 of The Best Surf Camps in Mexico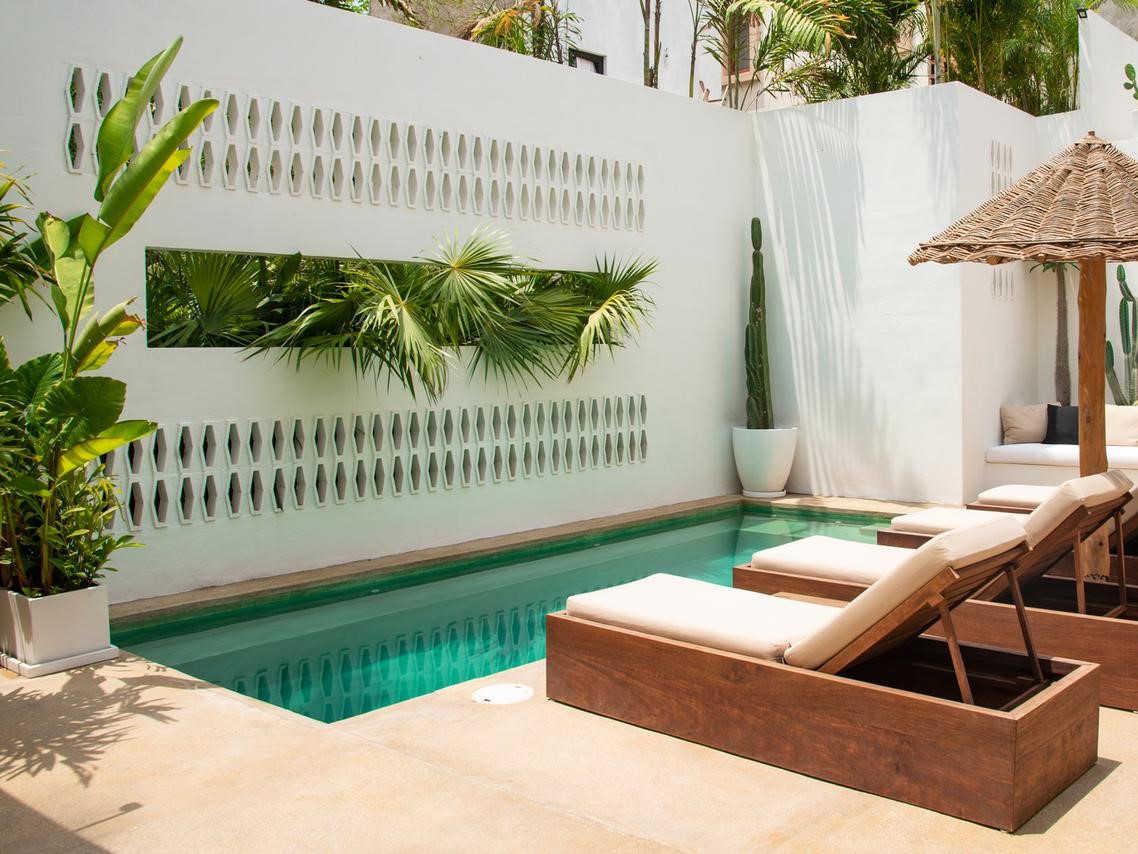 Disclaimer: This article contains affiliate links. We may receive a small commission if you make a purchase through one of these links. Please read our Affiliate Disclosure for more information.
This is our pick of the 5 Best Surf Camps in Mexico.
Mexico is a fantastic destination to take a vacation. Sun, sea, and blue skies? It really doesn't get any better. And for surfers, Mexico is paradise.
With azure waters and some incredible surf spots to choose from, Mexico should be at the top of your surf destination bucket list.
You can spend a great deal of time in Mexico and still have plenty more to see on your next visit. But after a day on the water, it's important to have some luxury accommodation to return to so that you can make the most of everything Mexico has to offer.
Get inspiration for your next surf trip to Mexico with our list of the 5 best surf camps in Mexico…
Hotel Escondido, Puerto Escondido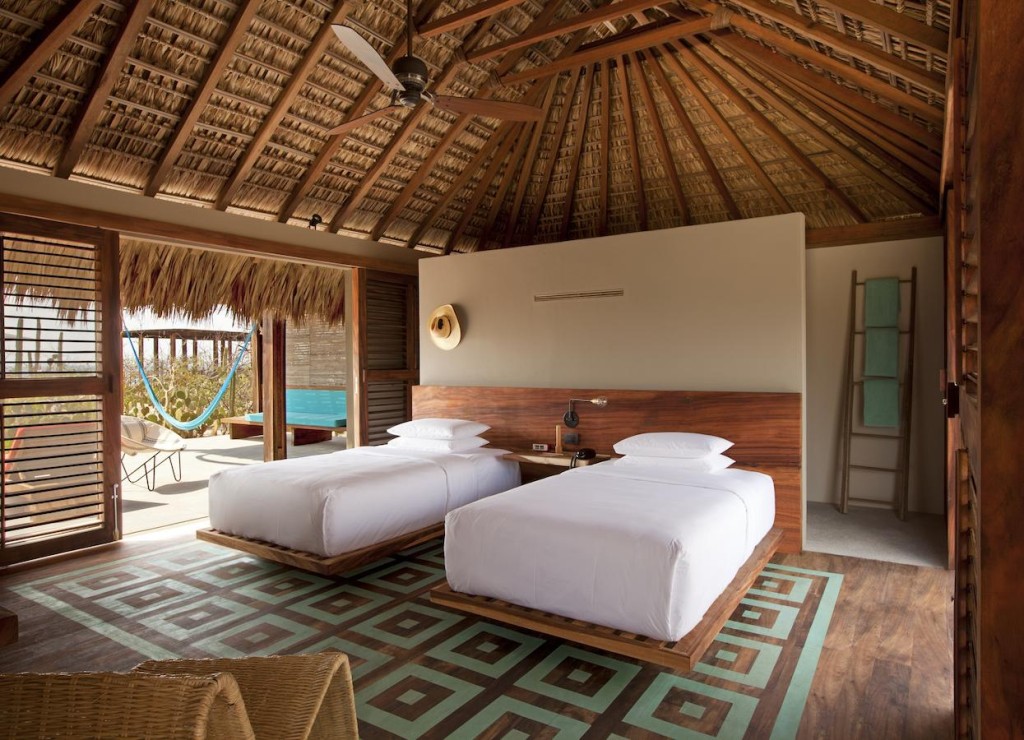 After spending your days surfing, it's great to enjoy a spot of luxury during your downtime. The Hotel Escondido is a fantastic hotel to relax and unwind, with private cabanas and a beautiful beach which is far removed from the typical tourist trap.
The hotel itself offers modern style and glamor. There's a relaxed vibe that adds a touch of cool, even in the hottest heat. The rooms are spacious, with large, comfortable beds that offer the perfect opportunity to relax after a long day of exploring Puerto Escondido. Each of the private villas has its own decking area and pool with a beautiful ocean view. It can be rare to find rooms of this size in the most upmarket of hotels, but the Hotel Escondido does not disappoint.
The hotel boasts some incredible facilities, including its own Olympic-sized swimming pool to enjoy a great swim. Between the pool and the bar and the incredible views, you won't need much else to keep you entertained.
The hotel's restaurant offers a limited but tasty menu, serving from 8 pm – perfect for those surfing until the sun goes down! There is also a selection of snacks available to order from the poolside bar during the day, as well as room service, of course. You will also be able to enjoy a wide choice of tasty cocktails, perfect for enjoying in front of the gorgeous sunset. Breakfast is highly recommended, with plenty of choices, including hot dishes that are ideal for filling you up before you head out to the water.
The Hotel Escondido is an adults-only resort, so it's the ideal choice if you're looking for a vacation without the kids around.
Affordable luxury with amazing surroundings, the Hotel Escondido is ideal if you want to enjoy a more upmarket surf experience in Mexico.
Book a room now at Hotel Escondido from $280 a night.
Selina, Puerto Escondido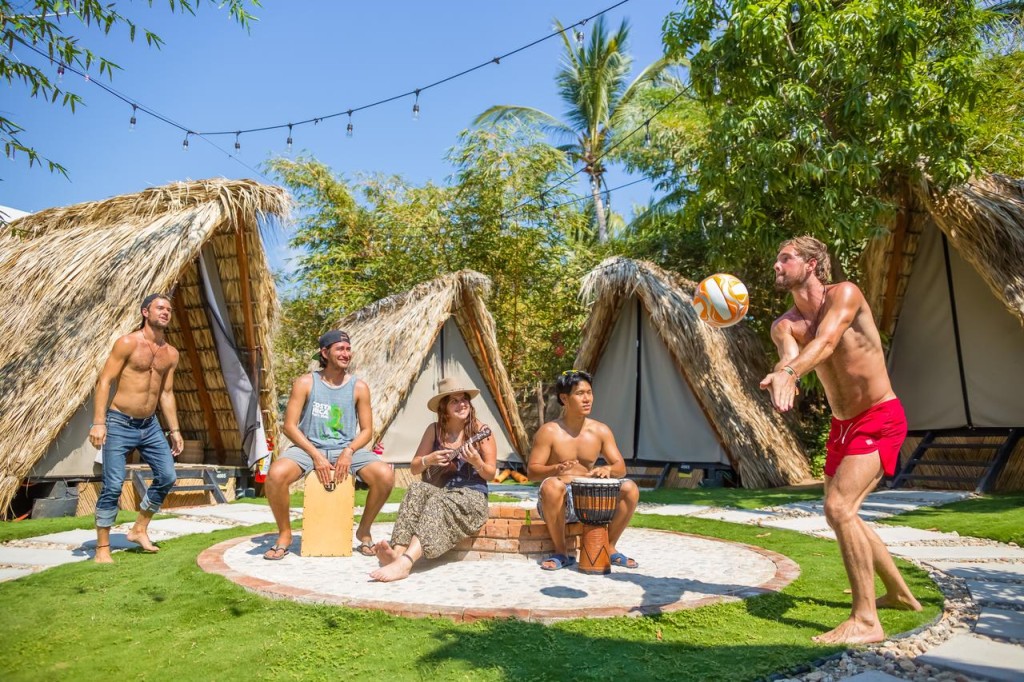 If you're looking to soak up the wonderful atmosphere that Puerto Escondido has to offer, then look no further than the Selina Puerto Escondido. Part of a chain of hostels located across South America and beyond, it's an excellent choice to enjoy affordable accommodation during your Mexican stay.
Ideal for a more sociable experience during your trip, the Selina Puerto Escondido offers a variety of comfortable room choices, including both dorms and private rooms, as well as some fantastic facilities, including a swimming pool, bar, and even on-site classes designed to fuel your creativity. Whether you love to enjoy a spot of yoga, or even some excursions to see the dolphins, there's plenty to keep you entertained.
Want to mix work and leisure? The Selina Puerto Escondido is a cool surf camp in Mexico that also offers a coworking space – ideal for helping you stay connected. Suitable for both long and short-term stay, it's ideal for travelers, digital nomads, and anyone else looking to enjoy a wonderful getaway.
Those who love to surf will love Selina's location, while newbies can also benefit from the hotel's on-site surfing instructor. You'll be sure to encounter plenty of like-minded people and soon get some recommendations for the best surf spots and tips.
Selina is a lively surf camp, which makes it perfect for those wanting to enjoy a mix of the party atmosphere and stunning surf experiences. Whether you're on a budget or you simply want to get a bit more from your stay, you'll find what you're looking for at the Selina.
Book a room now at Selina Puerto Escondido from $58 a night.
Don Bonito Hotel, Sayulita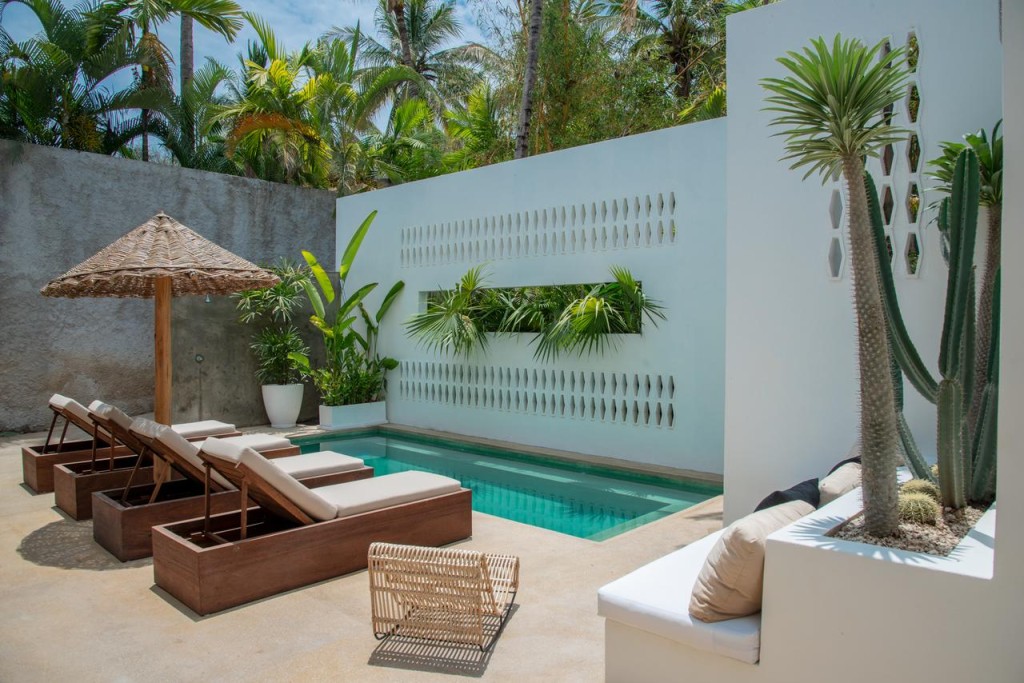 Offering fantastic value alongside great facilities, Don Bonito is a top choice for surf camps in Mexico. Located in the incredible village of Sayulita, it's highly recommended for those looking for a quieter time whilst enjoying the nearby surf.
Sayulita is a well-regarded surf village in Mexico. Described as being 'hippy chic', it attracts a diverse crowd that makes it a fun location to enjoy surfing in the Mexican sun. Located just a few meters from the beach, it's obvious why people enjoy their stay at Don Bonito.
While the hotel is small, it has everything you need to have a memorable time during your stay. With limited rooms, you can ensure that there's plenty of space at the outdoor pool, as well as the terrace and garden areas.
With just nine bedrooms, you need to be on the ball to book a stay at Don Bonito. The decor is charming, modern, and stylish, and the rooms have everything you need to ensure a comfortable stay – including free WiFi throughout the hotel.
Don Bonito is a highly-rated hotel that makes it a great choice for anyone wanting to surf in Sayulita. You'll be guaranteed to feel right at home thanks to the warm welcome you'll receive at this charming hotel.
Book a room now at Don Bonito in Sayulita from $114 a night.
Amaia Boutique Hotel, Sayulita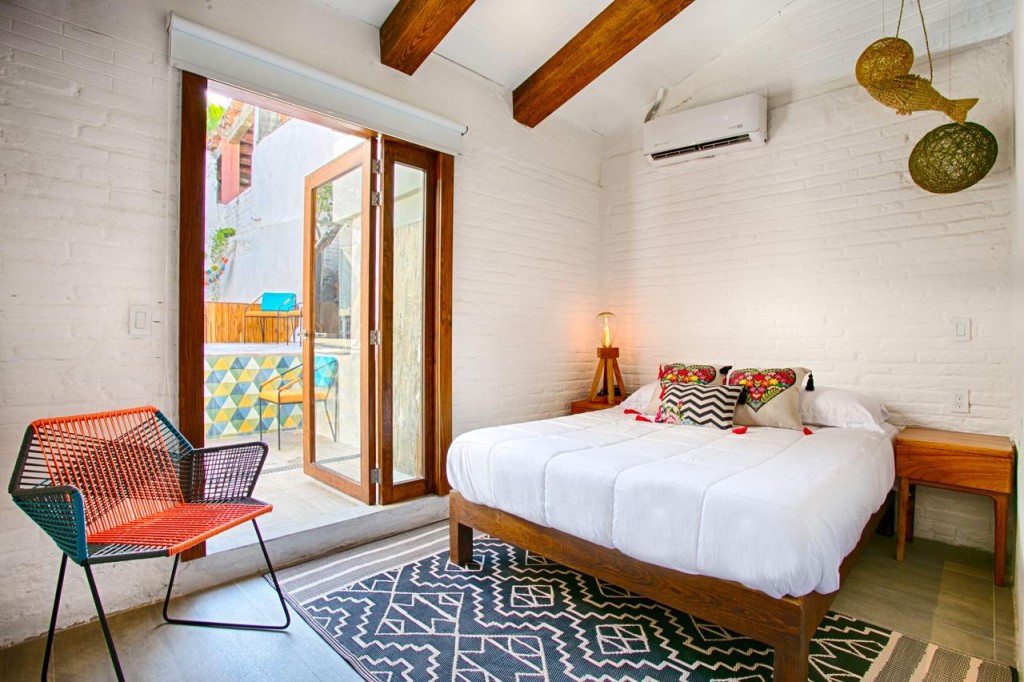 With so many great surf camps in Mexico to choose from, finding the right one for you can be a difficult task. If it's luxury you're looking for, then the Amaia Boutique Hotel could be just what you need.
Located in the heart of Sayulita, Amaia describes itself as providing 'comfortable luxury' for guests. It's set in a great area for exploring and within close proximity to the beach ready to enjoy some surfing. Another boutique hotel with just eight rooms, it's the perfect choice if you're looking for a quieter, high-quality stay. After a busy day on the waves, it's nice to come back and put your feet up to relax in such soothing surroundings.
The rooms at the Amaia Boutique have everything you need to enjoy an incredible stay. The decor mixes natural and quirky tones to create a modern look, while the beds' Egyptian cotton sheets offer a nice, luxurious touch. Not everyone likes to watch TV while they're away, but the rooms' 52-inch smart TV systems, complete with Netflix, might make you change your mind! Don't forget about the hotel's room service, which is highly recommended.
The hotel wants you to 'feel great', and with that in mind, there's the wonderful Art Bar and Pool to help you relax and unwind. The pool area is the perfect size for the number of guests, and you'll have no trouble relaxing in the peace and quiet.
Book a room now at Amaia Boutique Hotel is Sayulita from $76 a night.
Avela Boutique Hotel, Sayulita
Last, but certainly not least on our list of surf camps in Mexico, is Avela Boutique Hotel, another wonderful boutique hotel that offers plenty for those visiting Sayulita for the surf, and everything else the village has to offer. Boutique hotels can be a fantastic choice for those who enjoy quieter evenings and more personal service.
The Avela is a newly-built hotel, which is set within some striking surroundings while boasting its own incredible decor. Clean, modern, and luxurious, the hotel describes itself as blending the 'modern and traditional' to create stylish and beautiful decor that doesn't disappoint.
The Avela is an adults-only boutique hotel, which focuses on providing a luxury experience for guests. The pool area is idyllic and it will be difficult to tear yourself away from it to take up surfing elsewhere. It makes a perfect retreat following a busy day on the water, and you can be sure that the staff will take care of your every whim.
King-sized beds, Egyptian cotton bedding, and modern spa-style bathrooms are just some of the features your Avela room will have to offer. There's the addition of large TVs, a work area and of course internet access for those who want to make the most of their rooms. Outside of the suite, there's the chance to enjoy the bar and food options, which also include room service.
While the Avela is at the pricier end of the market, it really is worth it for the experience you get at this hotel. There are various room rates available, helping you choose the best option to suit your budget.
Even if you plan to surf for the majority of your stay, the amazing facilities at Avela Boutique Hotel are not to be missed.
Book a room now at The Avela Boutique Hotel in Sayulita from $156 a night.
Whatever you're looking for from your surf camp in Mexico, you'll be sure to find something to suit you.
If you're feeling inspired to check out some more great surf destinations, check out some of the world's best surf hotels here and start planning where to go next.