A Complete Guide to Surfing Santa Teresa in Costa Rica

Disclaimer: This article contains affiliate links. We may receive a small commission if you make a purchase through one of these links. Please read our Affiliate Disclosure for more information.
Thinking about surfing Santa Teresa in Costa Rica?
This is our complete surf travel guide. Read for everything you need to know about surfing Santa Teresa.
While Costa Rica is best known for its lush rainforests and diverse wildlife, the country also boasts some of the best surfing in the world. Santa Teresa is a small town located on the Nicoya Peninsula, and it has become a mecca for surfers from all over the globe. The town is home to several world-class surf spots, including Playa Hermosa and Playa Carmen.
Whether you're a seasoned surfer or a beginner, Santa Teresa has something to offer. The waves here are relatively consistent, and there are plenty of surf schools and instructors available to help you hone your skills. So if you're looking for an unforgettable surfing experience, be sure to add Santa Teresa to your list.
The Best Time of Year for Surfing Santa Teresa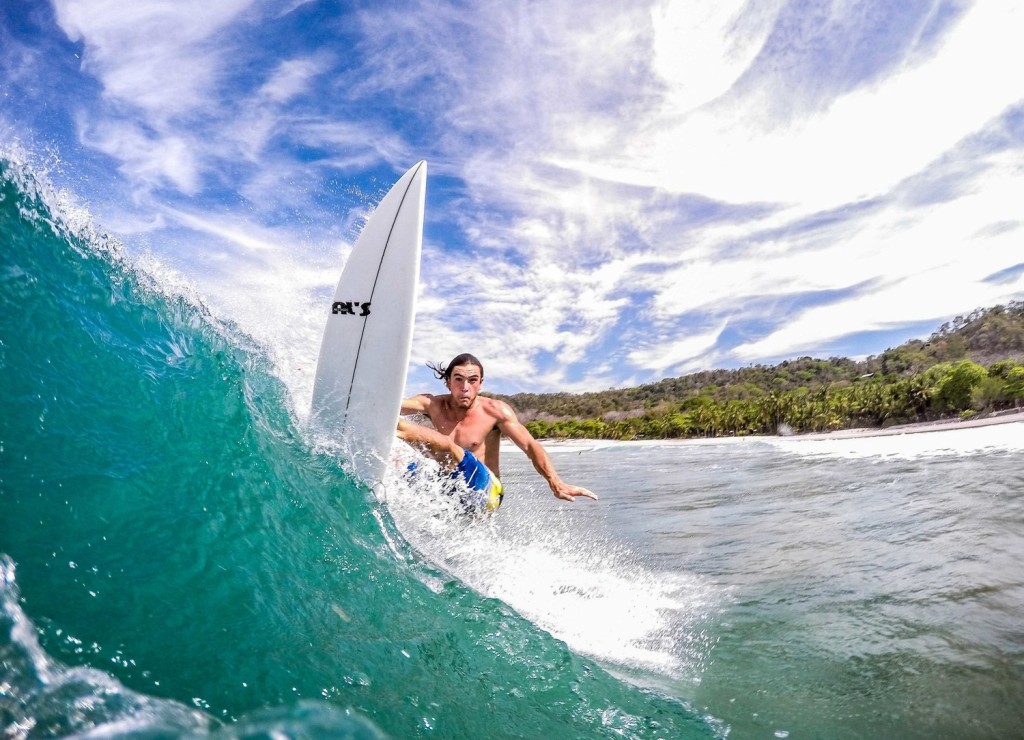 Surfing Santa Teresa in Costa Rica is an amazing experience any time of year, but there are definitely some times that are better than others.
For the best weather and most consistent surf, we recommend visiting between March and April. This is the dry season in Santa Teresa, and you can expect sunny skies and warm temperatures. This is also when you'll find the biggest waves.
If you're looking to avoid the crowds, however, we recommend visiting during the shoulder months of January and February or May and June. The waves will be a bit smaller during these months, but you'll still be able to enjoy excellent surf conditions. Plus, you'll have the added bonus of avoiding the tourist rush.
How to get to Santa Teresa
There are two ways to get to Santa Teresa: by plane or by bus. If you're flying, the closest airport is located in Tambor, which is about a 1-hour drive from Santa Teresa. To get to Tambor, you'll need to take a connecting flight from either San Jose or Liberia.
Alternatively, you can get a taxi transfer to Santa Teresa direct from Liberia airport, which takes 4-5 hours.
If you're taking the bus, there are several companies that offer service to Santa Teresa. The trip takes about 5-6 hours, and buses depart from both Liberia and San Jose multiple times per day.
Surf Camps in Santa Teresa
Whether you're a beginner or a seasoned pro, there are plenty of surf camps in Santa Teresa that can accommodate your needs. Many of these camps offer group lessons as well as private instruction, so you can choose the learning environment that's right for you.
Some of our top picks for surf camps in Santa Teresa include:
Lapoint Santa Teresa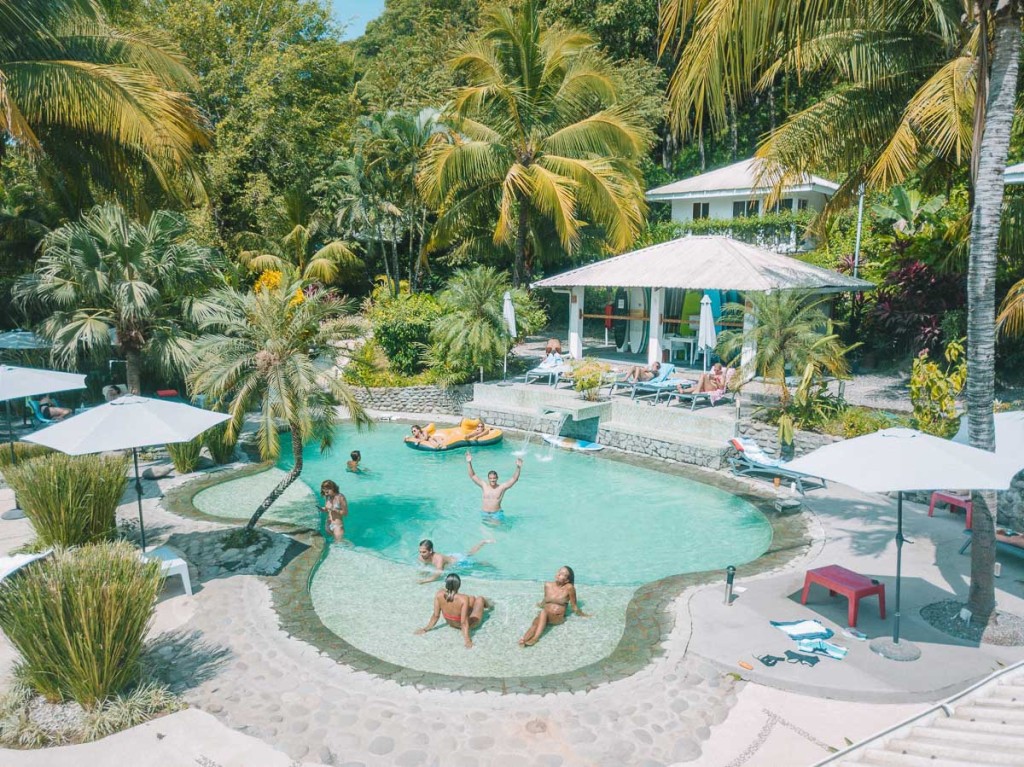 This popular surf camp sits in a secluded spot, surrounded by lush gardens, a 5-minute walk from Playa Carmen.
Lapoint Santa Teresa is made up of one large villa and five bungalows. The main villa can accommodate up to 34 people, while the bungalows can each accommodate two. So whether you're traveling with a large group or just want some privacy, they've got you covered.
The open-air lounge and hangout area is the perfect place to socialize and meet new friends, while the swimming pool is perfect for cooling off after a long day in the sun. The on-site bar serves up refreshing drinks and delicious snacks, and the restaurant serves healthy food to help you refuel.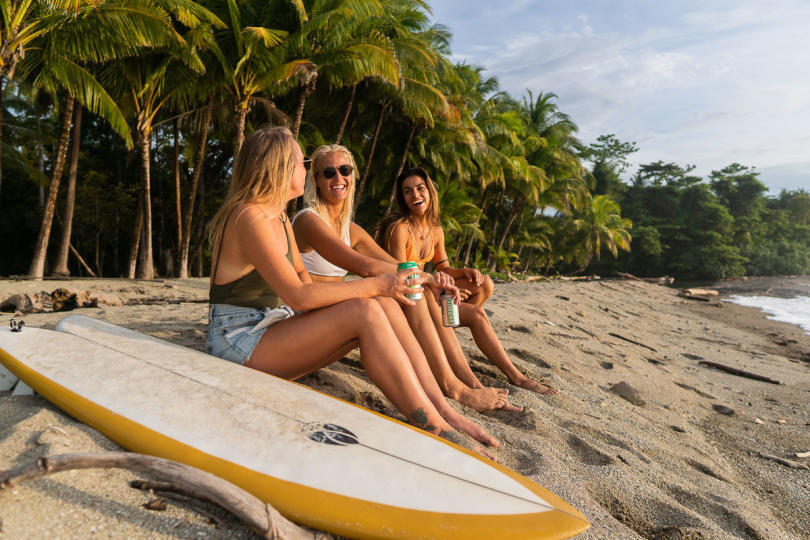 La Point Santa Teresa offers guests a 1-week all-inclusive package. This includes private or shared accommodation, 3 meals per day, 2 surf lessons per day, and unlimited use of the camp's facilities. The camp also offers a range of other activities such as yoga, stand-up paddleboarding, and snorkeling.
Lapoint Santa Teresa is perfect for those looking for a surf camp with plenty of activities on offer and the opportunity to meet other like-minded travelers.
You can book a 1-week package with Lapoint Santa Teresa now starting from $788 per person.
Selina Santa Teresa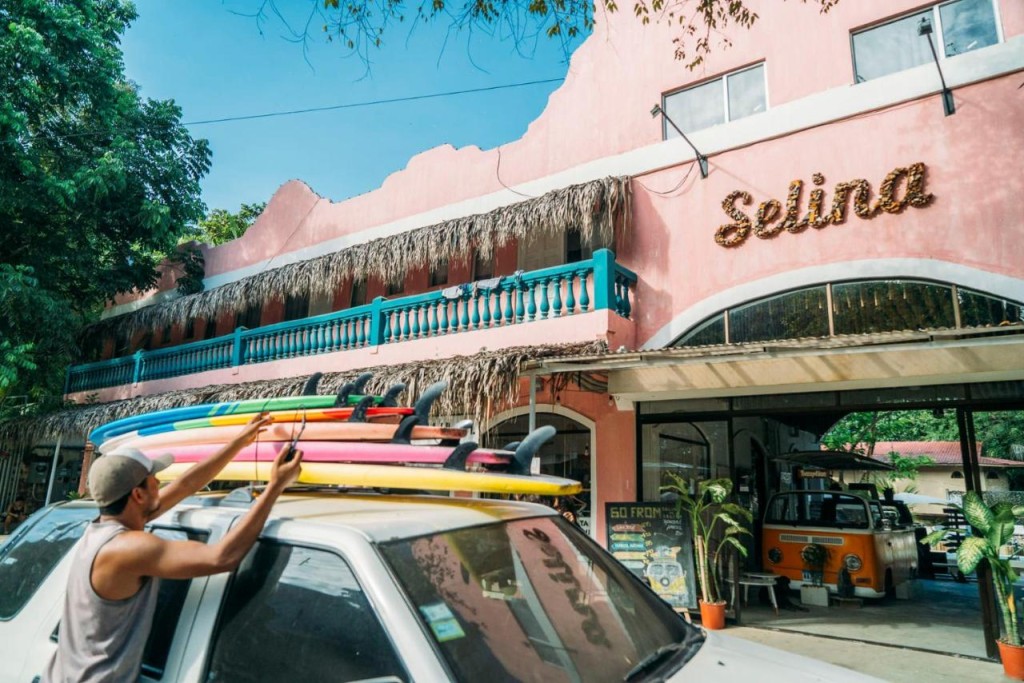 Looking for a surf camp in Santa Teresa that totally vibes with the local culture and environment? Look no further than Selina Santa Teresa. This massive 4-story hostel is located right on the main road in Santa Teresa.
Selina Santa Teresa is known for its electric social atmosphere and its endless supply of soon-to-be lifelong friends. Whether you're looking to catch some waves or just explore the incredible beach, Selina Santa Teresa is the perfect place for you.
Rooms come in a variety of styles and sizes to suit any budget, and the common areas are perfect for socializing with other guests. Plus, you're just a short walk from the beach and all the best shops and restaurants in town.
Selina Santa Teresa offers guests a 1-week all-inclusive surf camp package. This includes 7 nights of private or shared accommodation, 3 meals per day, 5 surf lessons, and unlimited use of the camp's facilities.
You can book a 1-week package with Selina Santa Teresa now starting from $782 per person.
Lucero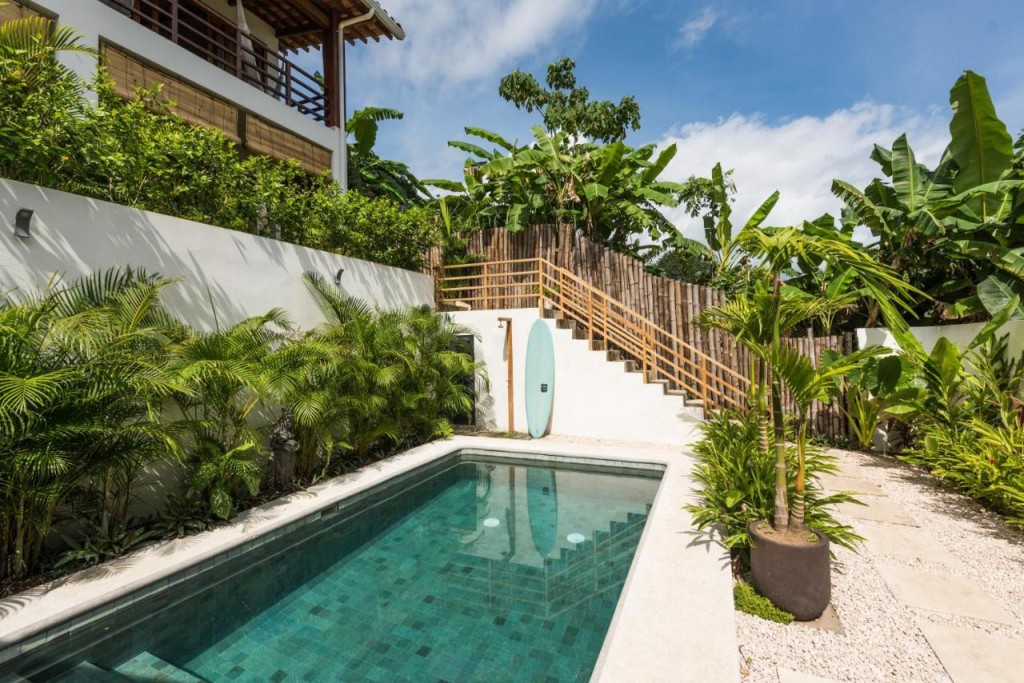 With Lucero's Surf and Stay package, you can enjoy all the best that Santa Teresa has to offer. Stay in the beautiful Lucero private villa just a short walk from Playa Santa Teresa, and take surf lessons with some of the best instructors in town.
The boutique hotel has four private rooms, each with its own ensuite bathroom. The rooms are spacious and airy, with plenty of natural light and private balconies. The on-site restaurant serves up delicious, healthy meals made with fresh, local ingredients. And there's an outdoor pool if you fancy a dip in between surf sessions.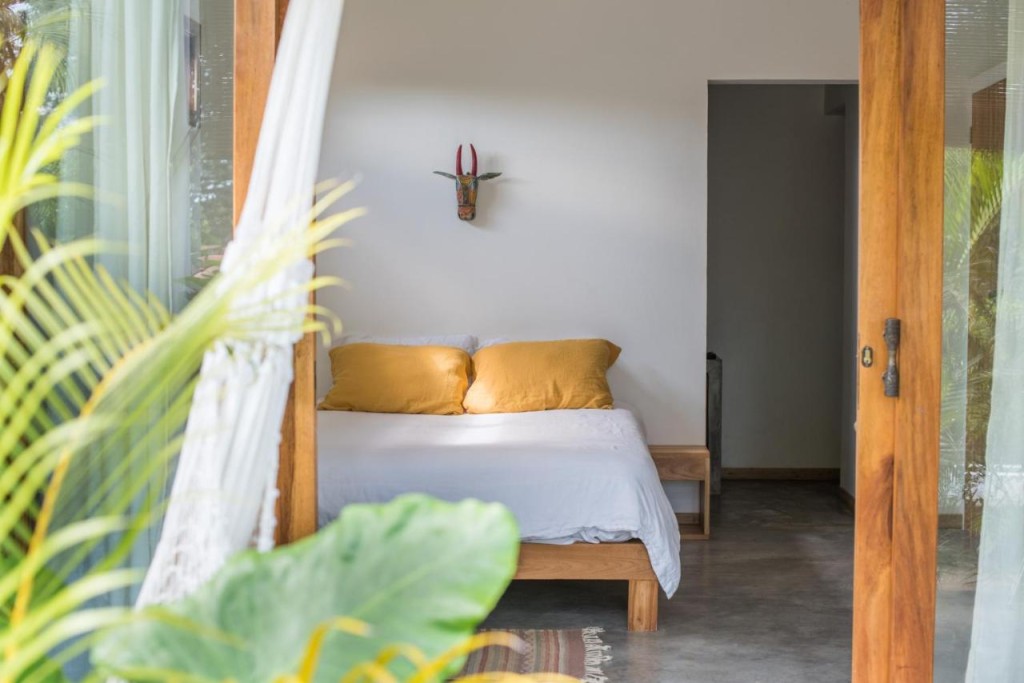 Lucero offers a 1-week all-inclusive package. This includes 4 surf lessons, Monday, Tuesday, Thursday, and Friday. Wednesday is a rest day but if you feel ambitious you can add more lessons, or you can also add activities like horseback riding or stand-up paddleboarding.
The 1-week package also includes 7 nights of accommodation in a private room with an ensuite bathroom, a daily breakfast buffet, and unlimited use of the camp's facilities.
You can book a 1-week package with Lucero now starting from $1073 per person.
See also: 5 of the Best Surf Camps in Santa Teresa
Surf Resorts in Santa Teresa
Whether you're looking for luxury accommodations or a more budget-friendly option, you're sure to find the perfect surf resort in Santa Teresa. Here are a few of our favorites:
Mint Santa Teresa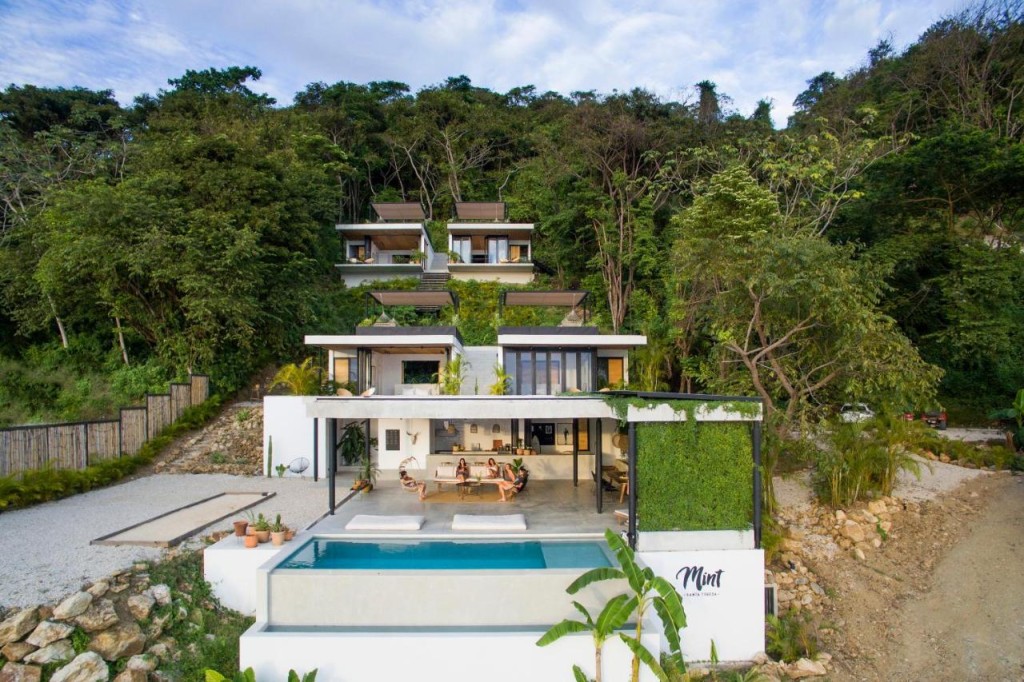 Set on a hillside overlooking the Pacific Ocean, this adults-only guesthouse is a short walk from Playa Carmen.
The four understated rooms all feature king-size beds, air conditioning, an ocean view, and a private rooftop terrace. Amenities include complimentary breakfast, an infinity pool with stunning views of the ocean, and a sundeck and lounge.
The property was specially designed by Costa Rican architects and is filled with handpicked, locally sourced furniture, and design details.
The owners – Jonas and Johanna – have spent 6 years in the area and are on hand to show you the very best of Santa Teresa, including their favorite restaurants, excursions, and surf spots. If you'd like some surf lessons, a trip out in the area, a horse-riding excursion, or anything else Santa Teresa has to offer, Jonas and Johanna are happy to help.
Book a room now at Mint Santa Teresa starting from $180 a night.
Buena Onda Bungalows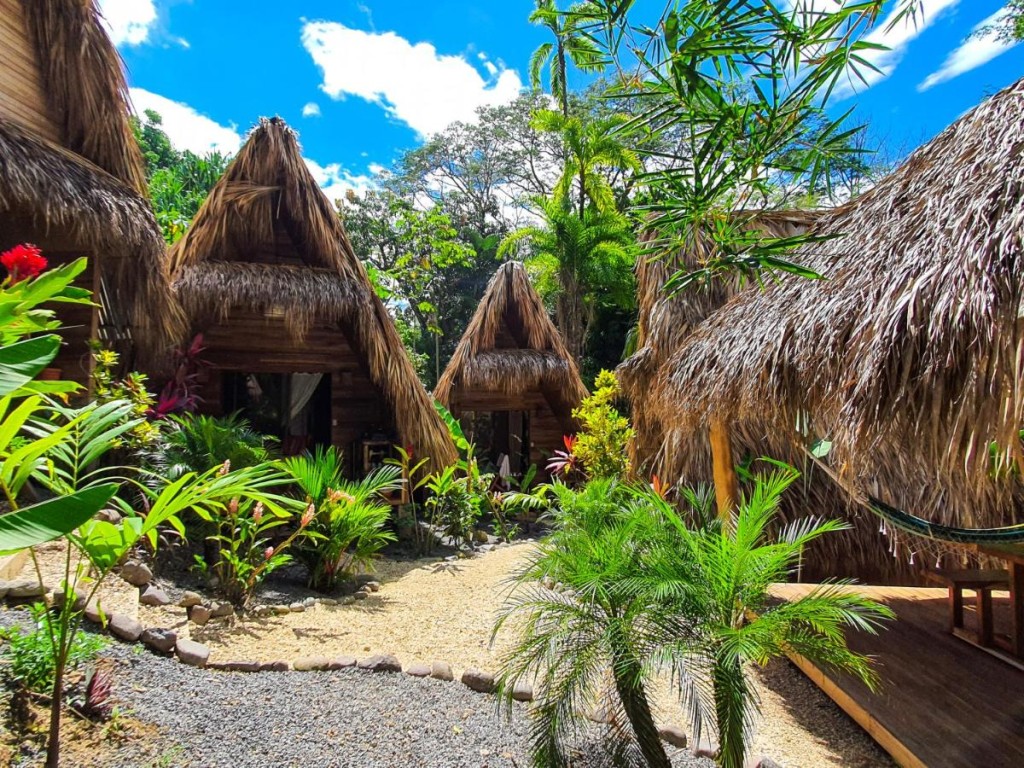 Looking for an eco-friendly and sustainable stay in the jungle, near some of the best surf spots in Costa Rica? Look no further than Buena Onda Bungalows in Santa Teresa.
These beautiful bungalows are built with all-natural, locally sourced materials and sit just 150 meters from Playa Santa Teresa. Whether you're a surfer, nature lover, or just looking to get away from it all, Buena Onda is the perfect place for you.
The resort is run by Alberto & Margherita, an Italian couple who have created a secluded oasis in the jungle. There are 6 private bungalows, each surrounded by lush foliage and built with sustainable materials such as wood, bamboo, and leaves. All of the bungalows have a private patio with a kitchen, bedroom, and bathroom – perfect for couples or small families.
In addition to the great accommodations, there is free Fiber Optic Wifi with 50 MG Speed, as well as a Co-Working Rancho, which is perfect for getting some work done or keeping up with your studies.
The resort also offers motorbike and quad rentals, so you can explore all that Santa Teresa has to offer. And for surfing beginners, they can arrange surf lessons on request.
Book a bungalow at Buena Onda Bungalows now starting from $155 per night.
The Green House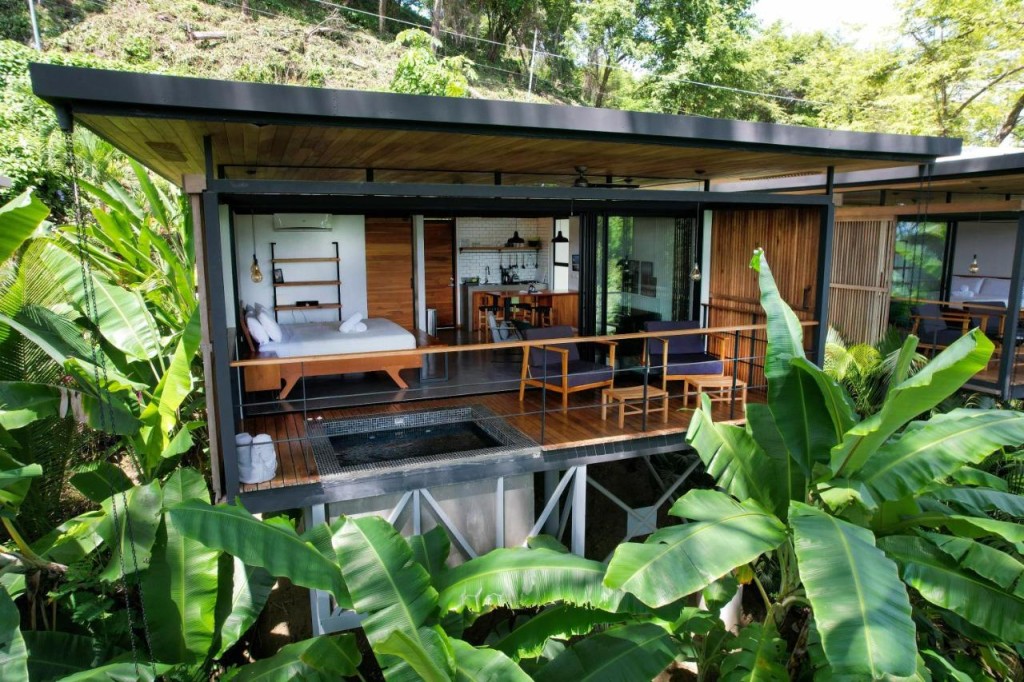 Nestled in the lush, forested hills of Calle Buenos Aires, about 300 meters above Santa Teresa, The Green House boasts incredible mountain and ocean views. It is the perfect destination for couples and groups of friends who are looking for more privacy on their surf trip.
The adults-only property is made up of three stylish, luxurious, and sustainably managed holiday homes, each with its own private pool, kitchen, stylish bathroom, and fiber optic high-speed internet.
Playa Carmen is just a 5-minute drive away, so the waves are still within easy reach. Plus the staff at The Green House are on hand to arrange airport transfers, car rentals, surfboard rentals, as well as organize tours and activities in the area.
So if you're looking for a private and romantic getaway, or a place to stay with friends, The Green House is the perfect place to call home during your next vacation.
Book at The Green House now starting from $410 per night.
See also: 6 of the Best Surf Hotels in Santa Teresa
Surf Spots in Santa Teresa
The surf is one of the key attractions of Santa Teresa, so it should be no surprise there are plenty of noteworthy surf spots that deserve a shoutout. We're going to look at some of the spots on Playa Santa Teresa, the beach right by the town, as well as some of the other beaches that aren't too far away and what they have to offer.
Playa Santa Teresa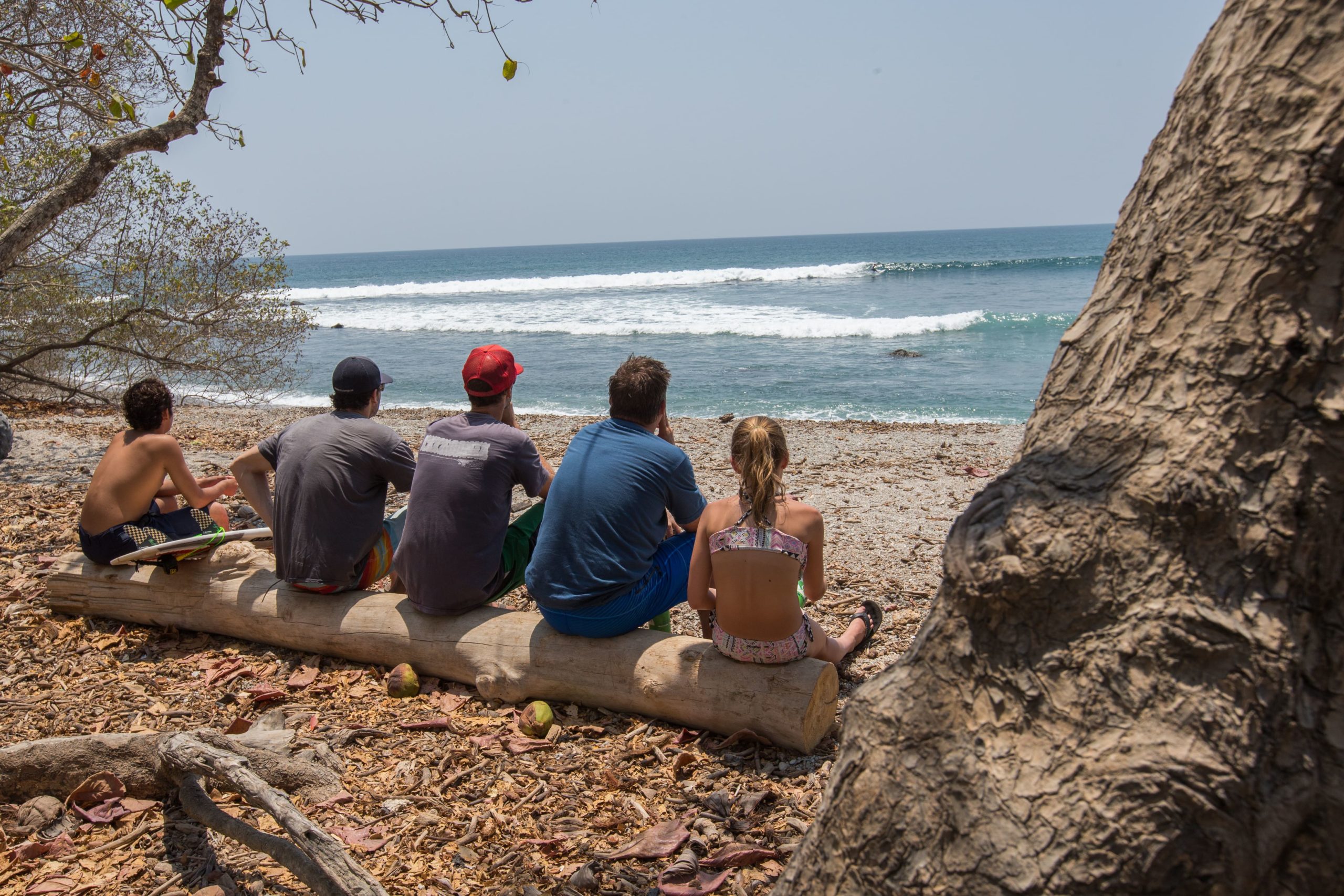 This is the beach likely to be right outside your doorstep if you stay at one of the accommodations mentioned above. It's best for intermediate to advanced surfers and works on all tides as well as all swell directions, but it is undeniably at its best when you catch a low or medium tide with a southwest swell. The powerful waves, breaking both left and right, are formed by the steep incline of the sandy ocean floor, which creates the perfect opportunity to get barrelled.
Suck Rock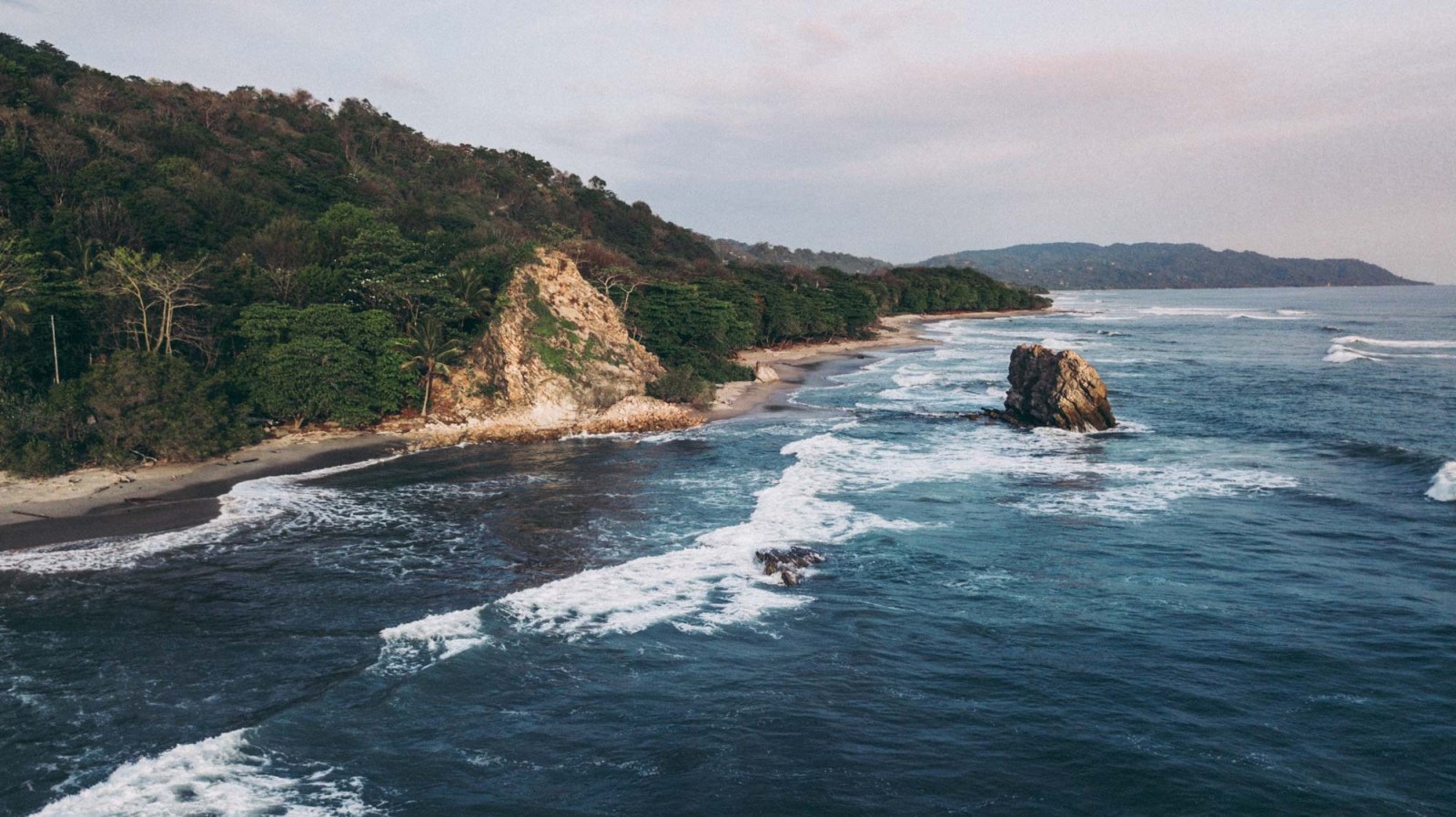 At the northern edge of Santa Teresa, you'll find the restaurant Rocamar, which is precisely where you'll find some of the most excellent surf breaks in the entirety of the beach. There are right-hand point breaks here which offer truly massive swells, which are best during low tide. The nearby white sand beach, La Lora, is another decent surfing spot, worth visiting for the consistent surf as well as the idyllic surroundings.
Playa Hermosa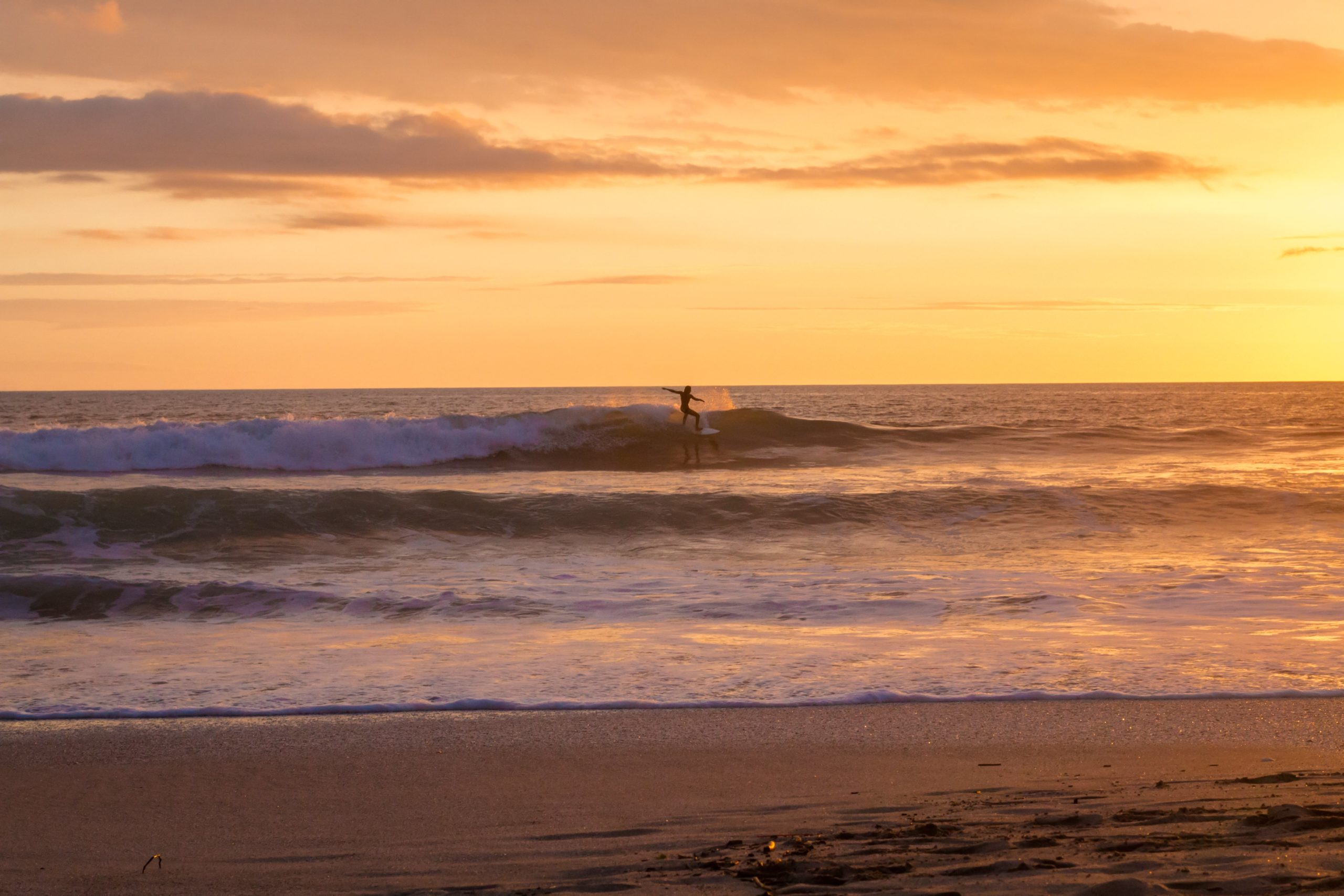 Keep heading north past Playa Santa Teresa and you'll come across a gorgeous beach that's a little less crowded, even when the tourists are out in full force. This is a great beginner break thanks to less forceful rip currents, which means that some surf schools do take their students out here and take up the very little parking available. A decent place for both right and left swells, that works best at medium to high tides.
Playa Carmen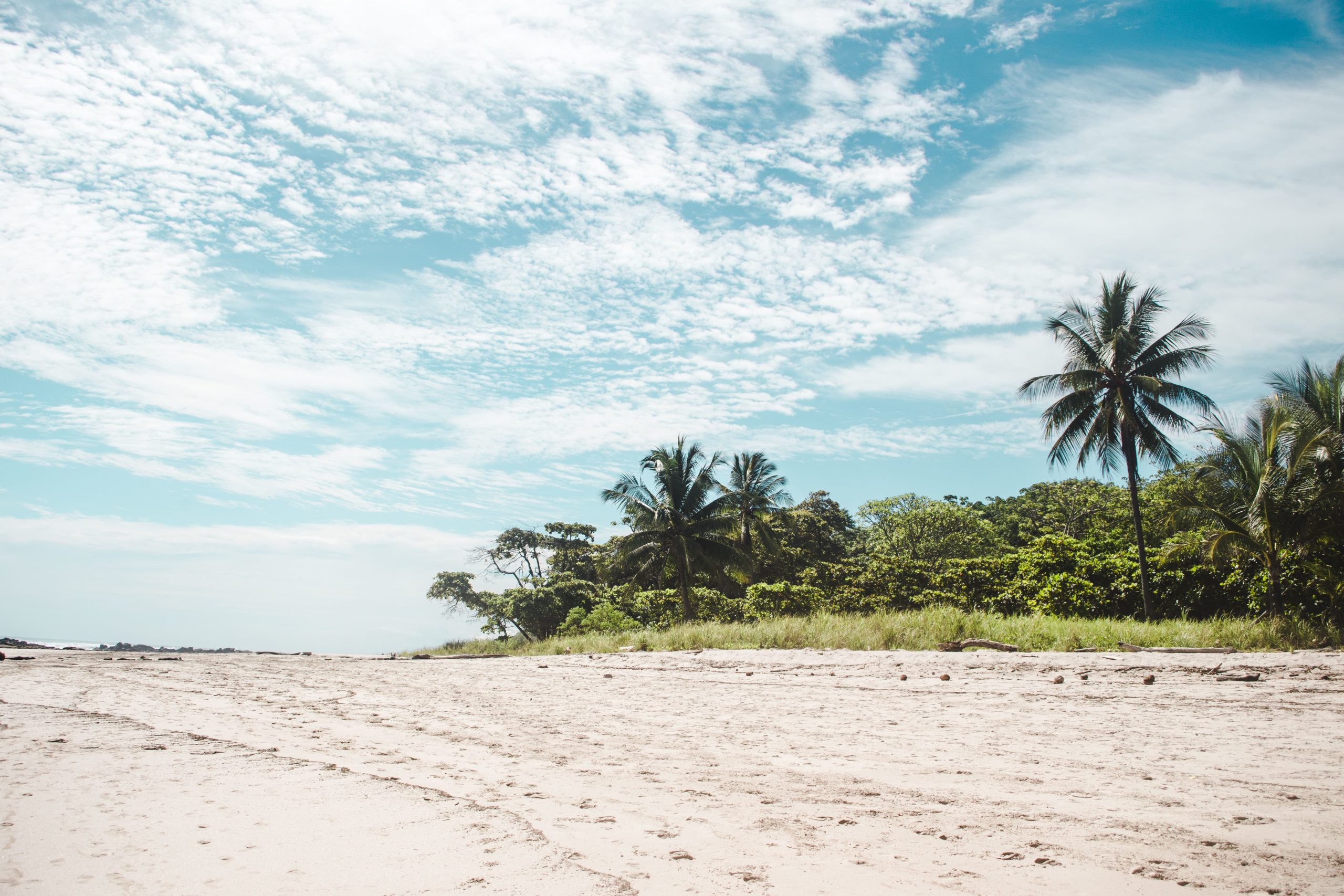 Another great beach for beginners surfing Santa Teresa is Playa Carmen. This long stretch of white sand is to the south of Santa Teresa, just between the town and Mar Azul. It's comparable to Playa Hermosa and a good alternative if you have trouble finding parking there. However, it is important to do a little looking around before you pick a spot. The coast here is known for its rocky spots, which also means that it's not as safe for swimming like the other beaches mentioned here.
Mar Azul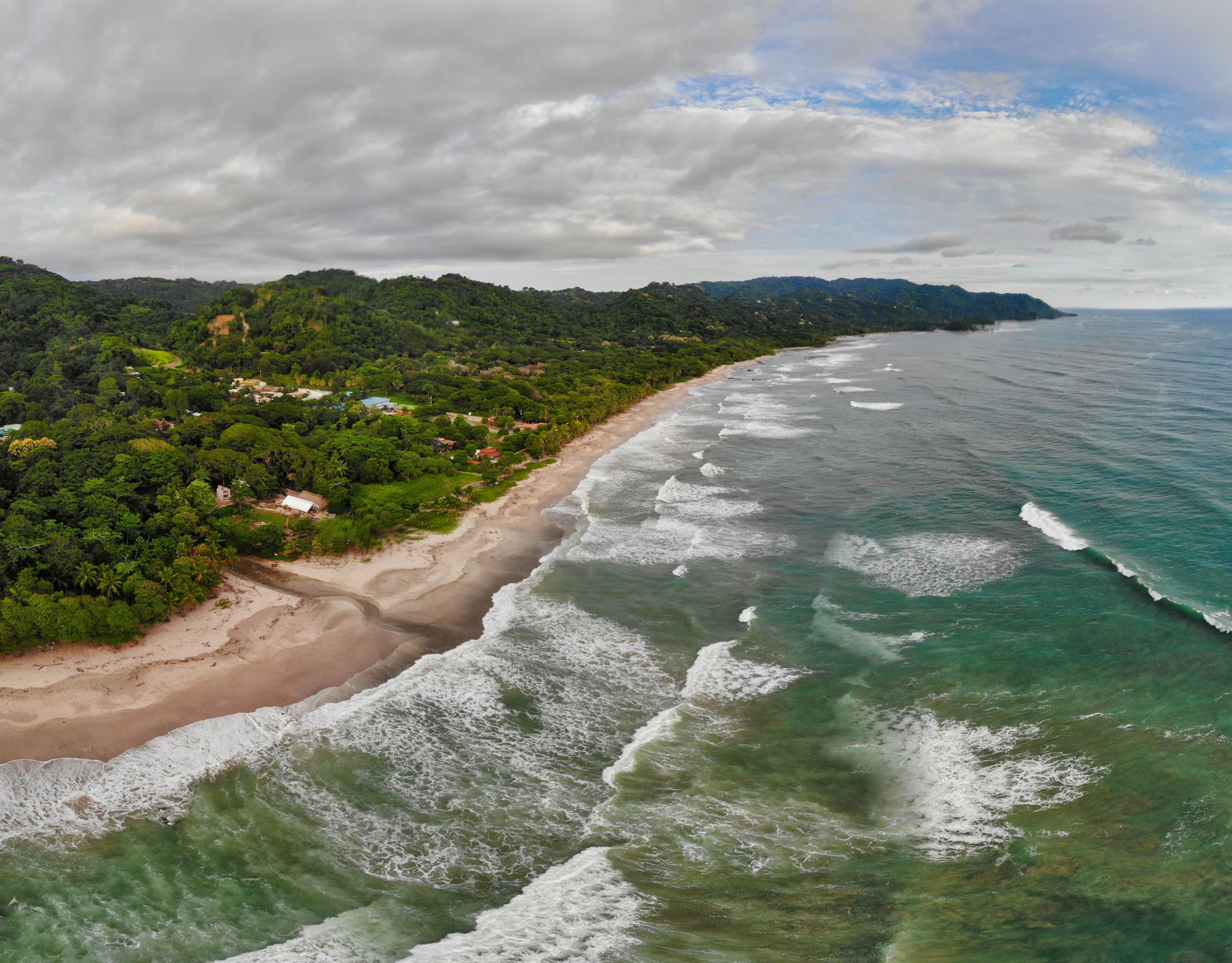 Keep going south, beyond Playa Carmen, and you'll find one of the best and most beloved surf spots in Malpais. Mar Azul is a famous left point break, where a flat reef bottom leading to a deep channel leads to long swells from the south and southwest. This is a good place for surfers from beginners to experts, but it only really works shortly after high tide. It's famous, but it's relatively quiet due to how inconsistent the waves actually are. Still, a great place to take the camera and to snap some photos of the sea turtles.
Surf Lessons in Santa Teresa
If you're new to surfing, you'll be happy to know that there are plenty of surf schools in Santa Teresa offering lessons for all levels. Whether you're a complete beginner or just looking to brush up on your skills, they can help you make the most of your time in the water.
We recommed checking out Santa Teresa Tours. For $60 per person, their knowledgeable and experienced instructors will provide you with two full hours of instruction, covering everything from basic safety to wave riding techniques. And don't worry about forgetting your GoPro – they'll also take care of capturing all the best moments of your lesson on video and photo so you can relive the experience (or show off your new skills) long after your vacation is over.
Surfboard Hire in Santa Teresa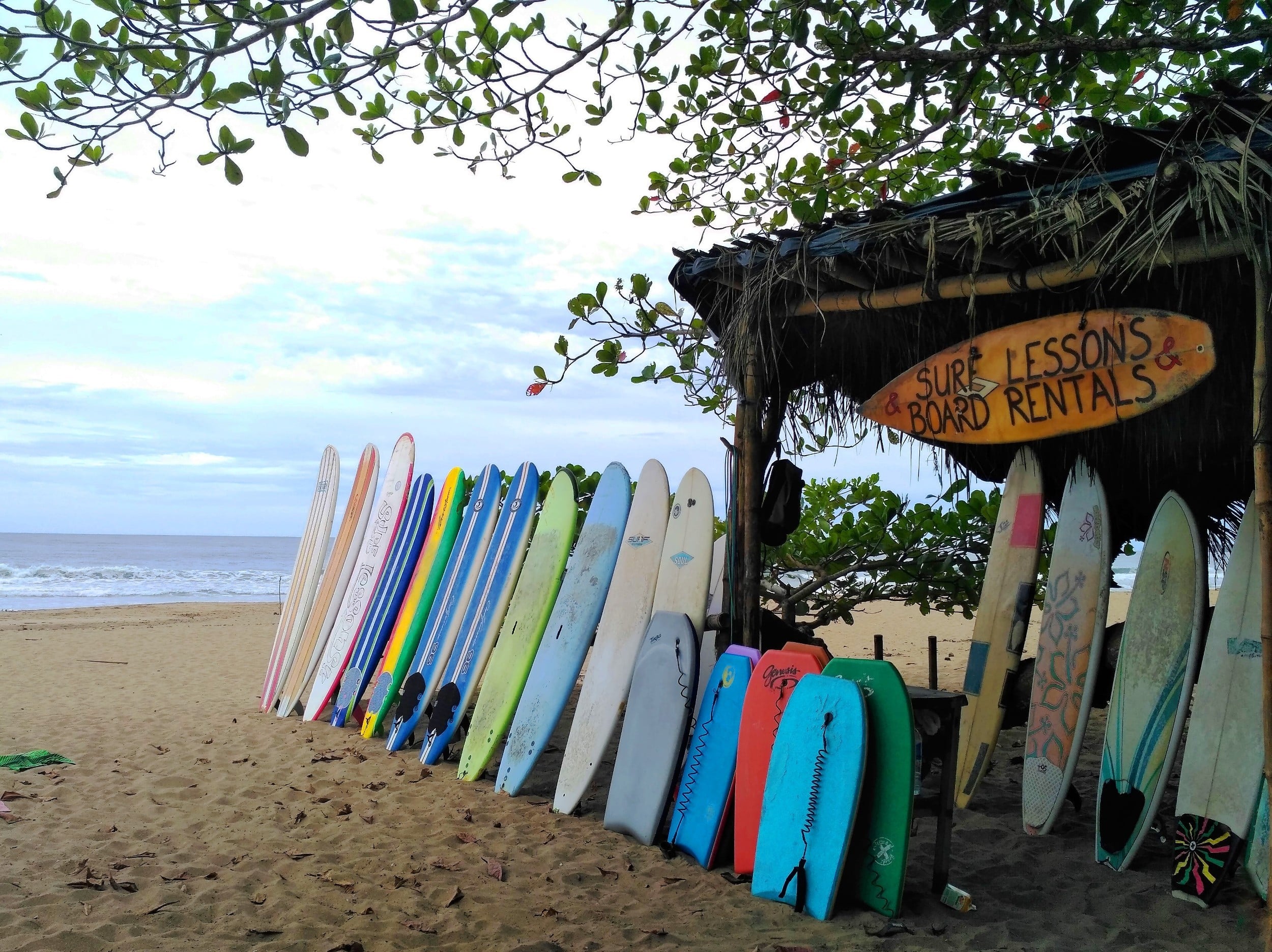 As you should expect from any surfing community, there's a wide range of surf shops and surf schools offering rentals in Santa Teresa.
Kina Surf Shop carries not just a wide range of surfboards, but just about everything you'll need to hit the waves, including bikinis and boardshorts. They offer high-quality boards from JS Industries and DHD Surfboards, as well as accessories such as leashes, wax, and sunscreen, not to mention fishing lessons. A good place to hit up if you've come completely unequipped.
Nalu Surf School & Shop is another surf school that also doubles as a surf shop, so you can pick up a lesson as well as a rental. They have a huge roster of funboards, longboards, fish, hybrids, and shortboards. They clearly outline the size, brand, width, and thickness for their roster, too, making them a great place to choose if you know precisely what kind of board you're after when surfing Santa Teresa.
Chill and Surf Shop offer a sizeable collection of both long and shortboards. They will recommend specific boards based on experience and the type of surf you're likely to experience, too, so they're a good stop for newcomers. Besides their surfboards and rentals, they also offer tours including horse rides, ATV rides, and fishing trips, so they're a good all-round resource for your trip.
Travel Insurance for Surfing Santa Teresa
Whether you're a seasoned pro or a beginner just catching your first waves, travel insurance should be at the top of your packing list.
Surfing can be an unpredictable sport, and accidents can happen even to the most experienced surfers. Travel insurance will protect you in case of any accidents or injuries, as well as lost or stolen equipment. It can also provide valuable assistance if your flight is delayed or cancelled.
So before you start surfing Santa Teresa, make sure you're covered by a good travel insurance policy (we recommend checking out Nomad Travel Insurance for Surfing).
Enjoyed our Complete Guide to Surfing Santa Teresa in Costa Rica? Check out our Complete Guide to Surfing Costa Rica.