6 of the Best Surf Resorts in Costa Rica

Disclaimer: This article contains affiliate links. We may receive a small commission if you make a purchase through one of these links. Please read our Affiliate Disclosure for more information.
This is our pick of the 6 Best Surf Resorts in Costa Rica.
Costa Rica is a world-renowned destination for surfers of all levels of experience. The country's Pacific and Caribbean coasts offer a variety of different waves, from gentle rollers to challenging barrels. And with its year-round warm weather, Costa Rica is the perfect place to catch some waves any time of year.
If you're looking for the perfect surf resort, Costa Rica has plenty to offer. From luxurious villas overlooking the ocean to small bungalows nestled in the jungle, there's something for everyone. And of course, the surf is incredible. Whether you're a beginner or a pro, you'll find plenty of challenging breaks to keep you entertained. So what are you waiting for? Pack your boards and head to Costa Rica for the surf trip of a lifetime!
Here is our pick of the 6 Best Surf Resorts in Costa Rica:
1. The Gilded Iguana, Nosara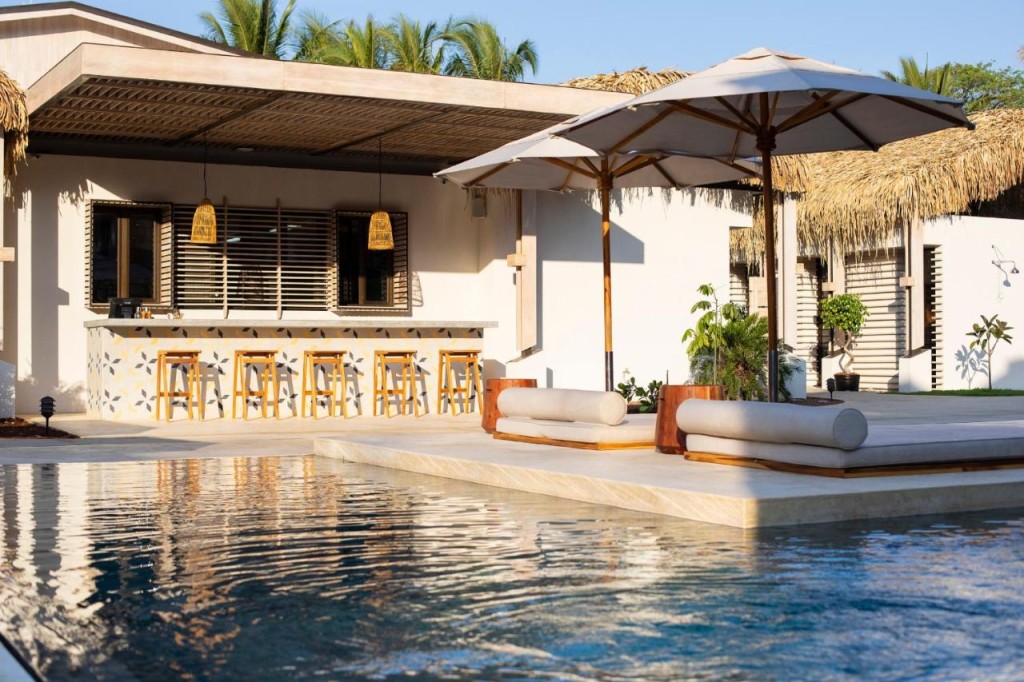 First on our list of the best surf resorts in Costa Rica is The Gilded Iguana. The Gilded Iguana has been one of the most popular surf camps in Nosara since 1988.
In Nosara, a remote jungle enclave on the Nicoya peninsula, you won't find the typical tourist hubbub. Instead, The Gilded Iguana offers a much more relaxing experience, allowing you to unwind in the natural surroundings and avoid the hustle. From sunrise to sunset, 365 days a year, surfers of all experience levels enjoy the dependable waves that spread out across expansive Playa Guiones.
The hotel offers a Surf Club package which gives you full access to their extensive range of surf equipment. Or, if you know exactly what you want, you can just rent your favorite stuff in advance of your stay and have it when you need it. And of course, The Gilded Iguana can hook you up with surf lessons and guidance, to suit beginners and more experienced surfers alike.
But this resort has more to offer than just great surf. Yoga lovers and adventure travelers seeking the best in Costa Rica hotels come not only for direct access to the region's most famous beach, Playa Guiones, but also for the relaxing yoga retreat, weekly music nights, and adventurous mountain biking trails. This hotel and its experience packages are designed for the entire family.
The hotel itself was designed by acclaimed architect Benjamin Saxe and San Jose-based interior design firm Sofa Ineriorismo. All rooms feature artisan craftsmanship, indoor and outdoor showers, and outdoor living space, giving you every opportunity to connect with the wildlife refuge that surrounds. Oh, and free Wi-Fi is a given!
Book a room at The Gilded Iguana in Costa Rica now from $195 a night.
2. Selina Nosara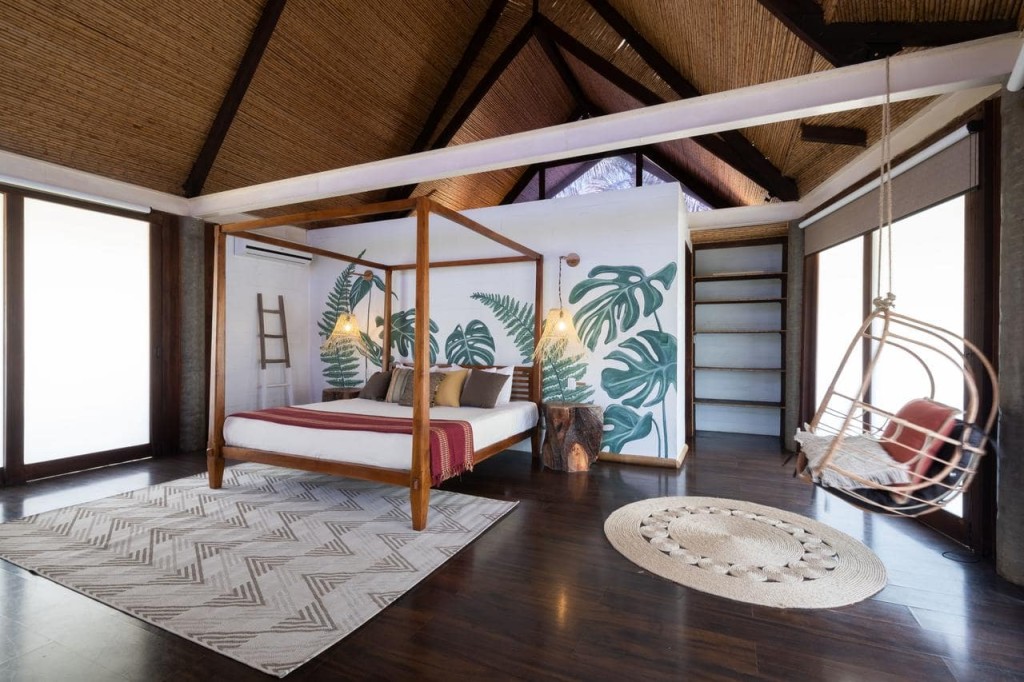 Sandwiched between Playa Pelada and Playa Guiones in northwestern Costa Rica, lies Selina Nosara: one of the most picturesque surf resorts in Costa Rica. Not just perfect for surfers, the Selina Nosara is a great spot for yoga buffs and nature enthusiasts too.
This hotel has it all. You may not know it yet, but you definitely need a hammock garden in your life, and Selina Nosara certainly has you covered there. The hotel also features an outdoor terrace, a beautiful Mediterranean restaurant, a fully-kitted hotel bar, and a retail store that showcases artisanal brands, specializing in skincare, coffee beans, and everything in between.
You can enjoy your breakfast at sunrise, take a dip in the swimming pool, then follow the green Chorotega trail all the way to Playa Nosara and Playa Pelada. Catch some of the best waves in Costa Rica, and if you like – make use of Selina Nosara's group surf classes.
Aside from the brilliant surf, you can tour the Ostional National Wildlife Refuge to see baby ridley sea turtles hatch or spend the afternoon in the hotel co-work space complete with hot desks, spacious meeting rooms, and plush sofas.
And if you want some inner peace and tranquility on your travels, head to Selina Nosara's yoga deck where workshop leaders host new moon cycles, cacao ceremonies, and tribal drumming therapy on a regular basis. Perfect.
Book a room now at Selina Nosara from $57 a night.
3. SOMOS, Santa Teresa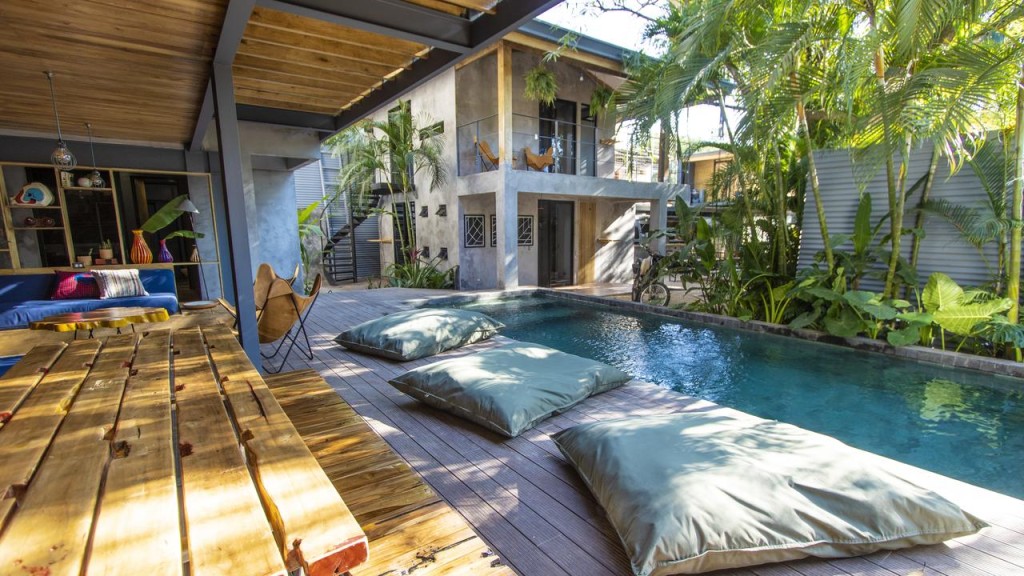 SOMOS is a contemporary surf retreat, enclosed by the wild landscapes and stunning beaches of Santa Teresa. Designed to cover all the bases, Somos combines the best surfing experience with some other treats including custom motorcycles, expedition tours, delicious food, unique apparel, and top-quality lodging.
Built with ecology in mind, Somos' accommodation merges with the natural surroundings. The coastal lodge utilizes modern and locally-sourced materials to create a minimalist structure with the tropical forest as a background. Private accommodations offer respite and seclusion, while pod shared-quarters give you the opportunity to hang out with fellow travelers.
On the common grounds—by the pool, lounge, Airstream restaurant, and on the beach— you can talk surf, eat, drink, and connect. And on the topic of food, the Somos boasts its own bar-kitchen in the form of The International; delivering a simple menu, using local produce, fresh meats, and line-caught fish.
More than this, you can check out Somos' very own surfboard studio, where master craftsmen board builders can design something unique for you. And if the waves go flat, you can just hop on a motorbike to see some more of the area or camp out under the stars.
Book a room now at SOMOS from $157 a night.
4. Hotel Nantipa, Santa Teresa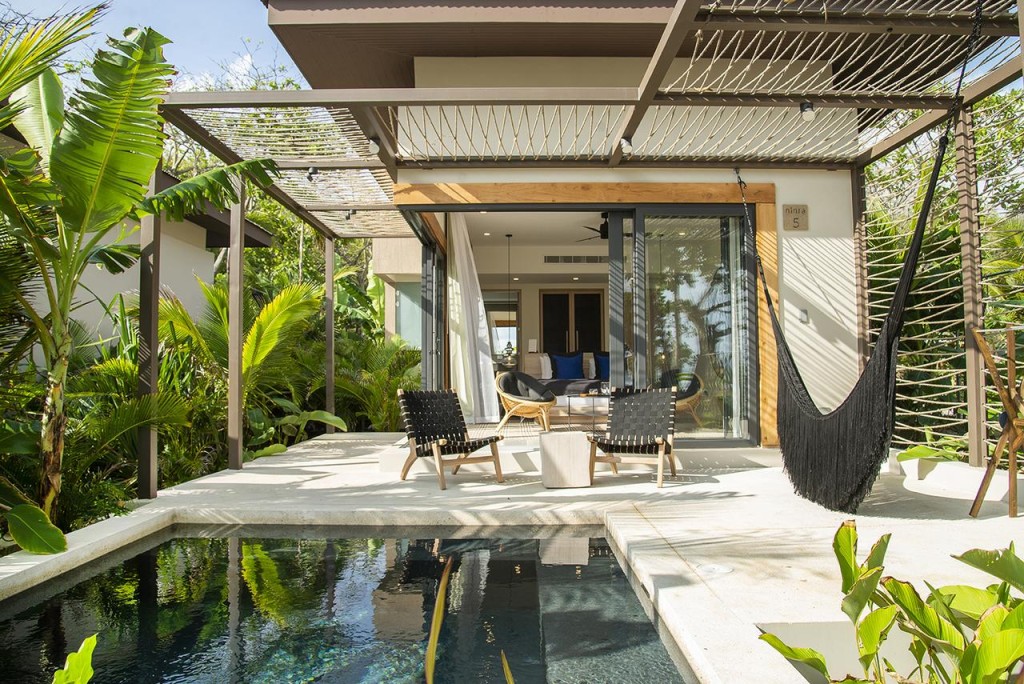 At Hotel Nantipa, you are one step away from the expanse of the ocean at all times. And this hotel is pure class. An authentic beachfront vacation in the heart of the Nicoya Península, Hotel Nantipa is a hidden treasure where deep blue waters are framed by vividly green tropical rainforests.
Nantipa offers a real slice of paradise. 15 guest bungalows and suites scattered over a huge 5.7 acre property, with 155 meters of unique beachfront glory. Surrounded by carefully landscaped flora to preserve privacy, every unit is equipped with climate controls, flat SMART TVs with cable, with streaming capabilities, a working desk, small dining table and chairs, hammocks, Wi-Fi and a minibar.
Nantipa's famous Restaurant – Manzú – is located on the beach, with direct views of the ocean and sunset. The main dining area provides a cozy, inviting, and relaxed ambiance. So after a long day surfing, you can take a seat whilst mixology experts prepare you a unique cocktail (featuring Costa Rica's tropical fruits and local liqueurs), chat with other travelers, and take in the stunning views.
Aside from taking a surf lesson, Hotel Nantipa can hook you up with a horse riding trip across the beaches, send you off on an artisanal fishing trip, or take you on a tour of the area, through the canopy, over the water on a boat tour, or around Cabo Blanco National Park. So there's something to keep everyone entertained at any given time.
Book a room now at Hotel Nantipa in Santa Teresa from $369 a night.
5. Mint Santa Teresa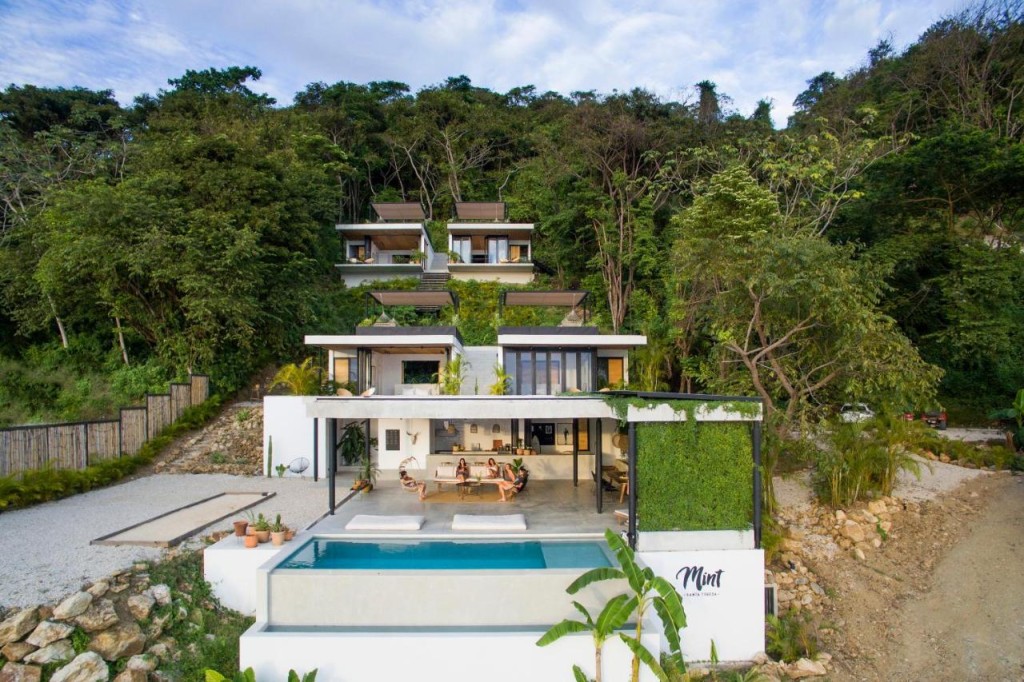 Next on the list is one of our favorite surf resorts in Costa Rica, Mint Santa Teresa.
Mint Santa Teresa is an adults-only boutique hotel with an emphasis on privacy. Located in one of the most magical spots of Santa Teresa, the space is specially designed by Costa Rican architects to bring a little luxury and is filled with handpicked, locally sourced furniture, and design details. The four rooms are scattered across a hill overlooking the Pacific ocean, and all of the rooms have a king-size bed, air conditioning, an ocean view, and a private rooftop terrace.
With only four rooms in total, a stay at Mint is more like being part of a little community, with just the other travelers and Santa Teresa locals to keep you company. Mint's owners – Jonas and Johanna – have spent 6 years in the area and are gladly on hand to show you the very best of Santa Teresa, including their favorite restaurants, excursions, and surf beaches. If you'd like some surf lessons, a trip out in the area, a horse-riding excursion, or anything else Santa Teresa has to offer, Jonas and Johanna will be happy to help.
Book a room now at Mint Santa Teresa from $180 a night.
6. The Nomadic Hotel Nosara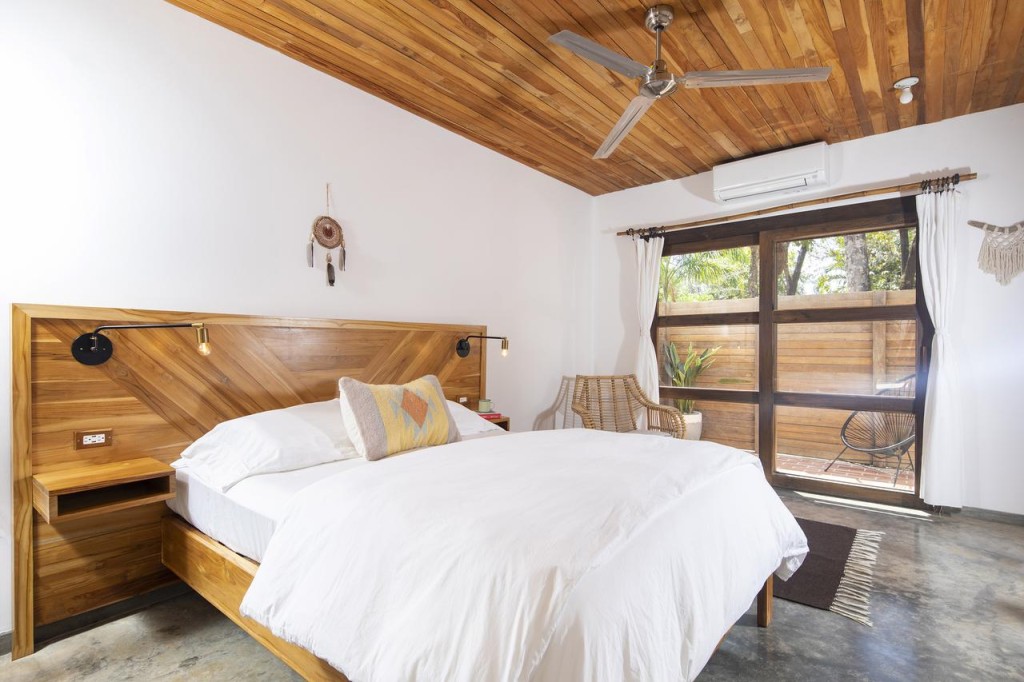 Last, but not least, on our list of the 6 best surf resorts in Costa Rica is The Nomadic Hotel in Nosara. The Nomadic Hotel is a unique vacation spot set up by backpackers for backpackers, on the edge of the famous Playa Guiones – one of Costa Rica's prime surf locations. It's perfectly designed to create a space that gets you amped on life, inspired, and connected with like-minded travelers.
The hotel itself is luxurious, creative, and modern, with a tropical pool area, sun-decking, and hidden balconies, and fresh, healthy meals served on rotation. But this is a more intimate, family-run space, with only a few rooms. So your stay here will be relaxed and private, away from the more touristy areas.
And as for the surf? With its consistent year-round waves it's no wonder why Playa Guiones has made a name for itself as a swell magnet. There are literally waves to be had 365 days of the year and Guiones has something to offer every type of surfer from beginner up to advanced. During the months of November through April, you can expect hollowing offshore fun-sized surf. Whilst from May to August expect the swell size to increase as we start seeing more frequent south swells.
When you're not surfing, you could take a scuba diving trip around the inshore reefs, take the Waterfall Hike and go for a swim, do some stand-up paddleboarding, or spend the morning with one of Nosara's many practicing Yogis (in case you haven't already noticed, this part of the world is pretty keen on yoga!).
Book a room now at The Nomadic Hotel in Nosara from $163 a night.
The Best Surf Resorts in Costa Rica
And there we have it! If you're looking for the surf trip of a lifetime, Costa Rica has something for everyone. These surf resorts take their surf seriously, but they also provide unique, varied, authentic traveling experiences, and some exciting extracurricular activities for those days when you need a time-out from the waves.
Enjoyed The 6 Best Surf Resorts in Costa Rica? Take a look at our full collection of surf camps and resorts from around the world here.