5 of the Best Surf Camps in Sagres

Disclaimer: This article contains affiliate links. We may receive a small commission if you make a purchase through one of these links. Please read our Affiliate Disclosure for more information.
This is our pick of the 5 Best Surf Camps in Sagres.
Uncover the exhilarating surf scene of this captivating coastal town in Portugal. Sagres, renowned for its breathtaking beaches, world-class waves, and rich surfing heritage, offers an idyllic setting for surf enthusiasts of all levels. In this article, we will delve into 5 exceptional surf camps in Sagres, each providing expert coaching, prime surf spots, and an immersive surfing experience.
A surf camp in Sagres promises an unforgettable adventure, whether you're a beginner yearning to ride your first wave or an experienced surfer seeking to conquer challenging breaks. These camps offer a supportive environment to embrace the thrill of surfing and dive deep into the vibrant surf culture that thrives in this part of Portugal.
The Best Time of Year to Learn to Surf in Sagres
Sagres enjoys a favorable climate and consistent wave conditions year-round, making it an ideal destination for surfers of all levels. However, the best time to learn to surf in Sagres is during the spring and autumn seasons. During these periods, the weather is pleasant, the waves are more forgiving, and the surf spots are less crowded, providing an optimal environment for beginners to learn and progress comfortably.
The Best Surf Camps in Sagres
Join us as we explore these 5 exceptional surf camps in Sagres, where you can immerse yourself in the beauty of Portugal's coastline, ride epic waves, and embrace the vibrant surf community. Whether you're seeking professional coaching, an exciting surf camp experience, or a chance to explore the stunning landscapes of Sagres, these camps offer the perfect blend of adventure, relaxation, and unforgettable surf memories.
Get ready to paddle out, feel the power of the waves, and discover the incredible surfing opportunities that await you in Sagres.
Sun Stay Surf Camp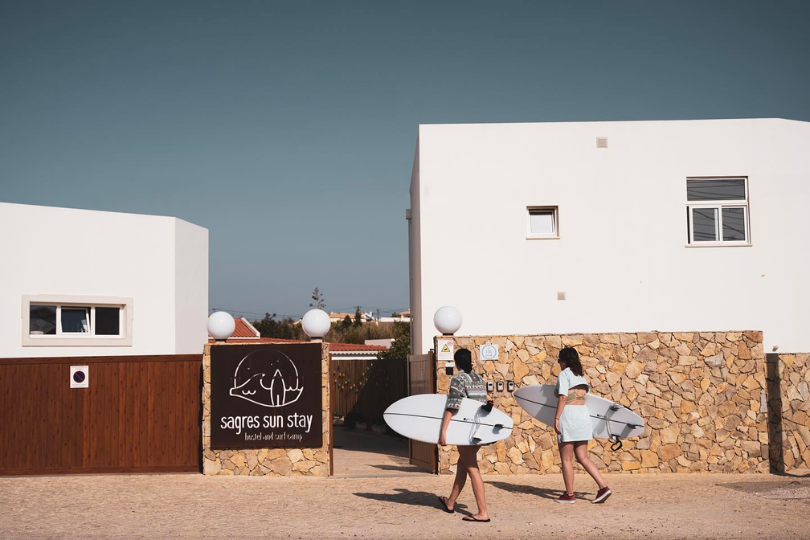 Located near the stunning beaches of Sagres, Sun Stay Surf Camp is an excellent choice for beginners seeking a comprehensive surf lesson experience. The camp provides an unforgettable 8-day package that combines surf lessons, accommodation, and a range of exciting activities. With experienced instructors, top-quality equipment, and a friendly atmosphere, this camp ensures a fantastic introduction to the world of surfing.
The program includes daily surf lessons tailored to beginners, covering fundamental techniques such as paddling, standing up, and riding the waves. In addition, you'll have opportunities to explore Sagres' vibrant surf scene, soak up the sun on pristine beaches, and enjoy evening social events with fellow surf enthusiasts.
You can book an 8-day package with Sun Stay Surf Camp now starting from €475 per person.
Truck Surf Hotel
If you're up for an adventurous surfing experience, the Truck Surf Hotel offers a unique 7-day "surfari" that takes you on a thrilling journey from Lagos to Sines in Southern Portugal. This one-of-a-kind accommodation on wheels allows you to explore different surf spots along the coast while enjoying the comforts of a fully-equipped hotel on a truck. The Truck Surf Hotel features stylish and comfortable rooms with panoramic windows, allowing you to wake up to breathtaking ocean views.
The surfari itinerary includes daily surf lessons for all levels, guided by experienced instructors who will help you improve your skills while discovering the best waves in the region. In the evenings, you can relax and socialize in the camp's communal areas, sharing stories and experiences with fellow surf travelers.
You can book a 7-day package with Truck Surf Hotel now starting from €885 per person.
Wavy Surf Camp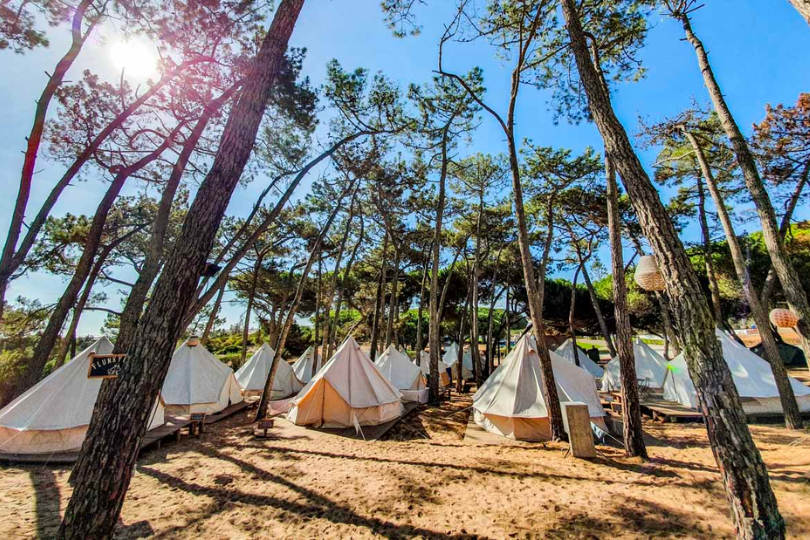 Wavy Surf Camp provides an incredible 8-day surf camp experience suitable for surfers of all levels. Situated in Sagres' picturesque Vila do Bispo, this camp offers personalized surf lessons, comfortable accommodation in clamping tents, and a range of exciting activities to enjoy when you're not riding the waves. The experienced instructors at Wavy Surf Camp tailor their lessons to your skill level, whether you're a beginner, intermediate, or advanced surfer.
The camp boasts high-quality surf equipment, ensuring you have the right gear to catch the best waves. In addition to surf lessons, you can participate in yoga sessions, explore Sagres' natural beauty on guided hikes, and enjoy a vibrant social atmosphere among like-minded surfers.
You can book an 8-day package with Wavy Surf Camp now starting from €509 per person.
International Surf School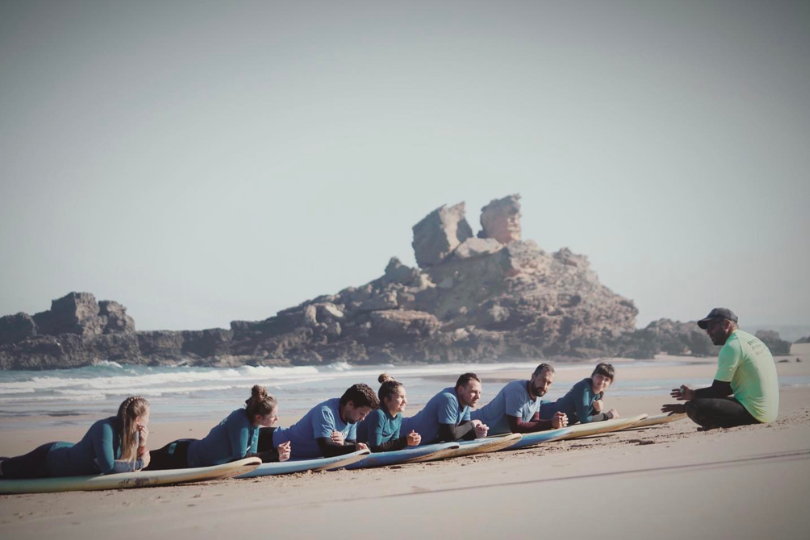 At International Surf School, embark on an epic 8-day surf camp adventure featuring daily surf lessons tailored to all skill levels. The professional instructors ensure that beginners receive a solid foundation, while intermediate and advanced surfers can refine their techniques. The surf lessons cover various aspects of surfing, including wave selection, turning, and advanced maneuvers.
The surf camp provides comfortable accommodation options, allowing you to rest and rejuvenate after an exhilarating day in the water. Alongside the surf program, you can immerse yourself in Sagres' vibrant surf culture, explore nearby beaches, and participate in social events organized by the camp.
You can book an 8-day package with International Surf School now starting from €550 per person.
Pure Flow Motions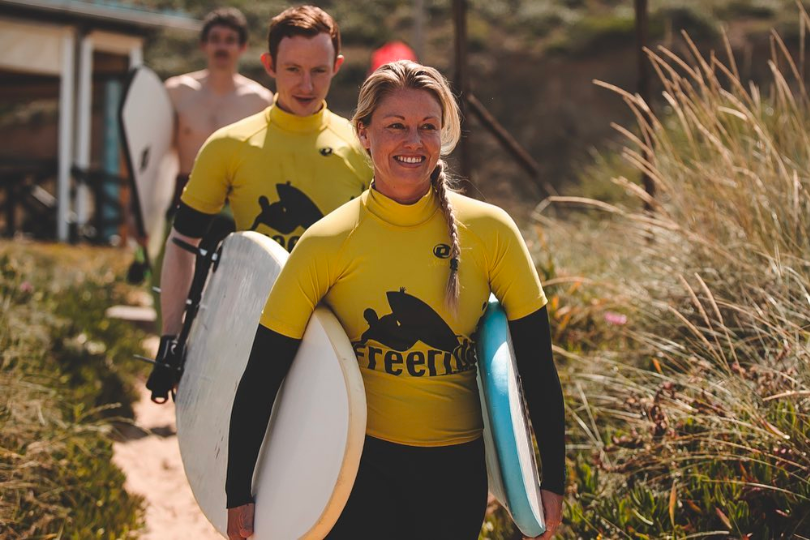 For those looking to combine the joys of surfing with hiking and yoga, Pure Flow Motions offers a delightful 7-day holiday experience in Sagres. This camp provides a well-rounded program that includes daily surf lessons, invigorating yoga sessions, and scenic hikes along the beautiful coastline. The surf lessons cater to all levels, ensuring you receive personalized attention and guidance.
The yoga sessions are designed to enhance your flexibility, balance, and overall well-being, complementing your surfing experience. You'll also have the opportunity to explore the natural beauty of Sagres through guided hikes, taking in breathtaking views and immersing yourself in the region's rich coastal ecosystem.
You can book a 7-day package with Pure Flow Motions now starting from €1749 per person.
Surf Camps in Sagres 
Sagres is a haven for surfers, and these 5 surf camps offer exceptional experiences for surf enthusiasts of all levels. From beginner-friendly lessons to adventurous surfaris and holistic holiday packages, each camp provides a unique blend of surf instruction, comfortable accommodations, and exciting activities.
Choose the surf camp that aligns with your preferences and embark on an unforgettable surf journey in Sagres, Portugal's surf paradise.
Enjoyed our guide to the 5 Best Surf Camps in Sagres? Be sure to check out our Guide to the Best Surf Camps in Portugal here.