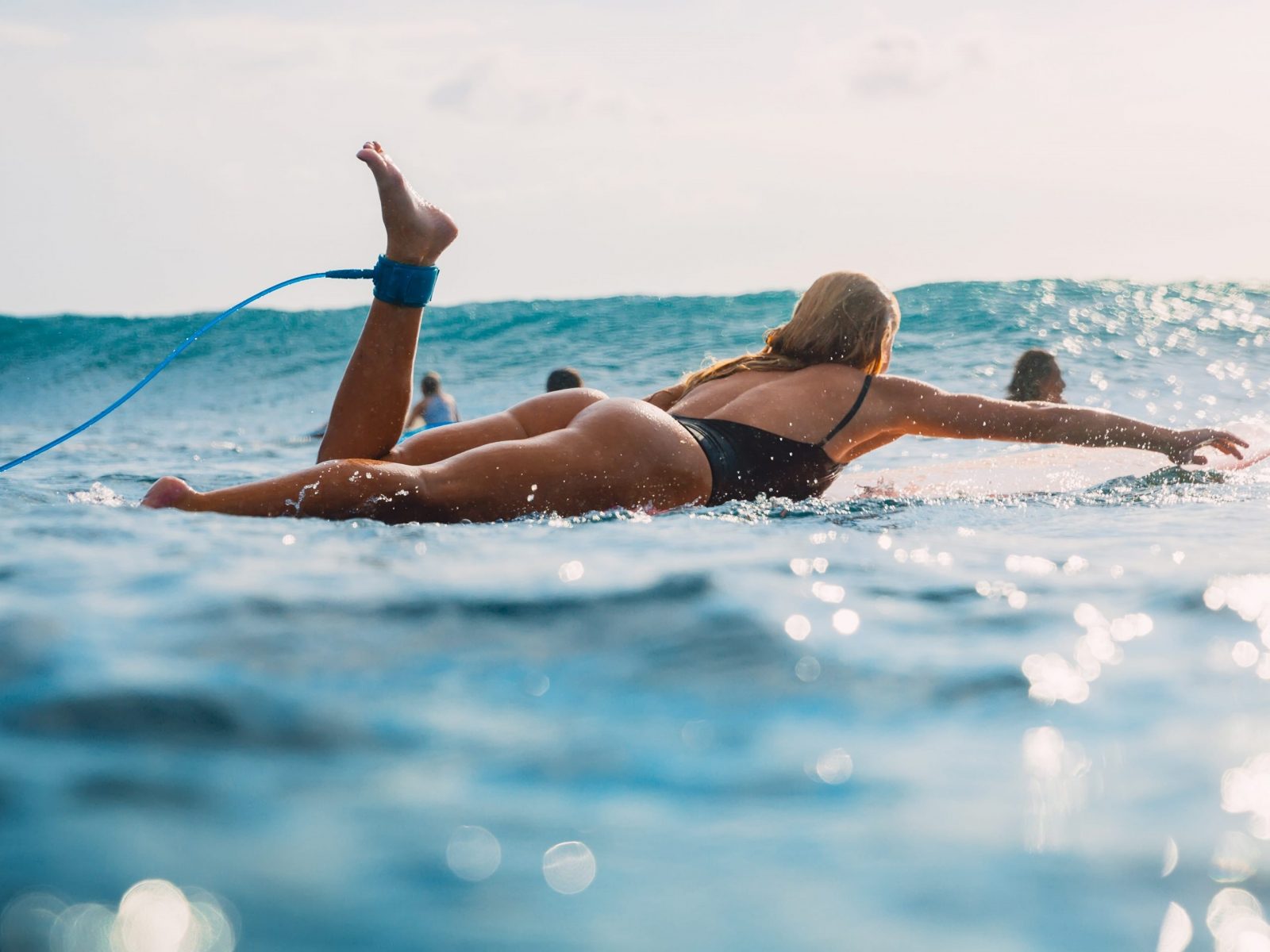 Disclaimer: This article contains affiliate links. We may receive a small commission if you make a purchase through one of these links. Please read our Affiliate Disclosure for more information.
Thinking about surfing Canggu?
This is our complete surf travel guide. Read for everything you need to know about surfing in Canggu.
Canggu, Bali, is a famous beach town on the south-west coast of the island, just north of the busy resort area of Seminyak. Over recent years it has transformed into a hipster hub, and currently, Canggu is one of the most popular places for surfing in Bali.
With its accessible waves suitable for beginners as well as pros, the surf can definitely get a bit crowded, but that only goes to show what a great place it is.
How to get to Canggu
If you're flying into Bali, then you'll want to head to Bali Ngurah Rai International Airport which is in the South of the island, close to Kuta and Jimbaran.
When you land, the best thing to do is go to the taxi counter which is before you get to the Duty-Free Shop. This is where you'll find the best taxi rates and also means you won't have to fend off the taxi drivers when you exit. A taxi from the airport to Canggu will cost you about 250.000 IDR (approximately $18) and should take about 45 Minutes.
Once you're in Canggu, the best way to get around is on a scooter. You shouldn't have any trouble finding one, there are scooter rental shops dotted all over the place. It will cost you anywhere between $5-$10 a day to rent, just make sure they attach a surfboard rack and be sure to get a helmet.
Canggu Surf Spots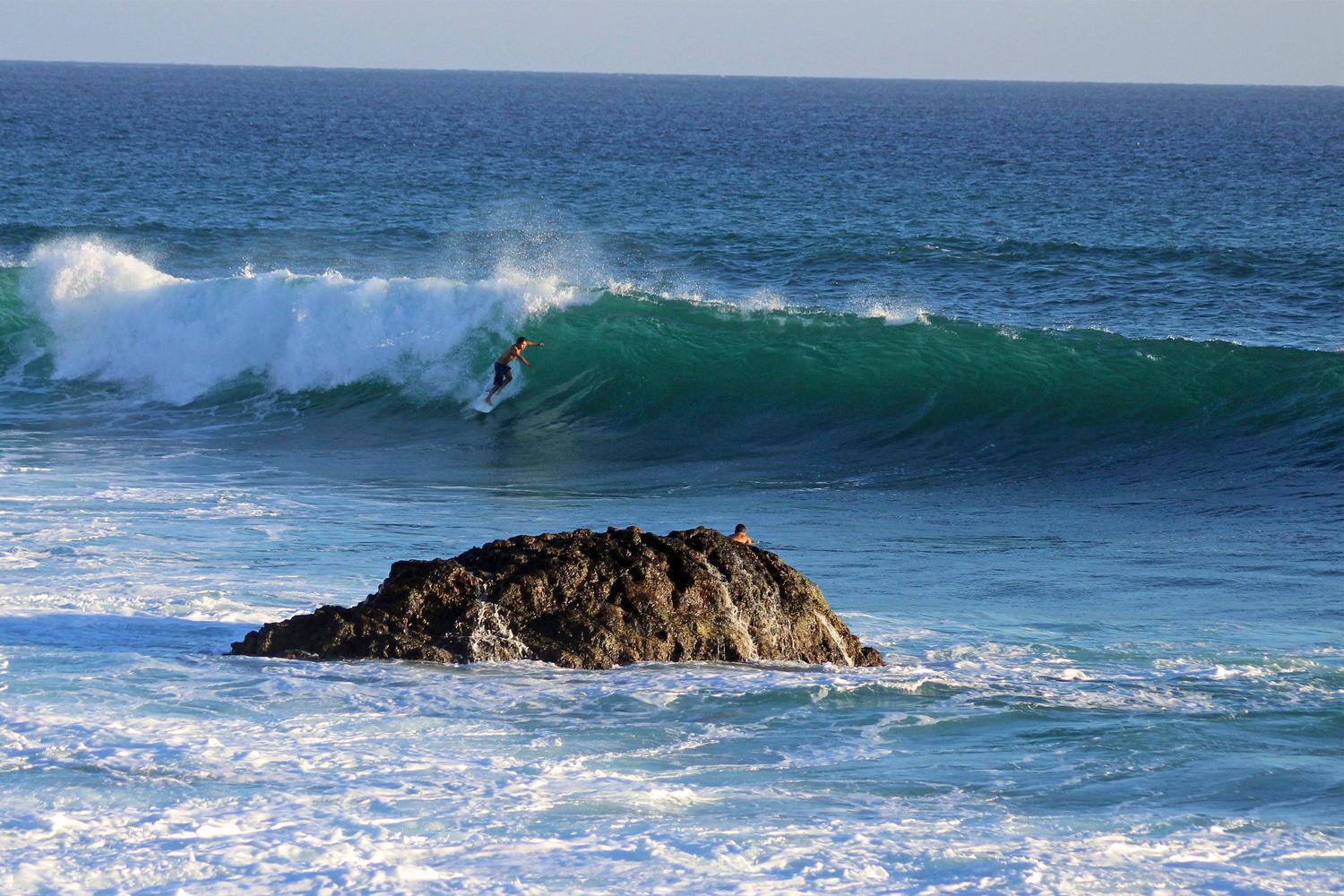 Whether you're experienced or a beginner, there are plenty of surf spots in Canggu to choose from. We've listed our favorite spots below.
Berawa
If you're a beginner and want to go somewhere to surf, then Berawa is the perfect surf spot in Canggu for you. It's also great for intermediate surfers too. Berawa is a classic beach break mixed with rocky reefs and a gradually slanting bottom where you can find both left and right waves which often reach the height of three to eight feet. On the beach, you will also find surfboards to hire and plenty of cafes nearby.
Batu Bolong
This spot is suitable for beginners to take their first lessons when surfing Canggu. The bottom here is sandy mixed with reefs and waves are only 1-2 ft high, mostly slow and long which ideally allows learners to improve their skills efficiently and to practice their turns.
Batu Bolong is also a desirable option for those who like surfing a longboard and SUP because the waves are fat and relatively slow, both left and right. The significant advantage is that waves are long enough, so you will get the opportunity to improve skills and maneuvers when surfing Canggu without much fear.
It's a popular spot – thanks to its beginner-friendly features – so it's worth arriving early and catching the mid-tide.
Old Man's
Old Man's is named after a bar nearby and is in the neighborhood of Batu Bolong.
Although, it's a more challenging spot for beginners with its 3-8 ft high, fast waves which often break further from the coast. It's ideal for the fans of longboards and intermediate surfers who will enjoy the good swells.
Echo Beach
Echo Beach is considered as the central spot when surfing Canggu; it includes three similar areas in itself and is easy to paddle from one spot to the other. There is a perfect reef-break with both left and right waves which hit a shallow reef and surfers can just go flat out. It's best for advanced surfers and is often host to regular surfing competitions.
Sand Bar
Right next to Echo Beach, this spot is a beach-break with a left wave, where, with certain wind and swell conditions you will share this spot with bodyboarders. In general, the same features as Echo except you just need to be extremely cautious in rip currents.
Rivermouth
As the name suggests, this spot is located at the end of the river (which also separates the beach of Echo and Perenan). In most cases waves are right, least often – left. The wave breaks closer to the shore but usually brings you almost back to Sand Bar. It's beautiful at all tides, but better to surf when it's at least mid-tide. Otherwise, you'll find yourself on the reefs.
Perenan
This is the last of our favorite surf spots in Canggu, also known as Stairs named for the stairs leading down to the water. It's a reef-break, and the bottom is a mix of sand and rocks, but the reef is quite shallow on the inside so surfers need to be pretty cautious when going in and out. The right wave mostly attracts pro-surfers as well as surf comps sponsors, but the left wave can be suitable for beginners when the swell is small.
Canggu Surf Camps
One thing Canggu is not short on is surf camps. You can find anything from backpackers hostels right through to ultra-luxe private villas. We're going to run you through some of our favorite surf camps in Canggu that offer the most surf-friendly experience.
Mote Surf Stay is a hidden gem in Bali. This low-key resort is mostly catered to surfers, the staff are incredibly lovely, and for just $26 a night, the prices are amazing too.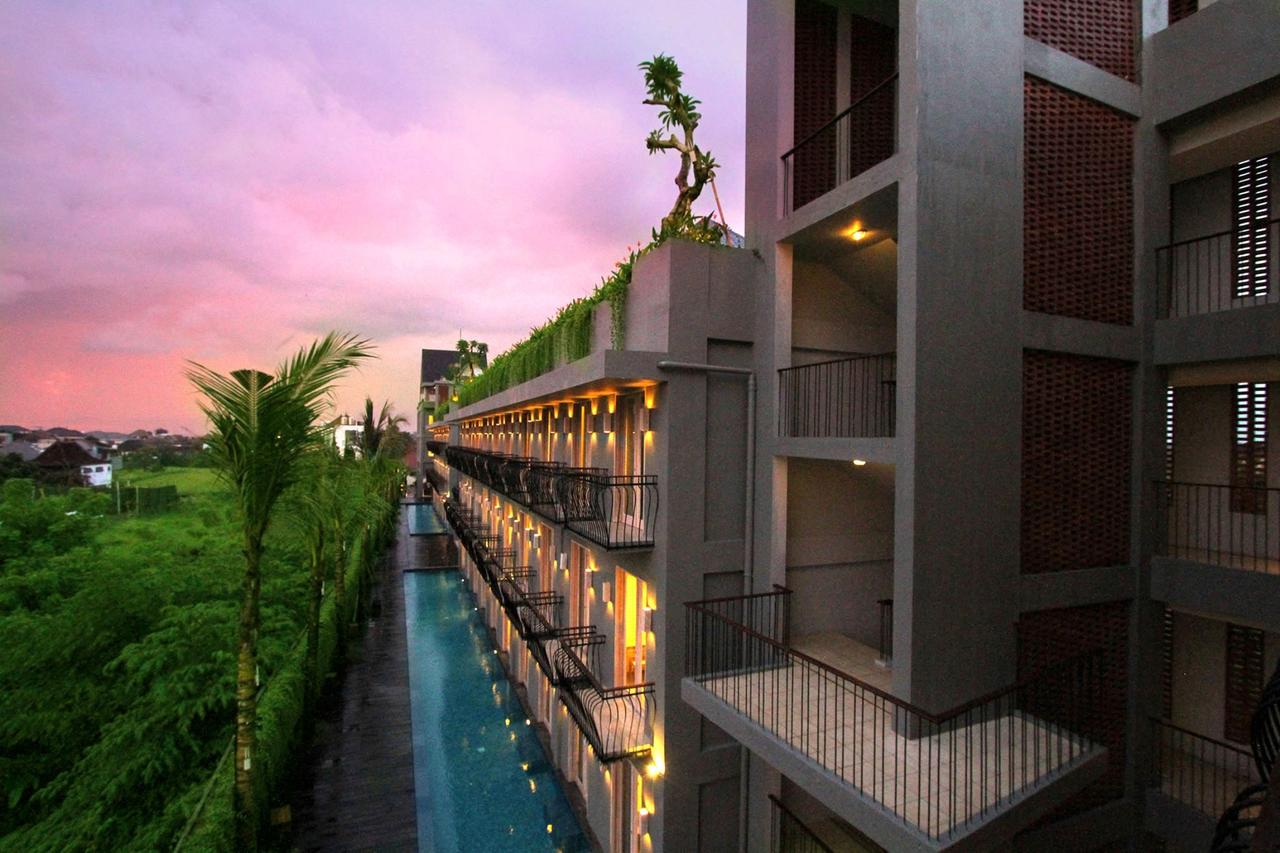 Located just five minutes' walk from Echo Beach, FRii Hotel is a cool spot if you are looking for something more comfortable and close to the beach when surfing Canggu. Starting at $43 a night, the rooms are modern, comfortable, and it offers guests plenty of communal spaces for socializing and making new friends.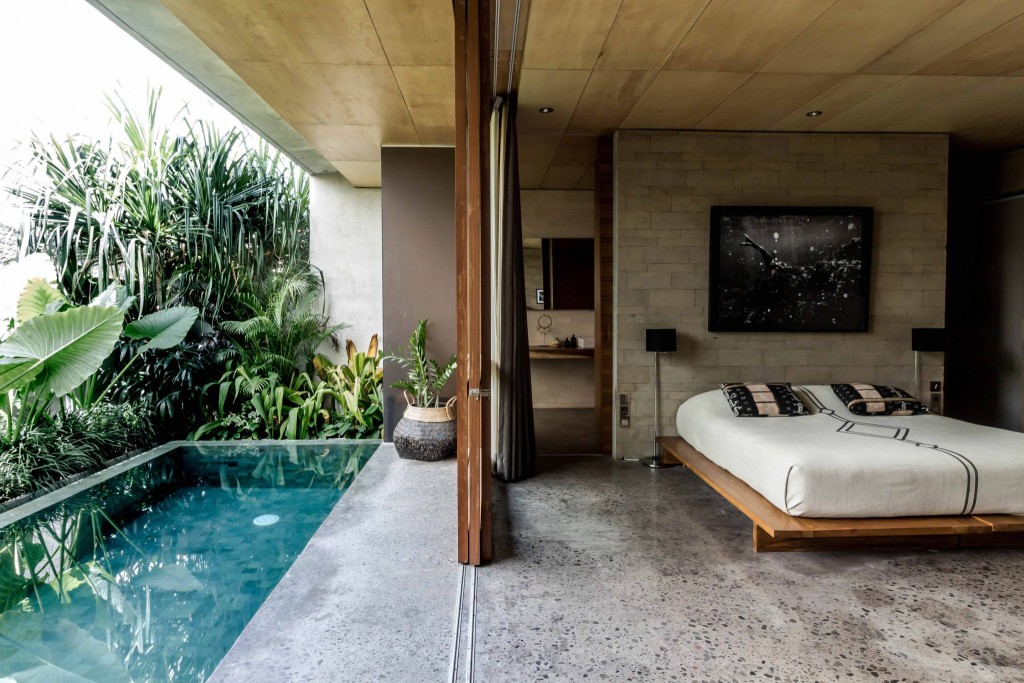 High fashion meets laid-back surf culture at The Slow. From the photography that decorates the walls and the 1970s beach beats that play throughout the property, to the meticulous design that has gone into every touchpoint. At $252 a night it's at the more expensive end of the scale, but it's perfectly pitched for the vibe in Canggu, Bali's boho beach town.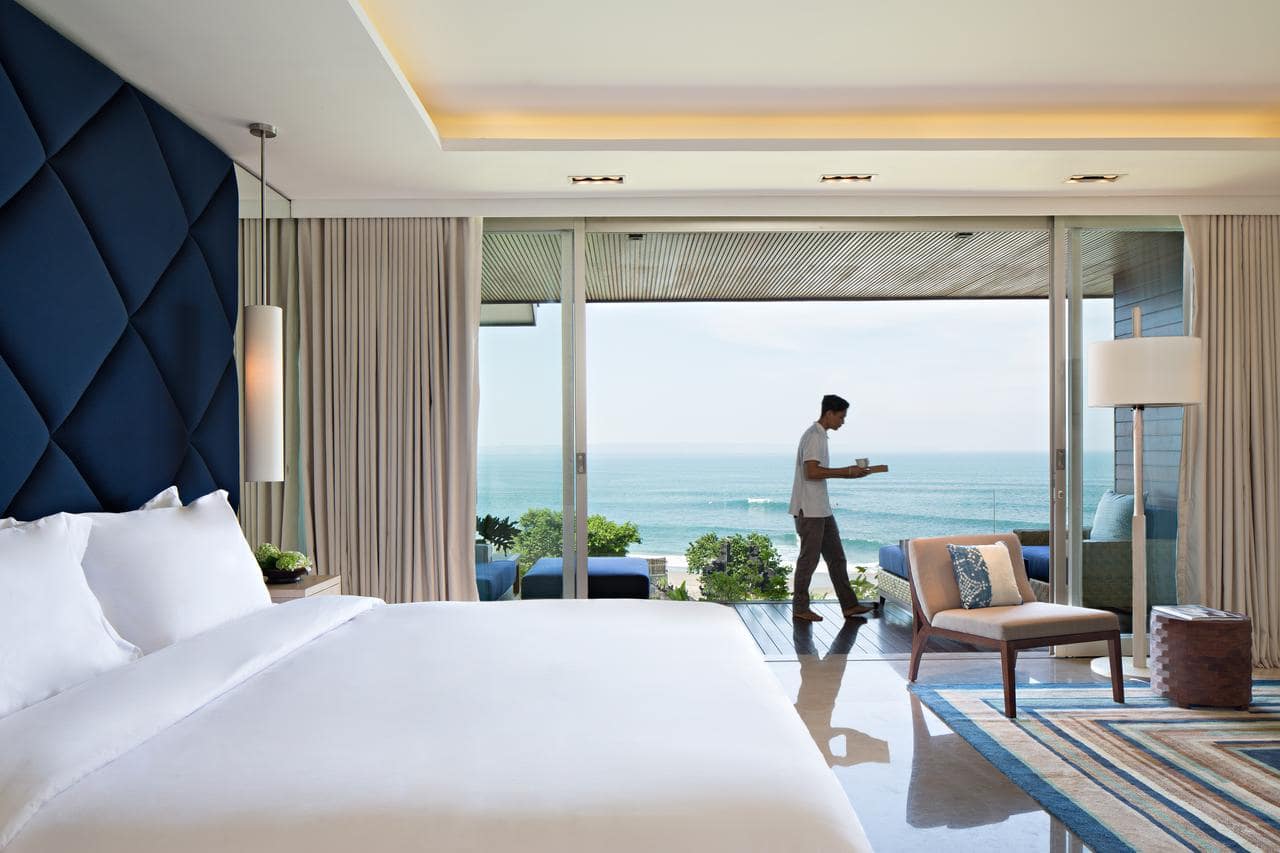 The COMO brand's third Bali hotel, COMO Uma Canggu, brings Californian surfer-style luxury to the Canggu area's bohemian beachfront. Along with a large variety of accommodation – from modest rooms and suites to pool residences and eye-catching duplex penthouses – the hotel hosts two pools, a hip beach club, spa, and surf school. Book in here from $250 a night.
Surfboard Hire in Canggu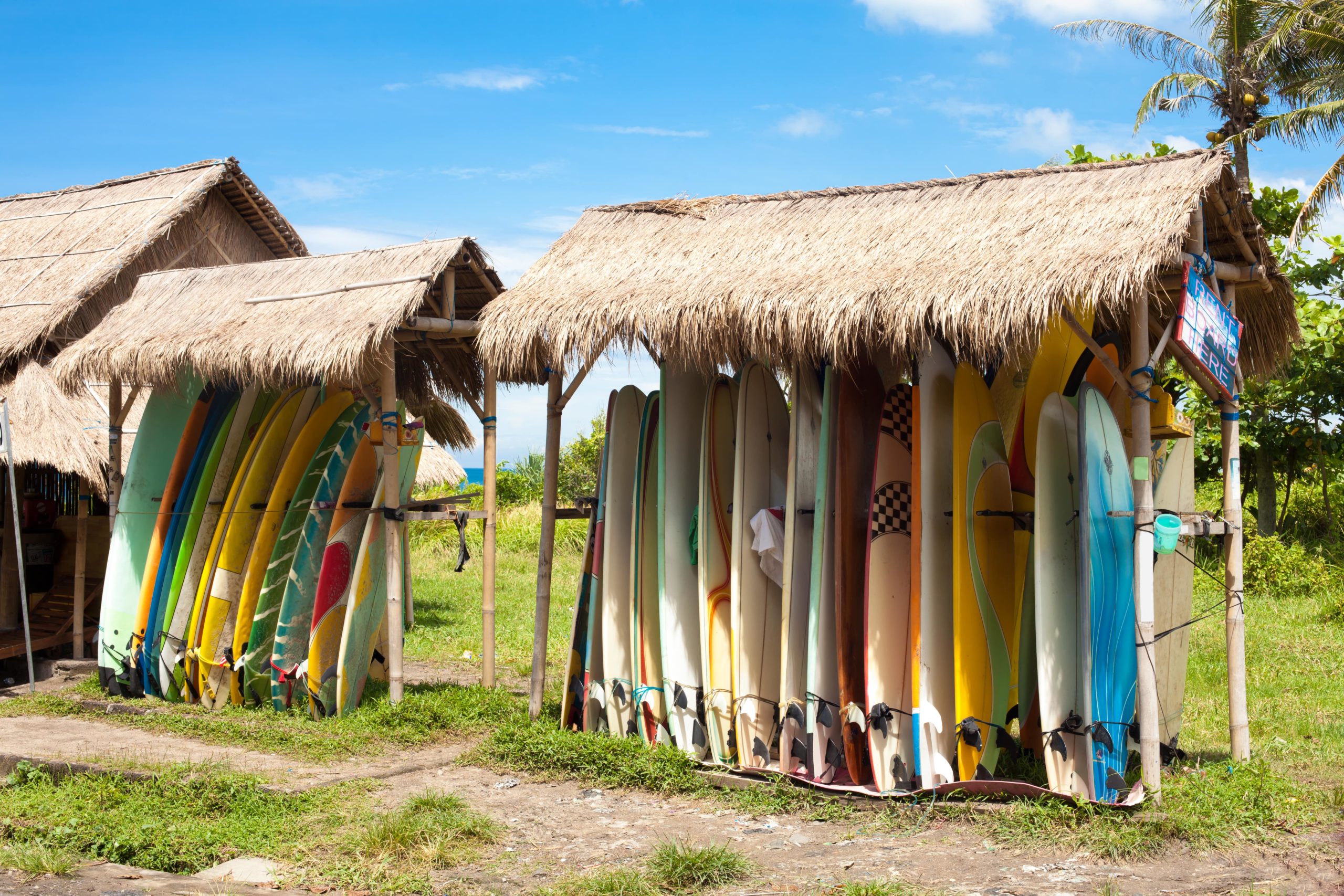 Once you have your surf camp and surf spots sorted out for trip surfing Canggu then the next thing you're going to need is to find a surfboard, and luckily for you, there are plenty of those to go around.
If you are a beginner who is looking to rent, you can find board rental on Pererenan beach, Echo beach, Old Man's, and Batu-Balong. If you're going to a surf school, then there will be boards to hire there.
If you're surfing Canggu for longer or you're just more experienced, and you are looking to buy a surfboard for your trip, you can ask any of the rental places as they will undoubtedly have some for sale. Some will even repurchase them from you after your trip. Depending on how long your trip is, you may want to calculate whether it is more affordable to rent or buy.
There is also an excellent Facebook group called 'Bali Boards Buy and Sell' which has some great deals on there for second-hand surfboards in Bali.
Where to Eat in Canggu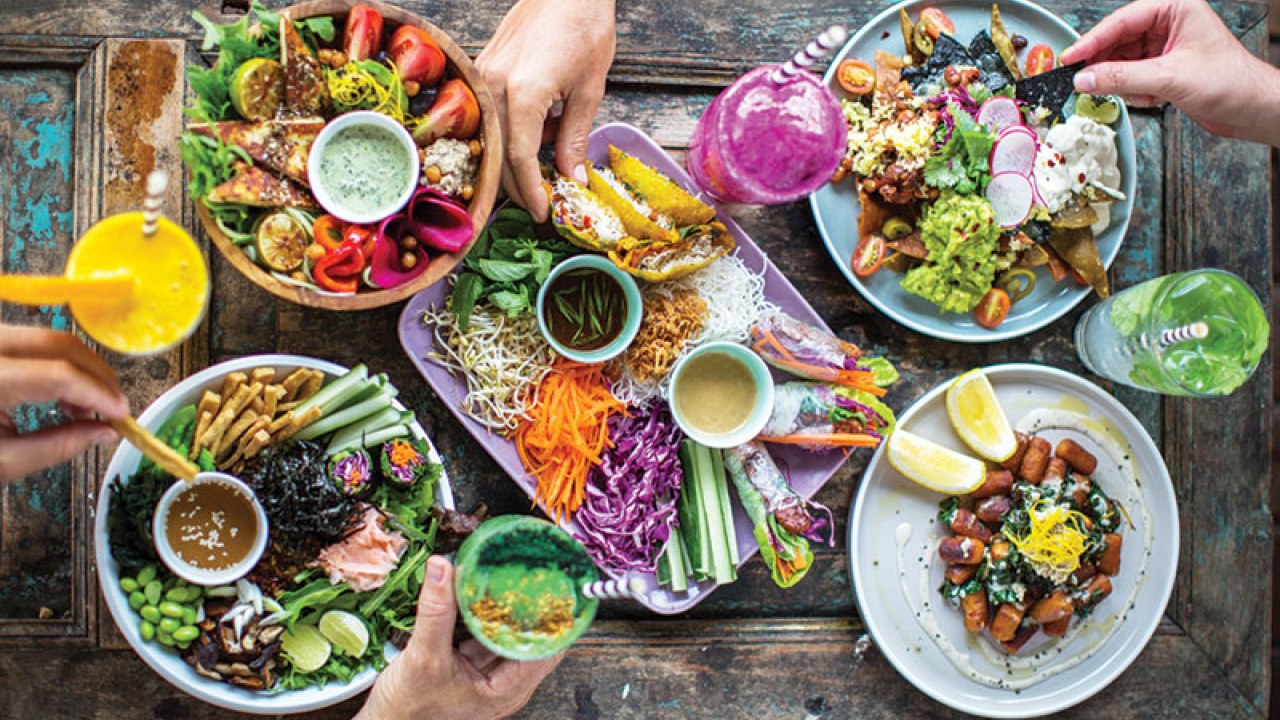 Whether you're surfing Canggu or just chilling, you're going to need to eat so here are the best cafés and restaurants in Canggu.
Crate Café is a great place to start the day and have breakfast. It really is the ultimate hipster place where you'll see a load of surfers enjoying a good coffee or a pink, super healthy juice. For breakfast, the menu offers all different kinds of Müeslis and granola as well as more hearty and filling options such as sourdough bread with egg, bacon, and avocado or porridge with strawberries, apple and cinnamon which you can wash down with a freshly squeezed orange juice.
Anyone familiar to Canggu will know of Betelnut as it is an institution there. Not only that, but you will always find something great to eat there, whether it's for breakfast, lunch, or dinner. If you want something healthy and light, then the smoothies and salads are particularly good. There are also a few Mexican favorites such as Burritos and Tacos and then if you've got room for more, and feel like having something sweet, there are some great desserts on the menu.
Canteen is an excellent place for lunch, it's rather small, but the surfboards on the wall make it really cozy. The sandwiches are great and are really big, so they will fill you up. And if you are not in the mood for a sandwich, then the salads are super tasty.
Shady Shack is an excellent place for healthy, vegan, and vegetarian choices. You should definitely try the Tempeh bowl which is delicious, and an iced coconut milk cappuccino really goes down a treat. With a variety of plant-based food and a really good selection, this is a great place to go for any mealtime.
Enjoyed A Complete Guide to Surfing Canggu in Bali? Check out all of our Surf Travel Guides here.