A Complete Guide to Surfing Lanzarote

Disclaimer: This article contains affiliate links. We may receive a small commission if you make a purchase through one of these links. Please read our Affiliate Disclosure for more information.
Thinking about surfing Lanzarote in the Canary Islands?
This is our complete surf travel guide. Read for everything you need to know about surfing in Lanzarote.
Hailed as the Hawaii of Europe, Lanzarote certainly doesn't disappoint on the surf front. It's one of the most wave-rich of the Canary Islands, with everything from whitewashed beach breaks to rocky reefs to gnarly pipeline swells up its sleeve. The engine room for all that is a unique geology and coastline, crafted and cracked by centuries of eruptions and cataclysmic lava flows. Yep, surfing in Lanzarote often means paddling out under the gaze of a cloud-wisped volcano or rows of cliffs chiseled by ancient magma chutes – it's dramatic stuff.
Of course, there's also a flurry of Spanish passion and charm to add to the mix. That means your base for surfing Lanzarote could be a whitewashed fishing village with BBQ-sizzling tapas tavernas and local cantinas.
And when you're not spending the morning waxing up and hitting the waves? There's a whole Mars-like wonderland to explore, complete with volcano-studded national parks, remote beaches with pearly blue water, and quaint mountain towns surrounded by vineyards and cacti gardens.
Travel Essentials for Surfing Lanzarote
Lanzarote is the easternmost of the Spanish Canary Islands. But before you start seeking out those flights to the Costa del Sol, be warned: That means these specks in the Atlantic Ocean are more than 1,000 kilometers from the mainland of Spain. In fact, you're much closer to Africa here than you are to the land of flamenco and paella – Morocco sits a mere 125 kilometers across the water.
Because we're talking about an island down by the African coast, your only real route to surfing Lanzarote is going to be the air. Thankfully, it's a major destination for low-cost airlines flying out of Europe, so you should be able to bag a bargain fare on Ryanair, EasyJet, and the like. Seats for under $100 each way are normal, while surfboards can be packed two to a bag and cost around $70 extra.
Check for flights to Lanzarote here.
The euro is the currency in Lanzarote, just as it's the currency in the rest of Spain. Prices here are strikingly affordable, too, particularly if you stick to the surf villages on the north coast and don't stray to the resort areas around Playa Blanca. ATMs are on offer in most large towns but be wary that they can often be out of service for days on end. Cards are accepted in most neighborhood shops and cafes, usually with a minimum spend amount.
Spanish is the lingo that you'll need to get by in Lanzarote, though English usually does just fine on account of how popular this place is with sun-seeking holidaymakers from the UK. If you are going to try out your holas and amigos, be aware that there's a local Canarian accent that means that the Español can sound more Puerto Rican than mainland Spain.
How to get around Lanzarote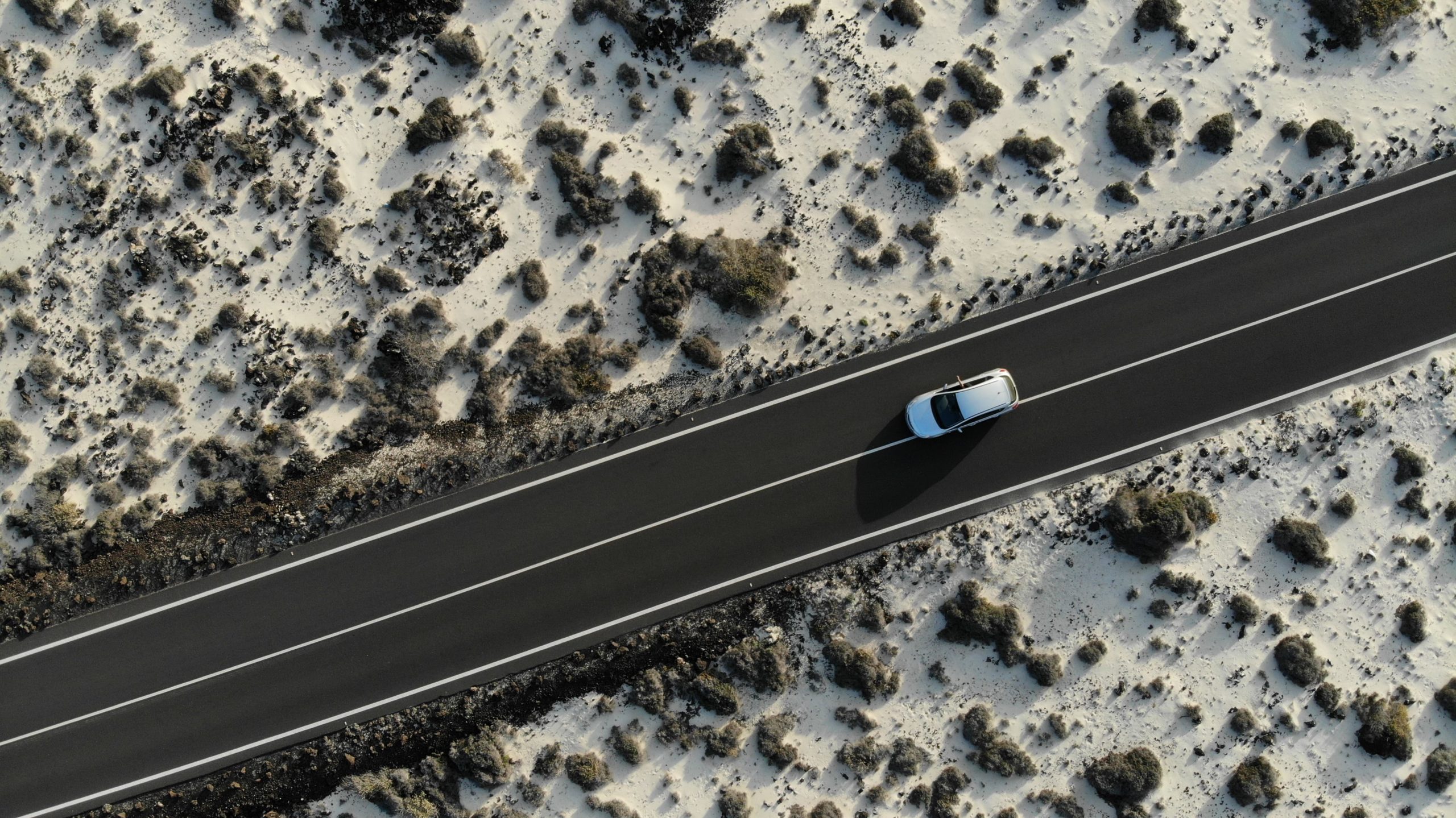 There's really nothing like cruising across cacti-spotted plains beneath the gaze of great volcanoes in your own car. That's why renting a car is the number one way to get around the island. And if you're surfing Lanzarote, it's a sure-fire way to open up all the different breaks on the more remote north and west coasts.
There are oodles of rental companies that do week-long or even month-long hires for uber-competitive prices – think in the region of $400 for four weeks with a roof rack included!
Lanzarote Surf Season
No matter what time of year you plan on heading down to the Canaries, there's almost always some surfing in Lanzarote to be had. Summer – the most popular season for family vacationers keen on soaking up the rays around Playa Blanca along the south coast – is typically the flattest time of all, though there's still good whitewash and little beach peaks to get stuck into on Famara Beach.
The waves will kick up in winter big time. Between November and March, the barrels at La Santa start to turn in earnest, magnetizing pros by the bucket load.
Lanzarote Surf Spots
Lanzarote is angled at a neat 45-degrees at the eastern end of the Canaries. You can roughly divide it into two halves – the touristic south-east coast and the wilder north-west coast. The latter is likely to be your hunting ground if you're coming for the waves. That's where you'll find the longest beach breaks and the best schools that teach surfing in Lanzarote. That said, there are some point breaks and left handers worth adding to the map on the flip side of the island, especially if you've got a car to whiz around in.
Caleta de Famara/Playa de Famara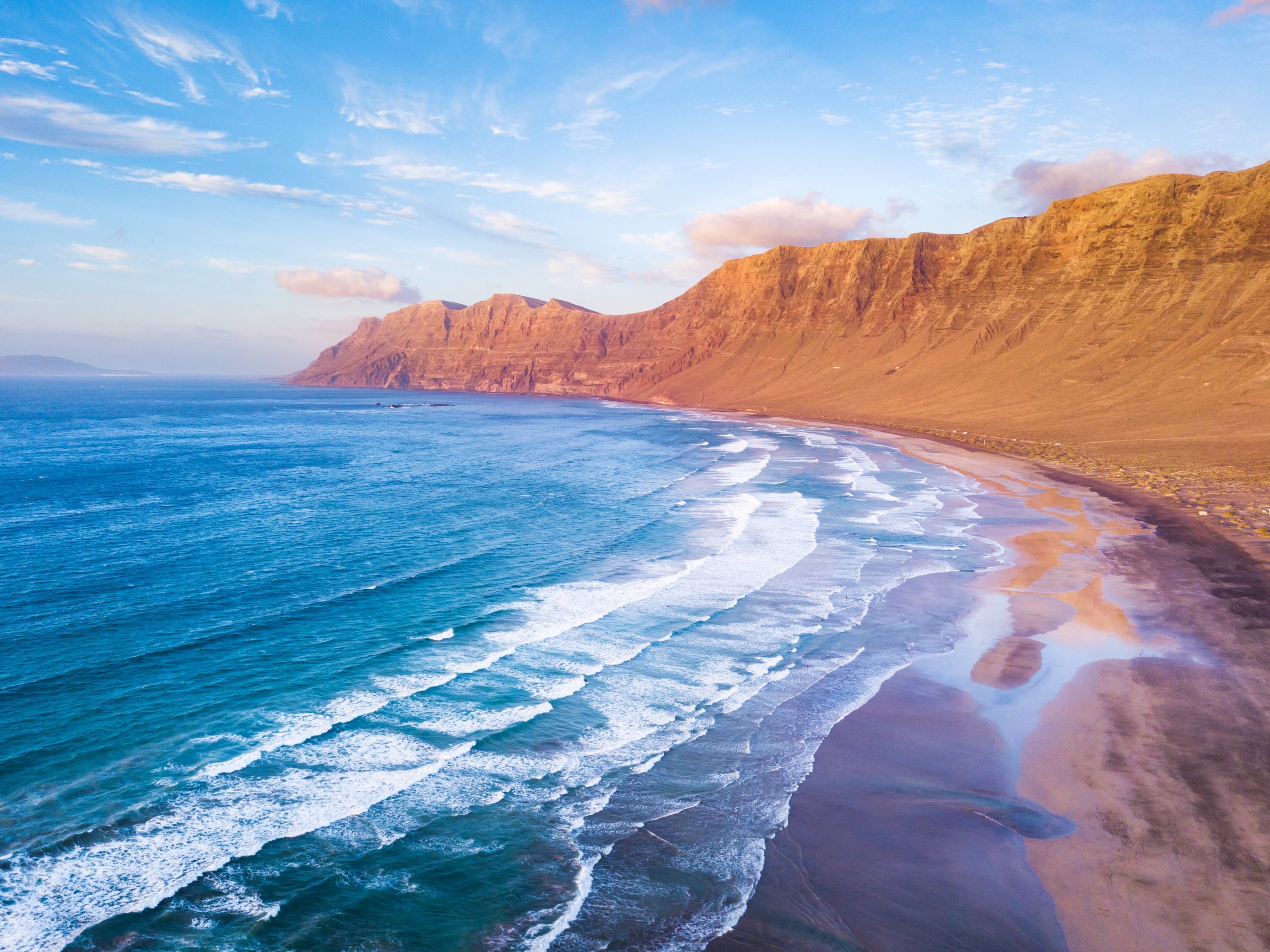 The beach at Caleta de Famara is a real stunner. Framed by high walls of ochre-tinted stone and the rugged tops of Risco Mountain, the sand stretches for more than four kilometres, starting at the town of Caleta and ending under the craggy Famara Cliffs to the north-west. Once you stop gasping at the awesome views, it's time to get a-surfing.
Generally speaking, Playa de Famara is a beginner and intermediate spot, with plenty of whitewash for anyone finding their water feet with an instructor, and bigger back waves that roll both right and left, depending on which peak you've chosen. The bottom is all sand with a speckling of rocks, and the swells further from the town itself tend to be the punchier of the lot. What's more, Caleta has more surf schools than you can shake a Canarian tapas dish at, so you certainly won't be shy of great tuition options.
Orzola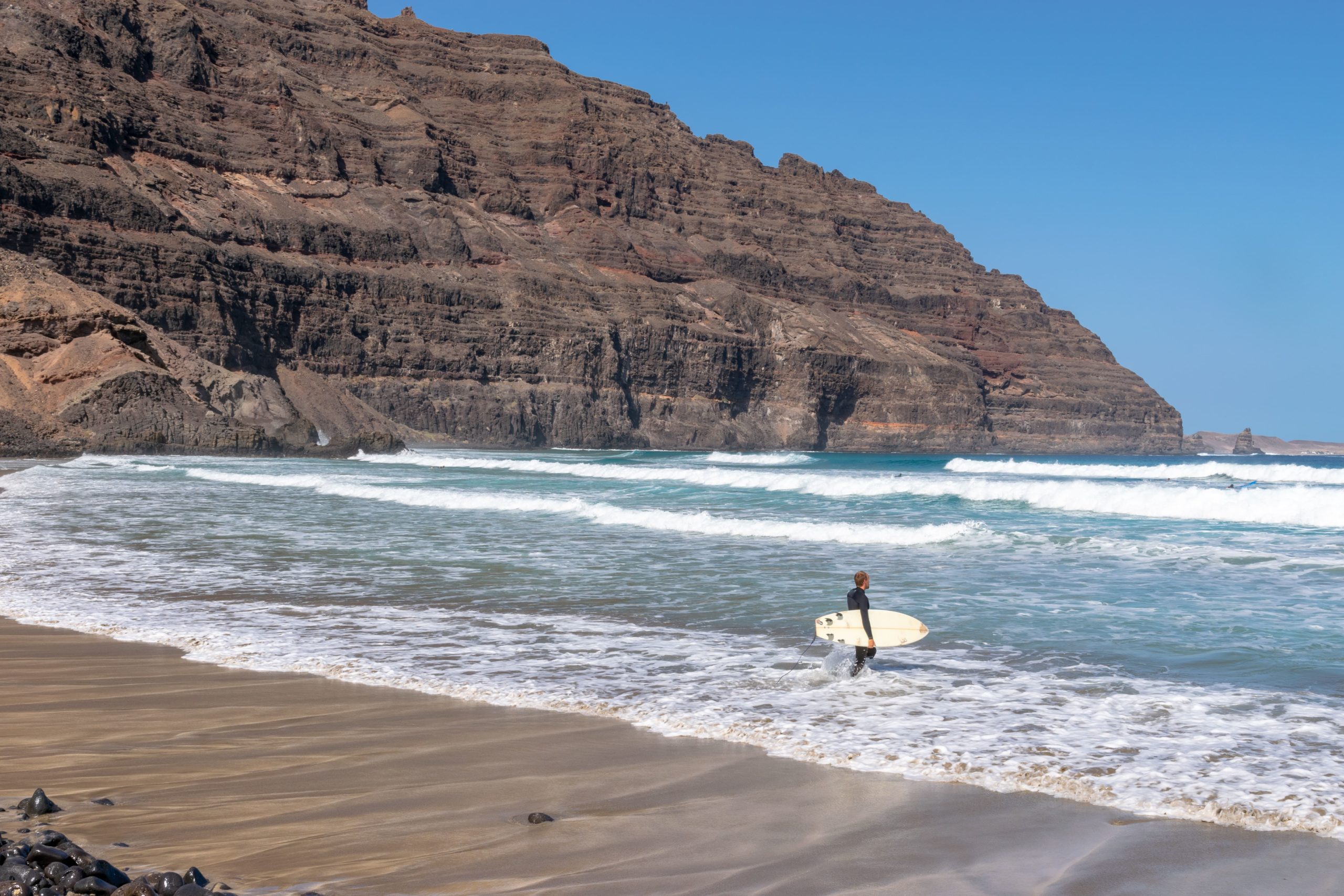 The little port and fishing (and now surfing) town of Orzola sits right on the northern tip of Lanzarote. It's a sleepy, pretty place, with sand-dusted streets and black-rock reefs ringing its beaches. There's a short single beach break where the lessons take place (when conditions are bad, it's normal to move down to the more reliable compadre of Famara Beach), along with a few potential right-handers that use the points of Playa de La Cantería nearby.
Jameos del Agua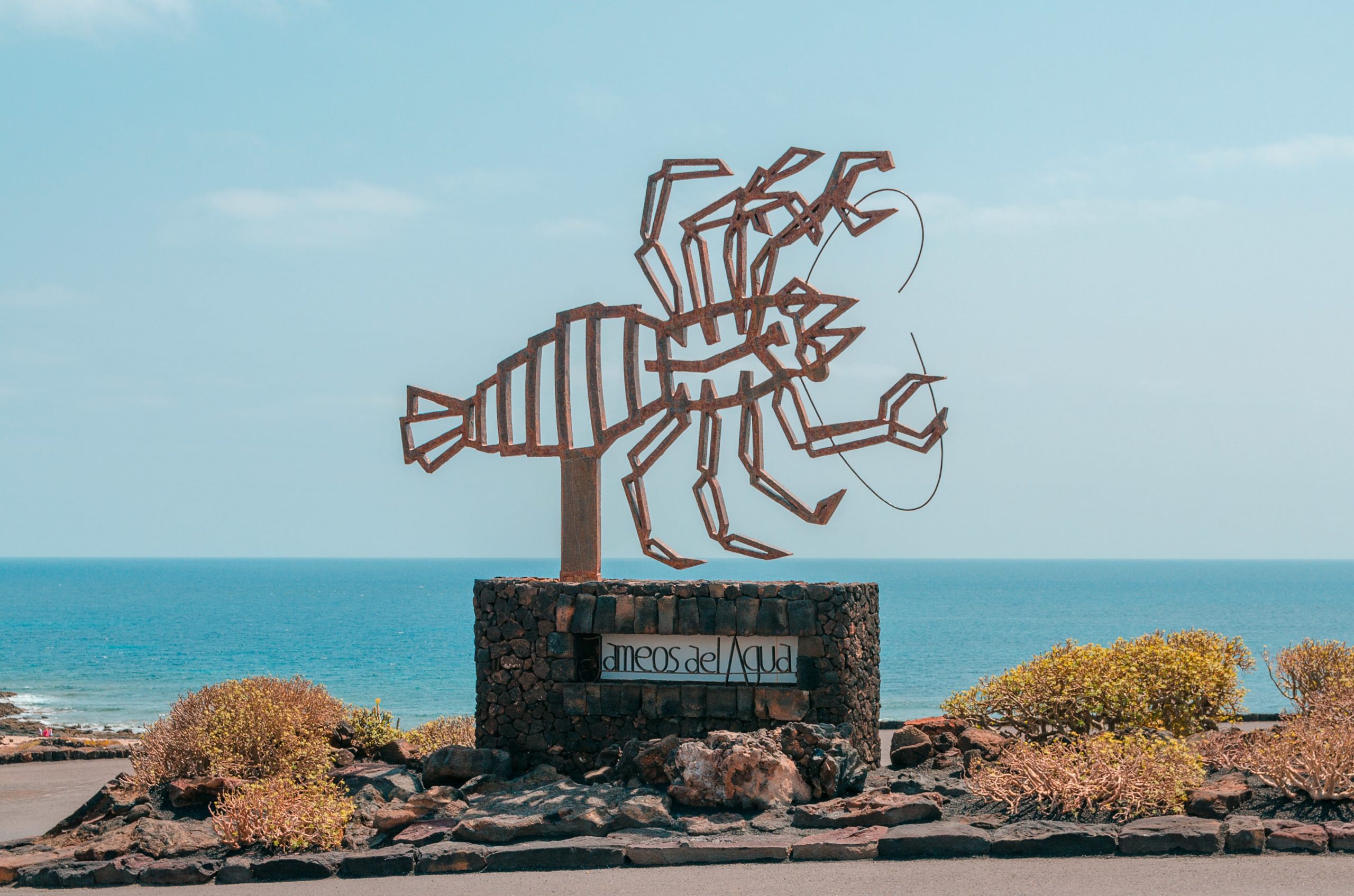 One of the rare breaks that wash over the eastern side of the island, Jameos del Agua needs a little extra thump in the ocean swell to get going. But when it does rumble into action, it stays well protected from the winds and gives a nice, cruisy ride that could just be the longest Lanza has to offer. That said, those left handers are sought-after for locals, and they are more accessible from the resort towns around Arrecife (the capital), so can get a little busy at peak times.
La Santa
Lo and behold, it's La Santa! A mega reef break that's often mentioned as the European answer to the legendary Banzai Pipeline, this one's certainly got moxie. Swells crash in directly from the Atlantic and meet cut-up lava reefs, bellowing into big tunnels that move both left and right in front of the town's harbour (usually packed with photographers and onlookers!).
Put simply, don't even think about coming here unless you've got the pull to take on the most advanced and powerful waves. There are also issues with localism, so be sure to respect the Canarian riders.
Playa de San Juan
San Juan is more of a sunbather and beachcomber spot when the warm summers roll in. However, winter can change its complexion with a brunt of good ocean and wind swells that are drawn into the channels of surrounding reefs. That creates a nice, sculpted left-hander that makes for long up-and-down rides on short and medium-long boards.
This one's not often busy but is always best left to the months between November and March. Access it by driving down the rumbly track from La Caleta de Famara town.
Surfboard Hire and Surf Lessons in Lanzarote
One thing you can be sure of is that you'll never be short of a hire board or a lesson in Lanzarote. This island has risen and risen in recent years to become one of the beginner favorites of the Canary Islands, and you'll find all the private tutors and surf-day excursions to match.
Most surf lessons will take place on either Orzola Beach or – the most popular of all – Caleta de Famara. The latter is where you can also expect to find most of the top-rated surf schools. They include ZooPark Famara, who offer full-day courses for first-time riders for $60, along with board rentals that range from soft tops to epoxy to fiberglass – prices for those start at a mere $16/day.
Volcano Surf Lanzarote, meanwhile, have specialized packages for beginners, intermediates, and expert riders. They'll help you start out with three-hour sessions along Playa de Caleta, or have you honing your pop-up with dawn patrols and sunset rides in hidden spots known only to the locals.
Lanzarote Surf Camps
There's no shortage of surf camps, private lodgings, and residencies in Lanzarote. There's plenty of budget rooms for those hoping to surf and drop, as well as high-end accommodations for those looking for a more luxurious surf trip.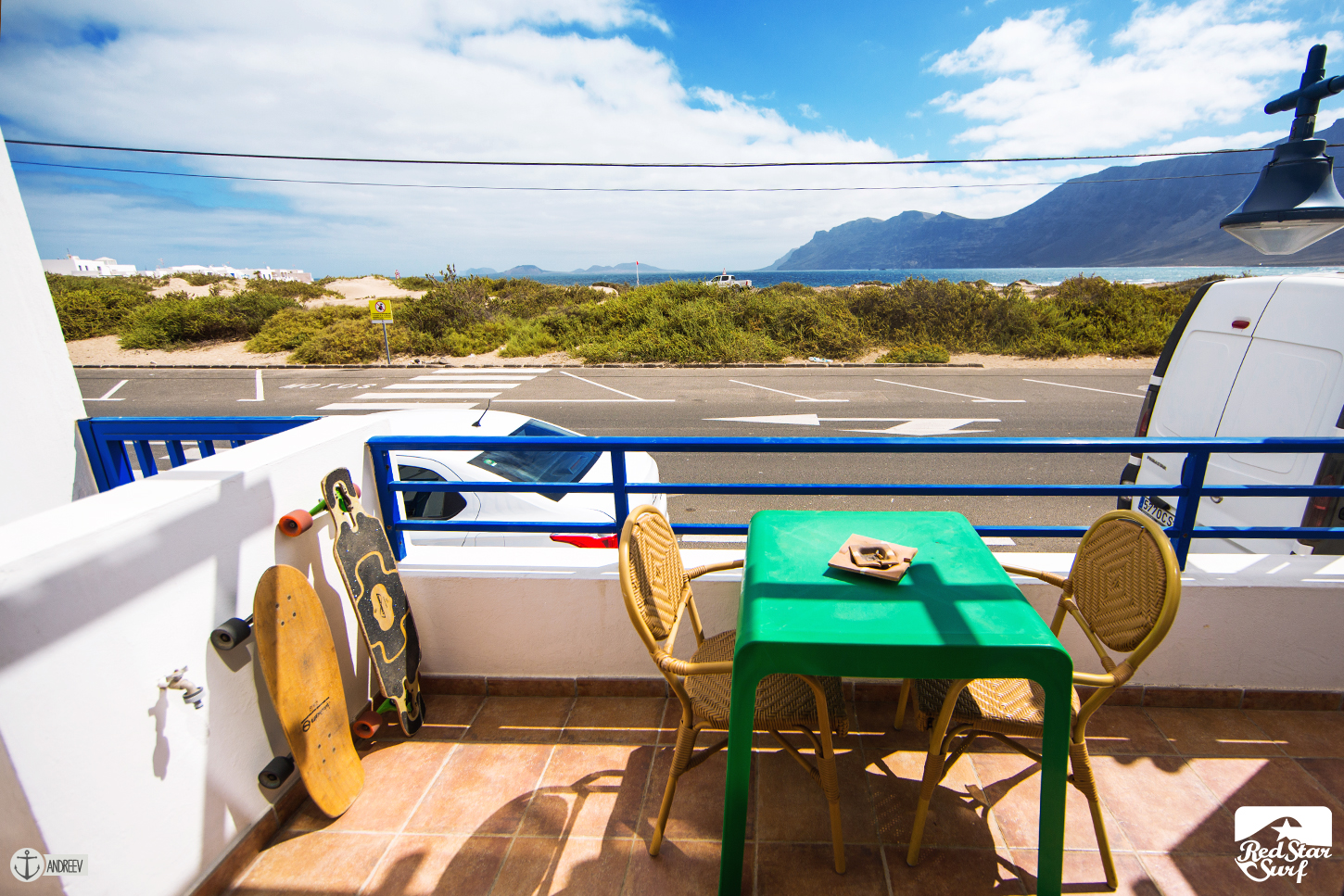 Nestled neatly on the edge of Famara town itself, Red Star Surf & Yoga Camp Lanzarote has double rooms with shared bathroom access, all right on the cusp of the best beach for beginner surfing in Lanzarote. Throw in a breathtaking panoramic rooftop terrace with stunning views of the Famara Cliffs, and a buzzy youthful vibe, and you might just have stumbled on the best low-cost surf stay going at $43 a night.
A quaint and homey little coast cottage that's done in the classic Canarian style, Casa Salinas Playa has double rooms that benefit from shared kitchen facilities and a breezy outdoor patio. They won't break the bank at $39 a night, and – most importantly – will get you within striking distance of the beach breaks around little Orzola.
Tucked between the surf rentals and the little coffee shops of Famara, Yokomosurf is perfect if you're traveling with a family or friends group and want to hit the breaks of San Juan and Playa de Famara every day. It's got three separate bedrooms with bunks and doubles, along with a shared bathroom and lounge area.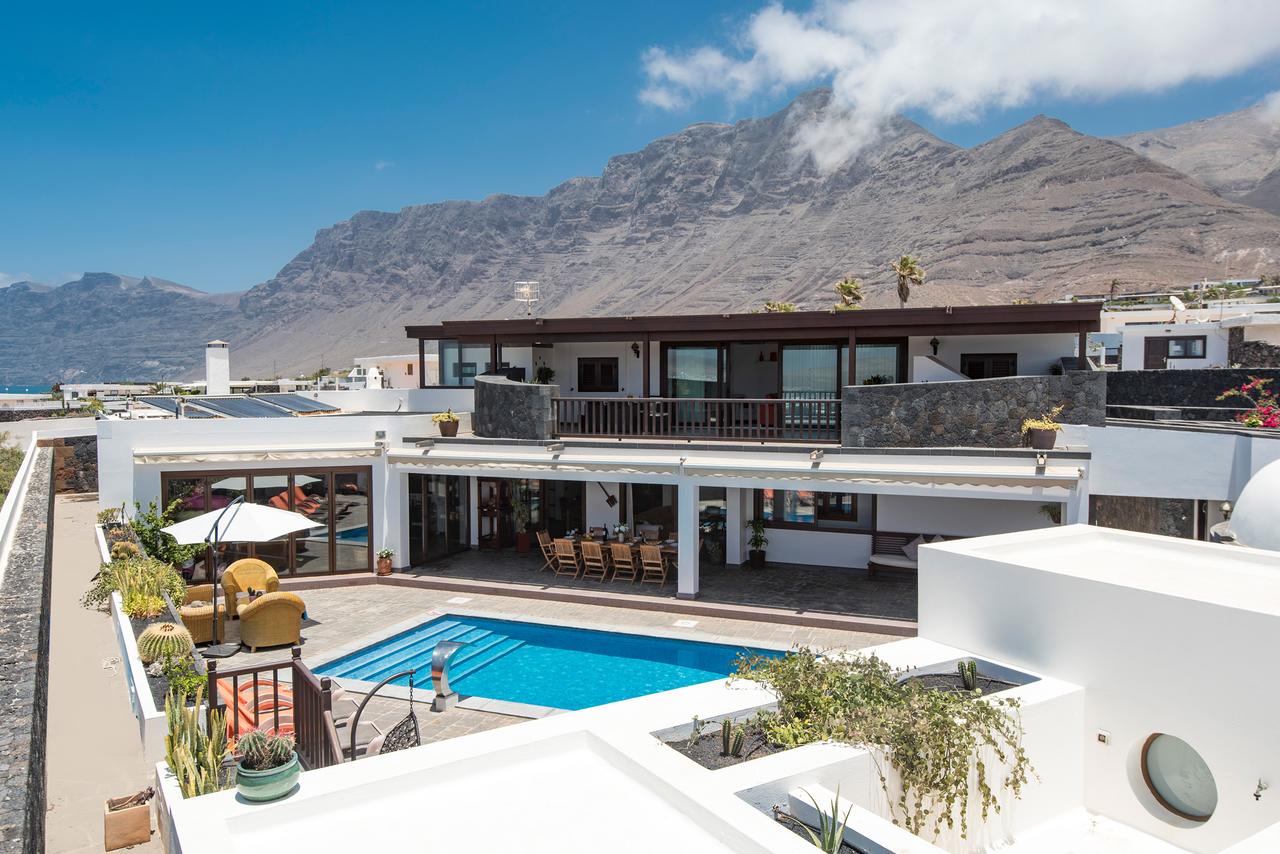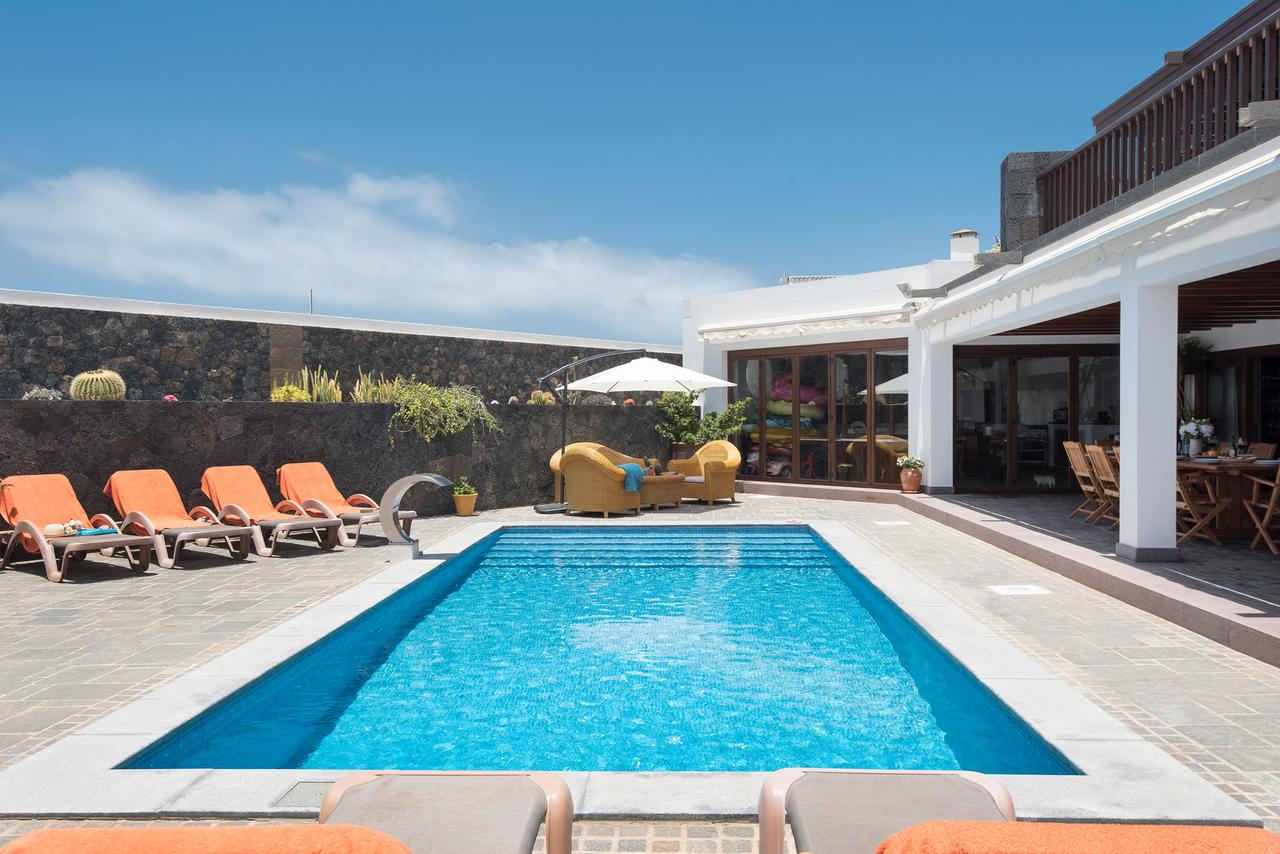 A family-sized pad with a walled garden that hosts a glistening pool, Villa Daniela also packs in a sauna and hot tub for those post-surf relaxation sessions, all for $215 a night. It sits just a short walk from the beach breaks of Playa de Famara and has a surf school right on its doorstep.
Where to eat in Lanzarote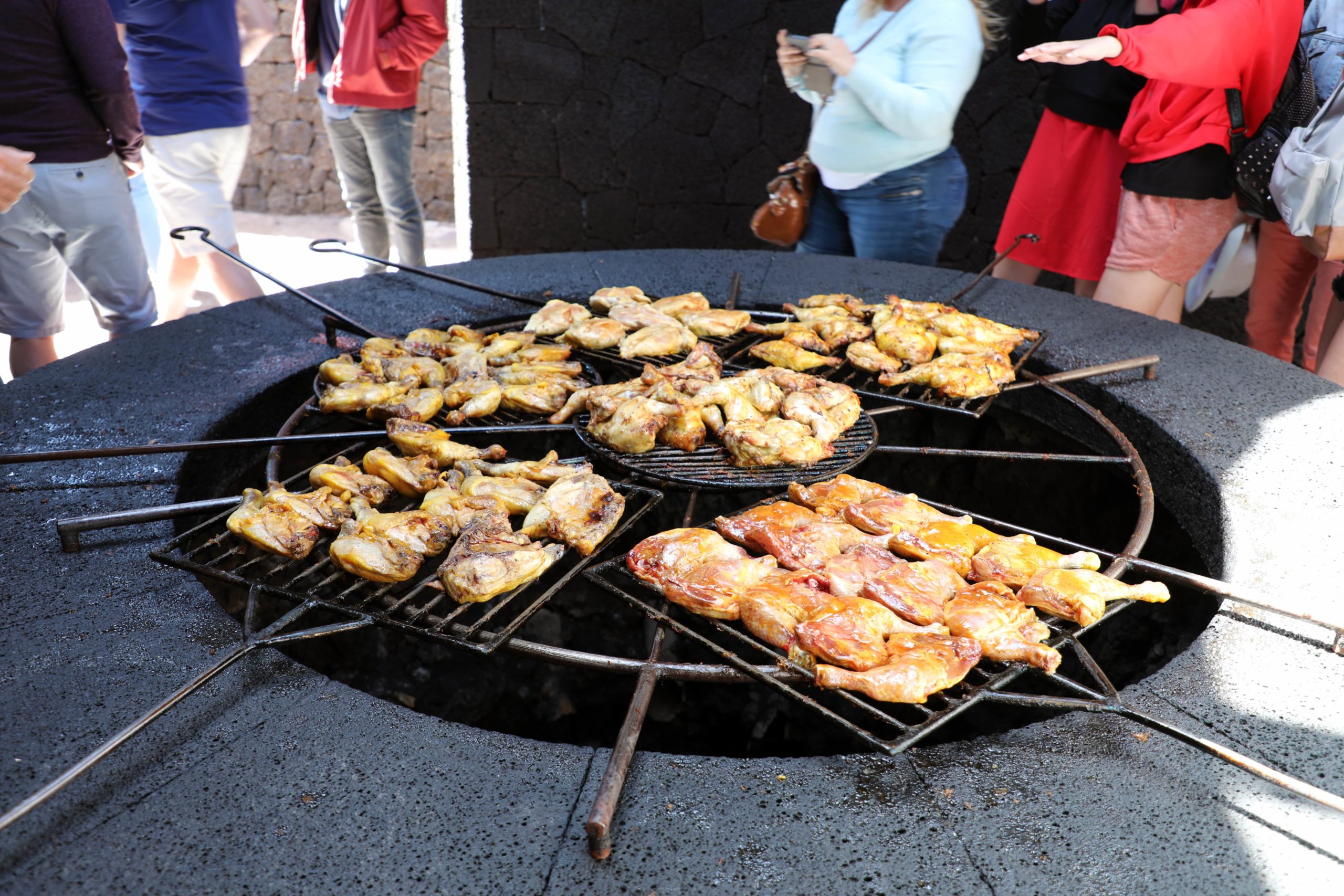 The south-east side of Lanzarote has all the family-friendly eats and Anglo-inspired breakfast grills (say hello to fried eggs, chips, and sausage, folks) you could ask for. But surfers are usually staying in the north, which means they can hop the earthy tapas joints and local Canarian seafood eateries that abound in the hill villages and coastal hamlets there, not to mention some chilled-out surf shacks with the chow to get you set up for a great day on the waves.
The tables and chairs spill onto the sandy sidewalks from the kicked-back café Beach Food Las Bajas in Caleta de Famara. The menu is packed with iced coffees and fresh juices, there's a filling breakfast spread of home-reared eggs and healthy morning meals, and you can lunch on veggie burgers or pasta. The owners are always smiling and do enjoy a chat.
Push through the center of Famara and look to the quieter south side of the town – that's where little El Sibarita opens up to face the high volcanoes in the distance. The menu outside heralds the establishment as a spot that does vegan, veggie, and Asian cuisine, which might seem like a strange mix, at least until you've tried their local cheeses and platters of salty Padron peppers straight from the grill. Delicious.
Roughly midway between Caleta de Famara and Orzola is the small town of Haria. Those who manage to find it, tucked amid palm groves and orchards in the mountains of northern Lanzarote, often come back saying it's the most handsome of all the villages on the island. Adding to the charm is the highly-rated La Puerta Verde eatery, which has vine-strewn terraces that make it look like a Greek taverna, and a menu that fuses North African spices with Mediterranean freshness in a medley of risottos, prawn salads, and tapas dishes.
Other activities in Lanzarote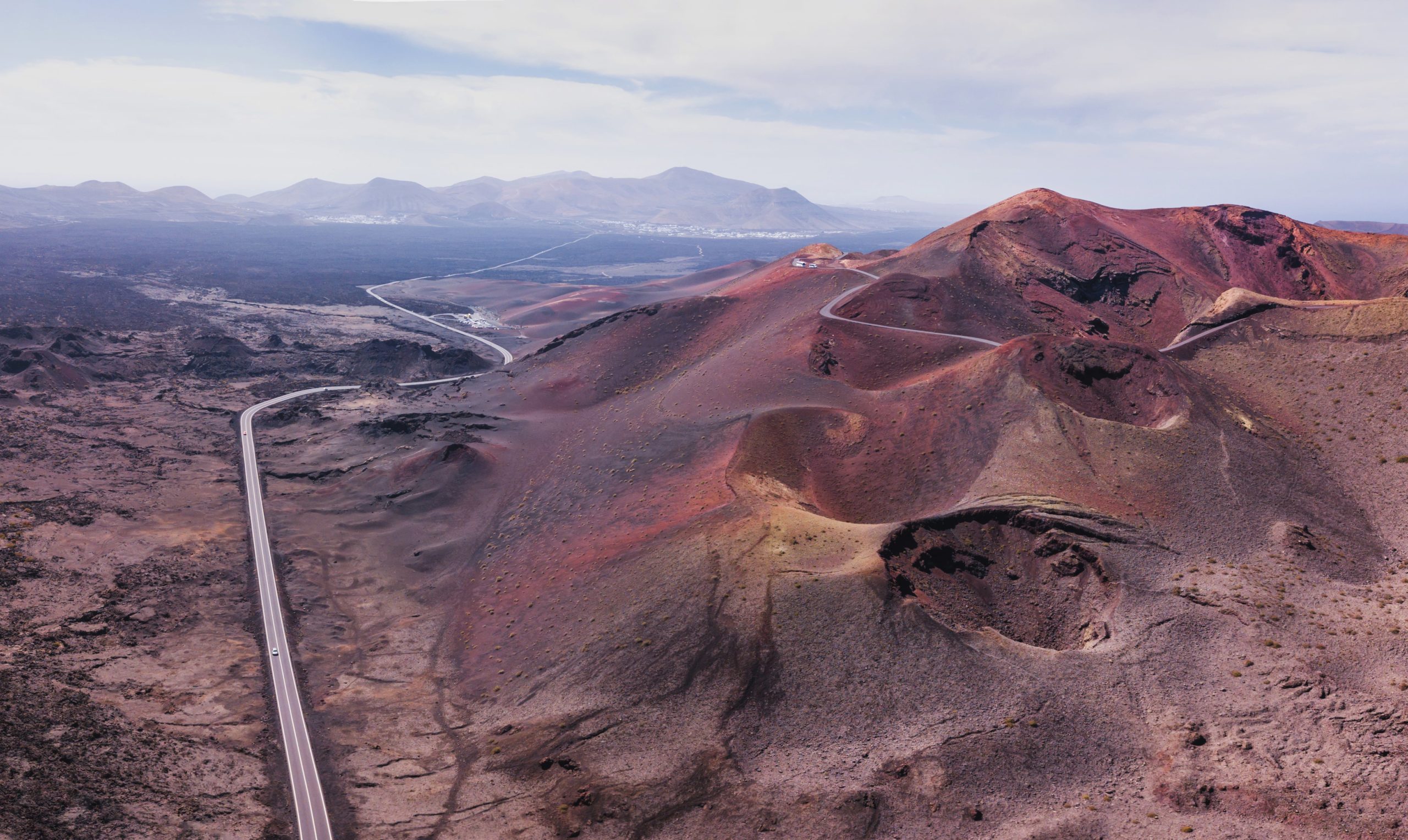 Being based in Famara is a treat for those who like to hoof it on the trails, too. The highest peak on the island looms high above the small white-painted town. That's Peñas del Chache, and it can be reached on a stunning switchback trail that weaves through the scrub and gorges behind the Famara Cliffs. You can do the hike door to door if you're staying in one of the local cottages. At the top, look out for the observatory and the sweeping views back down to the swells below.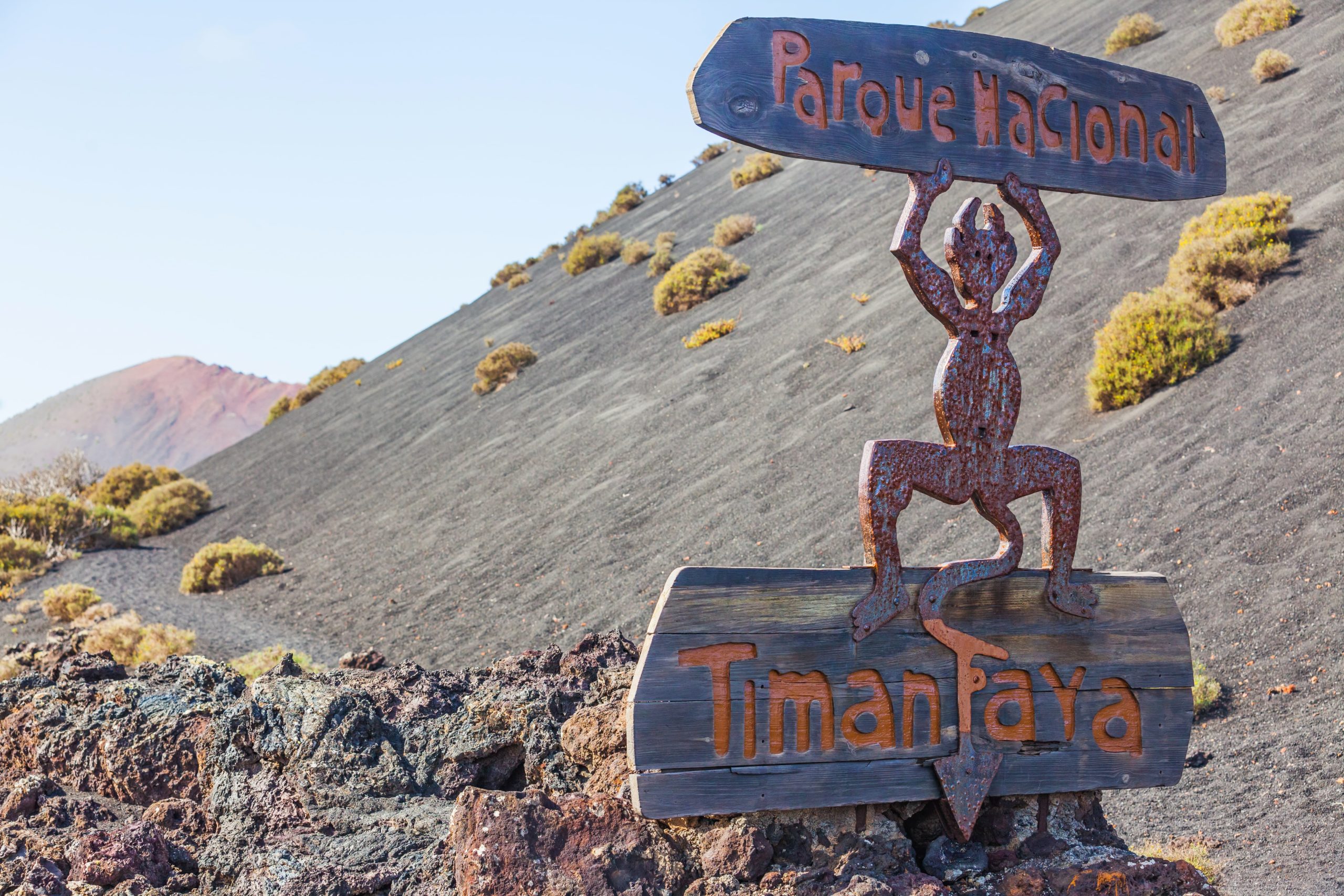 No trip to Lanzarote (even if it's a surf trip to Lanzarote) could possibly be complete without exploring Timanfaya National Park. This is one of the great jewels of the Canaries, and a UNESCO World Heritage Site to boot. In all, it occupies a whopping 51 square kilometers on the south-west of the island. Drive in and you'll be cruising through crumpled lava fields as huge craters loom up out of the earth. There's a good visitor center, and, deeper into the reserve, a place to take coach rides through the so-called Fire Mountains, where you can literally feel the heat rising from the center of the earth.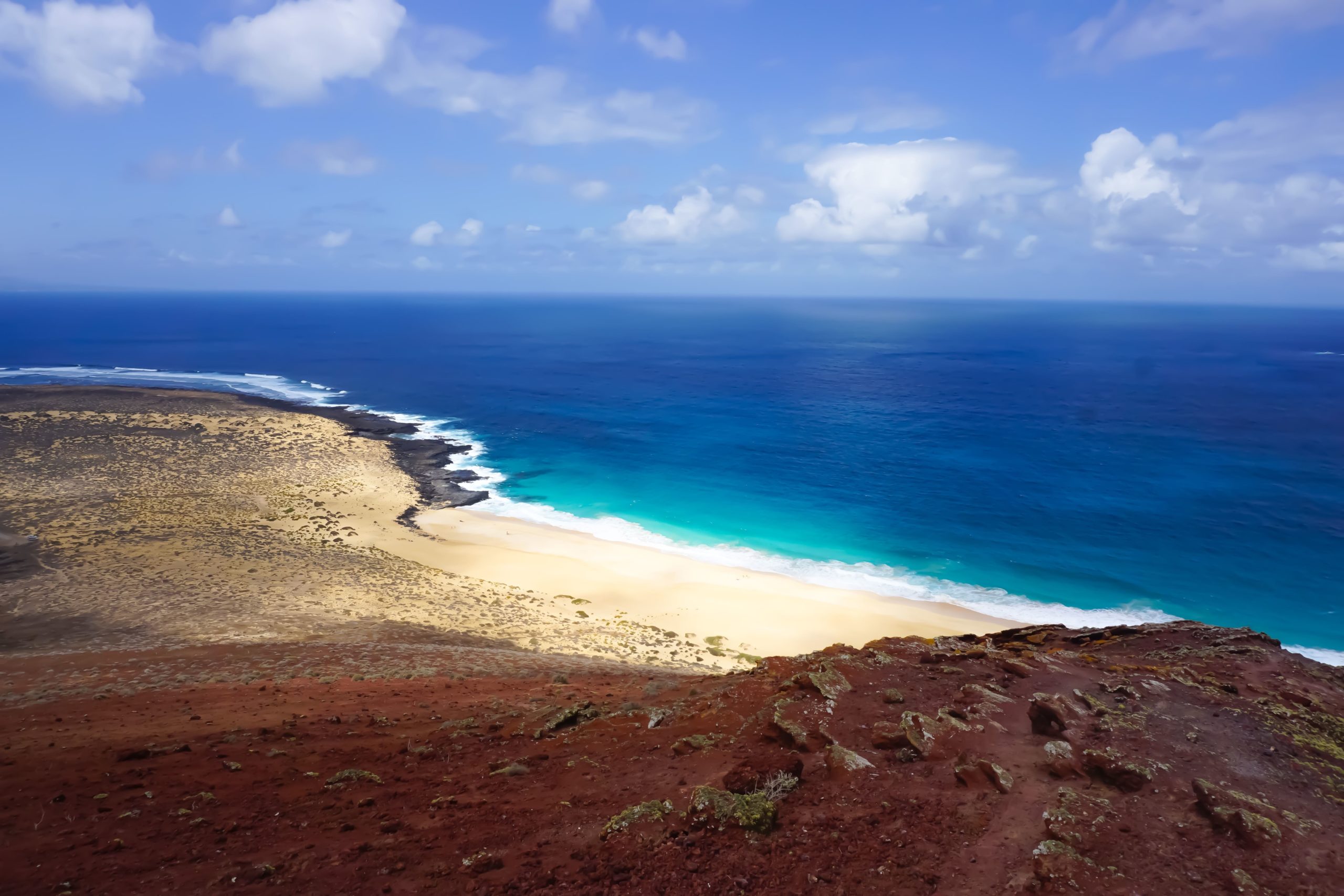 Hidden beneath a phalanx of rock and volcanic domes on the north end of the west coast of Lanzarote is the beautiful beach of Playa del Risco. It's not visited much by other travelers on account of the 1.5-hour trek down from the car park to the sand. If you're willing to hike it, you'll be rewarded with a lonely bay of white-tinted powder and the clearest water possible, not to mention unbroken views of the wild isle of La Graciosa across the strait.
Enjoyed our Complete Guide to Surfing Lanzarote? Check out all of our Surf Travel Guides here.