A Guide to Surfing the Mentawai Islands

Disclaimer: This article contains affiliate links. We may receive a small commission if you make a purchase through one of these links. Please read our Affiliate Disclosure for more information.
Thinking about surfing the Mentawai Islands?
This is our complete surf travel guide. Read for everything you need to know about surfing in the Mentawai Islands.
Situated off the southern coast of Sumatra, you'll find that the year-round, the conditions are pretty much optimum in the Mentawai Islands, thanks to the warm, relatively calm waters of the Indian ocean. Plus, you can be one of the few who has had the opportunity to explore these islands. If you're worried about picking the right surf spot and resort for your trip, you needn't fret. With our thorough guide to surfing the Mentawai Islands, you'll enjoy the experience of a lifetime.
Read on to find out why the Mentawai Islands are often referred to as paradise for surfers…
How to get to the Mentawai Islands
Break it down to its simplest form, and all you need to do to reach the Mentawai Islands is to get to Padang. Considered the capital of the Indonesian island of Sumatra, it's a bustling city with renowned surfing of its own. However, reaching Padang isn't a walk in the park, although it's not impossible either. The least stressful option is to fly to Jakarta. While Jakarta is on the island of Java, it's one of the only cities that fly directly to Padang. From there, you can catch a connecting flight or jump on a speedboat.
You might not have the budget to fly everywhere, which means you will have to use boats. A possible alternative is to travel to Malaysia and hop on a bus to Melaka on the coast. Once on the Malaysian coastline, there are ferries that cross the water to Dumai, where you'll need a bus to transit to Padang.
The Mentawai Islands are considerably easier to reach from Padang nowadays because there is a 200-seat speedboat that makes the crossing. Check on this link for the times.
Mentawai 'Surfer's Tax'
As of August 1, 2016, surfers visiting the Mentawai Islands must pay a "surfer's tax" before riding the region's legendary waves. With a significant growth in the number of surfers heading to the Mentawai Islands each year, the government uses this tax to protect against environmental damage.
The tax is 1,000,000 IDR (approx. 80 USD) per 15 day stay and can be paid with the Port Authorities at Padang Harbour.
Something else to bear in mind is that Indonesian customs allow a maximum of 3 surfboards for personal use. Any additional boards will be considered imports and you will be charged a fee of around $100 per board.
Mentawai Islands Surf Resorts
As you'd expect from a surf-centric destination, you won't struggle to find a surf resort in the Mentawai Islands. However, choosing between the options on offer is never straightforward. An excellent rule, regardless of your location, is to research the various options.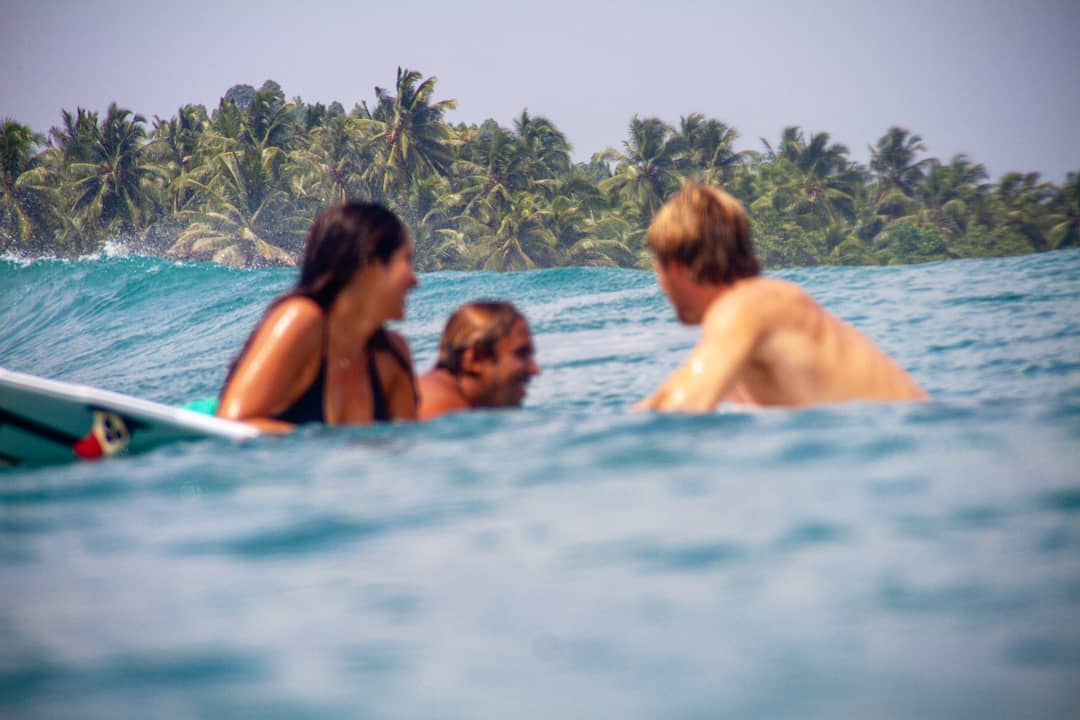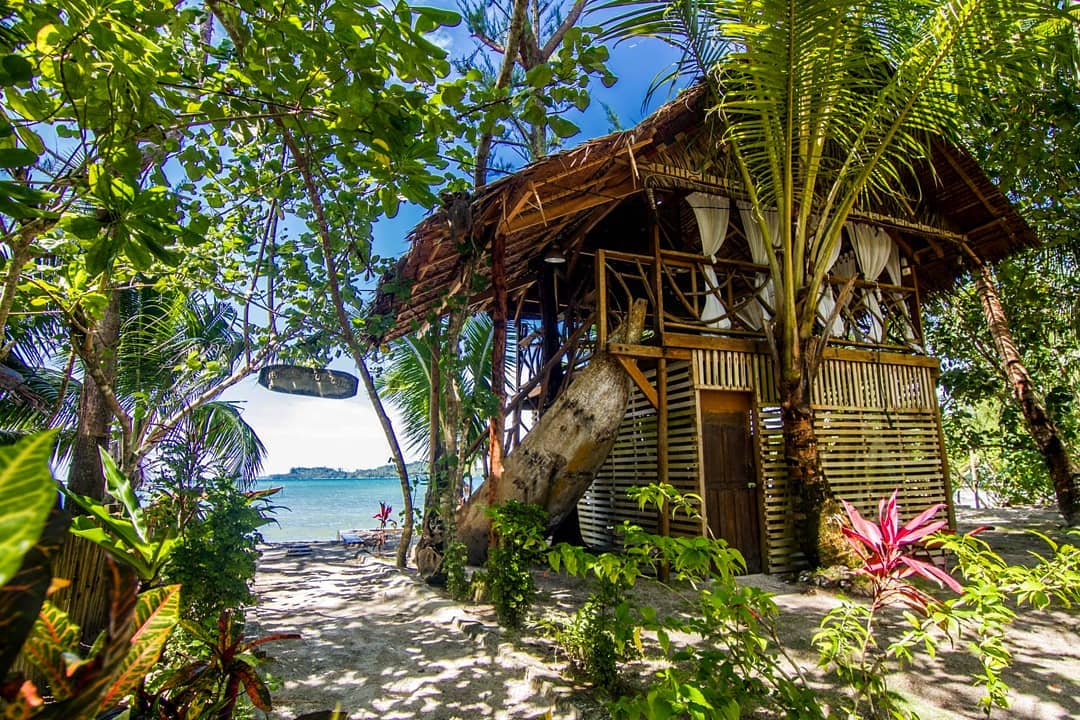 If you prefer a hotel or surf camp that is tried and tested, there aren't much better than Mentawai Surf Camp in Northern Mentawai. A beachfront villa-style accommodation located in the renowned Playgrounds area in the Mentawai Islands, Mentawai Surf Camp has been serving tourists and surfers for decades. You can book an all-inclusive package here, including airport transfers, daily boat trips to the nearest surf spots, and 3 meals a day starting from $159 per day.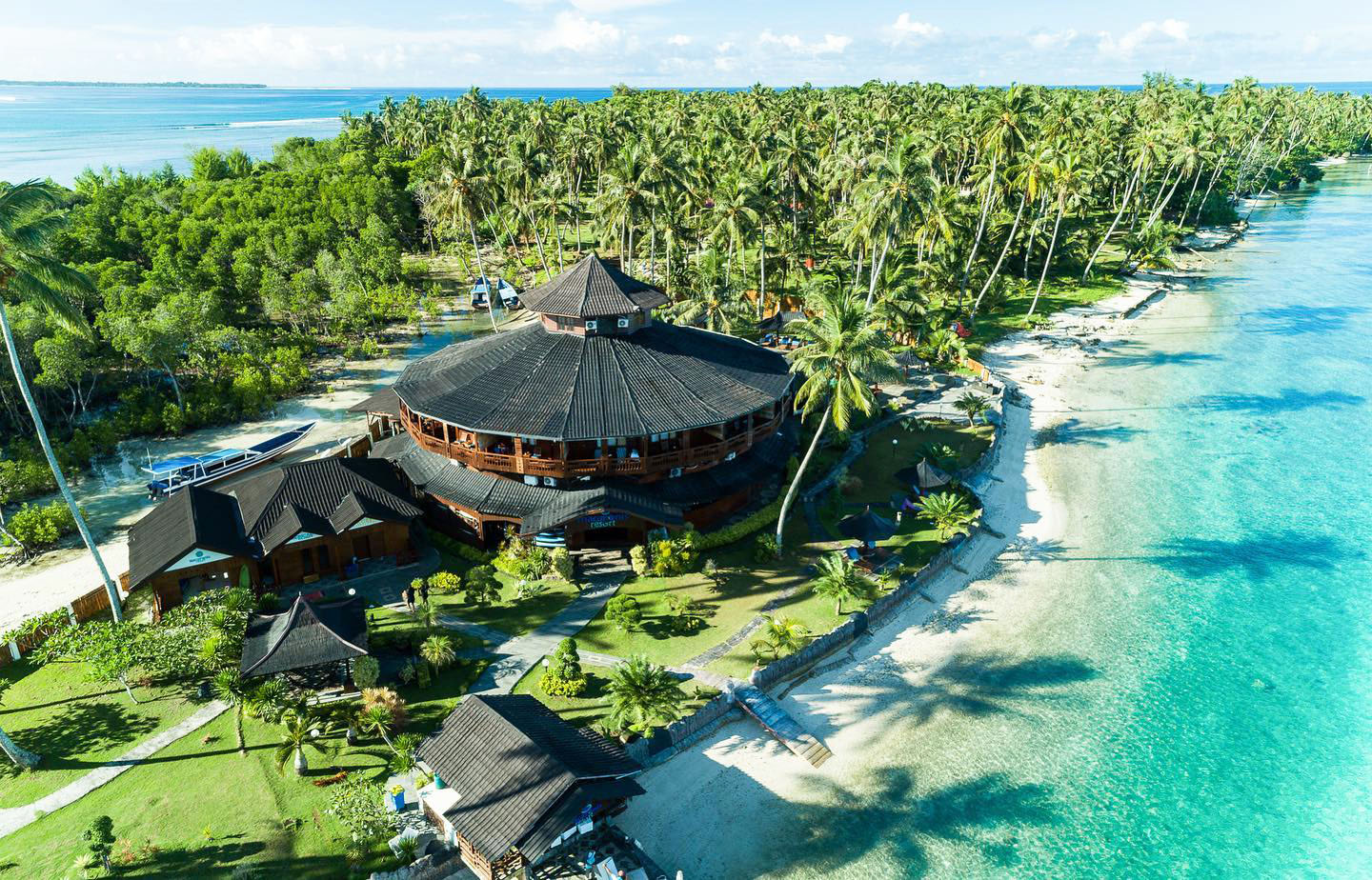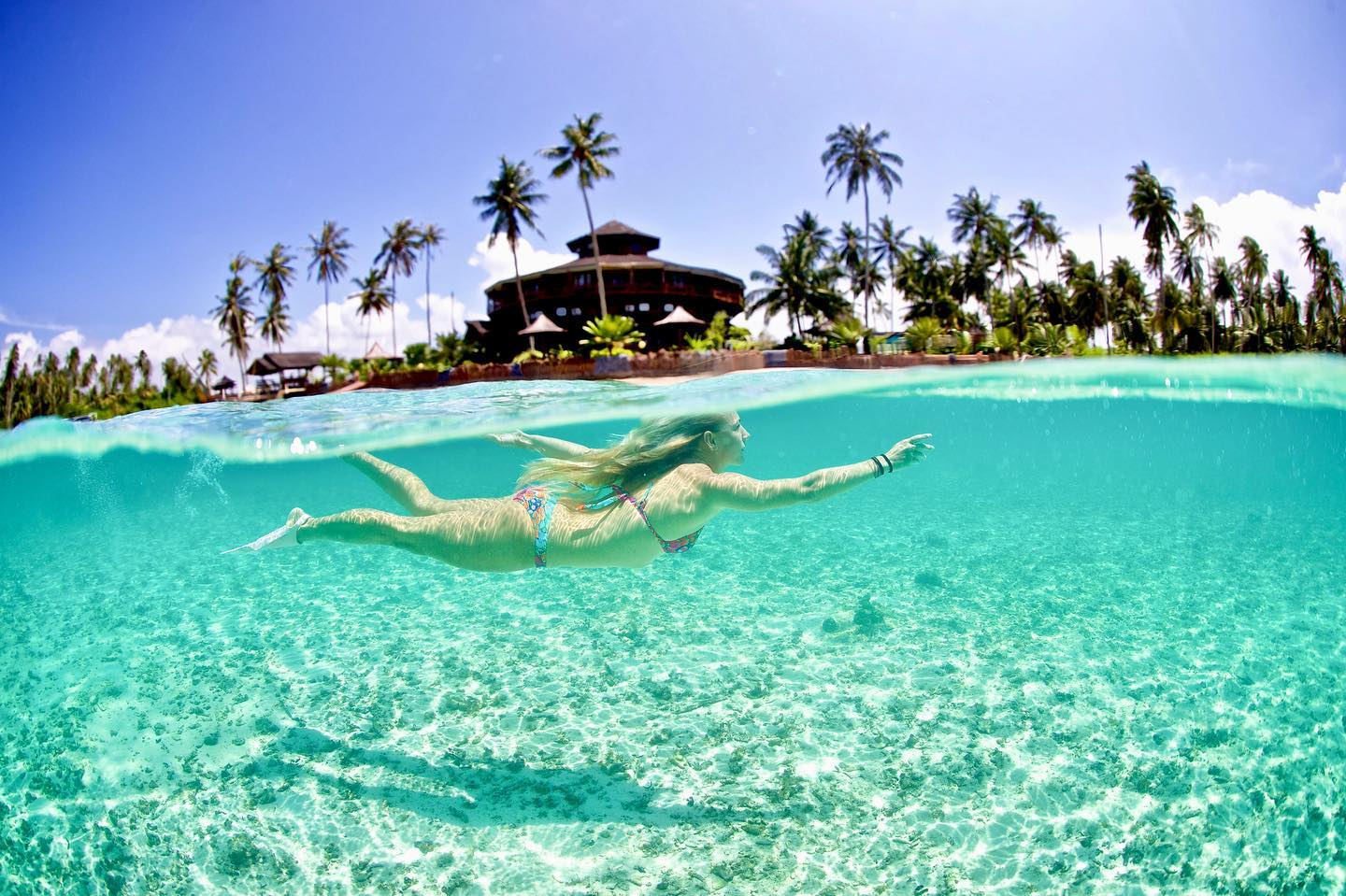 Located in the Southern Mentawai Islands you'll find Macaronis Resort, named for its proximity to the surf spot of the same name. Macaronis was voted by the pros as the 'funnest' wave to surf in the world, so you can't really go wrong when it comes to the location of this resort. Families and non-surfers will love the fact that there is more to do than surfing, while surfers can enjoy the lack of a curfew that lets them surf as late as they want right out front.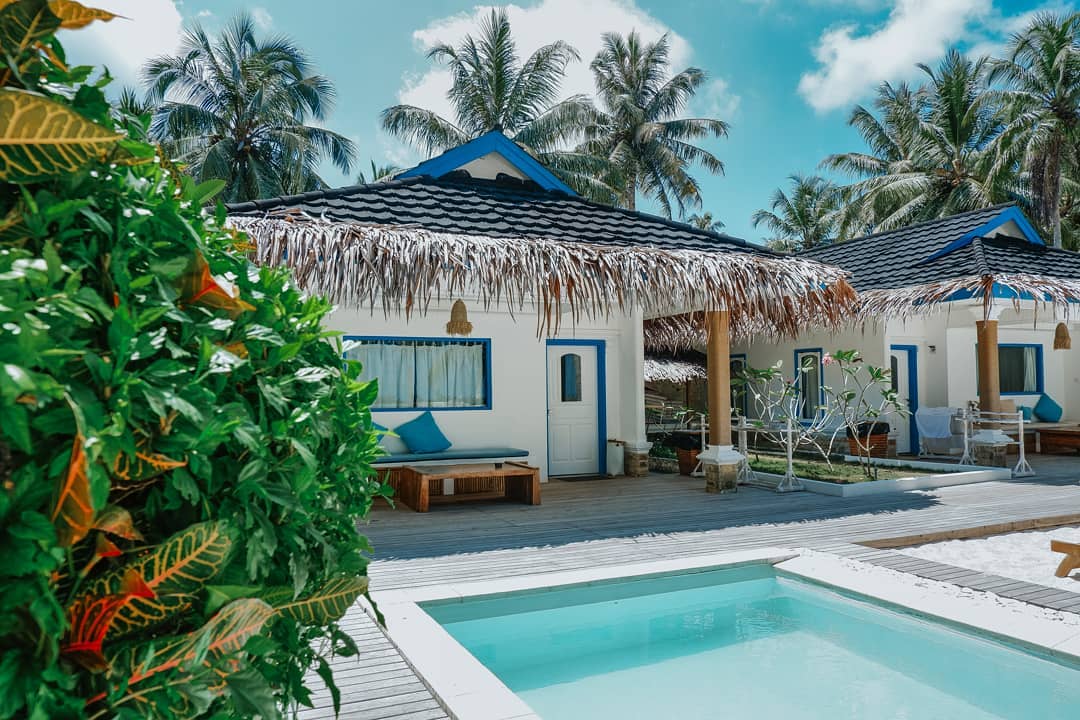 Another popular resort, located this time in Central Mentawai is Hollow Tree's. Hollow Tree's, known locally as HT's or Lance's Right, is one of the best and most consistent fast, barreling right-handers in the world and Hollow Tree's Resort looks straight out over it. The resort itself is made up of a collection of small blue and white beachfront villas, each with their own private plunge pool. Guests can book an all-inclusive package here from $200 per day.
If price is an issue, the great thing about surfing the Mentawai Islands is that even the budget hotels and resorts are clean and homely. Lance's Right Villas is a prime example. At less than £50 per night, there is everything from scooter and bicycle hire to help you get to the surf spots, as well as airport transport.
Before booking accommodation, it's essential to remember that lots of waves are only accessible by boat. Therefore, you will either need an off-shore hotel or one that provides a daily charter to the best surf spots.
Surfing Mentawai Islands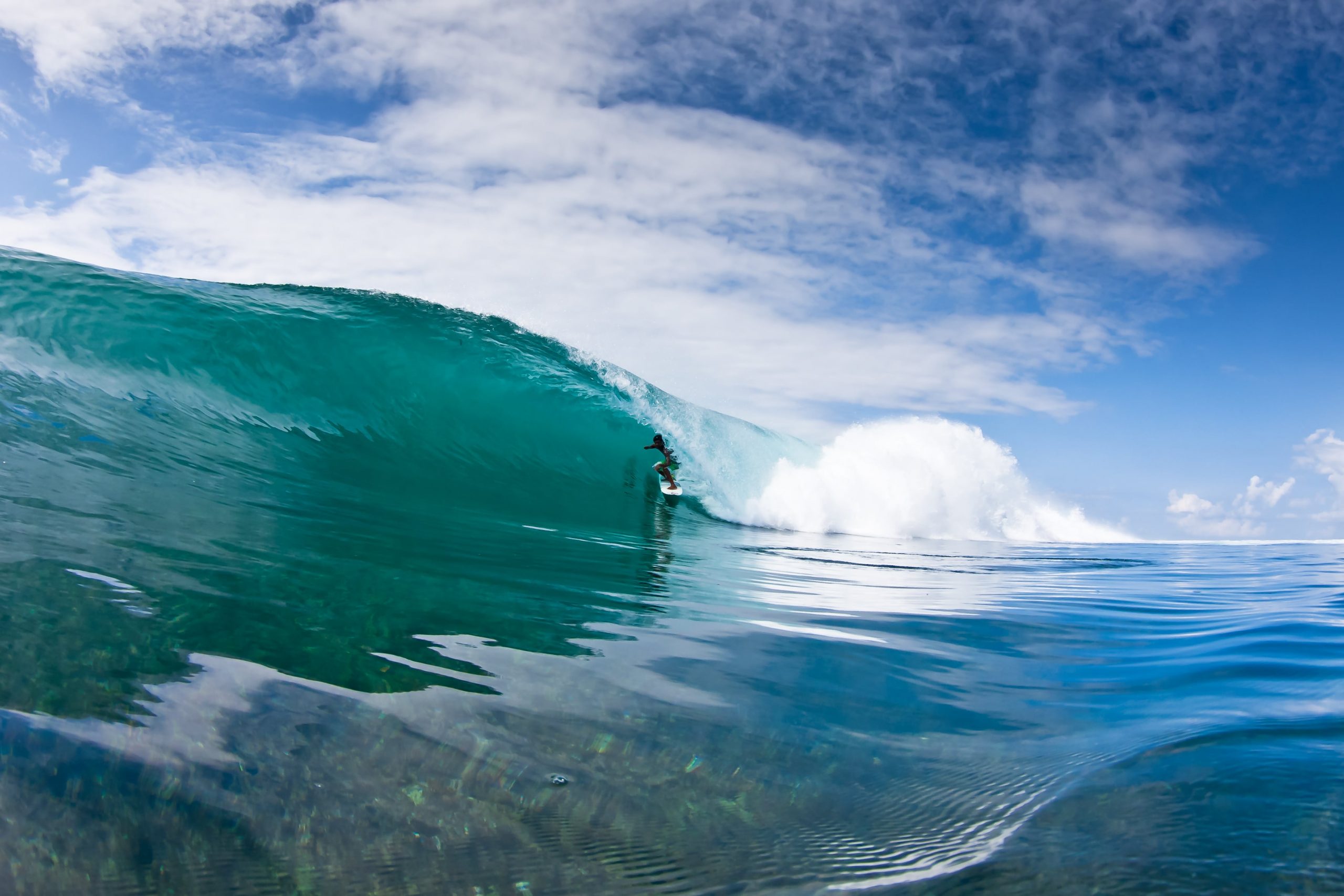 Mentawai is home to dozens of incredible surf spots that are worth checking out. The main surf season runs from March to October, similar to the rest of Indonesia. However, you'll always find something to surf no matter the time of year.
Below, we'll break down the most popular, as well as the ones that shouldn't go under the radar, in Northern, Southern, and Central Mentawai.
Northern Mentawai Surf Spots
Off the south coast of Siberut, you'll find a group of waves that are referred to as 'The Playgrounds.' Among the most consistent in the southern Indian ocean, they offer something for everybody, even though the Mentawai Islands are best for intermediate and expert surfers.
Beng Bengs
Beng Bengs is close to the west coast, and it's a fantastic place to start if you want to get comfortable with the conditions before trying something more advanced. A left-hander, it has plenty of give while simultaneously being fun and fast. There's plenty of chances to rip without putting yourself in a tricky situation, so it's an exciting combination of safe and enjoyable.
Nipussi
Short, sharp fast-hand waves don't come much faster than Nipussi. East of another wave known as 'Bank Vaults,' it has a shallow break over a sharp reef. However, don't let this feature put you off because it's also sheltered from the wind. On top of that, Nipussi is pretty laid back as it doesn't need a great deal of swell to work. Intermediate surfers should be at home here, and it's a particularly cool spot when the wind is high. Other waves career off course, yet Nipussi stays true in the islands' worst conditions.
Bank Vaults
Speaking of Bank Vaults, it's well worth a visit if you're in the intermediate to the advanced bracket. Among Indonesia's surfers, it's considered to be possibly the toughest and trickiest wave to overcome in the Mentawai Islands. Why? For one thing, it's a lot more powerful than the other swells in Northern Mentawai, but more than that, it's a drainer. Yes, the barrel drains, meaning it's incredibly easy to get on the inside of the wave white out. Not for the meek, Bank Vaults offers huge swells and even bigger adrenaline shots for those brave enough to attempt to tame it.
E-Bay
No, not the eCommerce site that sells everything from old clothes to used cars. In Mentawai, all you can purchase from E-Bay is a selection of barrel sections at mid and high tide. A left-hander, it's an excellent wave regarding performance, giving top surfers the chance to carve out their best moves and rip until their hearts are content.
Southern Mentawai Surf Spots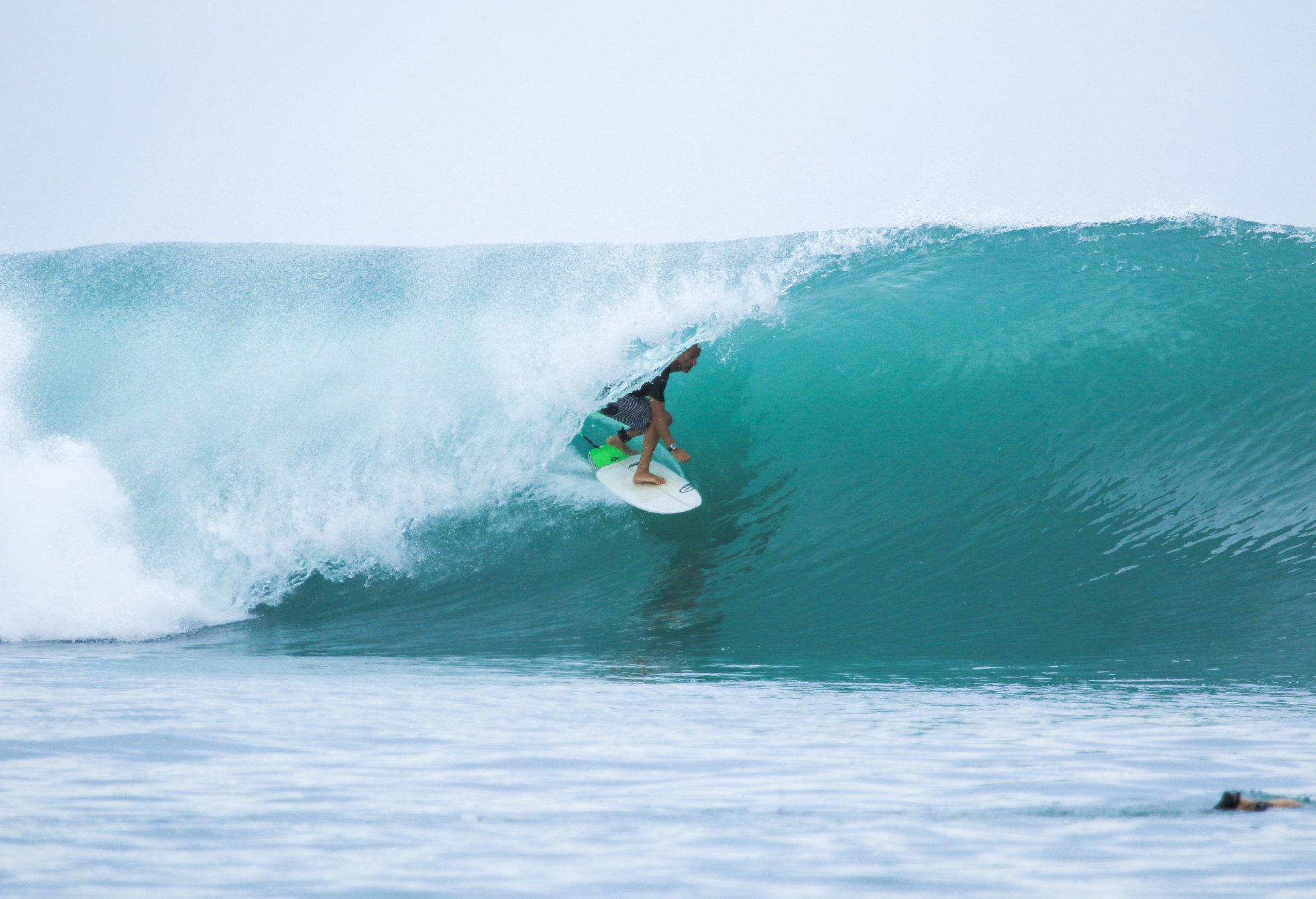 As a rule, Southern Mentawai isn't an ideal place for beginners or anybody who isn't confident in the water.
Thunders
Thunders is about as tame as it gets off the coast of Pagai. Not only does it race and break over a shallow reef with sharp coral underneath, but it's unusually long and large. So, it provides you with more time to rip and run, as well as more opportunities to stack it! A cool feature of Thunders is that it has several take-off points for surfers. Therefore, it's a brilliant spot to catch a wave regardless of the crowds, which are among the biggest in the Mentawais.
Greenbush
Another wave with potentially painful consequences, Greenbush is said to be for advanced surfers and people who don't care about their wellbeing! And, it's easy to see why when you go south of Macaronis. Scenery-wise, it doesn't get much prettier than the tropical forests and mangroves that surround the coast. However, they also add to the hollowness of the waves, and it's this feature that's the most hazardous. Please proceed with caution, but with the understanding that the sense of satisfaction after finishing this swell is immense.
Macaronis
Although Greenbush is seen as more intense and harder to handle, Macaronis is undoubtedly the most fun surfing in the Mentawai Islands. What sets it apart from the rest is that it's a rippable swell, so advanced surfers can pull as many tricks as they can attempt. More than that, the Macaronis work in most conditions and are accessible throughout the majority of the year. You can rely on these waves to have your back when the conditions are otherwise flat and have lost their edge. Intermediate surfers should be okay.
Central Mentawai Surf Spots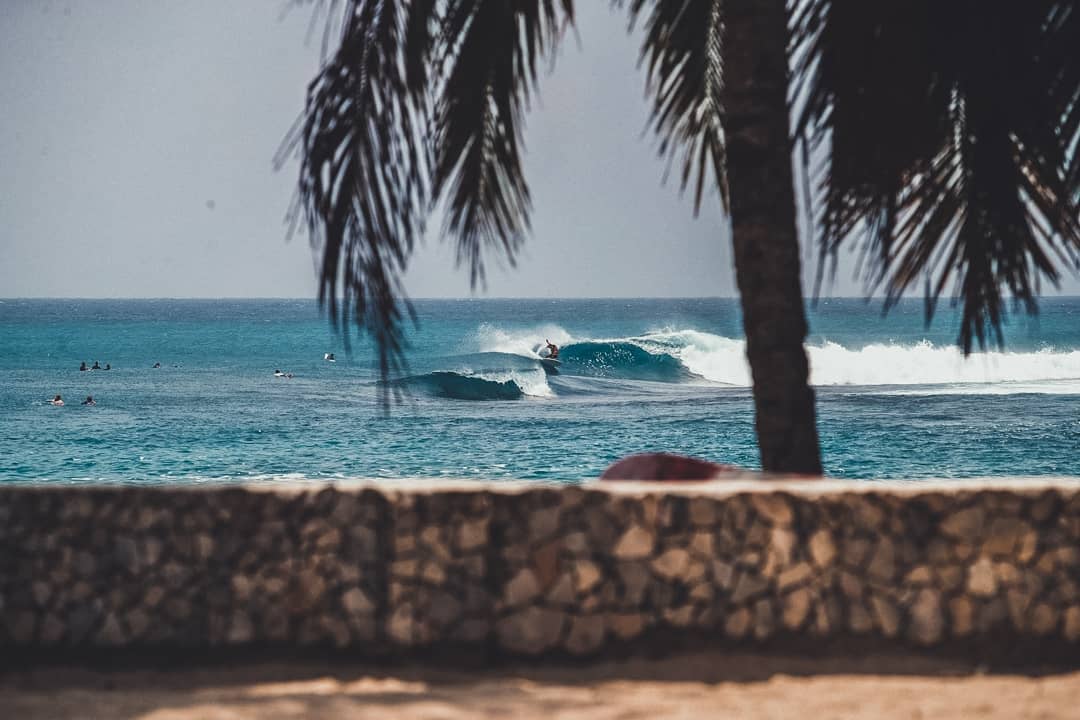 While it's true that the Mentawai Islands' surfing is more varied in the North and South, the Central region has one wave in particular that shouldn't be missed. To experience it, you'll need to head to a town called Sipura. There, off the south coast, you'll find Lance's Right.
Lance's Right
Also known as 'Hollow Trees,' or HT's for short, Lance's Right is unmissable due to its varying sections. All told, it's an incredibly quick right-hander that twists and turns and shoots you into multiple barrels. However, two specific sections to look out for are: 'The Office' and 'The Surgeon's Table.' The former is the fastest part of the wave that includes a big drop that instantly throws you into a barrel. The latter is the main peak, and it's great fun because it's an open peak with plenty of shallow coral reef underneath.
Surfboard Hire in the Mentawai Islands
Surf shops on the island are few and far between. You will find the odd, single entrepreneur trying to make a buck, but the gear is mostly sold by surf camps. With that in mind, you might already have it included in the cost of your accommodation. Always double-check before signing on the dotted line.
Another feature to factor in before leaving for Mentawai is that, of the camps and schools that do offer equipment, the majority of it is for beginners. Macaronis Resort, for instance, offers equipment hire, yet there are only six soft-top boards for learners.
So for the most part, we strongly recommend taking your stuff with you to enjoy surfing in the Mentawai Islands.
How Best Surf Destinations Can Help
You mean apart from giving you this helpful guide?! Of course, we have lots of articles and posts that you can use to aid you in researching your trip, and not only for the Mentawai Islands. Regardless of the location, we cover surfing hotspots and uncovered gems around the globe. We pride ourselves on our taste in accommodation, too. It's the same routine: decide where you're going and use our list of resorts and surf camps to make your stay more comfortable.
Enjoyed our Complete Guide to Surfing the Mentawai Islands? Check out some of our other Surf Travel Guides here.