A Complete Guide to Surfing Nicaragua

Disclaimer: This article contains affiliate links. We may receive a small commission if you make a purchase through one of these links. Please read our Affiliate Disclosure for more information.
Thinking about surfing in Nicaragua?
This is our complete surf travel guide. Read for everything you need to know about surfing Nicaragua.
If it's not already, Nicaragua should be right at the top of your destination list for your next surf trip. With a rich culture, more than 250 km of luxurious coastline, a long surfing season from May to October, and plenty of tasty food to try, Nicaragua is slowly but surely becoming a go-to surfing destination for thousands of surfers from around the world.
How to get to Nicaragua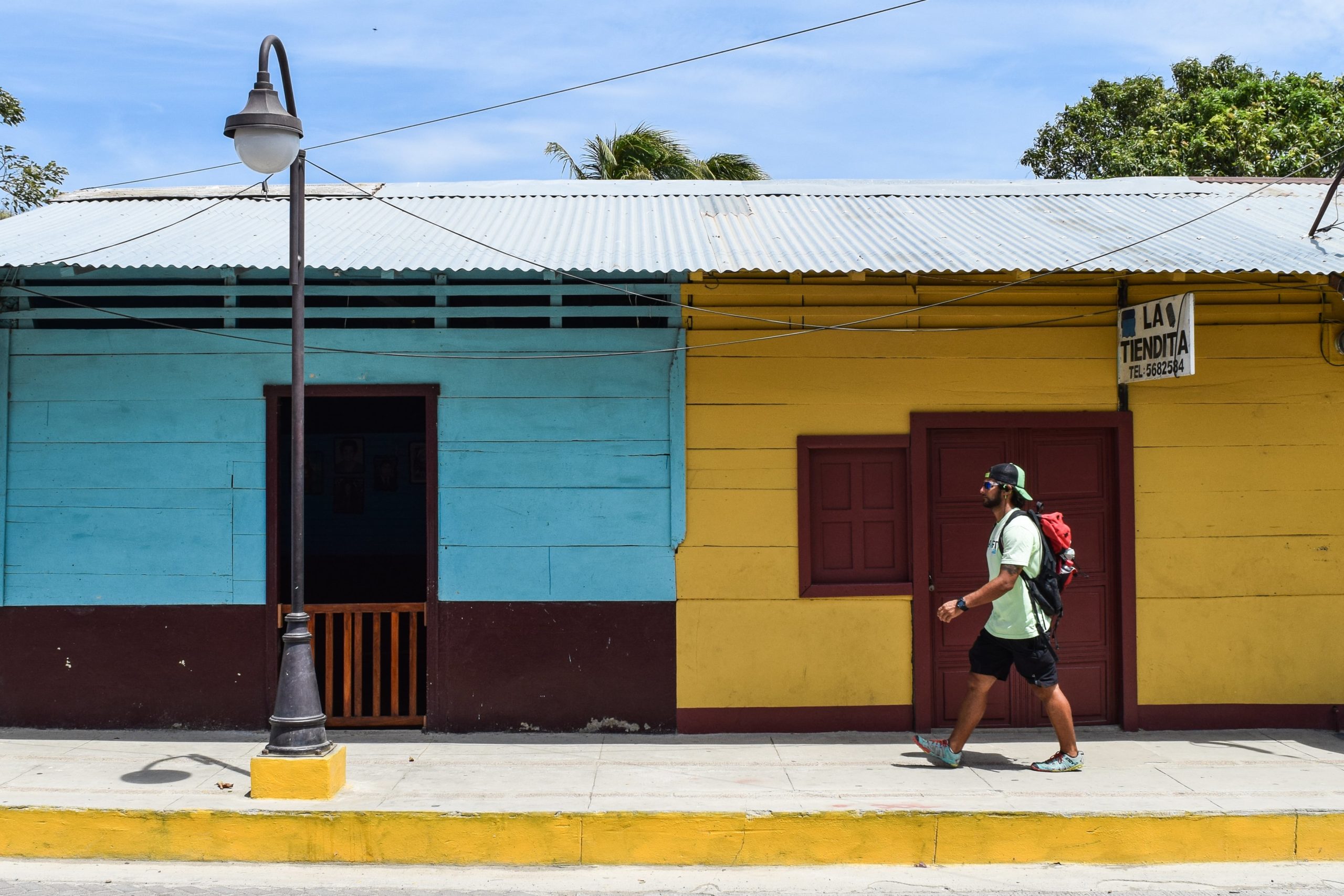 Of course, if you are going to be surfing Nicaragua, you need to actually know how best to get there! This can often be one of the most challenging parts of organizing the trip, but it is vital if you want smooth sailing once you arrive.
Depending on your nationality, you may need a visa, so you should be sure to find out whether that is the case for you, and then make it happen if you do need one. If you're coming from the United States, you're fine, and will just need to get a tourist card on arrival – this costs $10, so be prepared and carry some cash with you as you travel.
It's also a good idea to get all of the necessary vaccines, as there are a few that are recommended you get before you travel to Nicaragua. As well as all of your routine vaccines, you will want to get hepatitis B and the rabies vaccine. The last thing you want is to not be able to surf because you simply don't have your necessary vaccinations.
To easily reach the best surfing in Nicaragua, you'll want to fly into Managua International Airport (MGA). From here it takes about 2 hours and 30 minutes to reach the more popular surfing towns of San Juan del Sur and Popoyo. To avoid haggling with a swarm of taxi drivers outside the airport, we recommend pre-booking a private transfer. Private transfers typically cost between $100-$150 for up to 3 people sharing and can be booked through your hotel or through an independent provider here.
Nicaragua Surf Spots
The Nicaragua surf season runs all year. For improvers and more experienced surfers, the best time to visit is between May and October when Nicaragua sees it's bigger swell come in. But, for beginners who are looking for their first surfing experience, Nicaragua delivers gentle waves all through the winter, making it the perfect warm weather destination between November and April. The best thing is, the water stays warm all year round so no need for a wetsuit.
Nicaragua has plenty of surf spots to choose from – we'll look at a few of them in detail now so you can better make your decision about which to try out.
Playa Hermosa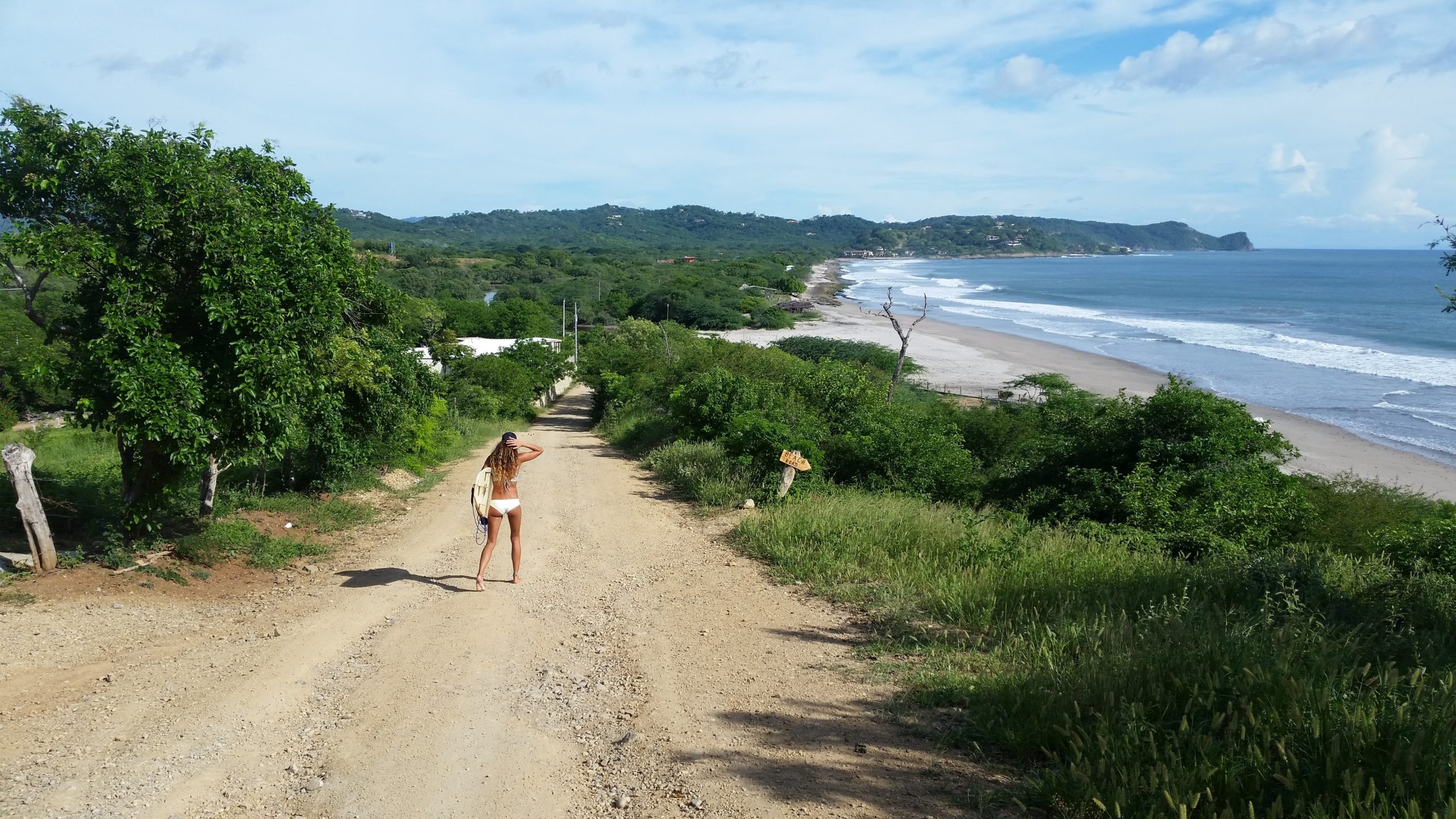 Known for its 7km stretch of black sand, Playa Hermosa is one of the most popular surfing beaches for beginners in Nicaragua. You can find it 25 minutes south of San Juan del Sur. It is particularly well-known for its consistent waves and an easygoing atmosphere, so if you just want to chill and try out a bit of surfing it's a great place for it. You can also enjoy the convenience of the nearby beach town of Jaco.
Playa Maderas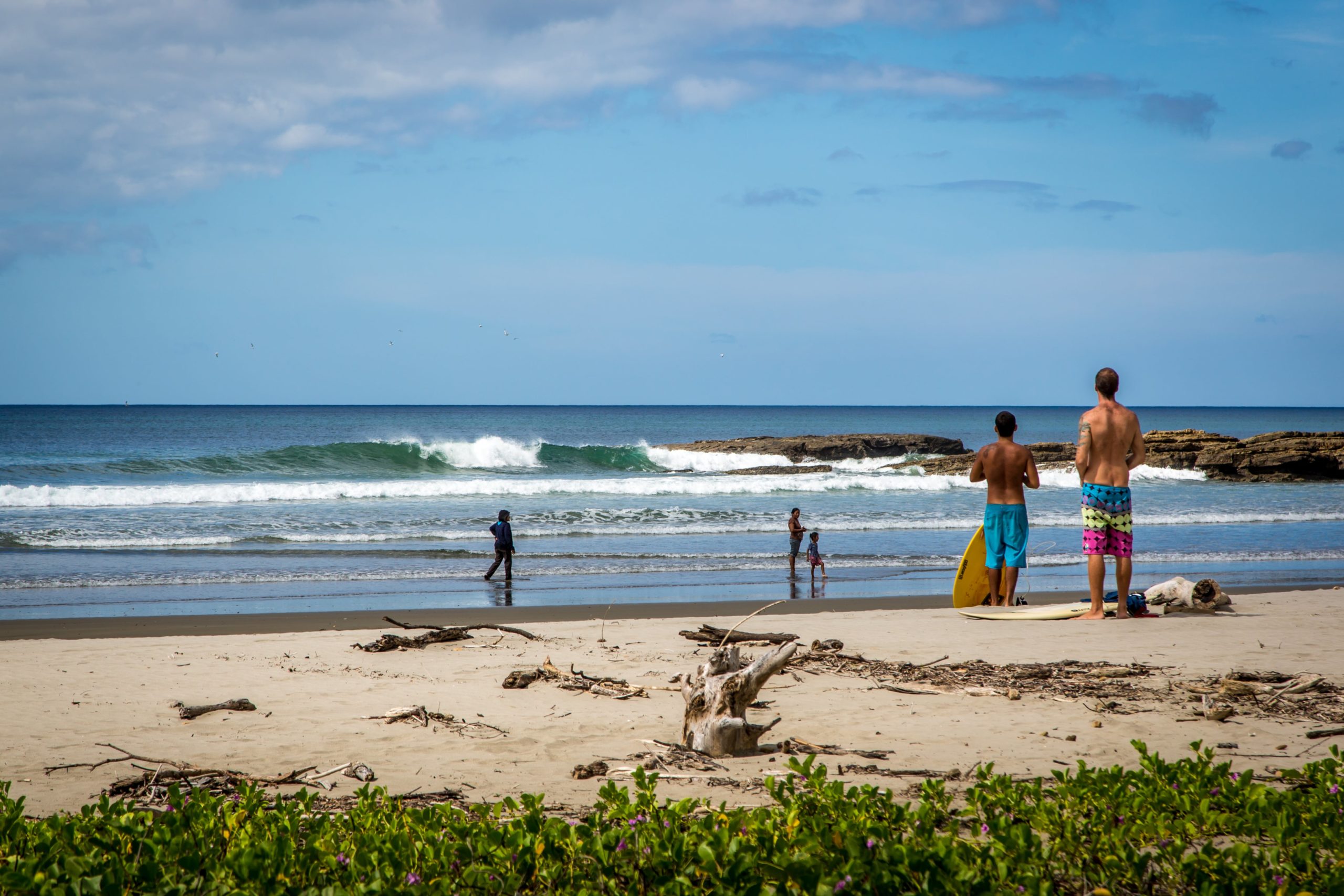 This beach is located just north of San Juan del Sur. Visiting Playa Maderas is likely to put you in a good mood at any time, and that's great for a surfing holiday. Some say that it is the single most consistent surf spot in Southern Nicaragua. You can get beach shuttled to and from San Juan del Sur all day every day, and the beach remains fairly quiet even though there are consistent waves all year round.
Playa Colorado
While the previous two spots are both known for being quiet, with Playa Colorado the secret is very much out. Located just south of Popoyo, It's got some truly phenomenal waves, and everyone knows it, so you'll find yourself surfing Nicaragua with plenty of other people if you come here. However, you will be able to enjoy some huge waves, so if you want to get really barrelled it might be the best place to go.
Panga Drops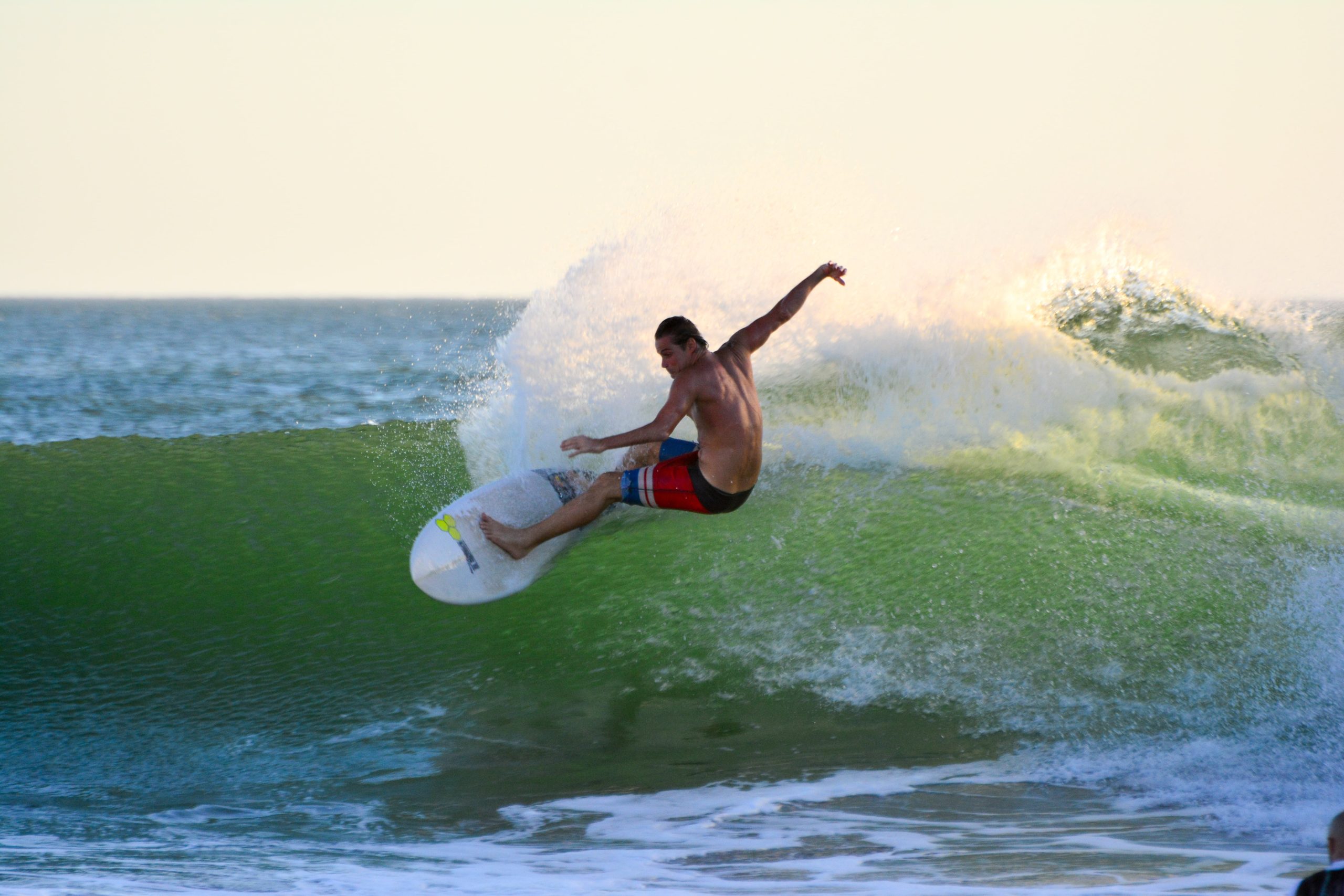 Right next to Playa Colorado, this reef break is not friendly on your feet, but it does have a great wave. Panga Drops is accessible by boat and will provide you with waves that are up to triple overhead, especially during peak season. We wouldn't recommend this spot for beginners.
Popoyo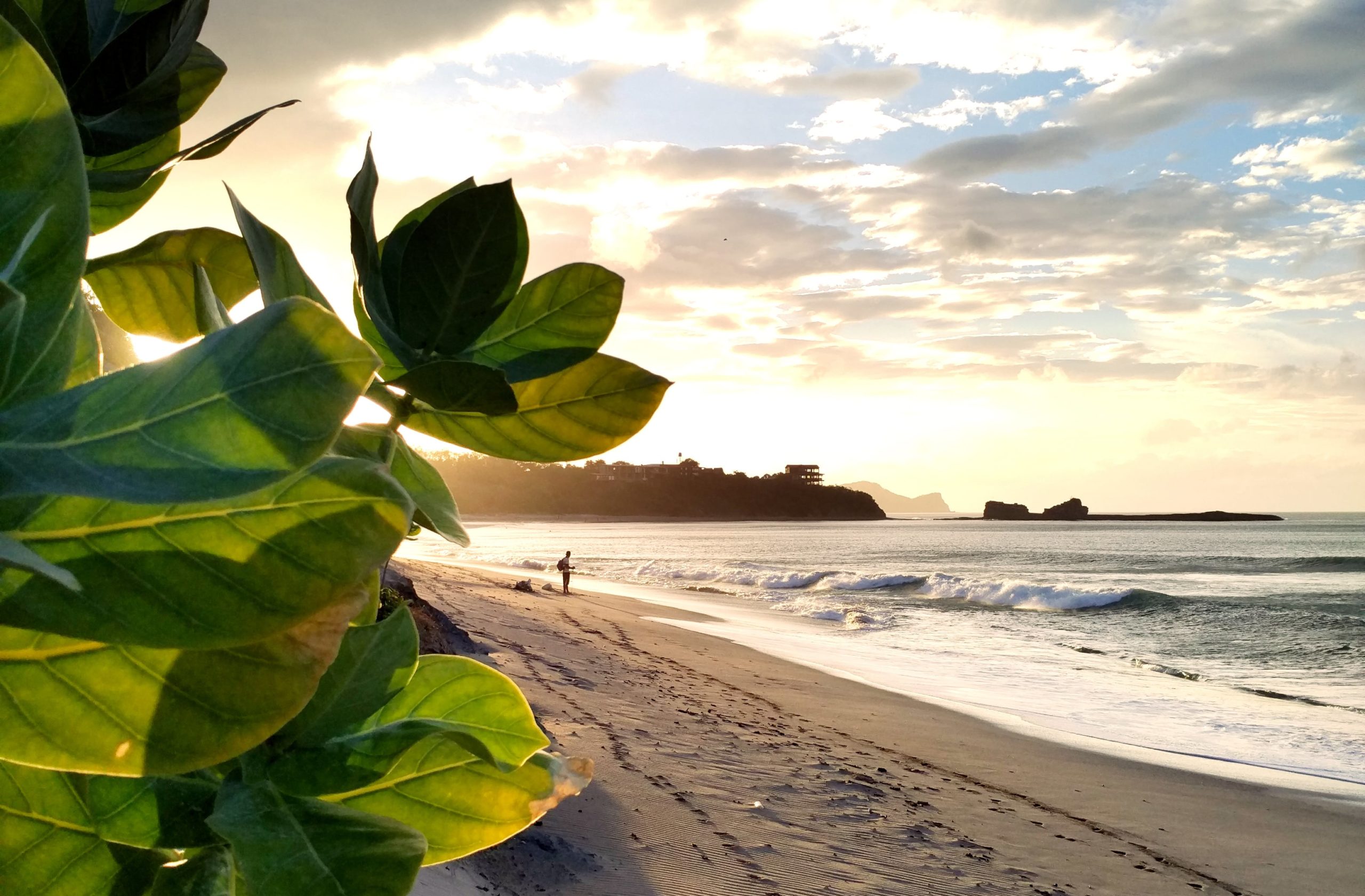 Popoyo is suitable for all surfers, although it can be pretty intense during peak season. With chest-high waves and occasional barrels, there is no wonder many surfers choose this as their main spot when surfing Nicaragua. The big advantage? It is not as popular as it should be so you won't have to avoid the crowds.
Astillero Beach Break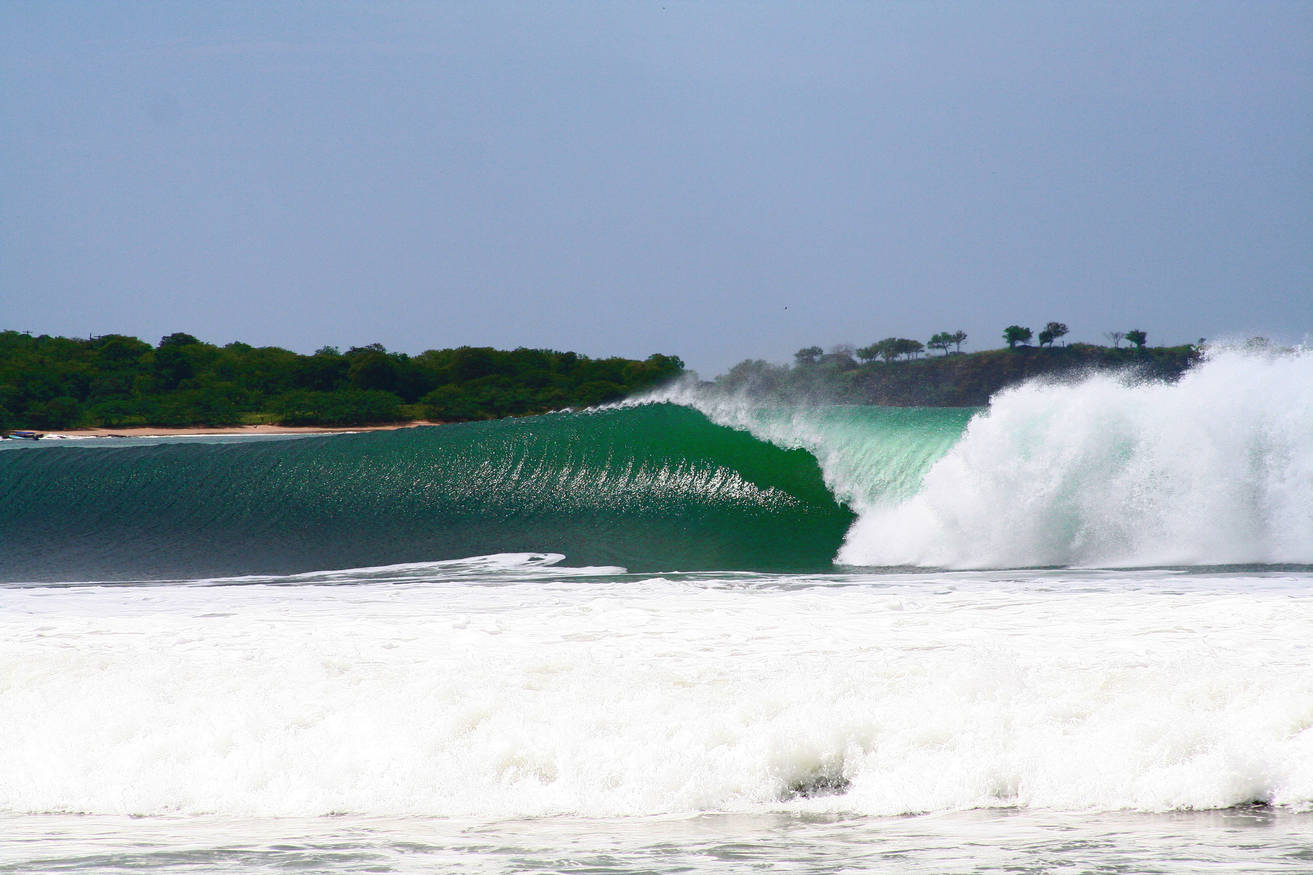 If you are looking for a secret spot, this may be the one for you. Right in front of the mouth of the river, this beach is not very popular among tourists – this is down to the fact that the water can get pretty dirty during the rainy season. Try to surf here when there is a stronger swell; the level is lower here than in most other spots. Also, keep in mind that the right side is generally better and that the wave is best when it's double overhead.
Playgrounds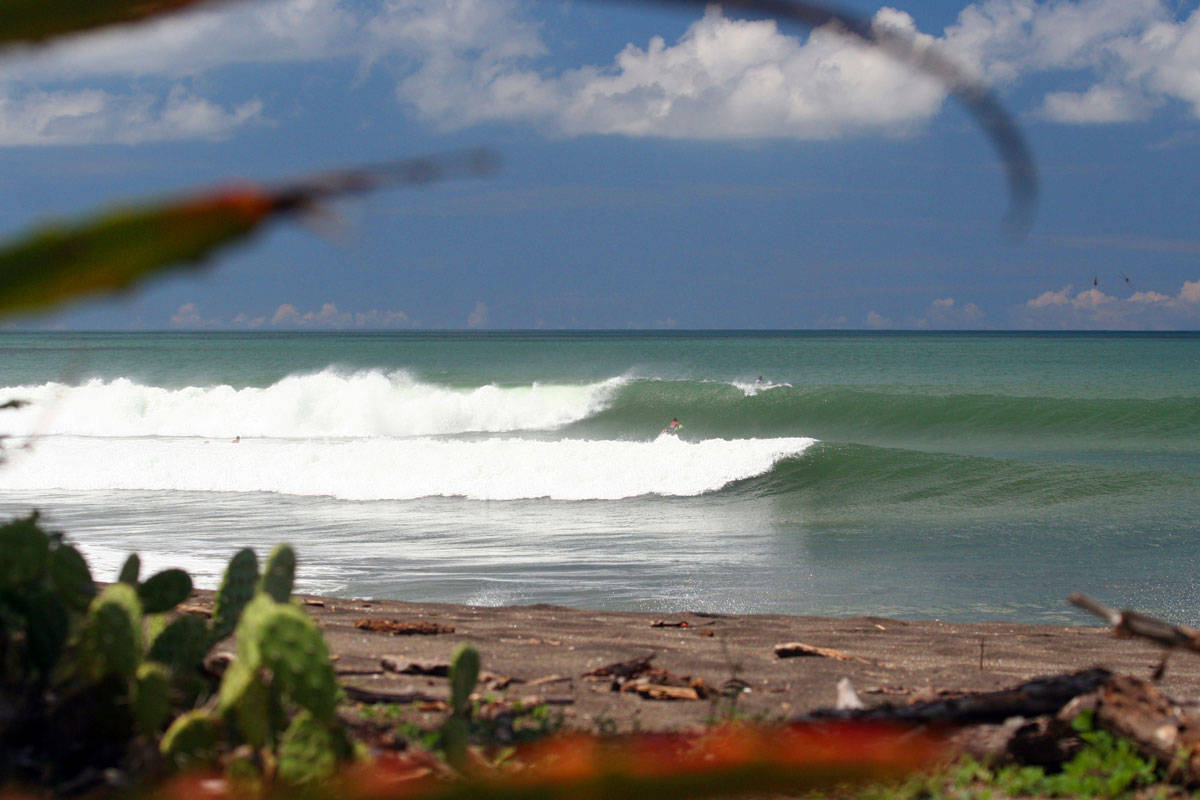 The wave in Playgrounds is fun and accessible both to beginners and experienced surfers. It tends to be longer on the left side than it is on the right side, but you can go either way with ease. You can use any type of board you want, and if you really want to enjoy the experience, you should surf in the morning, in between swells. While there aren't many people in the water as it is a boat-only spot.
Nicaragua Surf Camps
If you want to make the most of your surf trip to Nicaragua, you'll have to think about finding somewhere to stay too. That might be easier to work out than you think – the truth is that you have some amazing surf camps to choose from no matter what part of Nicaragua you are thinking of surfing or which waves you want to be close to. Let's look at some of the best surf camps in Nicaragua now.
The Beach House in San Juan del Sur is one of the most highly-rated places to stay in Nicaragua, and one of its main selling points is the fact that it has amazing seafood on offer. It's a picture perfect seafront resort, equally great for families or solo surfers, and at $47 a night it's also an incredibly affordable place to stay too. If you want something cheap, cheerful, and with a great atmosphere whilst surfing Nicaragua, then you need to look no further than The Beach House.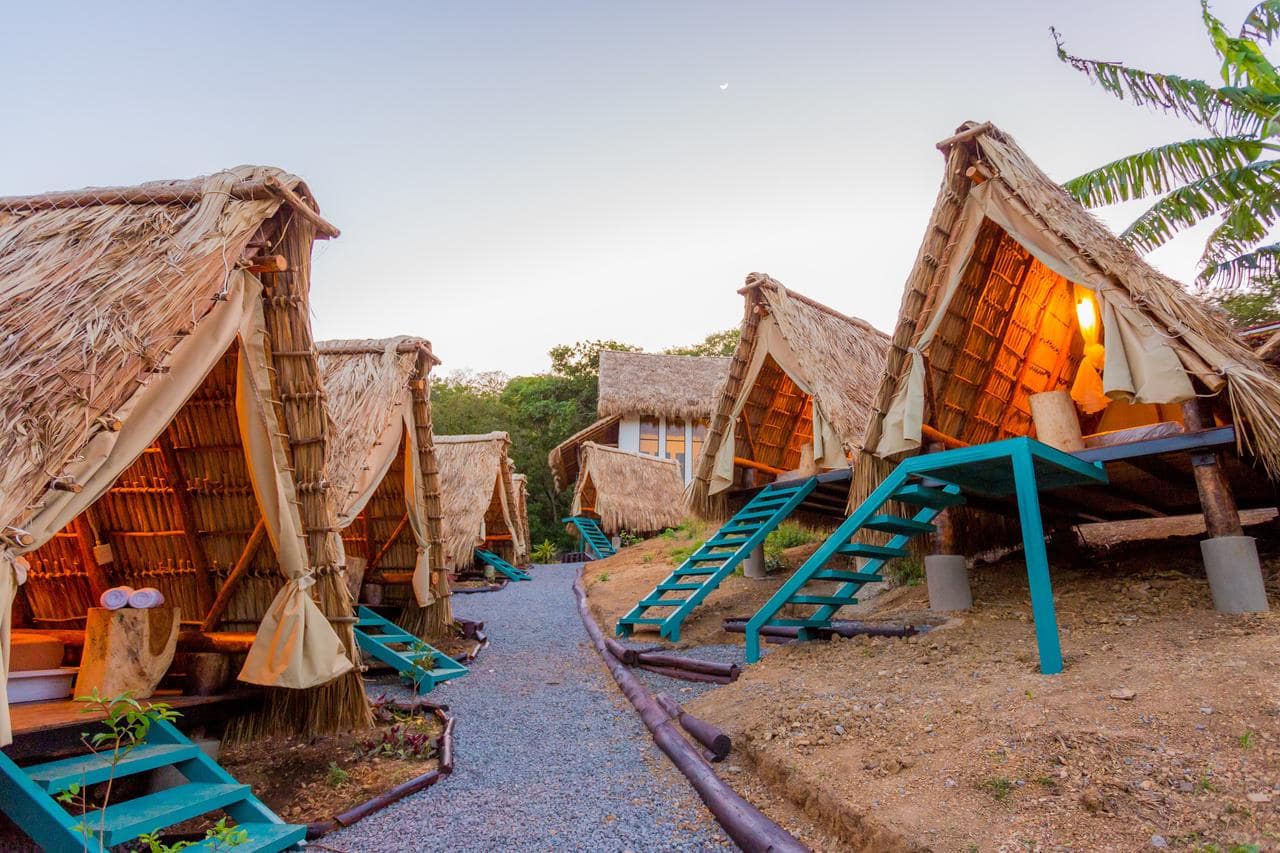 Selina Maderas is a jungle hotel located around a 20-minute drive away from San Juan del Sur. You've got bedroom views of beautiful Pacific coastal hills, sea-washed beaches, and monkeys hanging in the trees. It's the kind of place you'll want to return to again and again when surfing Nicaragua – and they're known for pampering you pretty well, too. Glamping tents at Selina Maderas start from just $22 a night.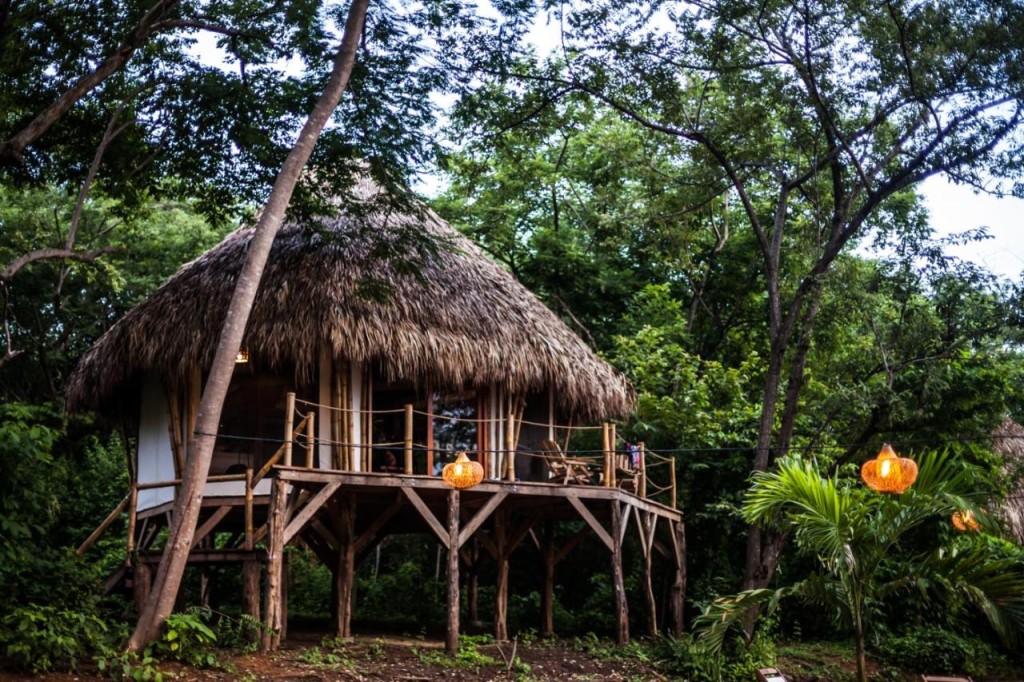 Known as a 'jungle of dreams', Dreamsea Surf Camp, just outside San Juan del Sur, is a stunningly beautiful place to stay which offers you everything you might expect to get out of a surfing trip – and so much more. In addition to accommodation, the team at Dreamsea also offers surf lessons and surf rentals, so it's a great place for beginners or improvers who are looking to find their footing on the waves in Nicaragua. And, their food is generally agreed to be some of the best in the country. It's definitely worth looking into Dreamsea if you want somewhere to stay in Nicaragua. Rooms here start from $45 a night.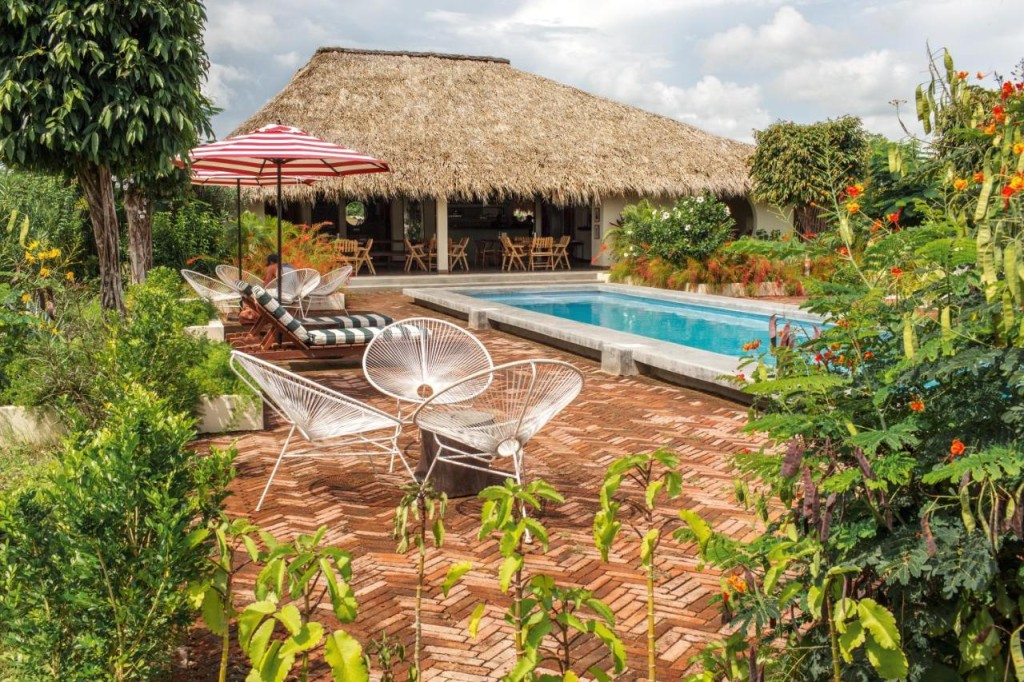 And for those looking for a more luxury stay whilst surfing Nicaragua, make sure you check out Malibu Popoyo. This all-inclusive surf hotel offers it's guests everything from morning yoga sessions to unlimited 4×4 transport to the local surf spots. You can check in here from $246 a night.
Also read: 6 of The Best Surf Camps in Nicaragua
Surfboard Hire In Nicaragua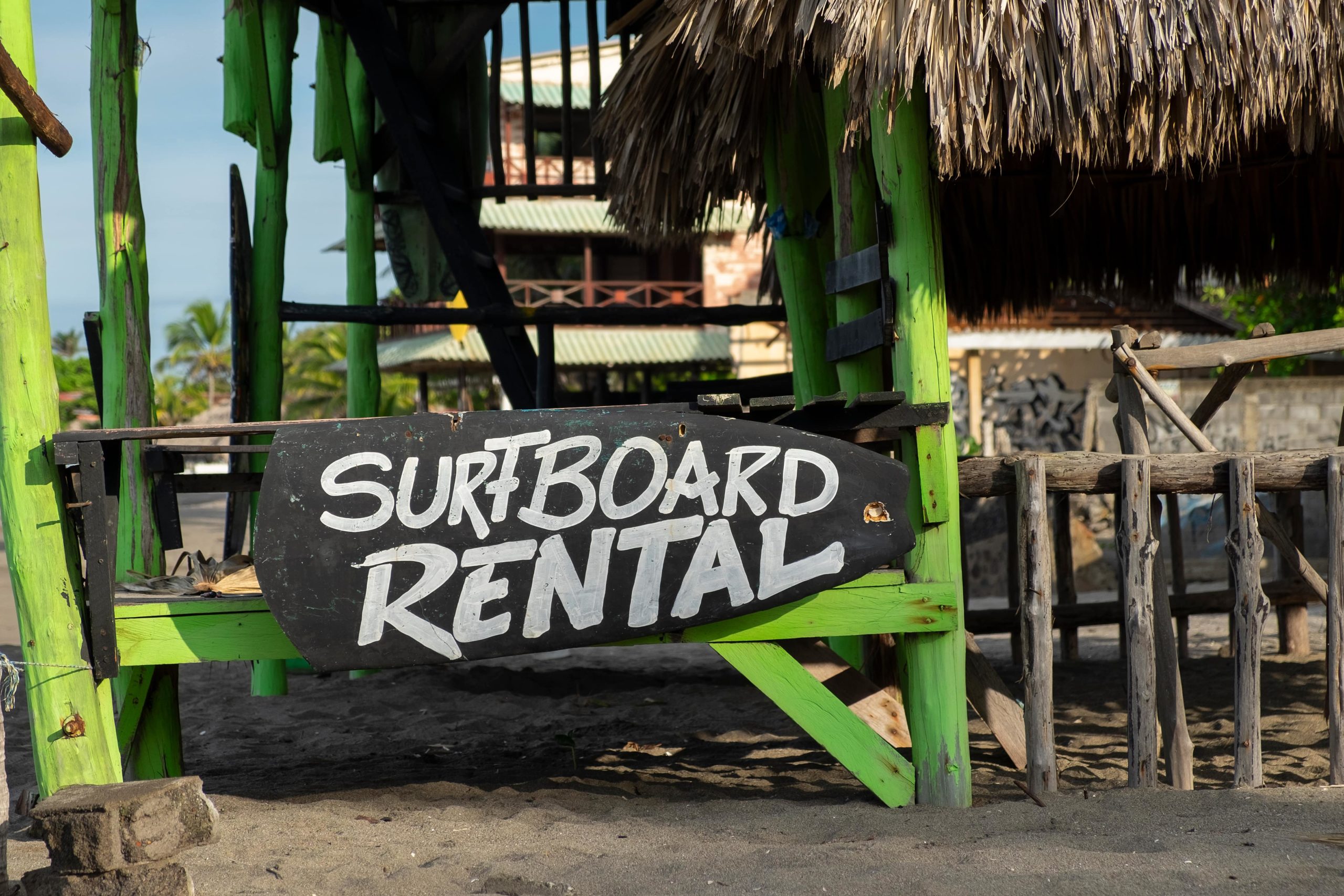 If you are not going to bring your own board, and will instead be needing to hire one, then the good news is that Nicaragua has plenty of options for you on that front. Because it is such a well-known surfing country, finding a surfboard to hire is pretty straightforward and simple, and what's more, it's not going to cost you all that much either. In general, hiring a surfboard in Nicaragua is going to cost around $10-$20 a day, depending on the board and where you get it from. I'm sure you'll agree that this is pretty affordable, and it's just another great reason to think about surfing Nicaragua.
What's more, many of the surf shops in Nicaragua are pretty laid back and relaxed when it comes to pricing, and you are often going to be able to negotiate the price down a little if you want to. Remember that if you rent the board for a longer, extended period of time, you'll probably get it a lot cheaper too. If you bring your own board, you'll have to pay extra on baggage fees, so it's about working out what is likely to be the best in your case.
Another great thing about surfing Nicaragua, and about the surf shops there, is that it is highly accommodating of surfers of all skill levels and experience levels. So if you are a complete newbie, you can be sure you'll find a surfboard for you – but likewise, the more experienced out there are going to be able to hire a surfboard to suit them too. Often, many lessons will come with a free rental of the board included in the price, so that might be a good way to do things in some cases.
Where to Eat in Nicaragua
After a long day out on the waves surfing Nicaragua, you are going to want to make sure that you have something to eat. Fortunately, there are plenty of amazing restaurants in Nicaragua, not to mention the street food that you can find all over the place – including on many of the more popular beaches themselves. Here are a few ideas for where you might want to eat in Nicaragua.
If you are surfing around the San Juan del Sur region, you will have to stop in and try the food at Barrio Cafe. This little eatery is consistently voted one of the best restaurants in the country, and it is truly amazing in terms of the variety of food it offers. For traditional Latin American cuisine, you won't be disappointed – and the prices are good, too.
For a great beachside restaurant that caters very well to vegetarians and meat lovers alike, El Timon is absolutely somewhere that you have to try if you are in Nicaragua. The seafood is excellent, the service can't be beaten, and it's just an incredible vibe in the place too.
But the best place in the area for seafood has to be La Lancha, a place that many say is the only place to eat seafood in Nicaragua. If seafood isn't your thing, don't worry – they've also got plenty of other things, and in fact, have one of the most extensive menus anywhere in the country.
As you can see, there is a lot to consider if you are planning on surfing Nicaragua. But as long as you consider the things in this article, you should find that you are going to make much more of it. If you are like most people who go surfing in Nicaragua, you will find yourself returning year after year to soak in the atmosphere, stay at some incredible hotels, eat some amazing food, and catch those consistent, routinely awesome waves. There are few places better.
Enjoyed our Essential Guide to Surfing Nicaragua? Check out all of our Surf Travel Guides here.