Surfing Santa Cruz in California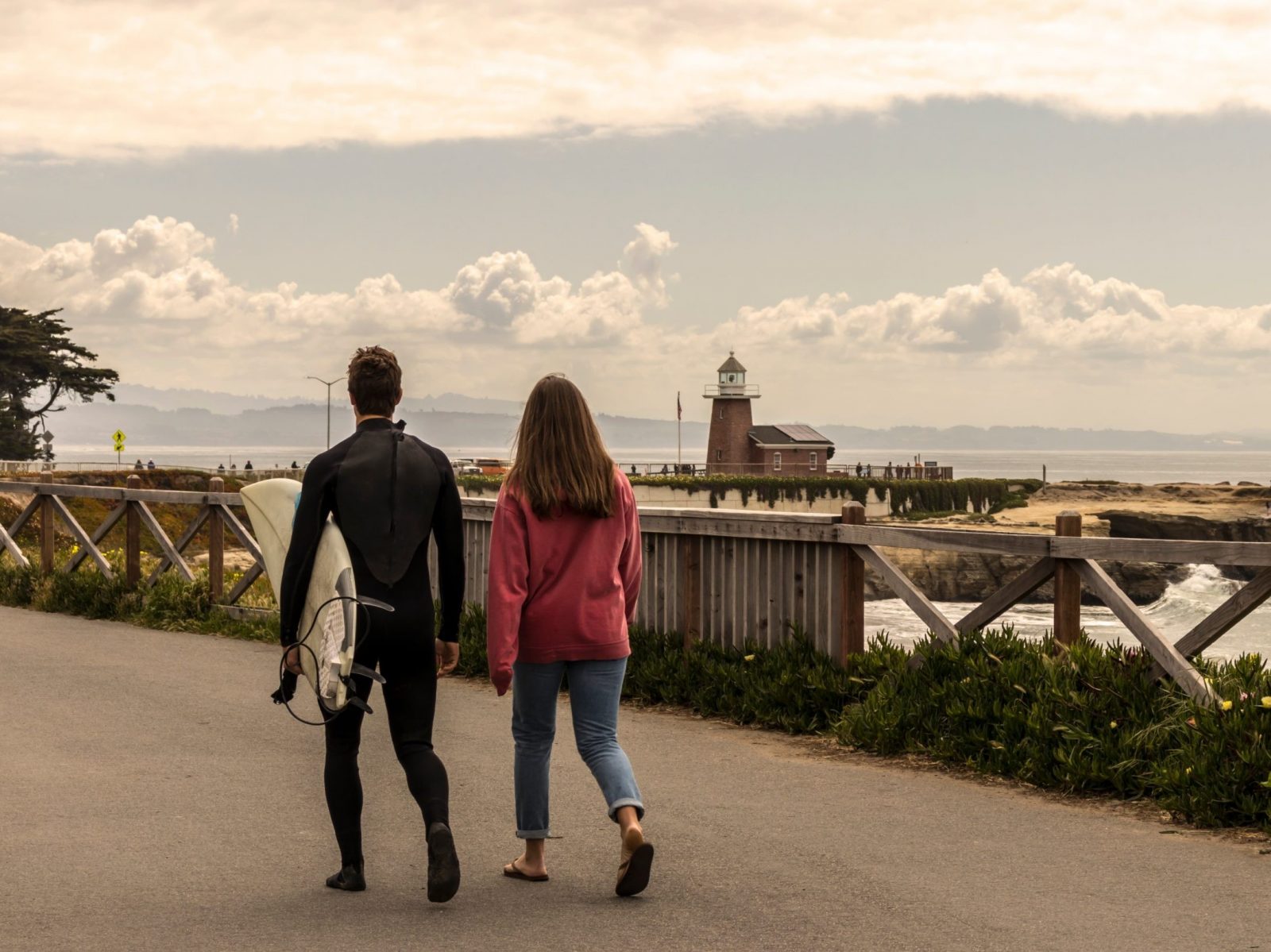 Disclaimer: This article contains affiliate links. We may receive a small commission if you make a purchase through one of these links. Please read our Affiliate Disclosure for more information.
This is our Complete Guide to Surfing Santa Cruz in California.
Santa Cruz is one of the top surfing destinations in California. Situated 85 minutes drive out of San Fransisco, the city of Santa Cruz boasts some beautiful Pacific facing coastline that is well worthy of a visit, especially if you are a surfer.
The area is known for its moderate climate and its socially liberated and alternative lifestyles. Nicknamed Surf City, Santa Cruz has 11 world-class surf breaks that are really worth checking out including point breaks over Steamer Lane and Pleasure Point, which it could be argued are some of the best surfing waves in the world.
How to get to Santa Cruz
If you are flying to Santa Cruz, you have a choice of two airports in the region. San Francisco International Airport is roughly an hour to 90-minute drive from the north of Santa Cruz. The Norman Y. Mineta San Jose International Airport is around 45-minutes away. Further afield, Los Angeles is around a 6 hours drive.
Check for flights to San Francisco here.
Check for flights to Los Angeles here.
Santa Cruz Surf Spots
With waves that are suited to all levels of surfer, Santa Cruz has something for everyone, from those that have never stepped foot on a surfboard to those who have devoted their entire lives to riding waves. Of course, with some of the biggest waves, visitors who are not familiar with some of the more fierce swells should take some time to familiarize themselves with the more dangerous spots before they start surfing Santa Cruz.
Steamer Lane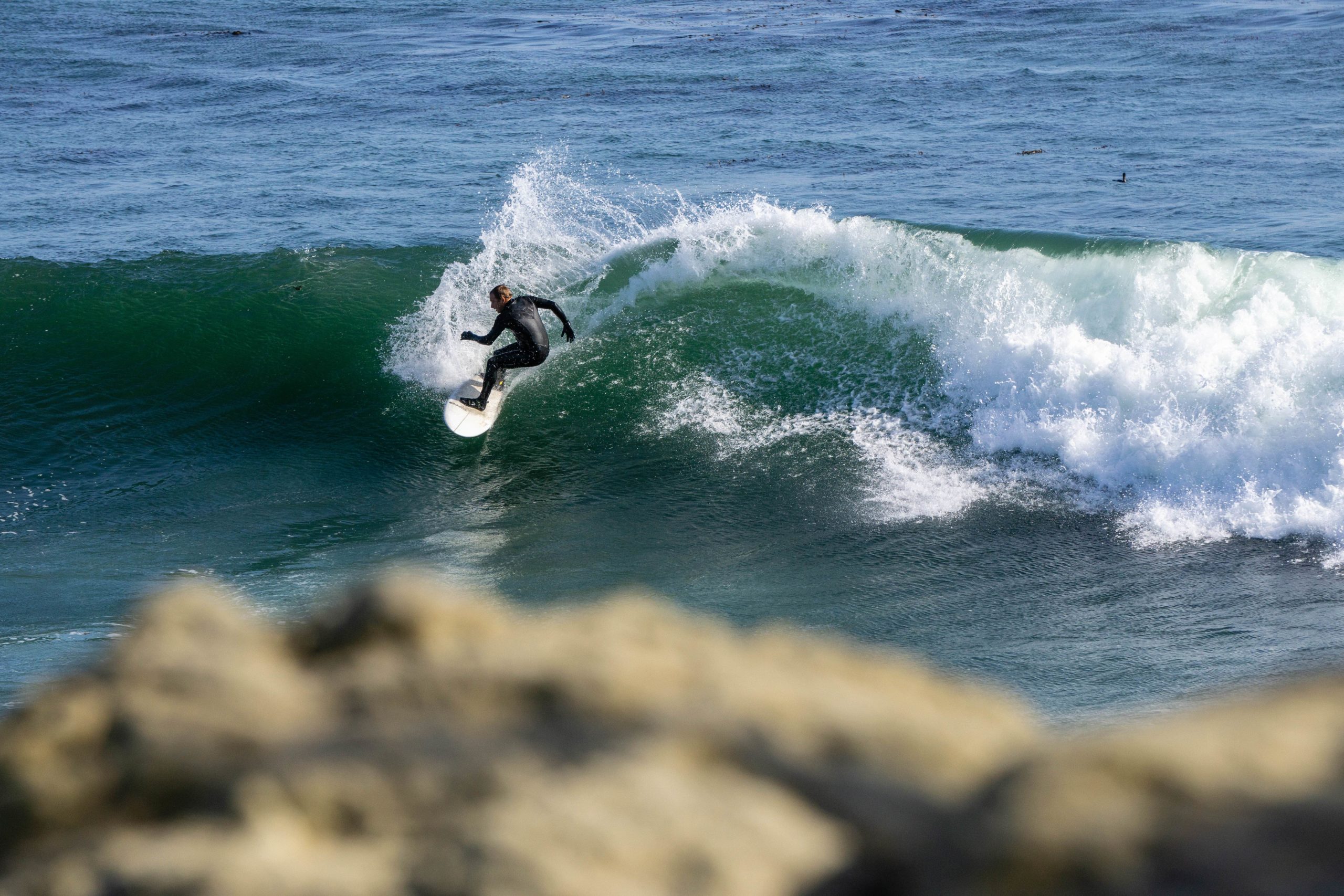 Starting off with one of the most famous surfing destinations in Santa Cruz, Steamer Lane should definitely be on your itinerary. The quintessential North Californian wave can be ridden at Steamer Lane. With right-handed, cold water point break with several very notable waves that are very consistent due to the right exposure to the swell and the protection from the wind in the northwest.
This popular spot is often very crowded with surfers. You will find that that Steamer Lane can vary between being playful and heavy. This is one of the reasons that Steamer Lane has been one of the best-loved surfing beaches in the world.
Home to the Cold Water Classic Surf Contest, Steamer Lane attracts onlookers at all times of the year. When the swell is good, you will see lots of people watching from outside the Santa Cruz Surfing Museum just off the beach.
You'll find three main waves at Steamer Lane. The Slot, Middle Peak, and Indicators. During the winter, you can often find all three waves will break.
The slot offers up fast rights. This wave hugs the rocks breaking right in front of a cliff face. Takeoffs on this wave are probably best left to the more seasoned surfer, as they can be a bit dicey.
Breaking further out than The Slot, you'll find both lefts and rights at Middle Peak. The right-hand is broader and longer, with the left being quite steep towards a bowl section that can be very exciting.
Breaking inside Middle peak, Indicators is a long right-hand wall that can go for about 200 yards before it fattens out as it approaches Cowells. This wave only works on large swells and southbound currents will push against surfers who are trying to stay up on the peak. This wave is hard work and you will need to paddle.
Cowell's Beach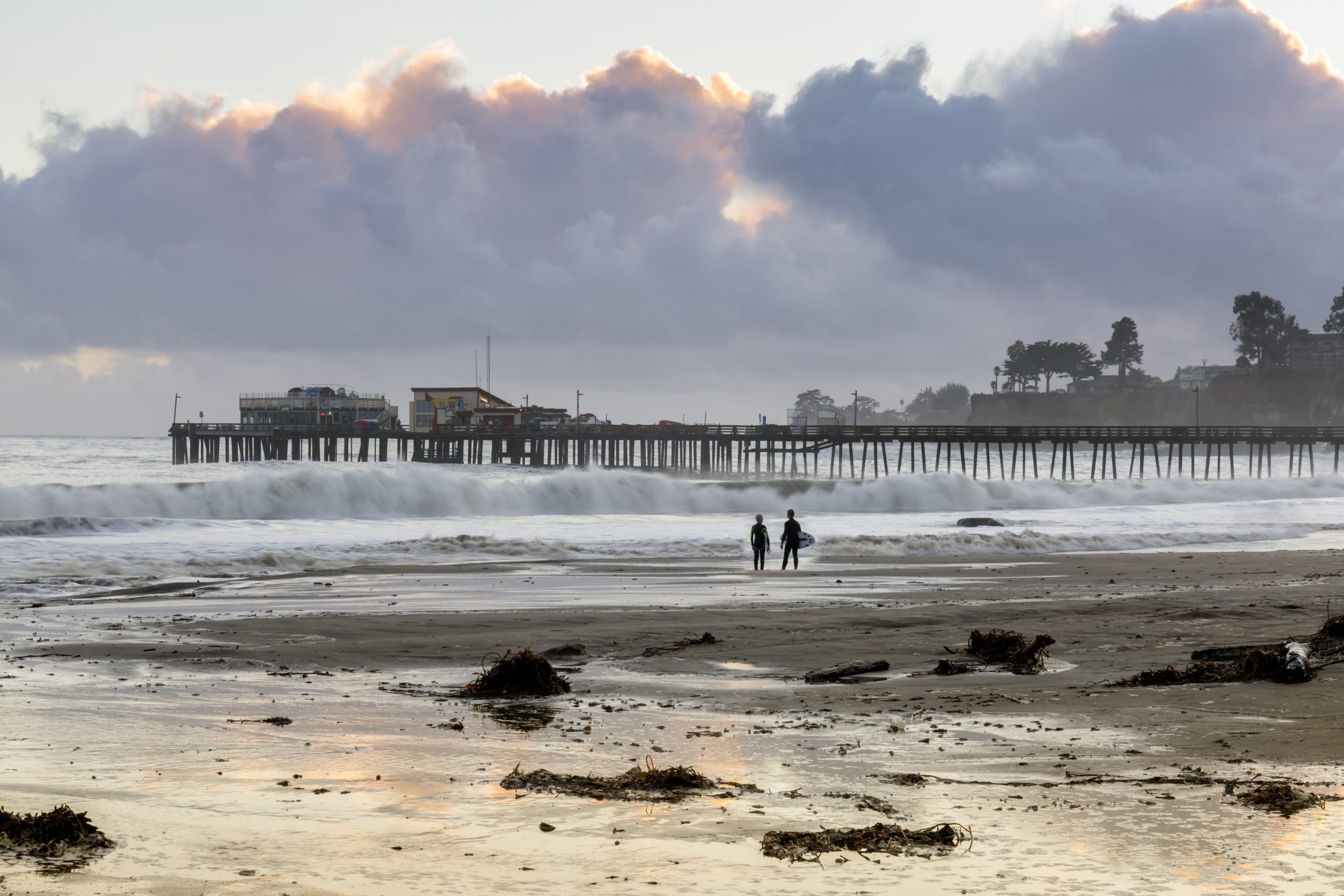 To the north of Steamer Lane, you will find a beach that offers waves that are suitable for everyone surfing Santa Cruz. Many surf schools operate from Cowell's Beach, and you'll see a whole range of different skill levels here. Whether you are a beginner or not, you can enjoy this stretch of beach.
The beach has a wave that is good at any swell that goes higher than the knee. Ideally, low tide is the best time or waves just wash to shore without breaking.
The beach is often frequented by some highly-skilled longboarders who will love to ride the rights at Cowell's.
For beginners, The local surf school at Cowell's Beach offers a three-hour beginner lesson from $105, to help you get to grips with the basics.
Pleasure Point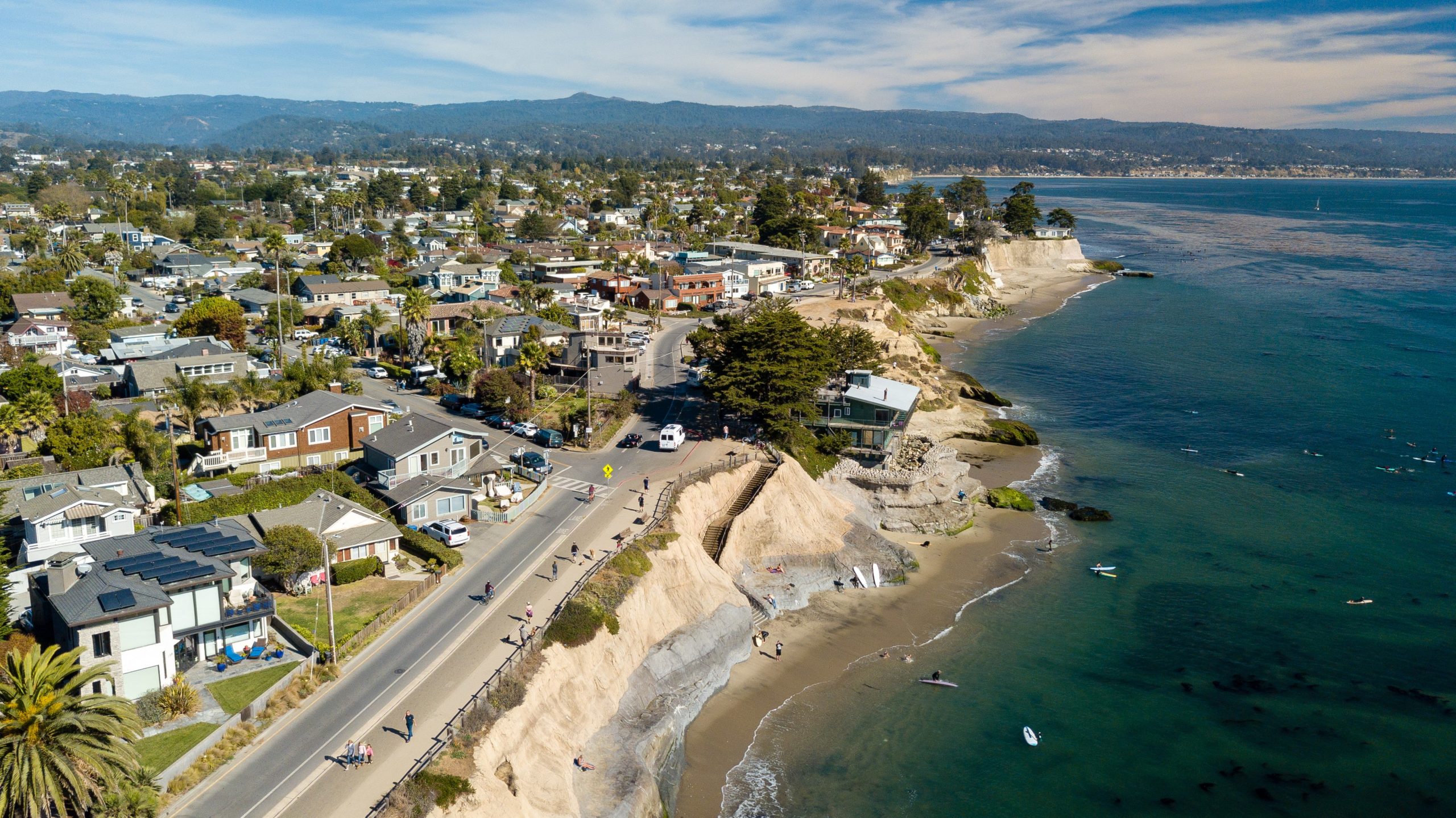 Pleasure Point is one of the best-known and most loved surf spots in Santa Cruz. It has some amazing spots within it, including 'The Hook', 'Sharks Cove' 'The Drain Pipe' 'Pirates and Trees' '30th Ave'. The beach offers plenty of decent waves and has spots that are suitable for surfers of all abilities. You'll find newer surfers and old guys here, with locals and visitors alike.
If you are a novice surfer, maybe just sit back and watch as the aggressive swells at 30th and East Cliff take more experienced surfers into areas that let them perform the best aerial tricks and show off with some of the best rides you'll see. Don't worry if you are not up to scratch when it comes to surfing these waves, you probably won't be alone. The shore is often lined with surfers who want to learn from those in the know. But don't feel disheartened because one day that will be you.
If you are that more experienced surfer, be sure and practice your showboating and milk these good time swells for all that you can get.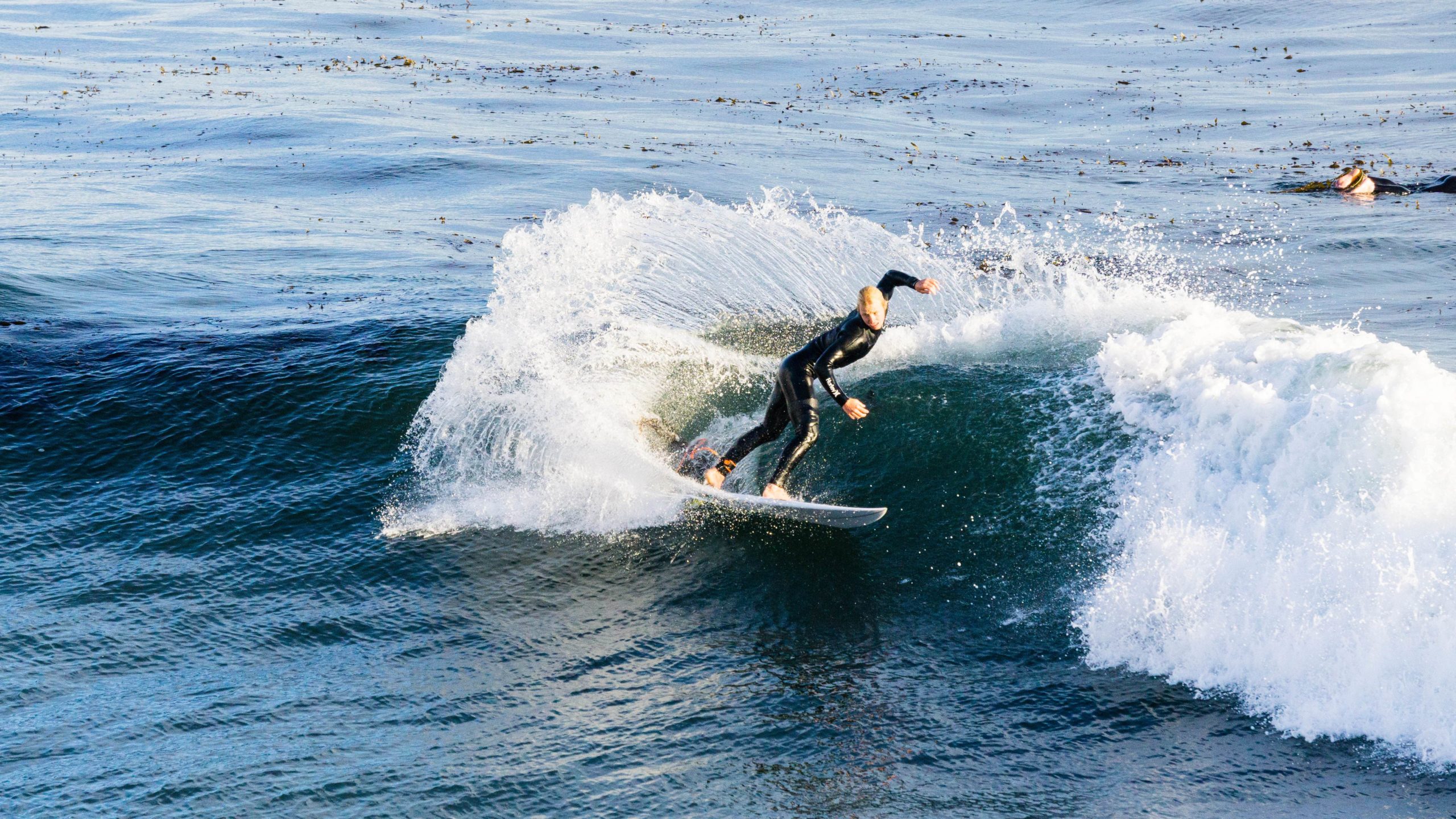 Just a bit further on to the south at Pleasure Point, you will find a stretch known as The Hook. You'll need to go down a flight of steps at the end of Pleasure Point in order to get to The Hook, but once you are there you will see why it hooks so many surfers in.
The swell in The Hook is just right and that's why it is such a big draw to surfers from all over the world. Of course, it is going to be packed full of local surfers who will know the right sweet spot to catch that wave.
Mavericks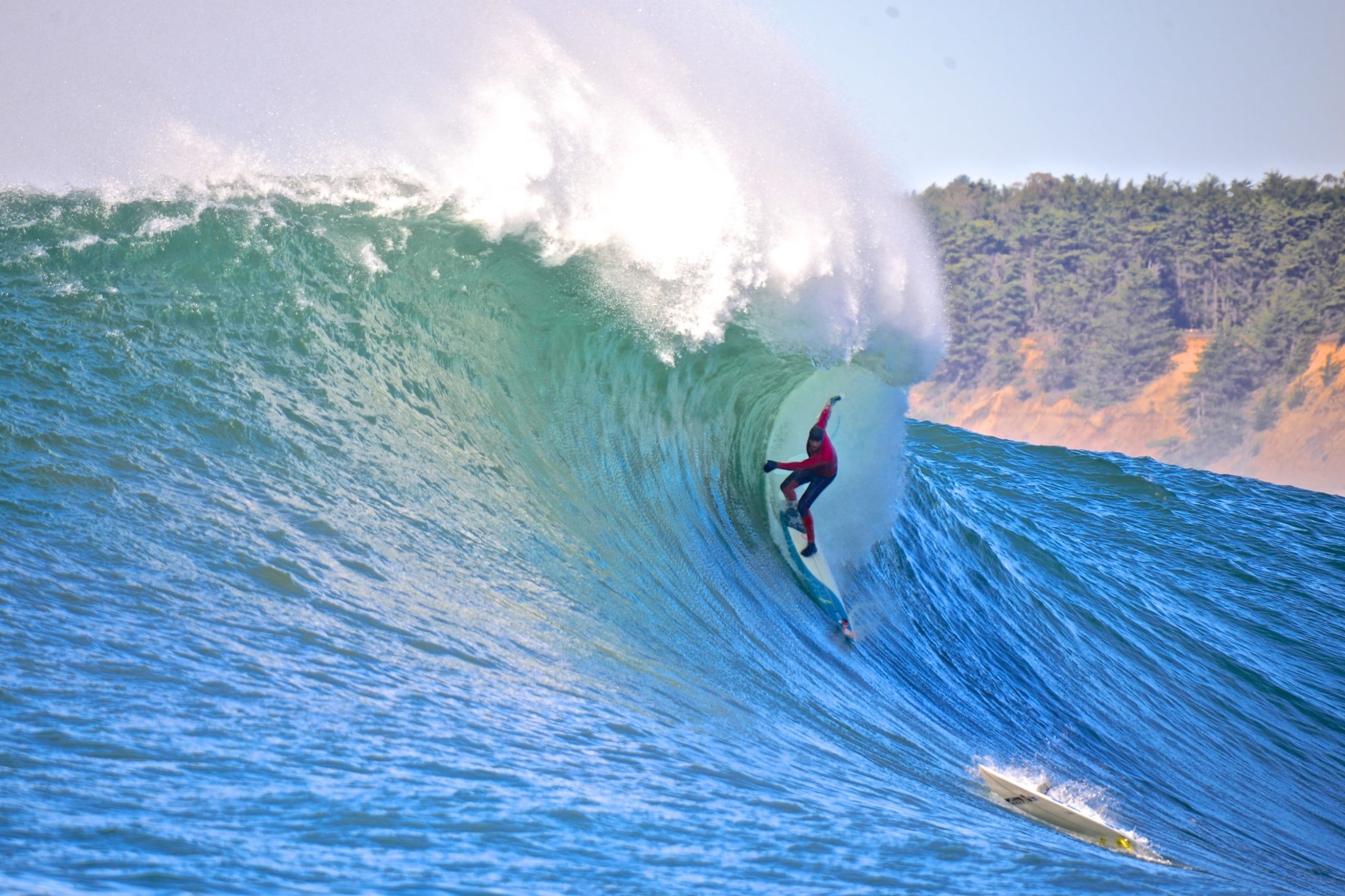 Head up about an hour north of Santa Cruz and you will get to Mavericks. This really is the place to find the biggest waves in California. The waves are so big here that there is an Invitational Surfing Contest that runs every year given the right conditions. The contest is featured in the 2004 film Riding Giants which focuses on the fine art of big wave riding.
The waves can routinely reach over 25 feet and top out at around 60 feet. These breaks are caused by the way that the rocks form under the ocean.
The break gets its name from a German Sheppard who used to swim with his owner while he was surfing, however, when surfing that piece of beach, they decided that the peaks were too high and the dog needed to be tied up safely on the shore.
These big waves can be very dangerous and should not be undertaken lightly. Even if you don't ride these giants yourself, it may be worth taking a trip up to see them as they can be spectacular.
Four Mile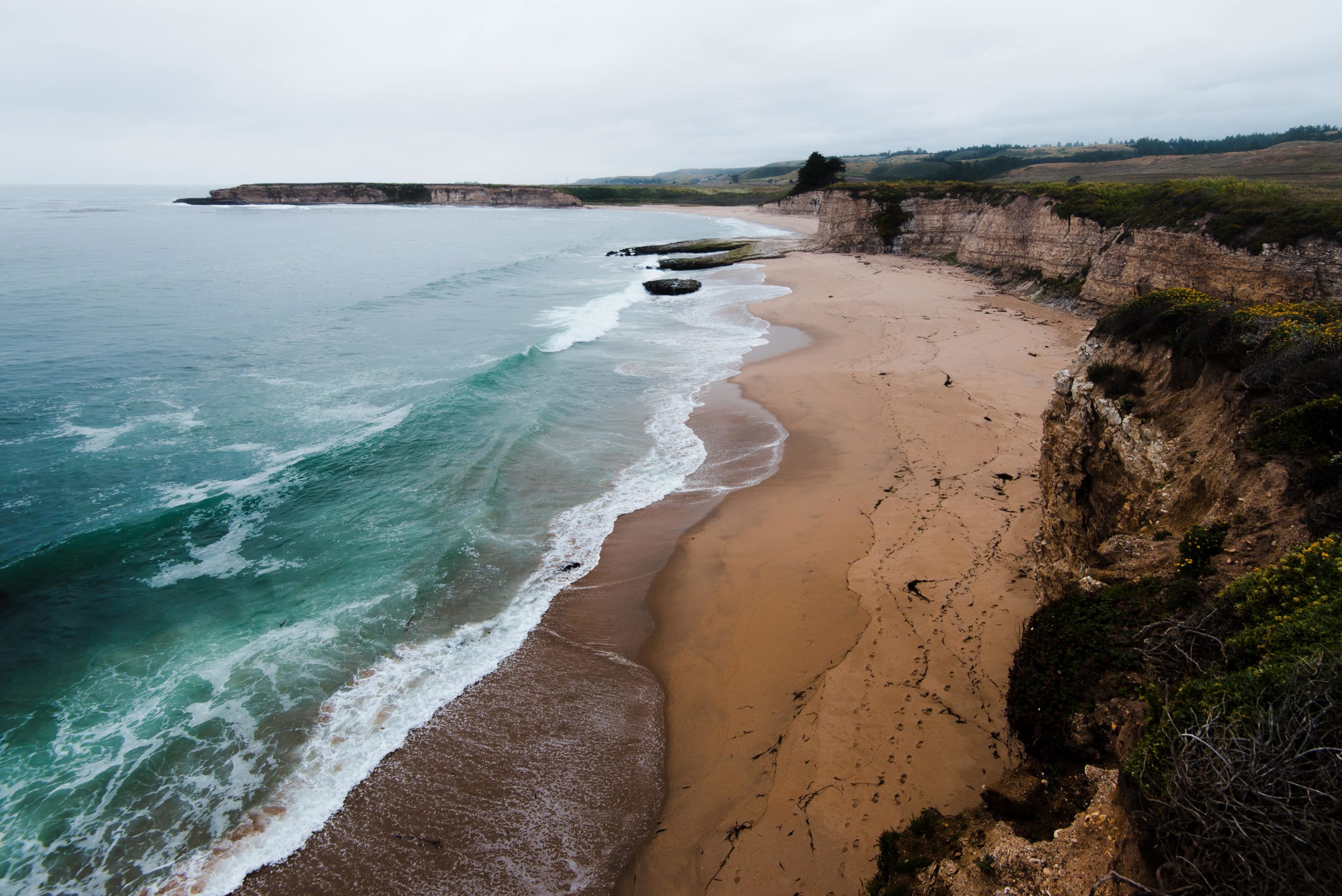 As the name suggests, this beach is situated four miles out of Santa Cruz, this beach is a good all-rounder which offers bluff-protection and is not affected much by the summer winds that are common in the afternoons around the area.
This is a frequent breaking wave but is not 100% consistent. The swells can vary dramatically from just being moderate to radical. With ten-foot and above swells, Four Mile has some solid potential and is close enough to Santa Cruz itself, so it is probably worth checking out.
Private Beach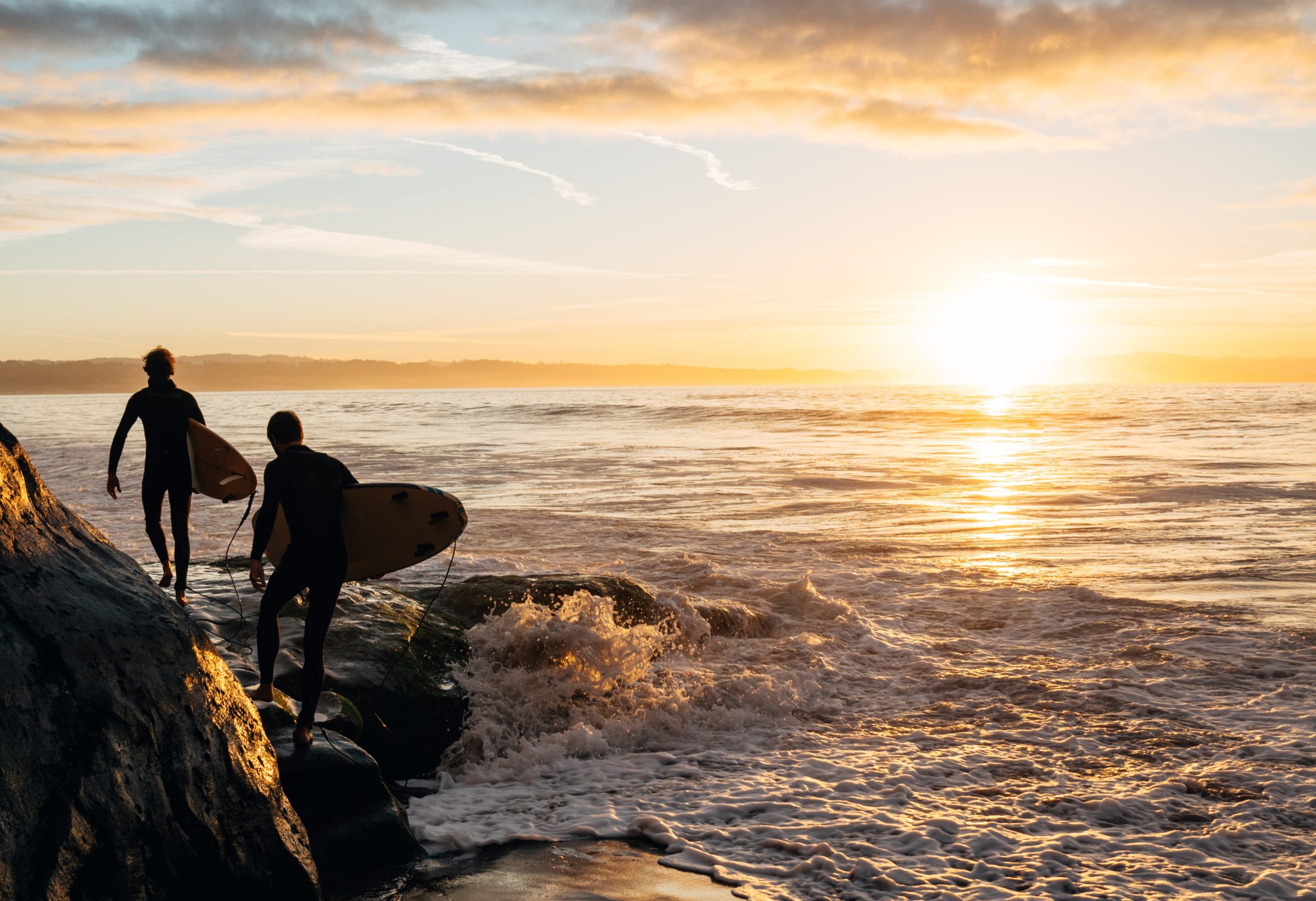 If you are a longboard fan, then Private Beach is worth a visit. With a right-facing wave that makes for a great ride that takes you over to a break called Trees.
These gentle waves are long and you can ride them all day long.
This used to be a spot that was only ever enjoyed by the local residents of Opal Cliff who had a key to it, but recently that has all changed and the public has now been granted access to this formally private beach.
Scott Creek
Situated about twenty miles to the north of Santa Cruz, this is a mix of beach and reef break. With strong currents, long paddles, and unpredictable peaks this can be a hard surf and is not for the uninitiated. The area is also pretty notoriously windy. When everything comes together as it should, this is a joy to surf.
Other Santa Cruz Surf Spots
If you take a short drive up on Highway 1, you'll come across lots of hidden surfing gems that are often breaking such as Ano Neubo or Waddle Creek State Beach. These more secluded spots are a bit off the beaten path and as such you'll find them to be less crowded than the major beaches closer to the city. If you want a more chilled out feel to your days surfing Santa Cruz, this route may be the way to go.
Surfboard Hire in Santa Cruz
For those looking to pick up a rental during their time surfing Santa Cruz you'll have a few good options on hand.
For Awayco members, Westside Surf & Skate is the best place in Santa Cruz to fulfil all your surf-related needs. Stop by and let one of their local surf authorities help you find the best fit for your surf style.
Cowell's Surf Shop in Santa Cruz also offers a good selection of board rentals. A full day hire will set you back $30. They have a wide selection of beginner boards from 5 ft.-11 ft. foam logs to NSP epoxy's to fiberglass boards. There are also some higher performance boards available to rent for an extra $5 a day.
Surf Resorts in Santa Cruz
You are, of course, going to need the perfect accommodation to keep you close to all those awesome Santa Cruz surf spots. Luckily, there are plenty of surf-friendly hotels that could see you close to the surf at all times.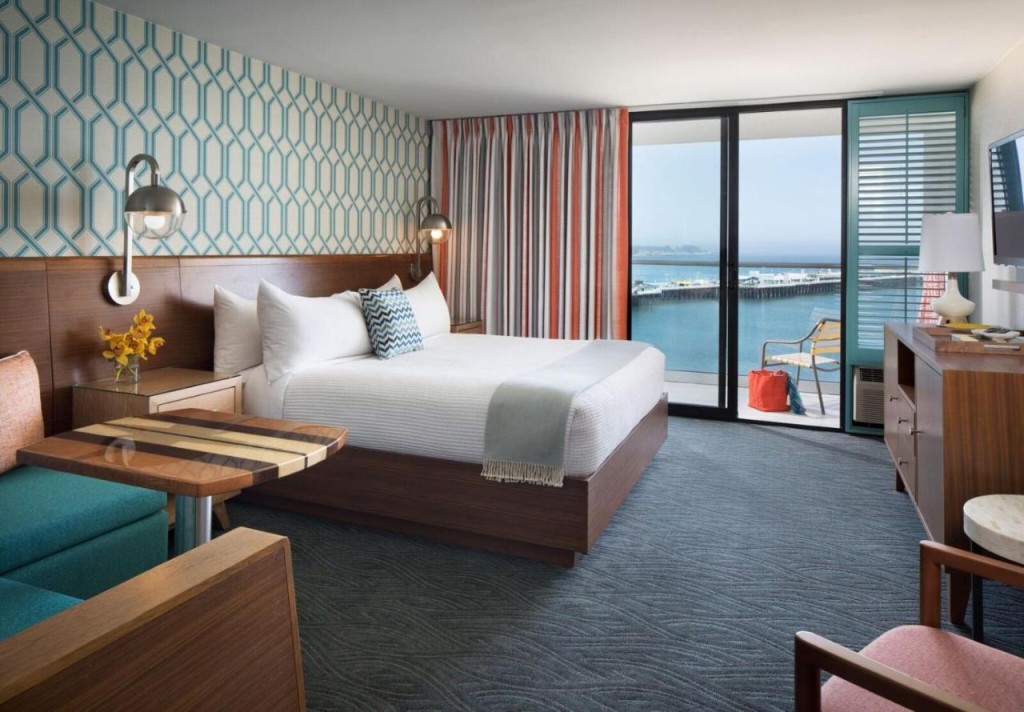 A Santa Cruz favorite for surfing, sunsets, and the freshest seafood, The Dream Inn Santa Cruz is a beloved local landmark on the historic Beach Boardwalk. Effortlessly captivating longtime guests with its colorful retro-chic style while delighting newcomers who appreciate modern services and amenities.
As the only beachfront hotel in Santa Cruz, located right on Cowell's beach, all you need to do is stop off at Club Ed's Surf Rentals to pick up your board and you can head straight out to the waves on foot.
At $335 a night, The Dream Inn is at the pricey end of the scale, but here you'll be paying for the 4-star service and prime location.
For something more modest, though, there are also options like the Sea & Sand Inn at $212 a night and Beach Street Inn and Suites at $179 a night. Both options are close to the water, and mere minutes from the Santa Cruz Pier.
Eating in Santa Cruz
One thing you will not be hard-pressed to find after a day surfing Santa Cruz is places to eat! We recommend heading away from the boardwalk and exploring some of the bars and restaurants on Pacific Avenue.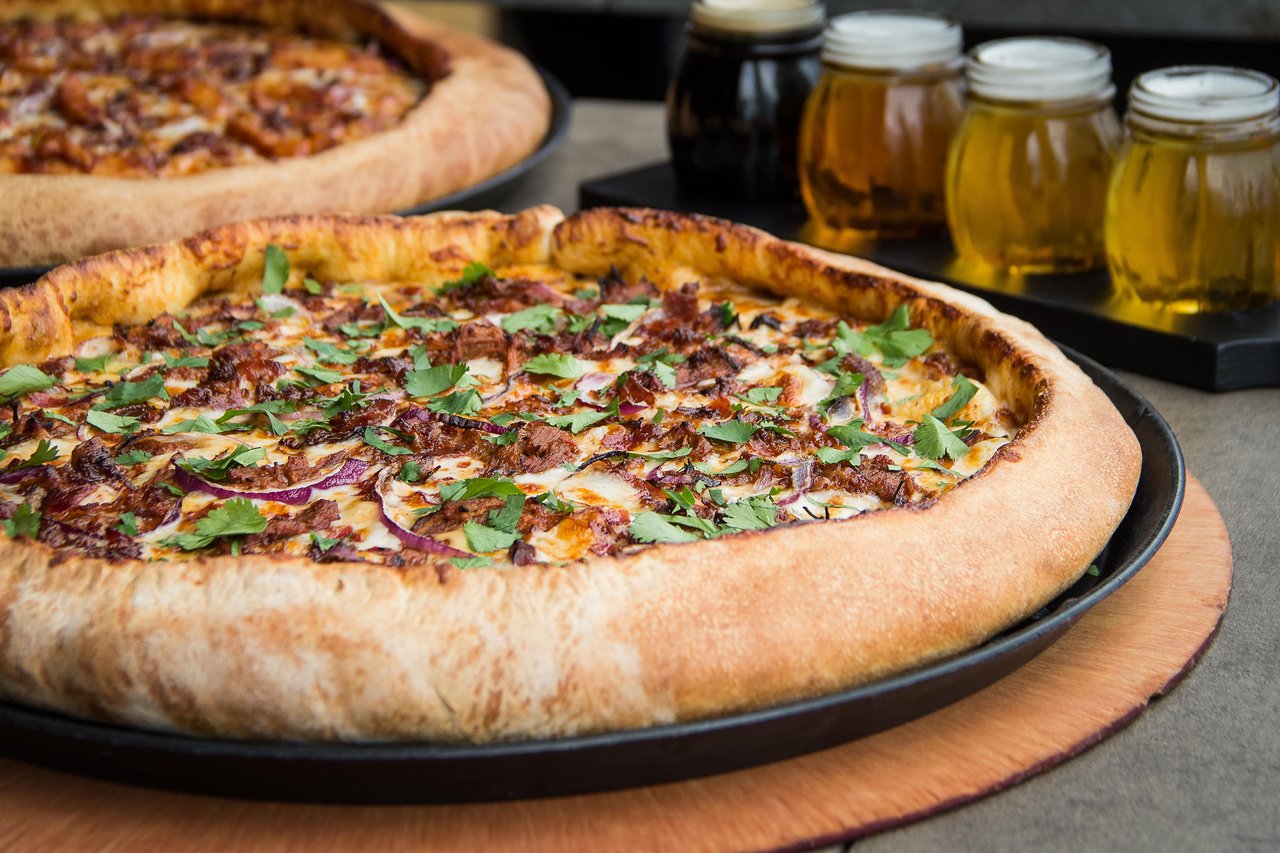 One of our personal favorites is Pizza My Heart. After a long day surfing Santa Cruz stop by here and pick up a huge 18″ pizza for $30. The menu features pizzas named after the local surf spots, try the Cowell's Combo or The Lane for a true Santa Cruz experience.
Betty Burgers is another Santa Cruz favorite. With its classic diner feel, unique decor, and awesome bar, Betty Burgers is the place to get your burger fix.
And, if you're craving Mexican food be sure to stop by El Palomar. This laidback Mexican cantina is a staple with the local college students. They made their name by combining authentic, homemade recipes from the sunny state of Michoacan in southern Mexico, with the unique abundance of locally grown produce and freshly caught seafood available in Monterey Bay.
Other Activities in Santa Cruz
Santa Cruz hasn't earned its place in the surfing hall of fame for nothing, and there really is something for everyone in this Northern California hotspot. Even on days when you don't fancy getting in the water (which is unlikely, right?), Santa Cruz offers plenty of other activities for visitors.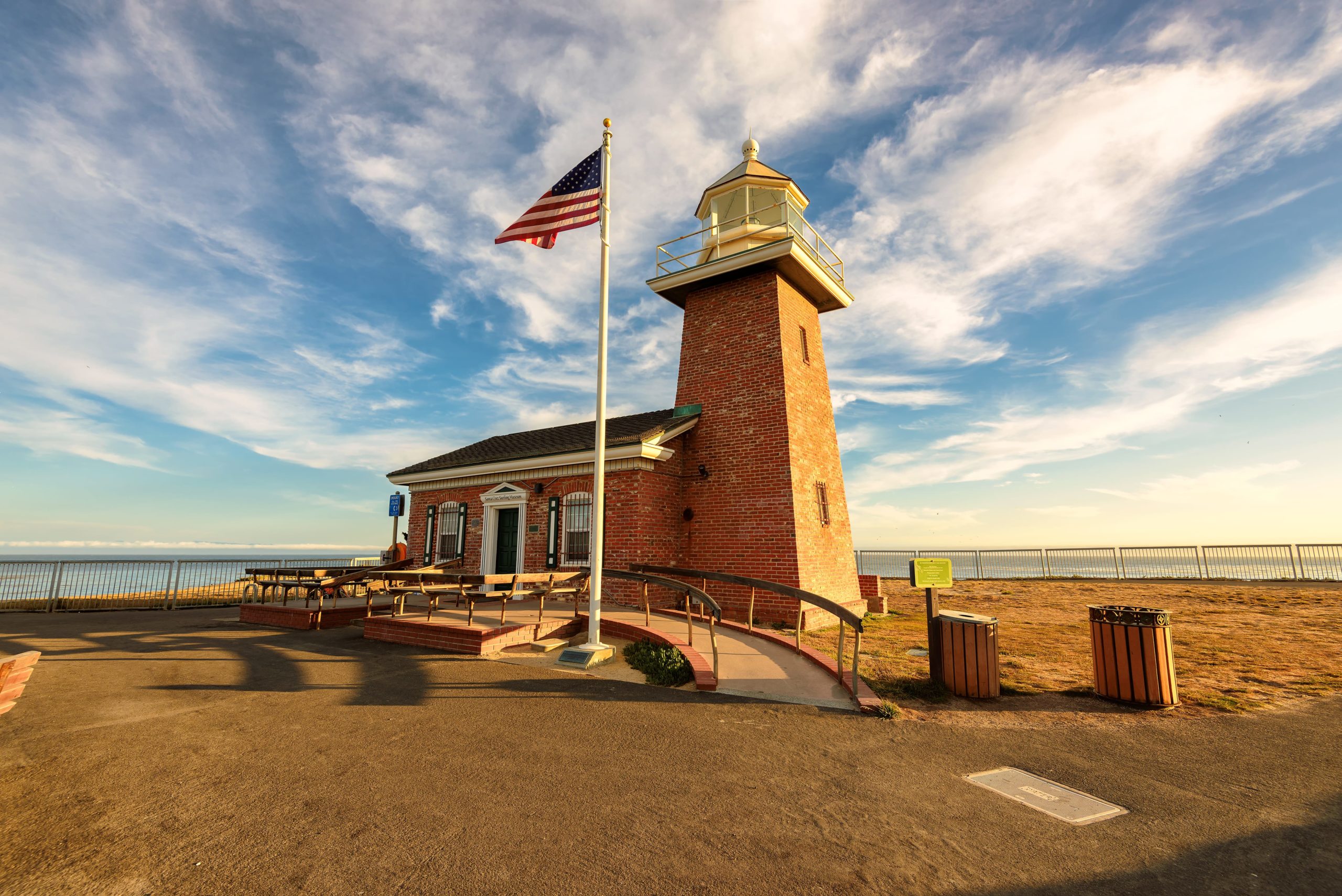 The Santa Cruz Surfing Club has been in operation since the 1930s and they run the Santa Cruz Surfing Museum at Steamer Lane. On a day when the swell is not so hot, go and check out why this has been the place to surf for the best part of a century.
Alternatively, why not discover Santa Cruz on a bicycle tour. For $69 per person, you can join a 3-hour bicycle tour and discover the town's natural beauty including the beaches and cliffs, learn about the surf, and the local college culture that defines much of the town. You'll see landmarks such as the Santa Cruz Wharf and Boardwalk, and you'll even get the chance to sample some local products.
And we would be amiss if we didn't mention The Santa Cruz Beach Boardwalk. Recognized as one of the best seaside parks in the world, this vibrant, bustling amusement park is renowned for its great rides and remarkable history. Take a walk down there for the Instagram photo if nothing else.
Enjoyed our Complete Guide to Surfing Santa Cruz? Check out all of our Surf Travel Guides here.