Surfing Taghazout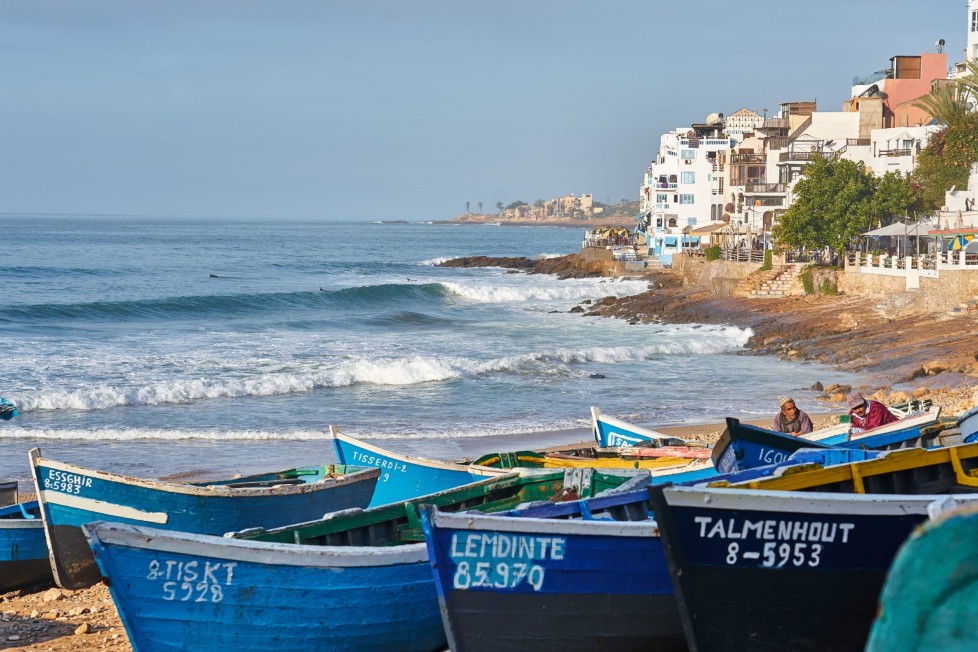 Disclaimer: This article contains affiliate links. We may receive a small commission if you make a purchase through one of these links. Please read our Affiliate Disclosure for more information.
This is our Complete Guide to Surfing Taghazout in Morocco.
When it comes to surfing, there are some incredible destinations all around the world. Taghazout, which is located in Morocco, is deemed the country's capital of surfing. In this guide, we will reveal everything that you need to know about surfing here. If you want to enjoy a Moroccan surf holiday, you can expect 20 different world-class surf spots in this part of the country, which is why it comes so highly recommended. With that being said, continue reading to discover everything you need to know about surfing in Taghazout.
Taghazout was originally a traditional Moroccan fishing village. But then came the 50s and 60s, and along with that, the hippy movement. Artists, writers, musicians, and adventurers flocked to the coastline, and it was only a matter of time before the surfing culture took root.
Today the village is a mish-mash of blue and whitewashed half-built houses, organic vegan cafes and coffee shops, hand made carpets, and camels wandering up and down the beaches.
The surfing culture is clear to see from the moment you arrive, with tourists walking up and down the dusty side streets with a surfboard in one hand and a green juice in the other. Surf shops with boards for hire line the main road and the breaking waves are only ever a stone's throw away.
How to get to Taghazout
Before we take a look at all of the best surf spots in Taghazout, it is only right that we reveal how you are going to get to this part of Morocco.
Agadir is the closest airport to Taghazout. This is a 40-minute journey. It is also a good idea to look at flights going to Essaouira if you are struggling to find a suitable flight into Agadir. It will then take you a few hours to reach Taghazout by car if you do decide to fly into Essaouira Airport.
Like other villages and towns in Morocco, you can reach Taghazout via bus. However, in order to reach the bus station, you are going to need to book a taxi to take you to and from it. For the easiest journey, the best thing to do is organise the taxi through the hostel or hotel that you are staying at. You should expect to pay between 25 and 35 EUR from Agadir to Taghazout. However, if you simply flag a taxi from outside the airport, you could end up paying double this amount.
Also, something to note is that once you are in Taghazout, it can be difficult to get hold of cash. There are no ATMs or banks in the village. Your best bet is to exchange all the cash you need before you arrive in Morocco. If that's not possible, use the ATM at the airport. It gives out a maximum of 2000 dirhams ($200) at a time, which is usually more than enough spending money for one week in Morocco.
Taghazout Surf Spots
You can always find something to surf in Morocco, no matter what time of year it is. Although, if you are a more experienced surfer we recommend visiting in the winter months.
The main surf season takes place from October through to April, with the biggest swells hitting spots like Anchor Point in December and January. If you're just starting out, the summer months can be a great time to learn in Morocco. The crowds are limited and the waves peak between 1.5-4ft in July and August, making it the perfect destination for first-timers.
Anchor Point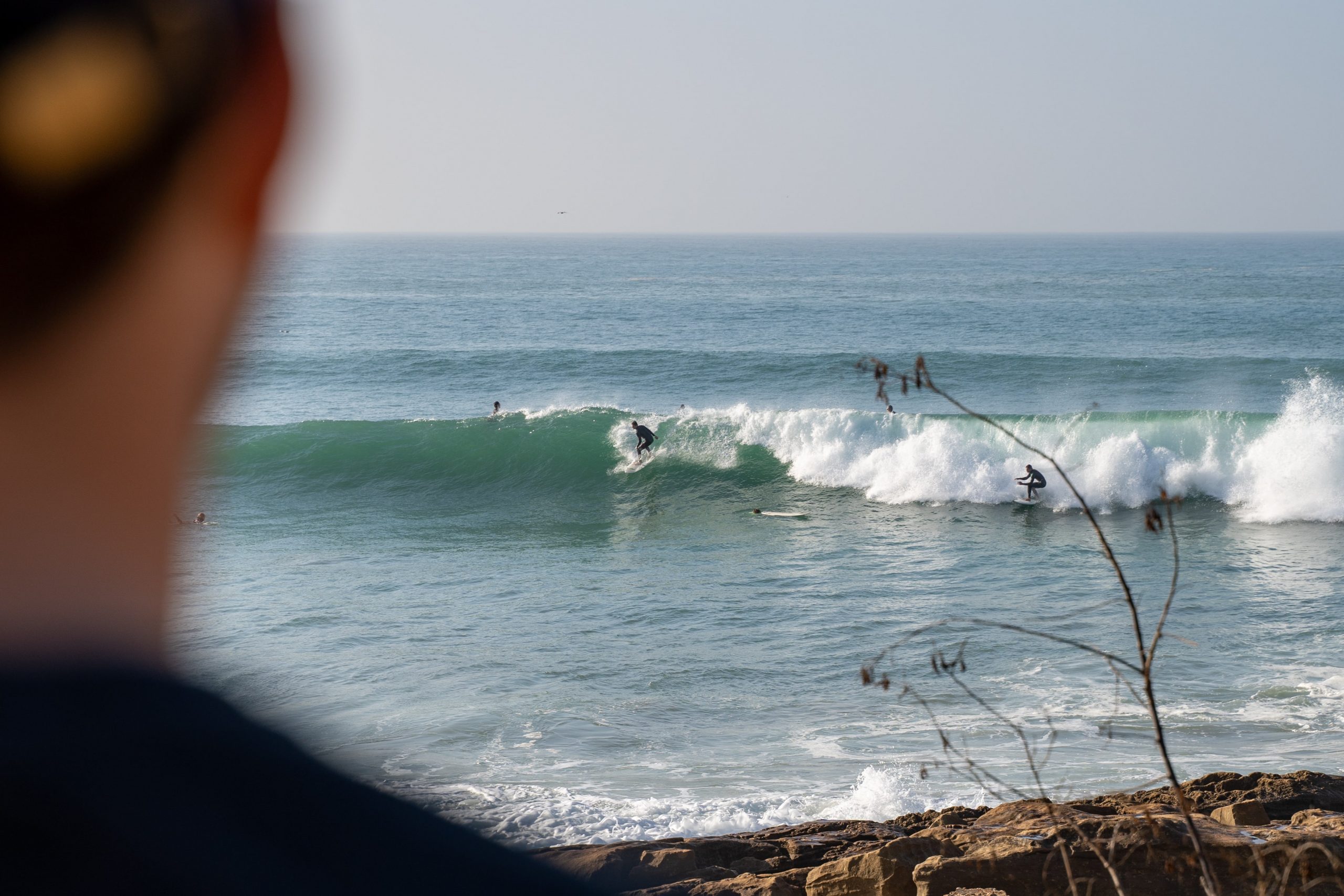 It is only right that we begin with the most famous surf spot in Morocco. Anchor Point was first surfed in the '60s by Australians. It is a world-class break, which lights up when there is a presence of a medium to large northwest swell. An endless succession of cutback hooks and speed walls present themselves with a section that is more sandy down the point, providing occasional green rooms. This area works well on all tides, and there is even the chance to ride back into Taghazout during periods when the waves are huge.
Draculas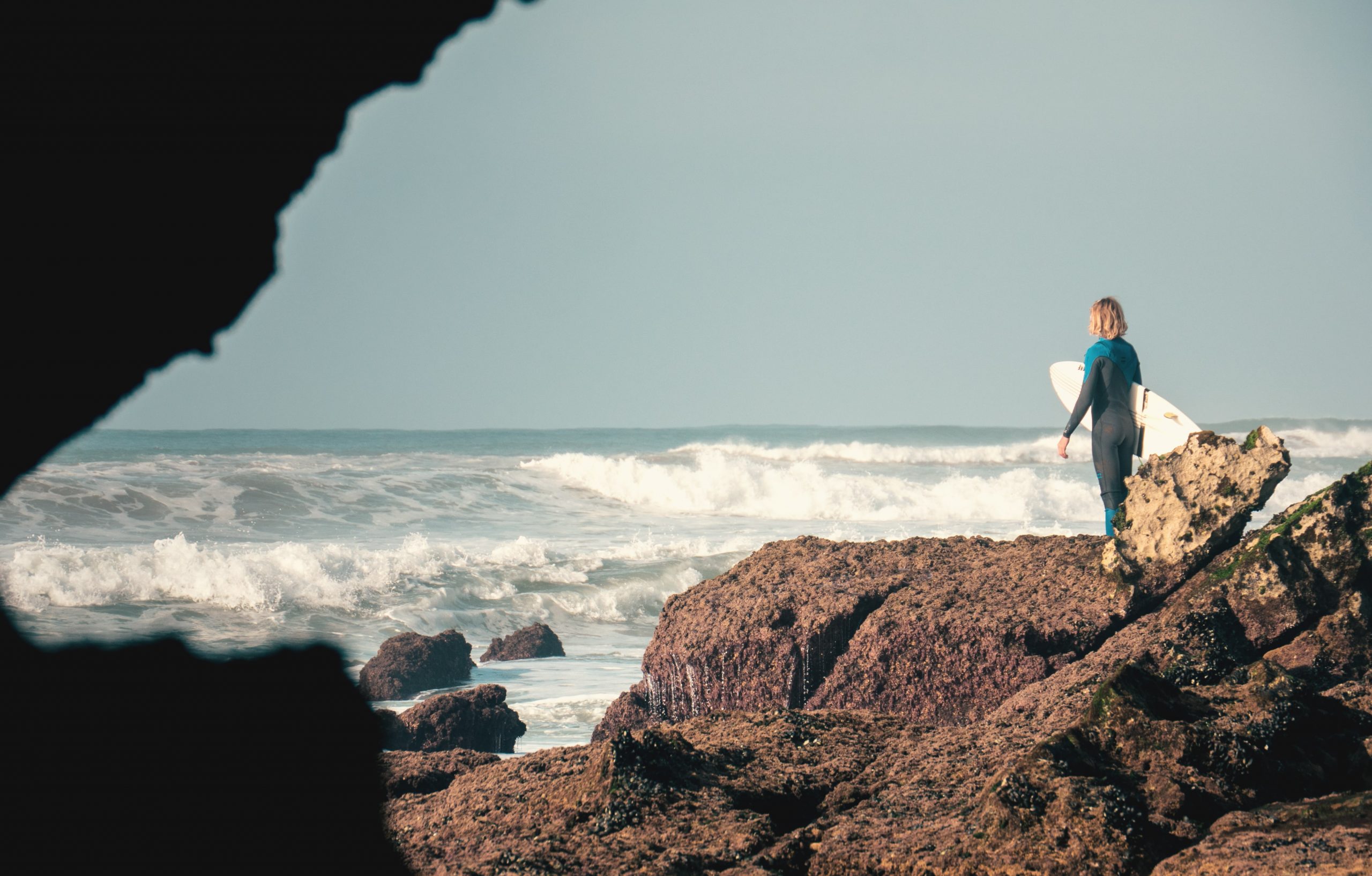 With a name like Draculas, you were probably already expecting this to be one of the more challenging surf spots in this part of Morocco. The area gets its name from the vampire teeth shaped rocks. This area is not for the faint hearted, as it is a fast right hander that pushes some large and punchy sets. It is known as Boilers' evil twin, so let's move onto the friendlier half…
Boilers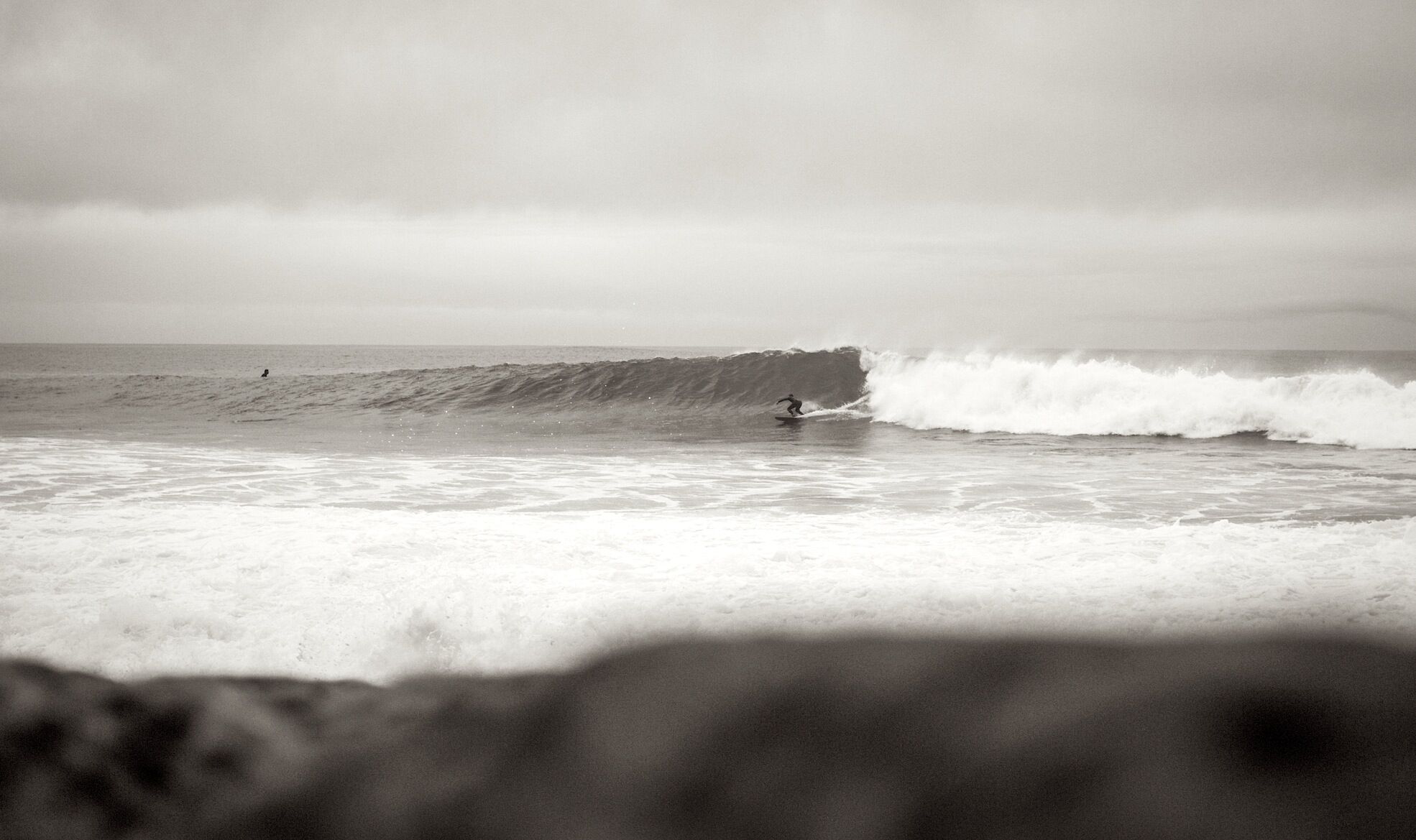 You will definitely have a lot of fun at this surf spot. You can expect a hectic entrance and exit, as well as big, fast walls. If you are looking for big waves, this is definitely the best spot for them. You can expect big vertical lips and a speed wall because of the winds funneling down from the mountains. This is a strong and powerful right hander, which then washes onto a strong shallow reef. We definitely recommend heading to this part of Taghazout if you are going to be surfing with a friend. After all, it is going to be a lot easier if you have a friend who can tell you when to rock off behind the shipwreck, ensuring you are shouted in from the shore.
Killer Point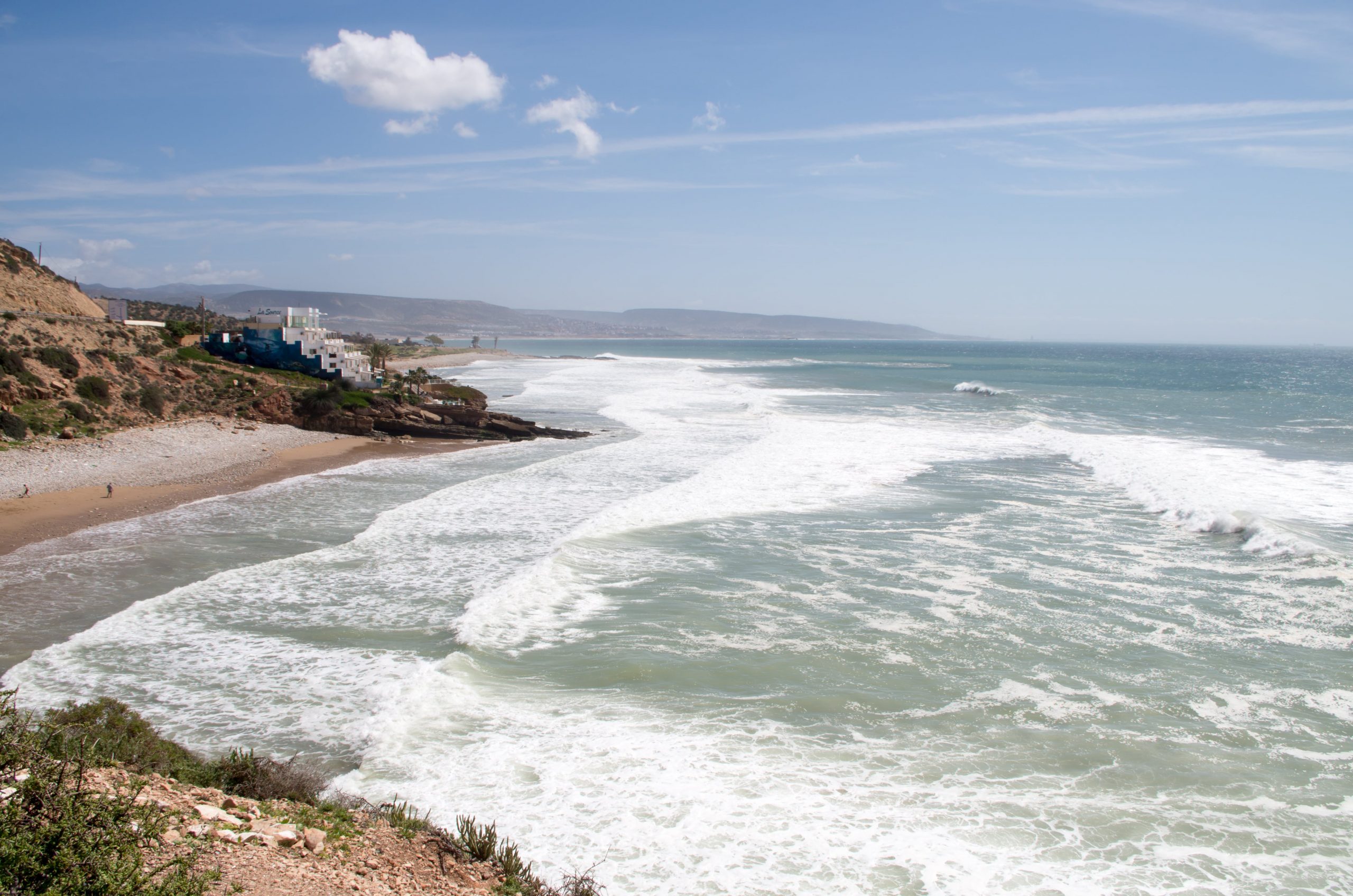 This is another surf spot in Taghazout that is recommended for experienced surfers. This renowned point break is named after the pod of Killer Whales that occasionally visit the area. In Taghazout, this is possibly the most consistent out of all of the point breaks. You can expect a short left and a sectioning right from the peak in front of the cliff when there is a low tide on small swells. The vertical walls then rumble down when the swells pick up, resulting in hard sections and barrels. What about when the tide is high? Well, the inside section will fire up as this is an area that the Northerly winds are sheltered from.
La Source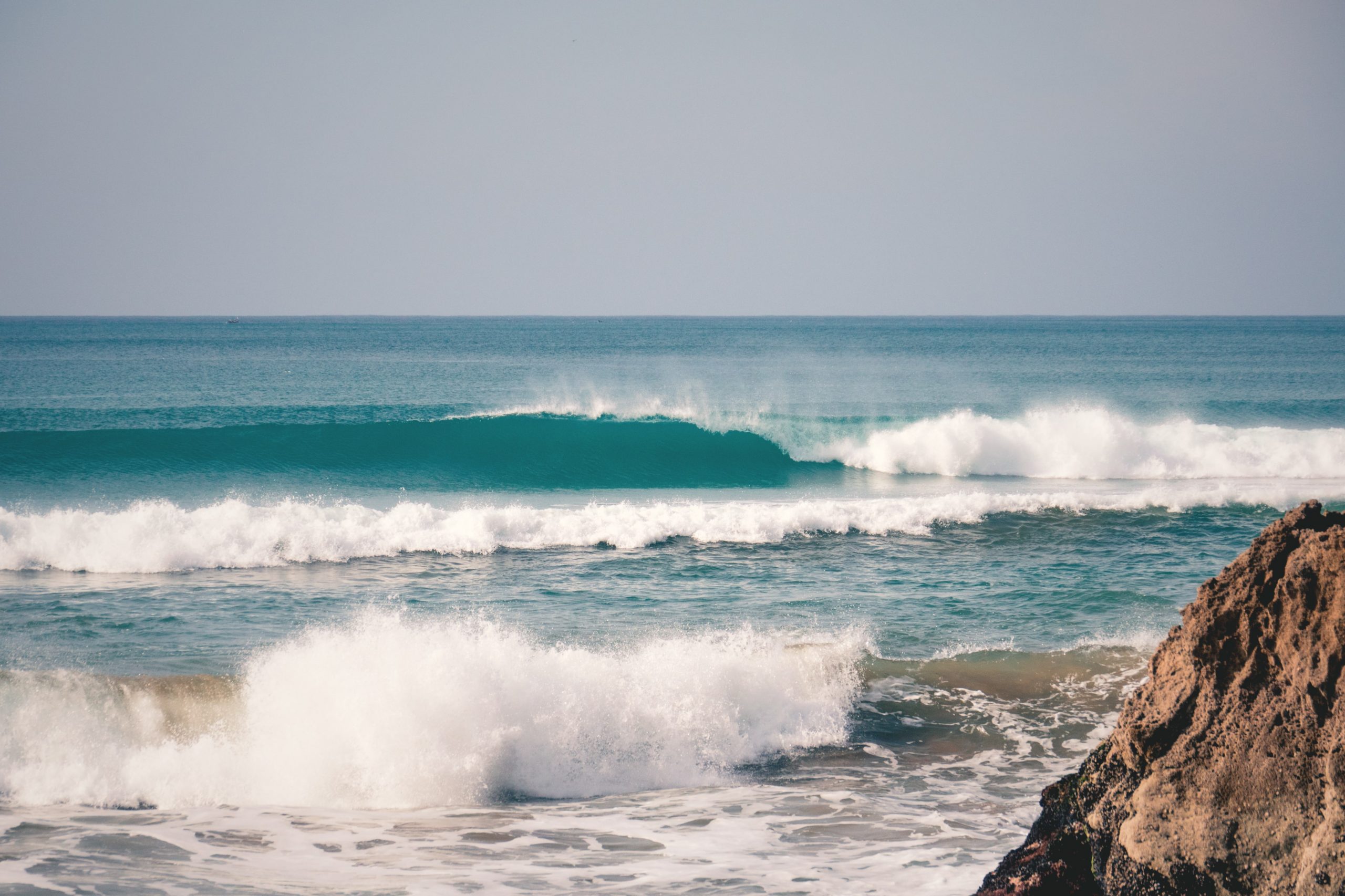 One place that we recommend for intermediate surfers is La Source. This is an A-framing peak, which is playful and probably one of very few waves in Taghazout that provide goofy footers an opportunity to ride on their front-side. This surf spot is only a short drive to the north of Taghazout. The peak here breaks both right and left over a rocky reef. It is best suited to a shoulder high, small swell, and it is best when the wind is blowing offshore gently.
Panoramas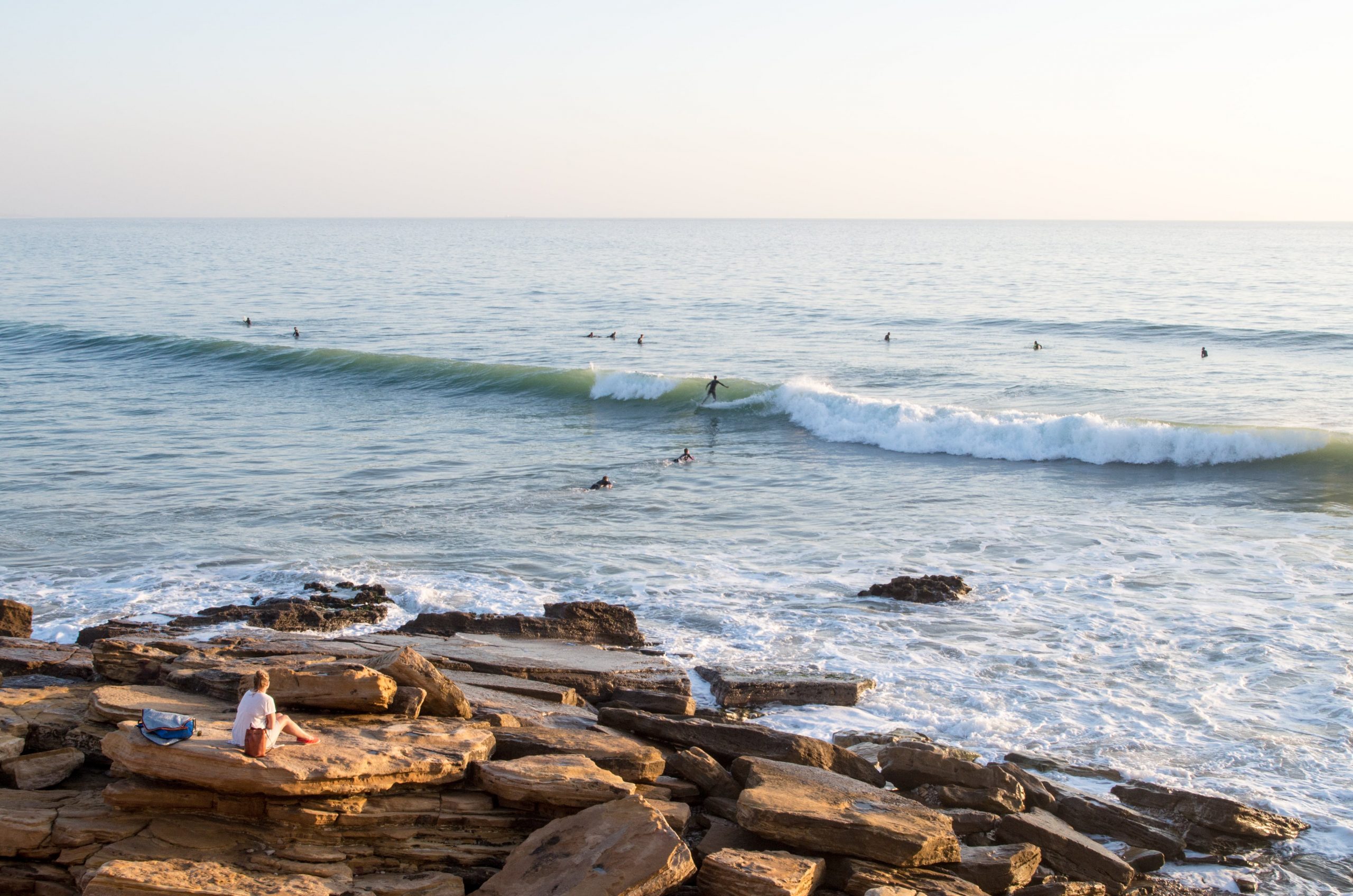 If you are centrally located in Taghazout itself, this is going to be the most easily accessible wave for you. The peak breaks quite close to the shore, as it reels around the point. The rip can be rather strong when there are bigger swells. However, you can counteract this by jumping in off the rocks, saving yourself paddling against the current. Make sure you keep an eye on the coast, though. You do not want to find yourself swept off the peak and away from the line-up. When compared with other local spots, Panoramas can handle more East in the wind, and so it is definitely worth taking a look at when other breaks are a bit more cross-shore.
Banana Beach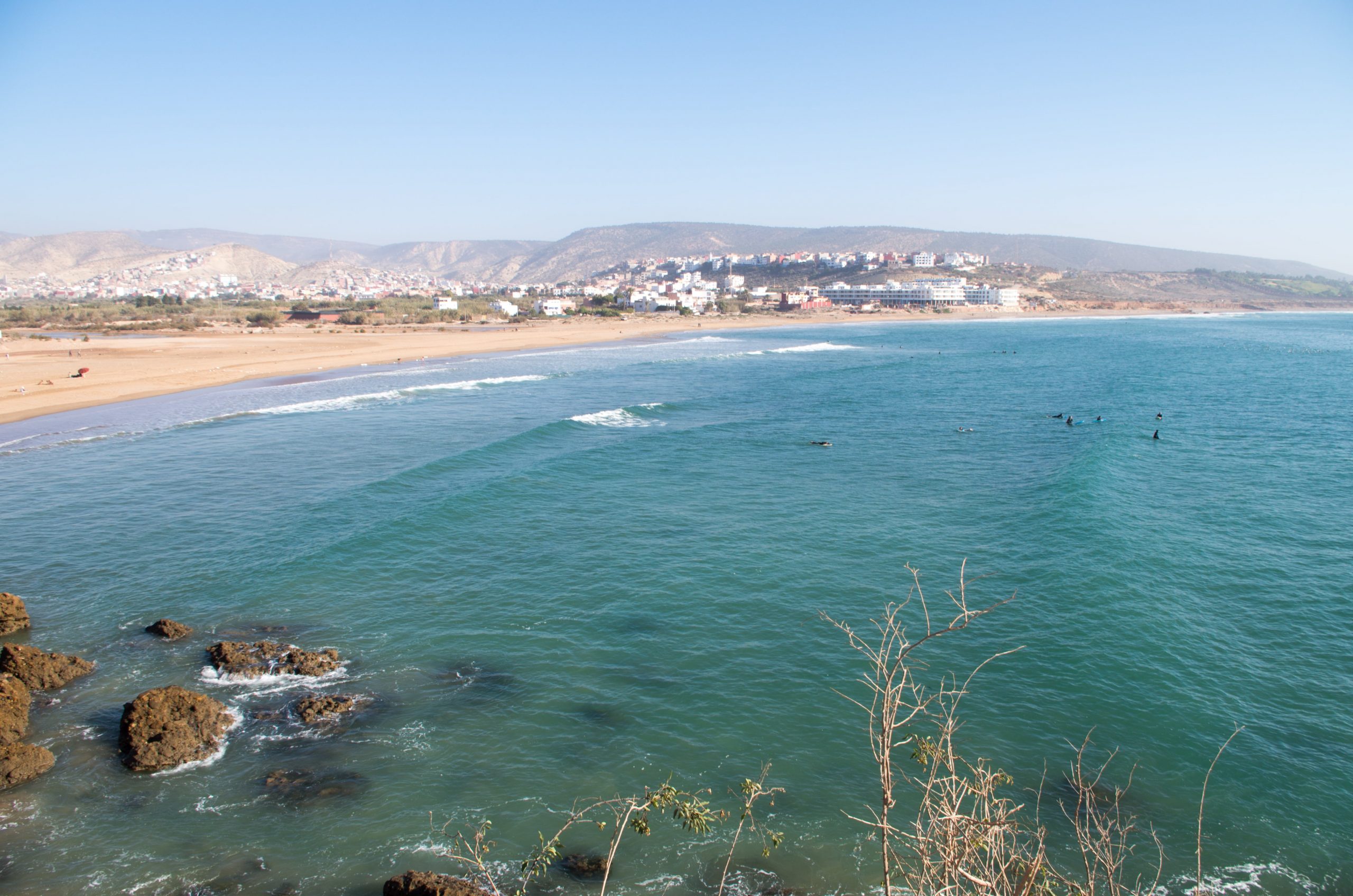 The wave here, at Banana Beach, is probably the best beginner surf spot in this part of Morocco. You can expect gentle right curls around the point, providing easy entry for a long ride into the beach. This spot copes well with swells of all sizes, and it is a favourite amongst longboarders. You will have a lot of fun honing your skills here. A lot of people have learnt how to surf in this part of Morocco.
Devil's Rock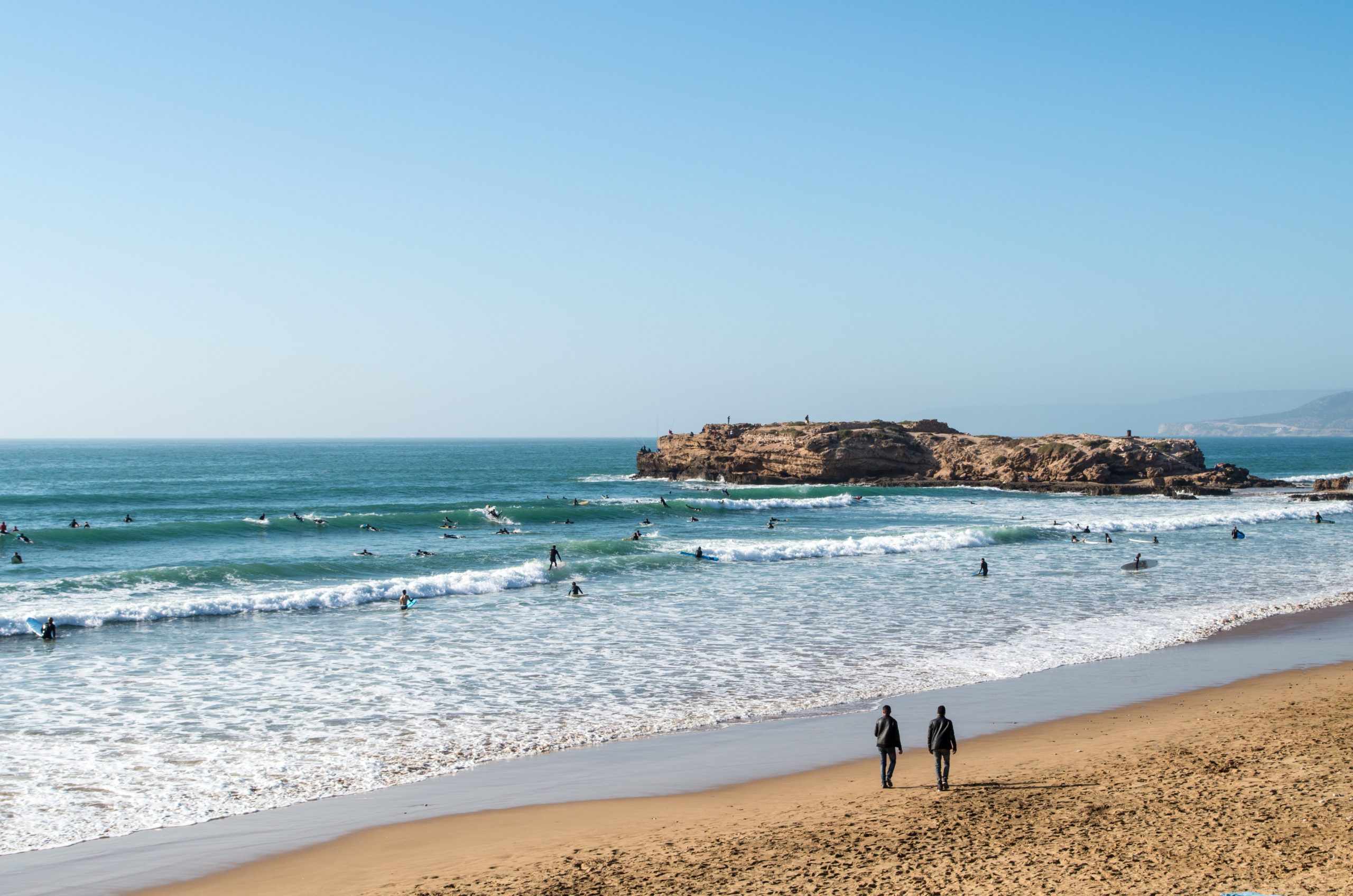 Although this surf spot may have a devil in the name, there is certainly nothing devilish about this surf spot. It is a great place for both beginners who are learning to surf, as well as intermediate surfers. It is a beach break with a sandy bottom, which is perfect if you are on the lookout for a more mellow surf while you are in Morocco. This area sits on the other side of Banana Beach. You have the chance to go right and light on its A-frame peaks. This is definitely one of the most welcoming surf spots in Morocco, as there are plenty of facilities on the beach. You may even see the odd camel strolling past as well!
Imsouane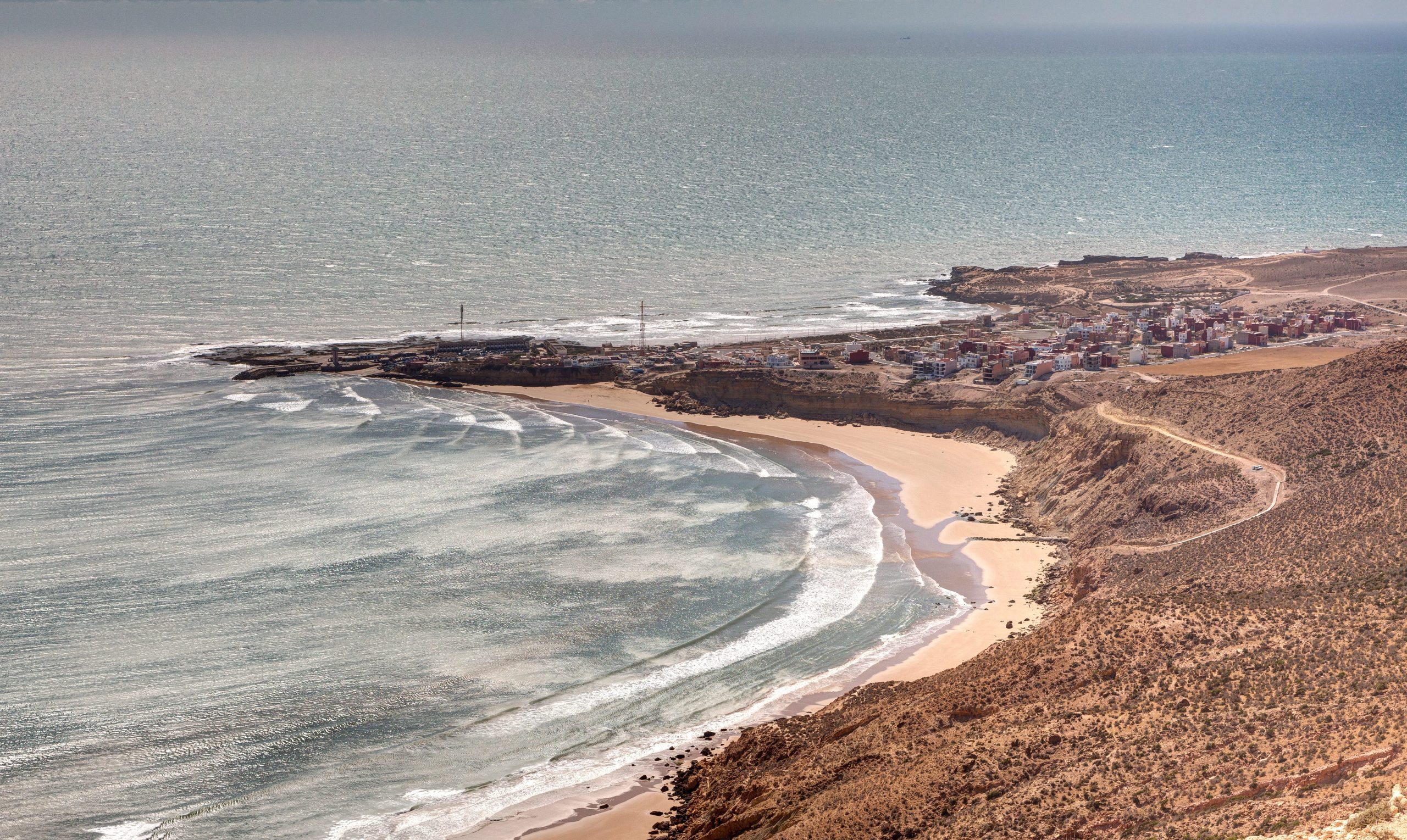 Last but not least, it is only right that we end with the area that is home to the longest wave in Morocco. About an hour and a half from Taghazout, Imsouane is one of the country's best kept secrets, offering surf all year round on endless rolling Atlantic swells. You will find one of the best longboard waves in the world in this little fishing village. Compared to busy Taghazout and the crowded Agadir, this is definitely the place to visit if you are looking for a serene surf holiday. You will be able to surround yourself with incredible tranquillity and nature. What could be better?
See also: A Complete Guide to Surfing Imsouane in Morocco
Surf Camps in Taghazout
Now that you know all about the best surfing spots, let's take a look at some of the best surf camps in Taghazout and the surrounding area.
There are accommodation options to suit all budgets in Taghazout. The village is home to over 50 hostels and hotels that offer anything from a bed in a shared dorm at $10 a night, right through to luxury beachfront hotels offering stays from $150 a night.
Most of the hotels also offer all-inclusive 'learn to surf' or 'surf guiding' packages. These packages can cover airport transfers, accommodation, daily transport to surf spots, surf lessons, surf equipment hire, and all your meals. This can be a great way to get the most value out of your stay in Taghazout.
If you're on a budget, why not book a bed in the Roofhouse Hostel, this laidback backpackers offers beds in their mixed dorm from just $12 a night.
But, if a shared dorm isn't your thing, Amayour Surf Hostel offers private double rooms right on the beachfront for $40 a night.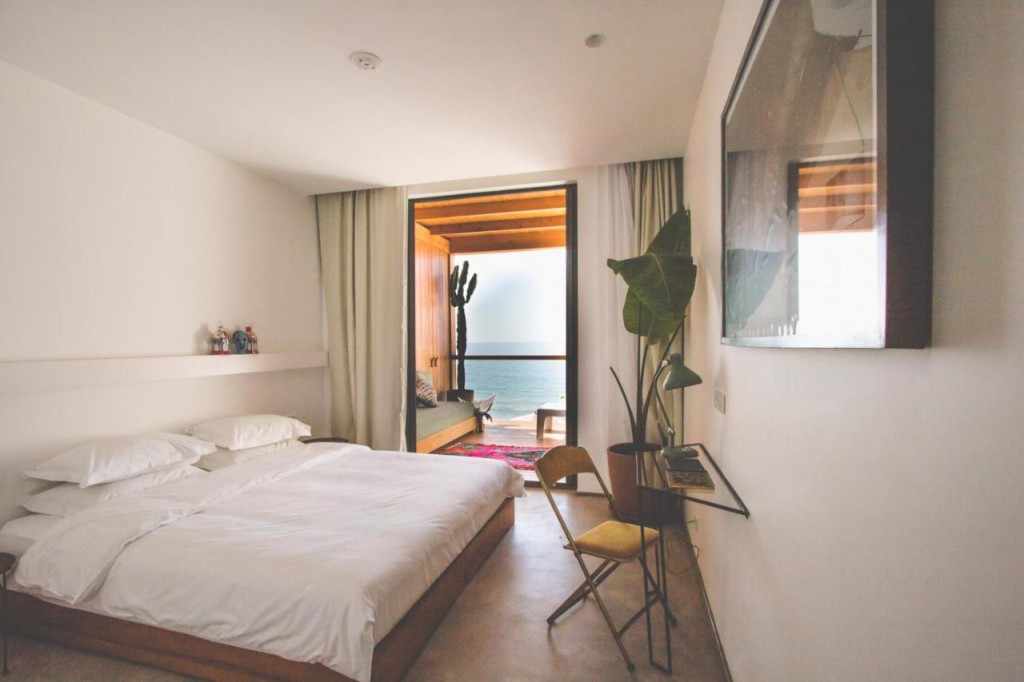 One of the best ways to get the most out of surfing Taghazout is to book an all-inclusive surf camp. There are plenty to choose from in Taghazout but our top picks are Hashpoint Surf Camp, World of Waves, and Surf Maroc's Amouage Boutique Hotel.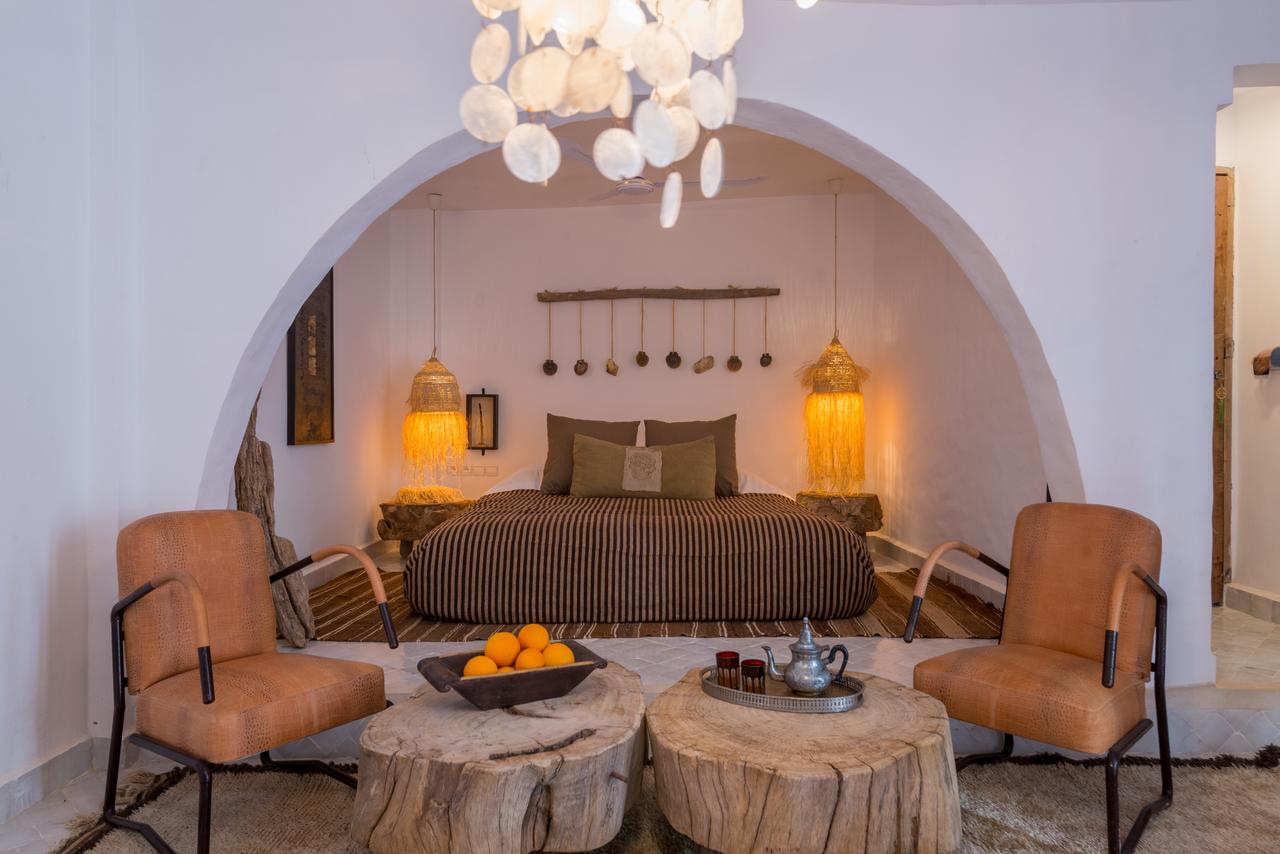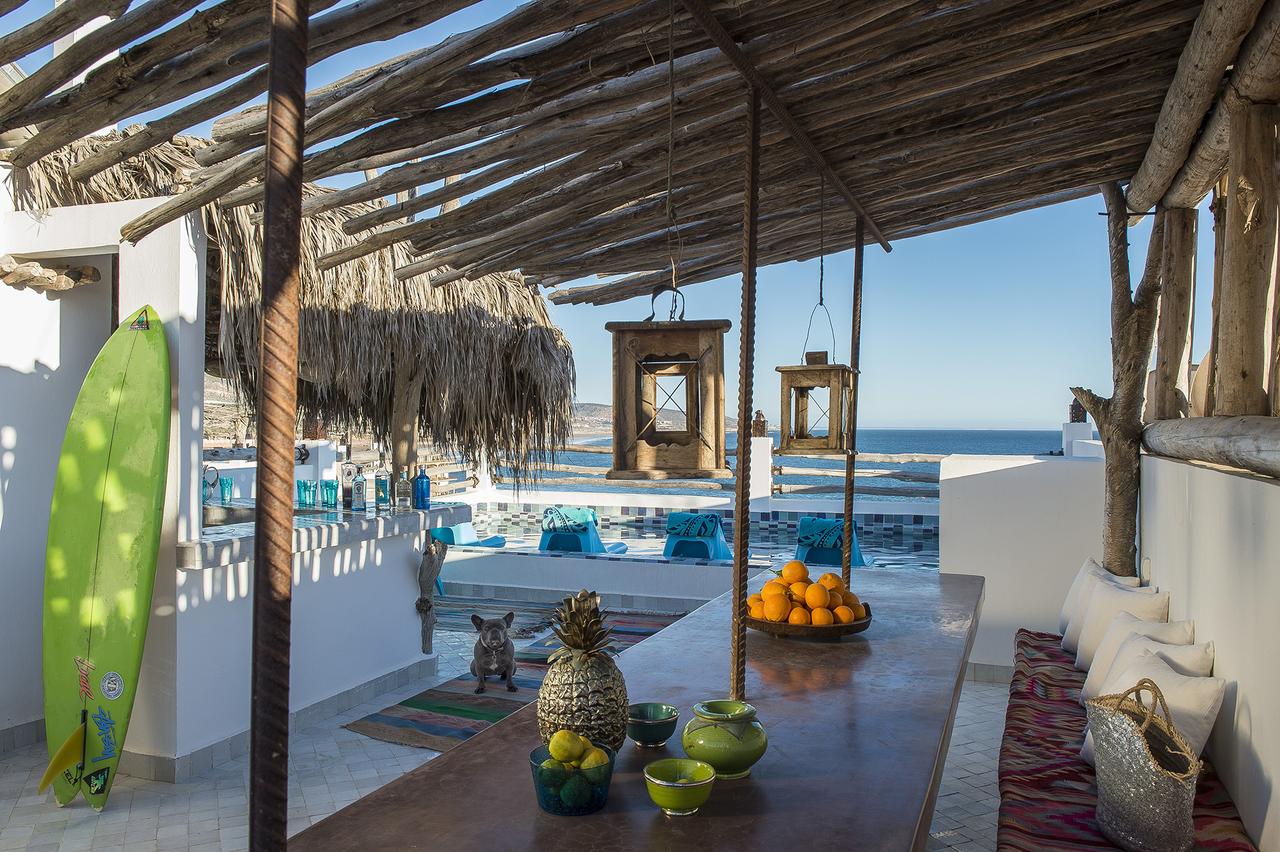 Finally, if you're looking for a more high-end option in Taghazout, make sure you check out Munga Guest House. The owner's at Munga spent 10 years collecting artwork and handmade furniture from every corner of Morocco before they opened this truly unique surfing guesthouse, it's not to be missed.
Surfboard Hire in Taghazout
It often makes sense to hire a surfboard rather than bring one with you, especially if you are going to be travelling to Taghazout by plane. The good news is that there are plenty of places where you can rent a surfboard in Taghazout.
The Almugar Surf Shop is a good place to get your surfboard, as they offer a number of different packages based on your needs. The Surf Maroc shop also has a good selection of boards for all abilities, whether it is the perfect wave to learn on, endless mellow six-foot walls, or reeling ten-foot points.
Where to Eat in Taghazout
After a long day surfing Taghazout, you will want to pick out some good spots to eat. After all, there is no denying that you are going to be hungry after a day on the waves!
There is definitely something for everyone when visiting Taghazout, so you won't go hungry; that's for sure. We love all of the traditional Moroccan cafes here, including L'Auberge Restaurant and Cafe Mouja. We definitely recommend trying the calamari risotto at Cafe Mouja while the traditional chicken stew and couscous is to die for at L'Auberge.
There are plenty of other types of food on offer if you do not fancy going for traditional Moroccan. For example, you can enjoy American fast food after a busy day surfing at Sunset Taghazout. If you are looking for dining experiences with a view, there are a lot of beautiful rooftop restaurants, which look out across the water. Other places that are definitely worth a mention include Le Spot, World of Waves, and Dar Josephine.
So there you have it: everything you need to know about surfing Taghazout. If you are planning your next surfing trip, this is definitely a location that you should consider. We hope that all of the information that has been provided above will help you to plan the perfect surf trip.
Enjoyed A Complete Guide to Surfing Taghazout in Morocco? Check out our other Surf Travel Guides here.