A Complete Guide to Surfing Taghazout

Disclaimer: This article contains affiliate links. We may receive a small commission if you make a purchase through one of these links. Please read our Affiliate Disclosure for more information.
This is our Complete Guide to Surfing Taghazout in Morocco.
Surfing Taghazout in Morocco is an unforgettable experience. This charming coastal village, located just north of Agadir, is blessed with consistent waves and an ideal year-round climate.
Whether you're a seasoned surfer or a beginner, Taghazout offers a wide range of surf spots catering to all levels of expertise. With friendly locals, delicious food, and a laid-back atmosphere, it's no wonder Taghazout has become a haven for surf enthusiasts from around the world.
So why not pack your board, grab a wetsuit, and explore the surf scene at this hidden gem on the Moroccan coast? You won't regret it.
What is the best time of year for surfing in Taghazout?
Morocco is a surfer's paradise with its long stretches of sandy beaches, warm waters, and consistent waves. The best time of year for surfing Taghazout depends on your preference and skill level.
For more experienced surfers, the best time to catch waves is during the winter months, between November and March. During this season, the Atlantic swells tend to be more consistent and powerful, offering surfers a more challenging experience.
If you're a beginner, the best time is during the summer months of June to September when the swell is small and the weather is warm. The crowds are limited and the waves peak between 1.5-4ft in July and August, making it the perfect destination for first-timers.
How to get to Taghazout
Taghazout is located about 15 miles north of Agadir on the Atlantic Coast.
The easiest way to get there is by flying into Agadir Al Massira Airport. Popular airlines like Air France, Ryanair, and Transavia fly into Agadir from different European cities.
From the airport, it takes around 45 minutes by car to reach the village.
To have a hassle-free trip, it is advisable to pre-book a taxi with your accommodation before you arrive. A taxi from Agadir to Taghazout typically costs between 25 to 35 EUR.
If you're coming from another city in Morocco, another option is to take the bus. CTM and Supratours are two popular bus companies that operate regular services between the major cities in Morocco.
One thing to keep in mind when travelling to Taghazout is the limited options for obtaining cash once you're in the village. Unfortunately, there are no ATMs or banks available, which can be problematic if you're not properly prepared.
It's best to exchange all the cash you'll need before arriving in Morocco. If that's not possible, you can use the ATM at the airport, which allows up to 2000 dirhams ($200) to be withdrawn at a time. This amount is typically enough spending money for a week in Morocco, but it's always better to be safe than sorry when it comes to finances while travelling.
Plan ahead and prepare accordingly to ensure a stress-free trip.
Surf Camps in Taghazout
Now that you know how to get there, let's take a look at some of the best surf camps in Taghazout and the surrounding area.
There are accommodation options to suit all budgets in Taghazout. The village is home to over 50 hostels and hotels that offer anything from a bed in a shared dorm at $10 a night, right through to luxury beachfront hotels offering stays from $150 a night.
Most of the hotels also offer all-inclusive 'learn to surf' or 'surf guiding' packages. These packages can cover airport transfers, accommodation, daily transport to surf spots, surf lessons, surf equipment hire, and all your meals. This can be a great way to get the most value out of your stay in Taghazout.
Here are a few of the best surf camps in Taghazout.
Dfrost Almugar Taghazout Villa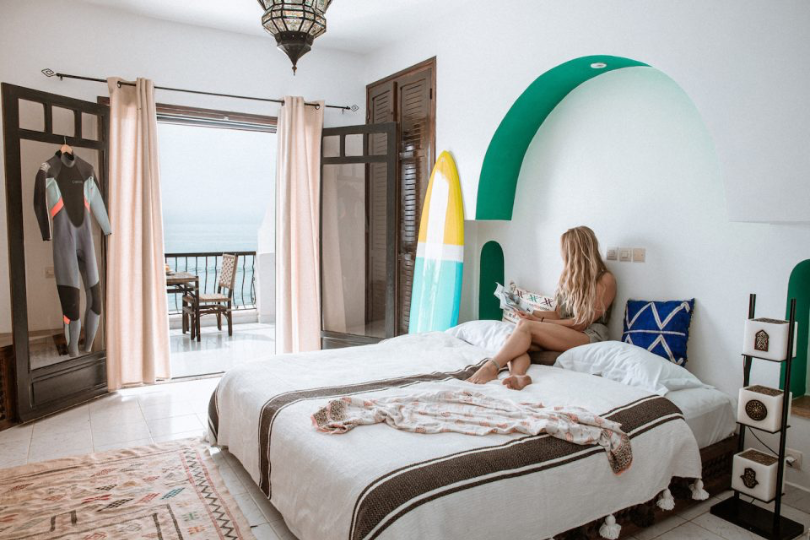 Dfrost Almugar Taghazout Villa offers a unique opportunity to combine a surfing and yoga holiday like no other.
The 1-week surf and yoga camp includes 6 yoga classes, 5 group surf lessons, 5 days of equipment hire (surfboard and wetsuit), complimentary airport transfers, 7 nights' accommodation in a private or shared room, and daily delicious meals.
Accommodation at this 20-guest hotspot comes with amazing sea views from each room as well as a communal terrace with a jacuzzi – perfect for watching the sun go down over the ocean. Not to mention the opportunity to make friends from around the world and experience the unique culture that Morocco has to offer.
Book a 1-week package with Dfrost Almugar now starting from €525 per week.
Solid Surf House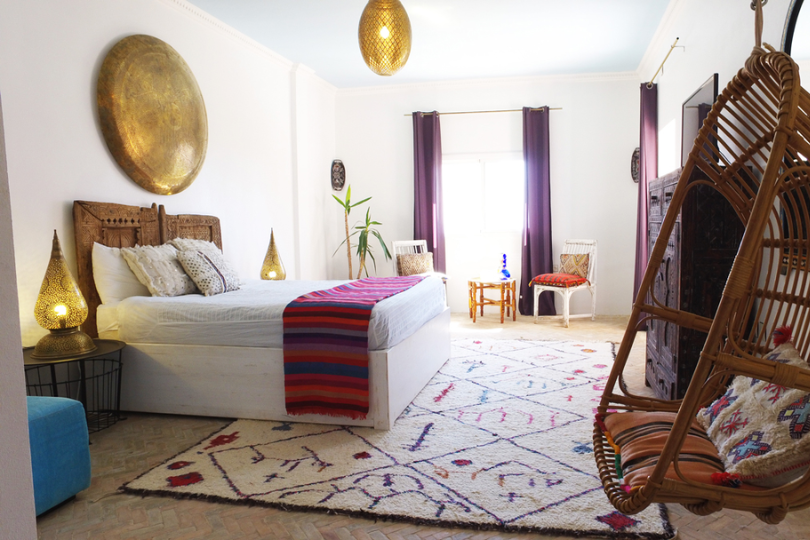 If you're ready to take a break from the daily grind and learn how to surf, why not do it in style at Solid Surf House.
This surf camp is located in the quaint village of Tamraght, just a stone's throw away from Taghazout. With daily yoga sessions, surf lessons, video analysis and theory, you'll be sure to improve your skills in no time. And when you're not in the water, enjoy the company of fellow solo travelers in a private or shared room.
Oh, and did we mention the delicious daily meals and airport pickup? Solid Surf House offers the full package, making it the perfect spot for anyone looking to have a good time and meet new friends.
Book a 1-week package with Solid Surf House now starting from €479 per week.
Surf Coast Morocco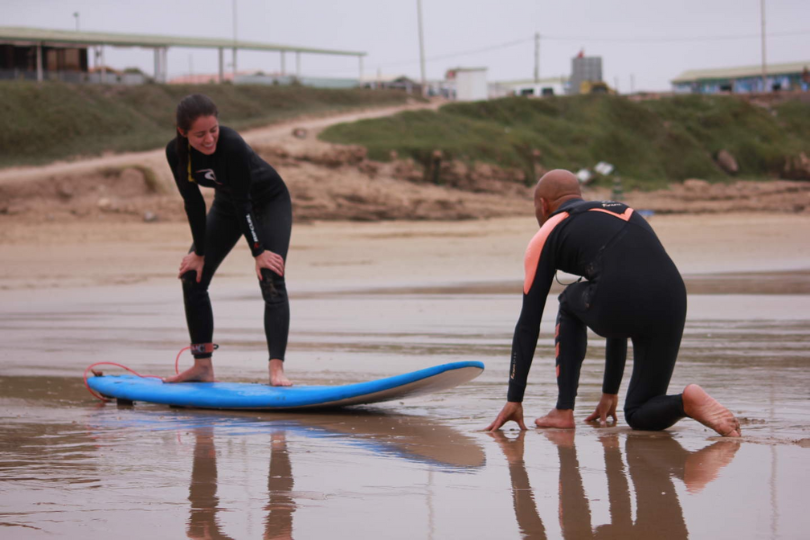 This laid-back surf camp sits between Panorama and Hash point spots in Taghazout, making picture-perfect waves guaranteed.
The 1-week surf and yoga camp includes 7 yoga classes, 6 surf lessons, daily board and wetsuit rental, airport transfers, all meals, and 7 nights of accommodation in a shared or private room.
As the cherry on top, this surf camp offers a panoramic roof terrace featuring a yoga deck, chill-out area and outdoor dining space. Ideal for socializing with like-minded international travellers.
You can book a 1-week package with Surf Coast Morocco now starting from €576 per week.
See also: 5 of the Best Surf Camps in Morocco
Surf Resorts and Hostels in Taghazout
If you're looking for an alternative to a surf camp, there are also plenty of surf resorts and hostels available in Taghazout. These offer great value for money and tend to be more affordable than the all-inclusive packages offered by many dedicated surf camps.
If you're on a budget, why not book a bed in the Roofhouse Hostel, this laidback backpacker offers beds in their mixed dorm for just €20 a night.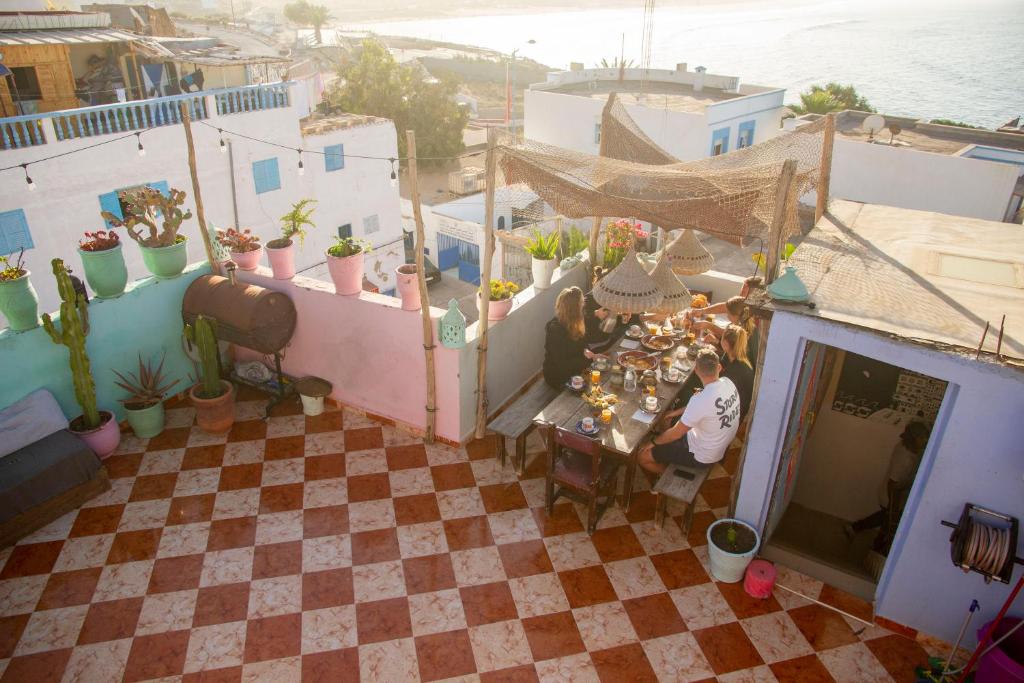 But, if a shared dorm isn't your thing, Amayour Surf Hostel offers private double rooms right on the beach for €50 a night.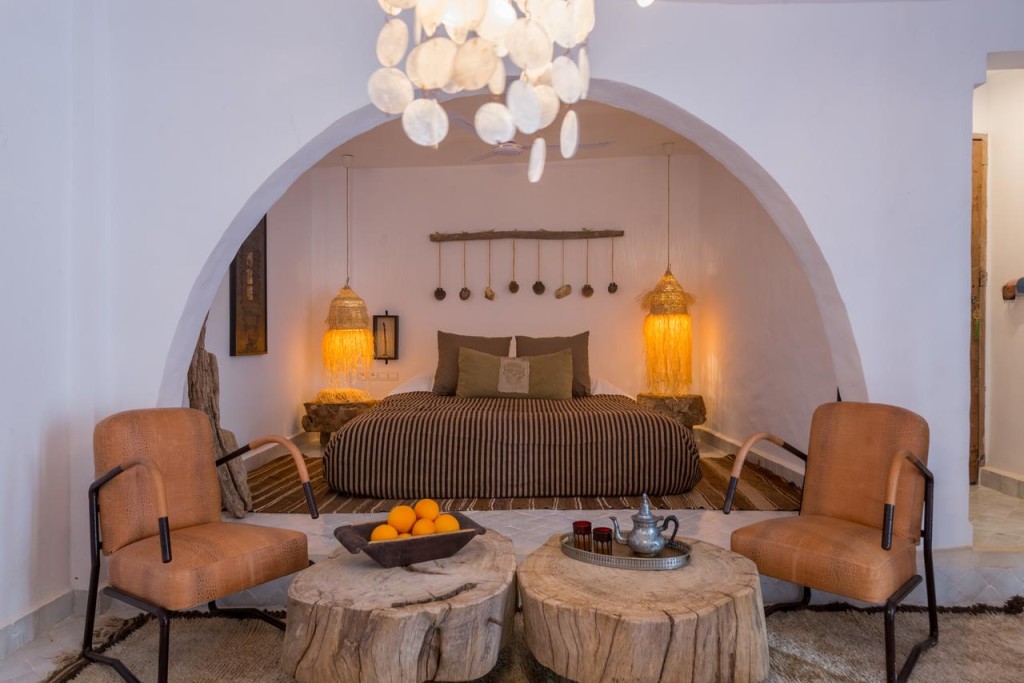 If you're looking for a more high-end option in Taghazout, make sure you check out Munga Guest House.
The owner's at Munga spent 10 years collecting artwork and handmade furniture from every corner of Morocco before they opened this truly unique surfing guesthouse, it's not to be missed.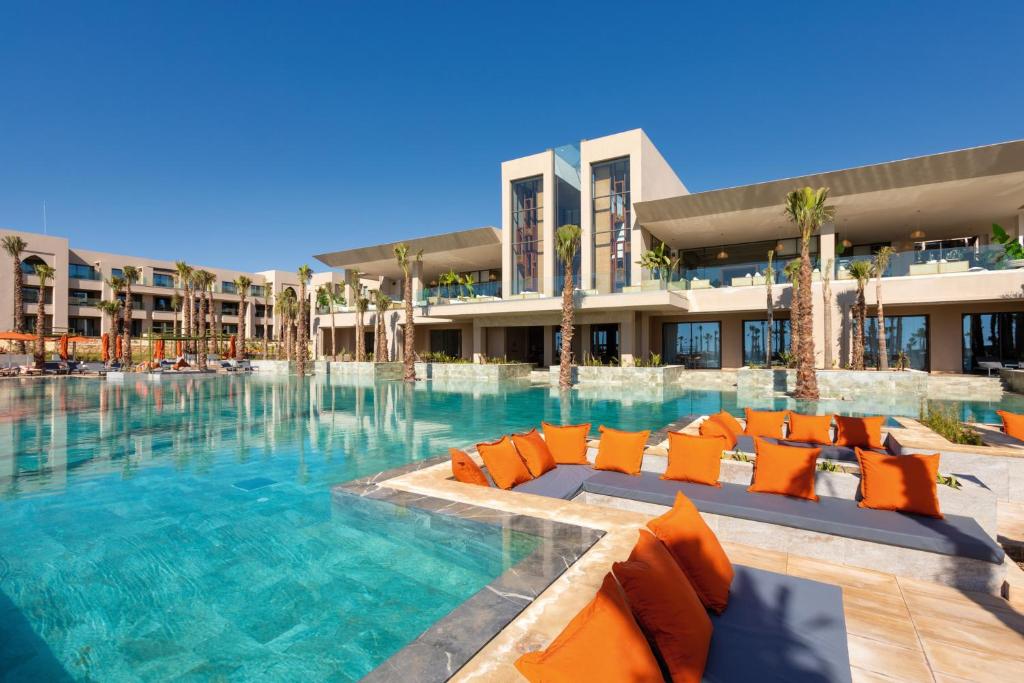 And for a truly luxurious experience, you can book into the all-inclusive Hotel Riu Palace Tikida Taghazout. Situated right on the stunning Taghazout beach, this 5-star hotel boasts an array of lavish amenities, including a sprawling outdoor swimming pool, well-equipped fitness centre and lush garden.
Taghazout Surf Spots
With over 20 surf spots scattered along its lengthy coastline, each one offers something unique to catch the perfect wave. Whether you're looking to test your limits at the renowned Anchor Point or take it easy at the gentle Banana Beach, Taghazout has a surf spot for everyone.
Anchor Point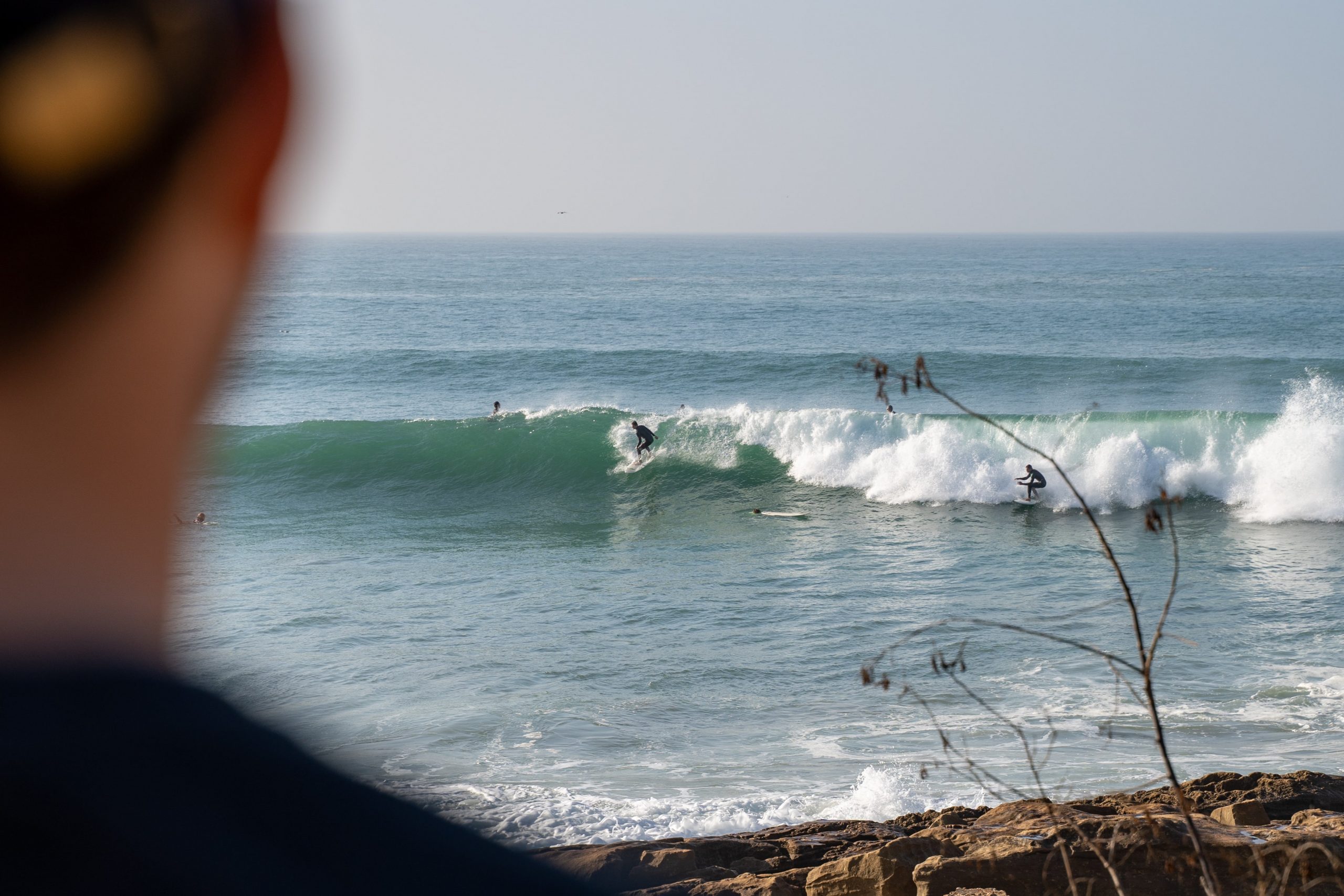 It is only right that we begin with the most famous surf spot in Morocco. Anchor Point was first surfed in the '60s by Australians. It is a world-class break, which lights up when there is a presence of a medium to large northwest swell.
An endless succession of cutback hooks and speed walls present themselves with a section that is more sandy down the point, providing occasional green rooms. This area works well on all tides, and there is even the chance to ride back into Taghazout during periods when the waves are huge.
Draculas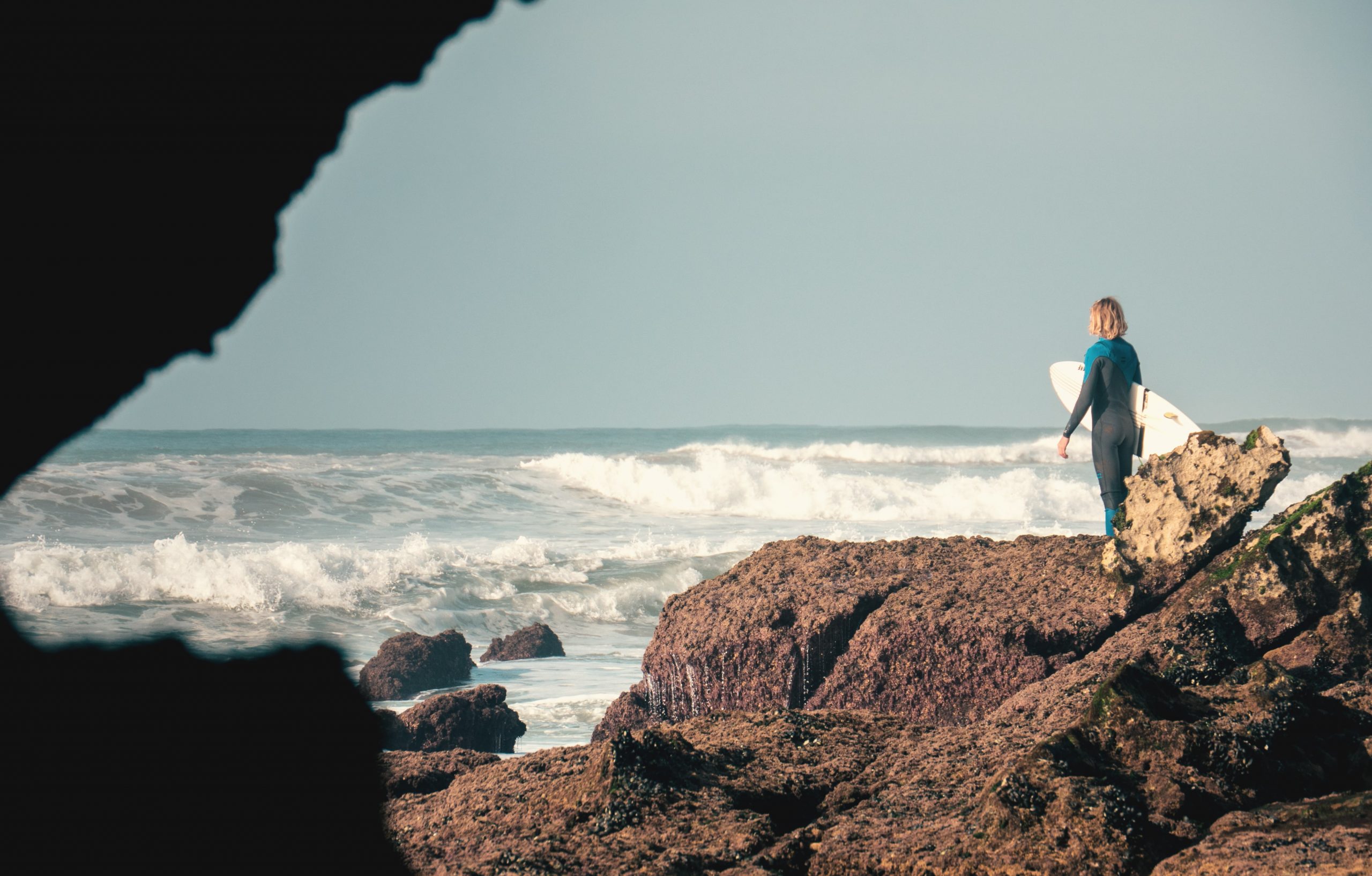 With a name like Draculas, you were probably already expecting this to be one of the more challenging surf spots in this part of Morocco. The area gets its name from the vampire teeth shaped rocks.
This area is not for the faint hearted, as it is a fast right hander that pushes some large and punchy sets. It is known as Boilers' evil twin, so let's move onto the friendlier half…
Boilers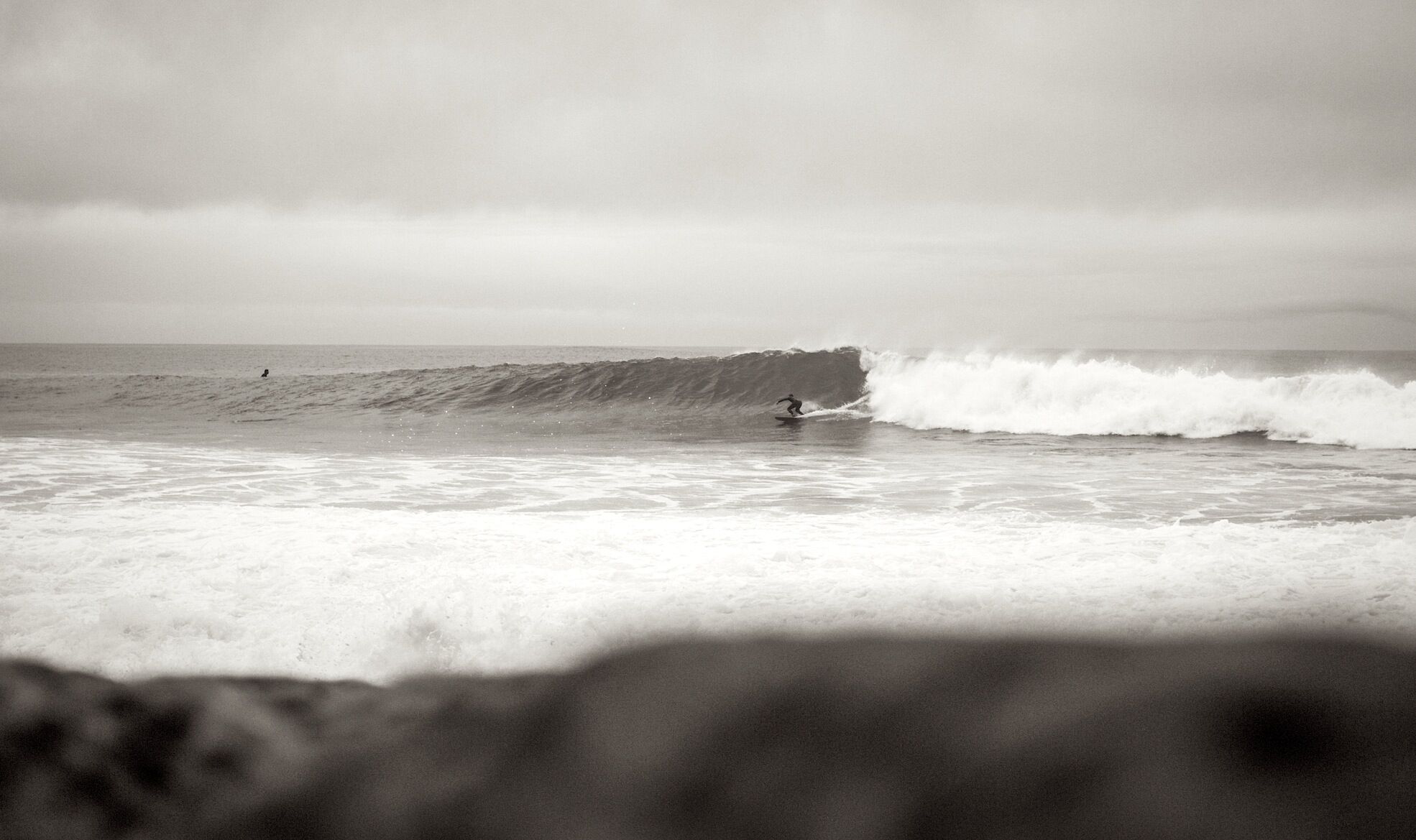 You will definitely have a lot of fun at this surf spot. You can expect a hectic entrance and exit, as well as big, fast walls. If you are looking for big waves, this is definitely the best spot for them.
You can expect big vertical lips and a speed wall because of the winds funneling down from the mountains. This is a strong and powerful right hander, which then washes onto a strong shallow reef.
We definitely recommend heading to this part of Taghazout if you are going to be surfing with a friend. After all, it is going to be a lot easier if you have a friend who can tell you when to rock off behind the shipwreck, ensuring you are shouted in from the shore.
Killer Point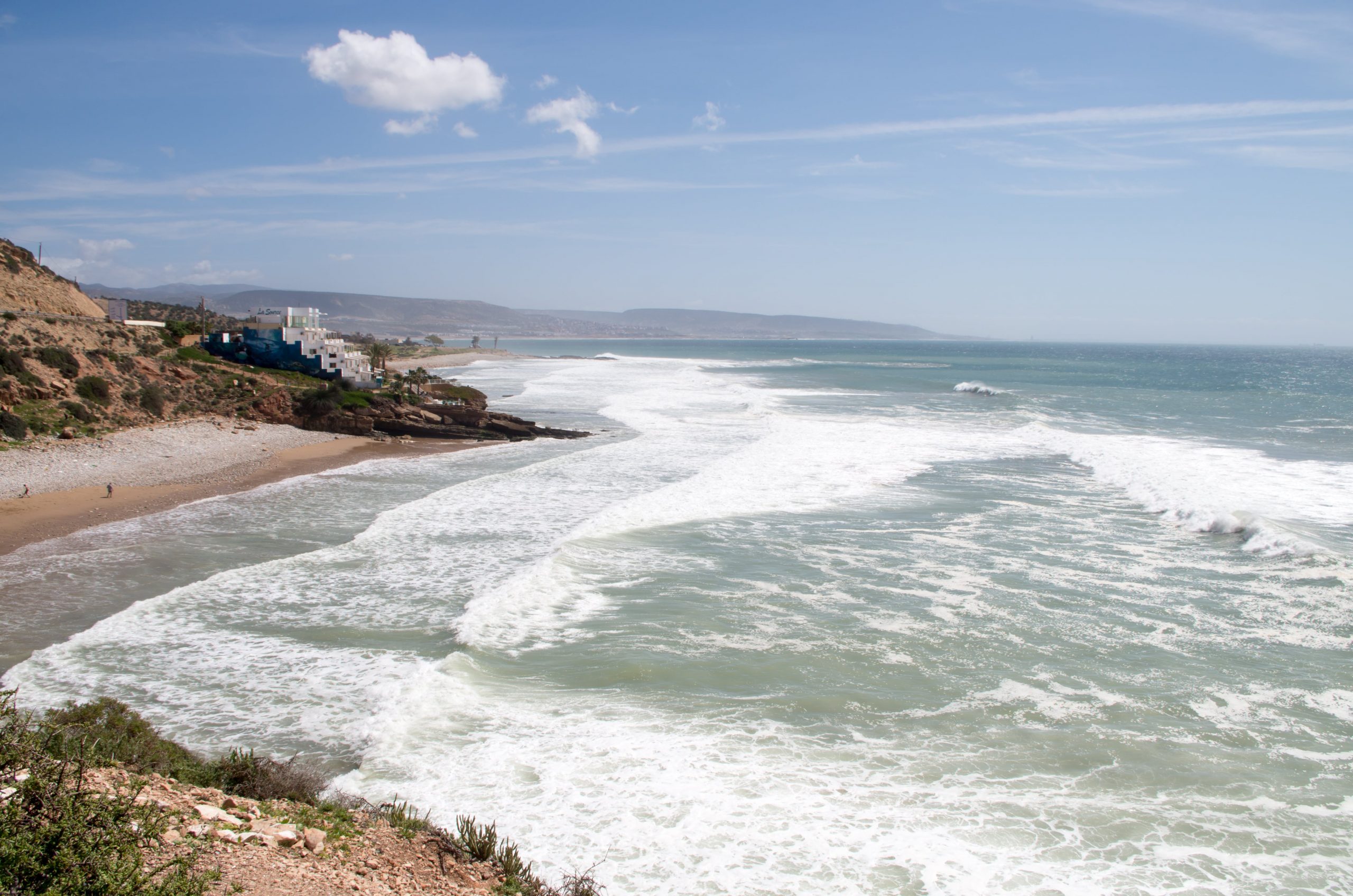 This is another surf spot in Taghazout that is recommended for experienced surfers. This renowned point break is named after the pod of Killer Whales that occasionally visit the area.
In Taghazout, this is possibly the most consistent out of all of the point breaks. You can expect a short left and a sectioning right from the peak in front of the cliff when there is a low tide on small swells.
The vertical walls then rumble down when the swells pick up, resulting in hard sections and barrels. What about when the tide is high? Well, the inside section will fire up as this is an area that the Northerly winds are sheltered from.
La Source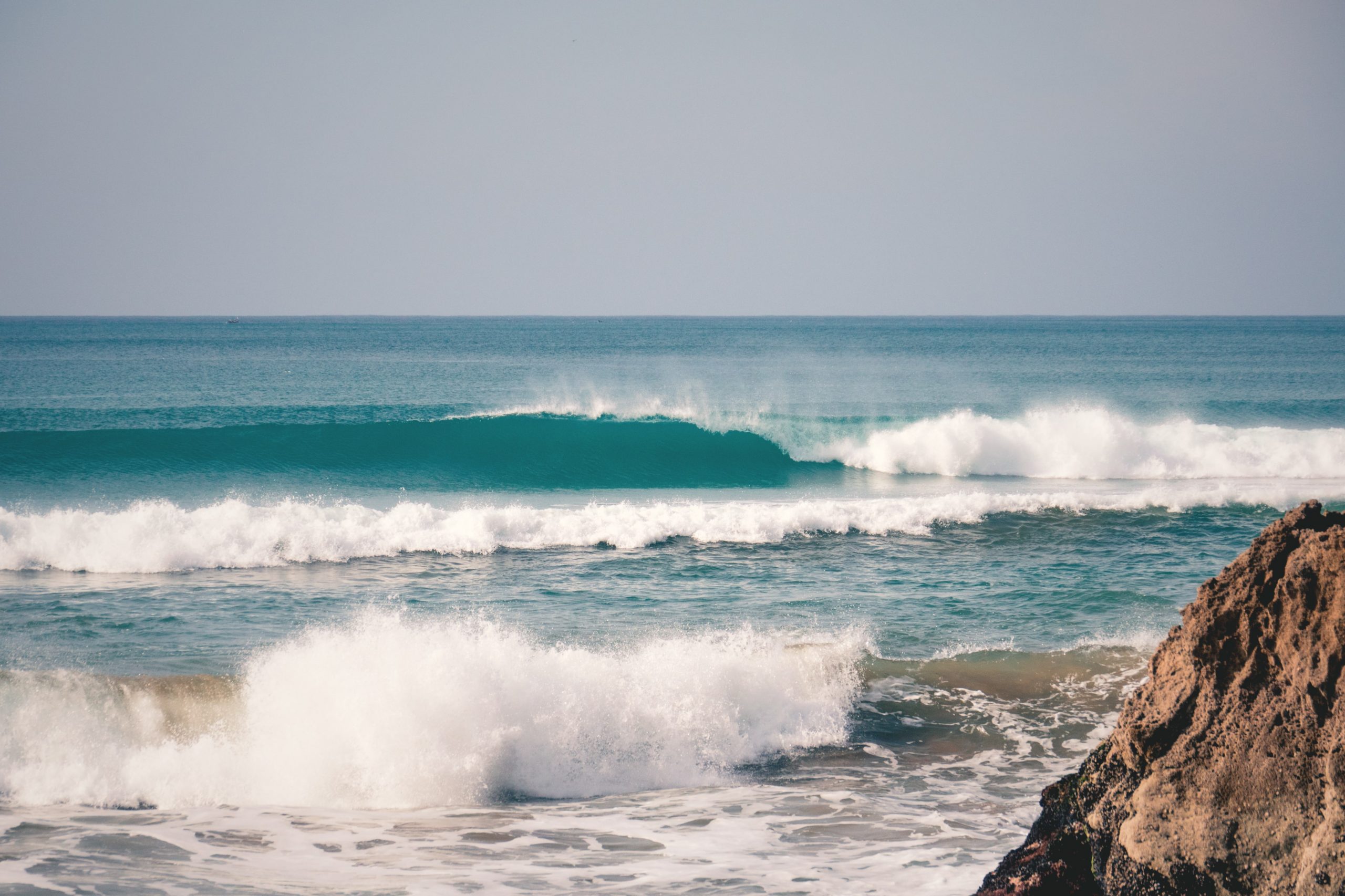 One place that we recommend for intermediate surfers is La Source. This is an A-framing peak, which is playful and probably one of very few waves in Taghazout that provide goofy footers an opportunity to ride on their front-side.
This surf spot is only a short drive to the north of Taghazout. The peak here breaks both right and left over a rocky reef. It is best suited to a shoulder high, small swell, and it is best when the wind is blowing offshore gently.
Panoramas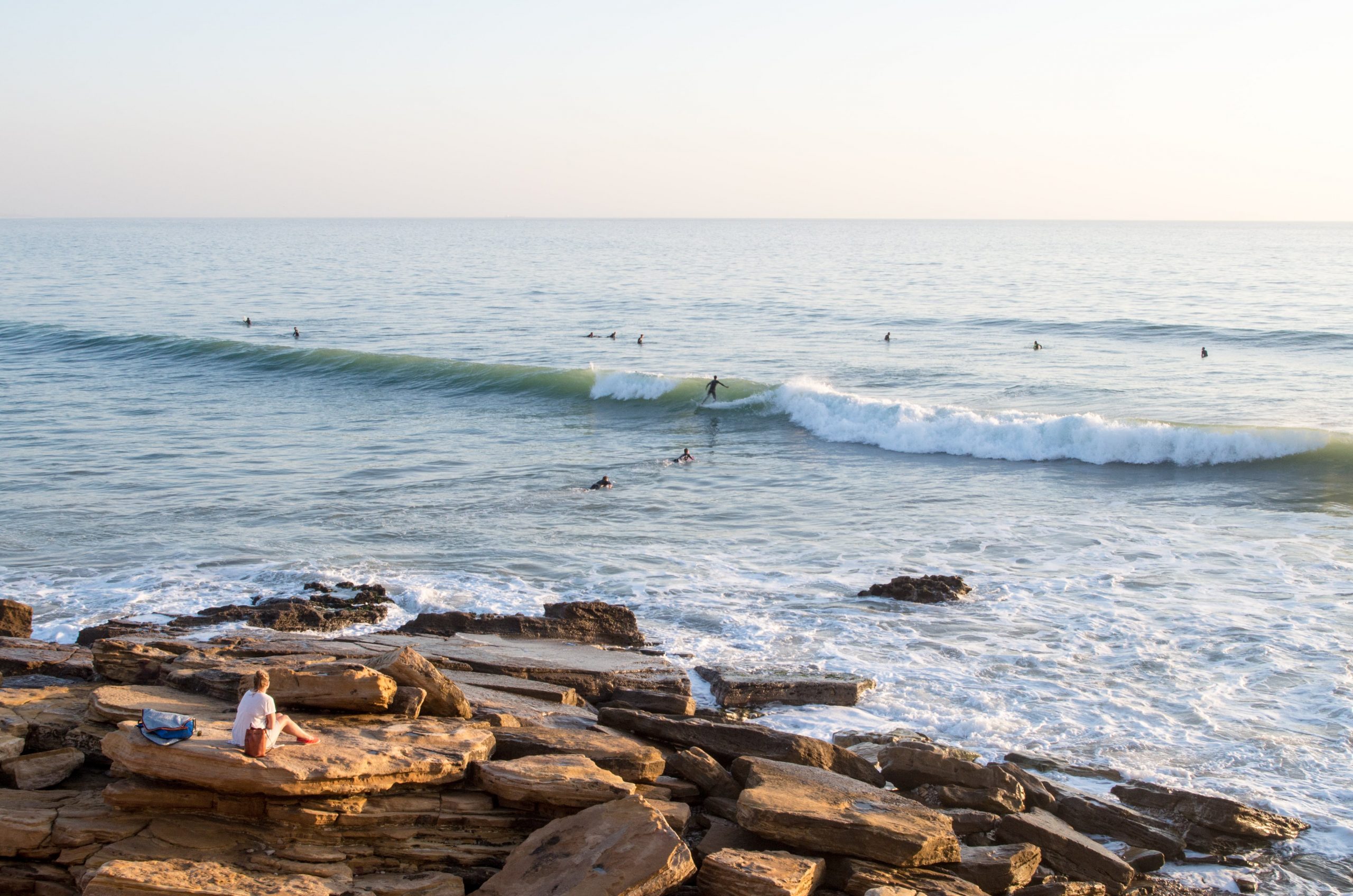 If you are centrally located in Taghazout itself, this is going to be the most easily accessible wave for you. The peak breaks quite close to the shore, as it reels around the point. The rip can be rather strong when there are bigger swells. However, you can counteract this by jumping in off the rocks, saving yourself paddling against the current.
Make sure you keep an eye on the coast, though. You do not want to find yourself swept off the peak and away from the line-up. When compared with other local spots, Panoramas can handle more East in the wind, and so it is definitely worth taking a look at when other breaks are a bit more cross-shore.
Banana Beach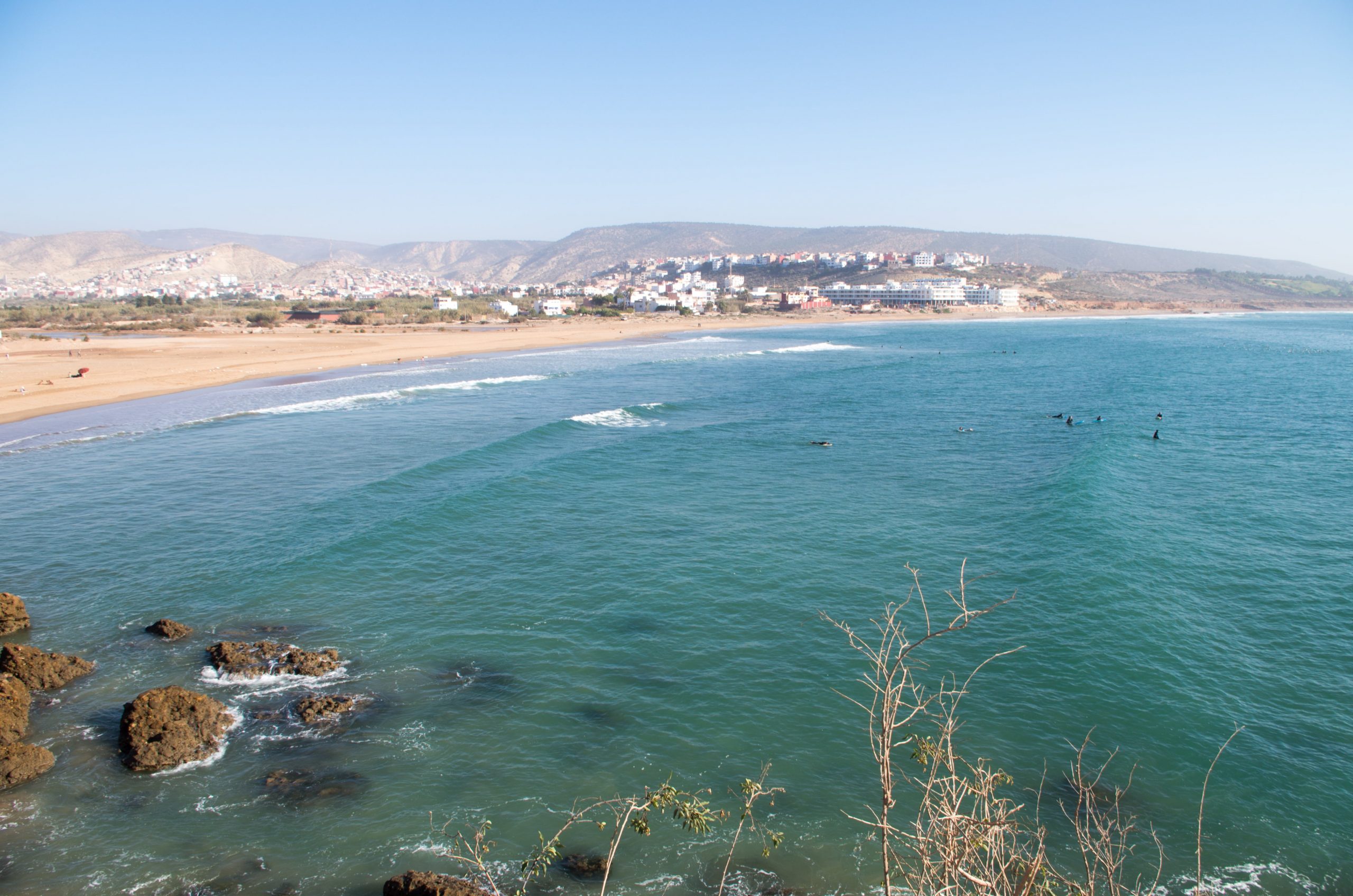 The wave here, at Banana Beach, is probably the best beginner surf spot in this part of Morocco. You can expect gentle right curls around the point, providing easy entry for a long ride into the beach. This spot copes well with swells of all sizes, and it is a favourite amongst longboarders. You will have a lot of fun honing your skills here. A lot of people have learnt how to surf in this part of Morocco.
Devil's Rock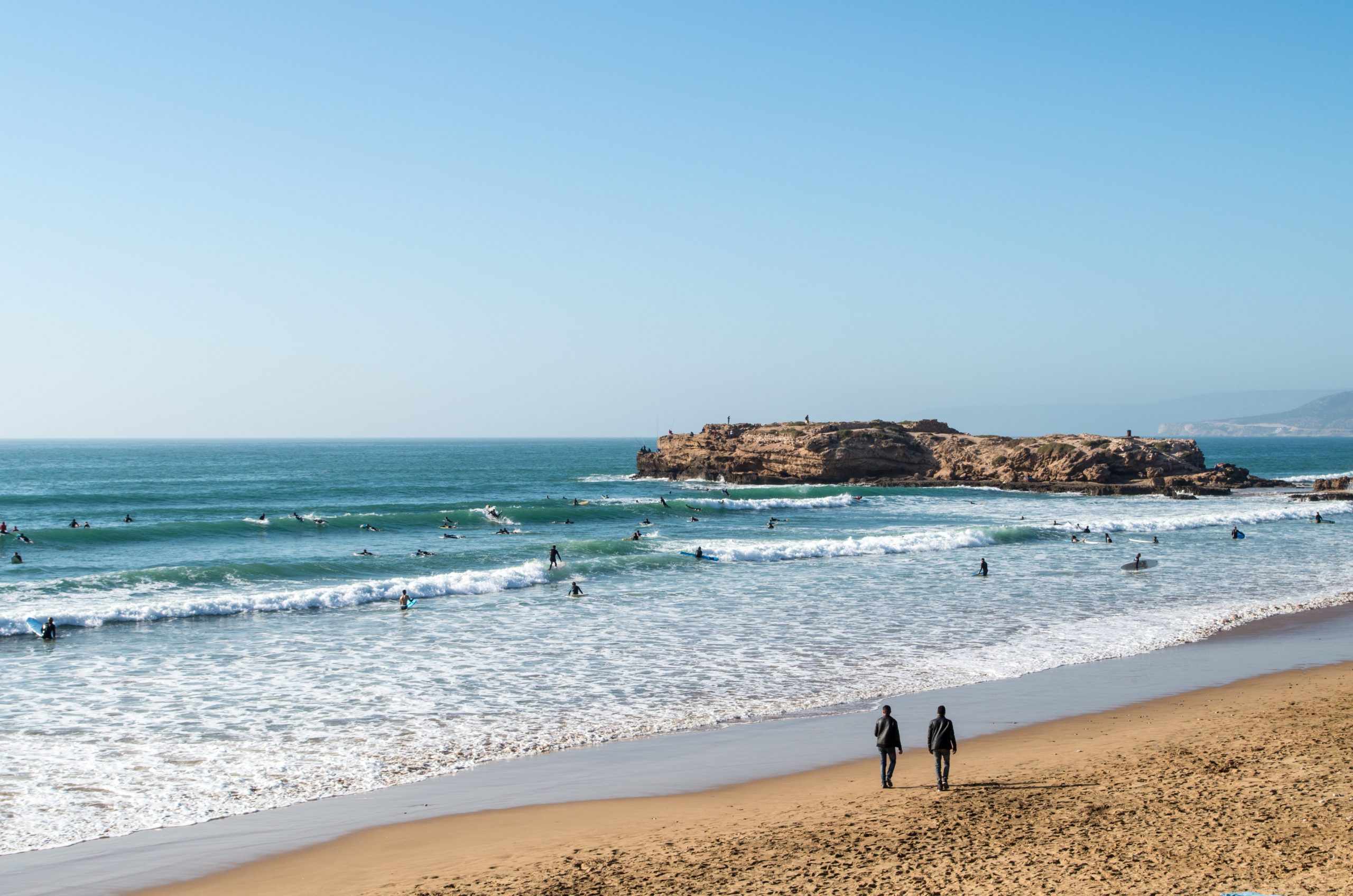 Although this surf spot may have a devil in the name, there is certainly nothing devilish about this surf spot. It is a great place for both beginners who are learning to surf, as well as intermediate surfers. It is a beach break with a sandy bottom, which is perfect if you are on the lookout for a more mellow surf while you are in Morocco.
This area sits on the other side of Banana Beach. You have the chance to go right and light on its A-frame peaks. This is definitely one of the most welcoming surf spots in Morocco, as there are plenty of facilities on the beach. You may even see the odd camel strolling past as well!
Imsouane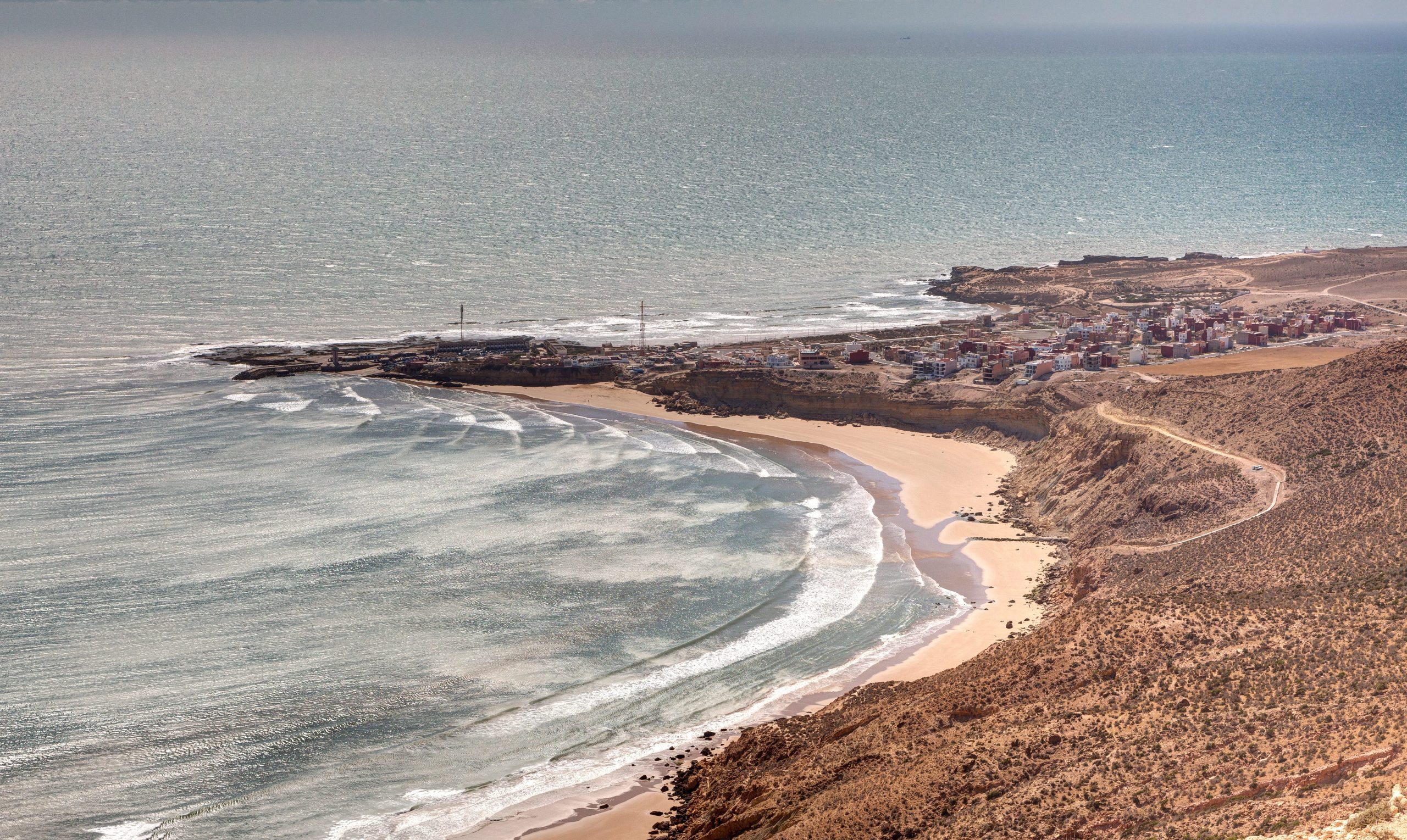 Last but not least, it is only right that we end with the area that is home to the longest wave in Morocco. About an hour and a half from Taghazout, Imsouane is one of the country's best kept secrets, offering surf all year round on endless rolling Atlantic swells. You will find one of the best longboard waves in the world in this little fishing village.
Compared to busy Taghazout and the crowded Agadir, this is definitely the place to visit if you are looking for a serene surf holiday. You will be able to surround yourself with incredible tranquillity and nature. What could be better?
See also: A Complete Guide to Surfing Imsouane in Morocco
Surfboard Hire in Taghazout
It often makes sense to hire a surfboard rather than bring one with you, especially if you are going to be travelling to Taghazout by plane. The good news is that there are plenty of places where you can rent a surfboard in Taghazout.
The Almugar Surf Shop is a good place to get your surfboard, as they offer a number of different packages based on your needs. The Surf Maroc shop also has a good selection of boards for all abilities, whether it is the perfect wave to learn on, endless mellow six-foot walls, or reeling ten-foot points.
Travel Insurance for Surfing Taghazout
Whether you're a seasoned pro or a beginner just catching your first waves, travel insurance should be at the top of your packing list.
Surfing can be an unpredictable sport, and accidents can happen even to the most experienced surfers. Travel insurance will protect you in case of any accidents or injuries, as well as lost or stolen equipment. It can also provide valuable assistance if your flight is delayed or cancelled.
So before you start surfing Taghazout, make sure you're covered by a good travel insurance policy (we recommend checking out Nomad Travel Insurance for Surfing).
Enjoyed A Complete Guide to Surfing Taghazout in Morocco? Check out our other Surf Travel Guides here.