A Complete Guide to Surfing Tamarindo in Costa Rica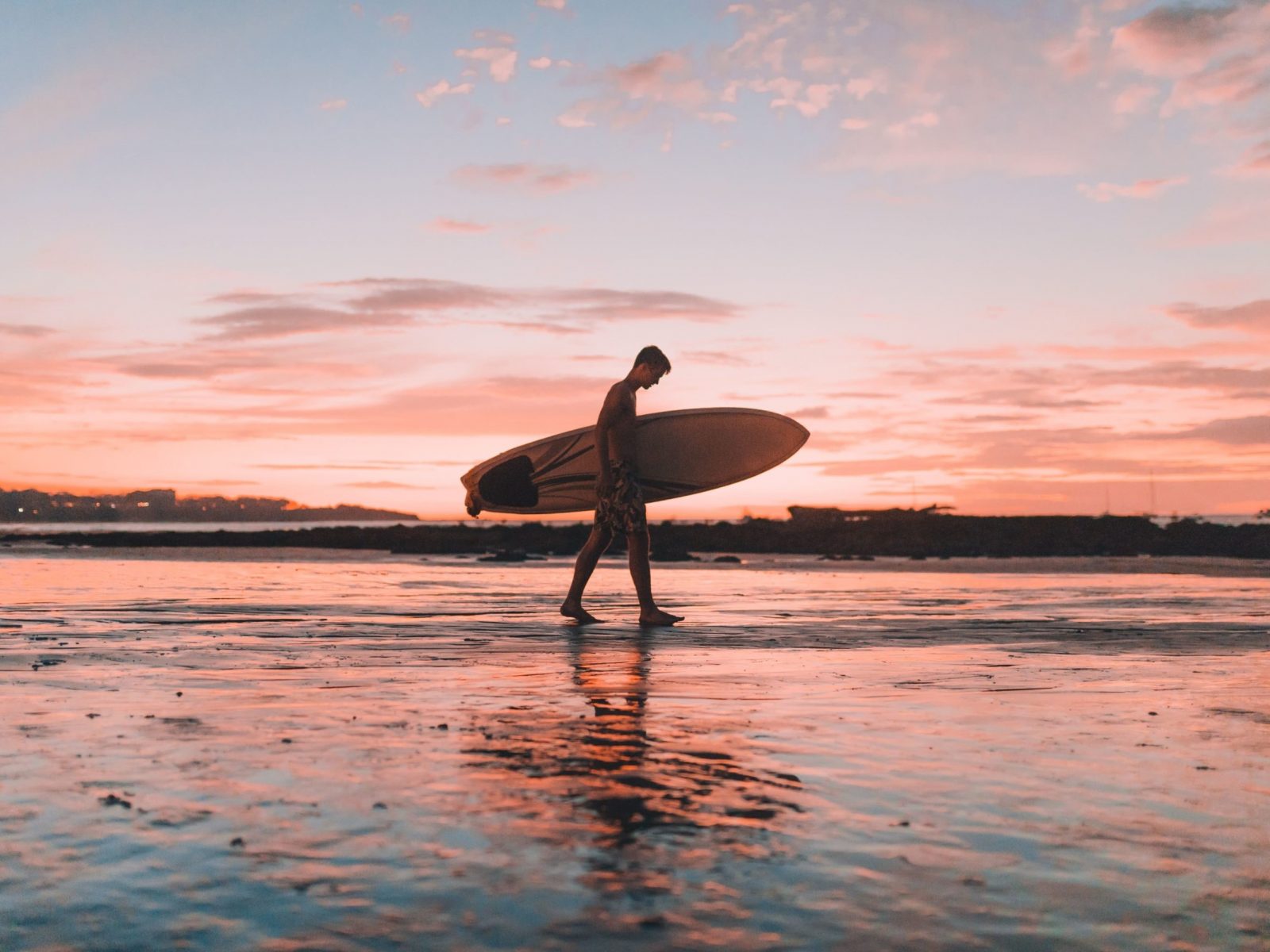 Disclaimer: This article contains affiliate links. We may receive a small commission if you make a purchase through one of these links. Please read our Affiliate Disclosure for more information.
Thinking about surfing Tamarindo in Costa Rica?
This is our complete surf travel guide. Read for everything you need to know about surfing in Tamarindo.
Costa Rica is well-known for its pristine beaches, lush rainforests, and abundant wildlife. But it's also a mecca for surfers from all over the world. Thanks to its consistent waves and year-round warm water, Tamarindo has become one of the most popular surf spots in Costa Rica. Located on the northwest coast of the country, Tamarindo is situated in the heart of Central America. The beach break here produces waves that are ideal for both beginner and experienced surfers. And with plenty of restaurants, bars, and shops lining the beach, Tamarindo is the perfect place to spend a day (or a week) riding the waves.
So whether you're a seasoned surfer or a first-time wave rider, be sure to check out Tamarindo next time you're in Costa Rica.
The Best Time of Year for Surfing Tamarindo
Many people would say that the best time to go surfing in Tamarindo is during the summer months. The water is warm and the waves are typically large and consistent. However, conditions can be crowded and challenging for beginner surfers. For those looking for a less crowded surf spot, autumn is a great time to visit Tamarindo. The water is still warm enough to enjoy, but the crowds have thinned out as the busy summer season comes to an end. Another benefit of surfing in autumn is that the waves tend to be smaller and more manageable, making it a great time for beginners to learn.
Ultimately, the best time to go surfing in Tamarindo depends on your level of experience and what you are looking for in a surf session.
How to get to Tamarindo
Most people get into Tamarindo by air. The nearest airport is Liberia International Airport, with connections from a wide range of cities, including Houston, Atlanta, New York, Panama, Toronto, and Miami. Once you arrive at the airport, you're roughly 45 minutes out of the city.
At the airport, it's easy to arrange for a taxi or shuttle to pick you up, which will take you right to your accommodation in Tamarindo. If you're looking to save some money, it's also possible to take the local bus from Liberia Airport into town. The buses run regularly and the fare is very reasonable, but keep in mind that they do not have a lot of space for luggage.
Surf Camps in Tamarindo
The surf camps in Tamarindo offer a variety of different activities, from beginner surf lessons to advanced clinics. And when you're not riding the waves, you can enjoy all that this vibrant town has to offer, from its lively bars and restaurants to its stunning natural scenery. Here are a few of our favorite surf camps in Tamarindo:
Selina Tamarindo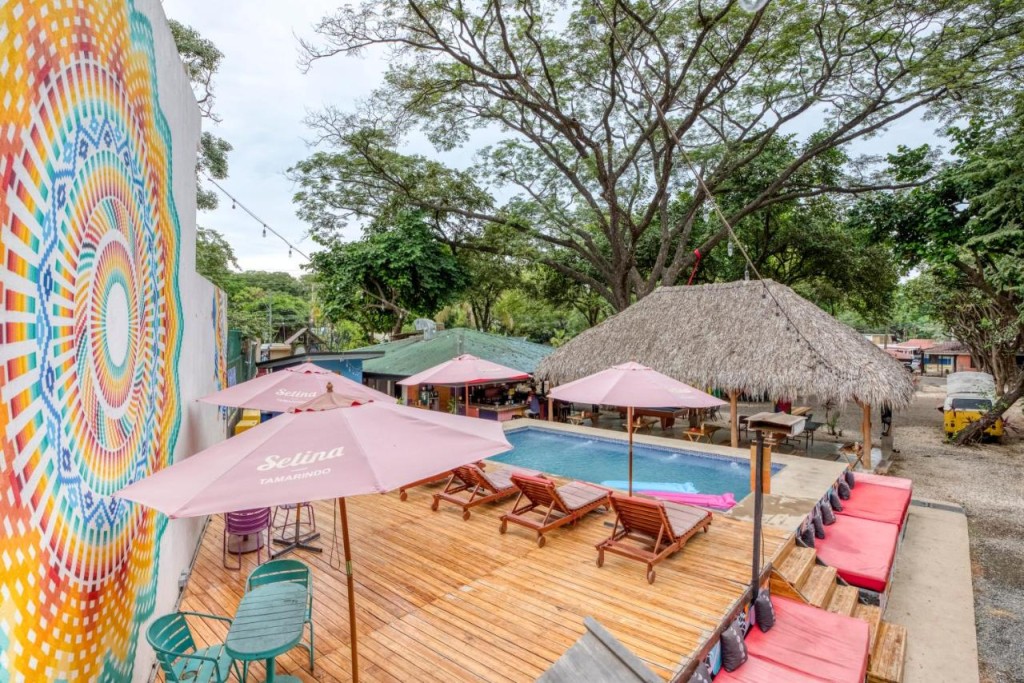 With locations all over Central and South America, Selina is one of the most popular surf camps in the region. And their Tamarindo location is one of the best. The camp offers both dormitory-style and private accommodation, with all-inclusive surfing packages starting at just €450 per week.
The simple dorms sleep 4 to 10 guests, and feature bunk beds, lockers, and shared bathrooms, along with free Wi-Fi. Private rooms are also available and come with either a private bathroom or access to a shared bathroom.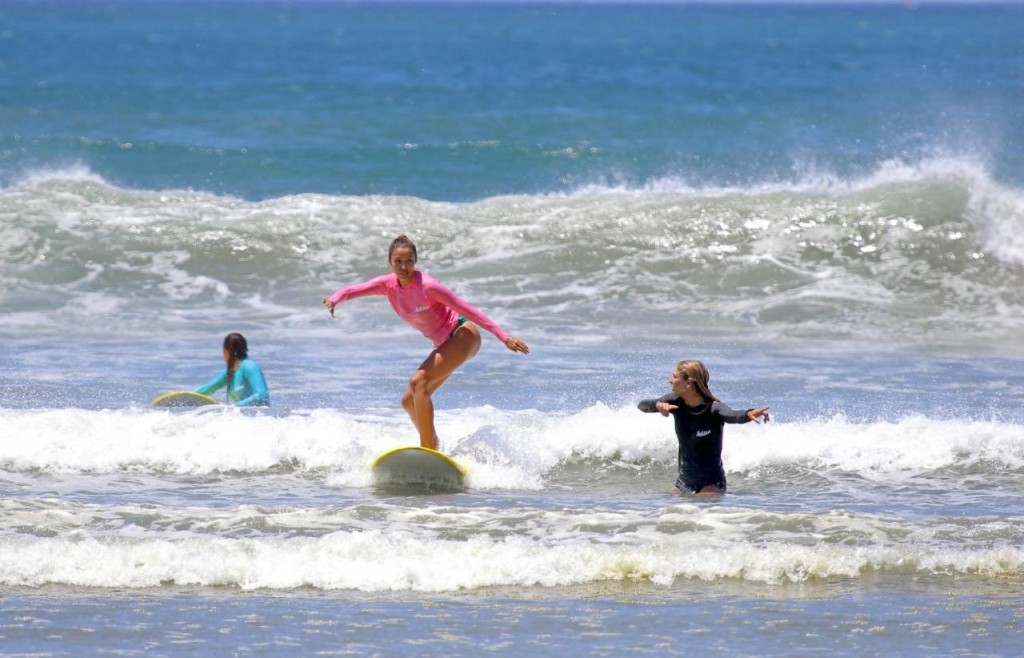 Amenities at Selina Tamarindo include a communal kitchen, a game room, and a laid-back restaurant/bar with terrace seating. You'll also enjoy the garden, outdoor pool, and guest lounge. Yoga lessons and local tours are available to help you make the most of your stay. And if you need to get some work done, the co-working facilities are perfect.
Guests can choose between a 6-day or 11-day all-inclusive package when staying with Selina Tamarindo. Both packages include daily surf lessons, shared or private accommodation, surfboard and wetsuit hire, and a daily breakfast buffet.
For digital nomads or more experienced surfers looking for more flexibility, Selina Tamarindo also offers a Surf Guiding Package and an all-inclusive Co-working package.
With its great location and affordable prices, Selina Surf Camp is a great option for budget-minded surfers.
Surf Spirit Costa Rica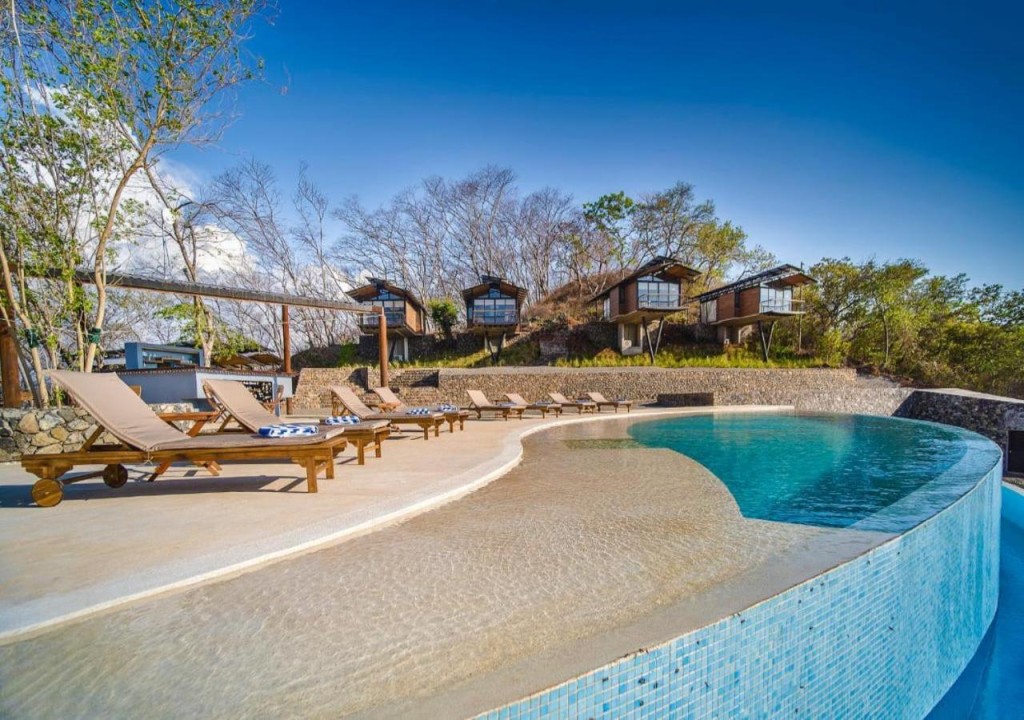 If you're looking for a more luxurious surf camp experience, Surf Spirit Costa Rica is perfect for you.
This high-end surf retreat is located a short drive from Tamarindo Beach. And while it's a bit more expensive, it's definitely worth the splurge. The secluded resort features beautiful wooden bungalows with stunning views of the mountains and the ocean, and an infinity pool that overlooks the nearby surf.
Packages at Surf Spirit Costa Rica start at $3241 per person for a 1-week stay.
The 1-week surf camp package includes 6 days of surf lessons, 1 private yoga lesson, 1 1-hour massage, and a snorkeling trip to the Catalinas Islands. You'll also receive a pack of your surfing photos and a T-shirt. Plus, you'll enjoy a delicious breakfast buffet each morning.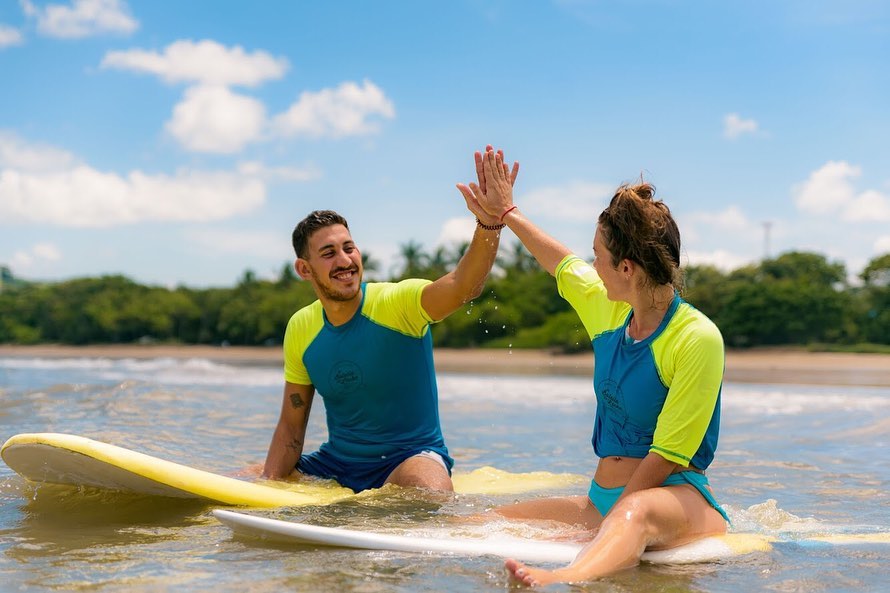 With its luxurious accommodations and top-notch amenities, Surf Spirit Costa Rica is the perfect place to relax and learn to surf in style.
You can book a 1-week package with Surf Spirit Costa Rica now starting from $3241 per week.
Dreamsea Surf Camp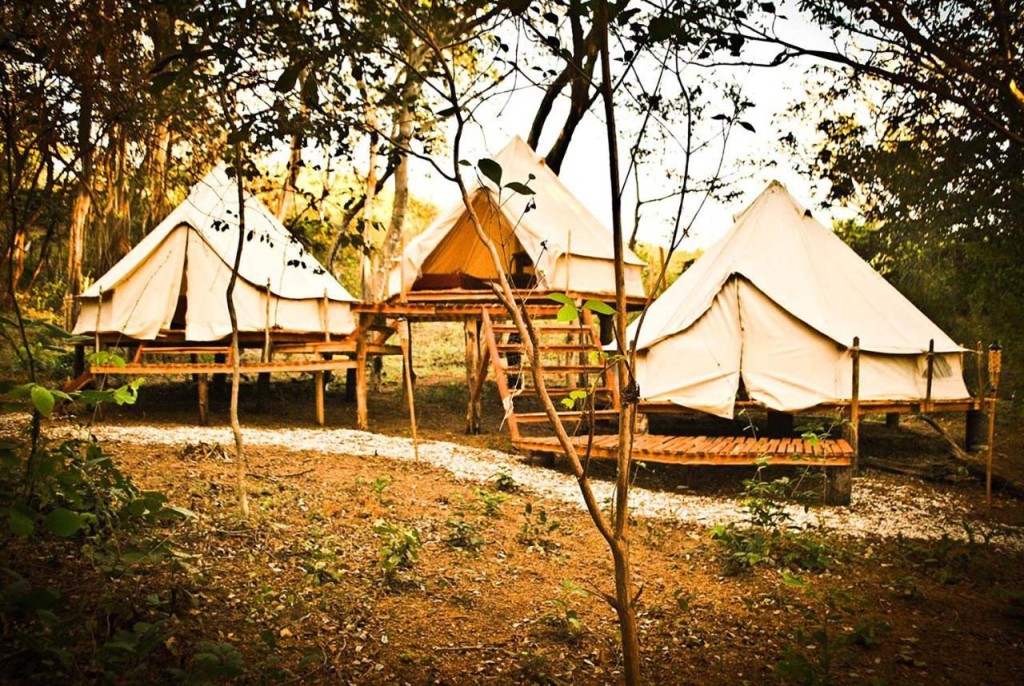 Nestled in the lush jungles of Tamarindo, Costa Rica, Dreamsea Surf Camp is a luxurious eco-friendly retreat designed for surfers and nature lovers alike. The 10,000 square meter camp features glamping tents with all the amenities of home, surrounded by acres of pristine rainforest.
The camp's location is ideal for surfing, as it's just a 10-minute drive from some of the best waves in Tamarindo. And when you're not surfing, you can enjoy many other amenities, including table tennis, loaner bicycles, as well as a selection of board games, and slackline.
Guests can choose between shared or private accommodation on the all-inclusive 1-week package. This also includes daily surf lessons, surfboard and wetsuit hire, a daily breakfast buffet, and all your evening meals.
If you're looking for a truly unique and magical surfing experience, Dreamsea Surf Camp is the place for you.
You can book a 1-week package at Dreamsea Surf Camp now from just $375 per week.
See also: 4 of the Best Surf Camps in Tamarindo
Surf Hotels in Tamarindo
There are also a number of surf hotels that cater to visitors who come to surf Tamarindo. These hotels offer a variety of amenities, such as swimming pools, sun decks, and spa services. Most also offer surf lessons and equipment rental. As a result, they are the perfect place to stay for anyone looking to catch some waves in Tamarindo. Here are some of our favorite surf hotels in Tamarindo:
The Coast Beachfront Hotel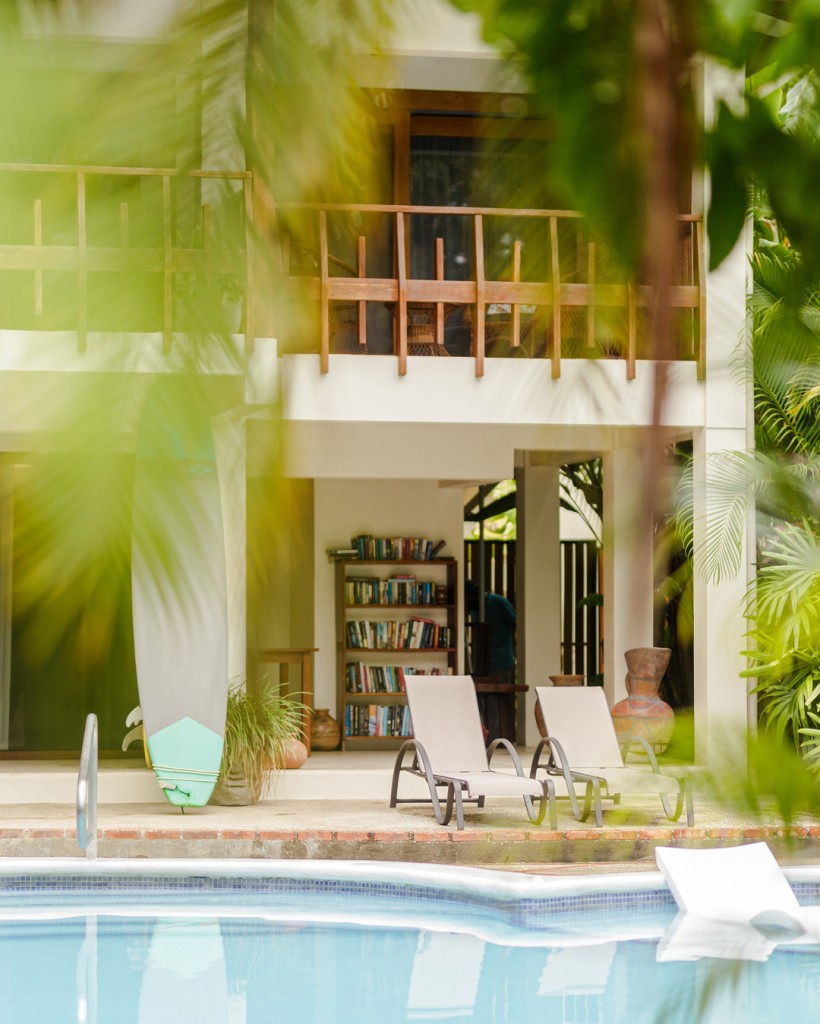 The Coast Beachfront Hotel is a great choice for surfers. This hotel is located right on Tamarindo Beach, so you can hit the waves as soon as you step out of your room.
The Coast Beachfront Hotel offers a variety of room types to choose from, including standard rooms, suites, and bungalows. All of the rooms are elegantly appointed and come with private balconies or terraces. And of course, all of the rooms have stunning ocean views.
The hotel also has its own surf school, so even if you're a beginner, you can learn how to surf while staying at The Coast Beachfront Hotel. The hotel can also help you arrange other activities, like stand-up paddleboarding and kayaking.
Book a room at The Coast Beachfront Hotel now from $184 a night.
Boho Tamarindo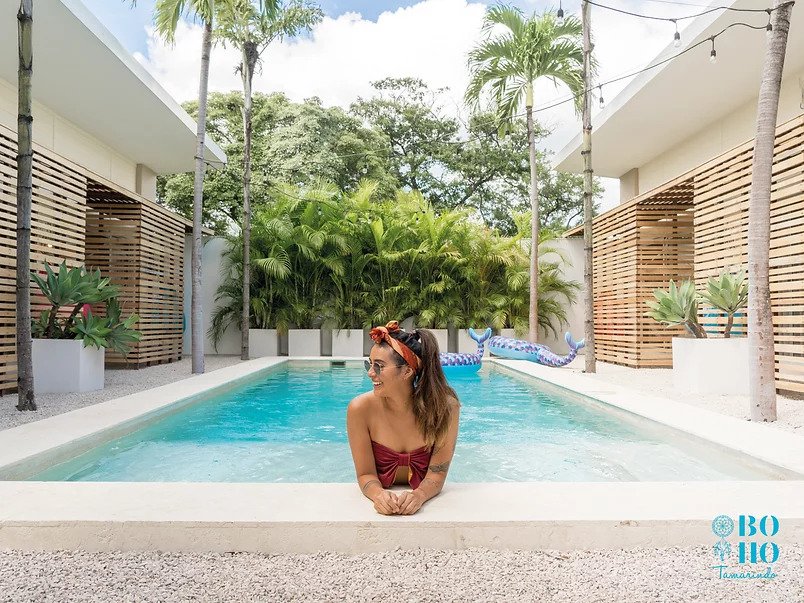 Just a 2-minute walk from Tamarindo Beach you'll find Boho Tamarindo. This casual hotel is perfect for surfers who want to be close to the action but don't need all the bells and whistles of a luxury resort.
The 8 tranquil, laid-back rooms offer all the basics you need for a comfortable stay, like free Wi-Fi, air conditioning, and private bathrooms. Each room also has a balcony or patio, where you can relax and enjoy the ocean breeze.
Plus, Boho Tamarindo is just a 5-minute walk from several great surf spots, including Playa Grande and Playa Langosta. So whether you're a beginner or an experienced surfer, you'll be able to find the perfect wave.
Book a room at Boho Tamarindo now from $145 a night.
Capitán Suizo Beachfront Boutique Hotel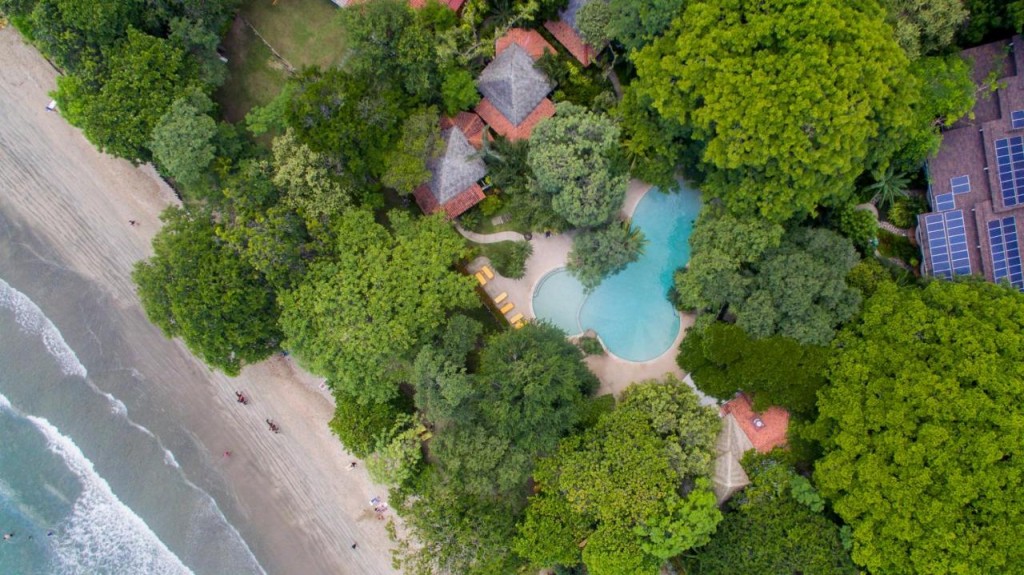 If you're looking for a luxury surf resort in Tamarindo, look no further than Capitán Suizo. This beachfront boutique hotel offers all the amenities and services you need for a 5-star stay.
The hotel has its own private beach club, where you can enjoy activities like stand-up paddleboarding, kayaking, and snorkeling. Or, if you'd rather relax on land, you can take a dip in the infinity pool or get a massage at the on-site spa.
When it comes to dining, Capitán Suizo has you covered with 2 gourmet restaurants and a beachfront bar. The hotel's Executive Chef prepares international dishes with a Costa Rican twist, using fresh and locally sourced ingredients. Trust us, you won't be disappointed.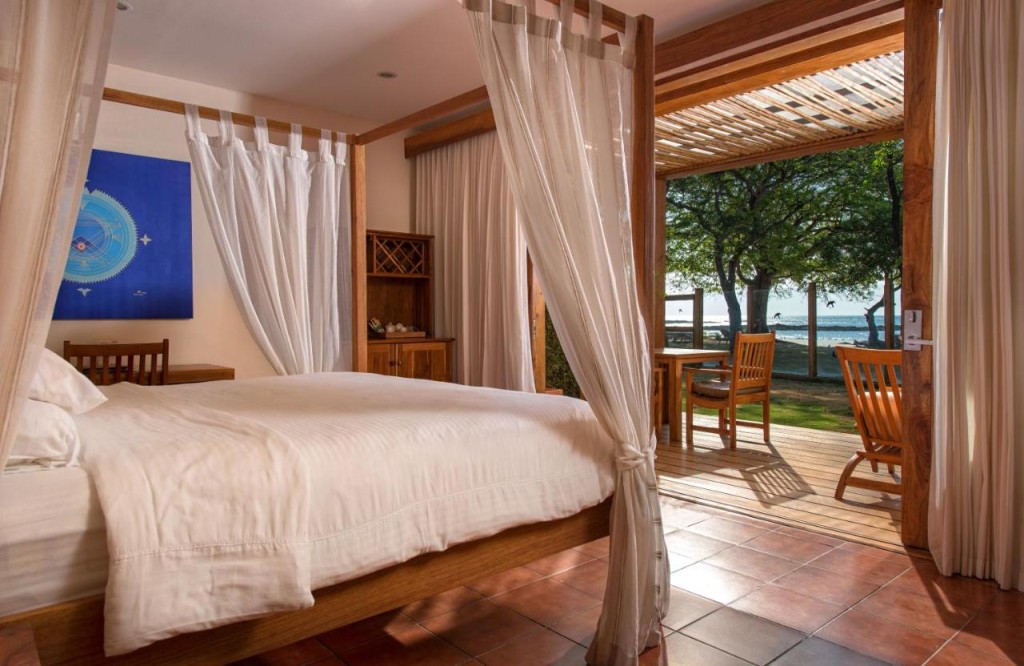 As for accommodations, Capitán Suizo offers guests a choice of suites, bungalows, and villas. Each room is elegantly decorated and comes with a private balcony or terrace. And of course, all of the rooms have stunning ocean views.
Book a room at Capitán Suizo Beachfront Boutique Hotel now from $299 a night.
See also: 6 of the Best Surf Hotels in Tamarindo
Tamarindo Surf Spots
There are plenty of fantastic surf spots near Tamarindo, whether you want to stick close to the city and all of its surf schools or if you want to head out for the more adventurous and often more challenging spots north of the city. Here are some of the best surf spots in Tamarindo:
Playa Tamarindo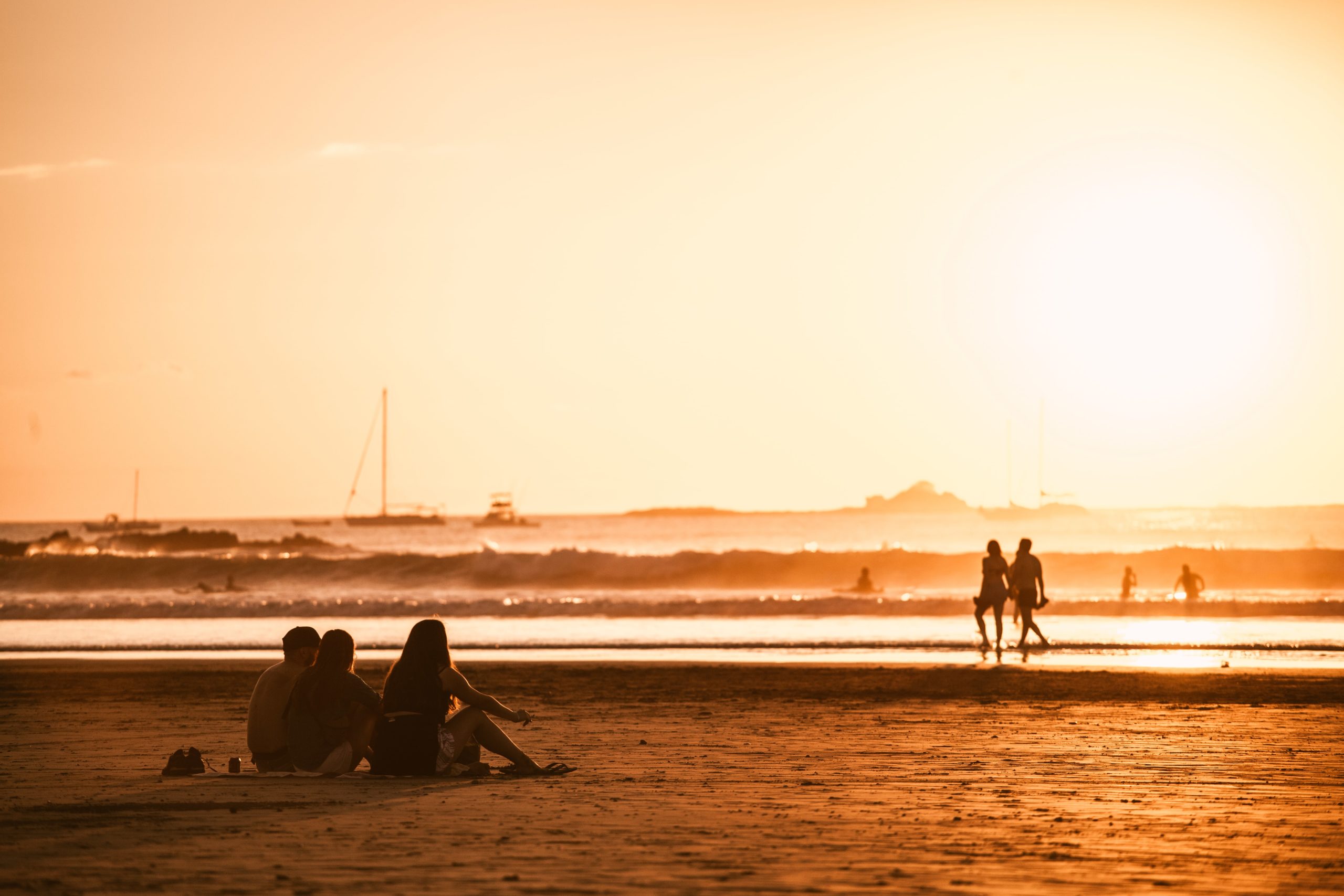 The beach that's situated right outside the city, a long coast of smooth white sand and fantastic waves at the mouth of a river. Strong currents during tidal fall make for some excellent surfing, especially on the breaks of Pico Pequeno and El Estero. These are practically designed for more advanced surfers, but there are plenty of surf schools nearby to help newcomers sharpen their skills.
Playa Langosta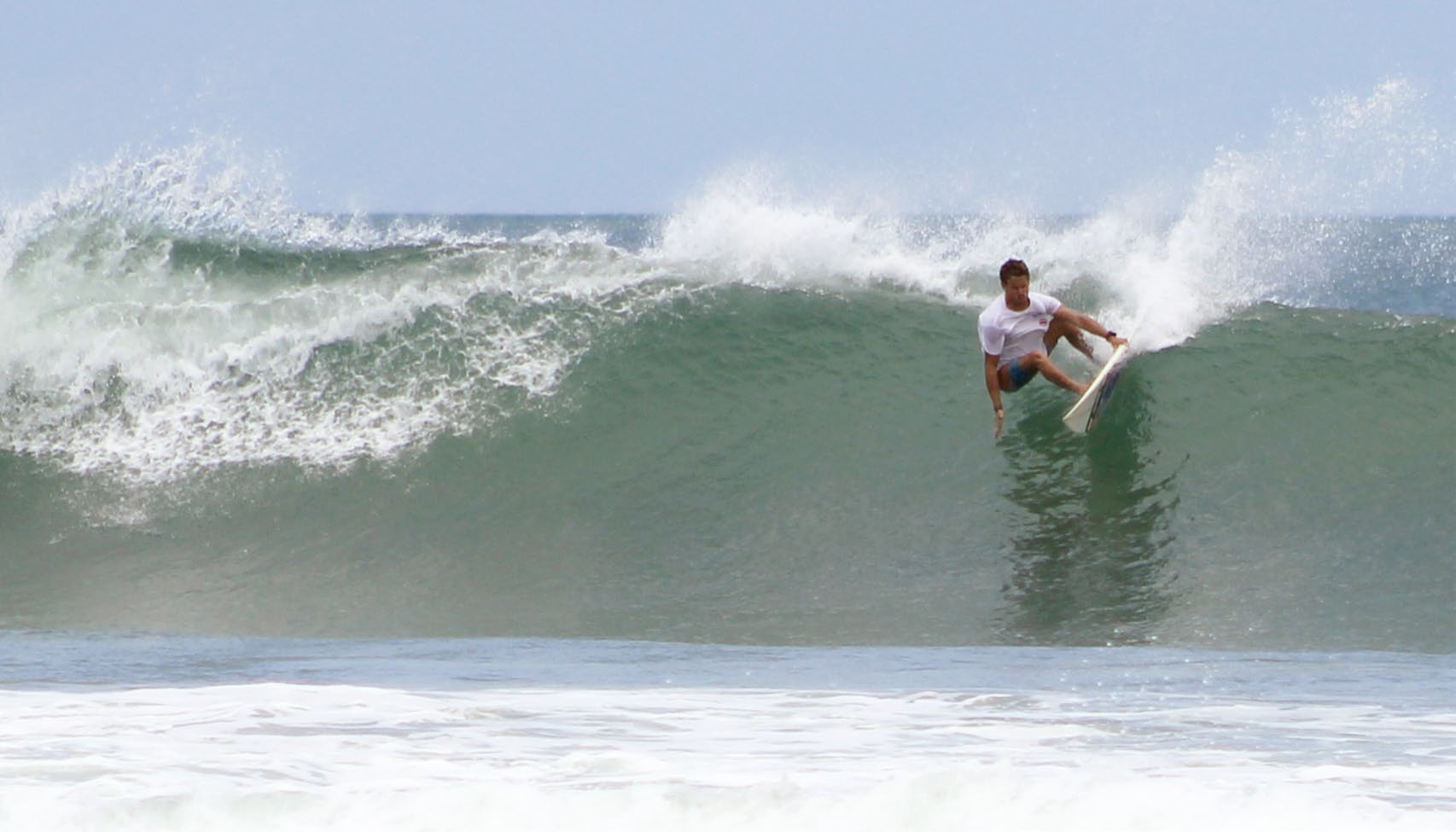 Head south from Playa Tamarindo, and you'll find a smaller beach that doesn't see as many crowds, making it a more secluded, peaceful spot than the city's main beach. The smooth white sand is just as gorgeous, and the river mouth of Rio San Francisco offers fantastically powerful surf breaks that are a challenge even to veterans, but a fun and exhilarating one at that.
Isla Capitan
If you're willing to take the trip off mainland Costa Rica, then you can find a tiny island just in front of Playa Tamarindo. Just past the exposed reef break is the remote beach of Isla Capitan. There are waves to catch on both the north and south side of the island, but it's only recommended for very experienced surfers and only during low tide. The rocks beneath the waves can be dangerous for swimmers, as well.
Playa Grande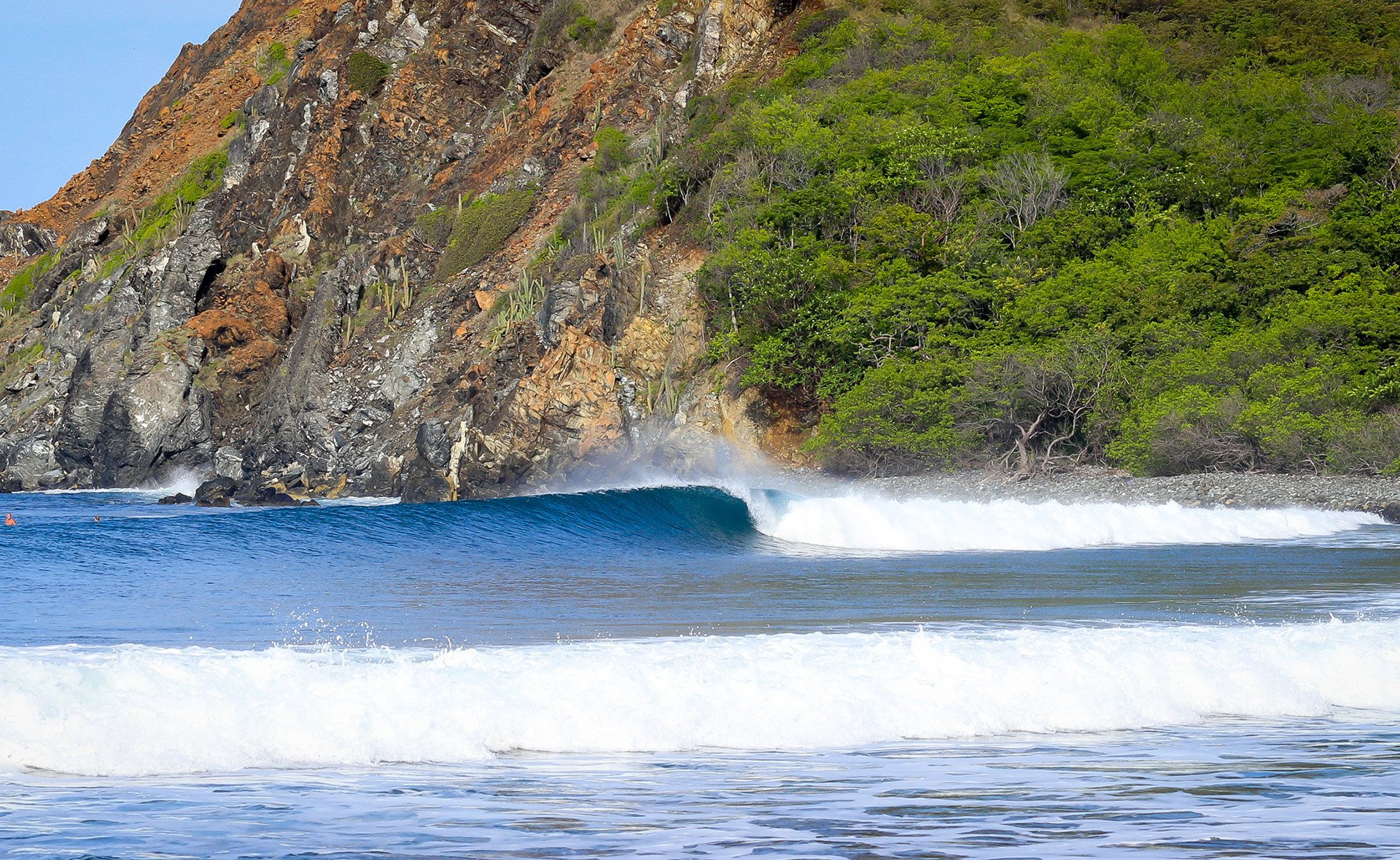 To the south of Tamarindo is the challenging Playa Langosta, but things are a lot easier going on the north side, where you can find Playa Grande. Here, long rides and deep barrels are the norm, making it a much better spot for those who aren't quite as experienced as some of the other beaches demand.
Witches Rock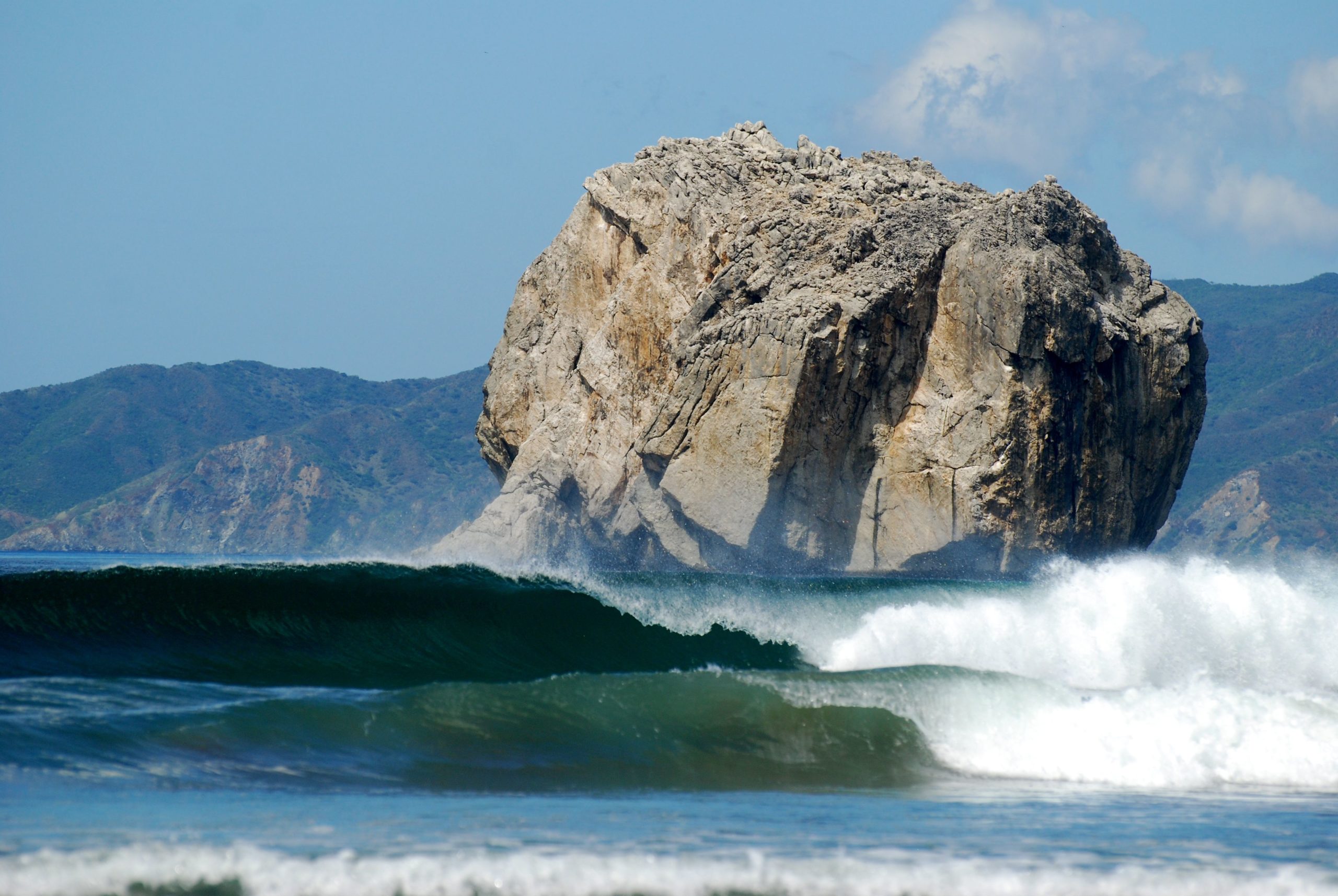 This spot is a surf school and one that has been very well placed because it's one of the best places for beginners surfing Tamarindo. Here is where you will catch some of the easiest waves, but it's also right next to the more powerful swells created by the river mouth, meaning that it's the perfect place to "level up" your skills before moving on.
Avellanas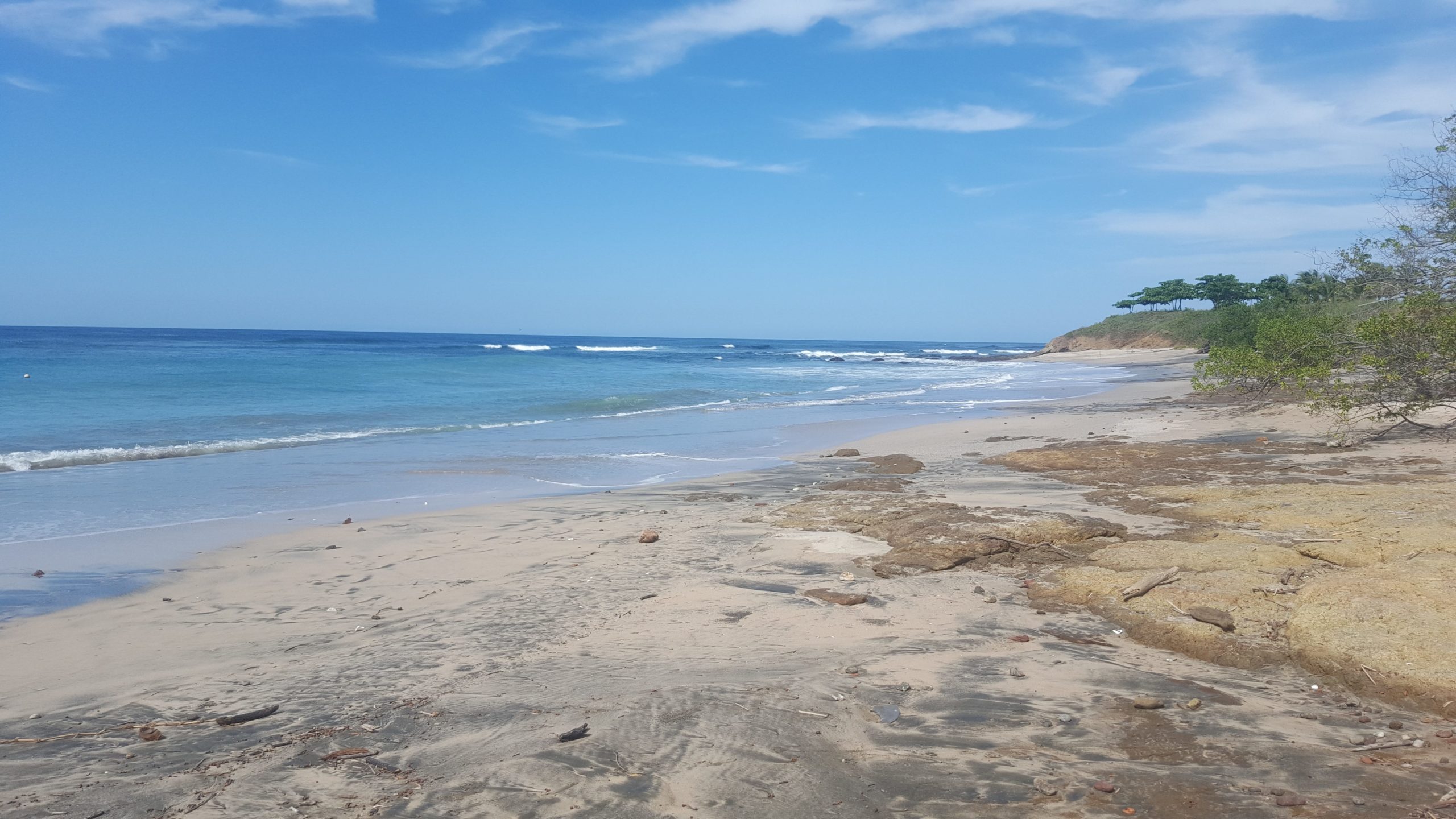 This place is good for beginners and intermediates alike. It's all about when you arrive. When the waves are small, especially near the big dead tree that acts as a surfing landmark. Further away from there, on big wave days, it becomes challenging even for more experienced surfers so pay attention to who is out on the waves. If you see people who look like they can handle themselves against most waves, then it's probably not the best time for a newbie to get out there.
Surf Lessons in Tamarindo
There are plenty of surf schools in Tamarindo, so you're sure to find one that's right for you. With their help, you'll be standing up on your surfboard in no time.
Tamarindo Tours offers group surf lessons for just $50 per person, which includes all of the necessary equipment. Lessons take place on Playa Tamarindo. With its gentle waves and sandy bottom, it's the perfect place to learn how to surf.
Alternatively, if you're staying locally, you'll find most hotels can arrange lessons on your behalf. There are also plenty of surf shops in town that are happy to provide lessons as well as board and wetsuit hire. We recommend having a walk around and seeing where you can get the best deal.
Surfboard Hire in Tamarindo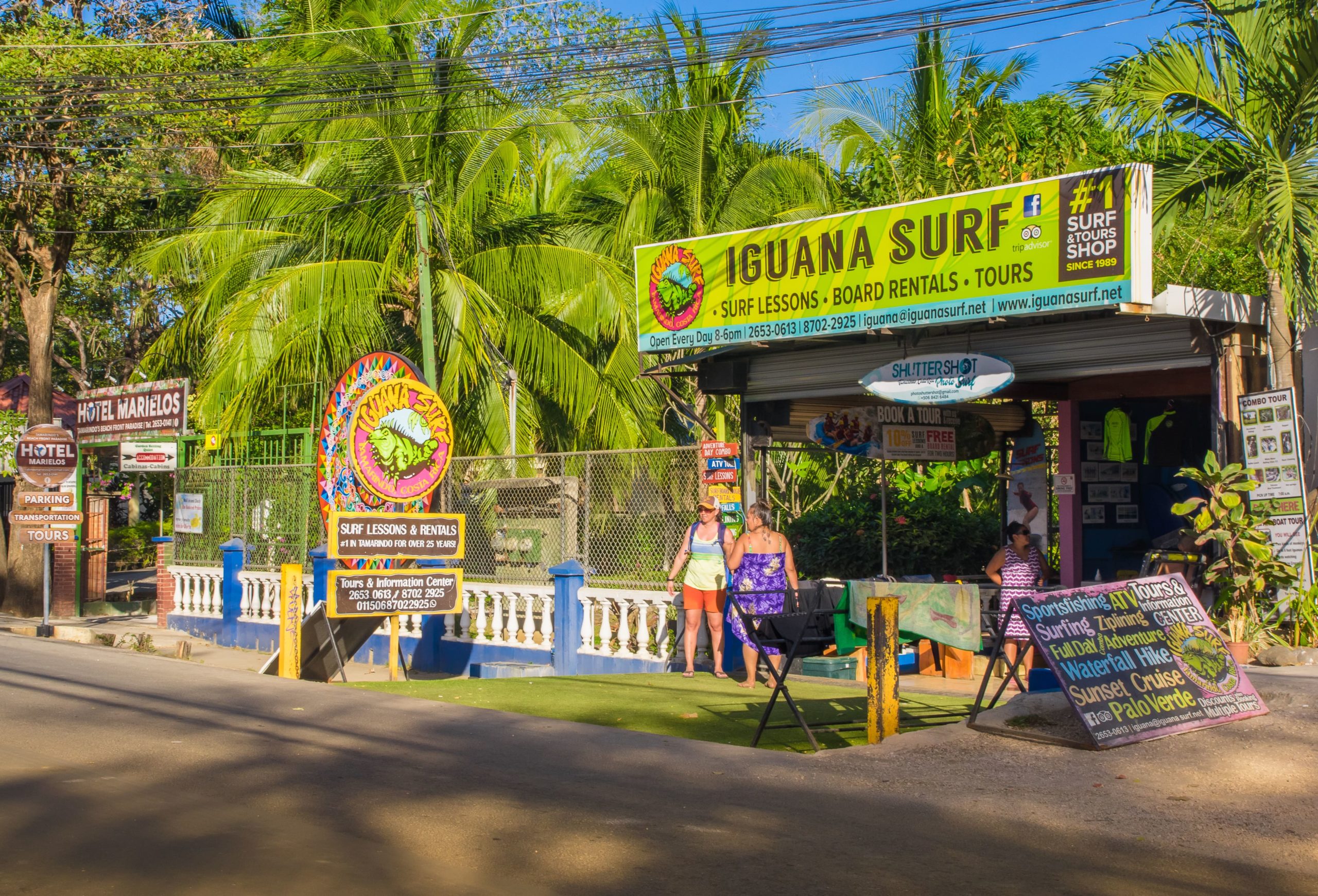 Naturally, since it attracts so many travelers, and supports a strong community of surfers all year round, it should be no surprise there are plenty of surf shops with accessible rentals for those who didn't bring their own board.
Iguana Surf Surfboard Rentals is a surf school and surf shop that offers a wide range of surfboards, including shortboards, funboards, hybrid boards, and longboards. There are over 125 boards, measuring from as short as 5'6" up to 10', with both epoxy and soft-top options available, meaning there are boards for surfers of any level of experience. They offer plenty of help in selecting a board to fit your needs, and you can even get half off rental if you take a surf lesson with them.
Kelly's Surf Shop Rent-A-Board is one of the shops most trusted by the locals, this place offers all kinds of water sporting goods, as well as tours. When it comes to surfboard hire, they're better designed for those who know what kind of board they need when they're surfing Tamarindo. They have a standard selection of boards, as well as a somewhat more expensive premium line-up.
If you're totally new to surfing, then Witch's Rock Surf School not only helps you select a board rental suitable for beginners but is also placed in front of one of the most newbie-friendly surf spots on Playa Tamarindo.
Travel Insurance for Surfing in Tamarindo
Whether you're a seasoned pro or a beginner just catching your first waves, travel insurance should be at the top of your packing list.
Surfing can be an unpredictable sport, and accidents can happen even to the most experienced surfers. Travel insurance will protect you in case of any accidents or injuries, as well as lost or stolen equipment. It can also provide valuable assistance if your flight is delayed or cancelled.
So before you start surfing Tamarindo, make sure you're covered by a good travel insurance policy (we recommend checking out Nomad Travel Insurance for Surfing).
Enjoyed our Complete Guide to Surfing Tamarindo in Costa Rica? Check out our Complete Guide to Surfing Costa Rica.