A Complete Guide to Surfing Tofino on Vancouver Island

Disclaimer: This article contains affiliate links. We may receive a small commission if you make a purchase through one of these links. Please read our Affiliate Disclosure for more information.
This is our Complete Guide to Surfing Tofino on Vancouver Island.
Nestled on the rugged west coast of Vancouver Island, Tofino is a surf town that beckons adventurers and wave enthusiasts from around the world. With its pristine beaches, lush rainforests, and consistently excellent surf conditions, Tofino has earned its reputation as a premier surf destination in Canada.
But what sets Tofino apart from other surf spots isn't just its incredible waves; it's the unique blend of coastal culture, stunning natural beauty, and a tight-knit surf community that makes this place truly special. Whether you're a seasoned pro looking for the perfect ride or a curious beginner eager to catch your first wave, Tofino offers an unparalleled surf experience.
In this comprehensive guide, we'll take you through everything you need to know to make the most of your Tofino surf trip. From when to visit for optimal surf conditions to the best surf spots for your skill level, we've got you covered. We'll also delve into the essential surf equipment, the importance of lessons and safety, the vibrant local surf culture, and so much more.
So, grab your board, wax it up, and get ready to paddle out into the Pacific.
Planning Your Tofino Surf Trip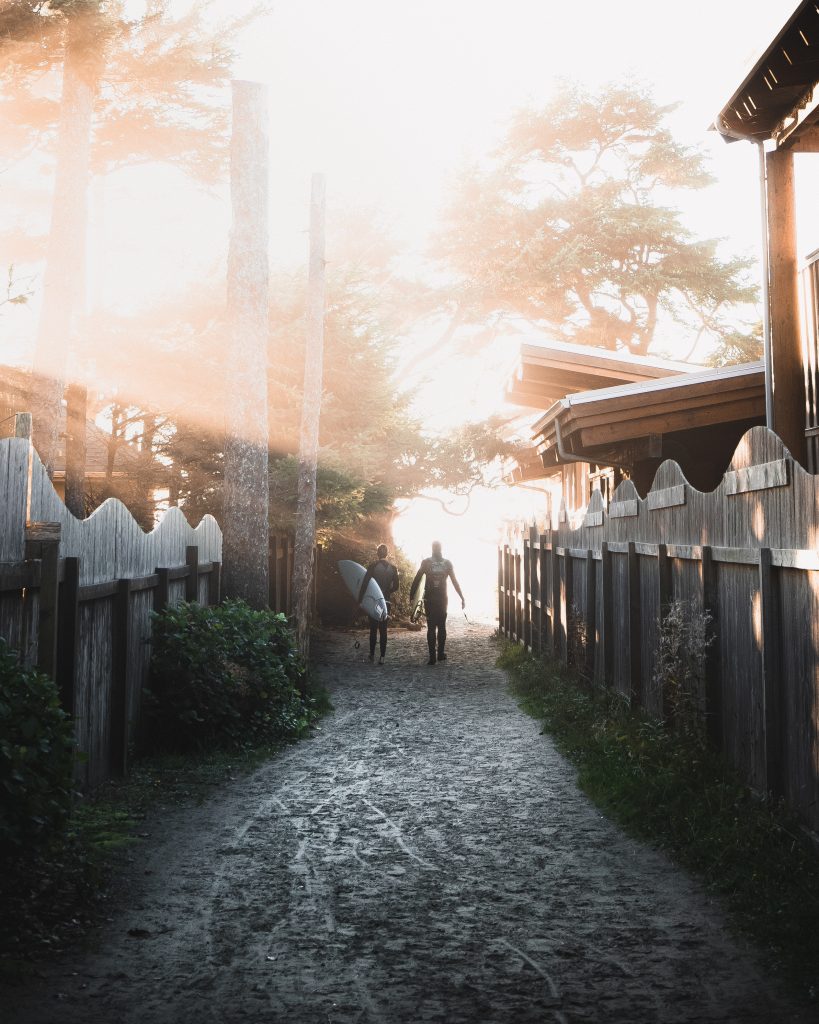 Before you can ride the waves in Tofino, it's essential to plan your surf trip strategically. Tofino's charm lies not only in its incredible surf but also in its unique coastal environment and the varying conditions it offers throughout the year.
In this section, we'll guide you through the essential steps to ensure your Tofino surf adventure goes off without a hitch.
What is the best time of year for surfing in Tofino?
Tofino experiences a dynamic climate and surf seasonality, so here's a breakdown of the seasons and their suitability for surfing:
Summer (June to August)
Ideal for Beginners: Summer is the most popular time for tourists, offering milder weather and smaller waves. This season is perfect for beginners and those looking for a more relaxed surfing experience.
Wetsuit: A 3/2mm wetsuit is typically sufficient during the summer months.
Pros: Longer daylight hours mean more time in the water, and calmer conditions make it easier to catch your first waves.
Fall (September to November)
Excellent for All Levels: Fall is considered the best time for surfing in Tofino. The water remains relatively warm, and the swell consistently picks up. It's an excellent time for surfers of all levels, from beginners to advanced.
Wetsuit: A 4/3mm wetsuit is recommended as the water starts to cool down.
Pros: Consistent swell and fewer crowds make it easier to find great waves.
Winter (December to February)
Advanced Surfers: Winter brings larger swells and more challenging conditions. This season is best suited for experienced surfers who can handle powerful waves and colder water.
Wetsuit: A 5/4mm wetsuit, hood, booties, and gloves are essential for staying warm.
Pros: If you're up for the challenge, winter provides some of the most epic waves and a raw, wild surfing experience.
Spring (March to May):
Intermediate to Advanced: Spring offers a transition between winter and the milder seasons. It's suitable for intermediate and advanced surfers looking for a mix of wave sizes.
Wetsuit: A 4/3mm wetsuit is a good choice as the water starts to warm up.
Pros: You can catch the tail end of the larger winter swells while enjoying slightly warmer weather.
Remember that Tofino's weather and ocean conditions can be unpredictable, so always check the surf forecasts before heading out. Additionally, be mindful of your own skill level and comfort in different conditions.
If you're a beginner, consider taking lessons during the summer and gradually progressing to more challenging seasons as you gain experience.
Regardless of when you visit, Tofino offers a unique and breathtaking surfing experience that's bound to leave you stoked.
How to get to Tofino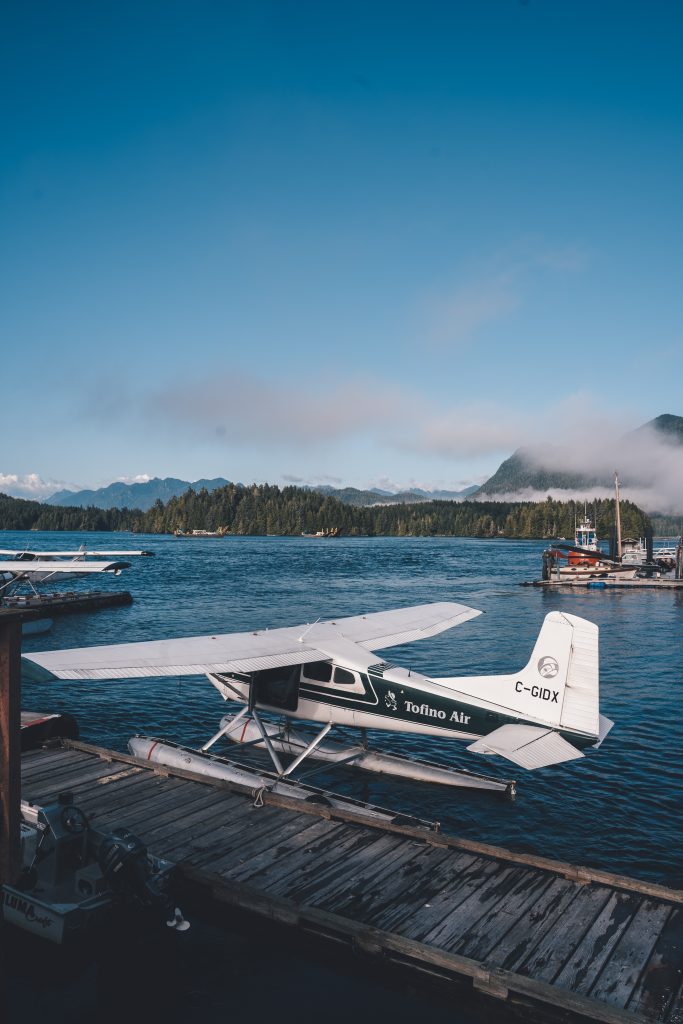 Getting to Tofino, located on Vancouver Island's west coast, is an essential part of planning your surf trip. Here are the primary ways to reach Tofino:
Driving (recommended)
Scenic Route: Driving to Tofino is a popular choice as it allows you to experience the stunning coastal scenery along the way. The most common route is from Vancouver, which includes a ferry ride from Horseshoe Bay to Nanaimo on Vancouver Island.
Ferry Ride: The ferry journey is a picturesque adventure itself. Make a reservation in advance, especially during peak seasons, to secure your spot. You can check the BC Ferries schedule and book online.
From Nanaimo: After disembarking from the ferry in Nanaimo, drive north on Highway 1 until you reach Highway 19. Continue on Highway 19, and then take the Pacific Rim Highway (Highway 4) westward to Tofino.
Travel Time: The total driving time from Vancouver to Tofino, including the ferry ride, can take approximately 5-6 hours. Plan for additional time if you want to explore along the way.
Tip: We recommend stopping off at Goats on the Roof, Hole in the Wall, and Sproat Lake on your drive up from Nanaimo.
Flying
Seaplane: For a unique experience, you can take a seaplane from Vancouver to Tofino, departing from Coal Harbour daily.
From Vancouver Airport: Tofino has its airport, Tofino-Long Beach Airport (YAZ), which is the quickest way to reach the town. You can fly directly from Vancouver International Airport (YVR) to Tofino Airport. Several airlines offer daily flights.
Car Rentals: Once you land at Tofino Airport, you can rent a car from the on-site rental agencies to explore the area and access surf spots conveniently.
Public Transportation
Bus Service: If you prefer not to drive, you can take a bus from Vancouver or other parts of Vancouver Island to Tofino. The Tofino Bus service offers scheduled routes from various locations.
Ride-Sharing: Some ride-sharing services may operate between major cities like Vancouver and Tofino, providing another option for travelers without their vehicles.
Whichever option you choose, be sure to plan ahead, especially during peak seasons, as accommodations and transportation options can fill up quickly.
Driving or flying gives you the flexibility to explore the surrounding areas, including nearby surf spots, hikes, and hot springs, making your Tofino surf trip even more memorable.
Where to Stay in Tofino
Tofino offers a variety of options to suit different preferences and budgets. Here's an overview of the main types of accommodations available.
Hotels and Resorts
Tofino boasts several hotels and resorts, ranging from luxury properties with oceanfront views to cozy boutique hotels. These accommodations provide comfort and convenience, often with on-site amenities such as restaurants, spas, and surfboard rentals.
Mackenzie Beach Resort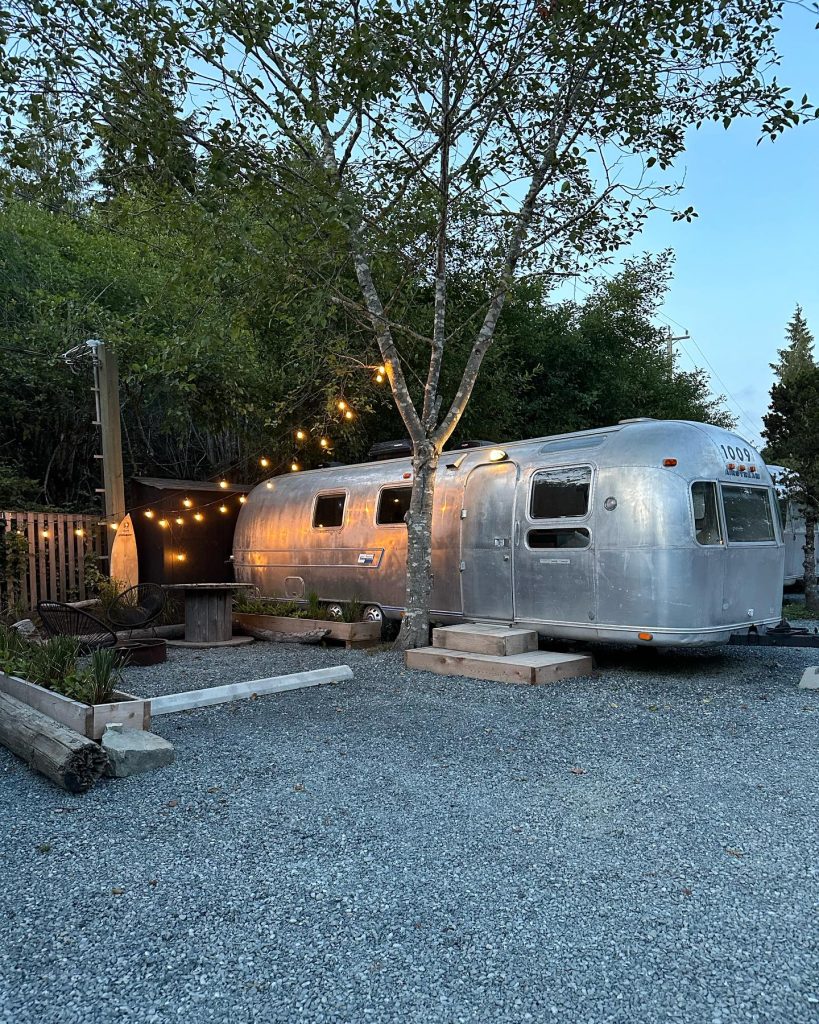 Situated right at Mackenzie Beach, this resort offers a variety of budget-friendly accommodations, including Airstreams, Chalets, and cozy beach bungalows.
You'll find convenient amenities on-site, including a General Store, Cafe, and the beloved Lil' Ronnie's Beachside BBQ.
The friendly reception team can assist you in arranging surf lessons, surfboard rentals, and exciting day trips for whale and bear watching.
Mackenzie Beach Resort is an excellent choice for budget-conscious travelers, and we highly recommend staying in one of their charming Airstreams for a unique coastal experience.
Zed Hotel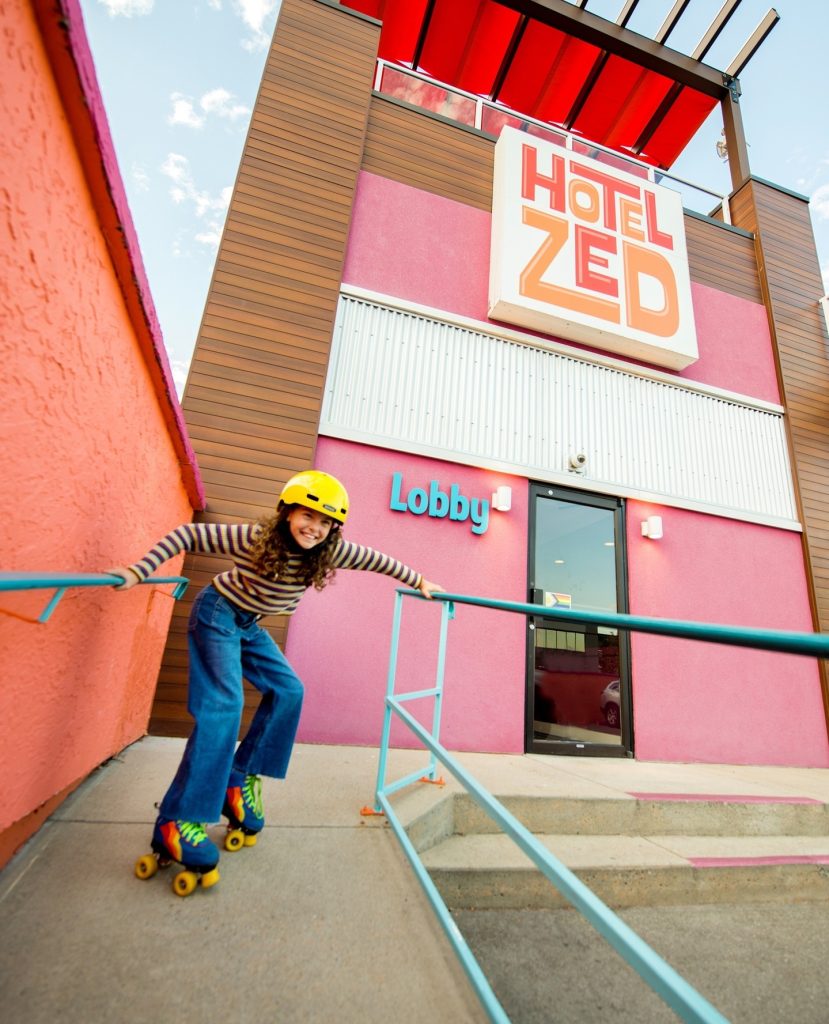 If you're looking for a fun and colorful experience, Hotel Zed is the place to be. Located on the right side of the highway as you enter Tofino, this retro-inspired hotel offers a unique and quirky stay.
Enjoy a range of offbeat amenities, including onsite bike rentals with a bike-through lobby, a card room, outdoor showers shaped like surfboards, an arcade, a disco, a psychic room, and even a sauna.
Hotel Zed is a playful and eccentric option for travelers seeking a one-of-a-kind stay in Tofino's vibrant atmosphere.
The Maq Hotel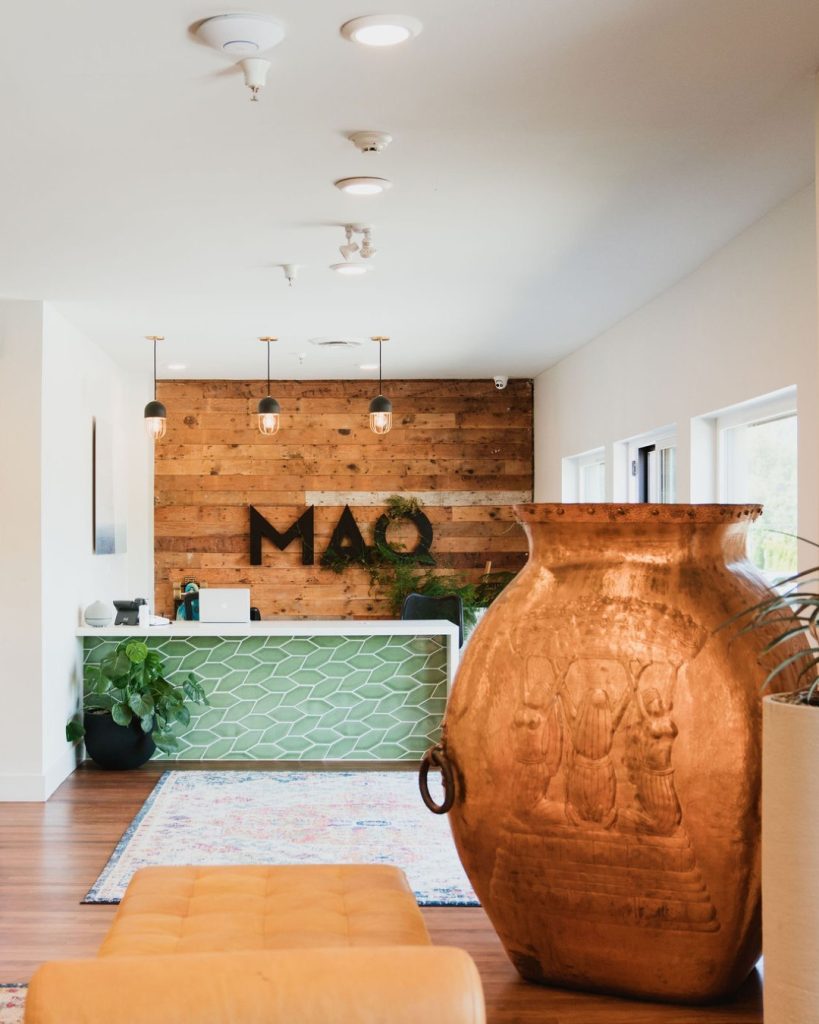 Situated in Tofino's village center with picturesque harbor views, The Maq Hotel has recently undergone renovations to offer boutique and comfortable accommodation. On-site, you'll find a cozy cafe and a small general store for convenience.
The highlight is The Maq Pub, Tofino's most popular bar, making it an excellent choice for solo travelers seeking to immerse themselves in the heart of the action.
Enjoy the lively atmosphere and the convenience of having everything you need within reach while staying at The Maq Hotel.
Long Beach Lodge Resort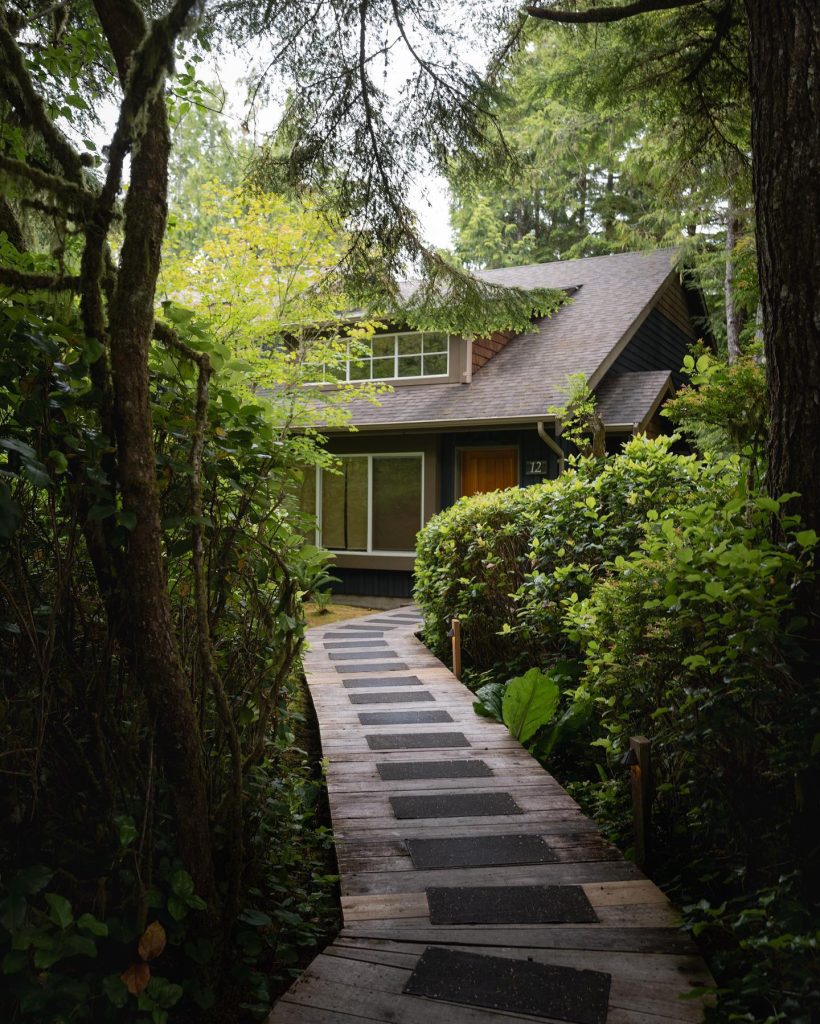 For the ultimate luxury experience, Long Beach Lodge Resort, located next to Long Beach, is your dream destination.
Whether you're planning a honeymoon surf trip or simply seeking a lavish escape, this resort offers the most luxurious accommodation in Tofino. Choose between rooms in the main lodge or your own private lodge nestled in the serene forest.
The attentive team at Long Beach Lodge Resort caters to your every need, from arranging surf lessons and board rentals to indulging in unique experiences like a private floating sauna.
If money is no object and you're looking for a surf trip like no other, this is the place to stay.
Tip: See more Tofino hotels, motels, and resorts here.
Vacation Rentals
Vacation rentals are a popular choice for those who prefer more space and a home-away-from-home feel. You can find a wide range of vacation homes, cabins, and condos in Tofino.
Websites like Vrbo offer a variety of rental options. Look for properties close to your preferred surf spots or with beautiful coastal views.
We've picked out a few options below, but you can see more here.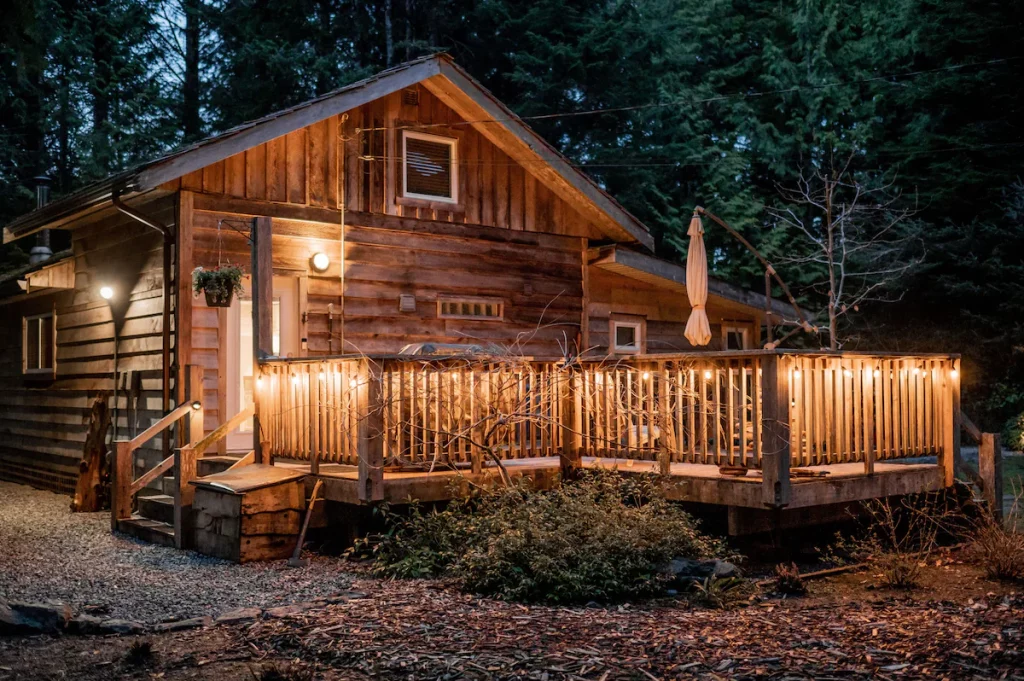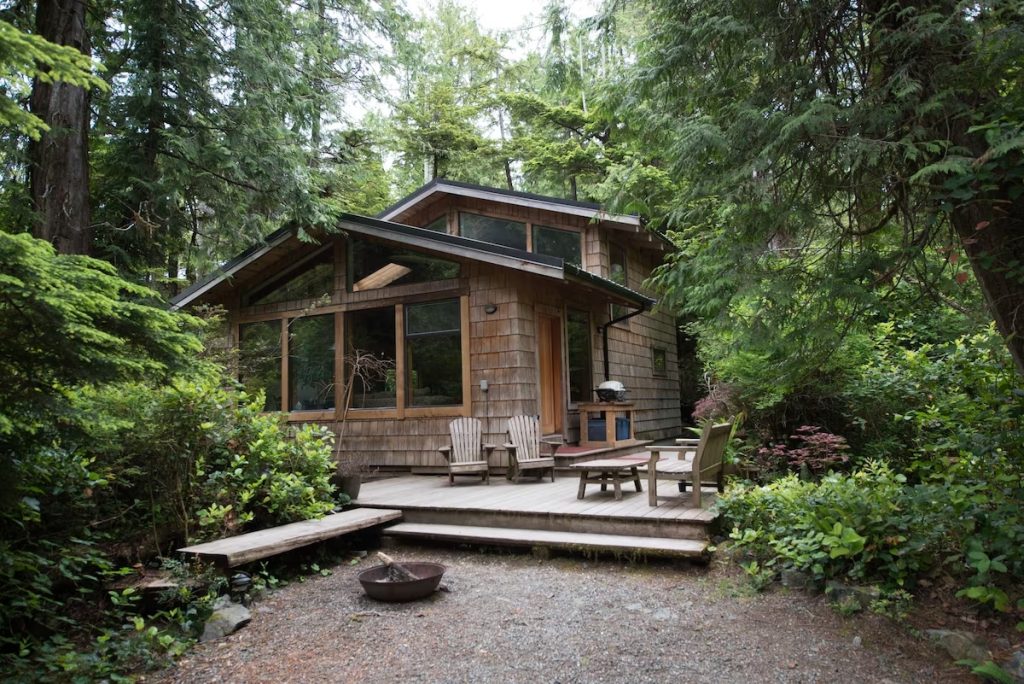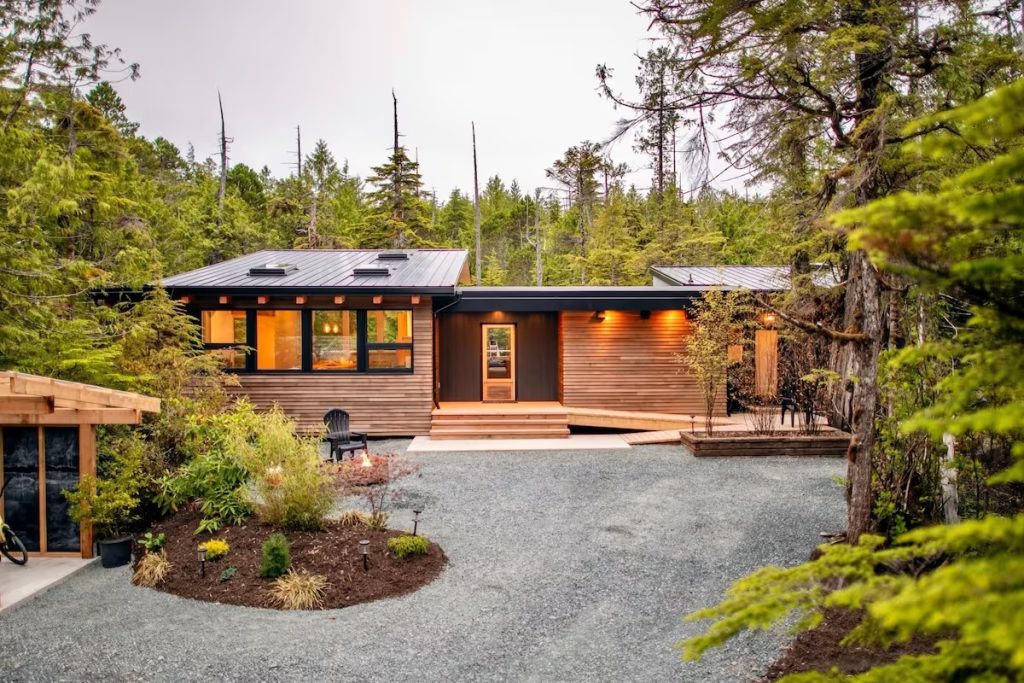 Tip: See more Tofino vacation rentals here.
Camping
Tofino offers some of the most picturesque campgrounds on Vancouver Island, making it an excellent option for outdoor enthusiasts.
Camping is a more budget-friendly choice and allows you to immerse yourself in the natural surroundings.
Bella Pacifica Campground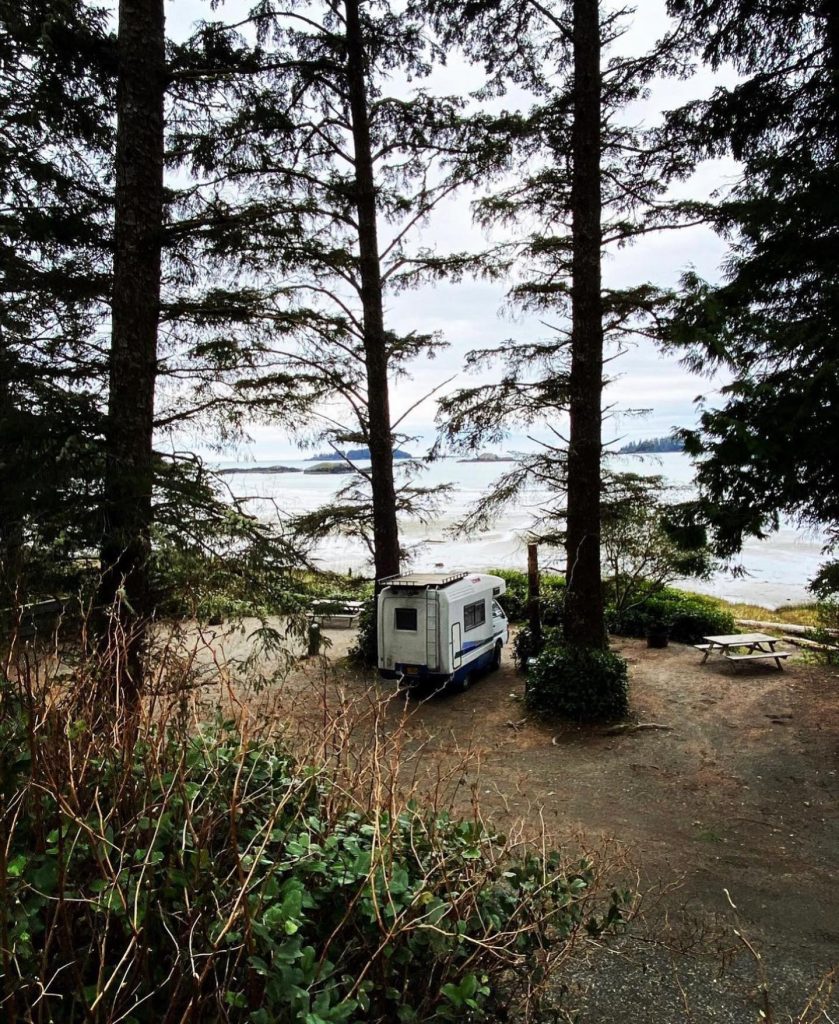 Located near Mackenzie Beach, Bella Pacifica Campground is a popular choice for campers. This well-maintained campground offers a range of camping options, from tent sites to spots for RVs and campers.
Surf Grove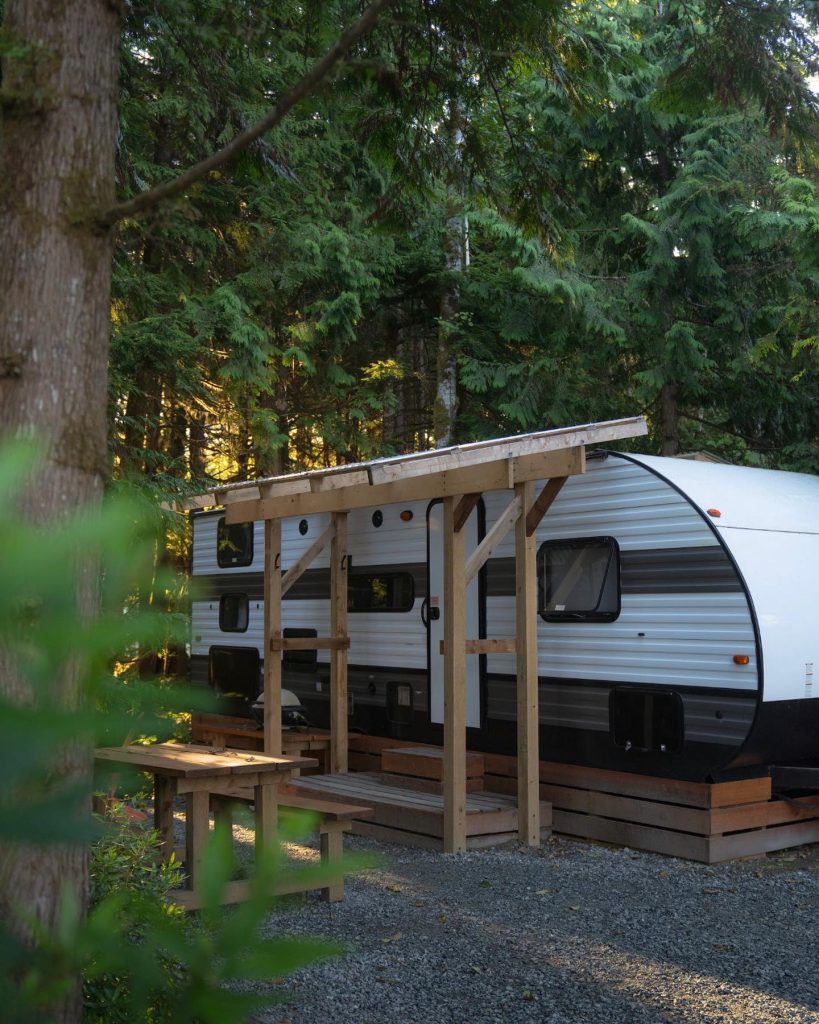 If you're looking for a camping experience with a twist, check out the new Surf Grove campground at Cox Bay.
Here, guests are treated to generously sized camping plots where you can set up tents, park campers, and RVs. What sets Surf Grove apart is its unique offering of RV rentals, allowing you to have your accommodation set up and ready before you even arrive.
Camping in Tofino not only provides a budget-friendly option but also brings you closer to the rugged beauty and natural wonders of the area. Whether you choose Bella Pacifica or Surf Grove, your surf trip in Tofino promises to be a memorable one.
Surf Spots in Tofino
Tofino is blessed with an array of surf breaks that cater to surfers of all levels, from absolute beginners to seasoned pros.
Here's a breakdown of some of the most popular surf spots in Tofino, highlighting their characteristics and suitability for different skill levels:
Cox Bay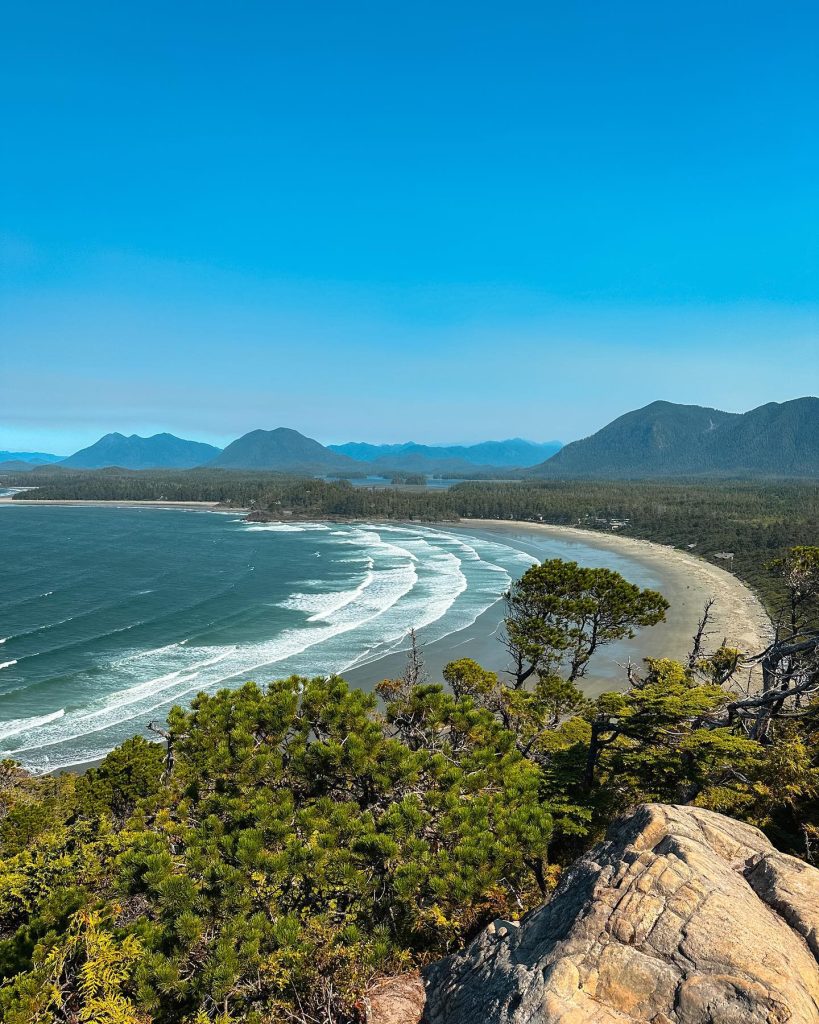 Cox Bay is one of Tofino's most renowned surf spots, known for its consistent waves and breathtaking views. It offers both left and right breaks and tends to have fun, mellow waves.
Cox Bay is suitable for surfers of all levels. Beginners can take lessons here to catch their first waves, while more experienced surfers can enjoy longer rides. The sandy bottom makes it a safe spot for surfing.
Chesterman Beach
Chesterman Beach is divided into North and South sections, each offering unique surf conditions. The North Chesterman Beach has smaller, more sheltered waves, making it ideal for beginners. The South Chesterman Beach features larger swells and is better suited for intermediate and advanced surfers.
Long Beach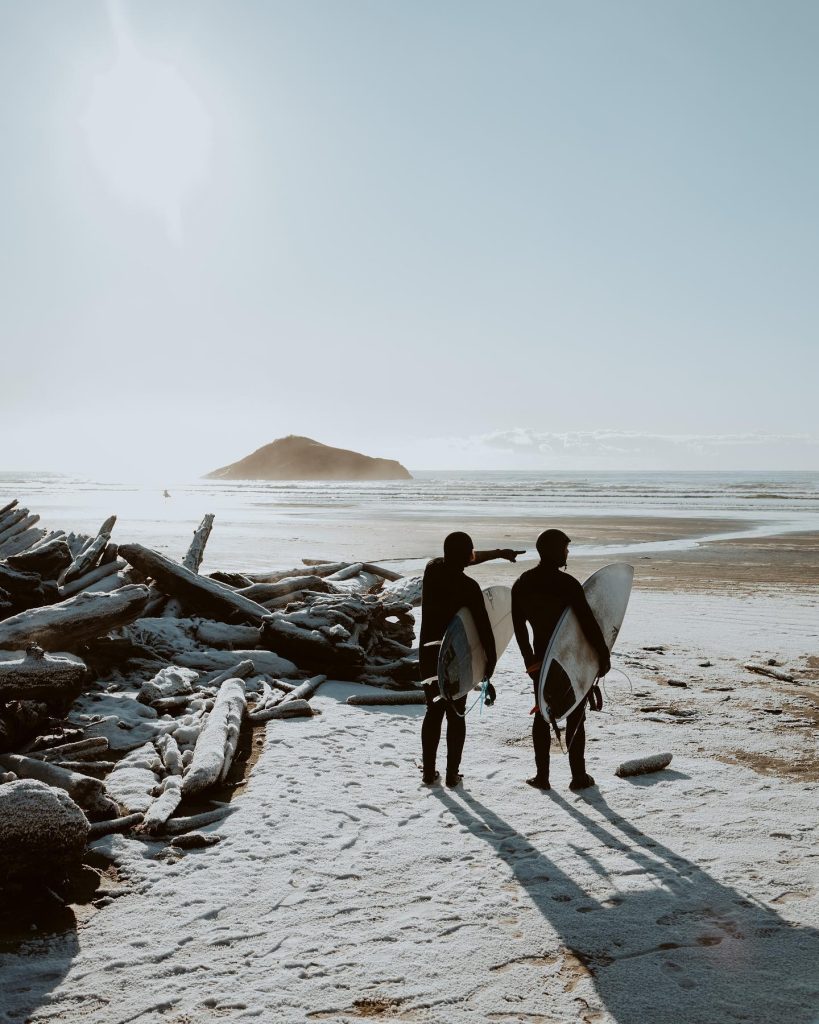 Long Beach is one of Tofino's most iconic surf destinations, known for its long, sandy shoreline and consistent waves. It offers various breaks along its length, with both left and right-handers. The waves can range from small and mellow to powerful and barreling, depending on the conditions.
Long Beach caters to all skill levels. The northern end is great for beginners, with smaller waves, while the southern end offers more challenging conditions for intermediate and advanced surfers.
Wickaninnish Beach (Wick Beach)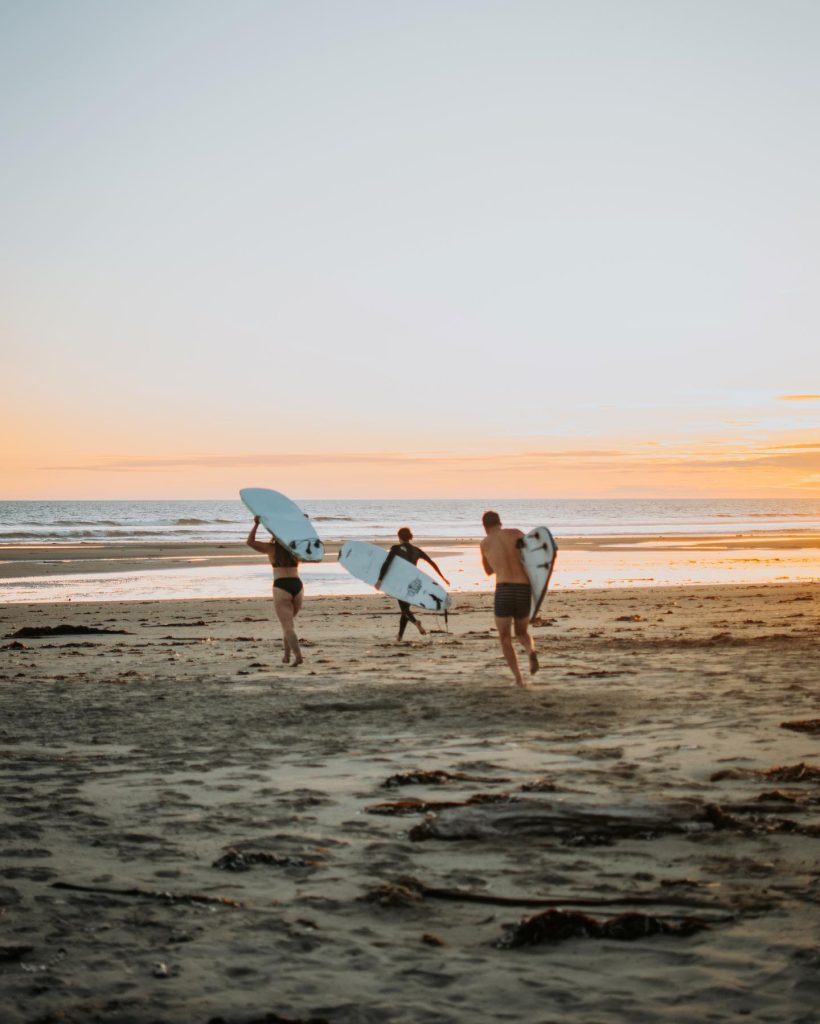 Wickaninnish Beach, also known as Wick Beach, features a rocky shoreline and powerful waves. It's famous for its reef breaks and larger swells, making it a favorite among experienced surfers.
Wick Beach is suitable for advanced surfers who are comfortable navigating rocky terrain and powerful waves. It's not recommended for beginners.
Florencia Bay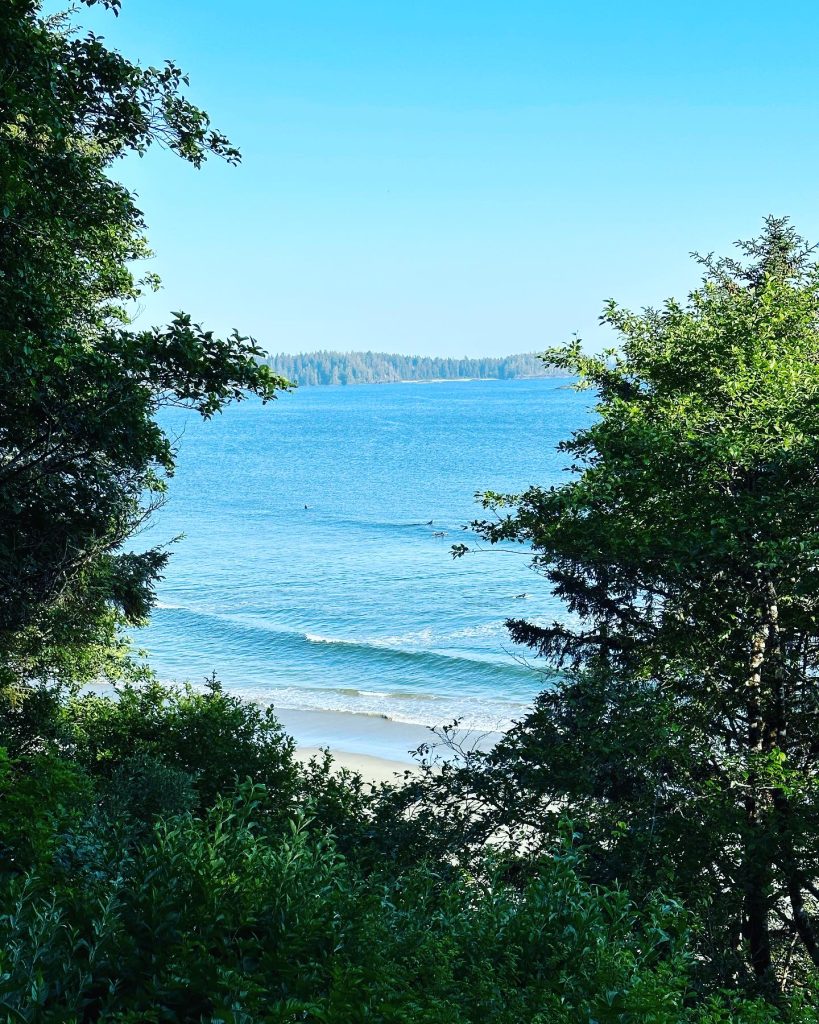 Florencia Bay is a secluded spot just south of Tofino, known for its reef breaks and consistent waves. It's surrounded by lush rainforest, adding to its natural beauty.
Florencia Bay is best for intermediate and advanced surfers who are comfortable with reef breaks and navigating rocky terrain. Beginners should avoid this spot.
When choosing a surf spot in Tofino, consider your own skill level and comfort in various conditions. Always check the surf forecast and local advice before heading out, as conditions can change quickly on the west coast of Vancouver Island.
And remember, safety is paramount—respect the ocean, watch out for tides and currents, and be mindful of your surroundings to ensure a safe and enjoyable surf session.
Surfboard Rentals in Tofino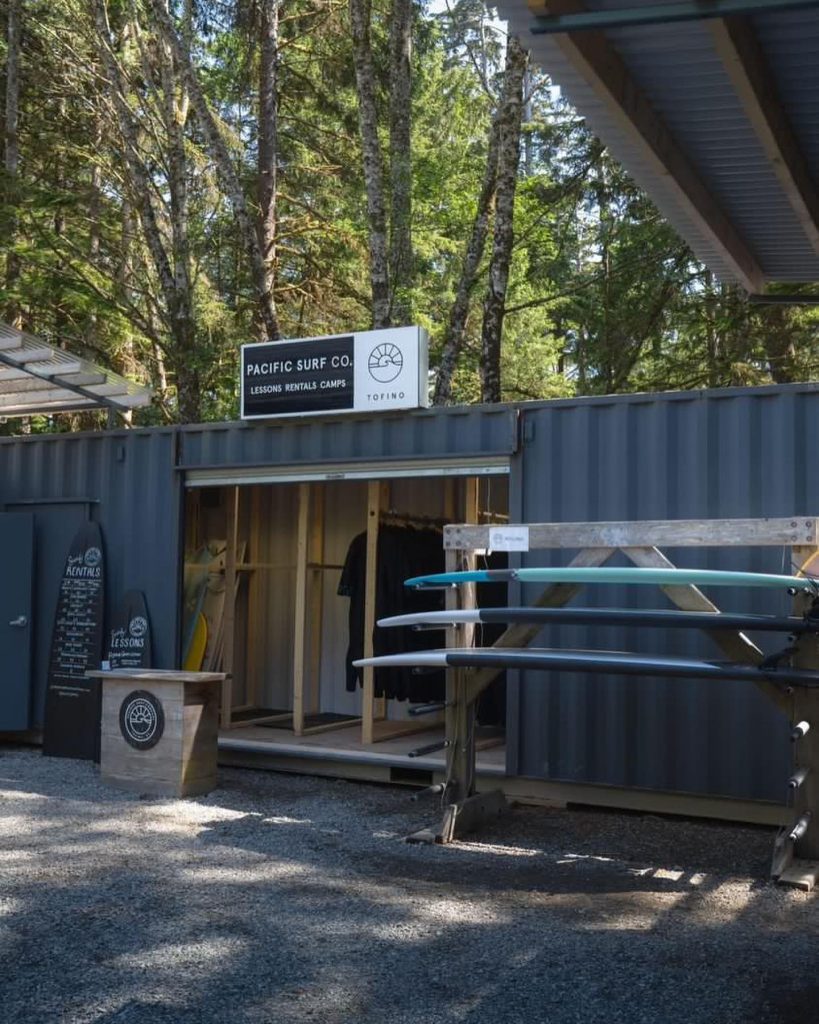 Rental Shops in Tofino: Tofino is well-equipped with surf shops and rental outlets where you can conveniently rent surf equipment if you prefer not to bring your gear.
Some of the popular surf rental shops in Tofino include:
Surf Sister Surf School and Rentals: This well-established surf school offers a range of rental equipment, including surfboards, wetsuits, and accessories.
Pacific Surf Co: Located in the heart of Tofino, this shop provides surfboard and wetsuit rentals, along with knowledgeable staff to assist you.
Live to Surf: A one-stop shop for all things surf-related, offering rentals and a wide selection of surf equipment for purchase.
These rental shops not only provide quality gear but also valuable local insights and advice on surf conditions, helping you make the most of your surf experience in Tofino.
Surf Lessons in Tofino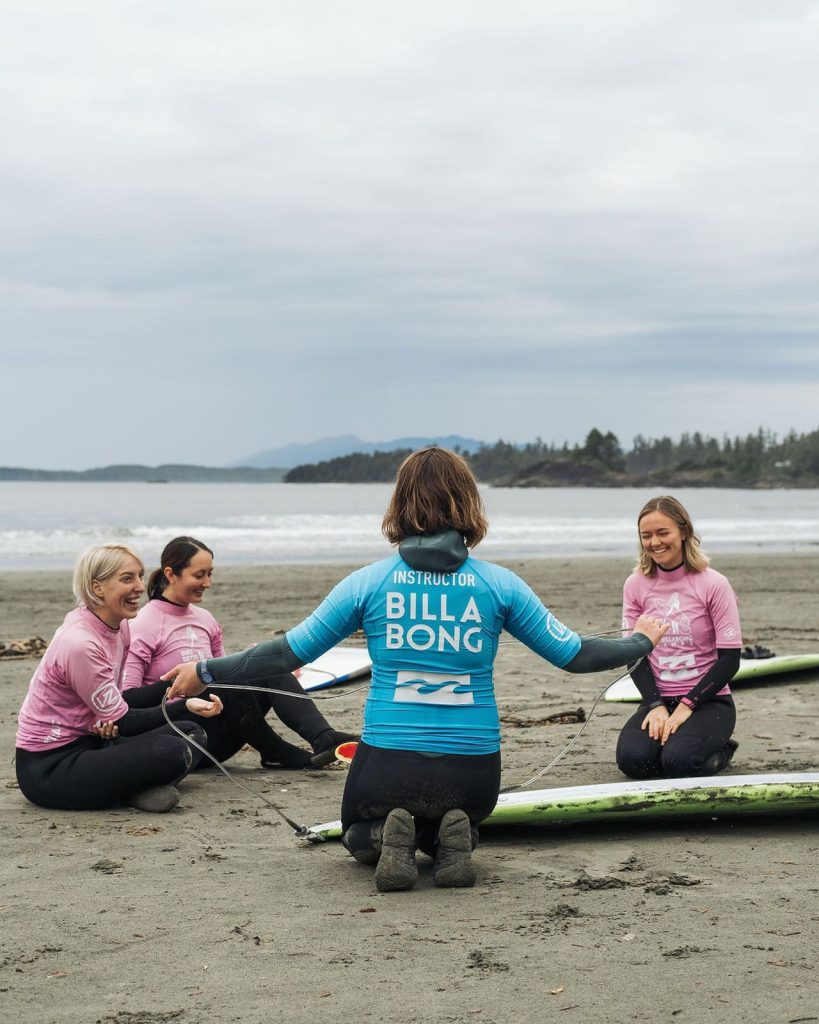 Taking surf lessons, especially for beginners, is not only important but also highly beneficial for several reasons:
Safety: Surfing involves navigating the ocean and potentially powerful waves. Proper instruction teaches you essential safety guidelines, including how to identify hazards, manage rip currents, and ensure your well-being in the water.
Fundamentals: Surf lessons provide a structured approach to learning the fundamentals of surfing, such as paddling techniques, board control, and how to catch and ride waves. This foundation is crucial for building your skills and confidence.
Efficient Progress: Surf instructors can offer real-time feedback and corrections, helping you progress more quickly and avoid developing bad habits. Learning on your own may result in slower improvement and increased frustration.
Equipment Guidance: Instructors can help you choose the right surfboard and wetsuit for your skill level and the prevailing conditions. This ensures you have suitable gear, enhancing your overall experience.
Local Knowledge: Surf schools often have instructors who are intimately familiar with the local surf conditions and spots. They can guide you to the best breaks for your skill level and the current conditions, maximizing your chances of catching waves.
In Tofino, you'll find several reputable surf schools and experienced instructors ready to help you get started or improve your surfing skills. Here are some recommendations:
Surf Sister Surf School
Why Choose: Surf Sister is one of the most well-established surf schools in Tofino, known for its professional instructors and dedication to fostering a supportive surf community. They cater to all skill levels and offer group and private lessons.
Location: 625 Campbell Street, Tofino, BC.
Website: Surf Sister Surf School
Pacific Surf Co
Why Choose: Pacific Surf Co offers a variety of surf lessons and rental equipment. Their experienced instructors provide personalized instruction and cater to beginners and more advanced surfers.
Location: 360 Campbell Street, Tofino, BC.
Website: Pacific Surf Co
Tofino Surf School
Why Choose: Tofino Surf School provides comprehensive surf lessons, including beginner courses, intermediate coaching, and surf camps. They focus on safety, skill development, and an enjoyable experience.
Location: 120 Fourth Street, Tofino, BC.
Website: Tofino Surf School
When booking surf lessons in Tofino, inquire about class sizes, instructor qualifications, and the lesson duration to ensure you receive the best learning experience tailored to your needs.
Local Surf Culture and Community
Tofino's surf culture is a vibrant and integral part of the community's identity. Here's a glimpse into the rich surf culture in Tofino:
Surf Events, Competitions, and Festivals
Queen of the Peak: An annual all-female surf competition that celebrates women's surfing in Tofino. It typically includes categories for shortboard and longboard surfing.
Bruhwiler Kids Classic: A youth surf competition named after local surf legend Raph Bruhwiler, emphasizing the importance of surfing and ocean conservation among young surfers.
Tofino Surf Film Festival: An event that showcases the best surf films from around the world, attracting surf enthusiasts and filmmakers to Tofino.
Environmental Initiatives: Tofino is known for its environmentally focused surf events and initiatives, often combining surf competitions with beach cleanups and conservation efforts.
Local Surf Shops, Cafes, and Hangout Spots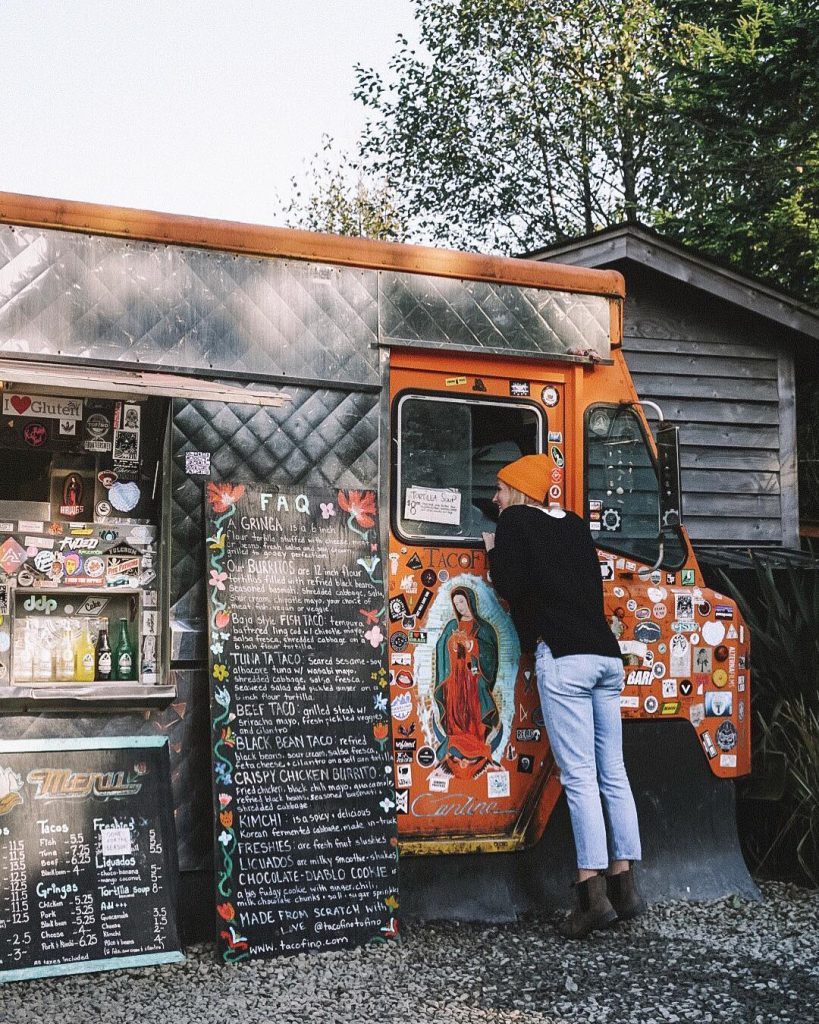 These surf shops, cafes, and hangout spots not only cater to the surf community but also provide opportunities for visitors to immerse themselves in Tofino's unique surf culture.
Whether you're shopping for gear, enjoying a meal with an ocean view, or simply relaxing with a post-surf beverage, Tofino offers a welcoming and authentic surf experience.
Tofino Beyond Surfing
Tofino is not just about surfing; it's a haven for nature enthusiasts, food lovers, and those seeking relaxation. Here are some fantastic activities and attractions to explore beyond surfing in Tofino:
Hiking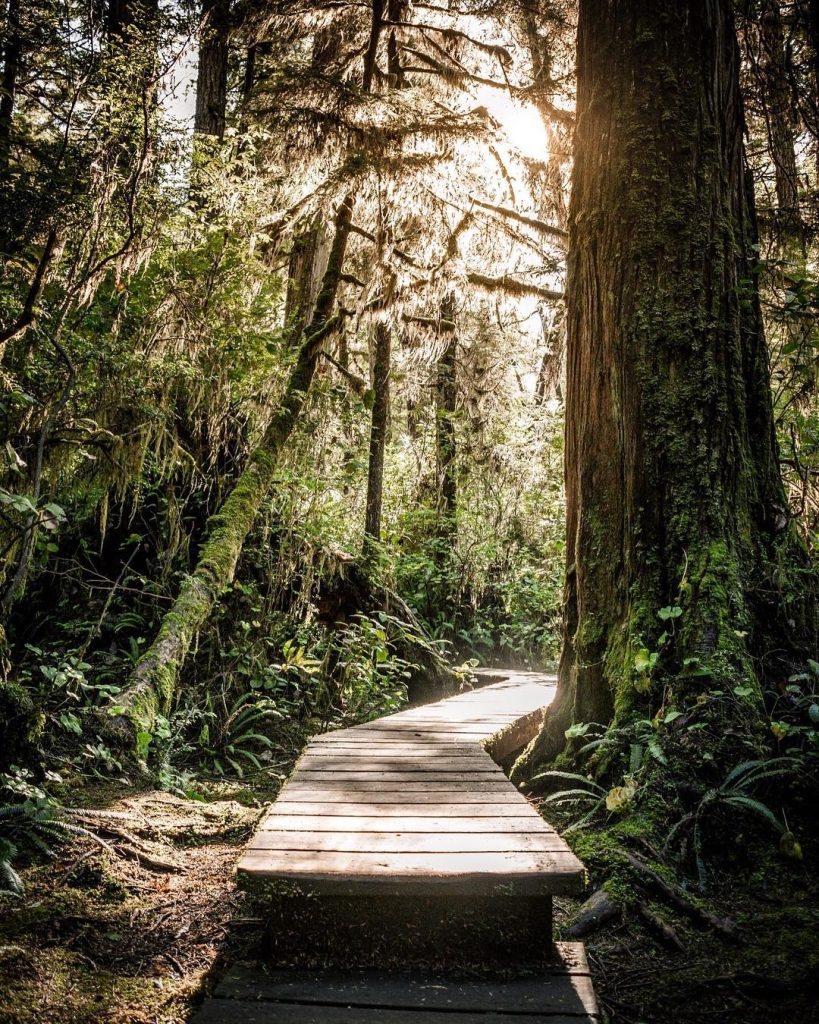 Pacific Rim National Park Reserve offers a network of hiking trails suitable for various skill levels. The Rainforest Trail, Schooner Cove Trail, and Nuu-chah-nulth Trail are popular options that take you through lush rainforests and along stunning coastal paths.
Whale Watching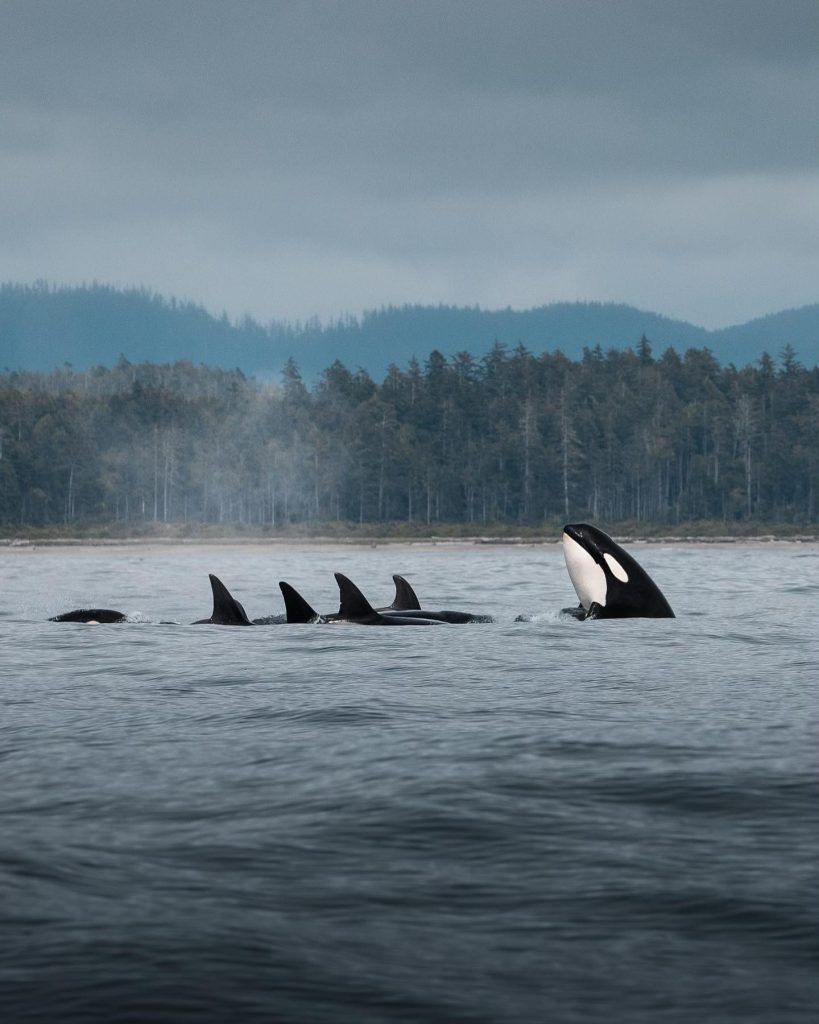 Tofino is renowned for its excellent whale watching opportunities. Join a guided tour to spot gray whales, humpback whales, orcas, and other marine life.
Bear Watching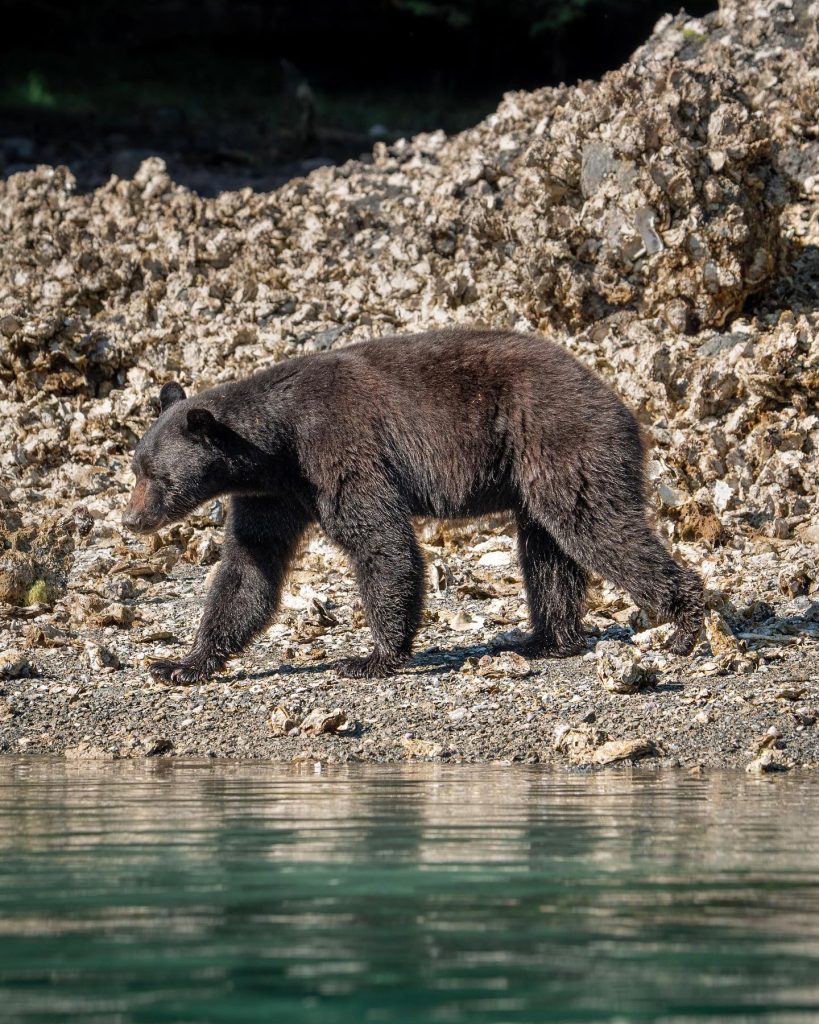 Tofino is also home to black bears, and you can embark on guided tours to observe these magnificent creatures in their natural habitat.
Hot Springs Cove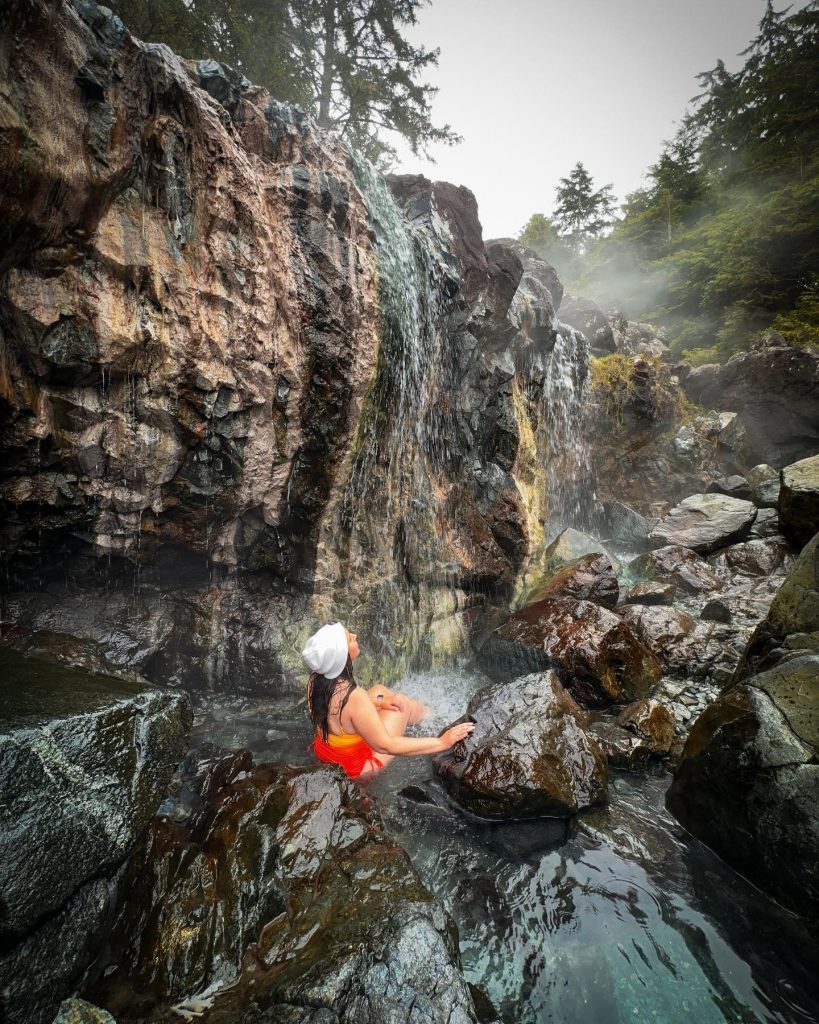 Take a scenic boat or seaplane ride to Maquinna Provincial Park to reach the natural hot springs at Hot Springs Cove. Relax in soothing thermal pools surrounded by lush rainforest and enjoy the breathtaking ocean views.
Kayaking and Paddleboarding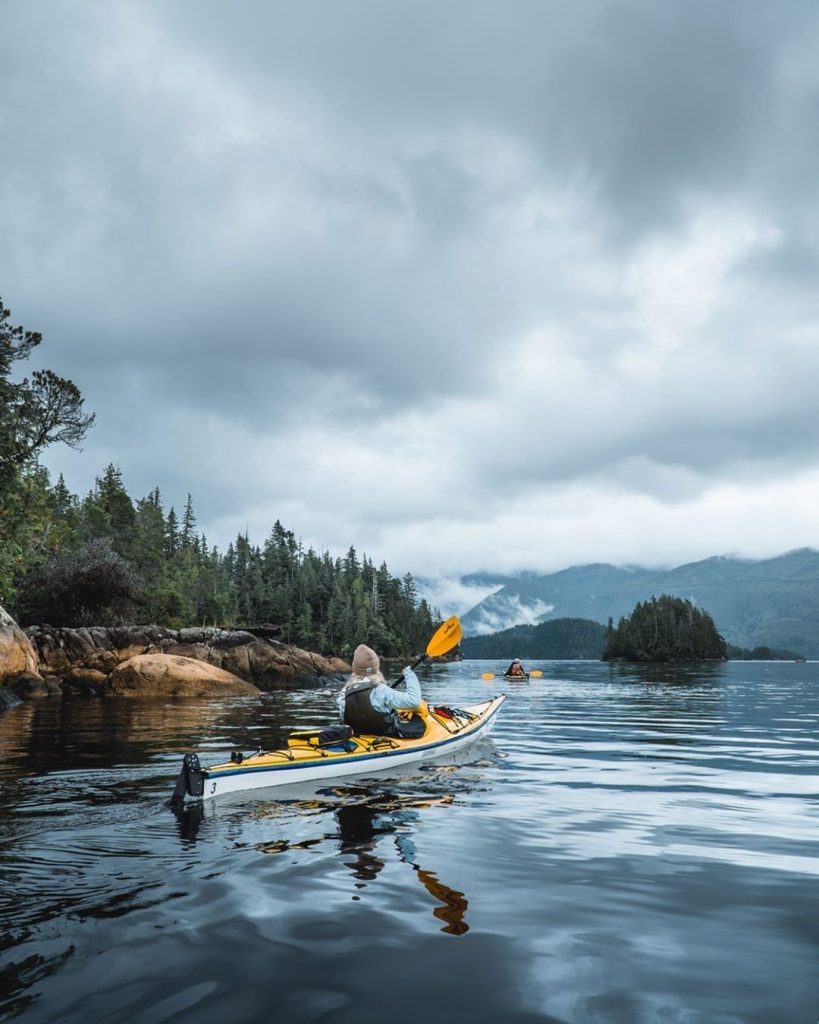 Rent a kayak or paddleboard to explore the calm waters of Clayoquot Sound, offering a chance to observe marine life, including sea otters, seals, and seabirds.
Dining Options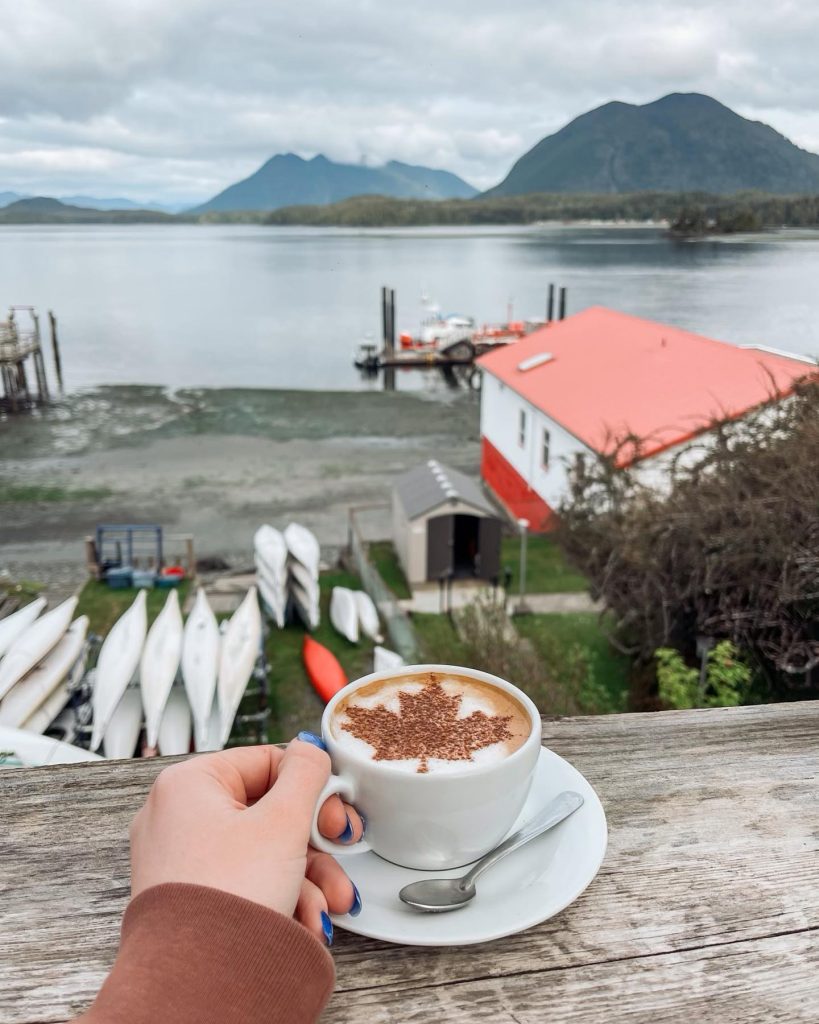 Seafood Delights: Tofino is known for its fresh seafood. Try local specialties like Dungeness crab, spot prawns, and Pacific salmon at restaurants like Wolf in the Fog, Sobo, and Schooner Restaurant.
Food Trucks: Tofino's food truck scene offers delicious and unique options, such as Tacofino, where you can enjoy gourmet tacos, and Wildside Grill for the best burger in town.
Cafes: Stop by the local cafes for a warm cup of coffee and freshly baked pastries. Harbourview Coffeehouse and Tofitian Cafe are popular choices.
Unwind After Surfing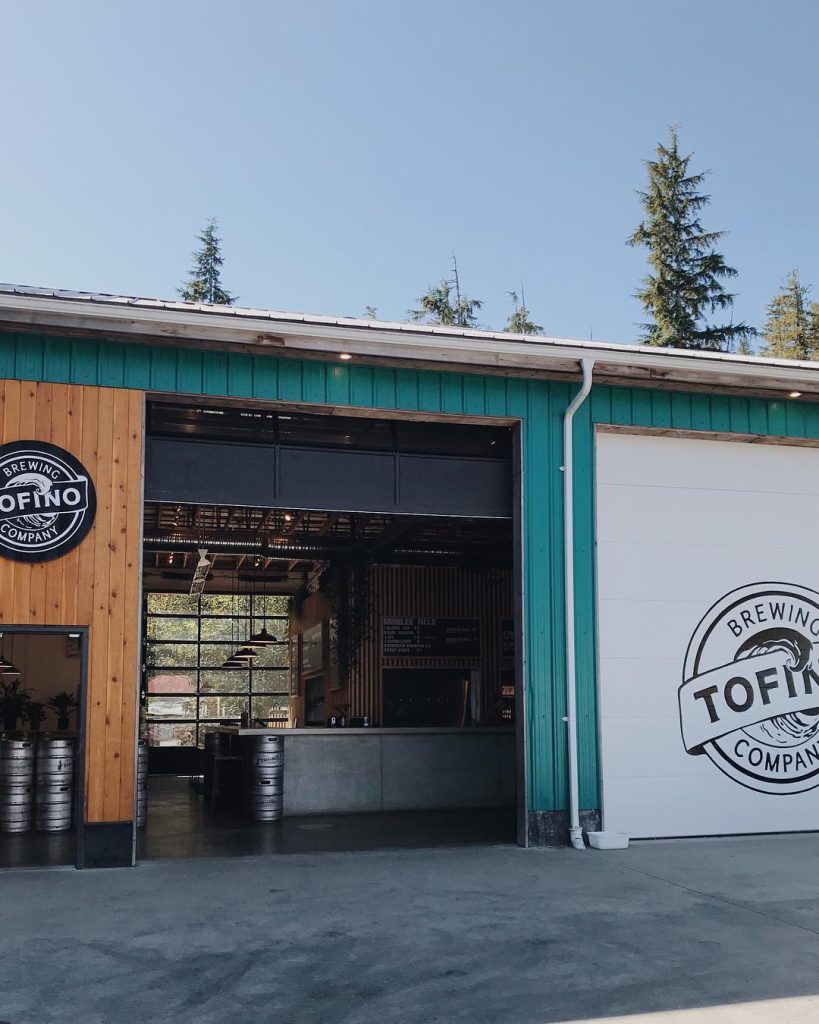 Tofino offers a diverse range of activities and attractions that cater to various interests and preferences. Whether you're seeking adventure, relaxation, or culinary delights, there's something for everyone to enjoy in this picturesque coastal town.
Packing List for Surfing in Tofino
Here's a comprehensive packing list for a Tofino surf trip to ensure you have all the essentials for surfing in Tofino.
Surf Gear:
Surfboard(s) appropriate for your skill level and the conditions
Leash(es) matching your board(s)
Wetsuit(s) with the appropriate thickness for the season
Rashguard or wetsuit top for added warmth and sun protection
Booties and gloves (for winter surfing)
Surf wax and wax comb
Repair kit for minor surfboard repairs (ding repair kit)
Travel bag or board cover to protect your surfboard during transport
Surfboard rack or straps if you're bringing your own board on a vehicle
Surf fin key and spare fins
Surf poncho or changing robe for post-surf comfort
Apparel:
Swimsuits
Boardshorts or surf trunks
Surf-specific clothing (rashguards, surf leggings, etc.)
Wetsuit hanger for drying and storing your wetsuit
Wetsuit shampoo or conditioner to keep your wetsuit fresh
Warm and comfortable clothing for after-surf hours (layers are key)
Windbreaker or waterproof jacket
Sun hat or beanie (depending on the season)
Sunglasses with UV protection
Sunscreen with high SPF
Insect repellent (for outdoor activities)
Footwear:
Flip-flops or sandals for the beach and shower facilities
Comfortable shoes or hiking boots for exploring
Accessories:
Surfboard leash plug for attaching your leash
Waterproof phone case or pouch
First-aid kit (basic supplies and any personal medications)
Reusable water bottle
Dry bag for protecting electronics and valuables
Surf-related books or magazines for downtime
Outdoor Gear:
Beach towels
Beach chairs or portable seating
Picnic or camping gear if you plan to camp (tent, sleeping bag, camping stove, etc.)
Hiking backpack for day trips
Trail maps and navigation tools (compass or GPS)
Bear canister or bear-resistant food container (for camping)
Binoculars for wildlife viewing
National Park Pass if visiting Pacific Rim National Park Reserve
Personal Items:
Passport, identification, and travel documents (if applicable)
Cash, credit cards, and travel insurance details
Toiletries (toothbrush, toothpaste, soap, shampoo, etc.)
Towels (bath and hand towels)
Personal hygiene items (feminine products, etc.)
Prescription medications (if needed)
Travel-sized laundry detergent for wetsuit care
Power bank for charging devices
Miscellaneous:
Camera or GoPro for capturing memories
Portable camping or beach chair
Binoculars for wildlife and birdwatching
Reusable shopping bags for groceries and souvenirs
Travel guidebook or maps for the area
Feel free to adapt this packing list and checklist based on your personal preferences and needs. Cross-checking this list before your trip ensures you have everything necessary for a memorable Tofino surf adventure.
Final thoughts on Surfing Tofino
In this comprehensive guide to surfing in Tofino on Vancouver Island, we've covered everything you need to know to plan an unforgettable surf adventure.
Now, it's time to pack your bags, wax your board, and hit the waves in Tofino.
Whether you're a beginner or an experienced surfer, Tofino offers an unparalleled surf experience in one of Canada's most beautiful coastal destinations.
Don't forget to share your experiences, ask questions, or provide insights in the comments section. Your feedback and stories will inspire others to embark on their own Tofino surfing adventures.
So, ride the waves, soak up the culture, and make memories that will last a lifetime in Tofino!
Enjoyed our complete guide to surfing Tofino on Vacounver Island? Check out all of our Surf Travel Guides here.