Disclaimer: This article contains affiliate links. We may receive a small commission if you make a purchase through one of these links. Please read our Affiliate Disclosure for more information.
This is our Complete Guide to Surfing Uluwatu in Bali.
There's no shortage of great surfing spots in Bali, but if you're looking for amazing waves and a truly unforgettable experience, Uluwatu is the place to go. This world-famous surf spot is located on the southern tip of Bali, and it offers up some of the best waves in the world.
The waves here are typically fast and powerful, making them ideal for experienced surfers. In addition, the beautiful scenery and tropical atmosphere make Uluwatu a perfect place to relax and enjoy the surf.
If you're planning a trip to Bali, be sure to add Uluwatu to your list of must-surf spots. You won't be disappointed.
The Best Time of Year for Surfing Uluwatu
The best time of year to surf Uluwatu is during the summer months, from June to August. During this time, the waves are at their biggest and best, making it the perfect time for experienced surfers to catch some serious waves. If you're a beginner surfer, or if you're just looking for smaller waves, September to November is the best time to visit Uluwatu. The waves during this time are a bit smaller and more manageable, making it the perfect time to learn how to surf or to practice your surfing skills.
Even if you're not a surfer, Uluwatu is worth a visit just to enjoy the stunning views and watch the pros ride the waves. So, what are you waiting for? Pack your board and head to Uluwatu for a surf trip you'll never forget.
How To Get To Uluwatu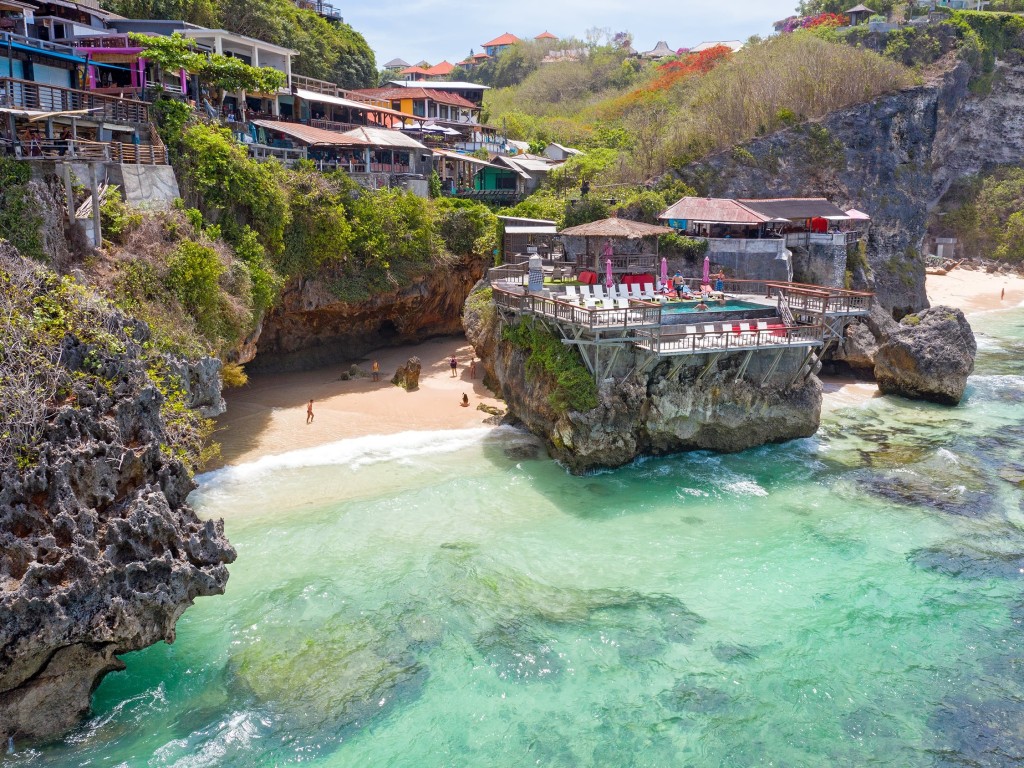 At only 45 minutes from Bali Airport, Uluwatu is a pretty easy location to get to. From the airport, take a taxi to Uluwatu for about 180k IDR (roughly 10 dollars), although make sure to book ahead, it can end up costing you double or triple that amount if you book a taxi after to arrive at the airport.
Uluwatu is close enough to popular areas like Canggu or Seminyak (approximately an hour's drive away) that you don't feel isolated. However, the Bukit Peninsula still feels like a real surf haven when you see the beaches tucked into the cliffs.
If you want to visit nearby coastal areas, rent a scooter, and go exploring. But if it's pure surfing you're looking for, Uluwatu's surf spots are where you want to be.
Where to Stay in Uluwatu
For the surfers out there looking for the best place to stay in Uluwatu, we've got you covered. Uluwatu offers a wide range of accommodation options to suit all budgets, from luxurious resorts to more affordable guesthouses.
Uluwatu Cottages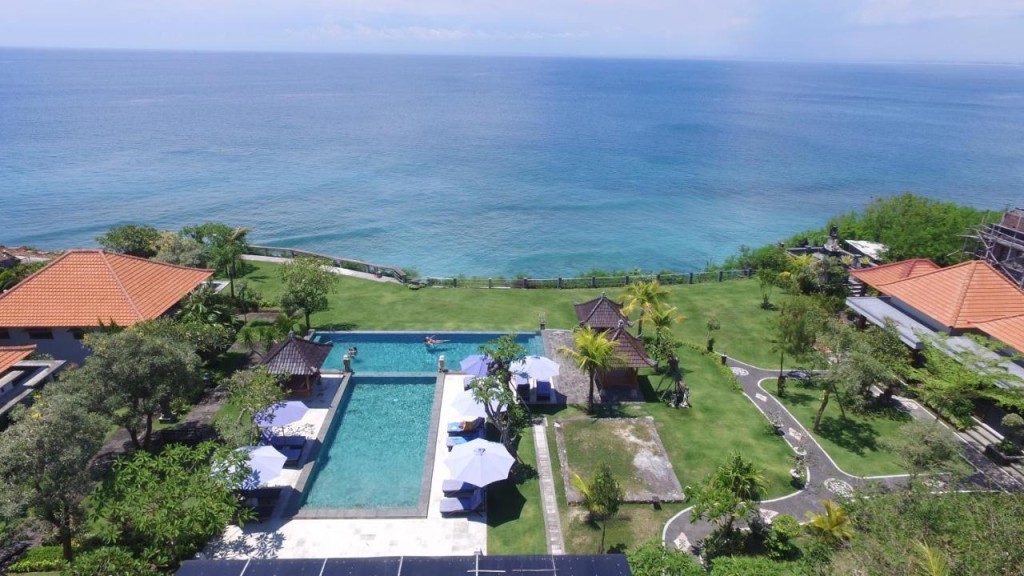 This relaxed bungalow resort is perched atop a cliff, with direct access to Padang Beach. You'll enjoy panoramic views from your private balcony or patio, and with free Wi-Fi and flat-screen TVs in each room, you won't miss a minute of your vacation. You can soak up some sun by the pool, enjoy a delicious meal at the open-air Indonesian restaurant, or grab your board and head to the nearest beach for some world-class surfing.
You can book a bungalow at Uluwatu Cottages now starting from $65 a night.
Inn Possible Cliff House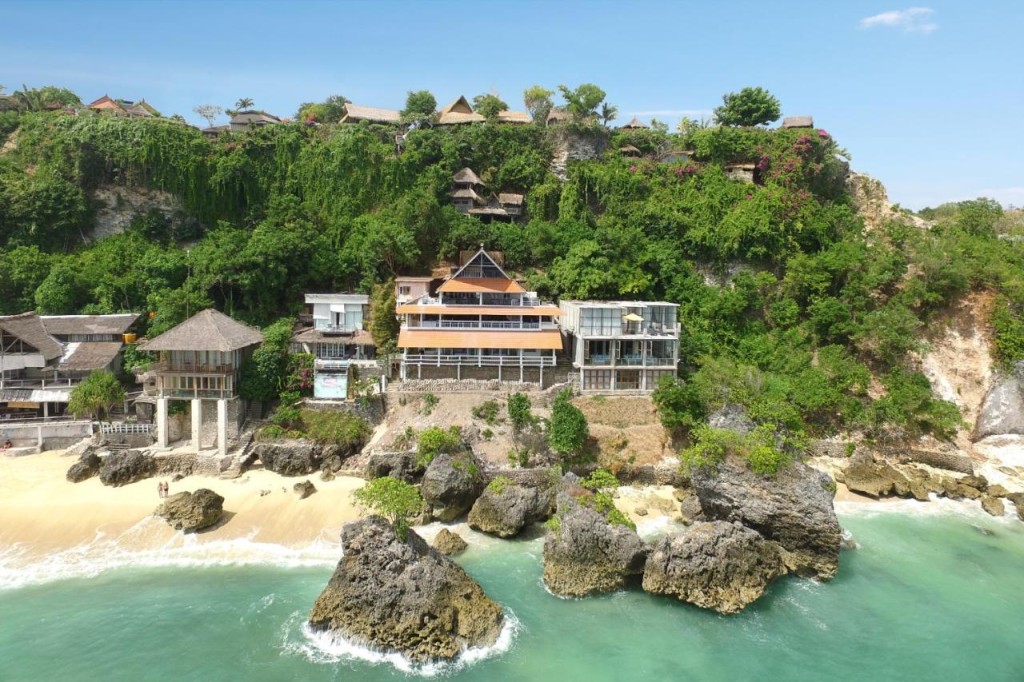 If you want to be near the beach but avoid some of the tourist traffic, book into the Inn Possible Cliff House at Bingin Beach.
Situated right on the water's edge, surrounded by dramatic cliff faces and turquoise waters, The Inn Possible offers stunning views of the world-renowned Impossibles and Bingin surf breaks.
The ten unique guest rooms are all appointed with modern amenities and feature large windows that let in plenty of natural light and showcase the breathtaking views. The inn also has a restaurant and bar, as well as generous communal areas for relaxing and socialising. Whether you want to watch the surf, soak up some stunning sunsets or just enjoy a quiet moment surrounded by nature, The Inn Possible Cliff House is the perfect place to stay in Bali.
You can book a room at Inn Possible Cliff House now starting from $72 a night.
Ulu Cliffhouse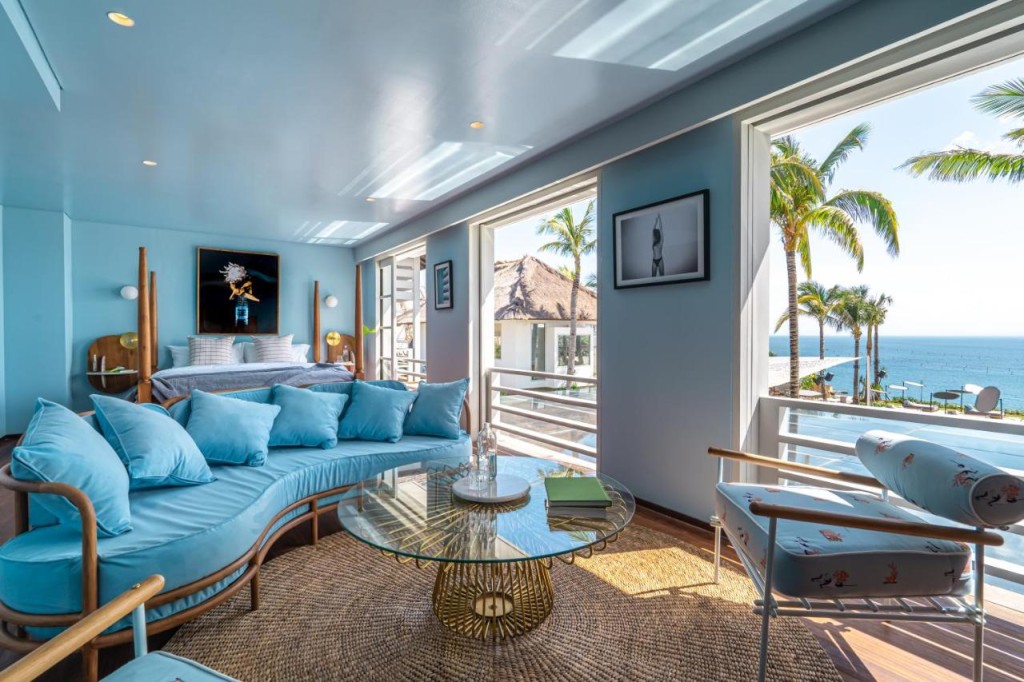 Nestled atop a dramatic cliff overlooking Suluban Beach, Ulu Cliffhouse is a luxurious beach club and resort boasting an infinity pool, fine dining restaurant, tiki bar, and world-class spa.
The luxury resort features seven unique suites, each named and inspired by Bali's iconic surf spots. From the breathtaking views of Impossibles to the secluded playground of Dreamland, each suite offers a luxurious escape.
Ulu Cliffhouse is the perfect place to stay in Uluwatu for those looking for 5-star luxury and world-class service.
You can book a suite at Ulu Cliffhouse now starting from $250 a night.
Padang-Padang Inn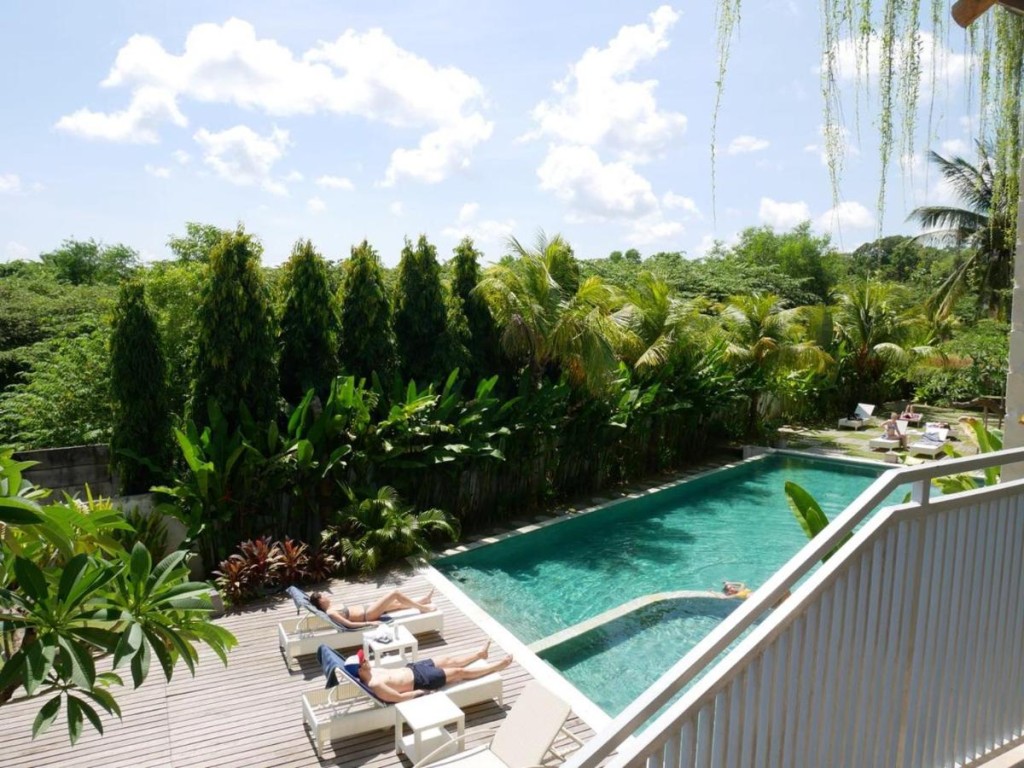 The Padang-Padang Inn is the perfect place for solo travelers and groups looking for a lively atmosphere and an easy walk to the Padang Padang surf spot.
The straightforward rooms come with fans and en suite bathrooms, making it easy to relax after a long day of surfing or exploring Bali. Amenities include a communal pool, a casual restaurant with a bamboo ceiling, a pool table, and table tennis – perfect for gathering with friends in the evening.
You can book a room at the Padang-Padang Inn now starting from just $30 a night.
Mamo Hotel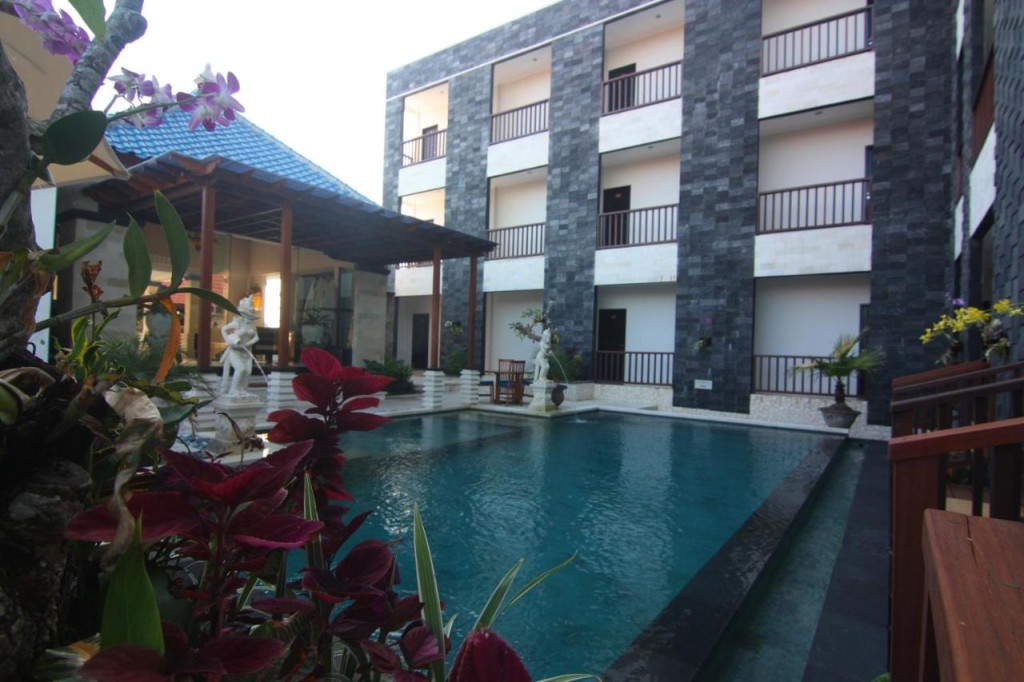 If you're looking for a place to stay that's close to the action, look no further than Mamo Hotel. This budget-friendly hotel puts you right in the heart of Uluwatu, with quick and easy access to both Suluban Beach and the legendary Single Fin.
The simple rooms come complete with all the amenities you need for a comfortable stay, plus private balconies so you can enjoy ocean views. It's definitely a 'no-thrills' type of accommodation, but you can bag a private room with breakfast for just $20 a night.
You can book a room at Mamo Hotel now starting from $20 a night.
Uluwatu Surf Spots
When looking at surfing Uluwatu, you're really spoilt for choice, as there are so many great breaks to choose from. Each one has something special, from perfect locations to secret shipwrecks. Finding out which one's right for you will make your surfing trip something extra memorable.
Padang Padang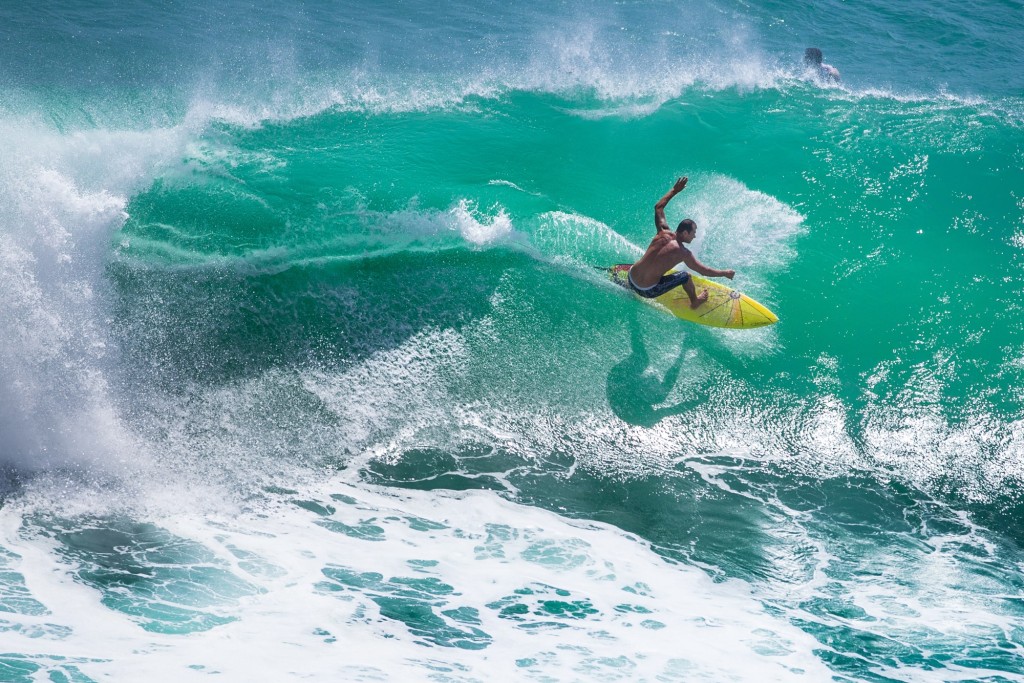 Padang Padang is a great surf spot to visit with friends if you're a mixed ability surfing group. The beach itself is split into two breaks: 'Padang Padang Left' and 'Padang Padang Right.' The Left is an expert surfer's mecca, with waves and speed galore, while the Right is a gentler break perfect for the beginner. Padang Padang Left is only safe at high tide, while the Right is excellent for the surfer looking to perfect their skill. The Left break is reminiscent of the Hawaii Pipeline, although the jagged rocks and coral make it a surf site for the experts only.
Padang Padang can get extremely busy with tourists, and with 100 steps down a cliff face, you're guaranteed a workout before you even begin surfing. You're only two miles away from Uluwatu Temple too if you plan on spending some of the days exploring. There is also a local surf club if you're a novice looking for someone to find you the best waves. Get there early if you want to make the most of surfing before the full tourist surge hits.
Uluwatu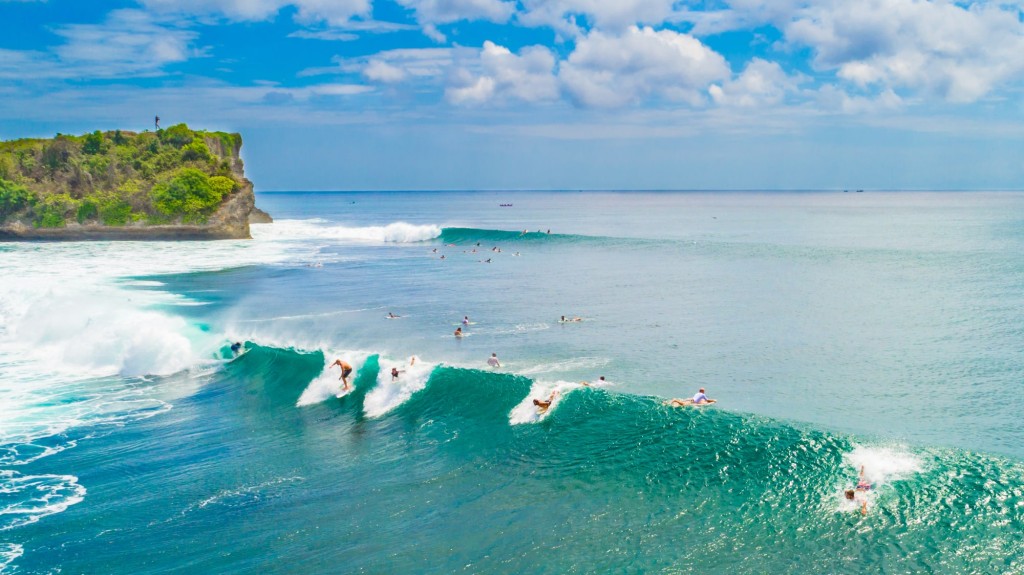 Affectionately known as 'Ulu', the stunning sea view vista, caves, and the temple offers the perfect backdrop for a surfing Uluwatu hotspot. Not just because of the location, but also because of the six main surf peaks. The Peak, Racetrack, Outside Corner, Temples, Secrets and the Bombie all offer something unique for the advanced surfer.
There are approximately 100 meters between each peak, and if you're lucky, you might just be able to catch a ride on all six peaks in one go. The most famous peaks are the Peak and Outside Corner, but you'll see the pro surfers lining up for the Bombie, the deepest and hardest peak. The Racetrack is also a must-surf as it produces perfect continuous barrels time after time. You get into the water through a hidden rocky cave entrance, adding some atmosphere to what will always be an intense surfing experience. Emerge from the cave and paddle out to begin your surfing journey at Uluwatu.
Balangan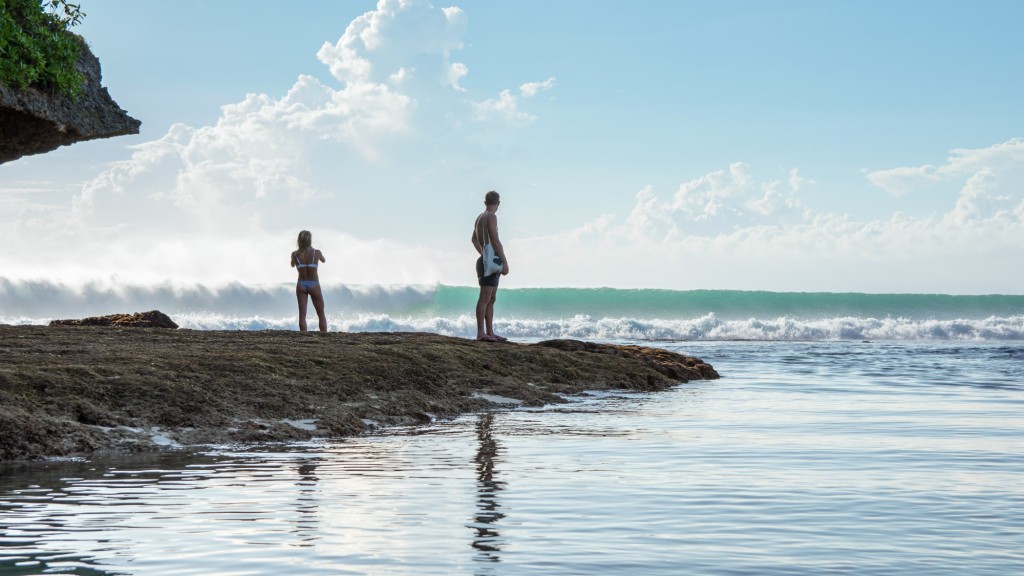 A strip of golden sand with crystal seas, the best time to surf at Balangan beach is between April to October. Intermediate and advanced surfers can ride the wave at all tides, but for the novice, it is safer to stick to high tide to steer clear of the reef. Boasting waves that reach as high as 15ft, it is a surfers haven and is slightly set away from the main Uluwatu sites, so it is somewhat quieter.
If you're taking a few hours break from the surf, you can watch the sunset at the shaded beachside cafes, or watch the local surf community hit the waves. The area is so popular it was almost turned into a luxury marina, but local surf legend Kim Bradley (known as The Fly), protected the area, so it remains the surf haven you see today.
Bingin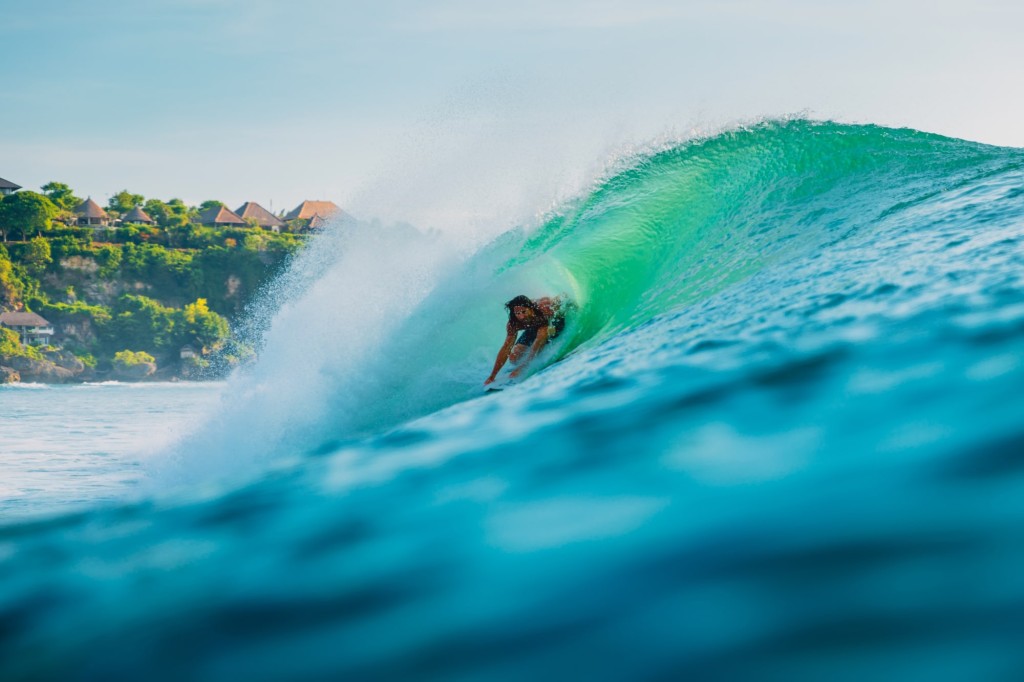 Bingin beach is one of those secret surfing beaches you simply stumble upon by accident. Perfect for pro surfers, this beach is a little slice of surf paradise tucked between some luxury villas and hotels. There are no sun loungers so you can feel like you're dodging the tourists. It isn't the most beautiful beach in the peninsula, but you can swim and surf in a more rustic location than you might do at the larger beach areas.
Green Bowl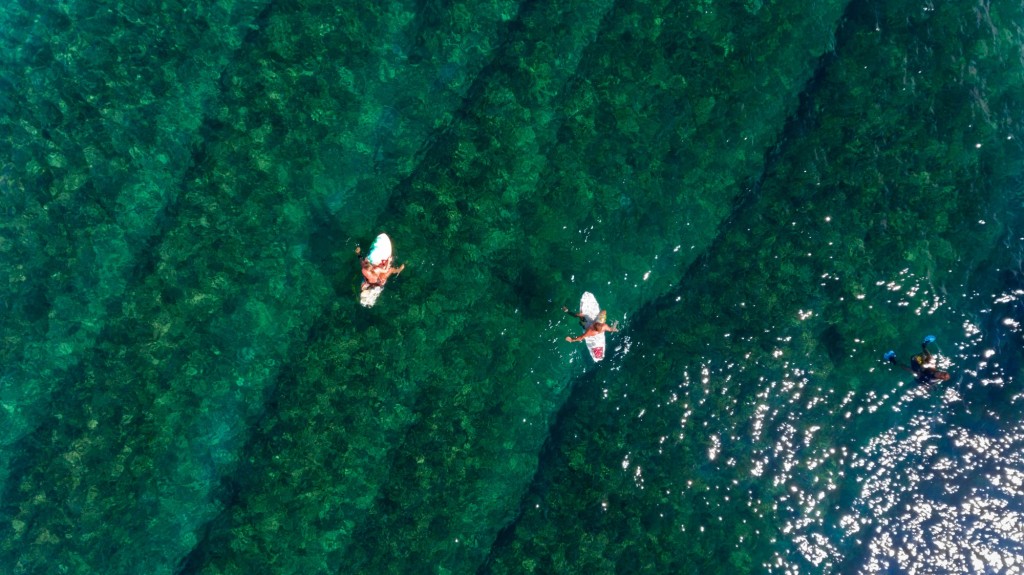 Green Bowl is a fantastic location for steep, hard, and fast waves and barrels that will lure the professional and advanced surfer. At 300 steps down, it's worth making the most of the day and bringing beach towels, supplies, and some decent footwear to explore the local caves. The accessibility does not make Green Bowl a family-friendly beach, but it is a surfer's paradise. It feels like a million miles away from civilization, with an uninterrupted view of the sea, and a slight put-off for the regular tourist, so you can surf in seclusion.
Green Bowl beach was originally a local surf hotspot visited during the rainy season, so you'll get a feel for the local chilled surf vibes. Although there's now a clifftop resort nearby, you still get a surf spot much less busy than Padang Padang.
Dreamland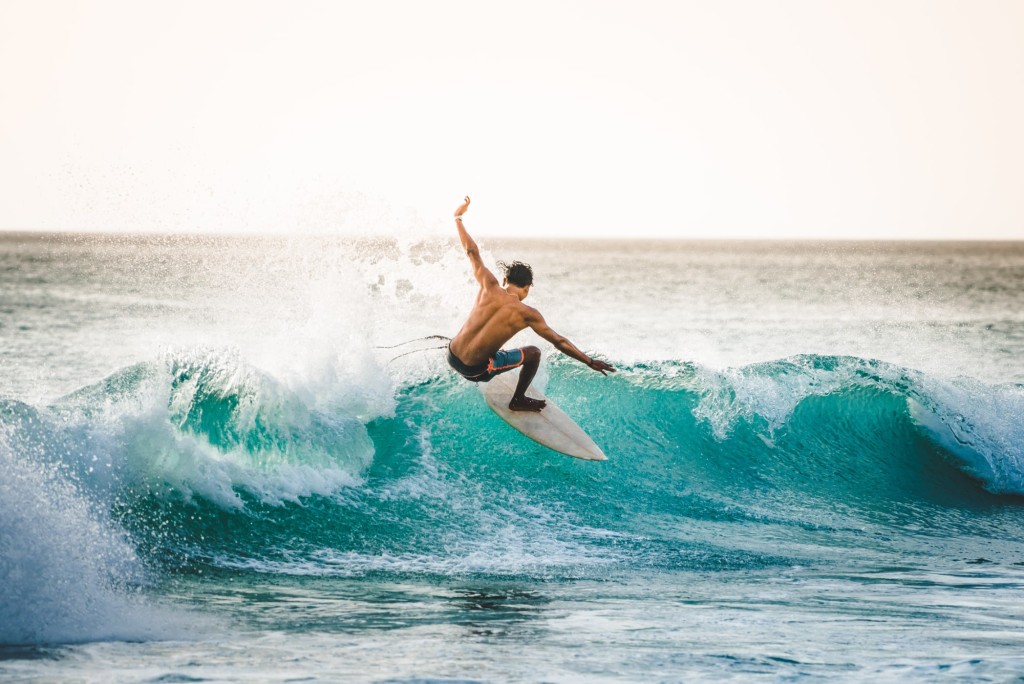 Dreamland is definitely one of the more commercial beaches, but it breaks in most weather conditions and is also a beginner-friendly surf beach. Best surfed at low tide, this is a mixed ability surf spot. Although the relative metropolis of hotel and golf course does loom over the beach, the bonus is an endless choice of beachfront restaurants and food choices.
Impossibles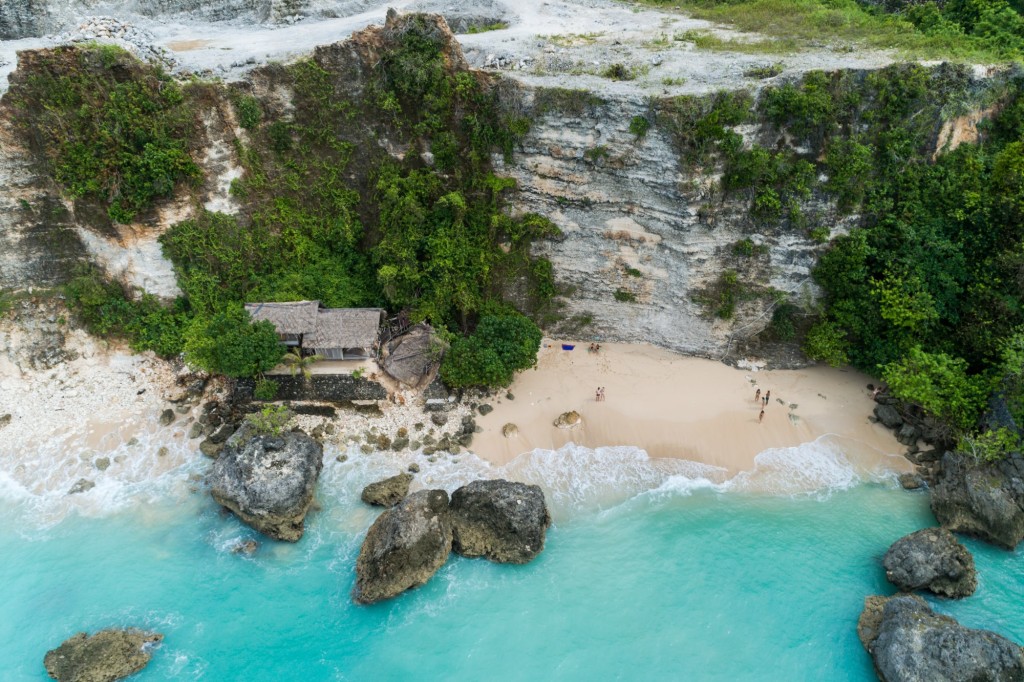 Offering impossibly fast waves as the name suggests, the Impossibles is a picture-perfect beach which is rideable at high and low tide. As a south swell rolls in from Padang way, you'll see surfers spread out by the speed of the wave, which is perfect for creating space and avoiding crowding. The Impossibles also avoids the issue of the tourist crowd, making this a pleasant beach to relax and surf.
Nyang Nyang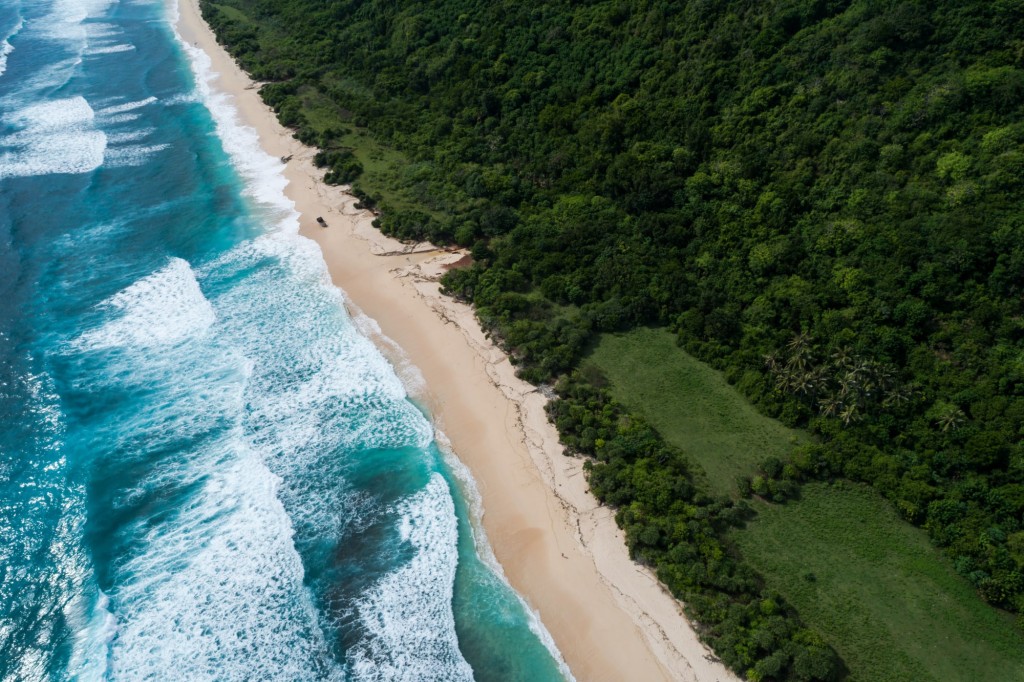 Nyang Nyang is a little less frequented than the other areas on this list. The twenty-minute downhill hike will provide you with golden sands and dazzling sea, as well as plenty of swells. Commonly known as the secret beach, it is secluded from the tourist crowds and is the perfect spot for surfing.
Thomas Beach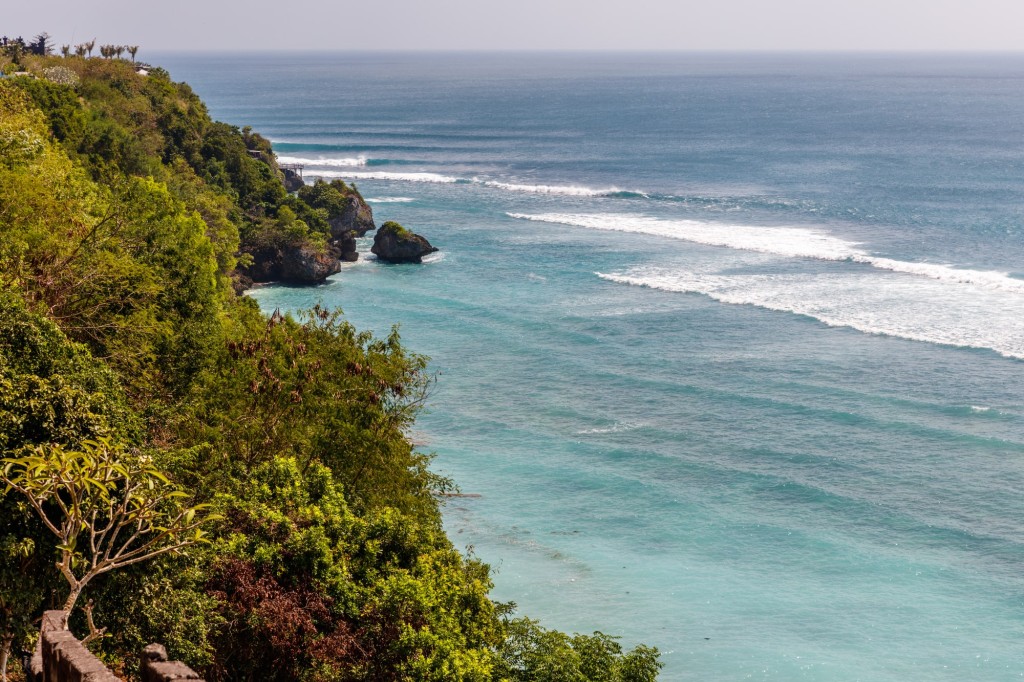 Thomas Beach is also known as the 'real Padang Padang' beach and has a relaxed surfer vibe and minimal sun loungers. Thomas Beach has a decent swell and is also great for beginners and mixed ability surfers. A mix between a reef and a beach break makes it a great place to surf and also relax in the tree-provided shade on a sunny afternoon.
Surf Lessons in Uluwatu
Uluwatu is one of the most popular surfing spots in Bali, and for good reason. The waves here are world-class, and the scenery is simply stunning. If you're thinking about taking up surfing, or even if you're just looking to improve your skills, Uluwatu is a great place to do it.
If you are a beginner, we recommend checking out Aloha Bali Surf and Yoga Retreat. They offer an all-inclusive 8-day package. During your stay, you'll enjoy daily surf lessons with experienced instructors, as well as plenty of time to practice on your own. And when you're not surfing, you can relax at thier beautiful accommodations or get in a workout with the on-site yoga classes. Plus, they take care of all your meals so you can just sit back, relax, and enjoy your vacation.
If you are looking for a more personalized experience, we recommend Infinite Wave Surf School. They offer private surf lessons for all levels as well as surf guiding for more experienced surfers. All of their instructors are certified lifeguards and have years of experience teaching surfing.
Surfboard Hire in Uluwatu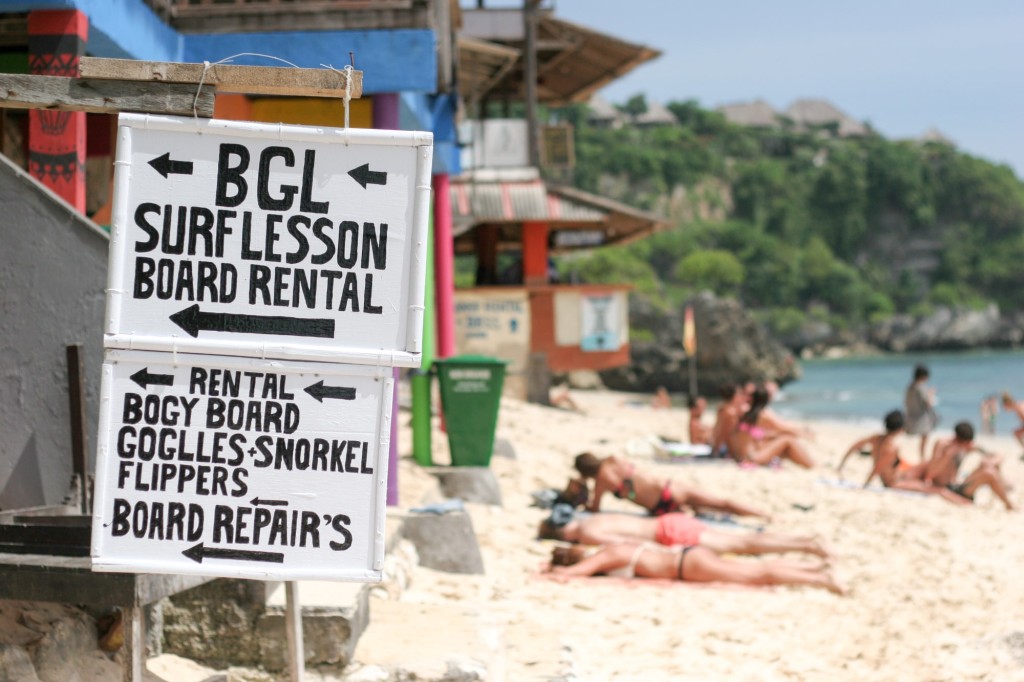 Many of the larger beaches like Balangan offer board rentals, but there are also lots of surf shops inland if you're traveling around the area. Roughly 15 mins drive away from most of the main beaches is Bali Tubes. They sell everything, including funboards, longboards, fish boards, and shortboards, and also offer to buy any old boards if you don't want to take an owned one home at the end of your travels. Borrow a board for as little as $5 a day.
There is also a chain of surf shops in Bali called Nusa that sells everything from surfboards to swimwear. Local surf schools also offer board rentals, as well as lessons to beginners. For 20 USD it's also worth checking out a website called Rent A Surfboard, which delivers to all the major locations including Uluwatu, you just need to give them 48 hours to make sure your surfboard makes it to you.
Travel Insurance for Surfing Uluwatu
Whether you're a seasoned pro or a beginner just catching your first waves, travel insurance should be at the top of your packing list.
Surfing can be an unpredictable sport, and accidents can happen even to the most experienced surfers. Travel insurance will protect you in case of any accidents or injuries, as well as lost or stolen equipment. It can also provide valuable assistance if your flight is delayed or cancelled.
So before you start surfing Uluwatu, make sure you're covered by a good travel insurance policy (we recommend checking out Nomad Travel Insurance for Surfing).
Did you enjoy our Complete Guide to Surfing Uluwatu in Bali? Check out all of our Surf Travel Guides here.