4 of the Best Surf Camps in Nosara

Disclaimer: This article contains affiliate links. We may receive a small commission if you make a purchase through one of these links. Please read our Affiliate Disclosure for more information.
This is our pick of the 4 Best Surf Camps in Nosara.
Nestled on the Nicoya Peninsula of Costa Rica, Nosara is a small town with a big surfing reputation. The area is well-known for its consistent waves and laid-back vibe, attracting surfers from all over the world. While the town has grown in popularity in recent years, it has managed to retain its small-town charm.
There are plenty of hotels and resorts in Nosara, but one of the best ways to experience the waves is by staying at a surf camp. Surf camps offer expert instruction from qualified instructors, as well as the opportunity to meet other like-minded individuals. Most camps also include lodging and meals, so you can simply focus on catching some waves.
Here is our pick of the 4 Best Surf Camps in Nosara:
1. Selina Nosara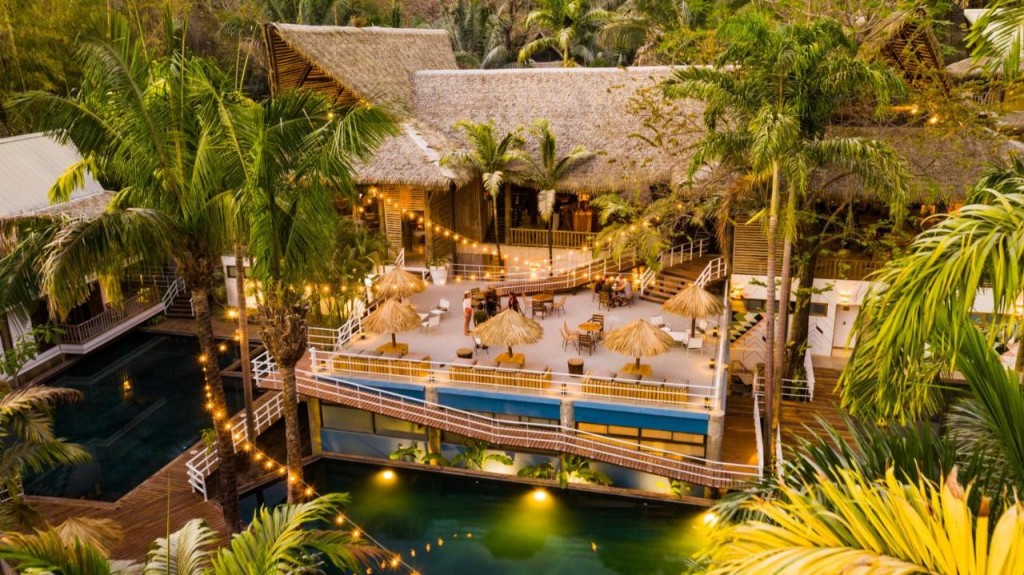 First on our list of the Best Surf Camps in Nosara is Selina Nosara.
Located a 5-minute drive from Playa Guiones, Selina Nosara is a co-living and co-working space that also offers surf camp packages.
Guests can choose between a 1-week or 11-day all-inclusive surf camp package when staying with Selina Nosara. Both packages include daily surf lessons, shared or private accommodation, surfboard and wetsuit hire, and a daily breakfast buffet.
For digital nomads, there is also an all-inclusive Co-working package.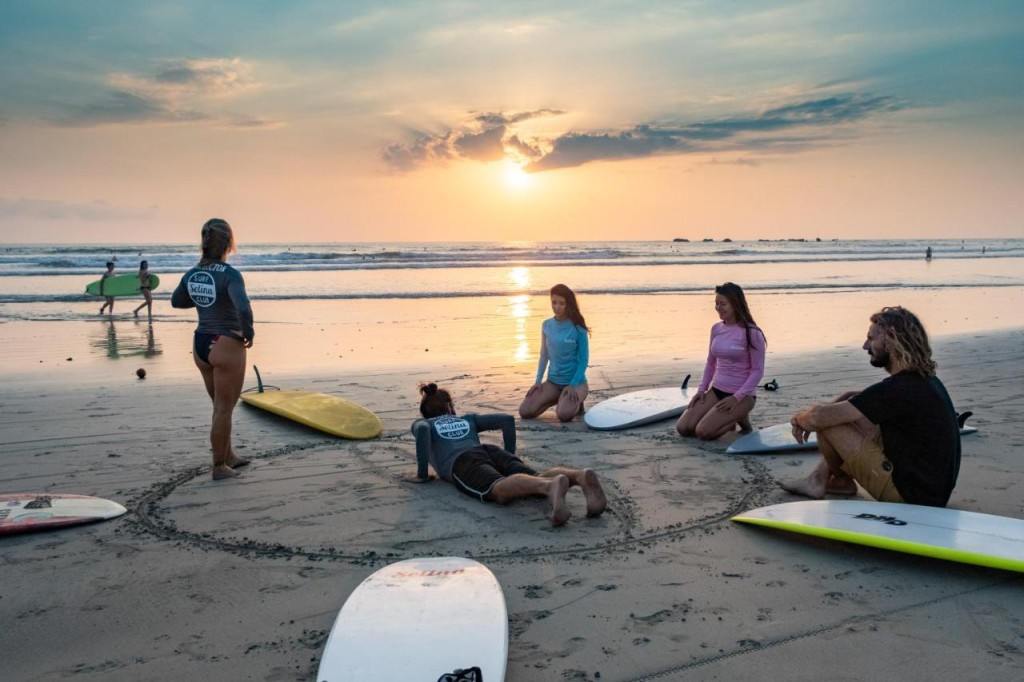 You can choose to stay in a private room or dorm-style accommodation. The dorms sleep 4 to 10 guests, and feature bunk beds, lockers, and shared bathrooms, along with free Wi-Fi. While the private rooms are more spacious and come with a private bathroom and air conditioning.
There are also plenty of social spaces to enjoy, including a pool, bar, restaurant, and coworking space.
With its great location and affordable prices, Selina Surf Camp is a great option for budget-conscious surfers.
2. Safari Surf School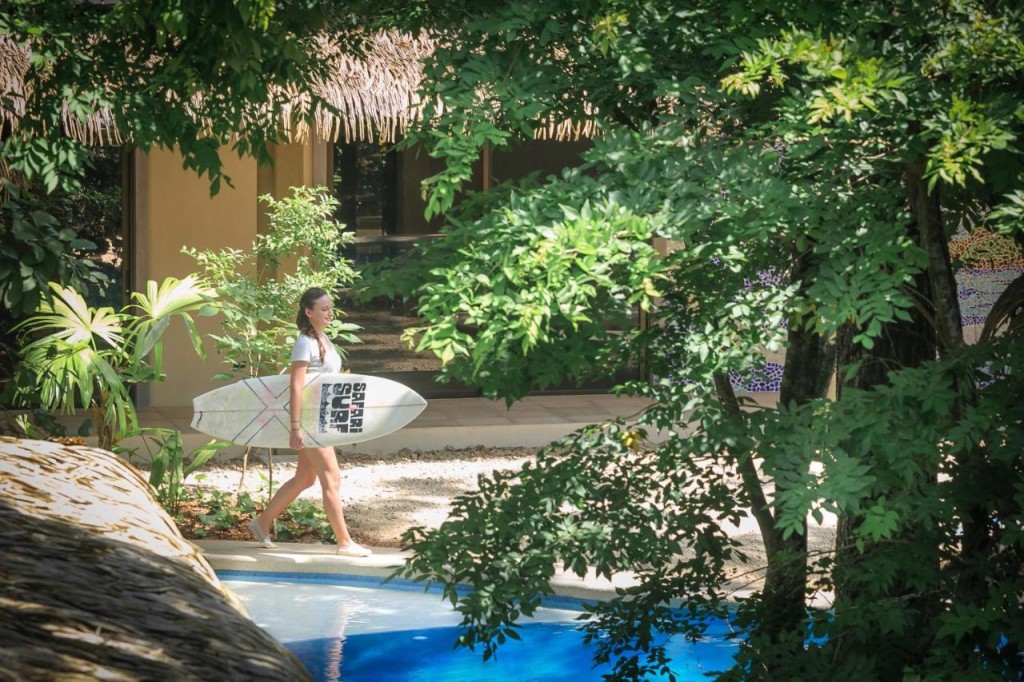 In partnership with the Olas Verdes Hotel, Safari Surf School runs a 1-week all-inclusive surf camp in Nosara.
The camp is led by professional surfer Andrea Diaz, who has over 10 years of experience teaching beginners and advanced surfers alike. She will provide you with daily surf lessons, video analysis, and private coaching to help you hone your skills and reach your surfing goals.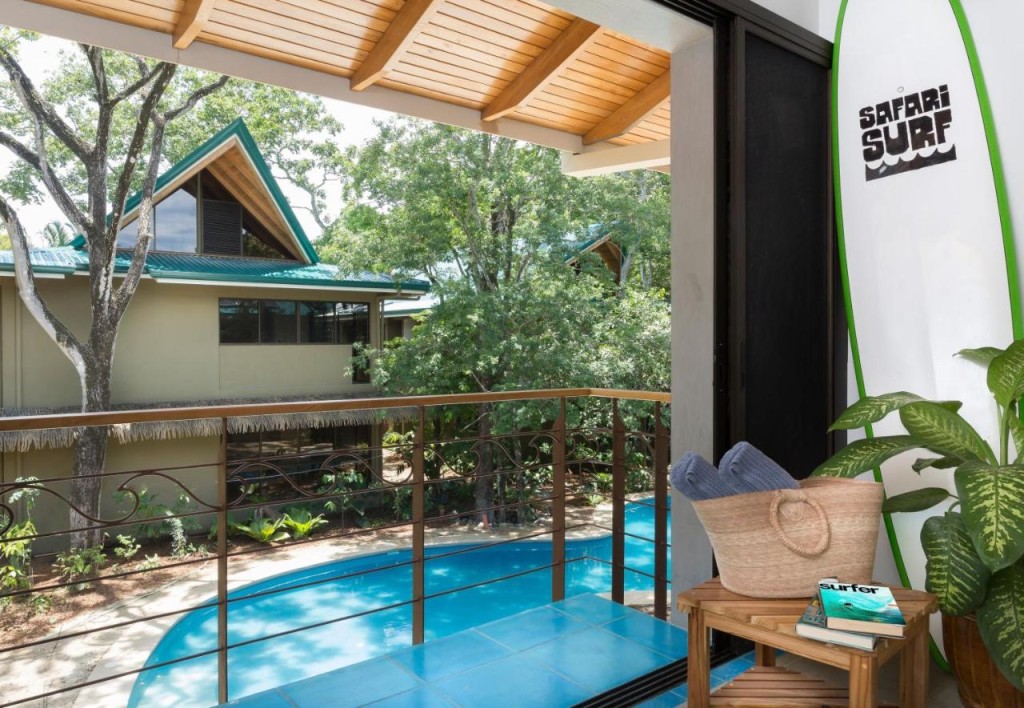 You'll enjoy a private room at the eco-friendly Olas Verdes Hotel, which is just a 5-minute walk from Playa Guiones. The vibrant, TV-free suites will make you feel right at home, with plenty of amenities to keep you comfortable during your stay. Each suite offers free Wi-Fi, air-conditioning, fans, minifridges, and microwaves, as well as tea and coffee making facilities, en suite shower-only bathrooms, and safes.
The 1-week package also includes daily yoga sessions to help improve your balance and flexibility, as well as breakfast and dinner.
You can book a 1-week package with Safari Surf School now starting from $3820 per week.
See also: 6 of the Best Surf Resorts in Nosara
3. The Gilded Iguana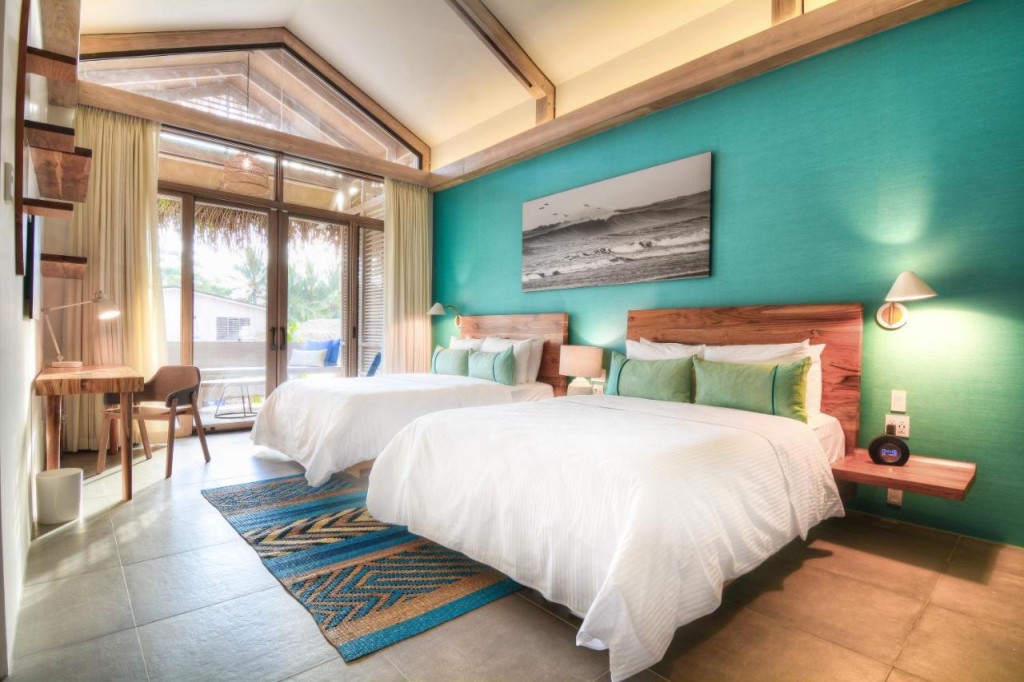 Next on our list of the Best Surf Camps in Nosara is The Gilded Iguana.
This contemporary resort is located just steps from Playa Guiones, making it the perfect base for your Nosara surfing adventure. The resort offers a variety of accommodations to suit all budgets, from private rooms and suites to dormitories. The airy, down-to-earth rooms come complete with Wi-Fi, surfboard storage, minifridges, and furnished balconies. Amenities at The Gilded Iguana include an outdoor pool, a hot tub, and a breezy open-air restaurant with a bar.
The Gilded Iguana has its own on-site surf school, led by professional surfer Raph Bruhwiler. He will provide you with daily surf lessons, video analysis, and private coaching to help you improve your surfing skills.
Guests can book a room at The Gilded Iguana and then add-on surf lessons after they check in. Group surf lessons are priced at €50 per person and private surf lessons are priced at €80 per person.
Book a room at The Gilded Iguana now starting from $343 per night.
4. Surf Bikini Retreat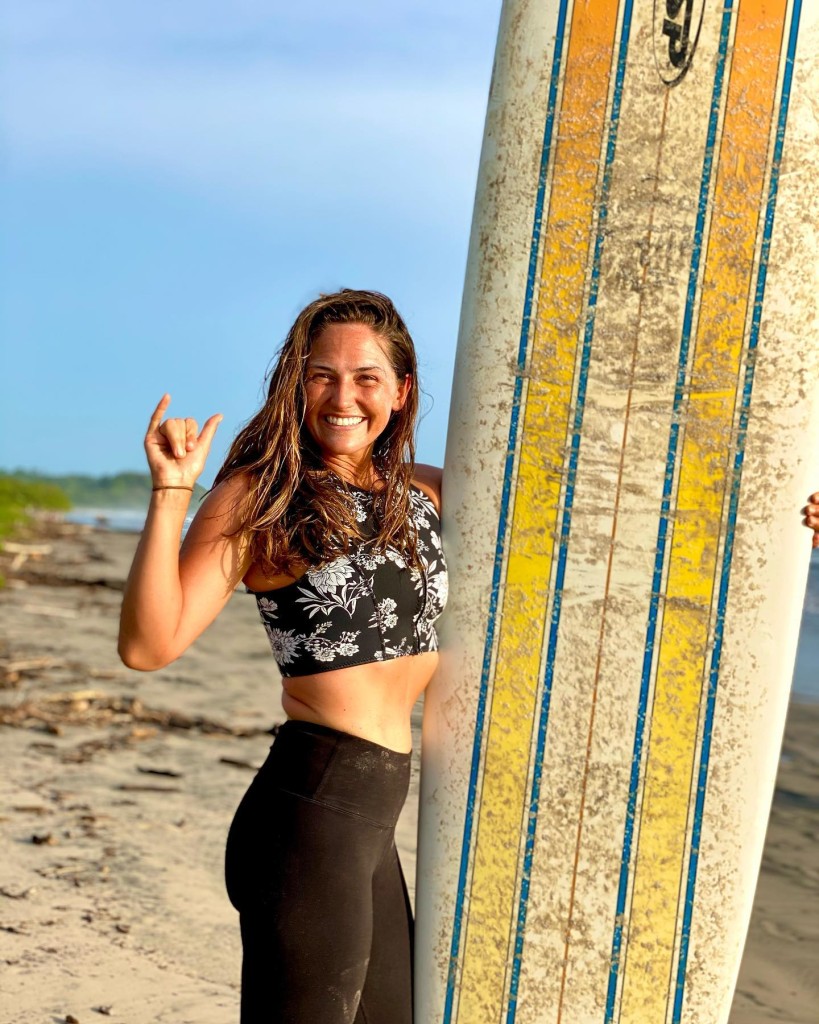 Last but not least on our list of the Best Surf Camps in Nosara is Surf Bikini Retreat.
The Surf Bikini Retreat is a 1-week surf and yoga camp designed specifically for women. The retreat includes daily 2-hour surf lessons, as well as 2 hours of yoga each day. The surf lessons are suitable for all levels, from beginners to advanced surfers. You'll learn the basics of surfing, such as paddling, popping up, and turning, and the yoga classes are designed to help improve your flexibility and balance.
You'll also have plenty of free time to explore the town of Nosara or relax on the beach.
The Surf Bikini Retreat takes place at "The Surfers Rancho", a boutique resort just steps from the beach. The ranch-style hotel is made up of 4 luxury cabins, each with a private bathroom, air conditioning, and Wi-Fi. You'll also have access to the hotel's pool, bar, and restaurant.
The package includes daily breakfast, lunch, and dinner, as well as unlimited snacks and drinks.
You can book a 1-week package with the Surf Bikini Retreat now starting from $3423 per person.
Surf Camps Nosara
Nosara is one of the most beautiful places in Costa Rica. It's known for its stunning beaches, lush jungle, and amazing surfing. If you've always wanted to learn to surf, Nosara is the perfect place to do it. And when you're not surfing, you can enjoy all that this beautiful area has to offer, from hiking and zip-lining through the jungle to relaxing on the beach.
So, what are you waiting for?
These 4 Surf Camps in Nosara offer everything you need to improve your surfing skills, from daily lessons and private coaching to yoga and accommodations. Book your spot now and get ready to ride the waves in Nosara!
Enjoyed our guide to The 4 Best Surf Camps in Nosara? Take a look at our Complete Guide to Surfing Nosara in Costa Rica.