A Complete Guide to Surfing Nosara in Costa Rica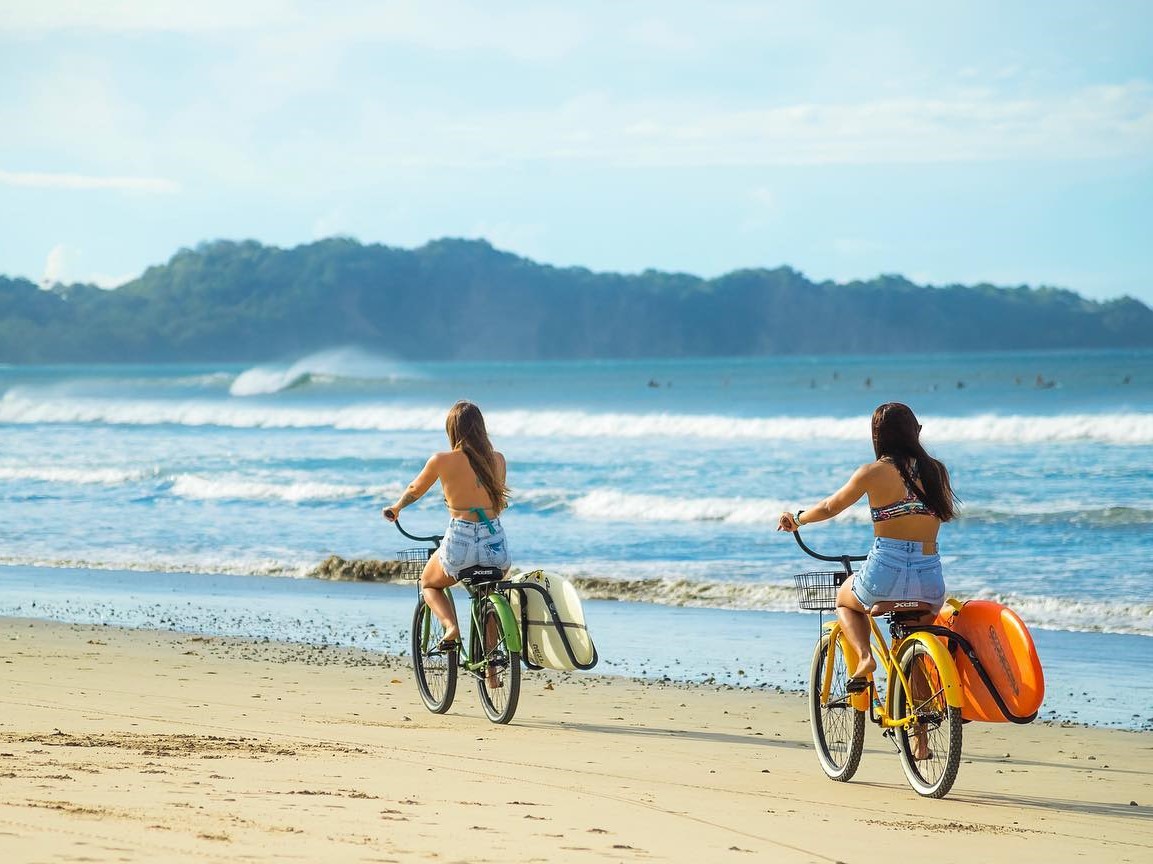 Disclaimer: This article contains affiliate links. We may receive a small commission if you make a purchase through one of these links. Please read our Affiliate Disclosure for more information.
Thinking about surfing Nosara in Costa Rica?
This is our complete surf travel guide. Read for everything you need to know about surfing Nosara.
Surfing Nosara in Costa Rica is an experience you'll never forget. The water is crystal clear, and the waves are perfect for beginners and experts alike. The beach is also home to a variety of marine life, including turtles, dolphins, and rays. And when you're not surfing, you can enjoy the incredible views of the jungle and the ocean. Whether you're a beginner or a seasoned pro, Nosara is the perfect place to catch some waves and create some lasting memories.
The Best Time of Year for Surfing Nosara
The best time of year for surfing Nosara is between March and April. This is when the waves are at their biggest and best and the water is at its warmest.
If you're a beginner, September and October is a good time to visit, as this is the beginning of Costa Rica's dry season and the waves tend to be smaller and more manageable.
However, if you're looking for a more relaxed surf trip, consider visiting Nosara during the shoulder season (January-February and May-June). The waves will still be good, but there will be fewer people in the water.
How to get to Nosara
Nosara is located in the province of Guanacaste, on the north-west coast of Costa Rica. The closest airport is Liberia International Airport (LIR), which is about a 3-hour drive from Nosara.
The best way to get to Nosara from Liberia International Airport (LIR) is by renting a car or taking a shuttle from one of the many companies that offer service to Nosara.
If you decide to rent a car, we recommend getting a 4-wheel drive. The roads in this area are not very well maintained, and you quickly move from paved roads to gravel. A 4-wheel drive will make the journey much smoother and will also give you the opportunity to explore some of the other beaches and towns in the area.
Surf Camps in Nosara
If you're thinking about coming to Nosara to surf, you should definitely consider signing up for a surf camp. Surf camps offer a great way to improve your surfing skills, meet other surfers, and enjoy the Nosara lifestyle. Some of our favorite surf camps in Nosara include:
Selina Nosara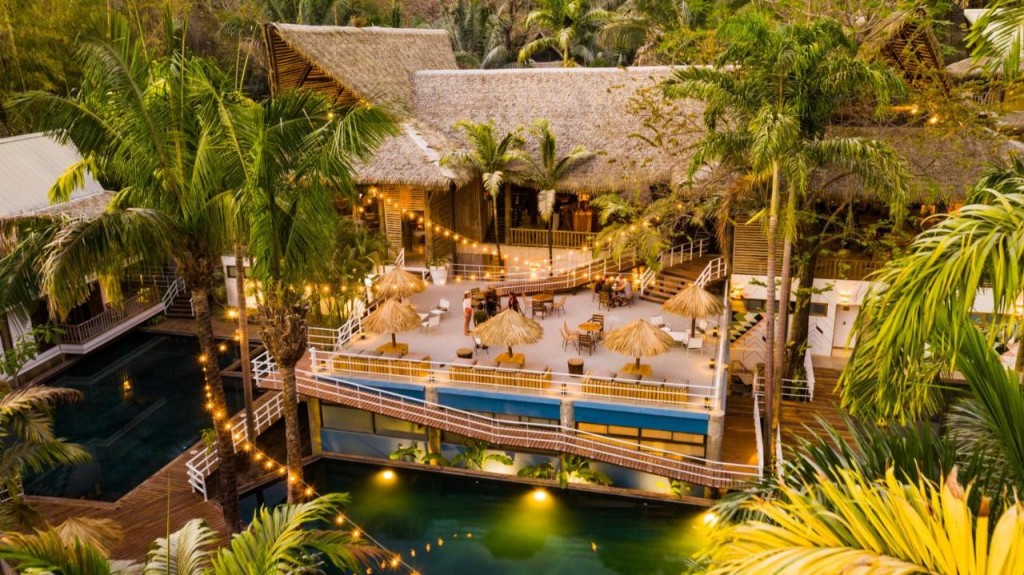 Located a 5-minute drive from Playa Guiones, Selina Nosara is a co-living and co-working space that also offers surf camp packages.
Guests can choose between a 1-week or 11-day all-inclusive surf camp package when staying with Selina Nosara. Both packages include daily surf lessons, shared or private accommodation, surfboard and wetsuit hire, and a daily breakfast buffet.
For digital nomads, there is also an all-inclusive Co-working package.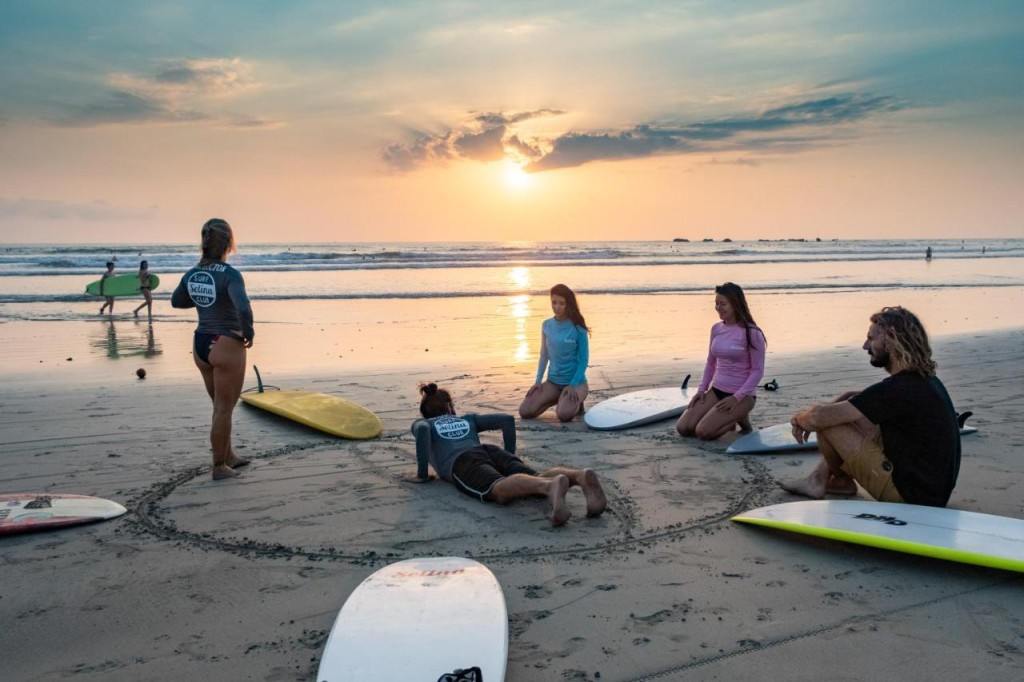 You can choose to stay in a private room or dorm-style accommodation. The dorms sleep 4 to 10 guests, and feature bunk beds, lockers, and shared bathrooms, along with free Wi-Fi. While the private rooms are more spacious and come with a private bathroom and air conditioning.
There are also plenty of social spaces to enjoy, including a pool, bar, restaurant, and coworking space.
With its great location and affordable prices, Selina Surf Camp is a great option for budget-conscious surfers.
Safari Surf School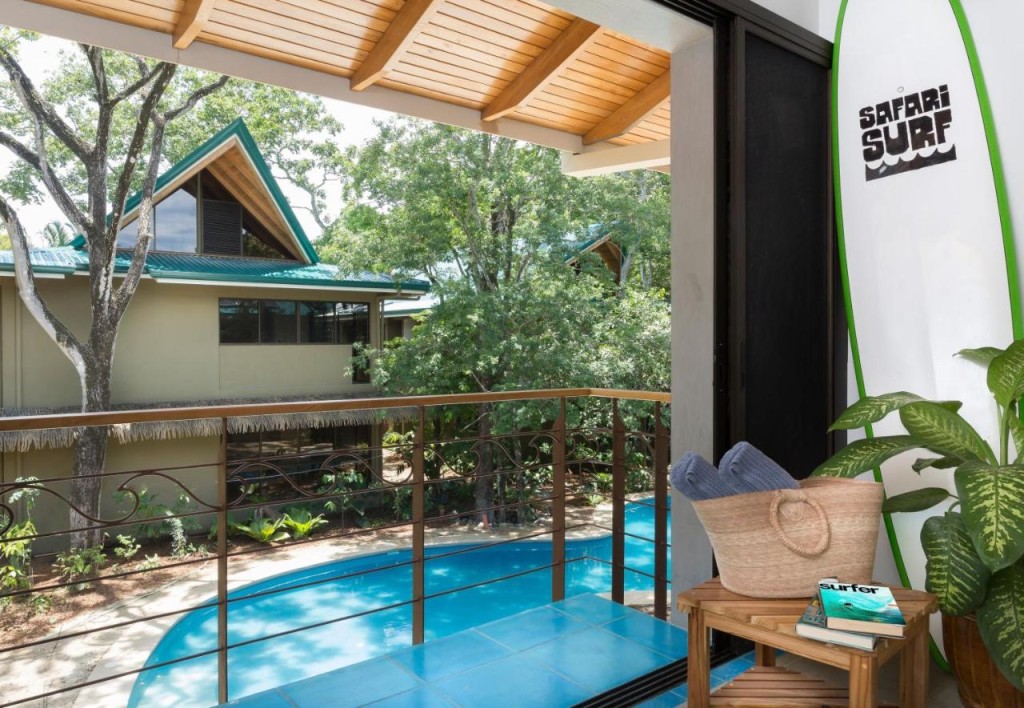 In partnership with the Olas Verdes Hotel, Safari Surf School runs a 1-week all-inclusive surf camp in Nosara.
The camp is led by professional surfer Andrea Diaz, who has over 10 years of experience teaching beginners and advanced surfers alike. She will provide you with daily surf lessons, video analysis, and private coaching to help you hone your skills and reach your surfing goals.
You'll enjoy a private room at the eco-friendly Olas Verdes Hotel, which is just a 5-minute walk from Playa Guiones. The vibrant, TV-free suites will make you feel right at home, with plenty of amenities to keep you comfortable during your stay. Each suite offers free Wi-Fi, air-conditioning, fans, minifridges, and microwaves, as well as tea and coffee making facilities, en suite shower-only bathrooms, and safes.
The 1-week package also includes daily yoga sessions to help improve your balance and flexibility, as well as breakfast and dinner.
You can book a 1-week package with Safari Surf School now starting from $3820 per week.
Surf Bikini Retreat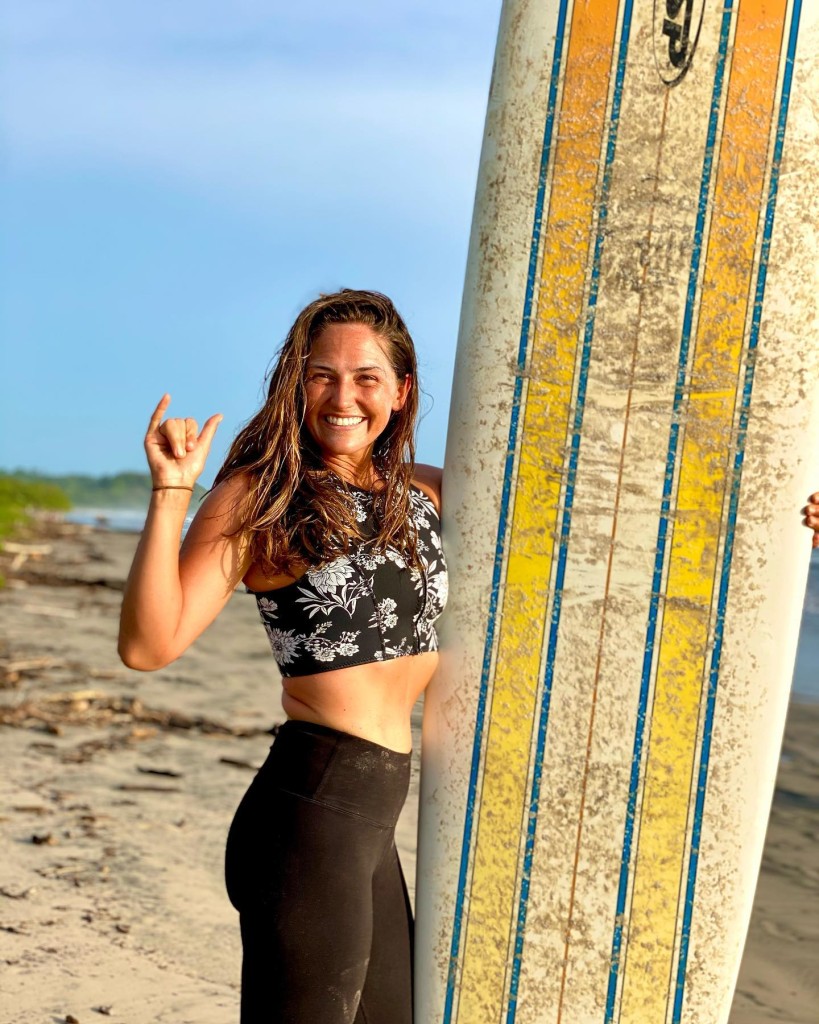 The Surf Bikini Retreat is a 1-week surf and yoga camp designed specifically for women. The retreat includes daily 2-hour surf lessons, as well as 2 hours of yoga each day. The surf lessons are suitable for all levels, from beginners to advanced surfers. You'll learn the basics of surfing, such as paddling, popping up, and turning, and the yoga classes are designed to help improve your flexibility and balance.
You'll also have plenty of free time to explore the town of Nosara or relax on the beach.
The Surf Bikini Retreat takes place at "The Surfers Rancho", a boutique resort just steps from the beach. The ranch-style hotel is made up of 4 luxury cabins, each with a private bathroom, air conditioning, and Wi-Fi. You'll also have access to the hotel's pool, bar, and restaurant.
The package includes daily breakfast, lunch, and dinner, as well as unlimited snacks and drinks.
You can book a 1-week package with the Surf Bikini Retreat now starting from $3423 per person.
See also: 4 of the Best Surf Camps in Nosara
Surf Resorts in Nosara
As well as its many surf camps, Nosara is also home to a number of surf resorts. For those looking for luxury accommodations, there are plenty of upscale resorts to choose from. For those on a budget, there are also a number of more affordable options.
No matter what your budget or preferences, there's a surf resort in Nosara that's right for you. Here are some of our favorite surf resorts in Nosara:
The Gilded Iguana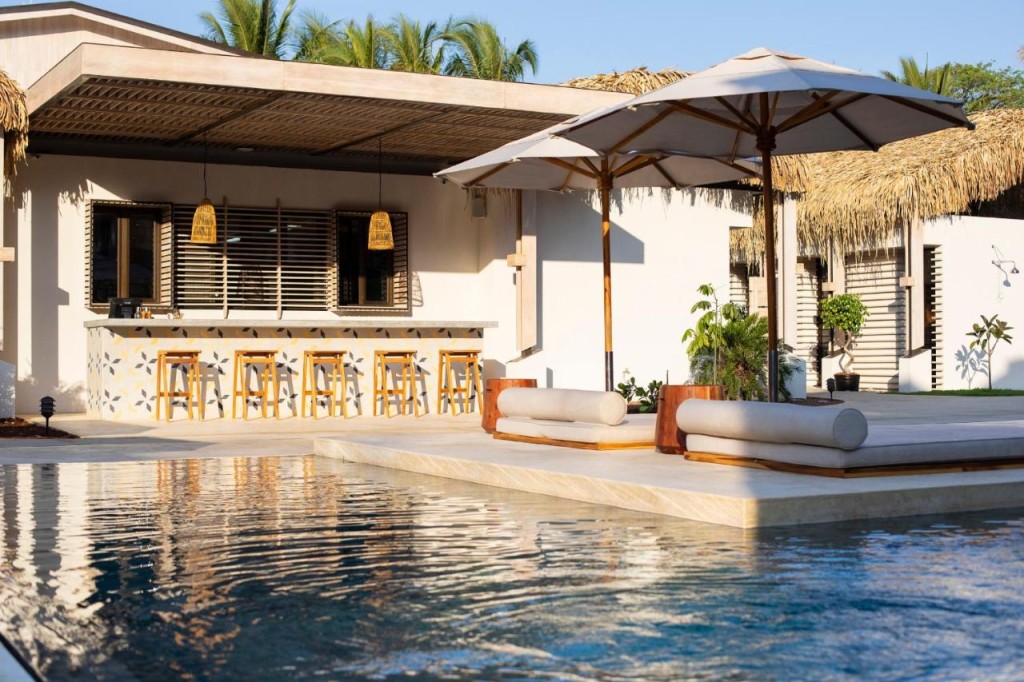 This contemporary resort is located just steps from Playa Guiones, making it the perfect base for your Nosara surfing adventure. The resort offers a variety of accommodations to suit all budgets, from private rooms and suites to dormitories.
The airy, down-to-earth rooms come complete with Wi-Fi, surfboard storage, minifridges, and furnished balconies. Amenities include an outdoor pool, a hot tub, and a breezy open-air restaurant with a bar.
The resort also offers a Surf Club package which gives you full access to their extensive range of surf equipment. Or, if you know exactly what you want, you can just rent your favorite stuff in advance of your stay and have it when you need it. And of course, The Gilded Iguana can hook you up with surf lessons and guidance, to suit beginners and more experienced surfers alike.
Book a room at The Gilded Iguana now starting from $342 per night.
The Sunset Shack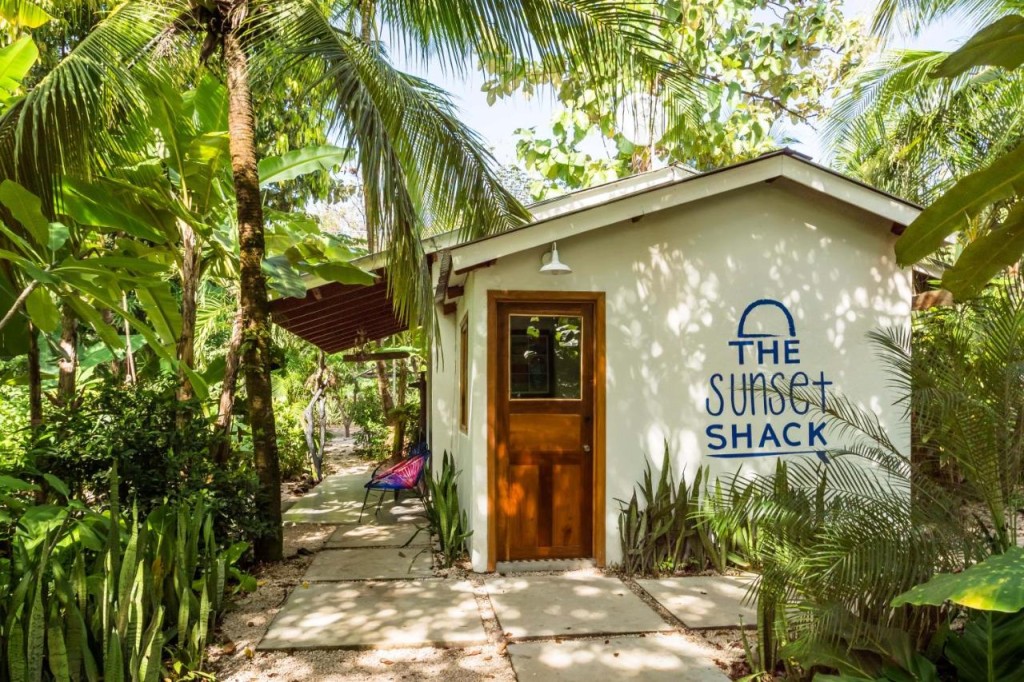 Looking for the perfect place to relax and soak up the laid-back Nosara vibe?
Look no further than The Sunset Shack. This friendly surf hotel is tucked away in the jungle, just a short walk from Playa Guiones.
The 8 guest rooms have a comfortable tropical style and are surrounded by native plants. There is also a saltwater pool, as well as comfy deck loungers and umbrellas for lazy afternoons. And if you get hungry after a long surf, there is an on-site restaurant that serves delicious Mexican food all day.
If you're looking for an old-school surf camp where you can enjoy surf sessions with your friends and relax with a cold beer while enjoying the beautiful sunsets, The Sunset Shack is the place for you.
Book a room at The Sunset Shack now starting from $203 a night.
The Nomadic Hotel Nosara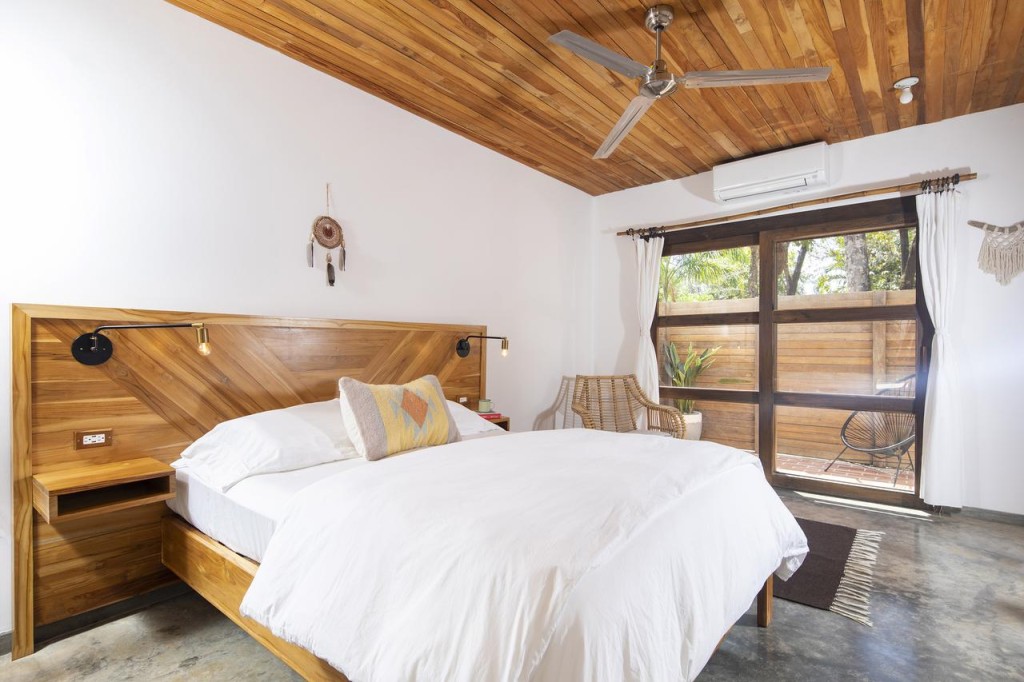 This colorful guesthouse, located on the outskirts of Playa Guiones, is ideal for exploring everything that Nosara has to offer.
With its spacious and well-designed rooms, The Nomadic Hotel is perfect for couples or groups of friends seeking to escape the hustle and bustle of everyday life. The rooms are bright and airy, with high ceilings, large windows, private balconies, and free Wi-Fi.
Amenities include a tropical pool area, sun deck, and a kitchen serving fresh healthy meals on rotation. It's perfectly designed to create a space that gets you amped on life, inspired, and connected with like-minded travelers.
The hotel can arrange surfing lessons, stand-up paddleboarding, horseback riding, and zip-lining – all of which can be enjoyed against the backdrop of Nosara's stunning natural landscape.
Book a room now at The Nomadic Hotel in Nosara starting from $163 a night.
See also: 6 of the Best Surf Resorts in Nosara
Nosara Surf Spots
While Nosara might not draw the crowds of tourists like some of the other towns in the province, you will undoubtedly find a rather focused band of surfers staying in the city and for good reason. It offers some of the most consistent surf in all of Costa Rica, not to mention some especially powerful waves. Here's what you need to know about some of the best surf spots in Nosara.
Playa Nosara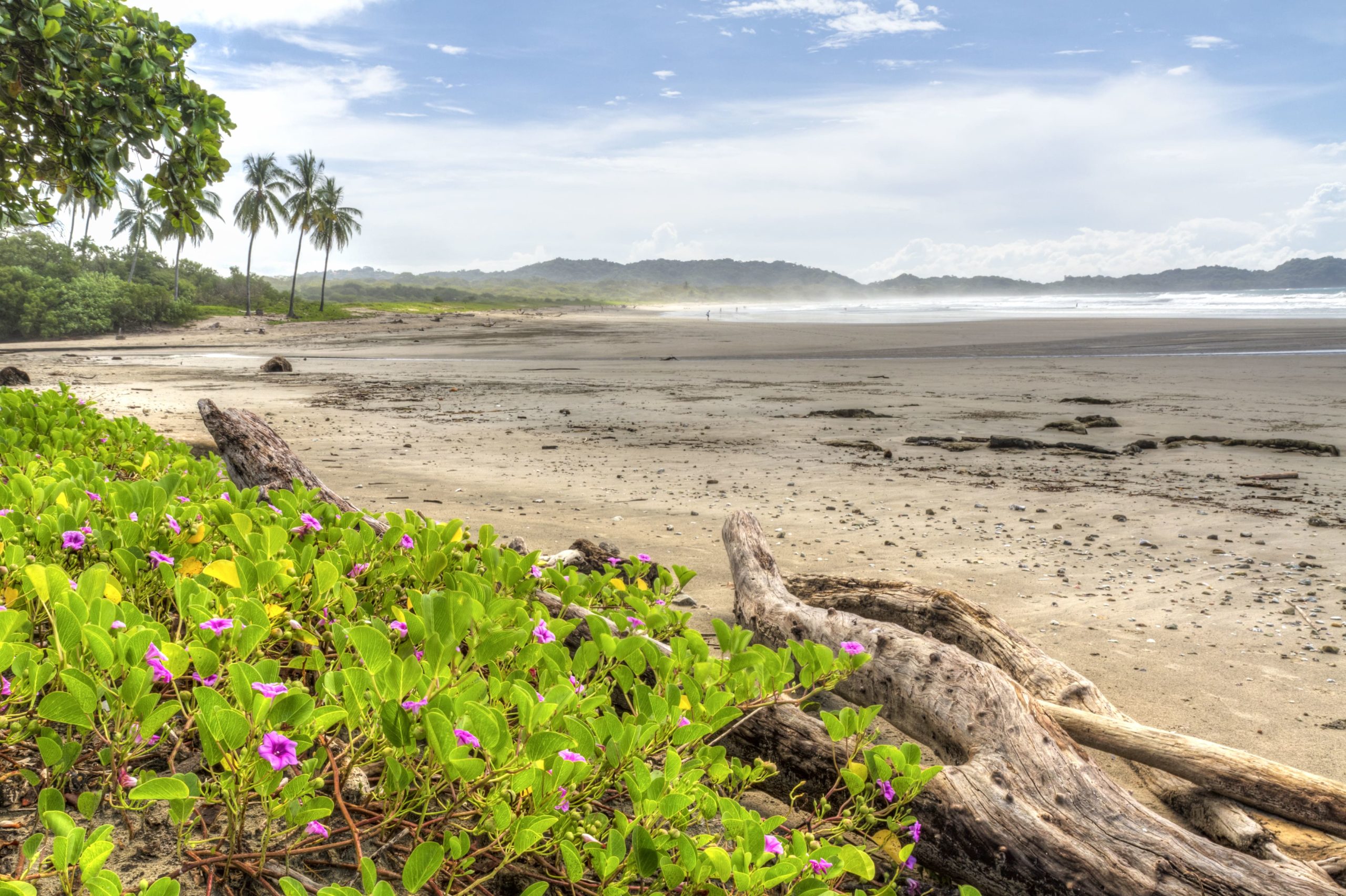 The beach for which the city is named (or is it the other way around?) This beach offers both a beach break that offers some seriously powerful barreling waves and high peaks, as well as a reef break with some shallower swells that peel off to the left.
Playa Pelada
North to Playa Nosara, you will find this rather choppy reef rocky break, which works best at high tides. When it does work, however, you'll get decent north swells, though it's not the most consistent place to hit the waves. It's more popular for its coves, caves, and tide pools, instead.
Playa Ostional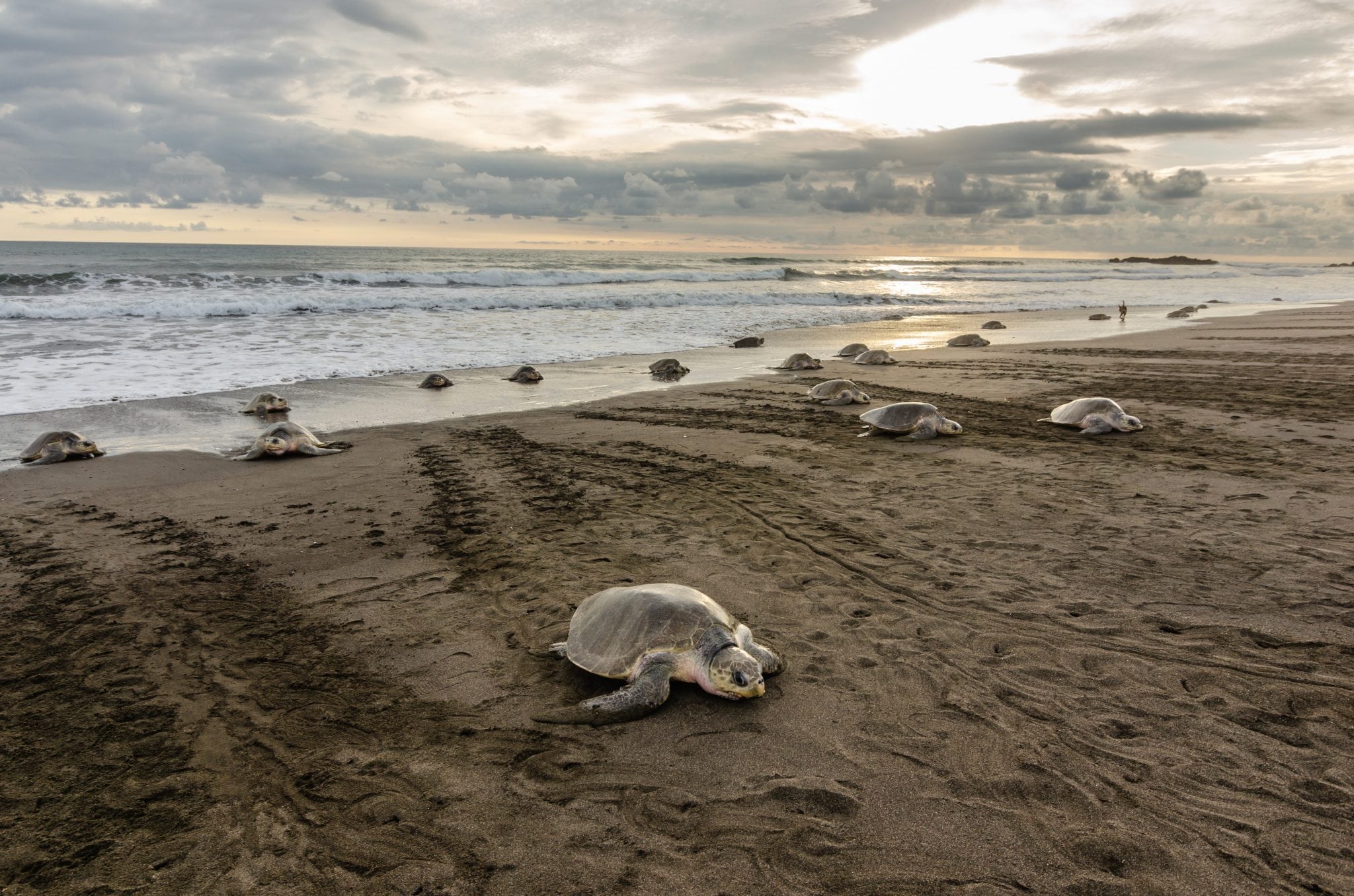 Keep heading north and you will find this beach break that is always popular thanks to the strong, hollow waves that work best in the first two months of the year. You can catch good swells from all directions, with Northwest, West, and Southwest working best. Unlike Playa Pelada, the waves are consistent here and can ride for as far as 300 meters. What's better, though you might see some occasionally visiting to see the Olive Ridley Sea Turtles, this beach is mostly frequented by other surfers only.
Playa Guiones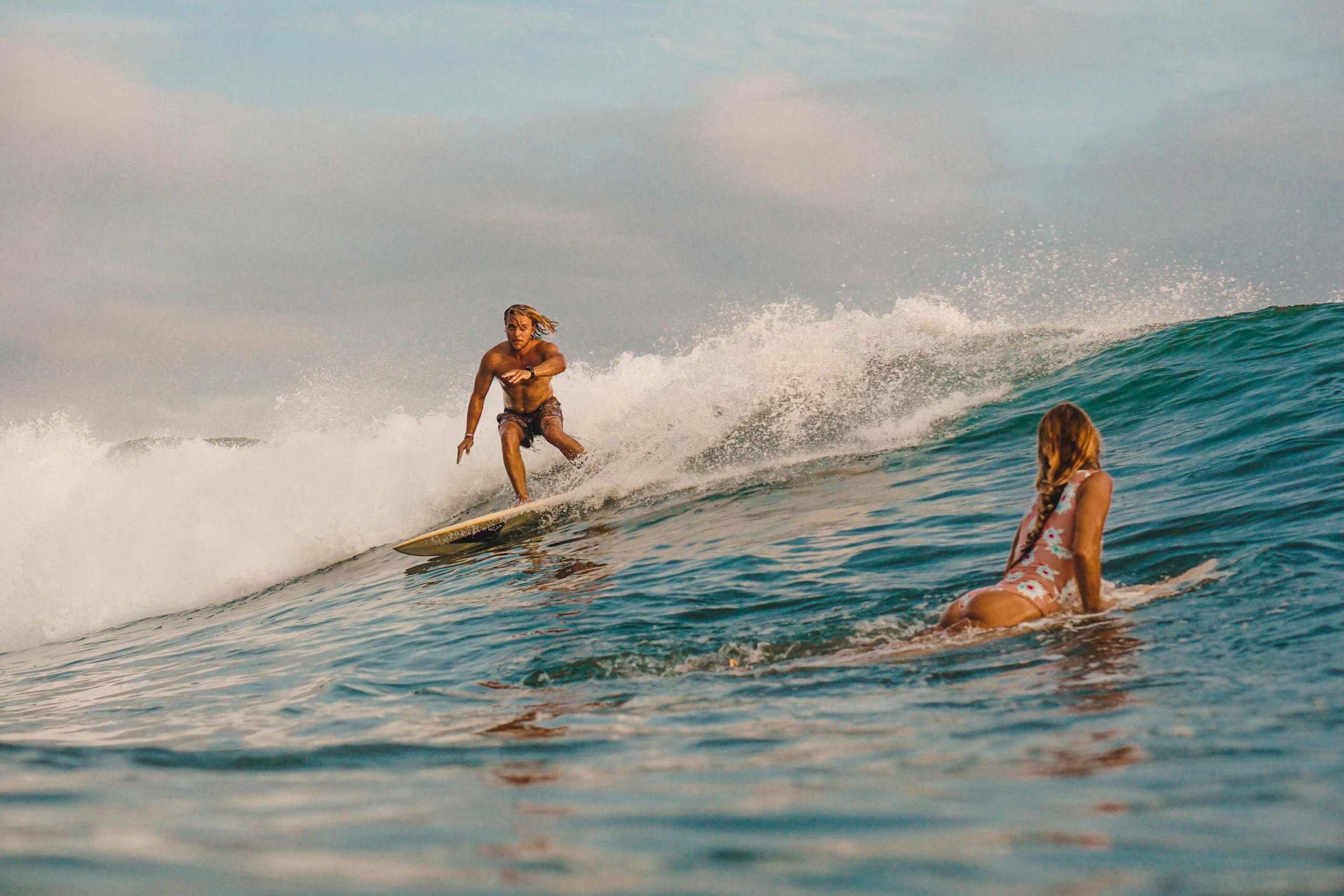 A gorgeous white sand beach that's easily the most popular spot for surfing Nosara. It's also where you will find the majority of the surf schools thanks to a wide variety of peaks at the beach break. This breaks consistently both left and right over a sandy seafloor that long-boarders and short-boarders will get a kick out of. The swells on this break can get pretty huge, holding up as tall as 10 feet, but its usually quite beginner-friendly.
Playa Garza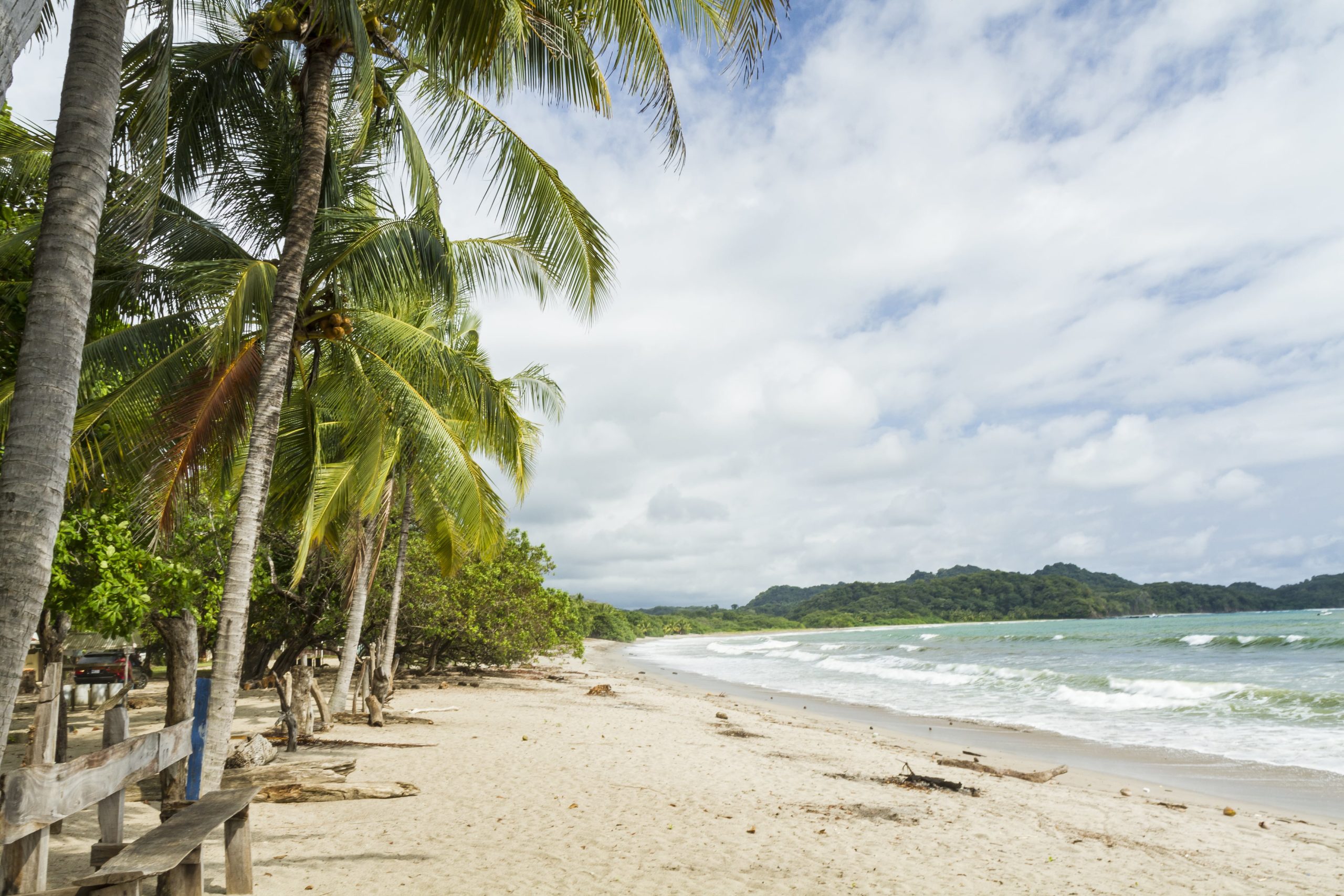 If you're looking to get away from the crowds and enjoy some soul surfing, then this deserted beach might be the place for you. There are both inside and outside reefs that break in both directions, but it is a little inconsistent most of the time. That changes during high tide, where waves consistently get chest high. To the delight of most surfers, Playa Garza remains totally isolated most of the time, though you may occasionally see fishers and other seafarers from nearby hotels and resorts heading out.
Surf Lessons in Nosara
Looking for a surf lesson while you're in Nosara?
Look no further than Nosara's very own Abraham. For just $80 per person, you'll get a private surf lesson with this local expert. Abraham will tailor the lesson to your skill level, so it's perfect whether you're a beginner or more experienced surfer.
Surfboard Hire in Nosara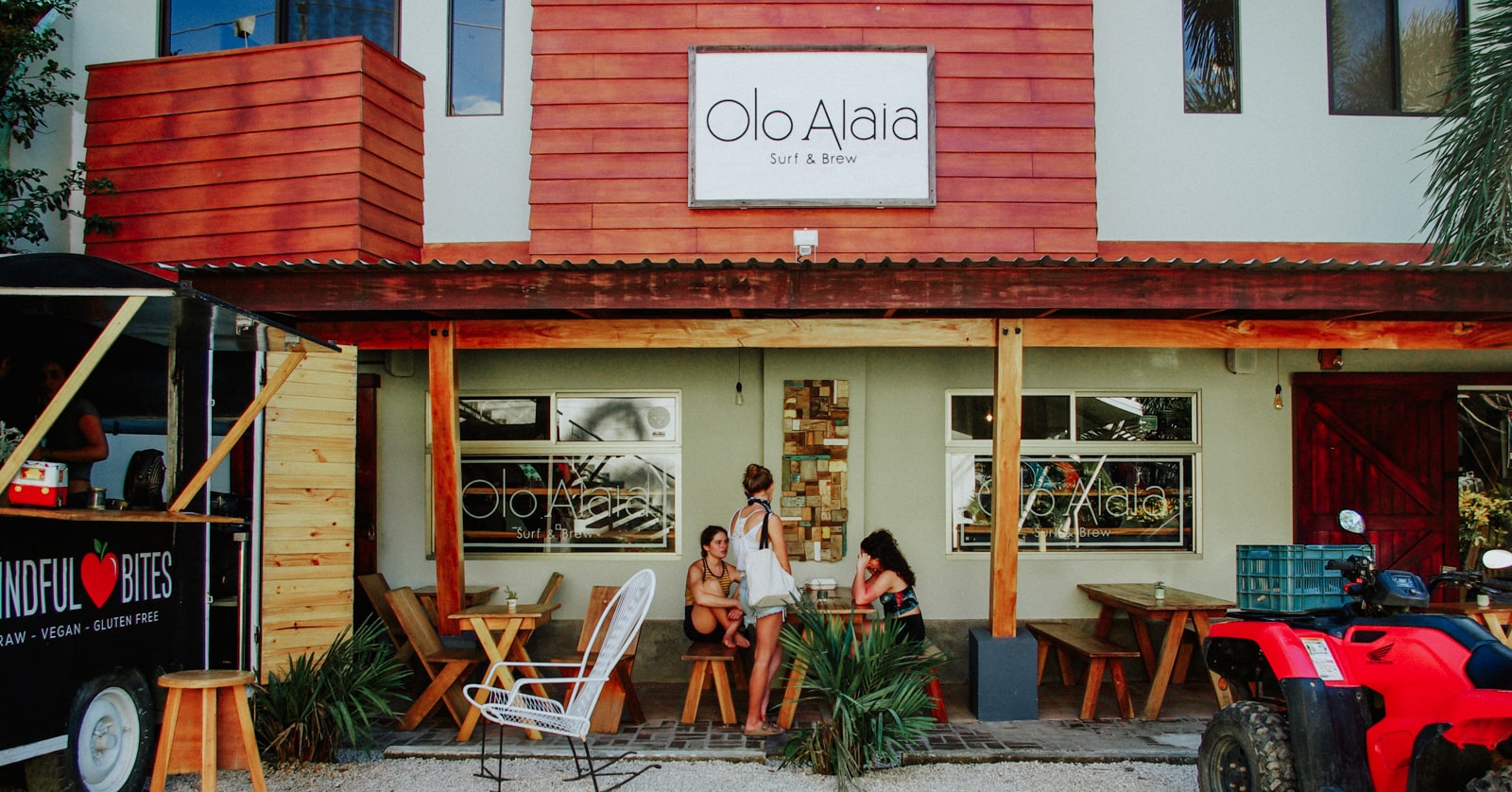 Nosara is more of a surf-town than a tourist town. That means that although the city might look relatively bare, it has a strong community of surf shops and surf schools (often the two are the same thing.) If you haven't brought your own board or kit, then you have nothing to worry about because the surf shops below will have you sorted.
One of the oldest surf shops in Nosara, Pura Vida is also a popular surf camp and tour organizer, so it's a great place if you're looking for a local expert who can help you get the most out of the city's nearby beaches. Otherwise, they have all the gear you could ask for on offer, as well as both standard surfboards and premium surfboards for more experienced surfers to rent.
The Frog Pad is designed to help those surfing Nosara get precisely the board they need and will offer you plenty of advice on which of their stock might be best suited for you. They have bodyboards, longboards, funboards, shortboards, and more, including those with and without epoxy so there's plenty of choice.
Something of a local treasure, Olo Alaia is a local cafe and shop that serves much of the Nosara surfing community. Their board rentals are a little basic in choice compared to some of the other selections named here, but they are decently priced, and they also offer surf lessons and excursions, as well as wave-riding journeys.
Above, are only a few of the surf shops in Nosara. If you want, you can just as easily take a walk along any of the beaches and find plenty more.
Travel Insurance for Surfing Nosara
Whether you're a seasoned pro or a beginner just catching your first waves, travel insurance should be at the top of your packing list.
Surfing can be an unpredictable sport, and accidents can happen even to the most experienced surfers. Travel insurance will protect you in case of any accidents or injuries, as well as lost or stolen equipment. It can also provide valuable assistance if your flight is delayed or cancelled.
So before you start surfing Nosara in Costa Rica, make sure you're covered by a good travel insurance policy (we recommend checking out Nomad Travel Insurance for Surfing).
Enjoyed our Complete Guide to Surfing Nosara in Costa Rica? Check out Complete Guide to Surfing Costa Rica.