6 of the Best Surf Resorts in Nosara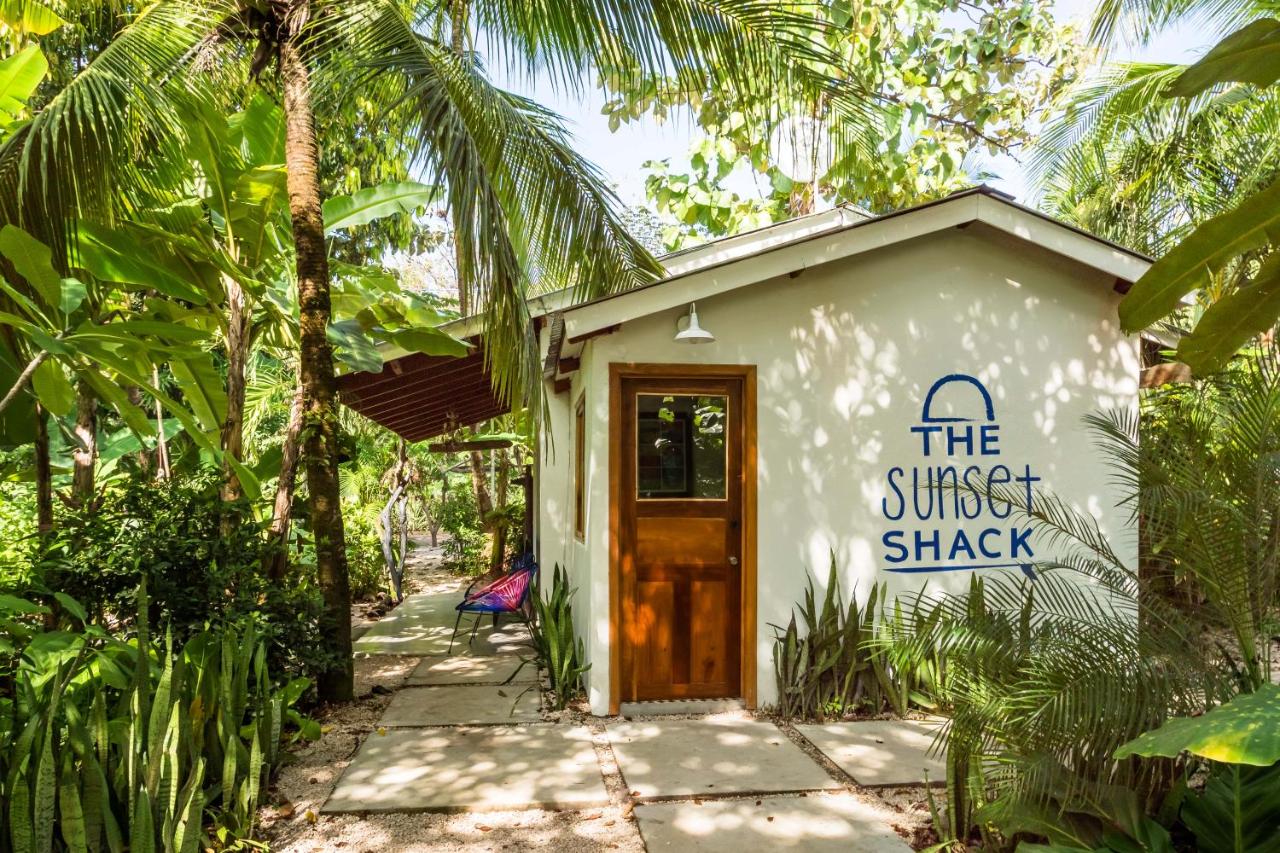 Disclaimer: This article contains affiliate links. We may receive a small commission if you make a purchase through one of these links. Please read our Affiliate Disclosure for more information.
This is our pick of the 6 Best Surf Resorts in Nosara, Costa Rica.
Located on the edge of the Nicoya Peninsula, Nosara is renowned for its pristine beaches, tropical jungle, and abundant wave breaks.
But Nosara is more than just a great place to catch some waves. It's also home to a number of top-notch surf resorts. These resorts offer everything from luxurious accommodations to expert instruction, making them the perfect place to stay for any surfer looking to improve their skills.
So without further ado, here are our pick of the 6 best surf resorts in Nosara.
1. The Gilded Iguana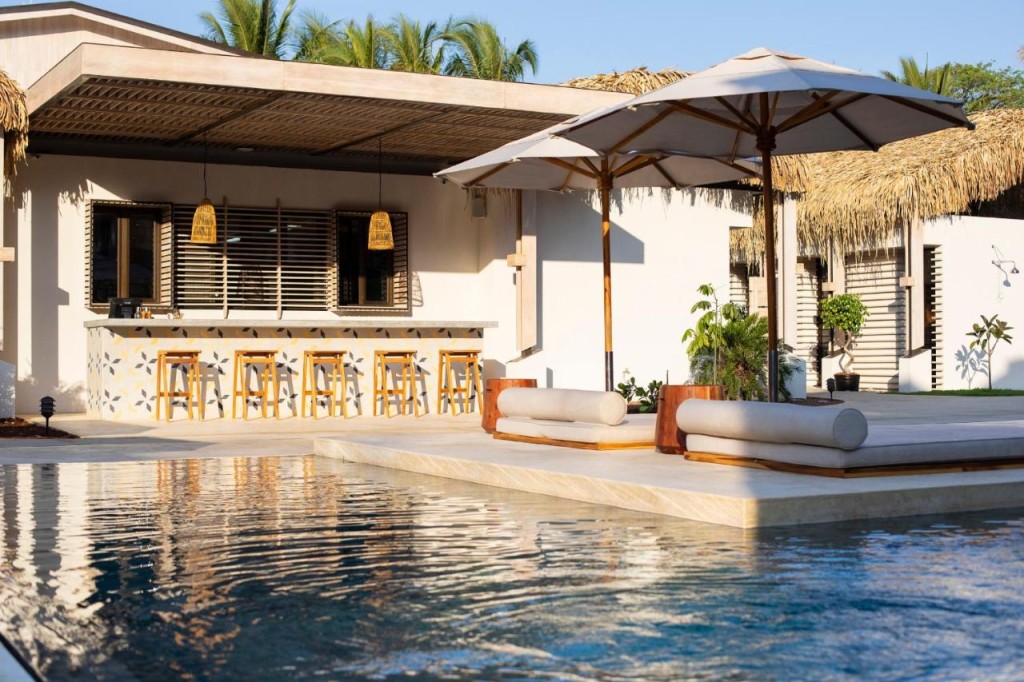 First on our list of the Best Surf Resorts in Nosara is The Gilded Iguana.
This contemporary resort is located just steps from Playa Guiones, making it the perfect base for your Nosara surfing adventure. The resort offers a variety of accommodations to suit all budgets, from private rooms and suites to dormitories.
The airy, down-to-earth rooms come complete with Wi-Fi, surfboard storage, minifridges, and furnished balconies. Amenities include an outdoor pool, a hot tub, and a breezy open-air restaurant with a bar.
The resort also offers a Surf Club package which gives you full access to their extensive range of surf equipment. Or, if you know exactly what you want, you can just rent your favorite stuff in advance of your stay and have it when you need it. And of course, The Gilded Iguana can hook you up with surf lessons and guidance, to suit beginners and more experienced surfers alike.
Book a room at The Gilded Iguana now starting from $342 per night.
2. The Nomadic Hotel Nosara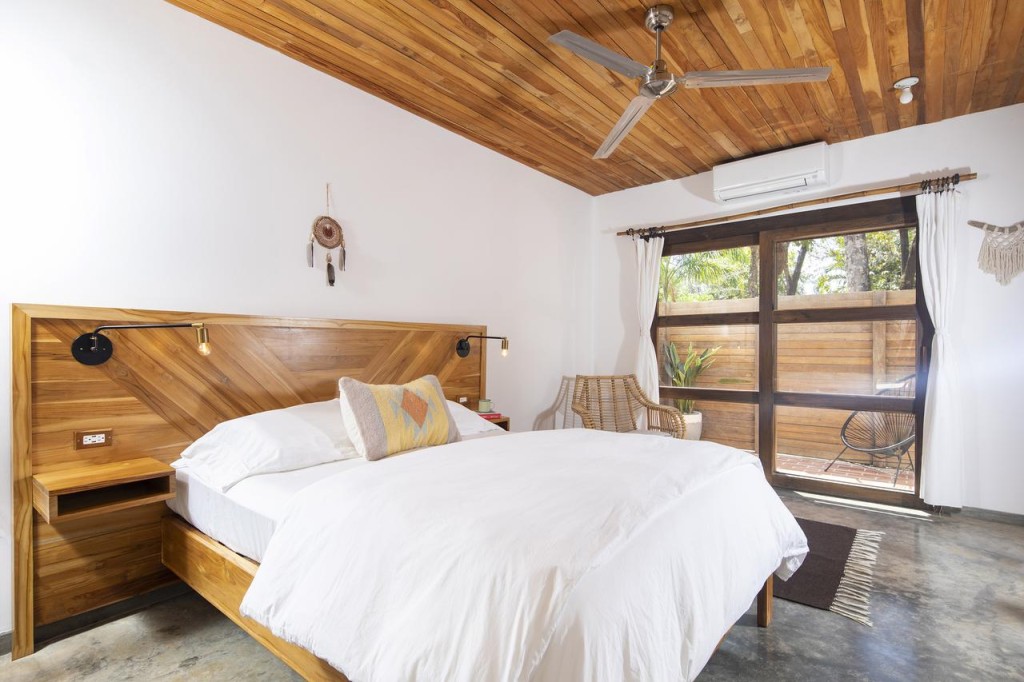 This colorful guesthouse, located on the outskirts of Playa Guiones, is ideal for exploring everything that Nosara has to offer.
With its spacious and well-designed rooms, The Nomadic Hotel is perfect for couples or groups of friends seeking to escape the hustle and bustle of everyday life. The rooms are bright and airy, with high ceilings, large windows, private balconies, and free Wi-Fi.
Amenities include a tropical pool area, sun deck, and a kitchen serving fresh healthy meals on rotation. It's perfectly designed to create a space that gets you amped on life, inspired, and connected with like-minded travelers.
The hotel can arrange surfing lessons, stand-up paddleboarding, horseback riding, and zip-lining – all of which can be enjoyed against the backdrop of Nosara's stunning natural landscape.
Book a room now at The Nomadic Hotel in Nosara starting from $163 a night.
3. Selina Nosara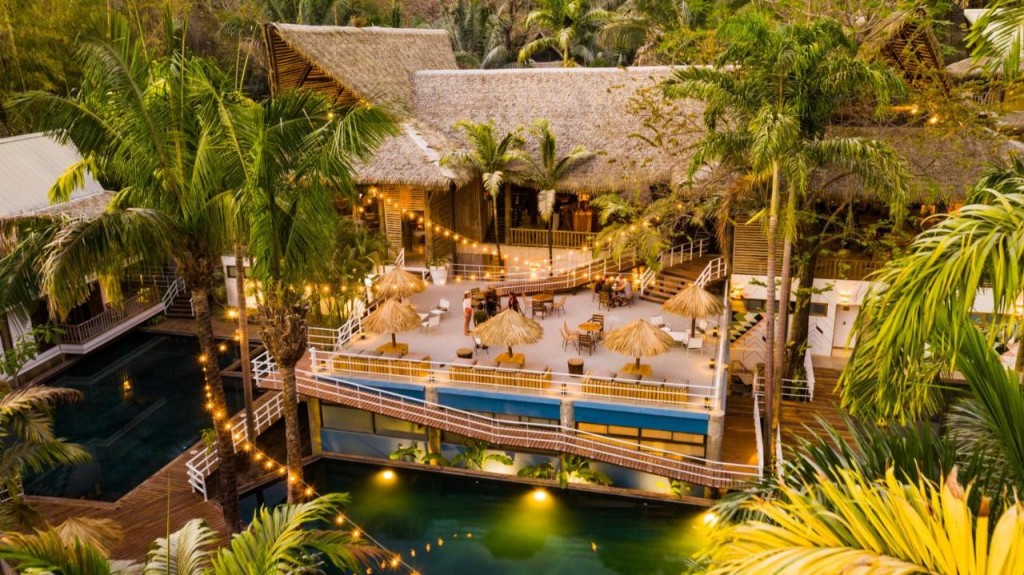 Located a 5-minute drive from Playa Guiones, Selina Nosara is a co-living and co-working space that is perfect for digital nomads and surfers alike.
You can choose between a private room or dorm-style accommodation. The dorms sleep 4 to 10 guests, and feature bunk beds, lockers, and shared bathrooms, along with free Wi-Fi. While the private rooms are more spacious and come with a private bathroom and air conditioning.
There are also plenty of social spaces to enjoy, including a pool, bar, restaurant, and coworking space.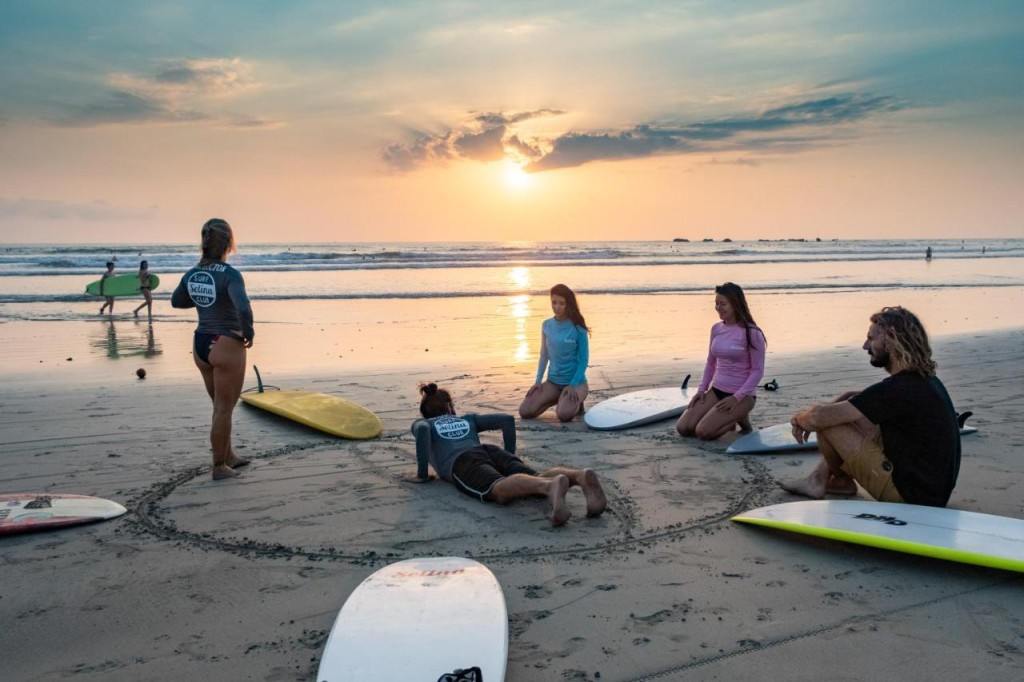 Selina Nosara offers 1-week and 11-day all-inclusive surf camp packages, And for more experienced surfers there's the option to book accommodation only. Private rooms start from just $114 per night.
For digital nomads, there is also an all-inclusive Co-working package.
With its great location and affordable prices, Selina Nosara is a great option for budget-conscious surfers.
Book a room at Selina Nosara now starting from $114 a night.
See also: 4 of the Best Surf Camps in Nosara
4. Satori Bubbles
Nosara Satori Bubbles is a unique luxury glamping experience, located just 10 minutes from the surf at Playa Pelada.
The "bubbles" are clear plastic domes, located in the jungle, that offer guests 360-degree views of the surrounding nature. The bubbles come complete with a double bed, private bathroom, a plunge pool, and outdoor shower. All have air-conditioning, Wi-Fi, a minibar, and a coffee maker.
Whether you're catching waves or exploring the lush jungle, Nosara Satori Bubbles is the perfect spot for couples looking to get away from it all and reconnect with nature. With no TV or radio, this is a place where you can truly relax and savor every moment.
Book a bubble at Nosara Satori Bubbles now starting from $285 a night.
5. The Sunset Shack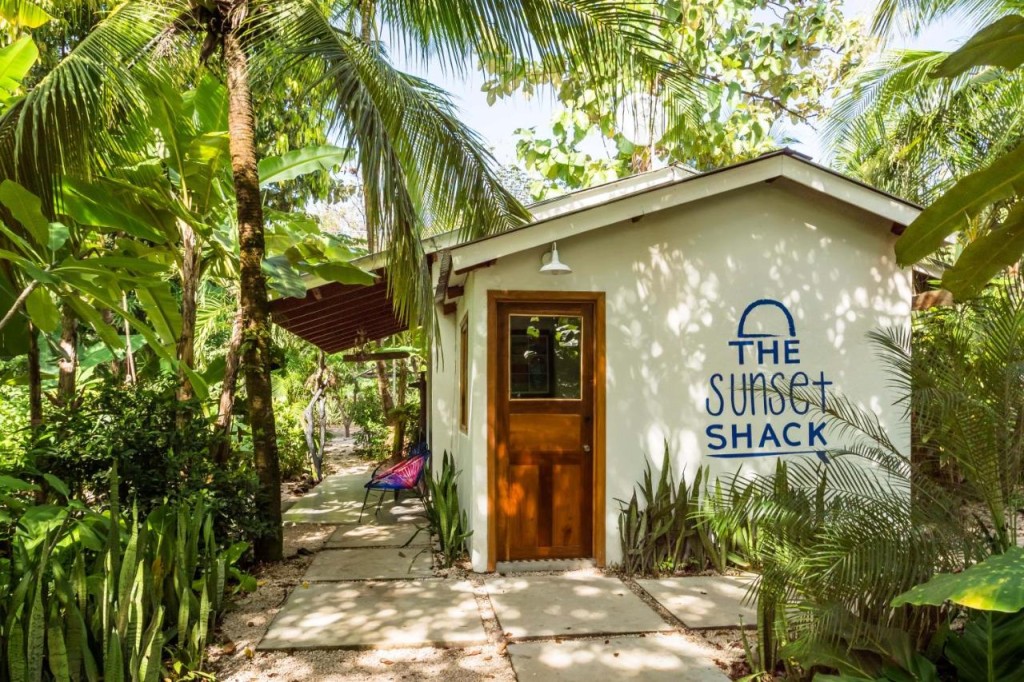 Looking for the perfect place to relax and soak up the laid-back Nosara vibe?
Look no further than The Sunset Shack. This friendly surf hotel is tucked away in the jungle, just a short walk from Playa Guiones.
The 8 guest rooms have a comfortable tropical style and are surrounded by native plants. There is also a saltwater pool, as well as comfy deck loungers and umbrellas for lazy afternoons. And if you get hungry after a long surf, there is an on-site restaurant that serves delicious Mexican food all day.
If you're looking for an old-school surf camp where you can enjoy surf sessions with your friends and relax with a cold beer while enjoying the beautiful sunsets, The Sunset Shack is the place for you.
Book a room at The Sunset Shack now starting from $203 a night.
6. Casa Kismet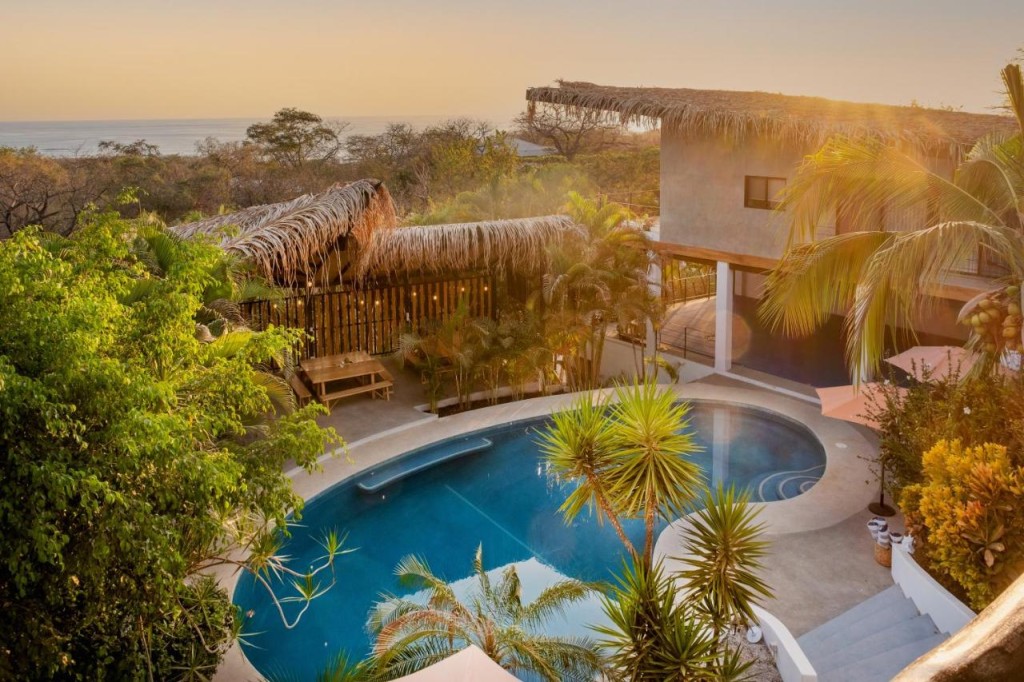 Last on our list of the Best Surf Resorts in Nosara is Casa Kismet.
Tucked away in the hills of Playa Pelada, this newly built boutique resort is just a 5-minute drive from the surf. Whether you're coming as a couple or with your family, you'll appreciate the extra privacy that Casa Kismet offers.
Each of the self-contained apartments at the resort comes with air-conditioning and a fully equipped kitchen, so you'll have everything you need for a comfortable stay. Plus, the communal swimming pool and sun terrace are perfect for relaxing after a day of surfing.
The resort can arrange surfing lessons, stand-up paddleboarding, horseback riding, and zip-lining – so there's plenty to keep you busy.
Book an apartment at Casa Kismet now starting from $217 a night.
Surf Resorts Nosara
So there you have it, our pick of the Best Surf Resorts in Nosara, Costa Rica. Whether you're looking for a luxury glamping experience or a more traditional surf camp, there's something on this list for you.
So what are you waiting for? Book your stay at one of these Nosara surf resorts now and start planning your perfect Costa Rican surf vacation.
Enjoyed our guide to the 6 Best Surf Resorts in Nosara? Check out our Complete Guide to Surfing Nosara in Costa Rica.