Surfing Encinitas in California

Disclaimer: This article contains affiliate links. We may receive a small commission if you make a purchase through one of these links. Please read our Affiliate Disclosure for more information.
This is our Complete Guide to Surfing Encinitas in California.
Situated just 26 miles from San Diego, Encinitas is within an easy half-hour drive from 'the birthplace of California'. While pretty much all of the beaches along Southern California coastline are excellent surfing spots. When it comes to Encinitas, it is certainly up there in the most popular, and although this quintessential SoCal surf town has become a bit more built up over the last couple of decades, it still has a relaxed, small-town vibe about it that keeps people coming back.
Encinitas provides almost year-round surfing, and if you pick the right beach, you will have the most fantastic surf experience whenever you go. It is easy to see why the area is a significant draw to the top surfing celebrities and the movers and shakers in the surf industry.
How to get to Encinitas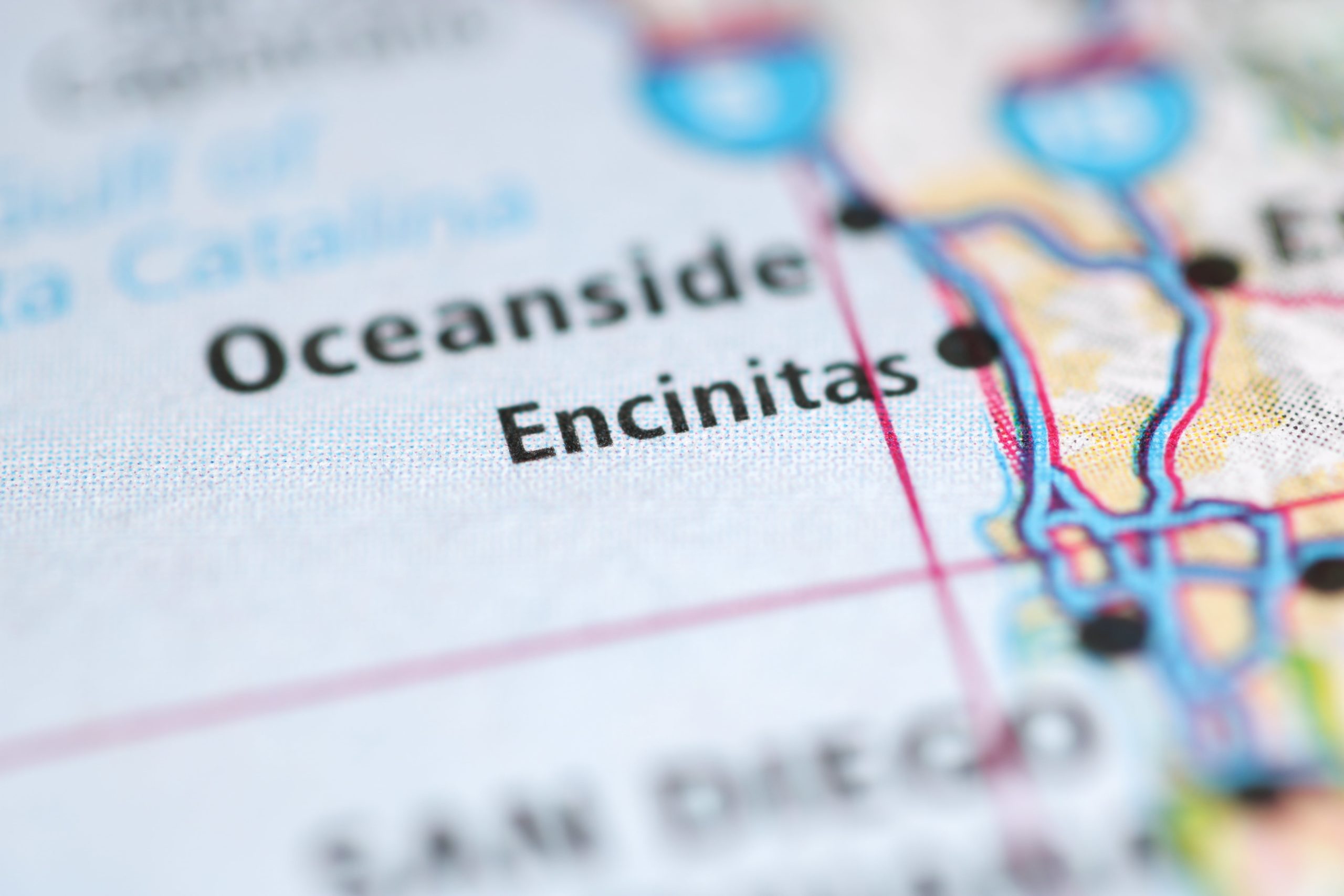 Encinitas is situated around about two-hours south of Los Angeles and is part of a cluster of beach towns that stretch out on the northern coastline out of San Diego. The area is called 'North County' and comprises of a twenty-five-mile run of coast that takes in the beautiful beaches of Del Mar, Solana, Cardiff-by-the-sea, Encinitas, Leucadia, Carlsbad, and Oceanside. Cardiff-by-the-sea and Leucadia are both considered a part of Incorporated Encinitas.
While you can always stop in San Diego and take trips out to the coast, for the real laid back beach vibes, staying in the Encinitas area is thoroughly recommended.
Surf Camps in Encinitas
As you'd expect from a popular Californian surfing destination such as Encinitas, you will be spoilt for choice for places to lay your head at night. With hotels, bed and breakfasts, and campsites, you can decide your own level of comfort when it comes to surfing Encinitas.
If you're going as a group, one great option may be to hire a holiday rental. With plenty of holiday homes available to let in the Encinitas area, you'll quickly find a little place to relax when you are not on your board.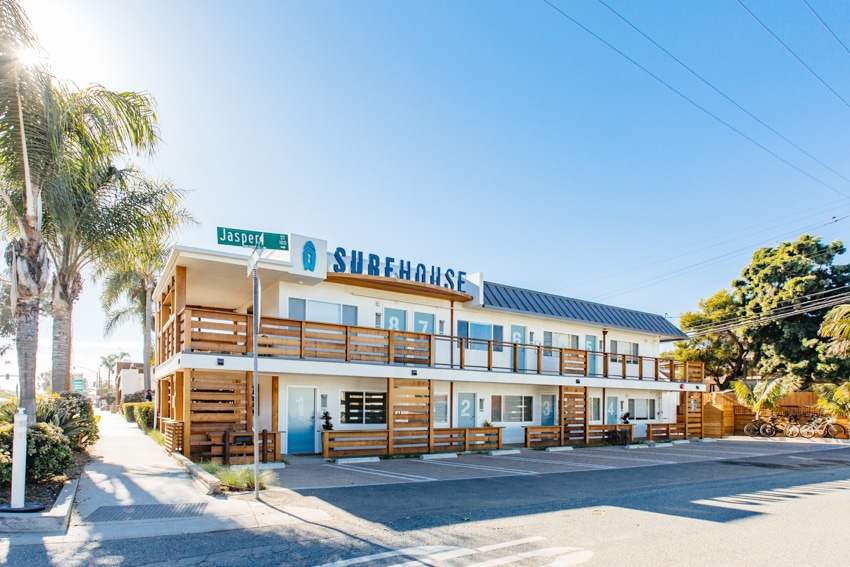 If staying close to the beach is for you, Surfhouse in Encinitas is a popular boutique hotel that is run by two surfers. It is just a three-minute walk to the nearest surfable break and offers surfboard rental and surf lessons on-site.
When you're not in the water, you can make use of free complimentary cruiser bikes if you want to take a sight-seeing trip around town. The rooms all come with all the mod-cons you need to make your stay very comfortable. You probably won't ever need to venture too far from your bed to enjoy everything that you need for the perfect relaxing break surfing Encinitas.
You can book a room at Surfhouse in Encinitas from $175 a night.
Also read: 8 of the Best Surf Camps in California
Surfing Encinitas
When it comes to surfing Encinitas, there are so many awesome breaks to choose from. Whether you want to stay in the heart of Encinitas itself, or you want to experience all that North County has to offer, it is going to be essential to know where the best surf spots are and how best to enjoy them.
Cardiff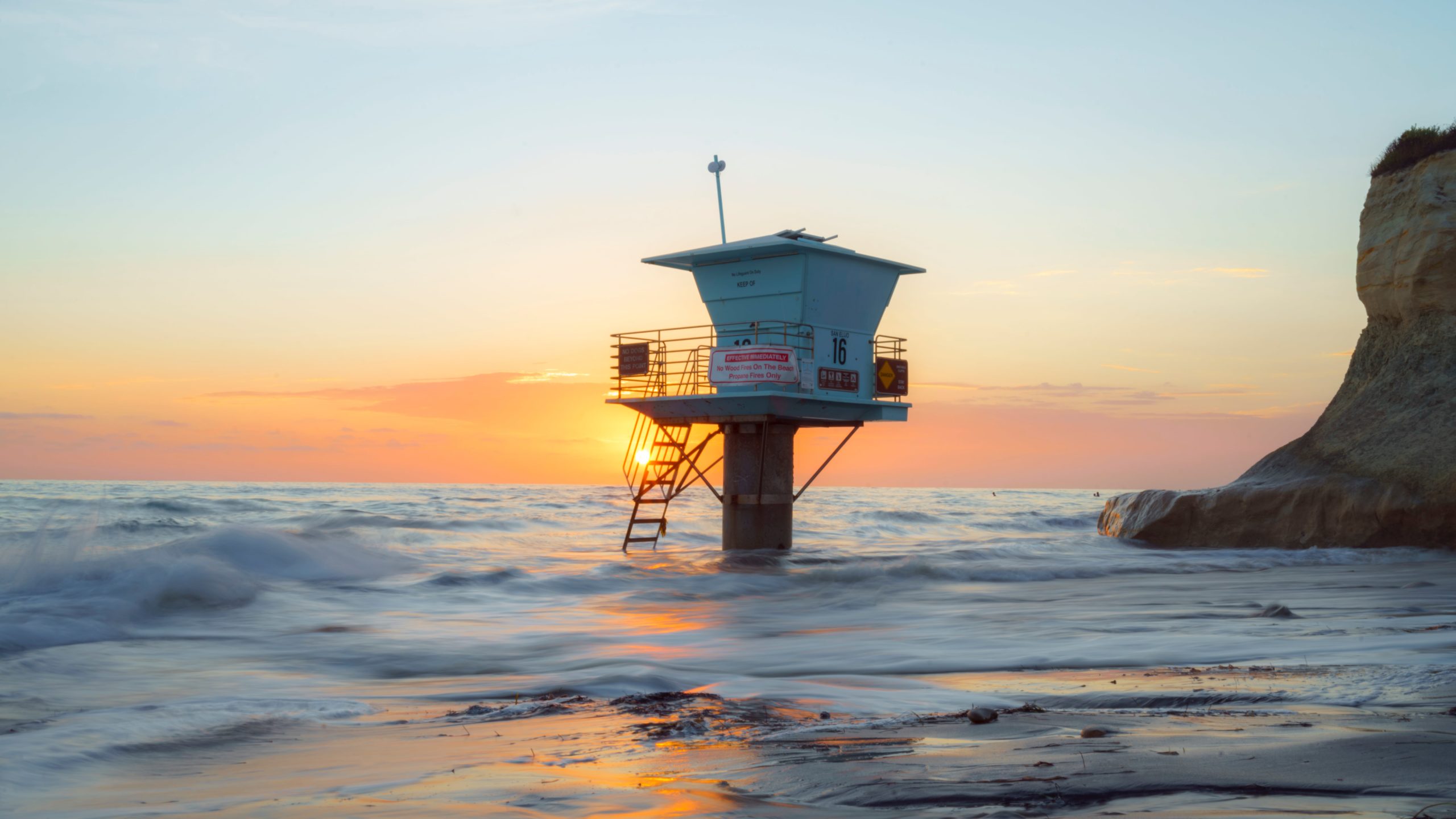 This is a real family-friendly beach, and you will often see surfers of all ages out there in the water or relaxing back at shore.
Cardiff Reef breaks are both rights and lefts, though it is the rights that are more popular. You'll find that the waves roll and a slower cruising pace and longboards are very popular on these waves.
If you head about 50 yards north from the main reef at Cardiff, you'll more than likely find a bunch of surfers out in the water, often quite close together. This area is known as Suckouts, and there is a good reason for the name. The slower tide in Cardiff Reef has a different effect further up and produces tubes that will suck out fast, spitting the braver surfers making the drop back into a small channel where you can paddle back through. It is not a wave for the faint of heart or for the inexperienced. Take a shortboard or a Semi-Gun to get the best of these waves.
If there has been heavy rain in the area prior to your visit, avoid surfing this area as the San Elijo Lagoon drains straight into the sea at Suckouts, and water pollution has been known to make surfers sick. Look out for notices posted on the beach.
Swami's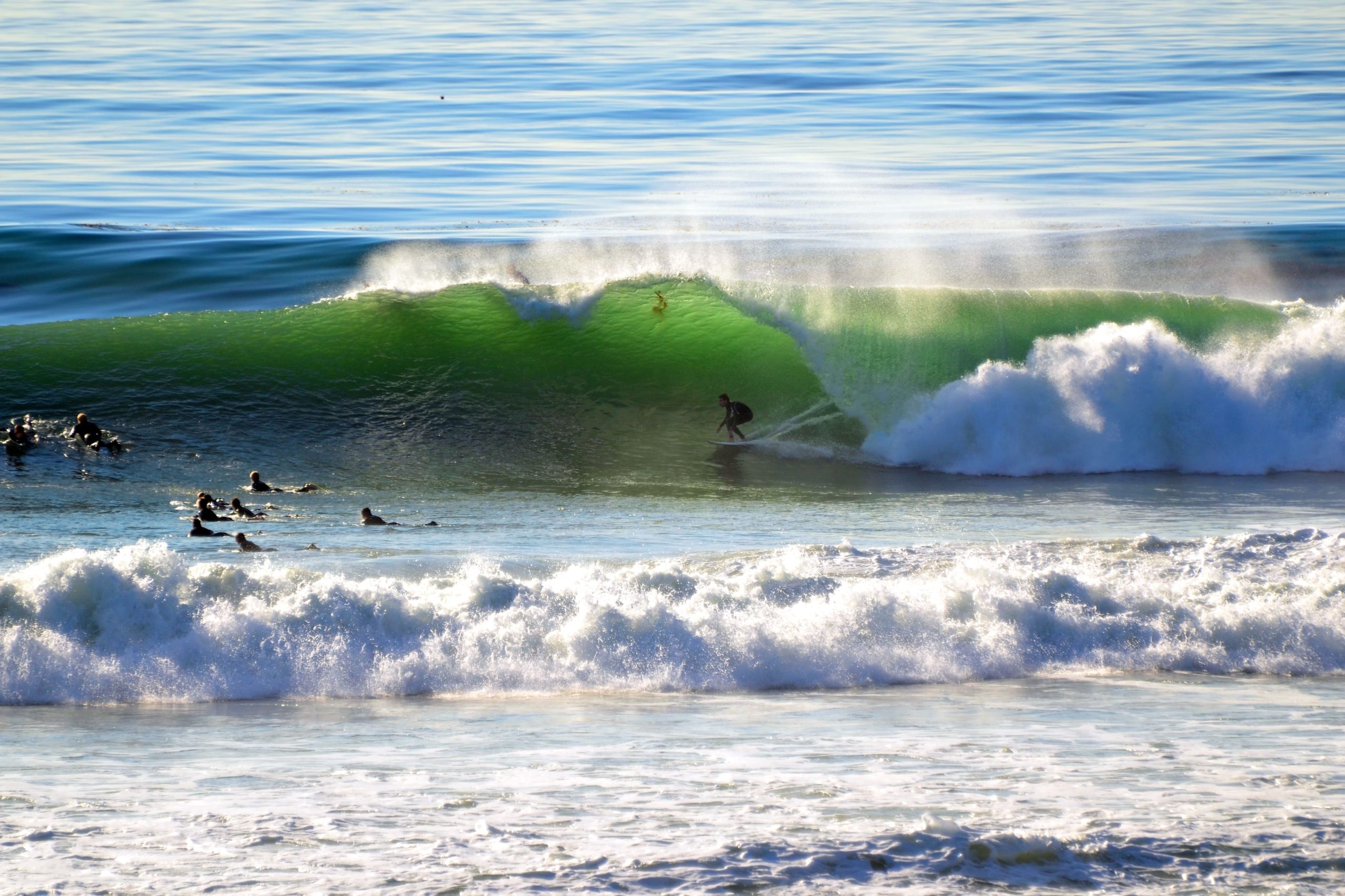 Home to the Self-Realization Fellowship that was built in the 1930s for Swami Paramahansa Yogananda, this Encinitas beach is one of the hottest winter surfing spots in North County. That said, with a good mix of NW swells that are found in Encinitas around the spring and fall months mean that the surf is good all-year-round, with summer being the most hit-and-miss in terms of finding the right angle of the swell.
The beach is used by local longboarders and has a very close-knit circle of regulars who know the waters well and often seem to get the best spot each time a good set of waves rolls in. You'll find that out of the water, and in the parking lot, the vibe with local surfers is very laid back and typical of surfing in Encinitas.
Grandview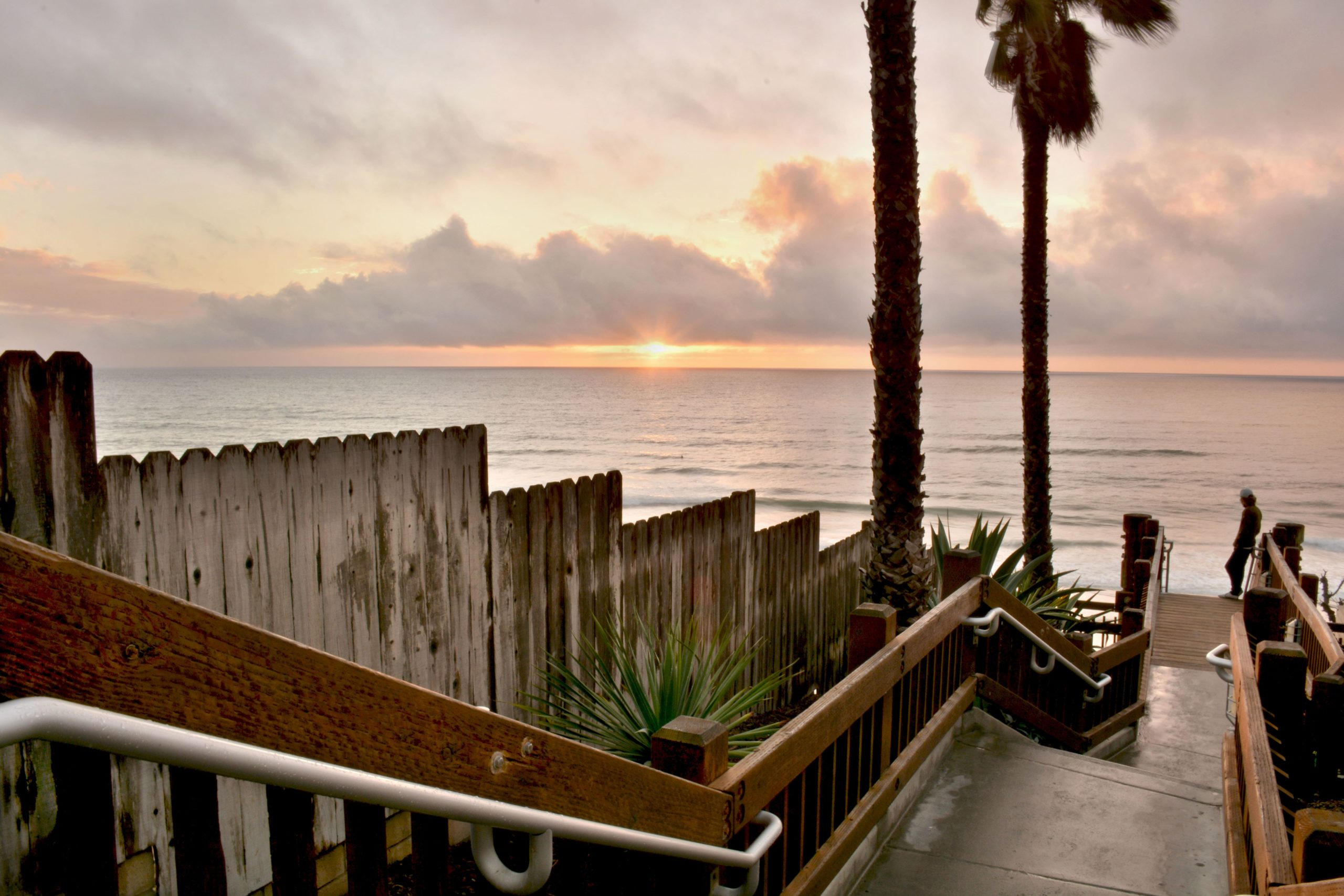 Grandview has it all in terms of swell, picking up everything that the Pacific Ocean has to throw at it and whatever time of your visit, you will find some surf to enjoy at Grandview. Grandview is a beach that is well suited to all surfing abilities and, due to the fatter and slower waves, you can enjoy the tides on both a longboard and a shortboard. There are both rights and lefts at Grandview.
This is a very popular beach, especially at weekends. If you want to enjoy the surf, you are going to need to get parked up early and in the water as soon as you can to get a good spot.
D Street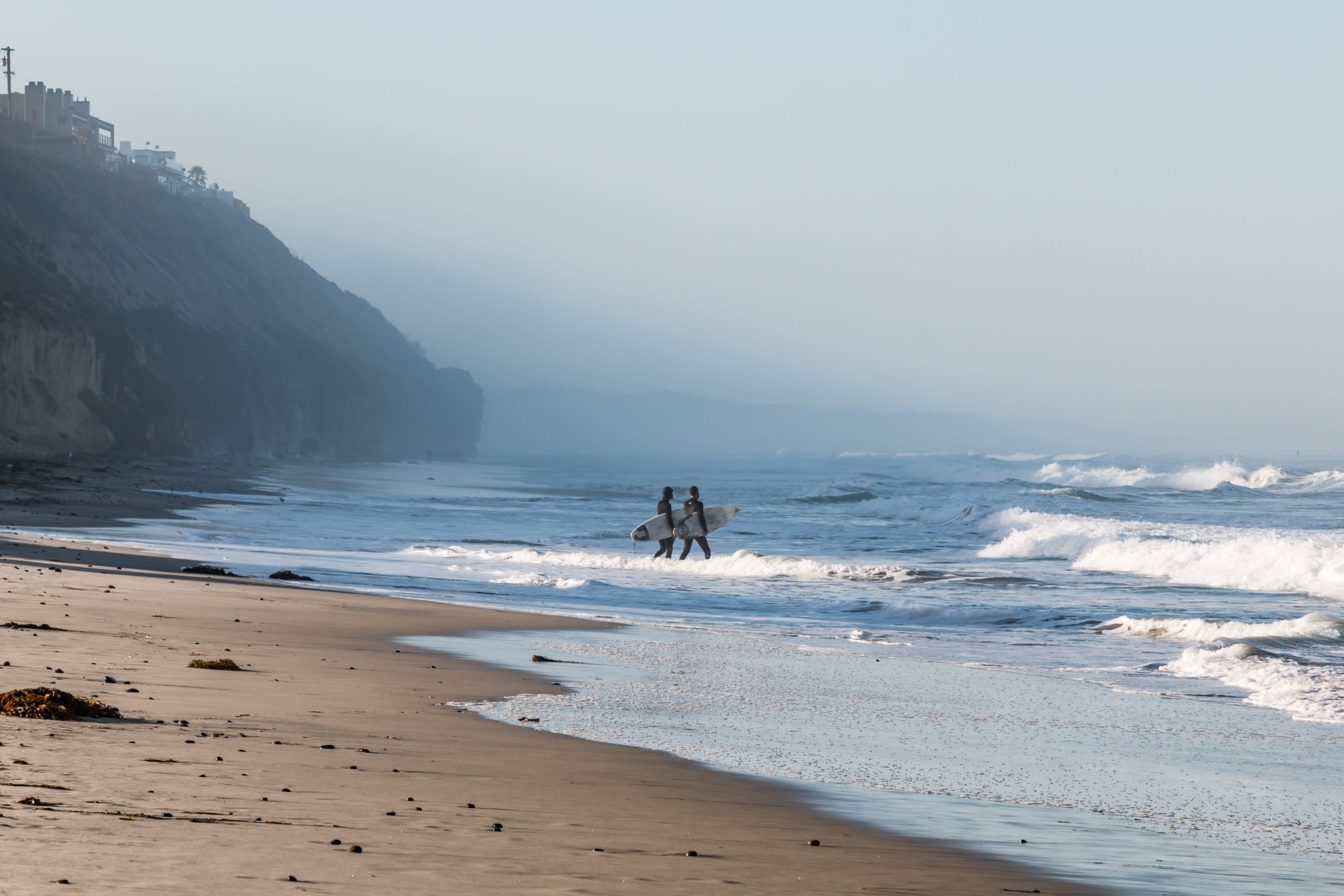 This beach breaks all year-round and is best enjoyed when there is an SW/NW combo swell which is most commonly found during the spring and fall months. During the summer months, D Street, which connects to Moonlight Beach, is one of the most popular beaches for surfing Encinitas and does get packed with people.
Ponto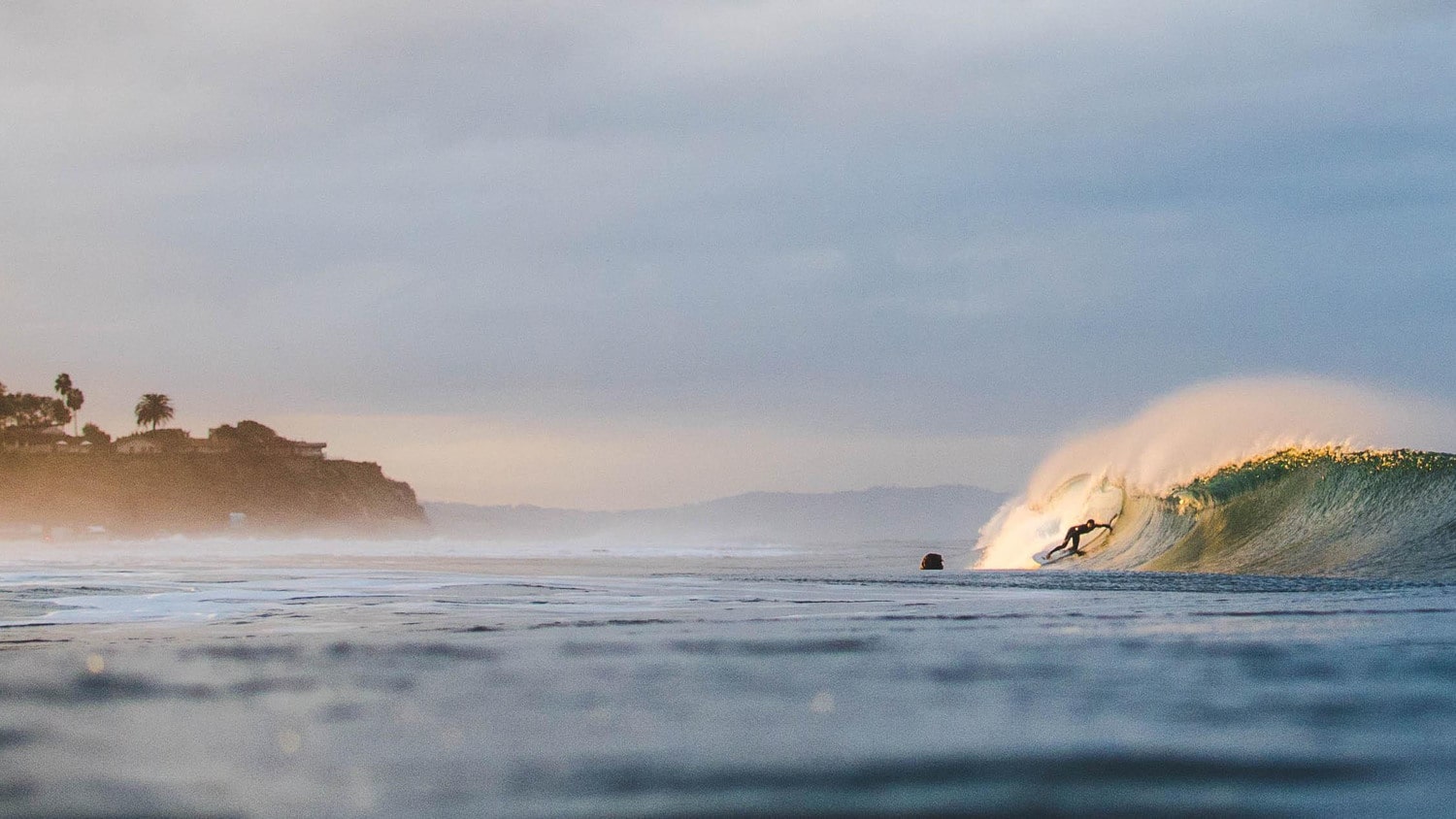 Ponto is just a little way up the coast from Encinitas in South Carlsbad and was once unremarkable when compared with the other amazing surf spots in the wider Encinitas and North County area. But since two large army-built jetties were constructed to open up the Batiquitos Lagoon permanently, this has led to some sweet surfing conditions forming. You could argue that this is military-grade surfing. With consistent optimum conditions now available to be surfed, you can thank the US army.
You'll find all-year-round breaks at Ponto, with rights that come from the south jetty during the winter months, and lefts coming from the north jetty over the summer. The lagoon will cause a rip current that can be quite dangerous and has the potential to take you right out to sea.
Surfboard Hire in Encinitas
With so many great surf spots in and around Encinitas, it's no wonder there are also plenty of surf shops dotted around offering rentals for those who need it.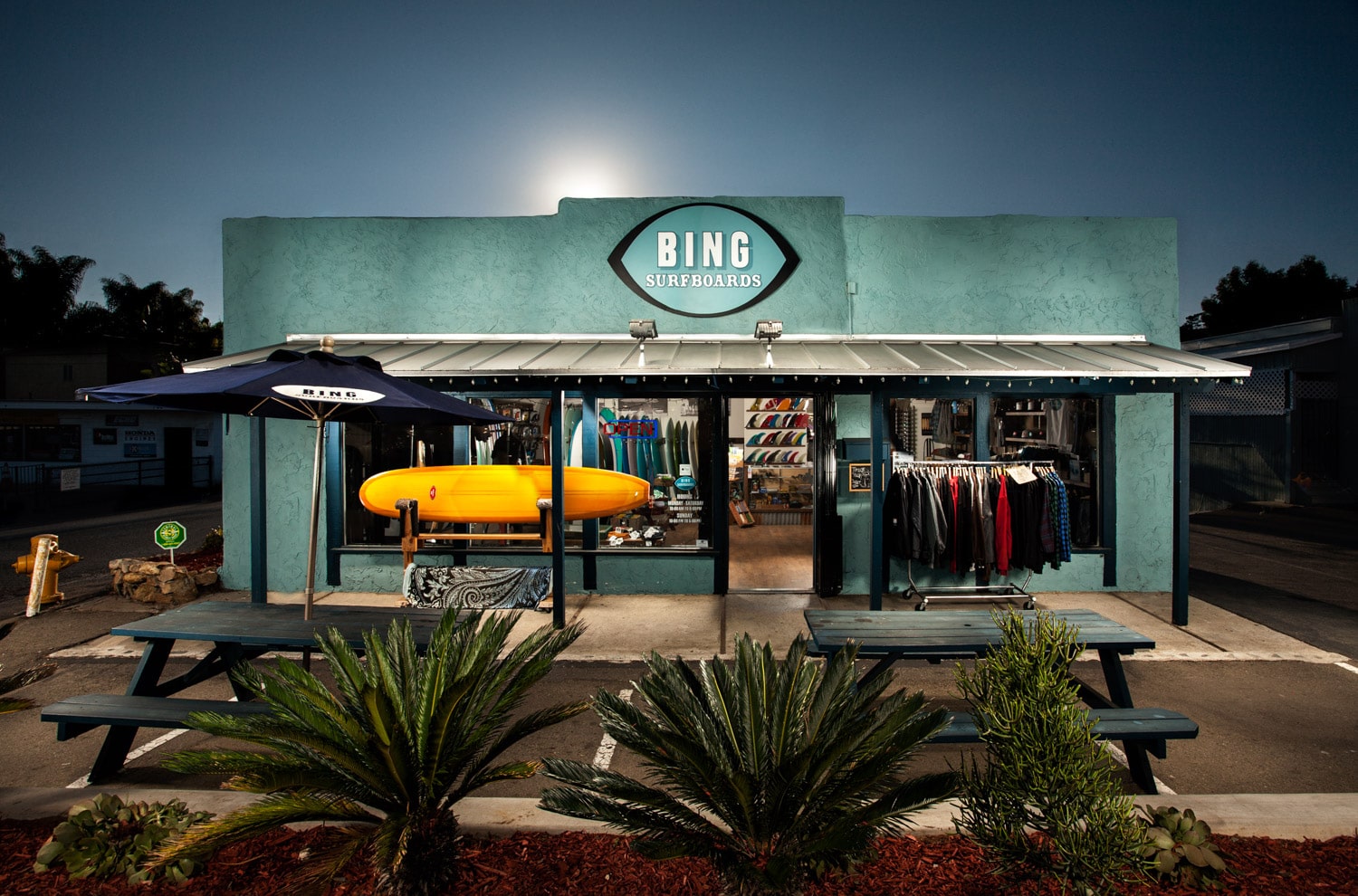 For Awayco members, Bing Surfboards is the place to go. Bing Surfboards was founded in 1959 by Bing Copeland, in Hermosa Beach, California. Today they specialize in traditional single fin longboards, a full range of mid lengths, and numerous shortboard designs. All of the boards come equipped with fins and a leash, and, if your rental board really takes your fancy, the first day's rental price of $35 can be used as a credit towards a stock or custom board purchase – perfect for those who plan of surfing Encinitas for a longer period of time.
Another option is Progression Surf in Leucadia. This family-run surf shop offers a huge selection of surf rentals – including beginner 'soft surfboards' and epoxy hard surfboards with a range of high performance shortboards. Hourly, daily, and weekly rental options are available and their daily rental price offers a generous 24-hour grace period so you can catch the early morning dawn patrol session or enjoy the last of the waves at sunset. Rentals prices range from $20-$40 a day.
Where To Eat In Encinitas
Encinitas is a melting pot of different cuisines, and however your tastebuds are setup, you'll find something to your taste after a long day surfing Encinitas.
If tacos and burritos and burritos are your thing, Taco Stand is the way to go. This little chain has only been open since 2016 but is already building up a strong name for itself. With amazing tacos at great prices, you'll have earnt this treat after a hard days surf.
Kotija Jr has a number of outlets around the area and again provide awesome Mexican meals. Their burritos are definitely the standout items on their menu, and thankfully, they're pretty big so you can enjoy them for much longer.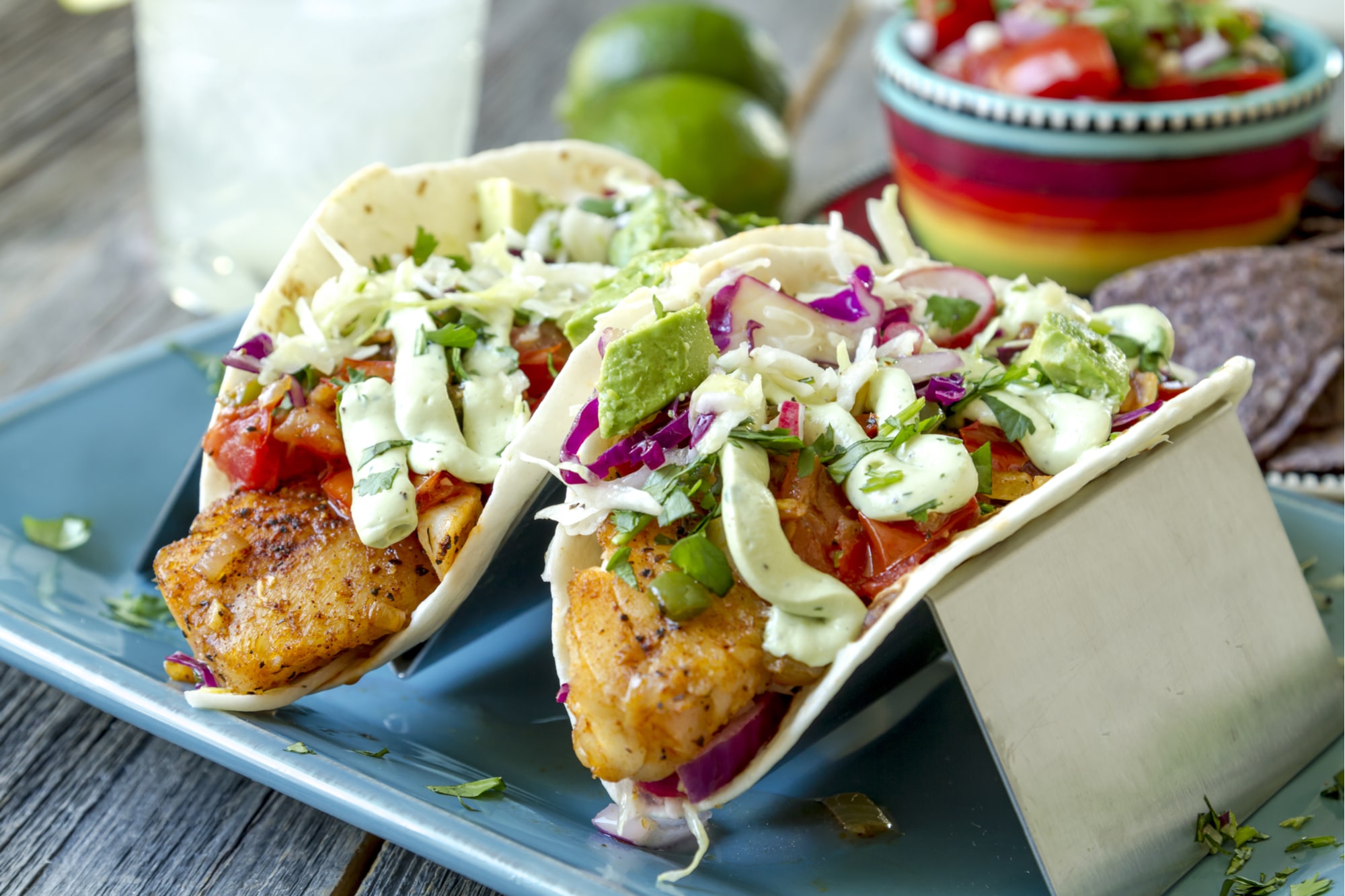 Coffee Coffee in Leucadia is a hip coffeehouse offering hand-roasted beans, locally sourced teas & pastries, plus outdoor seating. The distinctive yellow Leucadia wall outside will definitely catch your eye.
Swami's Cafe in Encinitas has nine different locations to choose from, but their menu is impressive. With something on the menu to please everyone, it is a great choice for if you are in a disagreement about where to eat with your fellow travelers.
Lotus Cafe and Juice Bar is a good option for people looking for vegan or vegetarian options, as it has plenty, and they're happy to make adjustments to your meal to suit your requirements too. With a wide range of food options, this is another great crowd-pleasing option.
Enjoyed our Complete Guide to Surfing Encinitas in California? Check out all of our Surf Travel Guides for California here.