8 of The Best Surf Camps in California

Disclaimer: This article contains affiliate links. We may receive a small commission if you make a purchase through one of these links. Please read our Affiliate Disclosure for more information.
This is our pick of the 8 Best Surf Camps in California.
California is a surfer's paradise! There are so many exciting beaches with incredible waves for you to enjoy. It doesn't matter if you're a complete beginner or someone that surfs all the time – you're guaranteed to have an incredible time.
Of course, if you're planning a trip to Cali, then you need somewhere amazing to stay. Ideally, you want a hotel that's suitable for surfers and helps you have the best experience possible. With that in mind, here is our selection of the best surf camps in California, from North to South.
Dream Inn, Santa Cruz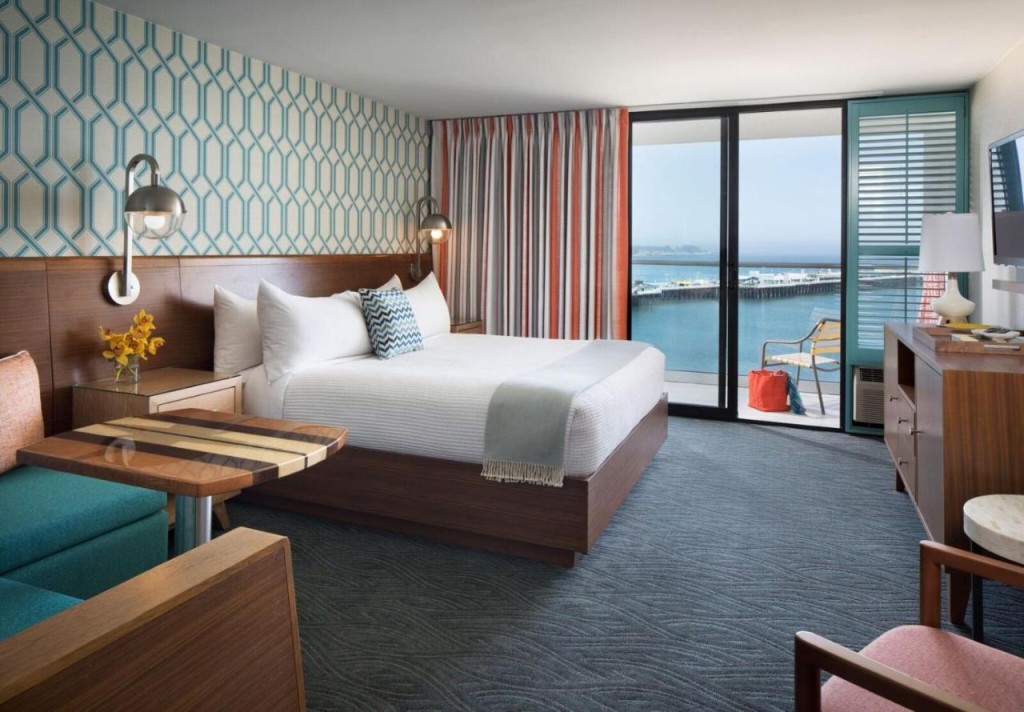 Let's start with a trip to the iconic Santa Cruz Boardwalk to enjoy a stay in the Dream Inn. It's aptly named, seeing as everything about this hotel is dreamy. The views are out of this world; you'll see across the ocean, with the sandy beach glittering in the sunlight every morning. It's also perfectly situated for sunsets – you will struggle to get a better view of the Californian sunset every night.
This is a full-service hotel, so it comes with plenty of services for guests. You will fall in love with the food here. The restaurant serves up scrumptious breakfasts to get you fuelled up for surfing, then offers up local seafood delights in the evenings. Outside the hotel, there's an outdoor heated swimming pool and hot tub, perfect for relaxing in after an energetic day in the sea. There's a bar right next to the pool as well, so you can sip on some cocktails while taking in the summer sun.
With the beach on your doorstep, you can head off to surf in a matter of minutes. Also, numerous state parks are within walking or driving distance from the hotel. As if this wasn't enough, there's secure surfboard storage on-site, meaning you don't have to clutter your room with your equipment.
Book a room now at The Dream Inn in Santa Cruz from $335 a night.
The Goodland, Santa Barbara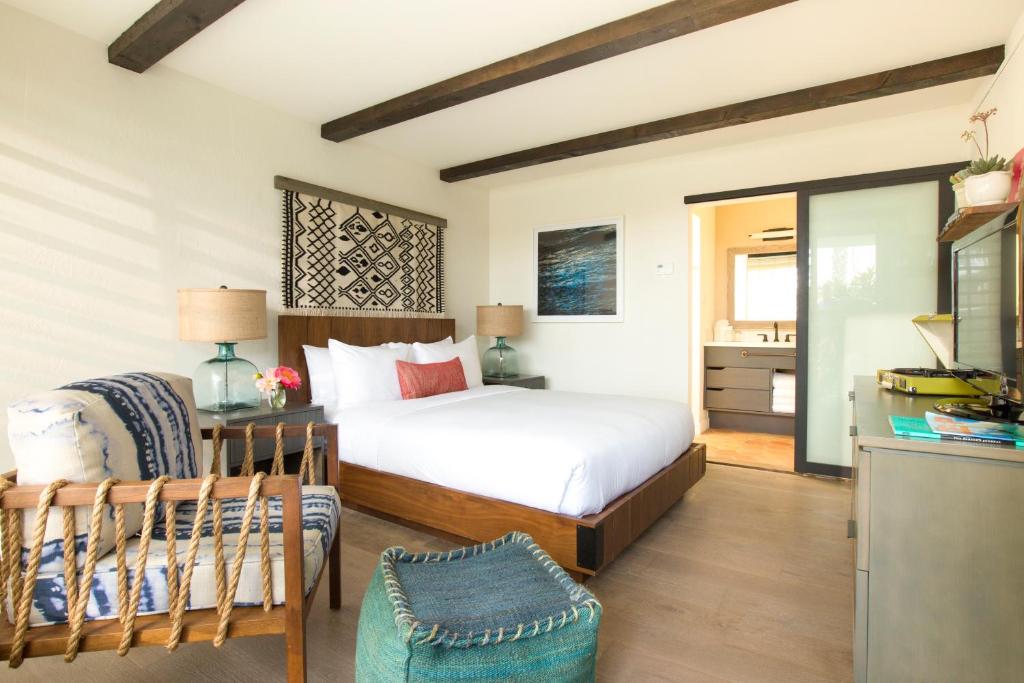 If you're looking for an old-school surf lodge, then this might be the place for you. Uniquely, it's not located on the beach. While this may seem like a disadvantage, it actually isn't. The Goodland Hotel gives you grand views of the surrounding coast and ocean. It's also large enough to accommodate plenty of guests – along with a private pool and bar terrace. This is the type of place you stay at if you want to have a fantastic time and get to know more people. There are community vibes throughout, and plenty of parties in the evenings!
It has really vintage surfing vibes throughout the place, and the decor feels like a throwback to the peak surfing days. It may not be right by the beach, but you still have so many excellent places within a 20-minute bike ride of the hotel. The airport is under 10 mins away, and numerous beaches are easily accessible. Speaking of bikes, you get provided with them to help you get around.
There are so many services and amenities to take full advantage of as well. A few of the top picks include a yoga mat in every room, a record player with a library to choose from, and a 24-hour fitness center. There's everything you could possibly need for the best surfing vacation.
Book a room now at The Goodland Hotel, Santa Barbara from $173 a night.
The Surfrider, Malibu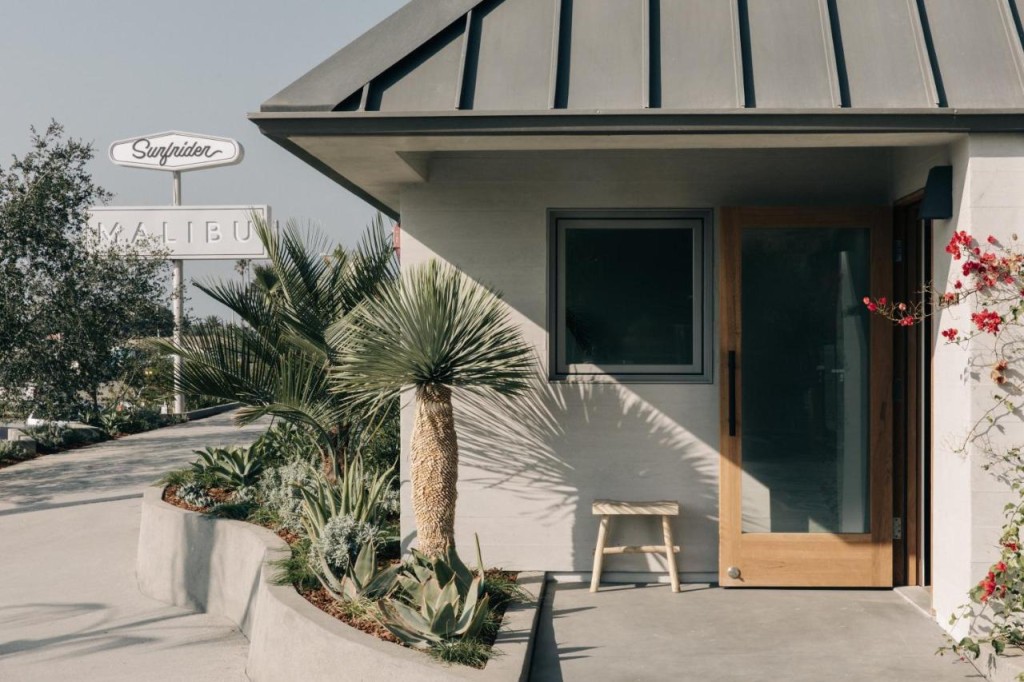 Third on our list of the best surf camps in California is the iconic Surfrider Hotel in Malibu.
With a name like Surfrider, you'd like to imagine this hotel is perfectly designed to appeal to surfers. Well, you're going to be overjoyed the moment you step inside. It's a small and exclusive hotel that's gorgeously designed to look like something from another era. You receive excellent privacy here as it's in a very closed-off location. It doesn't feel like a typical hotel at all, and this is partly because there's only room for twenty rooms. So, it's not overcrowded, and you will most likely be with a bunch of other surfing enthusiasts.
It's a hotel that's been designed by surfers for surfers. There's a massive surf shed that's absolutely packed full of all the equipment you need to enjoy the waves. This includes exceptional boards and space for you to leave your own. You'll even find an outdoor shower connected to the hot water supply, which is perfect after a day of getting hot and sandy on the beach.
Oh, speaking of the beach, it's literally a few paces away. There's no need to wake up super early and trek all the way to the shore; you can almost roll out of bed onto your board and start ripping up the surf. The owners are very relaxed, and they're keen to help you with any inquiries or recommendations. Be warned, this is one of the most sought-after surf camps in California, so it books up quickly. With only 20 rooms available, you need to act fast.
Book a room now at The Surfrider Malibu from $389 a night.
Shorebreak Hotel, Huntington Beach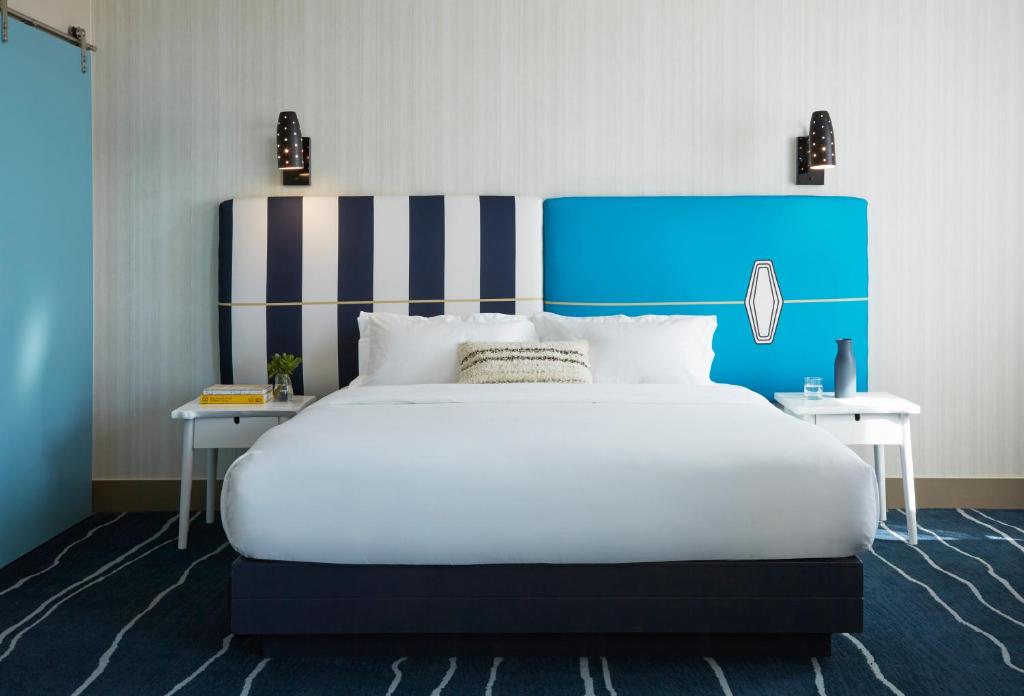 Some people say that Huntington Beach is the epicenter of the American surfing scene. Loads of incredible events happen here every single year, so it's definitely the place to be. With that in mind, The Shorebreak Hotel offers up a fantastic base for your vacation. It's located in the heart of Huntington Beach, giving excellent access to many of the amazing sights and attractions nearby. In just a few minutes, you'll be exploring the International Surfing Museum or walking down the Surfing Walk of Fame. Obviously, the waves themselves are just a few footsteps away, meaning you can wake up early and be on the beach before anyone else.
The interior is very much surfing-themed with exquisite artwork decorating the walls – and many surfing items from years gone by acting as additional decorations. It's a beautiful place to stay, and the staff makes your stay even better. They have a wealth of knowledge on all things to do with surfing, meaning they can pretty much help you plan your whole trip!
All guests get to rent bikes and beach amenities for free, and you also get a special discount for the Rip Curl Shop. If you bring your key there, then you can rent a board for a cut-price!
Book a room now at The Shorebreak Hotel in Huntington Beach from $255 a night.
The Joaquin Hotel, Laguna Beach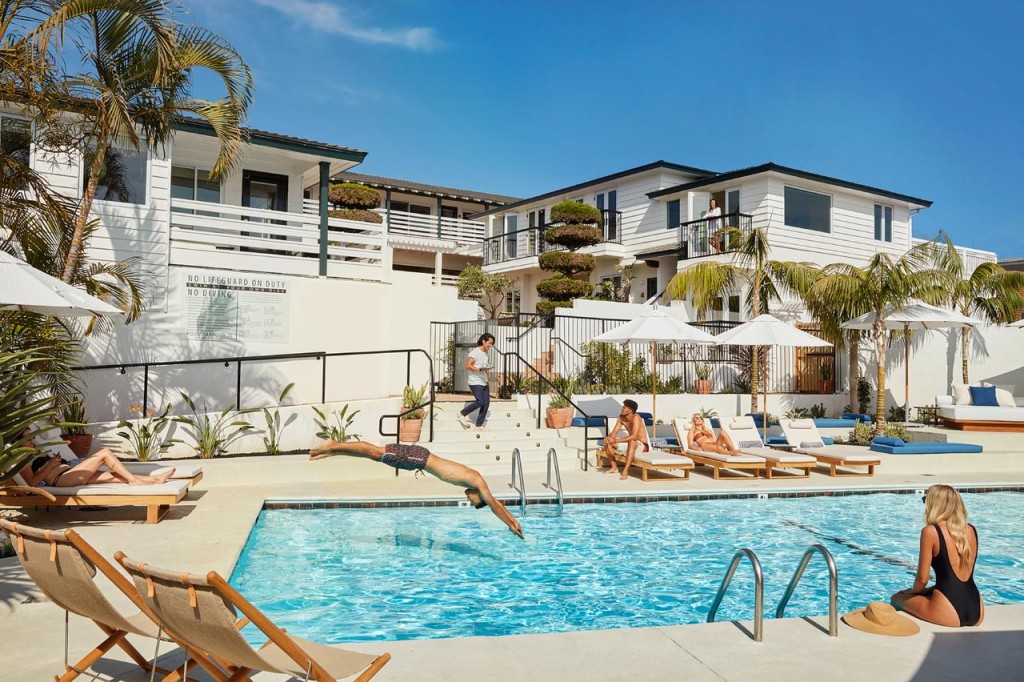 Laguna Beach is a hotspot for surfers – people travel from all over the world to enjoy the waves here. So, it comes as no surprise to learn that there are a few very notable surf-friendly hotels here. The Joaquin Hotel is a small little resort that's found just above Saw's Cove. It's seen by many as a hidden gem, with a wonderfully chic interior making it look absolutely stunning. Each room is individually designed, offering loads of vintage pieces and decor like no other. It's honestly a breath of fresh air, and it feels more like you're staying at home than in a hotel.
It's a private little resort, which means you have extra privacy during your stay. Guests can take a dive in the exclusive outdoor pool, and there's even a restaurant on-site as well. But, the best thing about this surf hotel is the Adventure Collection. Here, you have access to a whole host of things that come included in the price of your stay. There are boogie boards, bodyboards, daFIN fins, paddleboards, surfboards, kayaks, city bikes – and so many more things. They're all free for you to use, and it lets you have the most amazing vacation.
All in all, you've got an absolutely gorgeous hotel in a prime location, packed full of amenities. It's so easy to get down to the nearest surfing spot as well, Shaw's Cove is literally a two-minute walk from the hotel – perfect!
Book a room now at Hotel Joaquin in Laguna Beach from $289 a night.
Laguna Beach House, Laguna Beach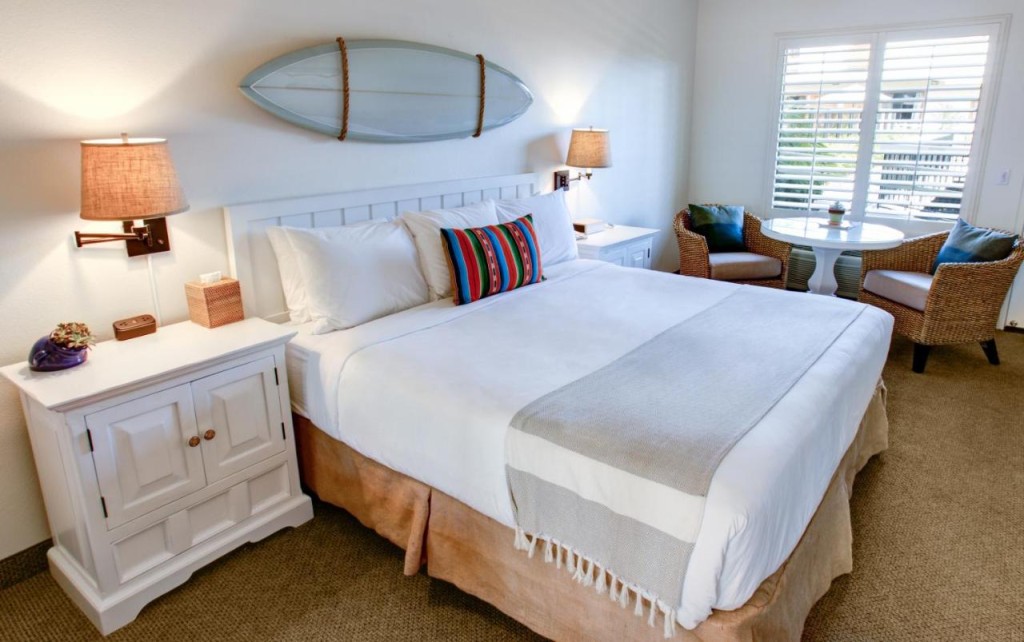 Another Laguna Beach option that brings a lot to the table is the Laguna Beach House. Inside the hotel, you have the perfect blend of vintage and chic. There are some serious '50s vibes in this hotel, and it's very much a surf-themed place to stay. Every single room has a surfboard above the bed – sadly, this is just for decorative purposes, but it still looks brilliant. Along with this, there are so many lovely little surfing delights for guests to enjoy. Different books litter the tables, and there are loads of pictures and paintings to really get you in the mood.
As with all the best surf camps in California, you get a wonderful beach location. Just a few steps from the front door will place you on the shore, and then you can curve some waves! But, if you want to take a break from surfing, then the Laguna Beach House has its own spa – complete with a heated pool. It's the perfect way to relax after a long day of surfing, and you can pay for additional spa treatments if you like.
There are 36 rooms in total, all of which are very spacious with stunning views of the surrounding area. Group bookings are accepted, which is fantastic if you're planning a big surf vacation. One unique element of this hotel is that they offer surf-shaping from a local craftsman. He's usually on-site most days, and you can pay to have a custom surfboard created. While they don't supply you with any boards, there is ample room to store all of your equipment after a day of surfing.
Book a room now at Laguna Beach House from $176 a night.
House of Trestles, San Clemente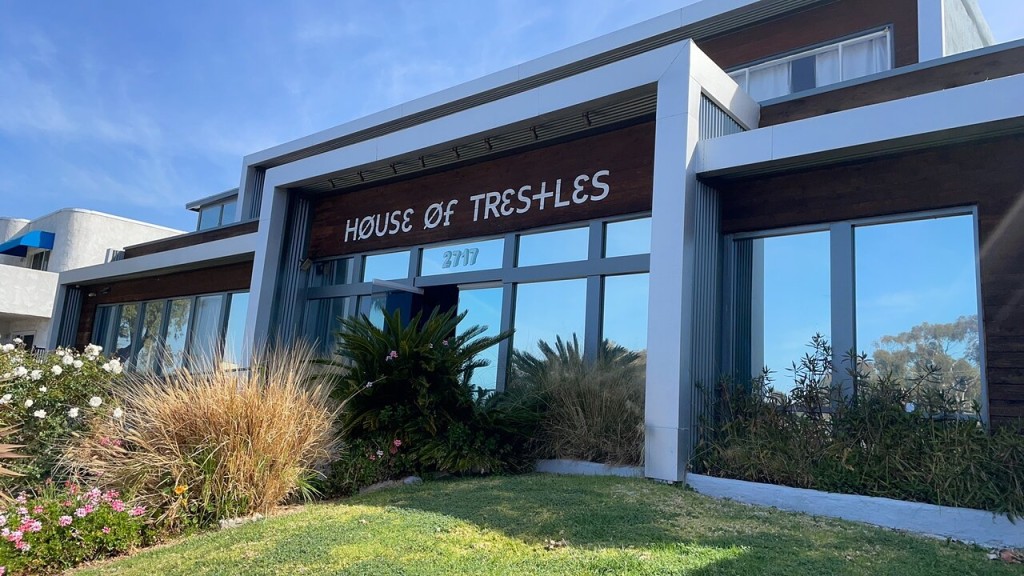 House of Trestles is a budget-friendly surf hostel that brings people together. You can stay with many other surfers who are all looking for a fantastic time. It's an excellent way to meet new people and make friends for life. Plus, you still get to stay in a beautiful place with plenty of home comforts to make your stay memorable.
If you want to sleep privately, then there are a selection of private rooms available to rent. Alternatively, you can hole up in a 3-bedroom penthouse suite or a shared bunk room. No matter what you choose, you have access to the excellent services on-site. This includes surfboard rentals, surfing lessons, and electric beach cruisers – which come with surf racks attached. There are loads of beaches nearby that offer astonishing surfing options, so you're really spoilt for choice.
Ultimately, this is an option for anyone that's looking for budget surf camps in California. If you want to sacrifice privacy and amenities for a down-to-earth surfing experience, then this is the place for you.
Book a room now at House of Trestles in San Clemente from $28 a night.
Surfhouse, Encinitas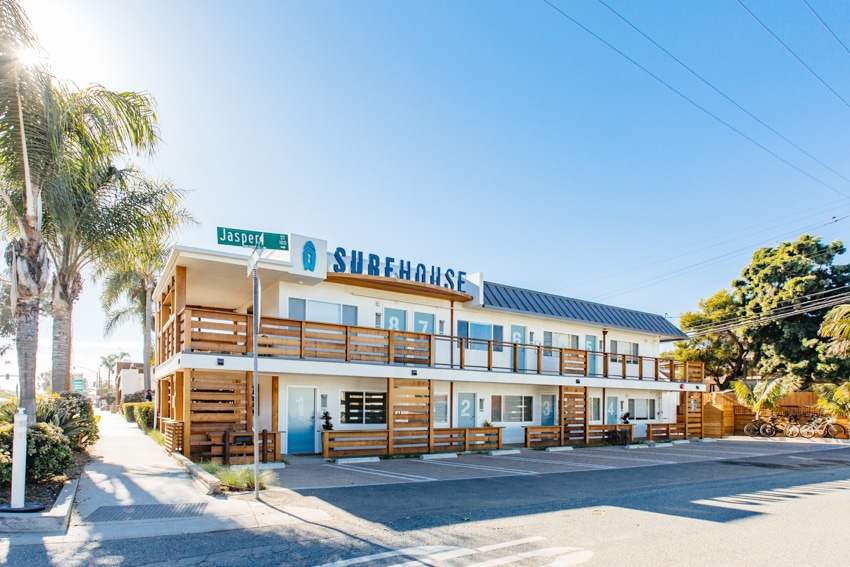 Surfing is at the core of everything in this outstandingly beautiful hotel. You will be amazed at the extensive knowledge that all the staff possesses. They can tell you about all of the best surfing spots around California, and provide you with top tips on when to go to catch the biggest waves. There are outdoor showers to wash off after a long day, and you'll find plenty of space to keep your boards. If you want, you can even borrow one of the beach bikes for free, giving you an easy way to get around during your stay.
This is definitely a luxury place to stay, and there are only eight rooms for you to choose from. So, it's a very exclusive place, and you need to make a booking way in advance to secure your spot. This means you get calm vibes the whole time, and the lack of guests allows the staff to pay you all the attention you need. If you don't want to bring your board with you, then you can rent equipment from the hotel – which is really helpful. They also give you discounts on loads of local businesses, so be sure to ask about them before you head out.
All the rooms are surf-themed and decorated with a blend of modern and vintage designs. There's plenty of room, lots of natural light, and so many home comforts. The beach is just down the steps, so you don't have to travel far to surf!
Book a room now at Surfhouse in Encinitas from $175 a night.
The Best Surf Camps in California
There are so many ways to enjoy a surfing vacation in this part of the world. The waves are insane, the beaches are crazy, and the locals are very accommodating. If you're looking for the best surf camps in California, then these eight options are the best ones to consider. Make sure you book in advance as they all fill up very quickly during the peak surfing season!
Enjoyed The Best Surf Camps in California? Take a look at our collection of Surf Travel Guides for California here.