A Complete Guide to Surfing Ericeira in Portugal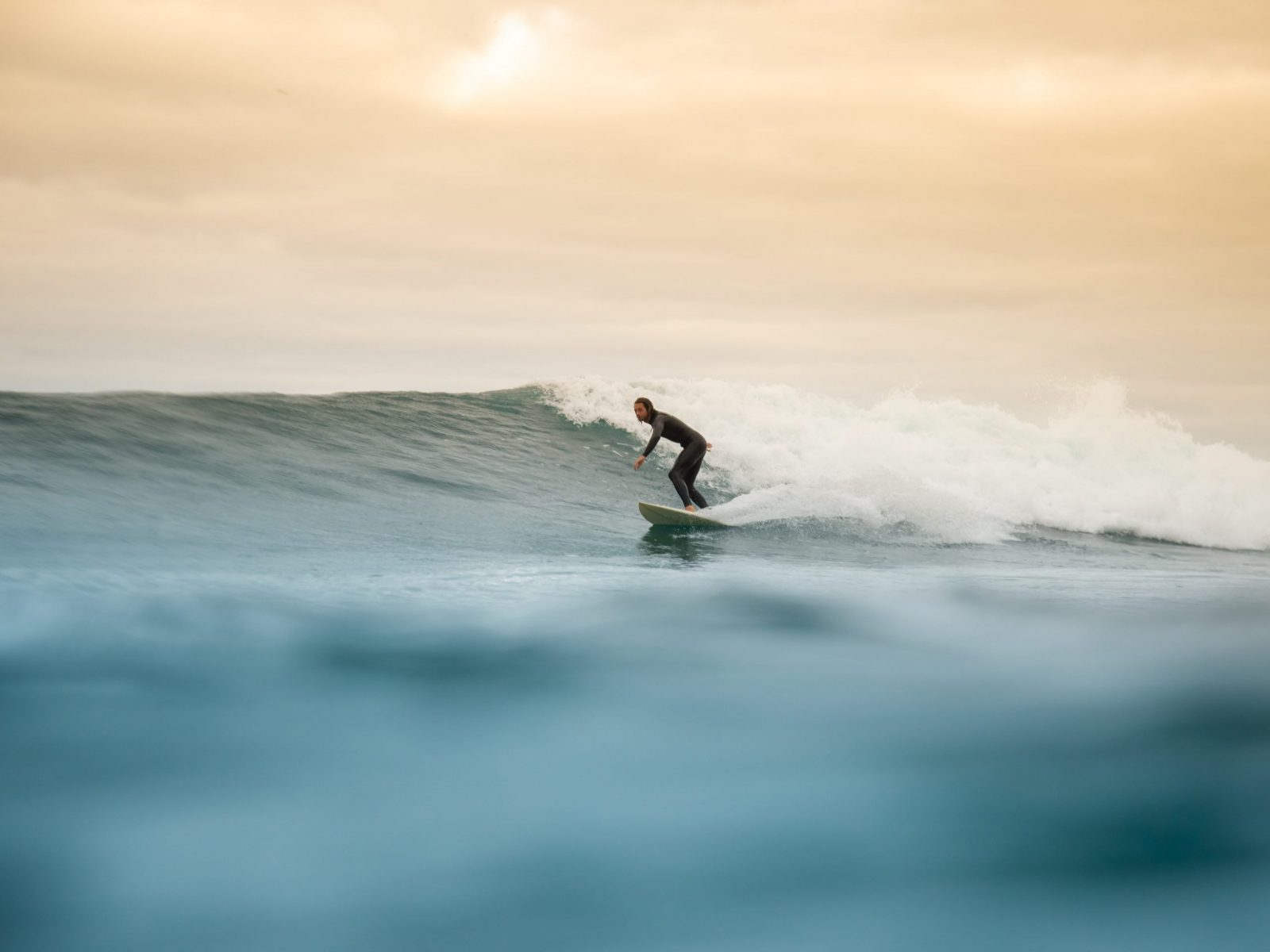 Disclaimer: This article contains affiliate links. We may receive a small commission if you make a purchase through one of these links. Please read our Affiliate Disclosure for more information.
Thinking about surfing Ericeira in Portugal?
This is our complete surf travel guide. Read for everything you need to know about surfing Ericeira.
This coastal town in Portugal offers a wide range of fantastic surf spots for all levels, while the uniquely stunning surroundings make it one of the hotspots for people who love the beauty of the world just as much as they love to surf every year. With waves in abundance, it is considered a hub for surfing, and anyone who enjoys the fresh sea breeze and the adrenaline pumping feeling of catching the perfect weave should do everything they can to make it here at least once in their lives.
You might find that you love it so much, though, that once is never enough. We've waxed lyrical about it long enough, though, so here's the vital information you need and our complete guide to surfing Ericeira in Portugal.
The Best Time of Year for Surfing Ericeira
The good news is that you can surf all year round in Ericeira as the water temperature only ever falls to around 16 degrees Celsius. That said, the shoulder seasons (between spring and summer, and autumn and winter) offer up the best waves as well as more pleasant weather conditions for surfing.
If you're a beginner, you might want to wait until the summer months when the waves are a little tamer. Experienced surfers, on the other hand, will love the challenges that the big waves of winter bring. Just be sure to bring a wetsuit as the air temperature can get pretty chilly!
See also: A Complete Guide to Surfing Portugal
How to Get to Ericeira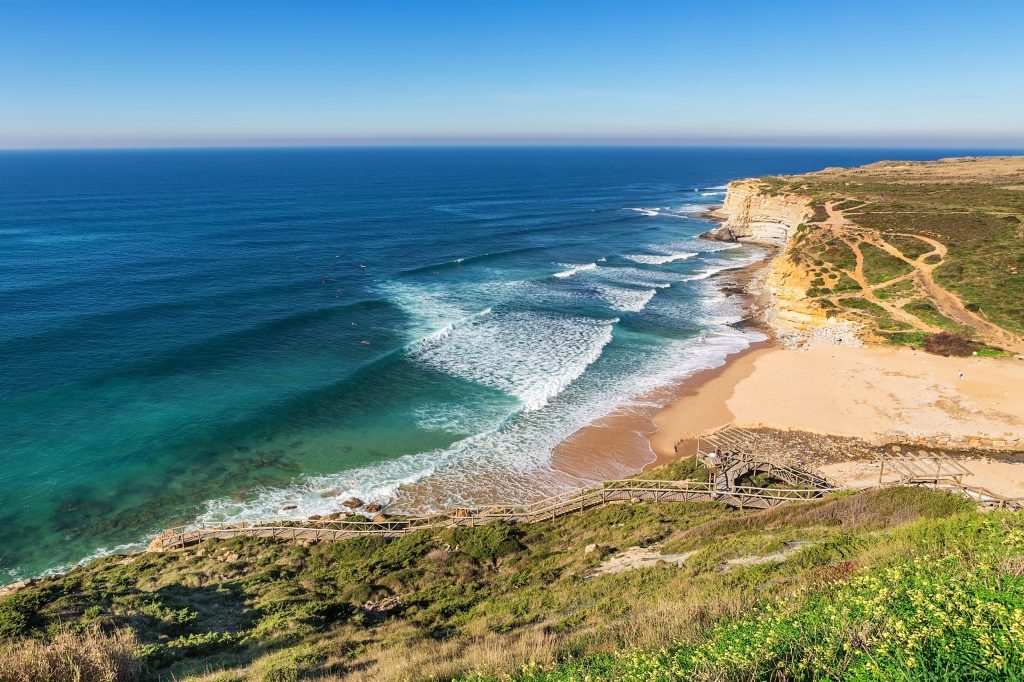 Ericeira is on the western coast of Portugal in the municipality of Mafra. The surf town is just 35 kilometers from the capital, Lisbon, and it stands proud against the Atlantic Ocean that delivers a range of fantastic wave conditions for both beginners and experts to get their fill.
As Ericeira is so close to the capital, it is easy to fly into Lisbon and go from there. The airport in Lisbon is the Lisbon Portela Airport (LIS), and from there, you can collect your bags, surfboard included, and rent a car to drive over to the coast.
This car journey will take about 40 minutes, depending on how often you want to stop to snap pictures of the stunning and stretching surroundings. However, if you don't want to rent a car, you can hop on one of the many public buses that ferry excited surfers between Lisbon and Ericeira.
Taking the bus may take a little longer. However, because you can get around Ericeira on foot, it can save money, and because of the picturesque surroundings, you'll want to take in as much as you can. If you do want to get around a more quickly, you can rent a bicycle or take public buses between surf spots. Tickets will only cost €1, and they have surf racks on the roof to make it easy to get around. 
See also: A Complete Guide to Surfing Peniche in Portugal
Surf Camps in Ericeira
It's no surprise the Ericeira boasts an abundance of quality surf camps for all the surfers who head here every season. Here's our pick of the best surf camps in Ericeira:
Magikvanilla Surf Camp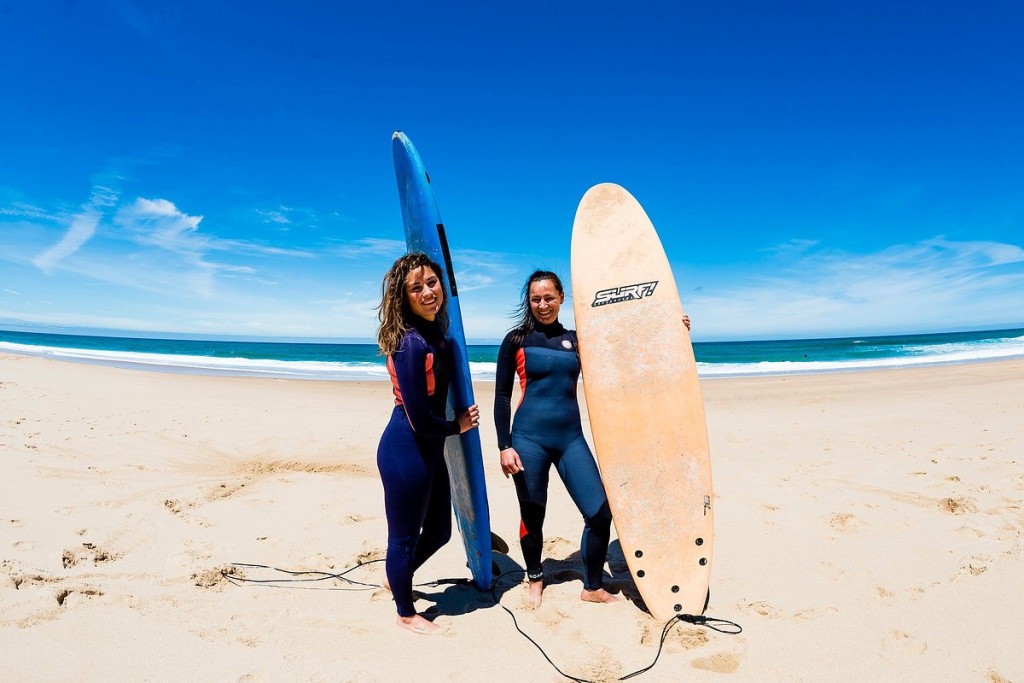 This recently renovated surf camp sits on the outskirts of Ericeira, just a few minutes walk away from the centre of town.
The traditional Portuguese house offers a combination of private and shared rooms. Amenities include a fully equipped kitchen, a sun deck, outdoor terrace with barbecue and a TV lounge. There is also a spacious garden with hammocks and a football table.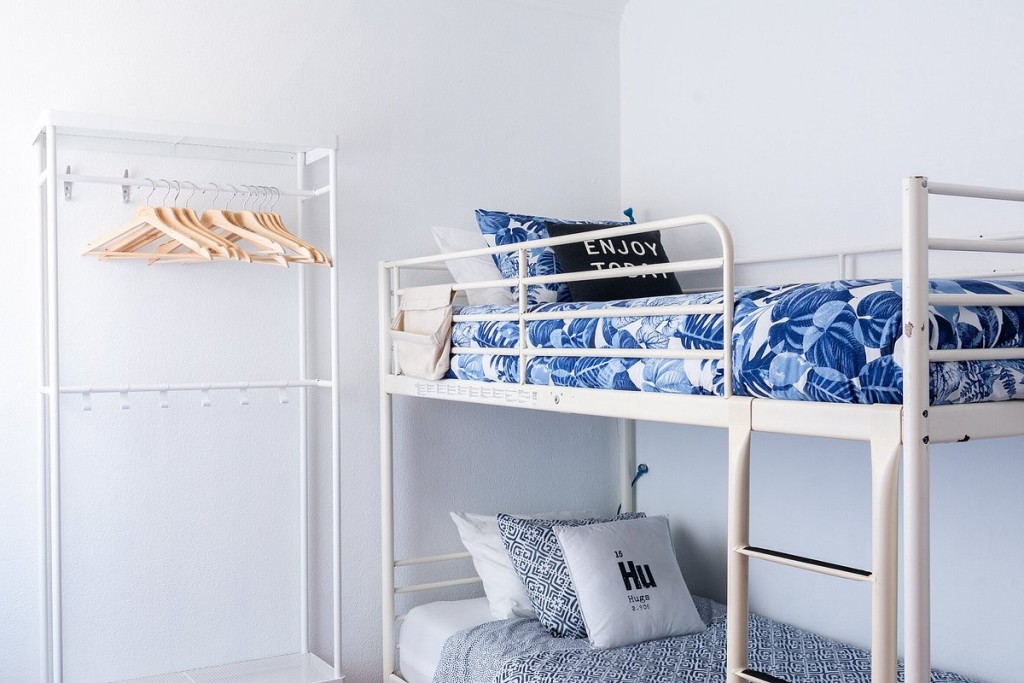 Guests can choose from a 1-week or 2-week all-inclusive package when staying with Magikvanilla Surf Camp. Both packages include daily surf lessons, shared or private accommodation, surfboard and wetsuit hire, and a daily breakfast buffet.
The Salty Pelican Ericeira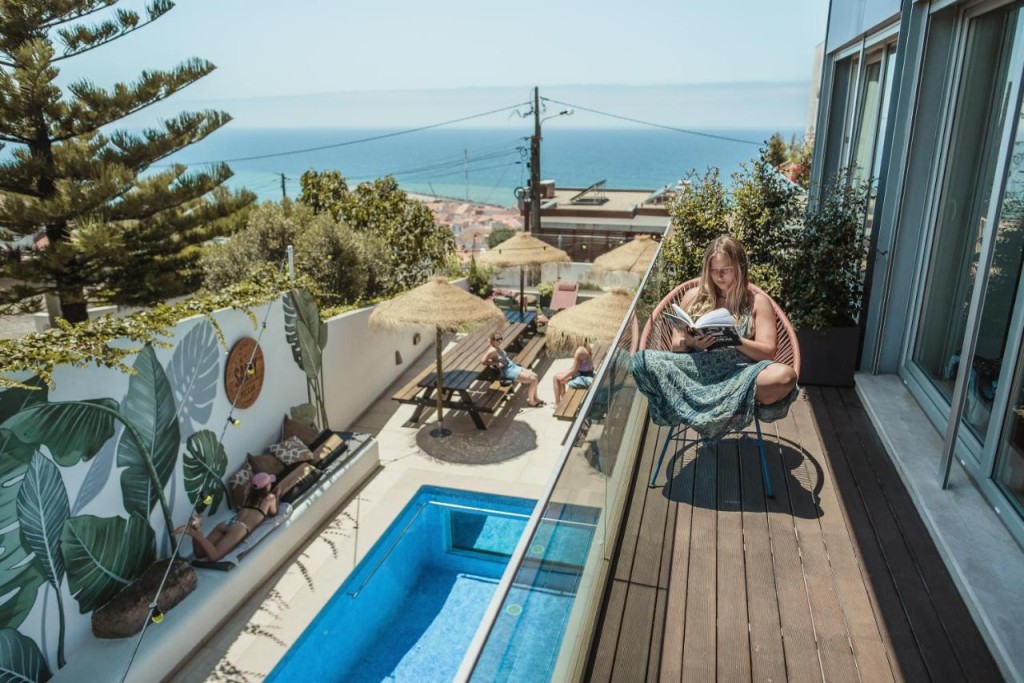 This modern surf retreat is located a few minutes walk from the centre of Ericeira overlooking Praia do Norte.
The newly built villa sleeps up to 40 guests in a combination of private and shared rooms. Most rooms come with a private terrace and ocean views. There is an open plan living area, covered outdoor dining area, a swimming pool, yoga deck, a poolside cafe, and a wellness centre offering massages and body treatments.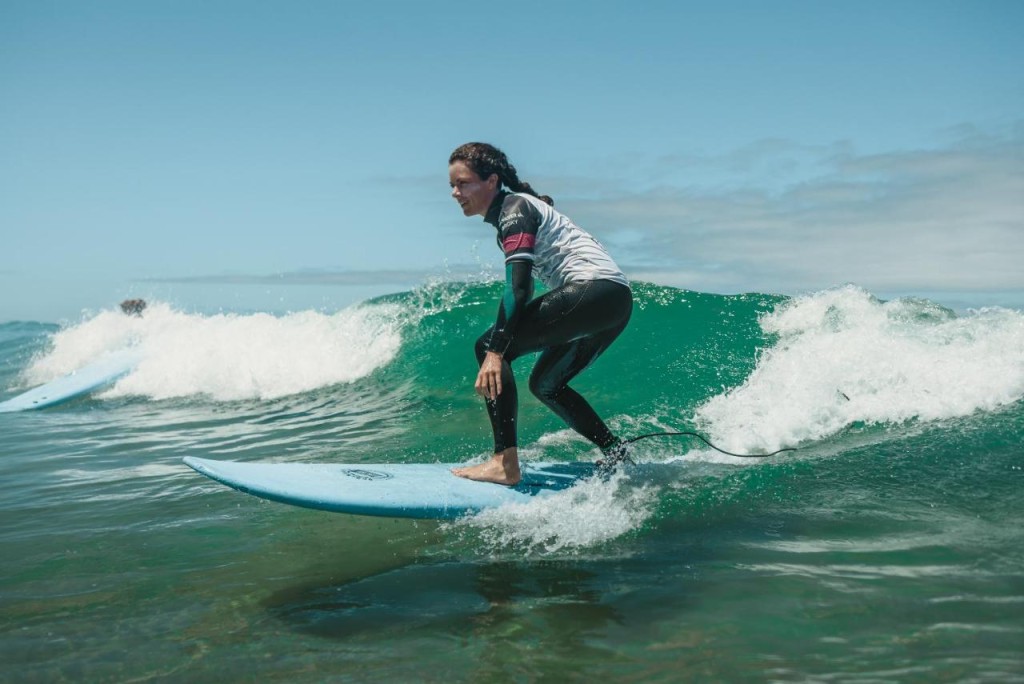 The Salty Pelican offers a 1-week all-inclusive package. This includes daily surf lessons, shared or private accommodation, surfboard and wetsuit hire, unlimited yoga, and a daily breakfast buffet.
For more experienced surfers looking for flexibility, The Salty Pelican also offers a room-only option.
Ericeira Prime Villas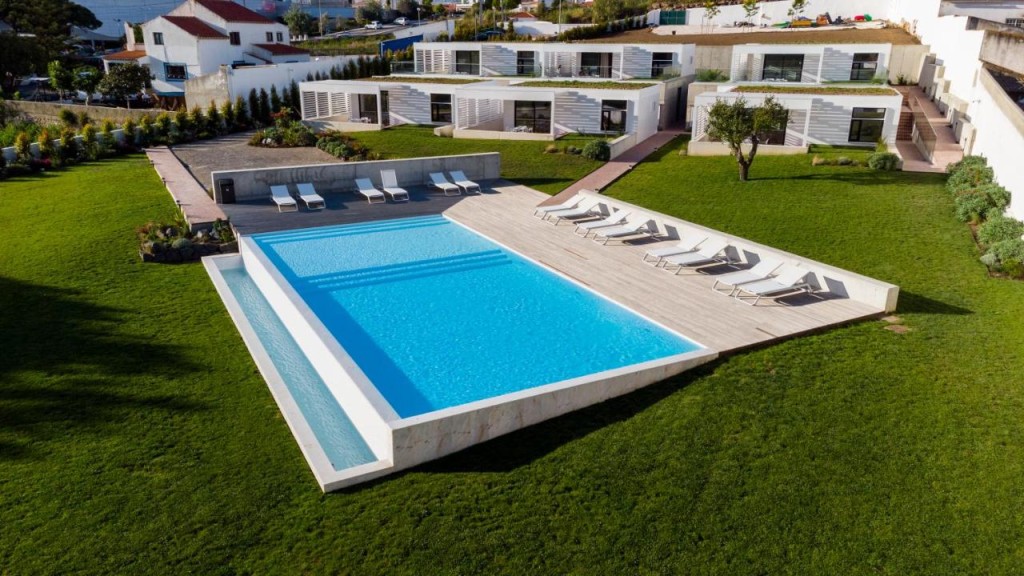 These luxury villas are located at the entrance of Ericeira, just a few minutes walk from the centre of the village.
The complex is made up of six 1-bedroom villas. Amenities in each villa include air-conditioning, a flat-screen TV, a large lounge area with sofabed, a well-equipped kitchen and access to a communal pool.
Ericeira Prime Villas offers a 1-week all-inclusive package. This includes daily surf lessons, a private room, surfboard and wetsuit hire, morning yoga, and a daily breakfast buffet.
Read also: 8 of the Best Surf Camps in Ericeira
Surf Hostels in Ericeira
If you're looking for a more budget-friendly option, there are plenty of surf hostels in Ericeira to choose from.
Here's our pick of the best surf hostels in Ericeira:
Selina Boavista Ericeira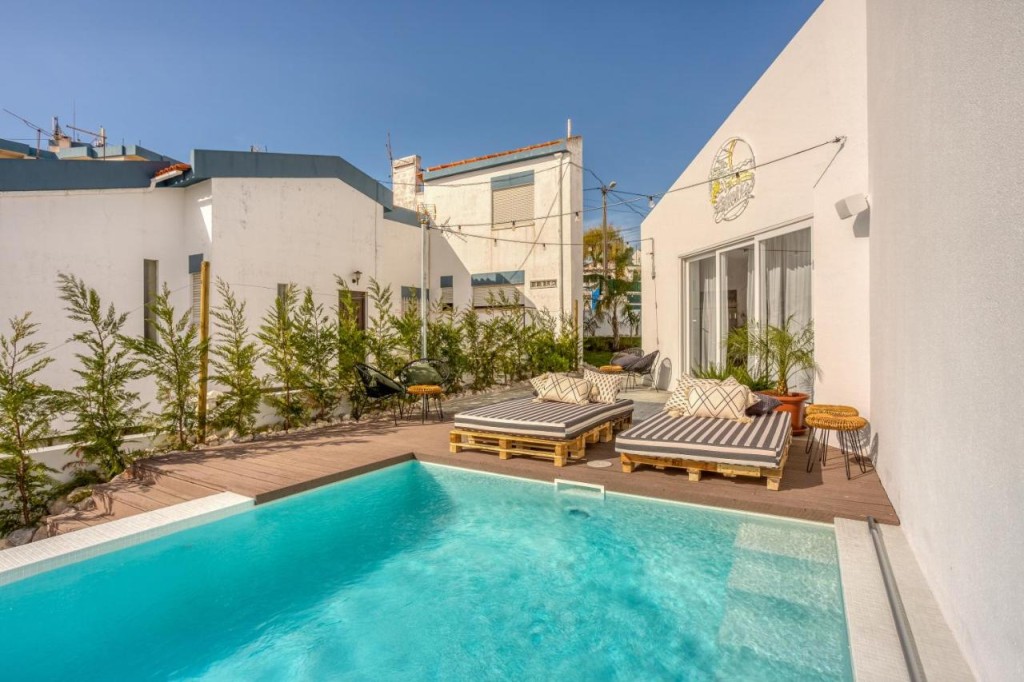 This laid-back guesthouse is a 5-minute walk from Pescadores Beach in rustic fishing village of Ericeira. The nearest airport is in Lisbon, which is a 30-minute drive away.
Basic dorms sleep up to 20 guests and provide free Wi-Fi, linens and shared bathrooms. Private rooms are also available. Amenities include an outdoor pool, an informal restaurant, and a yoga deck.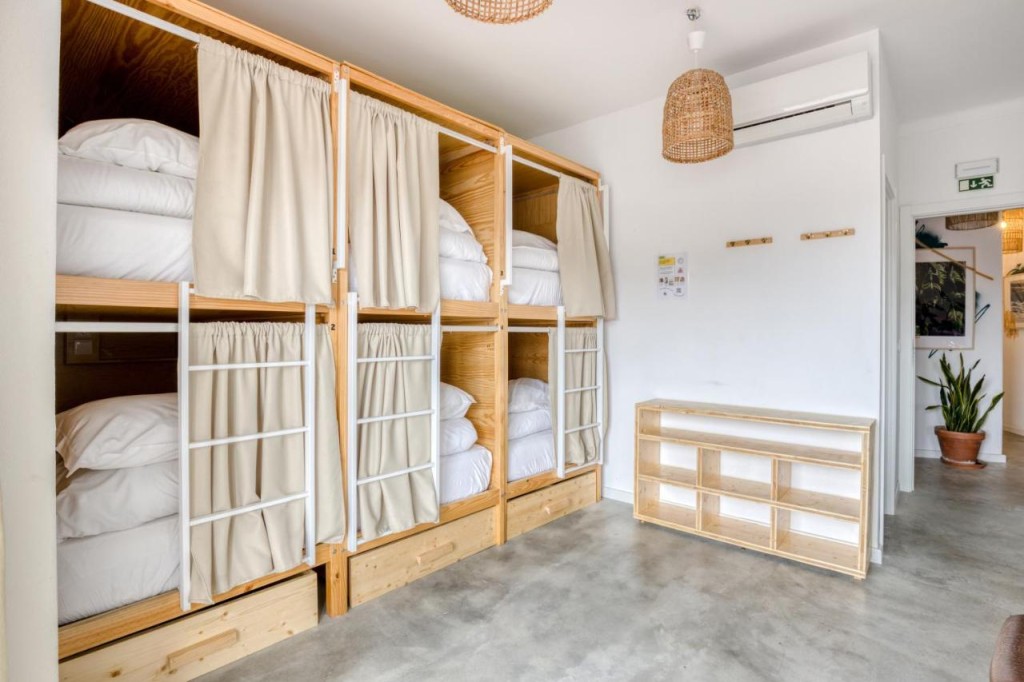 Guests can book a room at Selina Boavista Ericeira and then add-on surf lessons with surfboard and wetsuit rental after they check-in. Group surf lessons are priced at €33 per person and private surf lessons are priced at €125 per person.
Laneez Surf House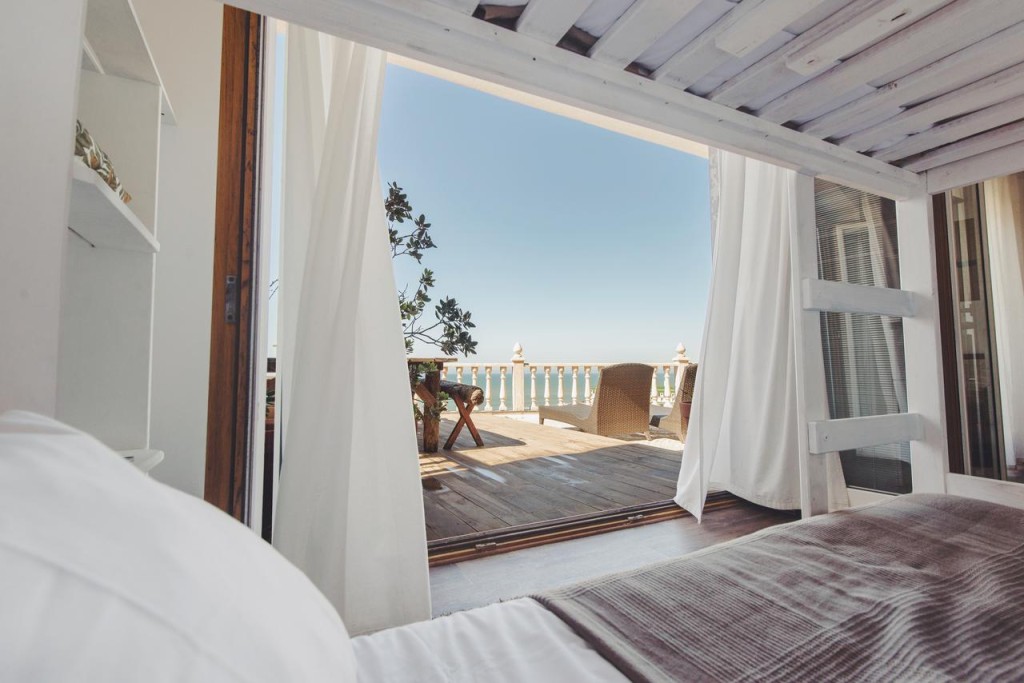 This airy house sits on a cliff overlooking Praia do Sul in Ericeira.
The clifftop house is made up of 7 spacious bedrooms, with private rooms and shared dorms available. There is a large communal terrace overlooking the ocean, as well as a lounge with a fireplace, and a fully-equipped kitchen.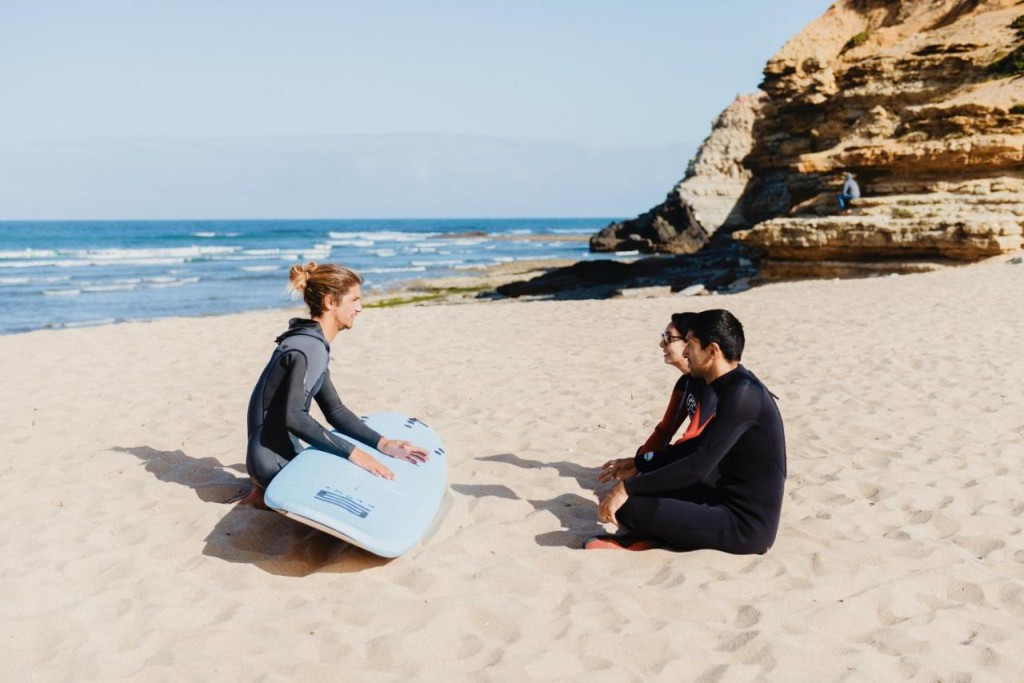 Guests can book a room at Laneez Surf House and then add-on surf lessons, surfboard and wetsuit rentals, and surf guiding after they check-in. Yoga is also available as an add-on.
Hostel & Surfcamp 55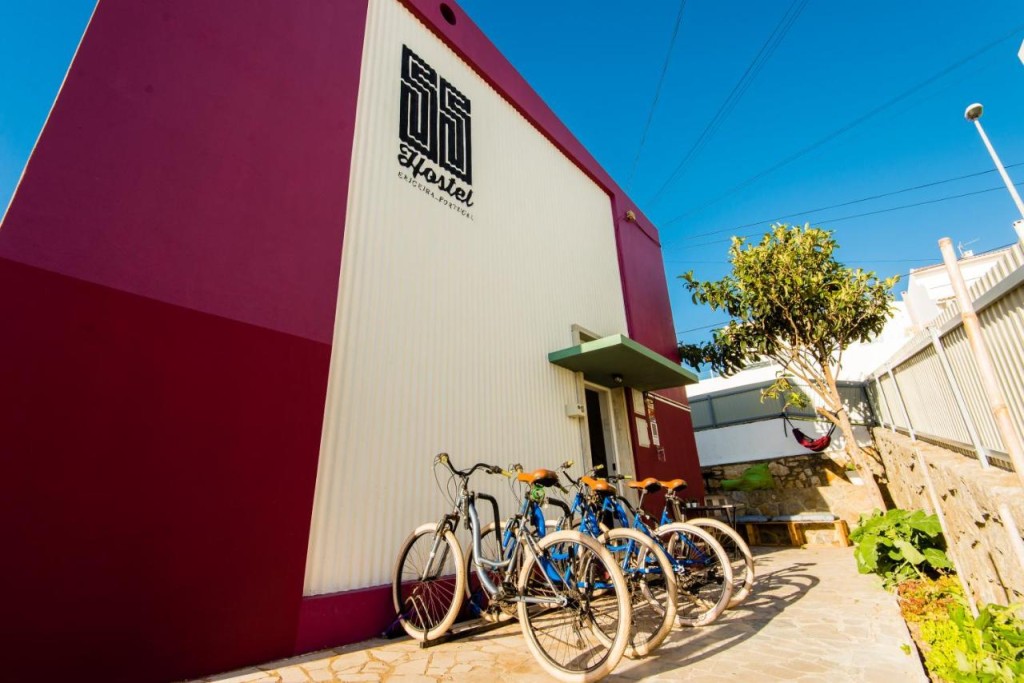 This budget-friendly hostel sits in the centre of Ericeira, overlooking Praia da Baleia.
The house can accommodate up to 21 guests in 7 shared rooms. The shared rooms are made up of twins rooms and 4-bed to 6-bed dorms. There is a large lounge area, a fully equipped kitchen, and an outdoor terrace with barbecue.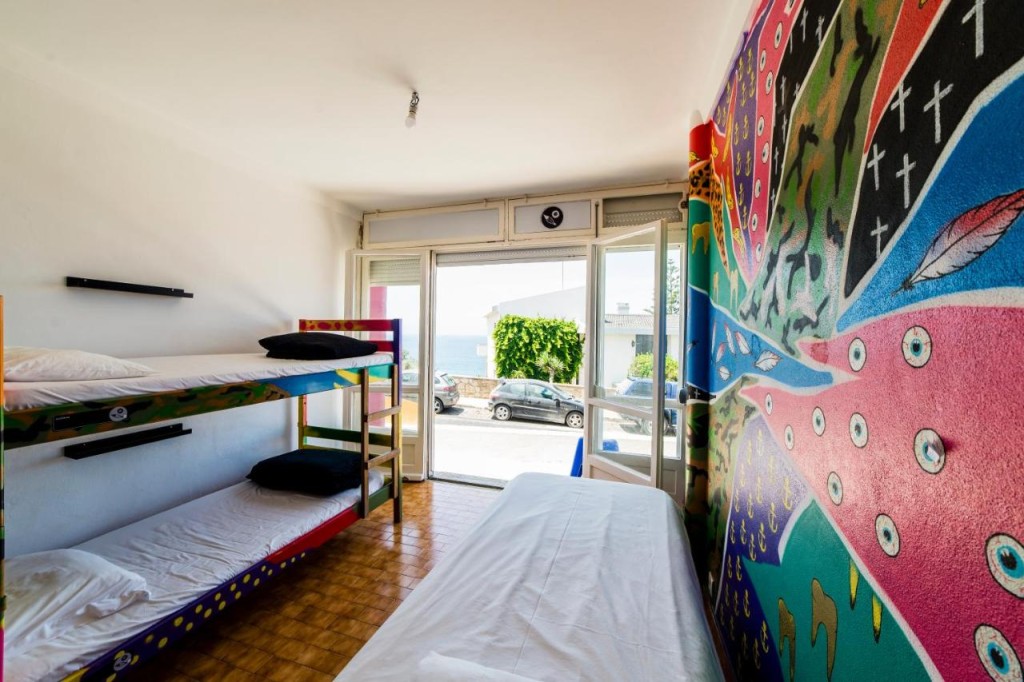 Guests can choose from a 4-day, 1-week or 10-day all-inclusive package when staying with Hostel & Surfcamp 55. All three packages include daily surf lessons, shared accommodation, surfboard and wetsuit hire, and a daily breakfast buffet.
Formore experienced surfers looking for flexibility, Hostel & Surfcamp 55 also offers a room-only option.
Ericeira Surf Spots
Once you arrive in Ericeira, you'll likely be itching to get down to the beach and catch some of those waves. Ericeira is considered a surfing Mecca for a reason, and it boasts surf spots for all levels and experiences. So even if you've never surfed before, you can find someplace that will help you discover just how fun it can be.
Ericeira boasts such broad appeal that it was declared a World Surfing Reserve in 2011 by the Save the Waves Coalition. So far, it's the only European to hold such a distinction, demonstrating just how fantastic the year-round surfing opportunities are in Ericeira.
Surf Spots in Ericeira for Beginners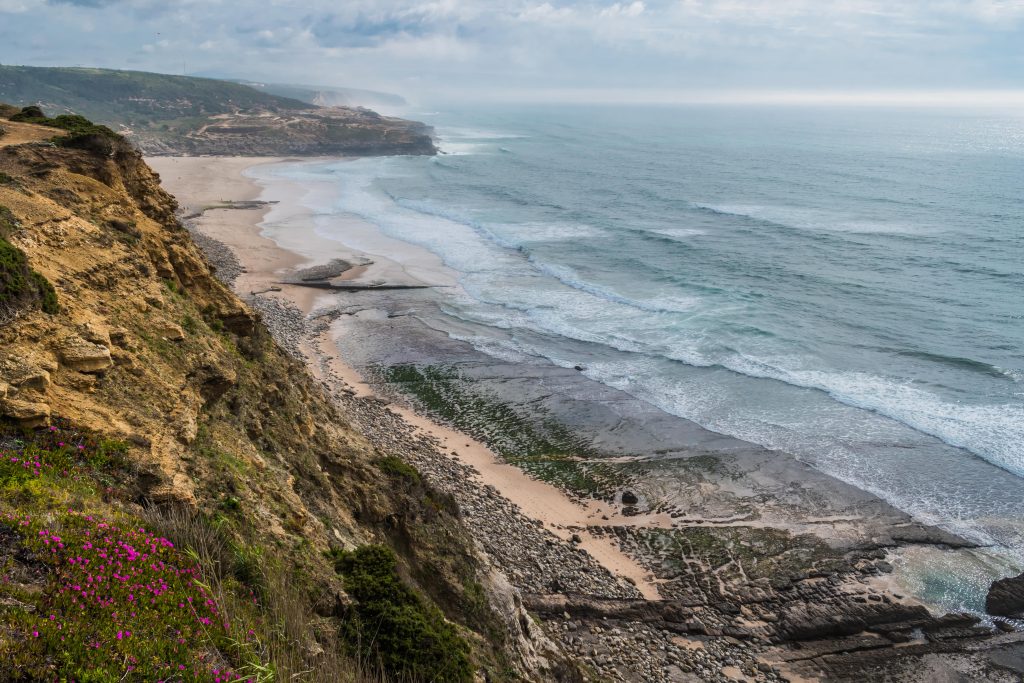 While Ericeira is mostly suitable for intermediate and expert surfers, beginners can still find plenty of surf spots to practice and perfect their craft. Ericeira is a fantastic place to learn how to surf. Whether you've tried a few times here and there or have never climbed on a board in your life.
You can find the best surf spots for beginners in Ericeira in the southern part of town.
Boasting a forgiving beach break (most of the time, anyway), Foz do Lizandro is fantastic for beginners and intermediates. There are plenty of peaks at this beach, which offers variety and plenty of space for everybody.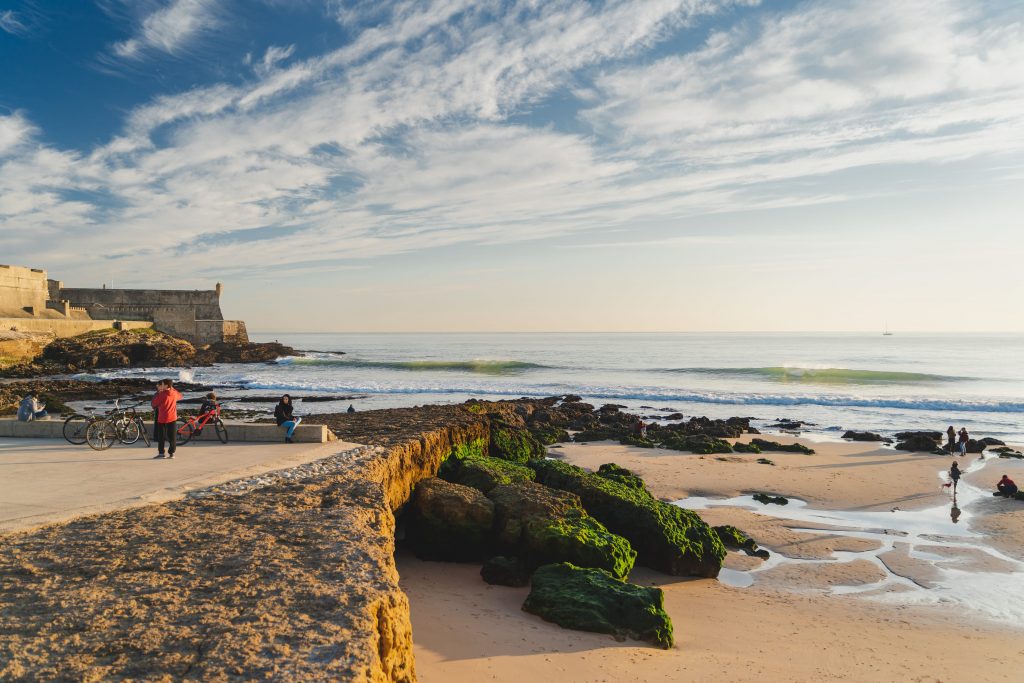 São Julião is the most consistent of all spots throughout the town and is a superb spot for all surfing levels. It's an exposed beach break with lots of peaks, both left and right, and it's easy to manage regardless of the tide or direction.
Praia do Sul is another location that's great for beginners with a big swell and stunning views all around. There are left and right wave breaks, and you'll gradually pick up speed that makes it a more comfortable and enjoyable experience for those still learning.
Ribeira D'Ilhas is easy to manage and sits comfortably in between Coxos and Pedra Branca. It provides some of the most consistent surfing across Europe, and it offers lots of fun for beginners, but intermediates might find a lot to love, too.
Surf Spots in Ericeira For Advanced Surfers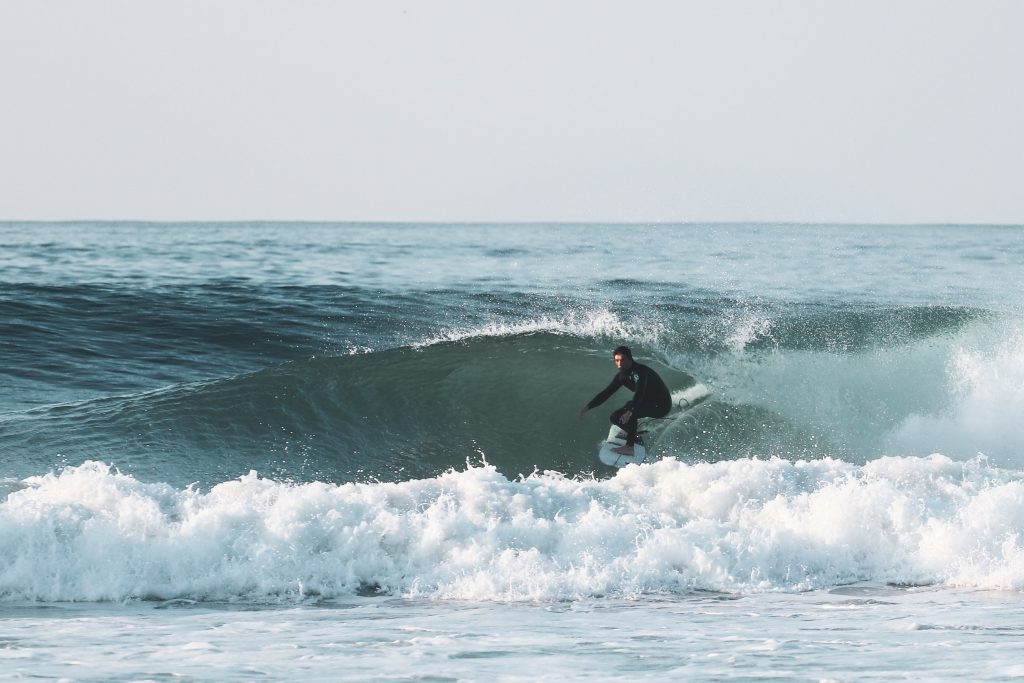 If you consider yourself more intermediate or even an expert surfer, then you'll need to head to the northern part of Ericeira. Here, you'll enjoy world-class, and world-famous breaks within the World Surfing reserve that will keep you entertained however long you stay there while also offering a plethora of challenges to overcome.
São Lourenço is located at the most northern spot of Ericeira and can hold up to 18 feet of powerful, hollow surf that will have expert surfers salivating at its potential. It is one of Portugal's most enormous and most demanding waves, but that's all part of the fun.
A little south of São Lourenço lies Coxos, which is arguably the most famous surf spots in the town. It boasts a low tide with a powerful northwesterly swell. The hollow right-hand wave break feels so perfect it will almost not seem real, but rest assured it's very much true, and everything you've heard about will more than measure up to a real-life experience.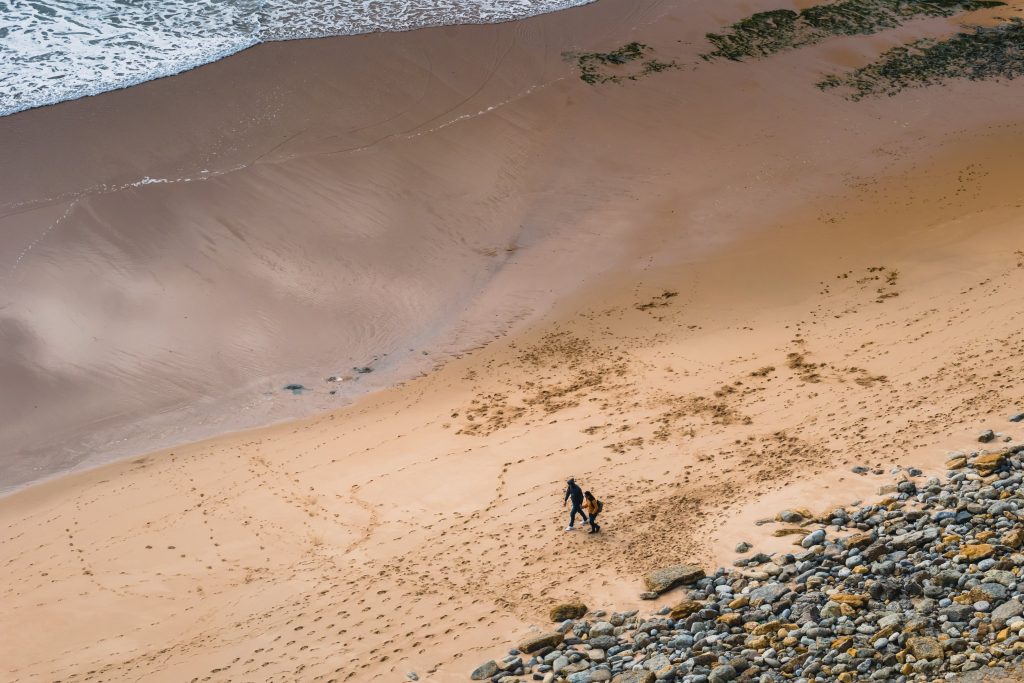 Crazy Left is one of the few remaining lefts available to surf in Ericeira, it's a wave that is not at all for the faint-hearted nor those lacking years of experience. There are some genuinely insane barrels, and overconfident surfers could end up regretting trying it out. This is for experts only.
Famous for splitting tubes and considered the heaviest wave in town, Cave is frequently compared to Shark Island in Australia. Surfers begin in deep water before sailing over a shallow reef, and if you're not careful, you might end up like John John Florence.
At Pedra Branca you'll find powerful with hollow tubes, you could experience some nasty wipeouts here, but the thrill of the tube-riding and speed you pick up may make it too hard to resist.
Another northern option, Matadouro boasts a super fun right-hand wave that provides plenty of peaks. It's excellent for intermediates, but beginners may find it a little intimidating. If you need a place to warm up, the Quiksilver Boardriders skate park is right opposite and free.
Surf Lessons in Ericeira
Ericeira Waves Surf School offers fantastic surf lessons and coaching for all levels, whether you're a complete beginner or an experienced surfer looking to take your skills to the next level. They have a team of professional and local surf instructors who will be more than happy to help you make the most of your time in Ericeira.
For beginners, they typically hold lessons at Foz do Lizandro and Ribeira D'Ilhas, which are both located in the central area of Ericeira. These beaches offer a more relaxed vibe and are perfect for those who are still getting to grips with surfing. Both beaches have a gentle swell with some small waves, making them ideal for beginners.
Surfboard Hire in Ericeira
If you don't want to bring your own surfboard along for the ride, you can rent surfboards from pretty much anywhere. There is there is no shortage of surf shops and hostels offering rentals.
Wave Beach & Surf is an option for those on a budget. But, if you want your board ready for your arrival, you can pre-book the type of board you wish through websites such as Board Surf Center or Rent a Surfboard. These services will also give you the option to rent a wetsuit if you need one.
Surfing Ericeira Youtube Videos
You can learn a lot from YouTube, especially when you find informative vloggers who want to share how amazing the surfing in Ericeira is! Not only do they talk about their experience and the towns best surf spots, but they also share concrete advice on where to stay and what to do on your surf trip in Ericeira.
Give these YouTubers a follow and jot down some of their tips as you plan your trip:
Two Bohemians
Luke & Tyler are digital nomads from England who have been living in Ericeira for a few months. In this video they share the best of Ericeira, including their favourite place to get acai bowls, coffee and two of their favourite beaches.
Denis & Francesca
Denis & Francesca are a German couple documenting thier travels through Europe. In this video, they pick up a car in Lisbon and head up the coast to Ericeira to check out the local surf scene.
Jackson Lebsack
Jason Lebsack is a surfer and documentary filmmaker. In this video Jason and his friends explore the best surf spots for advanced surfers in Ericeira.
Travel Insurance for Surfing Ericeira
Whether you're a seasoned pro or a beginner just catching your first waves, travel insurance should be at the top of your packing list.
Surfing can be an unpredictable sport, and accidents can happen even to the most experienced surfers. Travel insurance will protect you in case of any accidents or injuries, as well as lost or stolen equipment. It can also provide valuable assistance if your flight is delayed or cancelled.
So before you start surfing Ericeira, make sure you're covered by a good travel insurance policy (we recommend checking out Nomad Travel Insurance for Surfing).
Need help planning your surf trip to Ericeira? Use our FREE Surf Trip Planner to get a list of top-rated surf camps, hostels, resorts and just for you.