Surfing Imsouane in Morocco

Disclaimer: This article contains affiliate links. We may receive a small commission if you make a purchase through one of these links. Please read our Affiliate Disclosure for more information.
This is our Complete Guide to Surfing Imsouane in Morocco. Keep reading for everything you need to know about surf trippin' to Morocco's longest wave.
Morocco's hidden gem, Imsouane, is rapidly becoming one of the world's favorite surf trip destinations. Great to visit during the winter, it's beautiful scenery and two versatile surf spots make it the ultimate surf trip destination.
With near-perfect surfing conditions (it boasts one of the world's longest breaks), it's favored by both beginners and intermediate surfers alike. A laid-back and tranquil old fishing town, it's traditional charm make it a favorite for many visiting Morocco.
How to get to Imsouane
Although surfing Imsouane has rapidly picked up in popularity over the last few years, especially with the surfing community, it's not the easiest location to get to. As it's set in a relatively remote location, you should spend some time organizing your travel before you head there.
The closest airport to Imsouane is Agadir. Taking just under 2 hours to get there, you'll need to be aware of all of the options. You can either rent a car from the airport and drive to the town, ride the popular Souk to Surf shuttle bus (80 MAD or $8.33 per person), or grab a taxi from the airport costing between 800 – 1200 MAD ($83 – $124) each way.
Alternatively, you can take a bus directly from the airport to the nearby Tamanar before taking a taxi to Imsouane.
As Imsouane is only a small town, you don't really need transport once you get there. Everything is within walking distance. If you do want to travel further afield, however, then there are buses and local cab companies around the town.
Imsouane Surf Season
Described as having a semi-arid climate, Morocco is known for having cool winters and hot summers. The average temperature for the country between November and January is around 50 degrees Fahrenheit while in the summer months, between June and August it sits around 77 degrees Fahrenheit.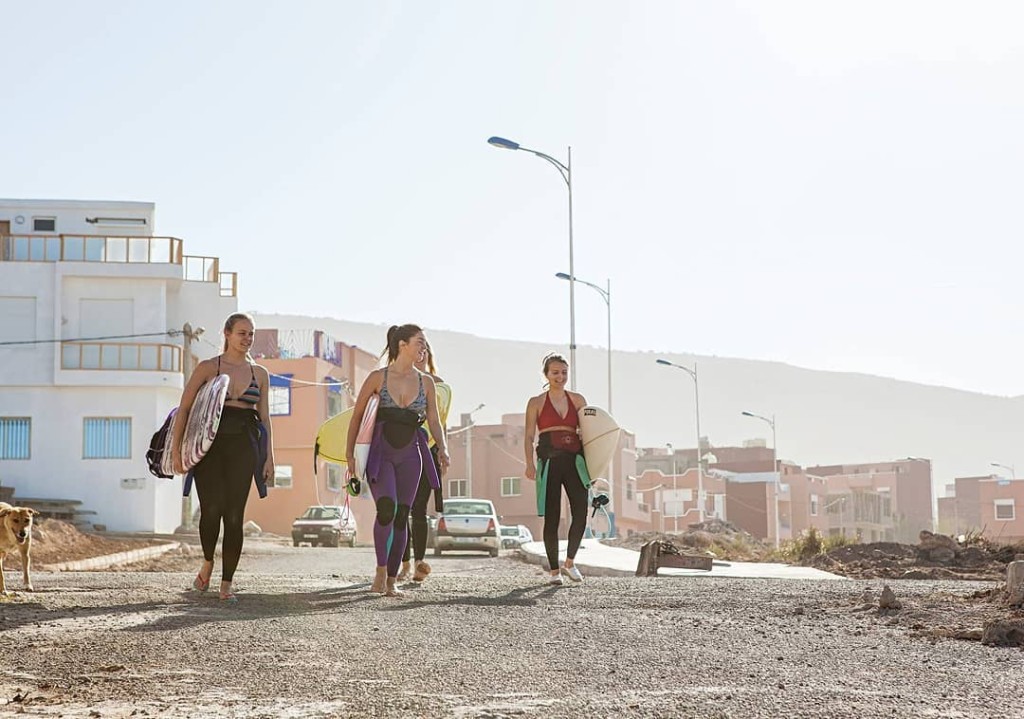 Because of this, the best time to surf in Morocco is between late September and April. Although Imsouane is known for having good conditions for surfing throughout the year.
Imsouane Surf Spots
As mentioned above, there are two main spots for surfing Imsouane – known as Cathedral (offering beach break, reef and point break waves) and The Bay (offering point break waves). The Cathedral is great if you're looking for fast, but low waves, whereas The Bay is great for beginners that want to improve on riding longer waves.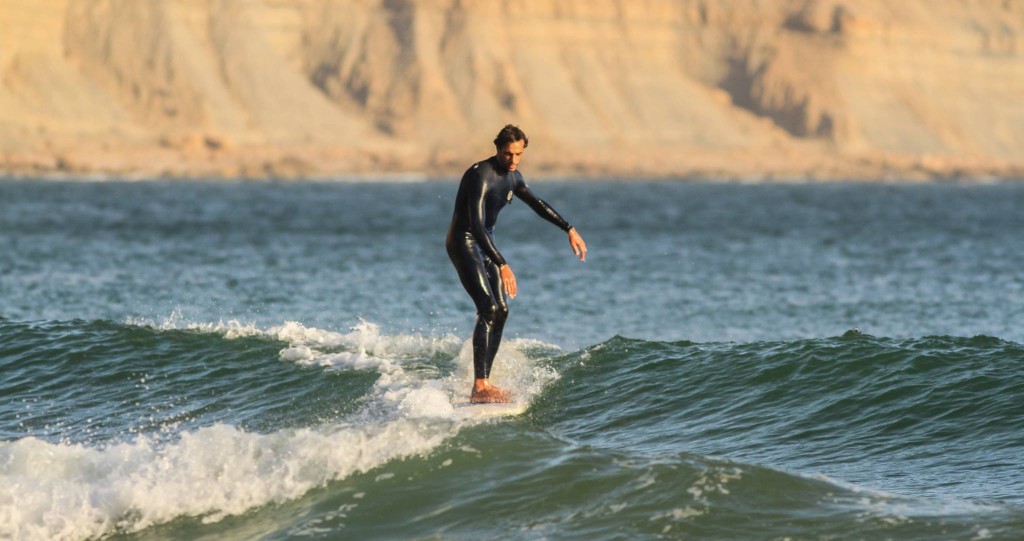 The Bay tends to offer right-hander waves which are best to ride when the tide is low to medium. Taking you from one end of the bay to the other, it's infamously one of the longest rides on the continent.
Cathedral surf spot, on the other hand, offers both right and left-hander waves. Similarly best to ride when the tide is low to medium, it can deliver waves that measure up to 1.5m – as well as barrels from time to time.
Both surf spots offer smooth waves that rarely get too big or messy. Peeling over the soft sand and rocks, they are ideal for surfers of all levels.
Imsouane Surf Camps
As Imsouane is such a popular surfing destination for tourists, it has a host of accommodation options geared towards those wanting to surf.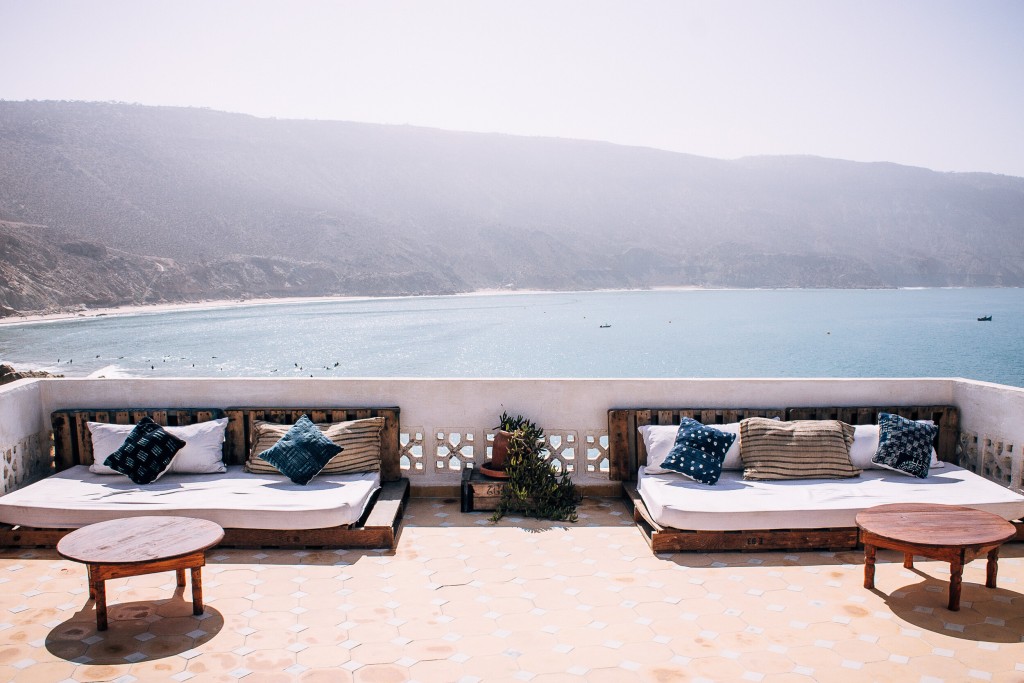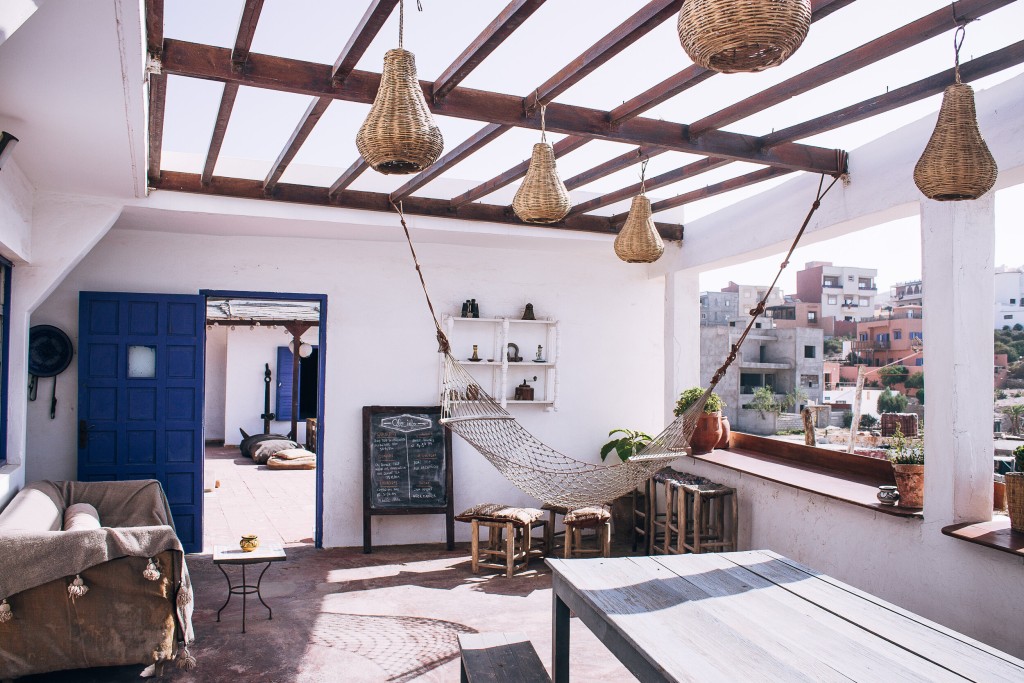 If you're looking for a trendy hostel within a few minute's walk of the beach, Olo Surf Nature is perfect. Featuring an outdoor pool, cafe, and various accommodation options (as well as the option to take surf lessons), it's the ultimate place to stay for those surfing Imsouane. With rooms starting at $20 a night, it's also very affordable.
For something more private, there are plenty of apartment rentals dotted around the town. The Wind House offers a selection of two-bedroom apartments overlooking The Bay from $167 a night. Or, pick up a two-bedroom apartment from glass-fronted Magic House for $159 a night.
Alternatively, if you're looking for a surfing package, Sandycamps might be a great option for you. Offering packages for beginners to intermediate surfers, you can enjoy an unforgettable getaway. The accommodation itself is simple yet stylish and the resort has a very welcoming atmosphere. Packages start at $350 for 7 days, with surfboard rental, accommodation, all food, and 2 yoga lessons included.
Take a look at the below video to see what a day at Sandycamps is like:
Surf Lessons in Imsouane
As aforementioned, Imsouane is very much targeted towards surfers. And because of this, there are numerous surf schools and camps around the town. If you are a beginner, your instructor will take you out into the ocean and teach you all of the basic surfing schools you require. With lessons costing around $81 an hour, it's one of the more expensive surfing destinations out there.
As well as individual lessons, there are surf camps that offer group lessons for surfing Imsouane. With experienced teachers, you'll be able to learn the basics if you're a beginner or more advanced techniques if you are an intermediate/advanced surfer.
A surf camp that offers this, as well as those mentioned above, is Sandycamps – which costs $350 for one week of surf lessons and accommodation.
Surfboard Hire Imsouane
As there are so many surf camps around Imsouane, you won't be lost on places to hire a surfboard. One, in particular, that's popular with tourists visiting the area is Surf Spirit Surf Shop. Offering surfboard and wetsuit hire based on a per day or per week basis, you'll have state of the art equipment without the large price tag.
For surfboards, expect to pay $10 a day or $65 for a week. For wetsuits, they will charge you either $7 per day of $45 per week that you want to hire them.
Where to Eat in Imsouane
Despite it being a small town, there are several eateries to choose from. If you're looking for a delicious quick bite to eat, then La Cre-Pierre is a great choice. Alternatively, if you want a more traditional meal, try Chez Jolo. Being a fishing village, you can also buy directly from the local fish market and have one of the local vendors BBQ it for you right on the beach!
Other Activities in Imsouane
If you want a break from surfing Imsouane, there are plenty of other activities for you to enjoy. You can spend your time swimming in the ocean, exploring the local shops and market (offering an abundance of fresh fruit and vegetables) or hike up to the nearby viewpoint which boasts spectacular views out towards the coast.
If you want to travel a little further afield, why not consider a day trip to a nearby city? One, in particular, that takes the fancy of tourists is Essaouira. Set on the rocky southwestern coast, this small city is a notorious kite surfing point. With beautiful architecture, incredible sea views, and a bustling atmosphere, it's guaranteed to be an unforgettable day trip. Taking 2 hours to get there from Imsouane, it's ideally located and easily reachable by cab or by bus.
Alternatively, head south and explore Taghazout, a slightly larger surf town with a hippy vibe and laidback culture. You can reach Taghazout in an hour and a half from Imsouane.
Enjoyed our complete guide to surfing Imsouane? Check out all of our Surf Travel Guides here.