This is our Essential Guide to Surfing in Portugal. Keep reading for everything you need to know about planning a surf trip to this popular destination.
Sandwiched in between Spain and the Atlantic Ocean, Portugal enjoys a privileged position, ideal for wave makers and surf riders. With over a thousand miles of unspoilt coastline to explore, it is somewhat of a haven for those with a passion for water sports of all kinds, and that includes surfing.
With over 10 million residents, countless vineyards and an abundance of beaches, there's something for everyone in this popular European destination.
Here we look at what makes Portugal particularly appealing to surfers and the many hot spots worthy of your time.
Table of Contents:
Surfing Portugal: The Travel Essentials
There are three main airports in Portugal, choosing the right one depends on where you plan to stay. Lisbon International is the main airport in the capital, serving a number of global destinations.
At its most northern point, Francisco Sa Carneiro airport in Porto offers links to the top part of the country. While down in the south, Faro remains a popular destination for families and holidaymakers visiting the sunshine state of the Algarve.
Check for flights to Portugal here.
As part of the EU, Portugal uses the Euro as its main currency. Although many of the mainstream locations use electronic payment, it's always worth having a handful of Euros stashed away for essential taxi rides, or even a cheeky cerveza!
Portuguese is the first language spoken by locals in Portugal. However, with its close proximity, many locals can converse in occasional Spanish and English to a good standard.
Portugal is well connected with an efficient train and bus service, especially in the cities such as Lisbon and Porto. Trains tend to offer an affordable and scenic option, however when getting from A-to-B in the quickest time, buses are usually the most efficient option. Taxis are plentiful in the cities, although typically the most expensive way to travel.
Car hire however remains the best way to explore the country, with its many nooks and alcoves awaiting your discovery.
Within easy reach of all parts of Europe, Portugal is a popular surfing destination with locals as well as international visitors. While it attracts the water-sports community all-year round, the main surf season runs from late winter to early spring. Come at this time of year and you can expect waves measuring anything from 2 metres up to a sizeable 15 ft.
Reaching temperatures of 26 degrees/ 79 Fahrenheit in the peak of summer, this is the busiest time for tourists descending on vacation. This is also a better time for novice surfers and groms, with gentler waves ranging from 1m up to 5ft.
Some of the most popular locations for surfing include; Algarve, Alentejo, Lisbon, Ericeira, Peniche, Beira and Nazare. It's worth noting that Ericeira, Nazare and Supertubos are all separated within an hour's reach of each other, for those serious about finding monster waves.
Just north of Lisbon, benefiting from the winds of the Atlantic coast, Ericeira is widely considered to be the surf capital of the country. Named an official World Surfing Reserve by the Save the Wave coalition, it's the only destination in Europe to receive such an honour. Acknowledged for its high quality consistent waves and breaks, the coastline is also a rich ecological area, with more than 1,000 marine species identified.
As one of the best spots in Europe to catch waves, it's no surprise that it's also home to some major tournaments, including the coveted EDP Billabong Pro.
Best reserved for seriously advanced surfers, you'd never think that this peaceful fishing village of Nazaré is also the place where pros battle against the elements and monster waves. Thanks to its underwater 'canyon' which is 5km deep and 230km long, it creates gigantic breaks ideal for big wave surfing. Famously, in 2013 Carlos Burle rode into history here, with one of the largest waves ever taken on!
If you want to pair surfing with other activities and sightseeing, Lisbon ticks all the boxes. Just a ten-minute drive from the city centre, Praia de Carcavelos always provides plenty of waves, suitable for all levels. Here locals mingle with visitors, vying for the best barrels and waves.
The peninsular of Peniche makes an ideal spot for catching waves. There's plenty of choice here, from the beach brakes of Supertubos (Europe's most famous beach break), to the easier to navigate waters of Prainha. As such, it attracts some of the world's best surfers especially come October during the Rip Curl Pro.
For those in the south, Praia de Faro is within easy reach of Faro. Owing to its gentler waves, this is the perfect place for beginners with longboard waves in its summer months. Just take note that the waters here can be chillier than up north.
Learning to surf in Portugal
Many who come to Portugal for the surf return time and again. As one of Europe's prime surf spots, it's also well equipped for those starting out.
The welcoming resort of Foz do Lizandro in Ericeira is known for a multitude of surf schools where you'll learn all the basics, from positions to paddling out. There's also plenty of rentals available too. Kids lessons start from €25, with adults costing €35 for an hour's tuition.
For the fully committed, nearby Lapoint is a dedicated surf camp where you can enrol in daily lessons with an instructor, theory lesson and fitness training. A week of 'studying' plus accommodation starts from €499 per person.
Surfboard hire in Portugal
With Portugal being a top surfing destination, there's no shortage of affordable kit to hire wherever you choose to stay. This allows visitors to travel without the stress of bringing cumbersome surfboards with them.
SurfnPaddle in Lisbon offers lessons as well as rentals at affordable rates – for €15 you can rent a surfboard for an hour. In the north, Surfing Porto offers surf board and wet suit hire from just €25 an hour. While down south, the Lagos Surf Centre provides body boards and fins from just €10 an hour.
For Awayco members you'll find plenty of suppliers located in the popular surfing areas. You can check for your nearest Awayco supplier here.
Surf friendly accommodation in Portugal
Geared towards individuals, surfers and families alike, there's plenty of good options for accommodation in Portugal. Come in the summer months and you can expect to pay a premium, so book in advance to bag a bargain.
Whether you're catching giant waves or just want views of them, Casa Azul is perfectly placed in Nazare. Positively oozing beach cool, come with friends and split the cost. The apartment is €58 a night for four sharing, that's less than €15 a person.
Another great value property is Residencial Aviz, within waving distance of Peniche's coastline. Rooms are simple with shared bathrooms, but for €34, you can't really complain.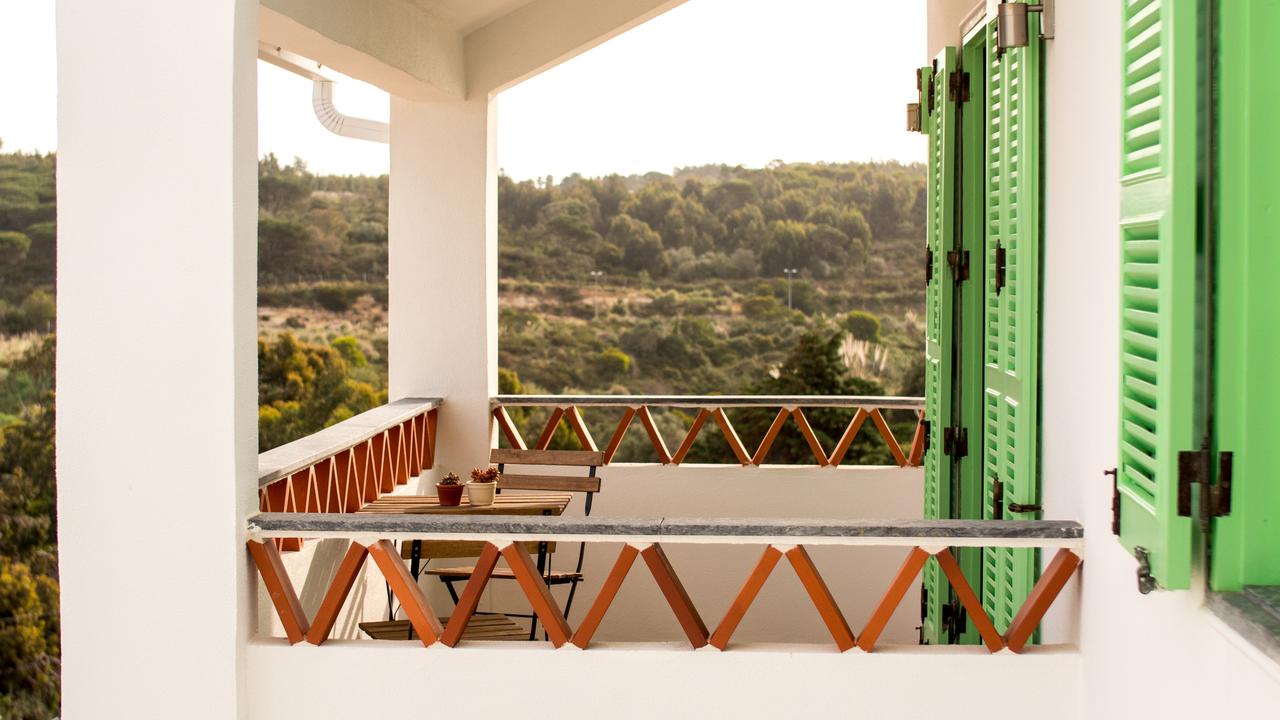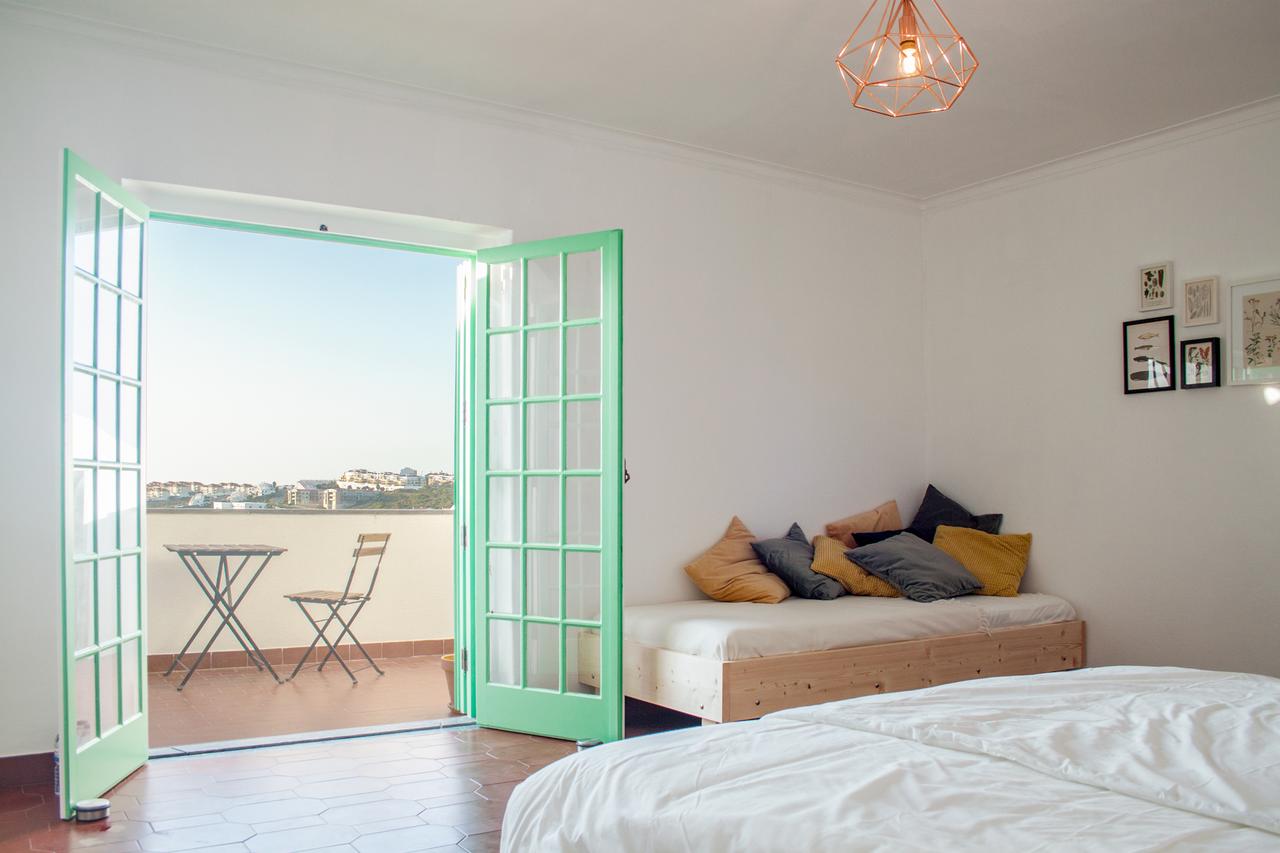 Dedicated to surfers with style, Ola Onda Guesthouse is the perfect spot for those  visiting the Ericeria region. Starting from €80 a night, it provides an upgrade to a tiresome hostel, offering all the comforts you could need.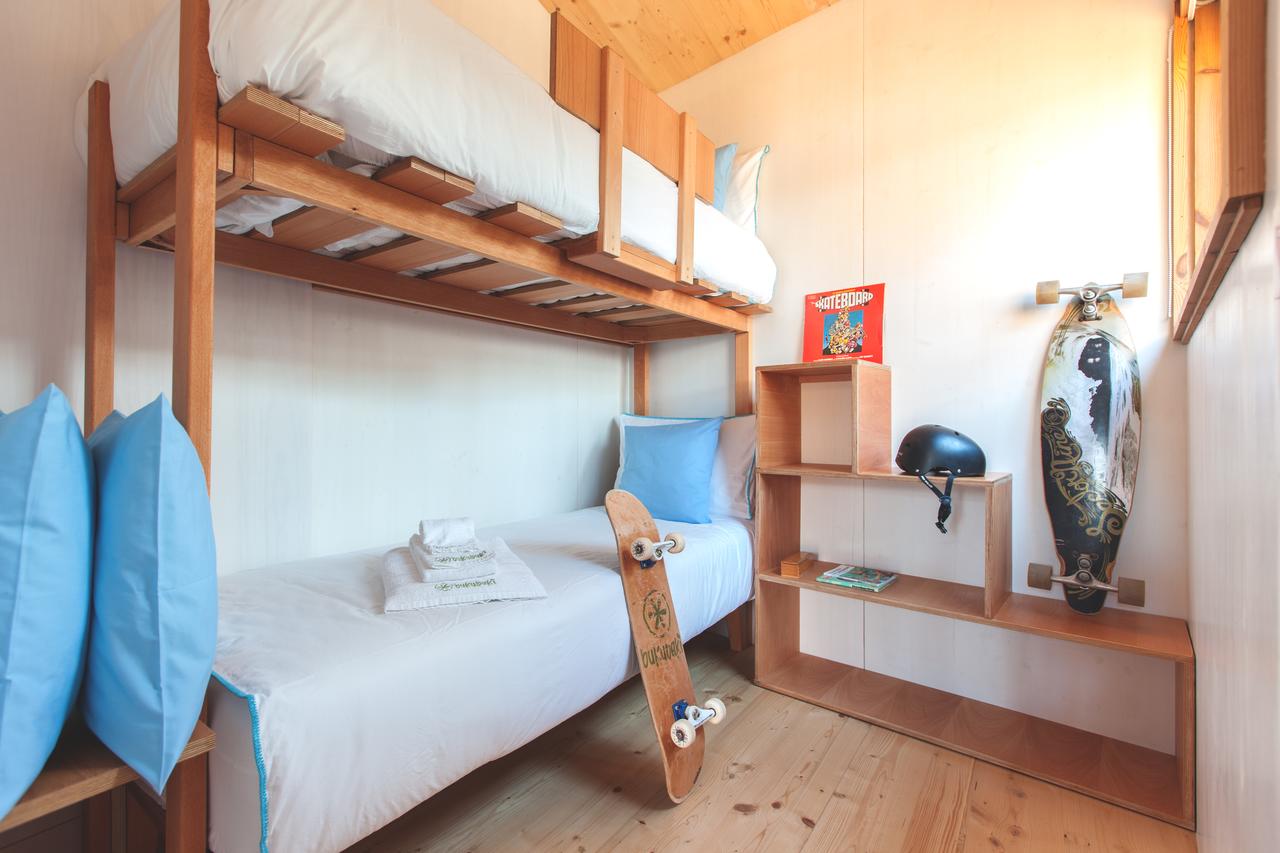 Meanwhile, a homage to all that is great about eco-living and surfing, the Bukubaki Eco Surf Lodge in Peniche is a snip at €100 a night. Just be sure to book in advance, as this modern resort sells out quickly.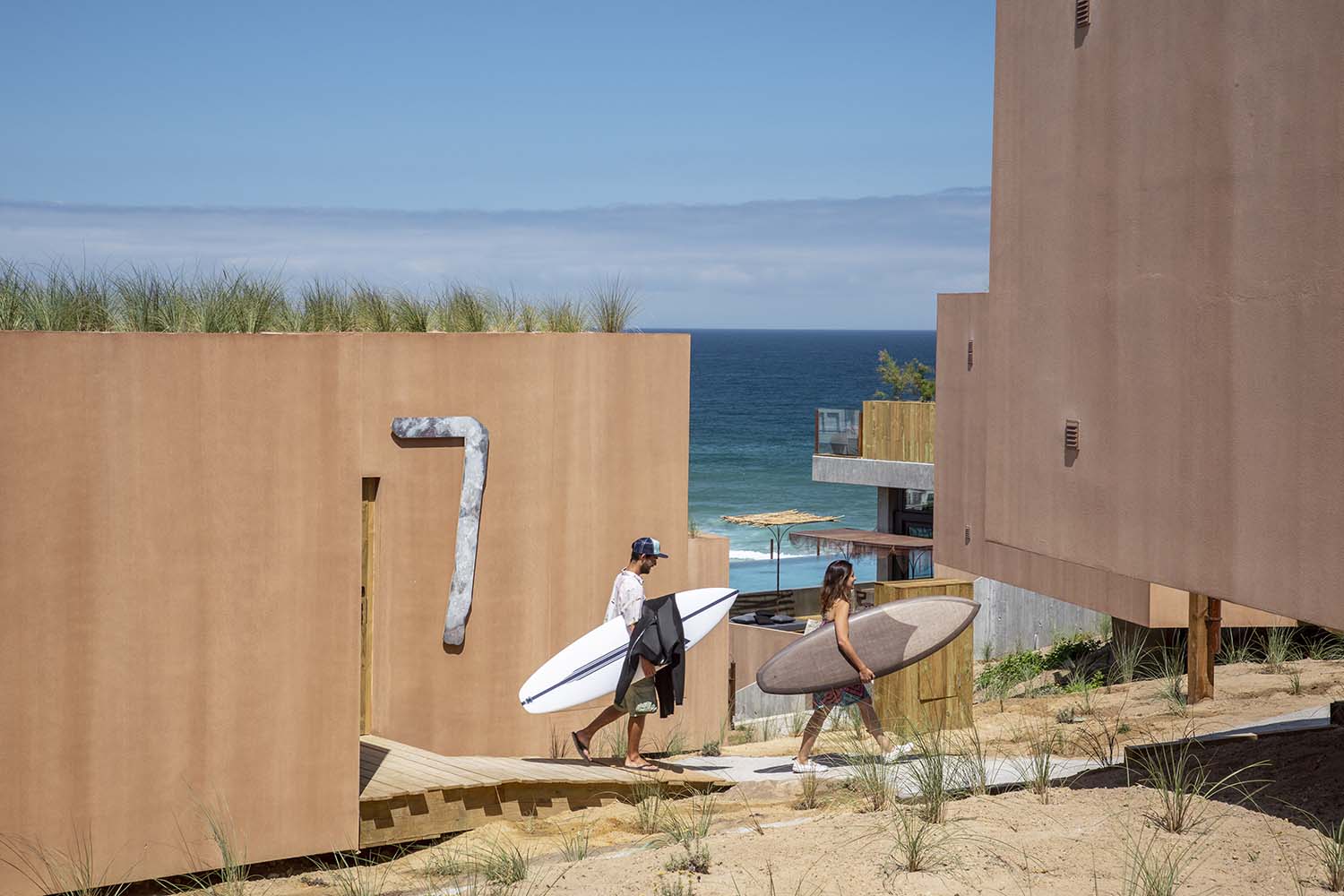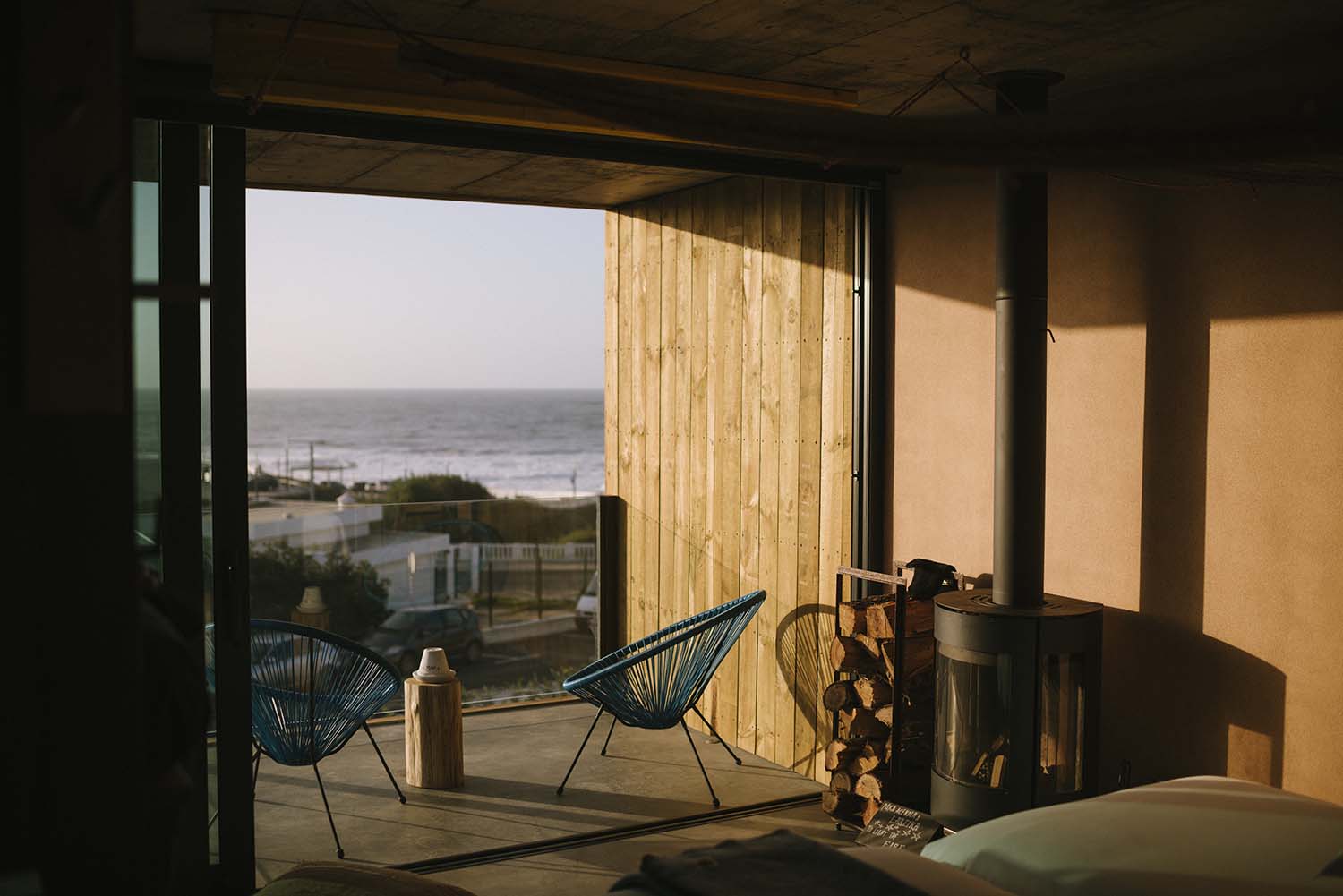 When only the best will do, check into the new eco surf resort that is Noah Surf House. Situated in Santa Cruz, 100 metres from Praia do Centro, this resort has everything you need for a luxurious surf stay. At €180 a night, it's the perfect in-between accommodation for having it all.
If the thought of custard tarts and churros is enough to make your mouth water, you won't want to miss out on the many great eateries Portugal has to offer.
Lisbon's vibrant entertainment scene makes for plenty of great restaurants. Foodies must book JNcQUOI in advance to avoid disappointment. This high-end restaurant brings Mediterranean cuisine to the fore, with a delightful menu in oh-so cool settings. For something more traditional, scout out Tapisco, where you can bathe in local tapas until your hearts content!
Known for its world-class wine head to Port; Praia da Luz in Foz brings the seaside vibes – the perfect spot for quaffing local wine while watching the world go by.
In the surfing heartland of Ericeira, there's plenty of restaurants to hang and snack. Seafood is unavoidable, if you're a fan be sure to try the local shrimp (gambas). Tik Tak is an unassuming spot with delicious food in typical Portuguese alleyway settings. Meanwhile, run by surfers, Prim in the centre of town offers great seafood and the occasional curry to mix things up.
The perfect excuse for a road trip down south, Burgau is open during the summer months, offering a heady mix of cocktails and local cuisine in this family-friendly beach bar.
Surfing aside, there's plenty of outdoor pursuits, historical sights and landmarks to visit throughout Portugal. However, since there's so much to fit in, and most of the surf action is concentrated between Lisbon and Nazare, we've focused our highlights on this area too.
The Museum of Art, Architecture and Technology is one of the latest museums on the block to grace Lisbon. Resembling a Manta-Ray. the modern building makes it an instantly 'Instagramable' spot. While inside it boasts work from contemporary artists, modern architects and of course 'thinkers', how very Lisbon! Admission starts from €5.
Listed as a UNESCO World Heritage Site, Torre de Belém in Lisbon is a symbol of discovery and exploration ever since it was built in the 1520s. Originally designed to defend the River Tagus, it remains a beacon of military feat and still holds great cultural significance.
When you're not riding waves, Miradouro do Suberco is the best place to admire them. Elevated 100m above sea level, this observation platform offers sweeping vistas across Nazare from its deck. Entry is a modest €1.50 per person.
Finally, enjoy a spiritual moment at Chapel of Saint Sebastian in Ericeira. With breath-taking details and floor to ceiling mosaics and architecture, it makes for a culturally-rich afternoon of exploration.