8 of the Best Surf Camps in Bali

Disclaimer: This article contains affiliate links. We may receive a small commission if you make a purchase through one of these links. Please read our Affiliate Disclosure for more information.
This is our pick of the 8 Best Surf Camps in Bali.
Learning to surf in Bali is a unique and thrilling experience you won't soon forget. With pristine white sand beaches, perfect waves, and a vibrant atmosphere, mastering the ancient art of surfing on the picturesque island cannot fail to impress even the most seasoned surfer.
Not only is it incredibly fun and rewarding, but it also gives you access to amazing views that you can only experience on the board. Plus, being located in Southeast Asia means year-round great weather with some of the most beautiful sunsets imaginable.
The Best Time of Year to Learn to Surf in Bali
Surfing in Bali is an experience like no other, one that can be enjoyed year-round. For those just starting out, the best time to learn is from October to April. During this period, the waves tend to be milder, making it easier for novice surfers to get their footing. But don't be put off by the bigger waves during the summer season – a quality surf camp will always cater to your level and take you to surf spots suited to your abilities.
The Best Surf Camps in Bali
Surf camps in Bali provide experienced instructors and all the necessary equipment, making it easy for first-time visitors to tackle the waves. Whether you're a beginner or a more experienced surfer, you'll be spoilt for choice when it comes to surf camps around this magical island. To help you narrow down the selection, we've put together a list of the best surf camps in Bali.
Rapture Surf Camp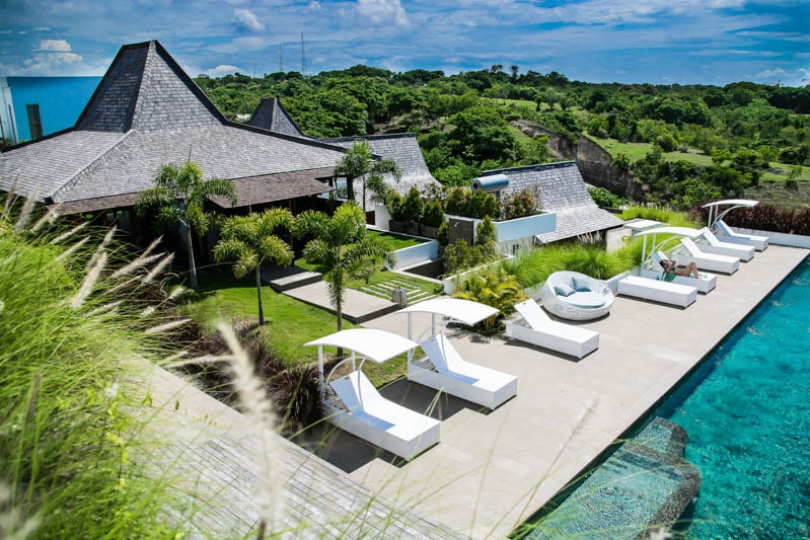 First on our list of the best surf camps in Bali is Rapture Surf Camp.
If you're looking for an adventure-packed surf experience, consider a 1-week stay at Rapture Surf Camp in Bali. This traditional Balinese-style camp is situated close to the stunning Padang Padang beach in Uluwatu, and can accommodate up to 25 people at a time.
Their 1-week surf camp package includes everything you need to hit the waves – daily surf lessons, board hire, breakfast and evening meals, and even your airport pickup. Once you're done surfing, chill out by the refreshing pool or challenge fellow travelers to a game of pool.
In between activities, rent a bike and explore the breathtaking scenery around Uluwatu or make your way down to Padang Padang beach for an evening yoga class with incredible views.
You can book a 1-week package with Rapture Surf Camp now starting from $970 per week.
Pelan Pelan Retreat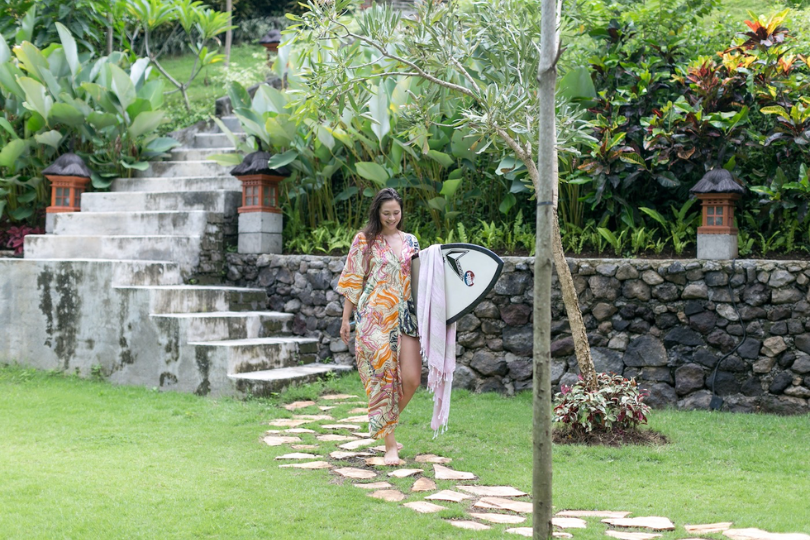 Next on our list of the best surf camps in Bali is Pelan Pelan Retreat.
If you've been dreaming of a place where you can completely relax and get away from everyday life, then the 1-week surf camp at Pelan Pelan is just what you need.
Located in the beautiful Canggu area, this surf camp offers all the essentials for a complete unwind. Guests will stay in one of eight rooms at the Pelan Pelan Retreat, surrounded by lush Balinese garden and near a tranquil river. Not only will you be able to catch waves on your daily surf lessons, but yoga classes, massages, delicious refreshments and breakfasts are also provided.
So what are you waiting for? Join in an unforgettable retreat to abandon your woes and join new surf friends from around the globe.
You can book a 1-week package with Pelan Pelan Retreat now starting from $937 per week.
Isla Indah Retreat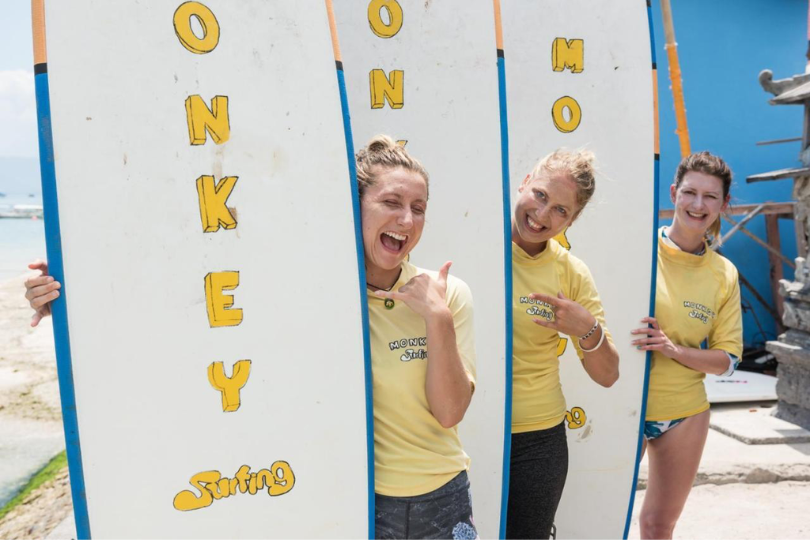 For an unforgettable week beneath the waves, Isla Indah Retreat in Nusa Lembongan, is the ideal choice.
From revitalizing morning yoga and meditation classes to thrilling surf lessons and a snorkeling trip with manta rays, there's something for everyone to enjoy. The retreat also offers a unique beginner's introduction to free diving course allowing you to truly explore Bali's marine life.
With traditional garden bungalows as lodgings for up to seven days, plus a healthy onsite restaurant specially crafted for surfers, freedivers, and yogis – here you can find a remarkable way to reconnect with yourself and the ocean.
You can book a 1-week package with Isla Indah Retreat now starting from $579 per week.
Mondo Lifestyle Resort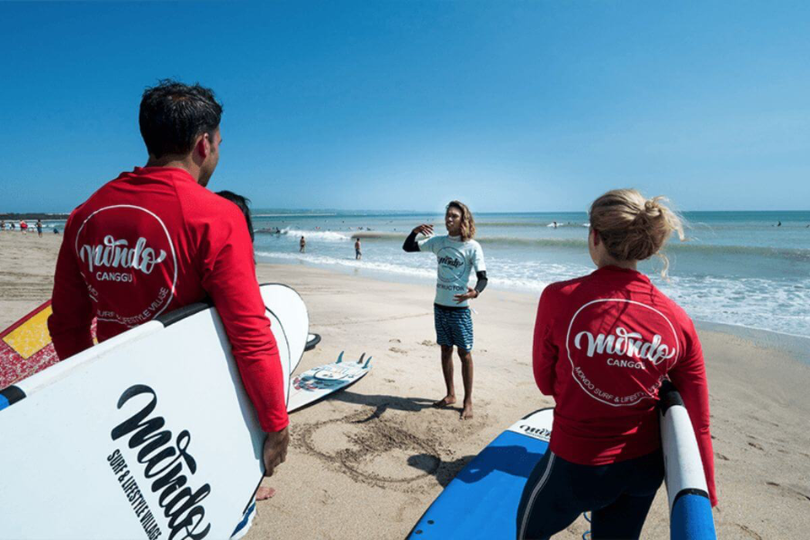 If you're looking for an affordable way to learn to surf in Bali, look no further than the 1-week surf camp at Mondo Lifestyle Resort.
Specifically tailored for beginners, this package offers everything you need to become a surf pro: daily yoga classes to relax your body and mind, guided surf lessons from experienced instructors, video analysis of your performance to pinpoint areas of improvement, free use of a motorbike to explore the nearby area, and tasty healthy breakfasts every morning.
Guests will stay in the friendly Mondo Surf & Lifestyle Village – perched between the beaches and the rice fields of Canggu – adding another level of charm and tranquillity to this budget-friendly escape.
You can book a 1-week package with Mondo Lifestyle Resort now starting from $572 per week.
Stoked Surf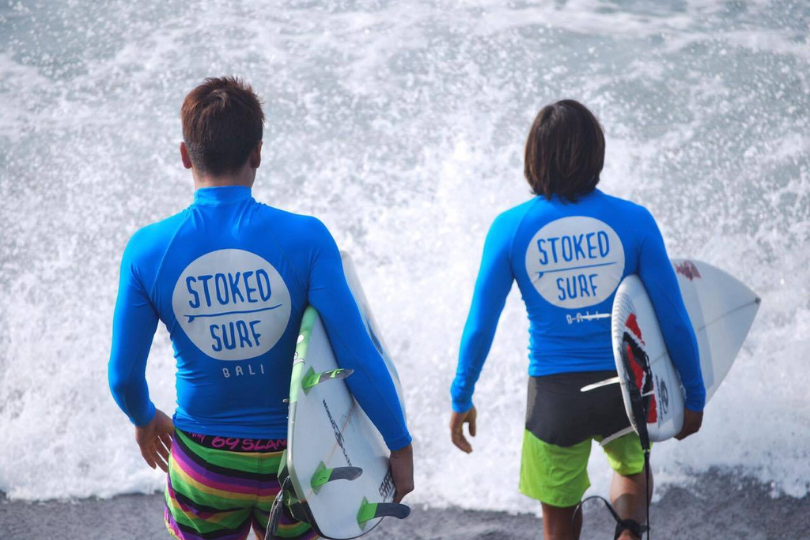 Soak up the sun and adventure at Stoked Surf's 1-week surf camp in the lively Kuta area of Bali.
The 1-week package includes everything you need for an action-packed week, starting with 7 nights' accommodation at Kuta Puri Hotel – less than a stone's throw from Kuta Beach. Enjoy beautiful gardens, spacious rooms, two swimming pools, spa facilities and restaurant while immersing yourself in daily surf lessons.
There's even time to sightsee; indulge in a full-day tour to Ubud and a half-day tour to Uluwatu Temple for more picturesque views. Finally, top it all off with a massage and airport transfers to help make your holiday stress-free.
This surf camp is perfect for active travellers who want to get out there and make the most of their vacation.
You can book a 1-week package with Stoked Surf now starting from $560 per week.
Serenity Eco-Guesthouse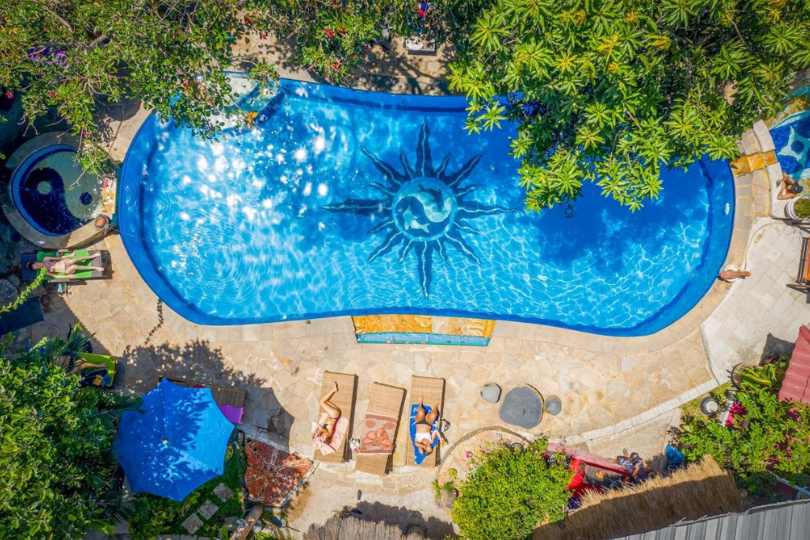 For yogis looking to find their perfect wave, look no further than the 4-day Surf and Yoga Camp at Serenity Eco-Guesthouse.
Located just 150 meters away from the beach in Canggu, this 4-day package is tailored toward experienced yogis wanting to try out their hand at surfing. Enjoy daily yoga classes led by an experienced instructor, a delicious vegan buffet breakfast, 1 private surf lesson and 3 nights of accommodation in either a private or shared room.
The Serenity Eco-Guesthouse itself is devoted to creating an atmosphere of holistic living free from alcohol and smoke. A perfect spot for vegan yogis to merge surf and yoga for four days of relaxation and rejuvenation.
You can book the 4-day package with Serenity Eco-Guesthouse now starting from $108.
Solid Surf House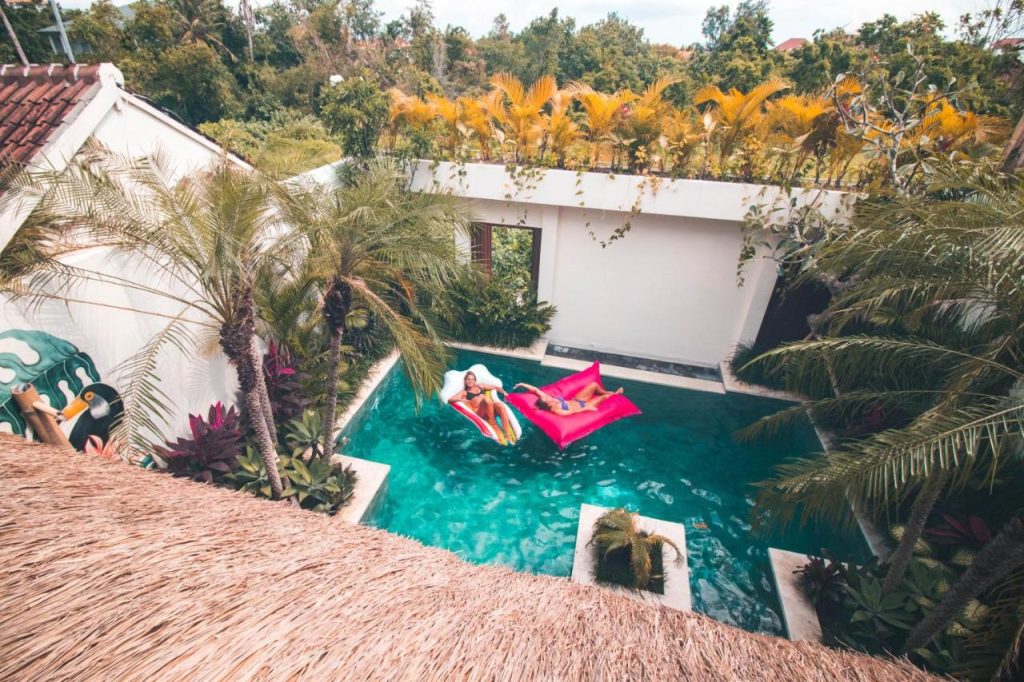 Experience the ultimate surfing adventure and rejuvenate your mind, body, and soul with the Solid Surf House 1-week surf camp package in Bali.
Nestled in the heart of Canggu, this hidden gem offers more than just an exceptional surfing experience. Boasting 9 stunning bedrooms, a large outdoor pool, a rooftop yoga deck, a Jacuzzi, and a large outdoor movie screen, Solid Surf House is the perfect place to unwind and immerse yourself in tranquillity.
With the 1-week surf camp package, you'll enjoy daily surf lessons, daily yoga sessions, and a daily breakfast.
This is a great pick for solo travellers and couples. Get your surfboards ready, and let Solid Surf House introduce you to the amazing world of surfing.
You can book a 1-week package with Solid Surf House now starting from $546 per week.
In Da Surf Bali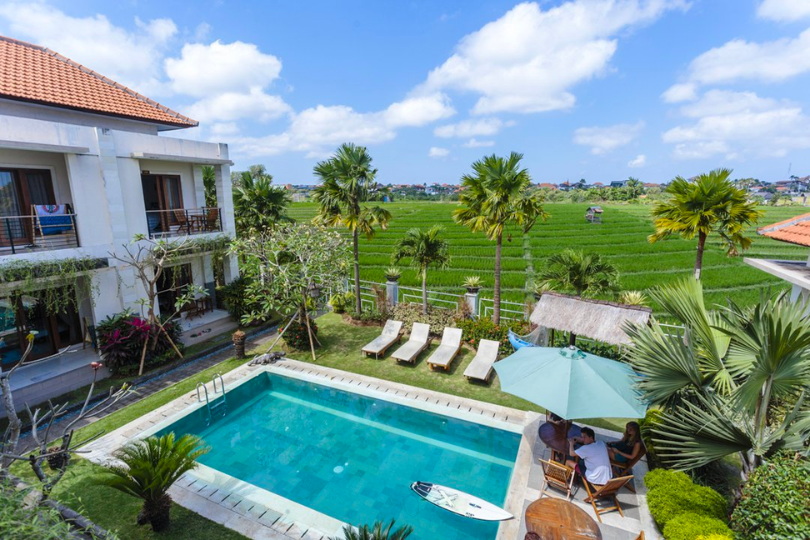 If you're looking for some sun, sand and surf, a 1-week surf camp with In Da Surf Bali might be just what you're looking for.
Located just a 5-minute drive from the beaches of Canggu, In Da Surf Bali offers a 1-week surf camp package with lessons, video analysis, airport transfers, daily breakfast, and 7 nights accommodation in their brand new surf villa.
Guests can choose between private rooms and shared dorms. Both options boast AC, Wi-Fi, and ensuite bathrooms. You'll also have access to a gorgeous garden offering comforts such as a pool, BBQ area and sunbeds. For nights after a long day in the waves, you're also just steps away from the local restaurants and relaxed bars of Canggu, providing ample opportunity to mingle with fellow travelers.
You can book a 1-week package with In Da Surf Bali now starting from $420 per week.
Mojo Surf Camp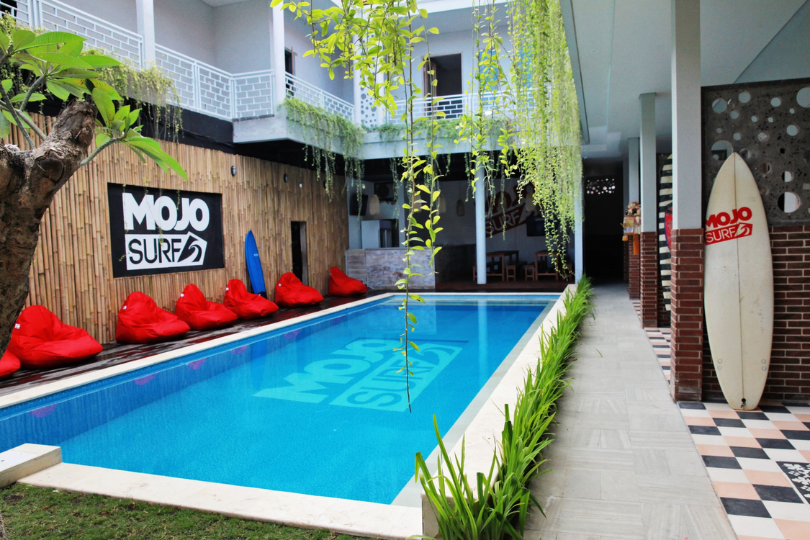 Last but not least on our list of the best surf camps in Bali is Mojo Surf Camp.
If you're a solo traveller looking to ride some waves and meet new people, Mojo Surf Camp in Canggu, Bali is your perfect destination.
Located in Canggu, Mojo Surf Camp's 1-week package is equipped with everything needed for an amazing stay – daily surf lessons, boards for hire, 7 nights accommodation in a shared dorm, tasty daily breakfasts and dinners included. Even better, the camp has really great communal spaces ideal for socialising with fellow travelers at the end of each day.
You can book a 1-week package with Mojo Surf Camp now starting from $456 per week.
8 of the Best Surf Camps in Bali
No matter what your level of surfing experience is, Bali has a surf camp for everyone. From budget-friendly options like In Da Surf and Surf Camp to luxury experiences with Pelan Pelan Retreat and Rapture Surf Camp, there's something to fit any traveler's needs.
So if you're looking for an adventure or just want some time away from the hustle and bustle of everyday life, why not book yourself into one of these amazing surf camps in Bali? With perfect waves, stunning scenery and warm hospitality awaiting you – it could be the trip of a lifetime.