10 of the Best Surf Camps in Bali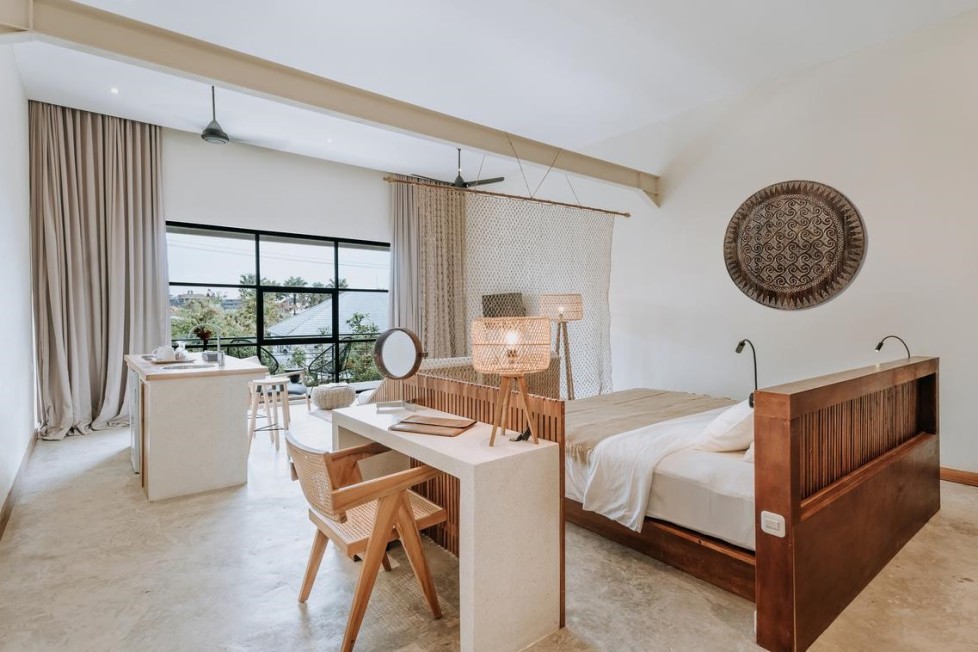 Disclaimer: This article contains affiliate links. We may receive a small commission if you make a purchase through one of these links. Please read our Affiliate Disclosure for more information.
This is our pick of the 10 Best Surf Camps in Bali.
There are several factors that you need to take into consideration when looking for the best surf camps in Bali. Firstly, the proximity to a break is significant. You don't want to have to drag yourself miles to reach the waves. In an ideal situation, you want to wake up and be able to taste the foam. Being a stone's throw from the action will mean that you can get out there quickly whenever the best waves are breaking. Having the ability to see what the surf is doing, and be close enough that you don't miss out on the greatest waves is vital.
Secondly, you'll want everything else that any tourist would naturally want from their hotel. All of the amenities close-to-hand such as great places for food and drink, a comfy bed, nice decor, WiFi, and a good night's sleep.
Whether you are a novice surfer or a seasoned pro, Bali offers a great selection of different surfing conditions. There is always something close by that is suitable for all. There are plenty of places offering board hire, and you will never be too far from a surf instructor if you are a complete beginner. Bali really is a surfer's paradise.
If you are heading on over to Indonesia, here are the best surf camps in Bali for those wanting to enjoy the best breaks that the famous Indonesian island has to offer.
The Slow, Canggu
The Slow is right in the heart of Canggu on the main street. Right where the action is, this laid-back surf hotel is close to all of the best shops and bars meaning you don't have to venture far to find everything you need. Most importantly, you are only five minutes away from Echo Beach which has three great surf spots. Echo, Sandbar, and Prerenan and are suited to a wide range of surfing abilities.
The decor of the hotel is very cool. There is so much thought and detail gone into creating the perfect look here, and everything from the furniture right down to the plates was specifically designed for this hotel. The walls are filled with original artwork and photography, making the place feel arty.
Each of the twelve guest rooms has WiFi and the design that you see in the lobby and restaurant is matched across the whole hotel.
With an awesome restaurant in the hotel, it'll be hard to make yourself leave and explore the rest of what Bali has on offer.
Book a room at The Slow in Canggu now from $252 a night.
The Surf Motel, Canggu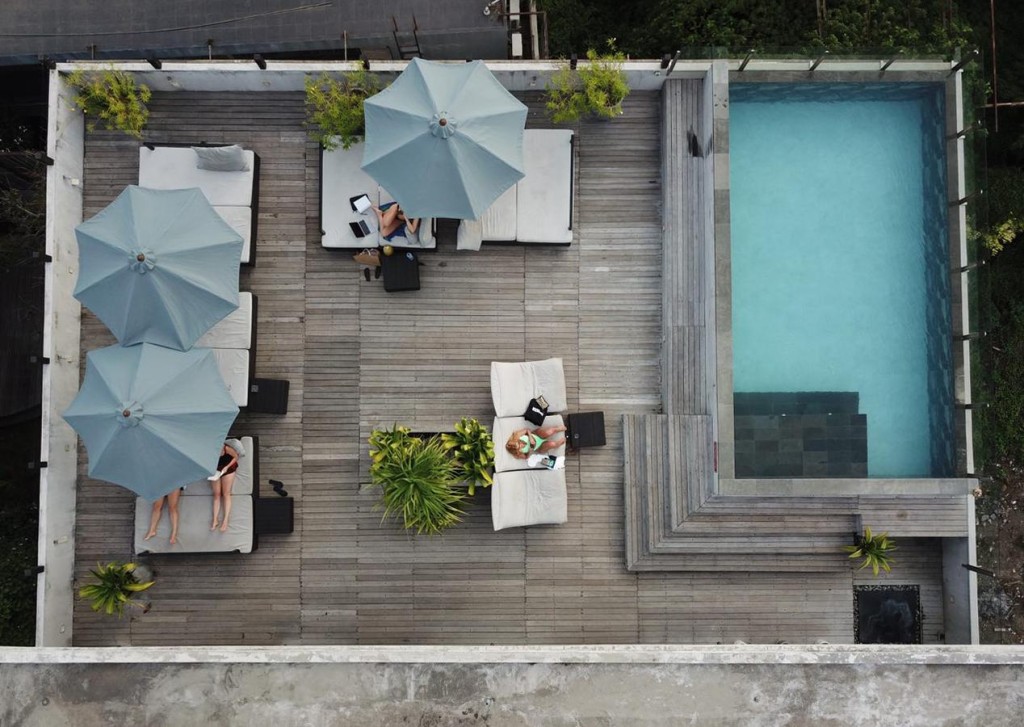 Another great Canggu offering is The Surf Motel. Again, this hotel is situated as close to the action as you need it to be in the center of Canguu so you can easily access all of the bars, shops, and restaurants that the area has to offer. With Echo Beach just a short walk away, you won't have to go far to your nearest surf break.
The hotel is comprised of five floors with a panoramic rooftop which features a pool and some amazing views. The hotel offers two different types of room and you can opt for one with a balcony or without. Every room has WiFi, air conditioning, a security box, towels, and drinking water. While it may not be as luxurious as some of the Bali hotels, the rooms are certainly clean and comfortable.
Book a room now at The Surf Motel from $49 a night.
FRii Bali Echo Beach, Canggu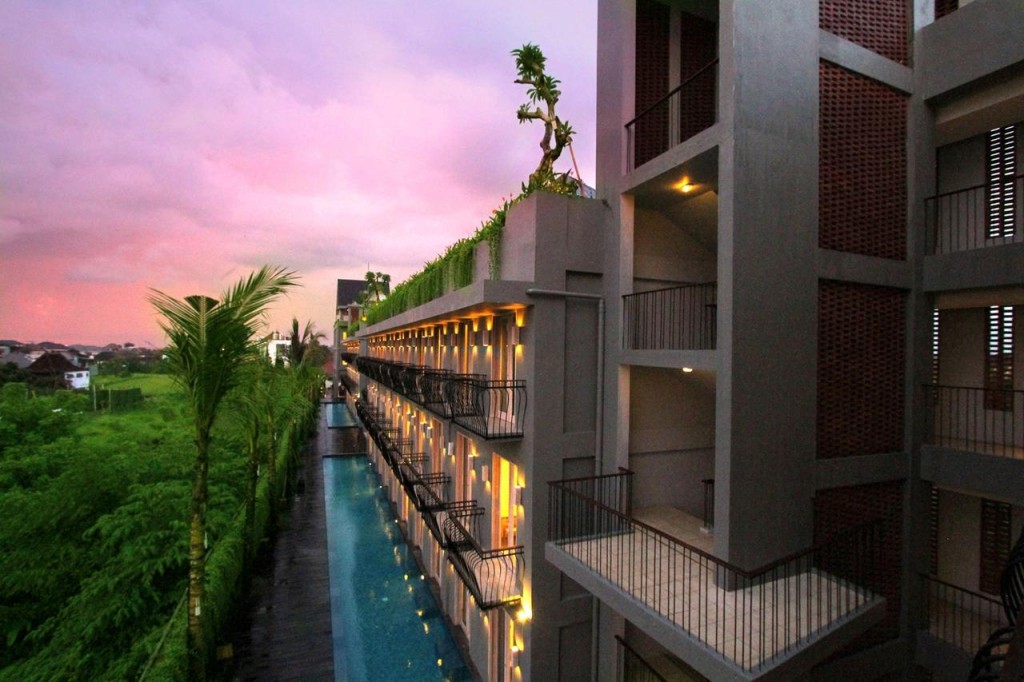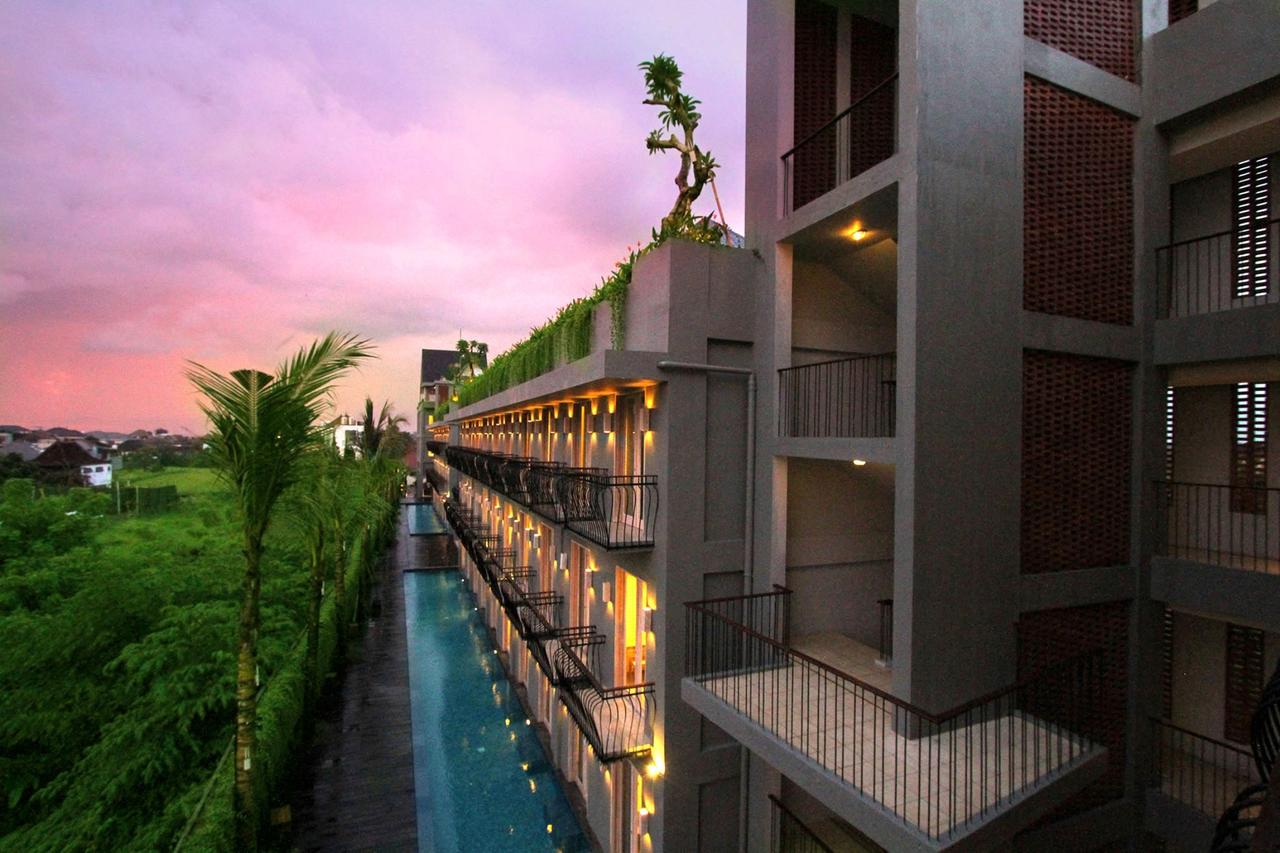 Located just five minutes' walk away from Canggu's famous Echo Beach, you can enjoy one of the best surfing spots on the island of Bali from the comfort of FRii Bali Echo Beach. The hotel features 77 rooms, some of which provide great sea views, easy pool access, pool views, or are suitable for families. With hotel WiFi and TVs with international channels available in every room, the rooms are clean and comfortable.
The hotel has two different swimming pools and a pool bar, so when you've surfed hard you can head back for a relaxing drink by the side of the pool.
With rooftop dining available and a range of Indonesian, Asian, and Western food choices, and plenty of bars and restaurants within a few minute's walk of the hotel, everything you need is very close at hand.
FRii Bali Echo Beach is one of the most popular surf camps in Bali, especially as it's one of the most reasonable prices, so you'll find plenty of other like-minded travelers around.
Book a room now at FRii Bali Echo Beach in Canggu from $43 a night.
Shore Amora Canggu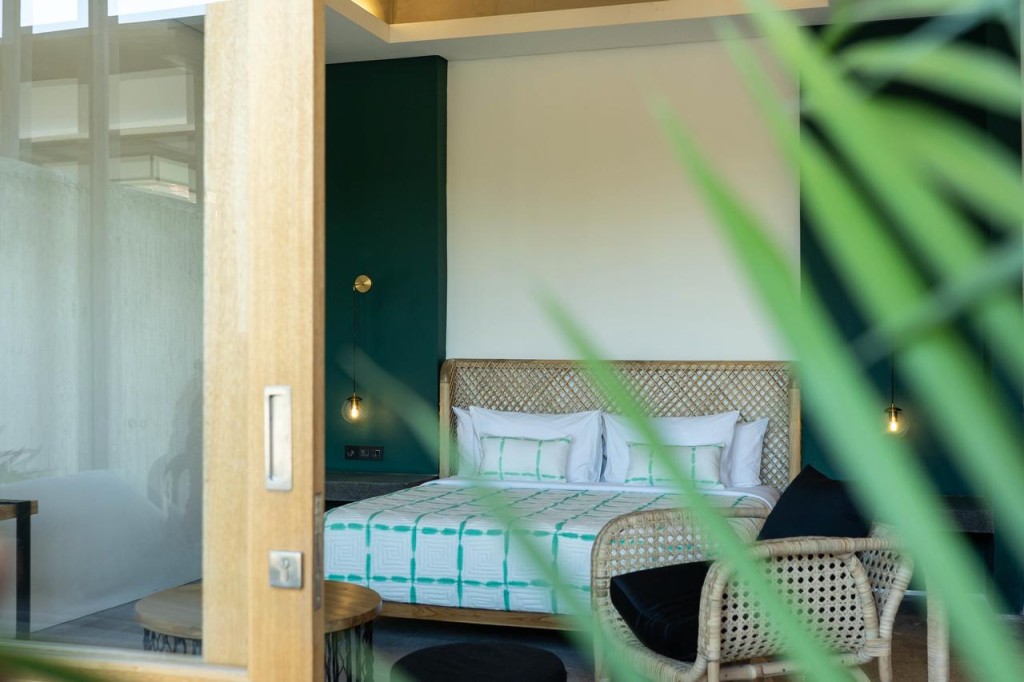 Shore Amora Canggu combines traditional Balinese design and hospitality with fresh energy. It is located within a very short walk of Pererenan Beach which is an intermediate right and left beach with two decent peaks worth checking out.
The rooms are contemporary in design and offer high-end facilities. All of the rooms have air-con, safe, minibar, and TV. There are villas with private pools here, or you could take advantage of the shared pool.
You will be spoilt for choice in terms of dining. If you don't want to eat at the hotel, head out to decide between dozens of great food and drink options within walking distance.
Book a room now at Shore Amora in Canggu from $93 a night.
ZIN Canggu Resort & Villas, Canggu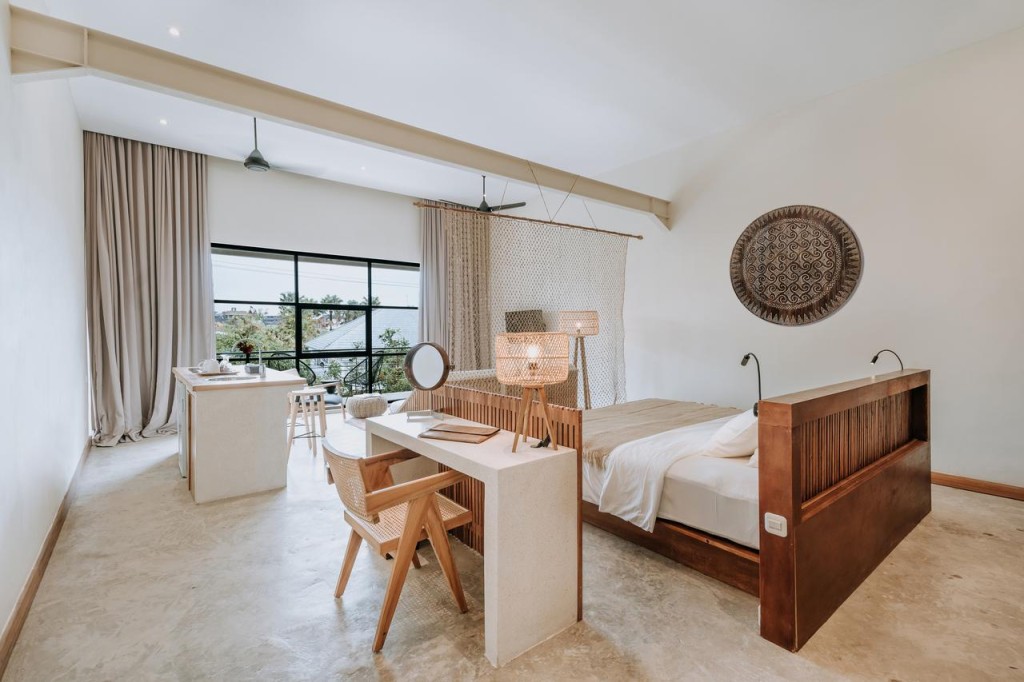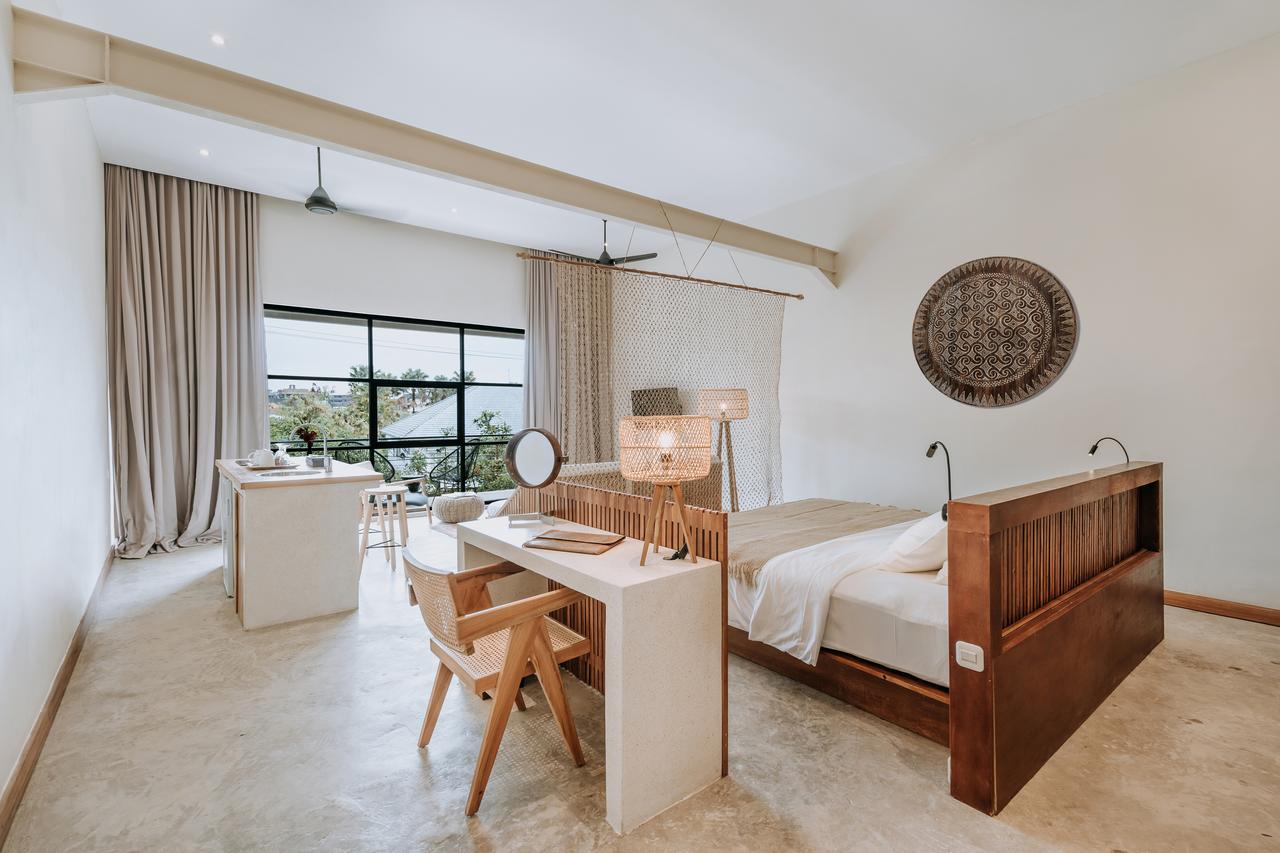 Located in Canguu Nelayan, the ZIN Canguu Resort & Villas complex has only been open since August 2018. The beautiful resort is only 100m from Canguu Nelayan beach meaning you don't have to go far to catch a wave.
The hotel is comprised of traditional Indonesia Joglo Bungalows combined with modern features. There is a selection of room options available, with both one-bedroom and two-bedroom villas available. Some options have a shared pool, while the really luxurious Javanese Joglo villas have their own private pools. There are also studio apartments available at the complex.
There is a cafe on-site, however, within a very short walk, you will find lots of different bars and restaurants to choose from.
Book a room now at ZIN Canggu Resort & Villas in Canggu from $139 a night.
Dreamsea Surf Camp, Canggu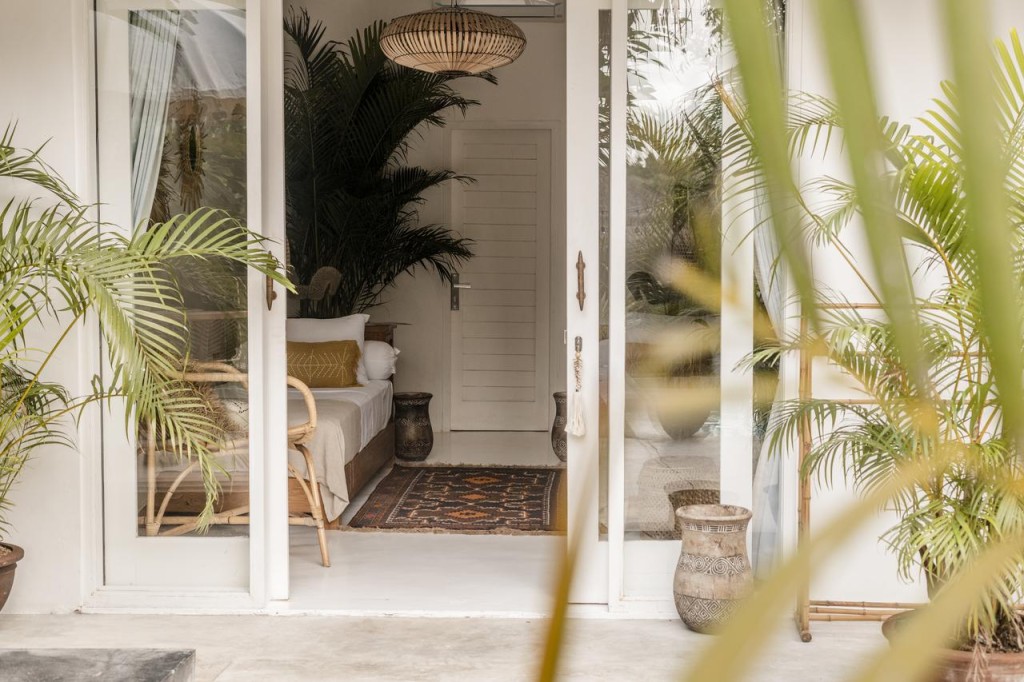 Dreamsea Surf Camp in Bali is situated just a short walk away from some of the best waves in Canggu. It is the perfect place to set up a base for your Bali surfing holiday. It's a great venue for couples, groups, or solo travelers who are looking for a great surf camp in Bali. Dreamsea offers great surfing along with yoga and other fitness in a weekly program for its guests. Workout beside the pool, or take part in any of the various items that they offer in their program, or just head straight down and catch some waves, you're free to do as you like.
The rooms are elegant and well put together with a very relaxing atmosphere throughout the entire hotel complex. With great food and drink available in the hotel, you'll feel right at home in the comfort offered there. However, within a ten-minute walk, there are around thirty restaurants to choose from so you will be spoilt for choice.
Book now at Dreamsea Surf Camp in Canggu from $41 a night for a bed in a shared dorm, and $115 a night in a private room.
Hideaway Villas, Uluwatu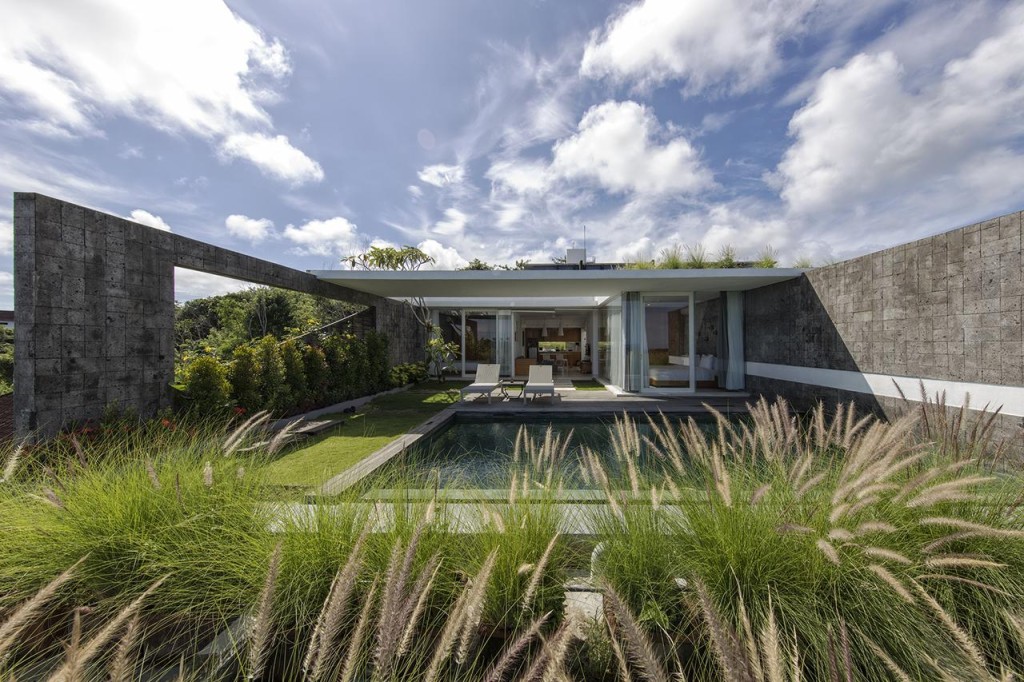 Hideaway Villas is situated in a beautiful area with some of the best panoramic hilltop views of the Indian Ocean. There is a selection of great beaches all within around fifteen minutes' drive from the villas. Head down to the very popular Uluwatu beach with its epic barrels, or to the more secluded Suluban with its great swells and barrels. Padang Padang is also close at hand and offers some amazing waves for the more advanced surfers.
There is a selection of one and two-bedroom villas available that provide a luxurious private space for you to relax when you are not on the waves. Many of the options include a private pool which will mean that you can really relax in your own space without a care in the world.
The complex features a spa and a restaurant that offers indoor and outdoor dining across a blend of western and eastern dishes that use the best ingredients. If you want to head out to see what else is nearby, there is a reasonable selection of bars and restaurants within three-quarters of a mile of the villas.
Book now at the Hideaway Villas in Uluwatu from $181 a night.
Six Senses, Uluwatu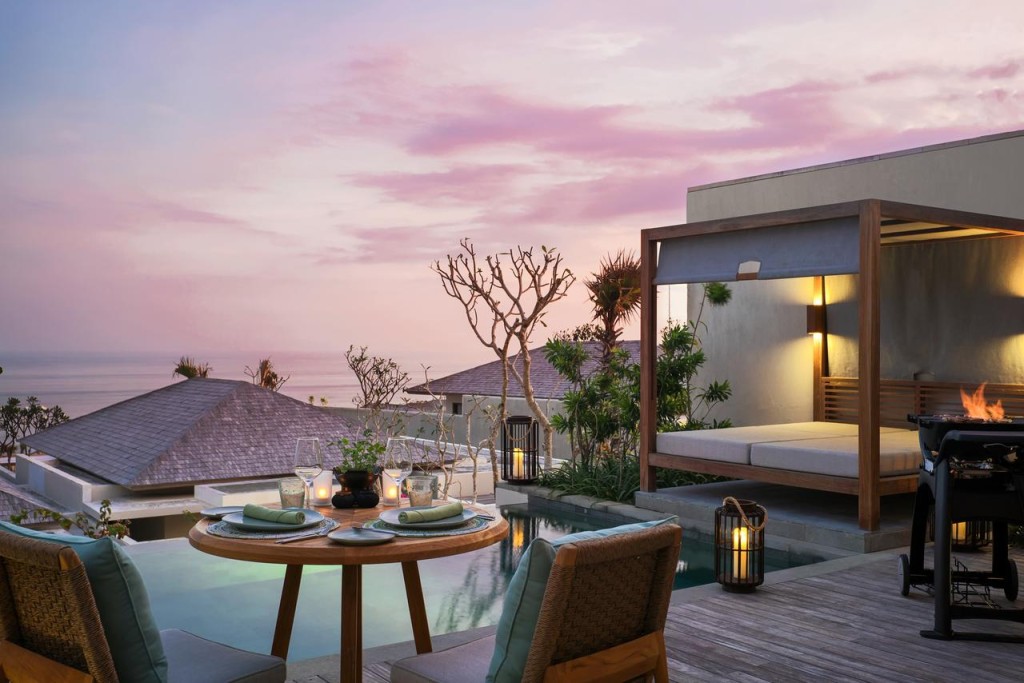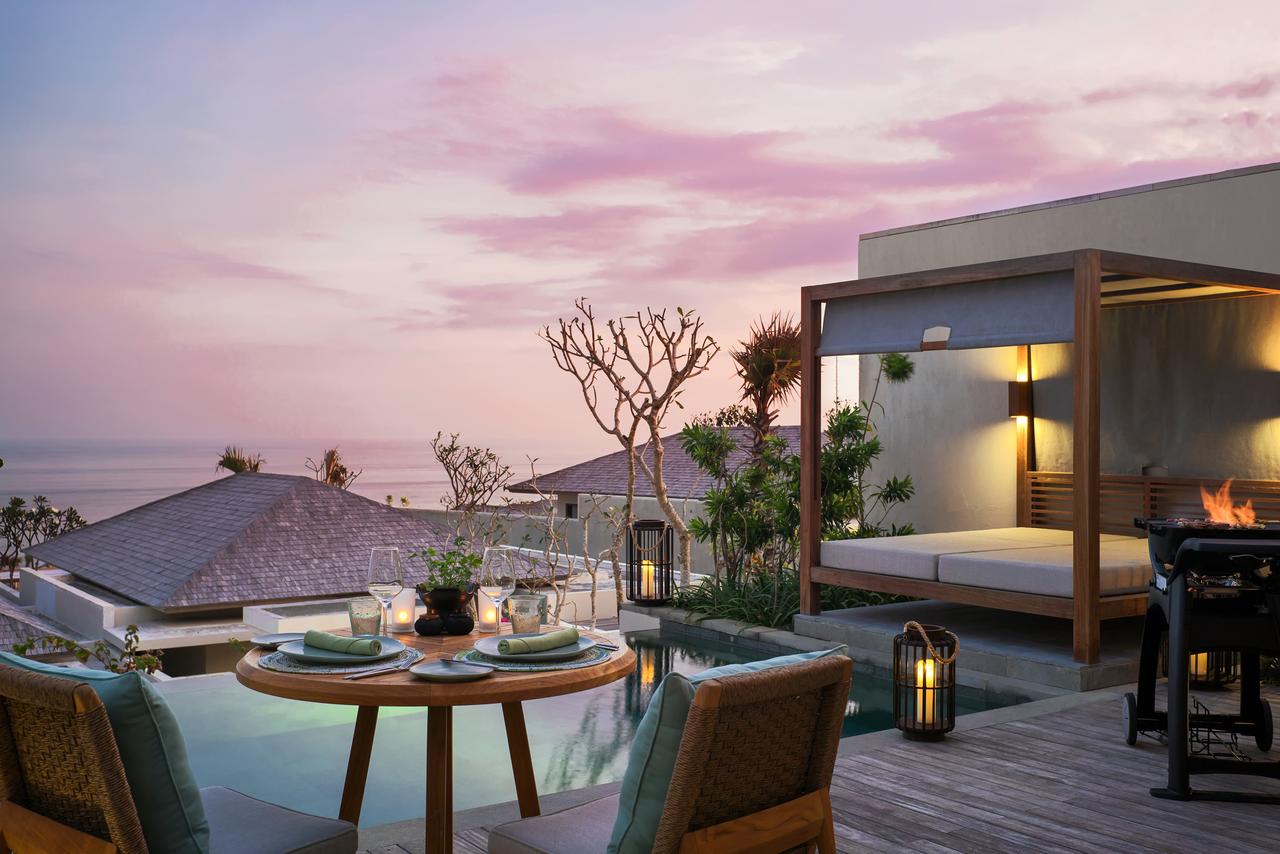 Located in the southernmost tip of Bali, Six Senses is located in Pecatu and is within easy access of Bingin Beach. You'll find clean barrels, with tight take-offs leading to hollow lefts. This is a popular surfing spot, so expect to find plenty of others trying to catch a wave on busier days.
Six Senses is made up of sky suites and cliff pool villas which all sit on the top of a cliff and provide some of the most breathtaking views out into the ocean.
The massive infinity pool that blends seamlessly to the ocean and bar are very popular, and with private pool options with villas, there are lots of places for you to unwind.
You may need to go a bit further afield to find food and drink options outside of the resort. But don't worry, there are plenty of amazing options right on your doorstep.
Book a room at Six Senses in Uluwatu now from $513 a night.
Dreamsea Surf Camp, Uluwatu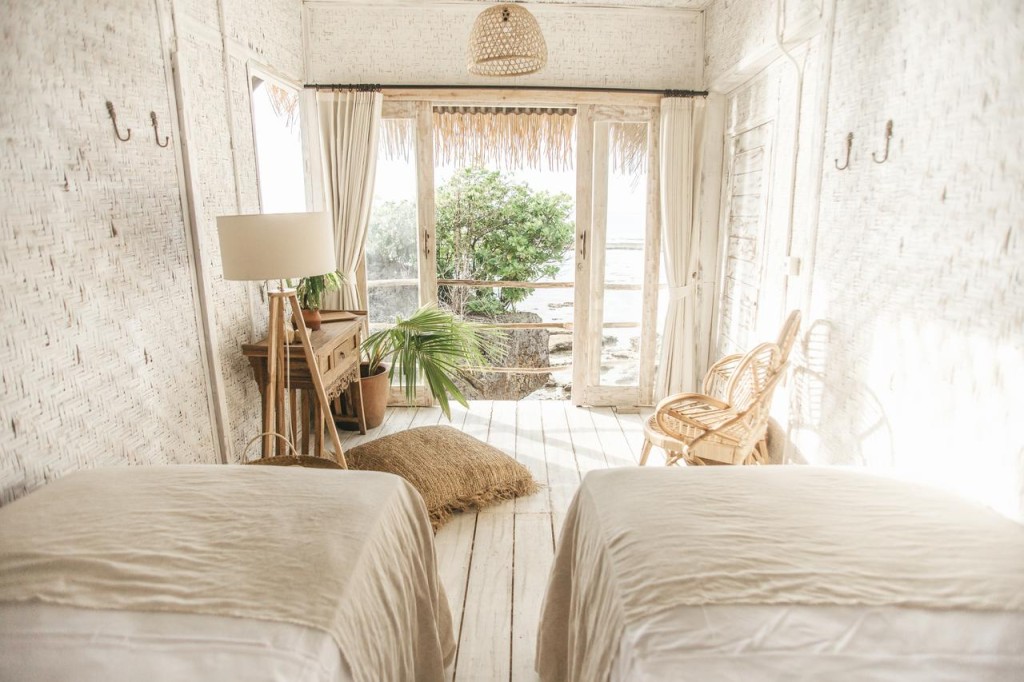 Dreamsea Surf Camp Uluwatu is made for surfers of all abilities. Just like its Canguu offering, Uluwatu is popular amongst a wide range of travelers. There is a semi-private beach very close to hand. Padang Padang is not too far away, and Bingin beach is less than fifteen minutes' walk from the Dreamsea Uluwatu resort.
This surf camp in Bali is very much based around activities. You can get involved in the surf lessons if you need them, or you can head out to find the biggest waves you can if you are already an old hand.
With the camp very close to the sea, you can lie in bed at night and listen to the tide lapping gently at the shore. This kind of relaxation is not something you experience every day.
There a handful of bars and restaurants within the immediate vicinity of Dreamsea Uluwatu, so you won't go hungry. There is a great selection of food available in Dreamsea, so whether you are looking for breakfast, lunch, or dinner, you can always stay where you are and enjoy whatever is on offer.
Book a room now at Dreamsea Surf Camp in Uluwatu from $101 a night.
Uluwatu Surf Villas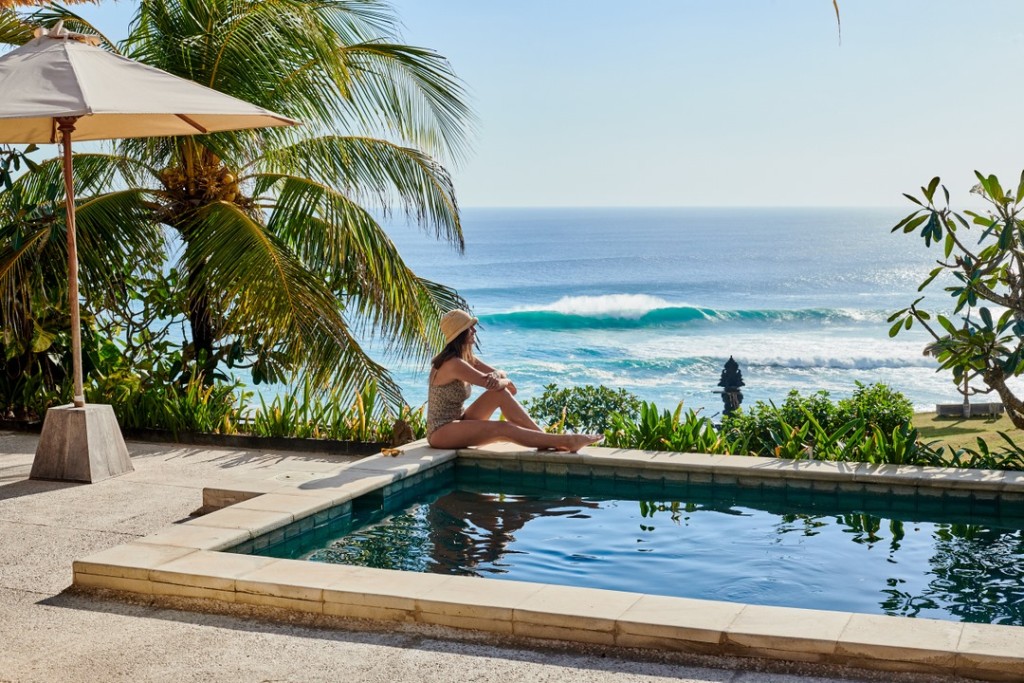 Last on the list of our 10 best surf camps in Bali is Uluwatu Surf Villas. This resort is made up of a beautiful selection of boho-chic cliff front villas that provide some stunning sea views and is only a staircase away from some of the best surfing you will find in the world down on the Uluwatu surf breaks.
The position of the villas means that you will get the best view of all of the tide and surf conditions. That means that when you spot those perfect peaks and barrels forming, you can be straight down there and ready to catch the next wave as it rolls in.
The resort offers lots in terms of activities, including cliff-side yoga in the sunset, or enjoy the morning light yoga studio at any time of the day you please. Take a vinyasa class, swim in the amazing infinity pool, or enjoy your own private pool if you have opted for one with your villa.
There is a great selection of food and drink available in the resort in the Mana restaurant. With great fresh food made to order including a range of vegan options, you will find that there is plenty here to match your appetite.
Book Uluwatu Surf Villas now from $150 a night.
Enjoyed our selection of the 10 Best Surf Camps in Bali? Take a look at our Surf Travel Guides to Canggu and Uluwatu.