A Complete Guide to Surfing Bali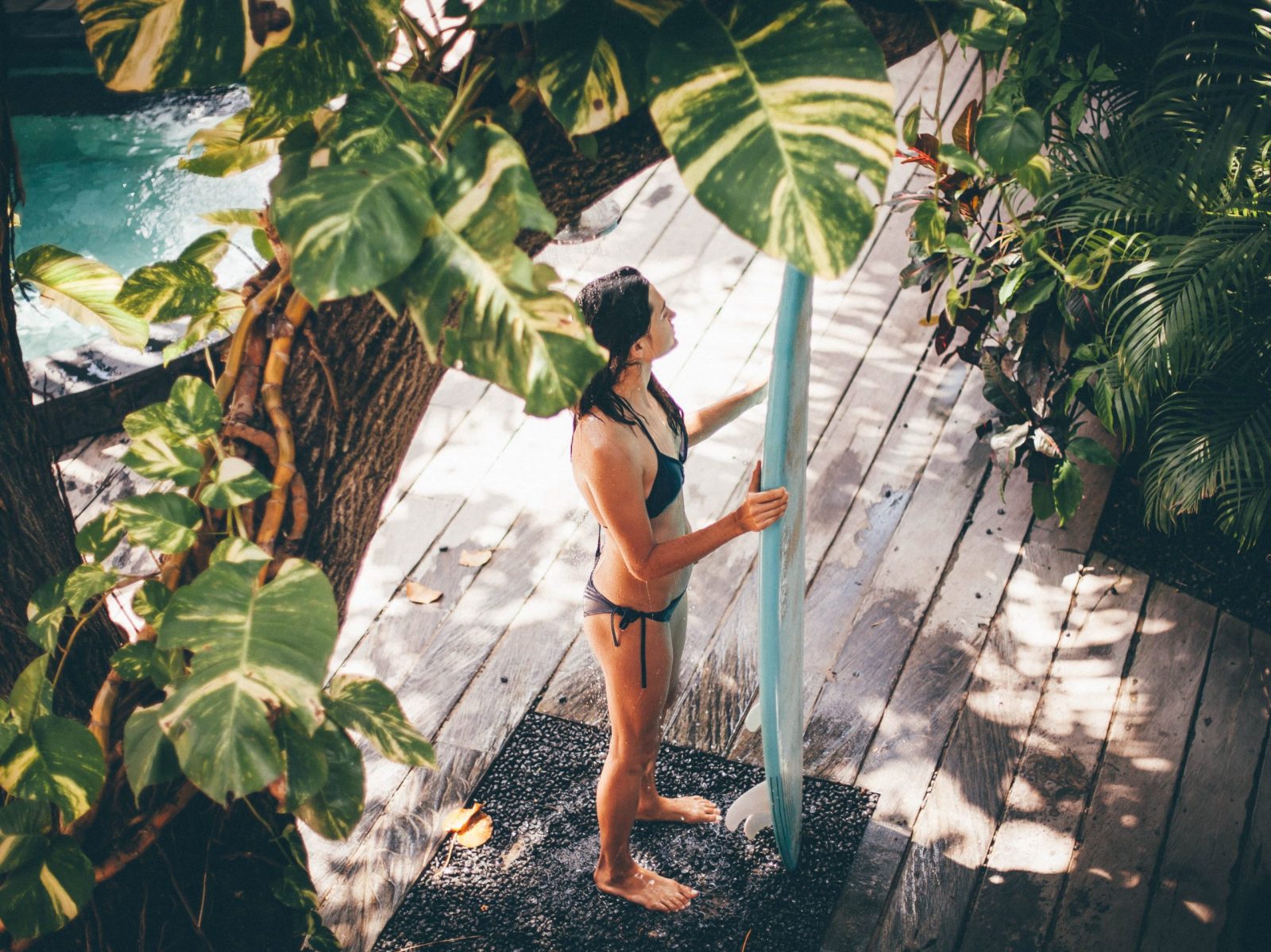 Disclaimer: This article contains affiliate links. We may receive a small commission if you make a purchase through one of these links. Please read our Affiliate Disclosure for more information.
Thinking about surfing Bali?
This is our complete surf travel guide. Read for everything you need to know about surfing in Bali.
Glistening in the Indonesian waters, the hedonistic island of Bali is best known for its azure blue sea, exotic coral reef, luscious vegetation, and dramatic volcanic backdrop. Many come for a spiritual experience; whether visiting one of its many temples, or the other type of religion here – surfing.
A popular spot with Australians (more than two million visit every year), it also attracts honeymooners, travelers, and of course surfers, from all over the world.
With a population of more than four million, Bali is a thriving cultural hub to visit any time of year. Noted for its warm hospitality and breath-taking beauty, there's more to it than first meets the eye.
How to get to Bali
Bali Ngurah Rai International, also known as Denpasar, is the main airport in the country. Enjoying a makeover in 2013, it has a modern welcoming feel, despite it being a busy hub.
Check for flights to Bali here.
Indonesian Rupiah (Rp or IDR) is the main currency used in Indonesia, including Bali. Be sure to exchange enough money for your travels, since foreign currency is not accepted by a law. Most ATMs allow a maximum withdrawal of between 1,250,000 and 3,000,000 rupiah a day. Keep in mind that 1,250,000 is the equivalent of roughly $87 USD, or £69 in UK sterling.
The main two languages spoken are Balinese and Indonesian. However, due to the high level of tourism on which the country relies upon, most locals have some basic understanding of English too.
How to get around Bali
The faithful moped is the most popular way of getting around the island. Cheap to hire, it will set you back a few dollars for a day. However, this is also the least safe way to get around, with visitors involved in road incidents all the time. If you do decide to rent a moped when surfing Bali, be sure to get a helmet.
The bus (bemo), which is more like a mini-bus, is a popular choice with locals. This no-frills approach to travel usually costs IDR 4,000 for a trip. Alternatively, the Seminyak Shuttle services the main locations, costing IDR 20,000.
Finally, Bluebird Taxis is one of the best taxi services on the island, with a downloadable app, a bit like Uber.
Surfing Bali
Bali is the place to absorb yourself in some of the best surfing conditions throughout Indonesia. Although it attracts experienced surfers, it's also sympathetic to newcomers with lots of different breaks.
Although it's an all-year destination for surfing, Bali is a tropical climate with a wet and dry season.
Dry season (May to September) brings the tourists, especially in peak month August. This is when surfing conditions are at their prime with legendary breaks on the west coast to be enjoyed.
Meanwhile wet seasons (October to April) provides temperatures in the 80s, with interchangeable sunshine and rain. There is still lots of surf to be had, especially on the east coast.
Although there are more than 60 surf spots on the island to enjoy, there are three main destinations that surfers come for; Canggu, Kuta, and Uluwatu.
Surfing Canggu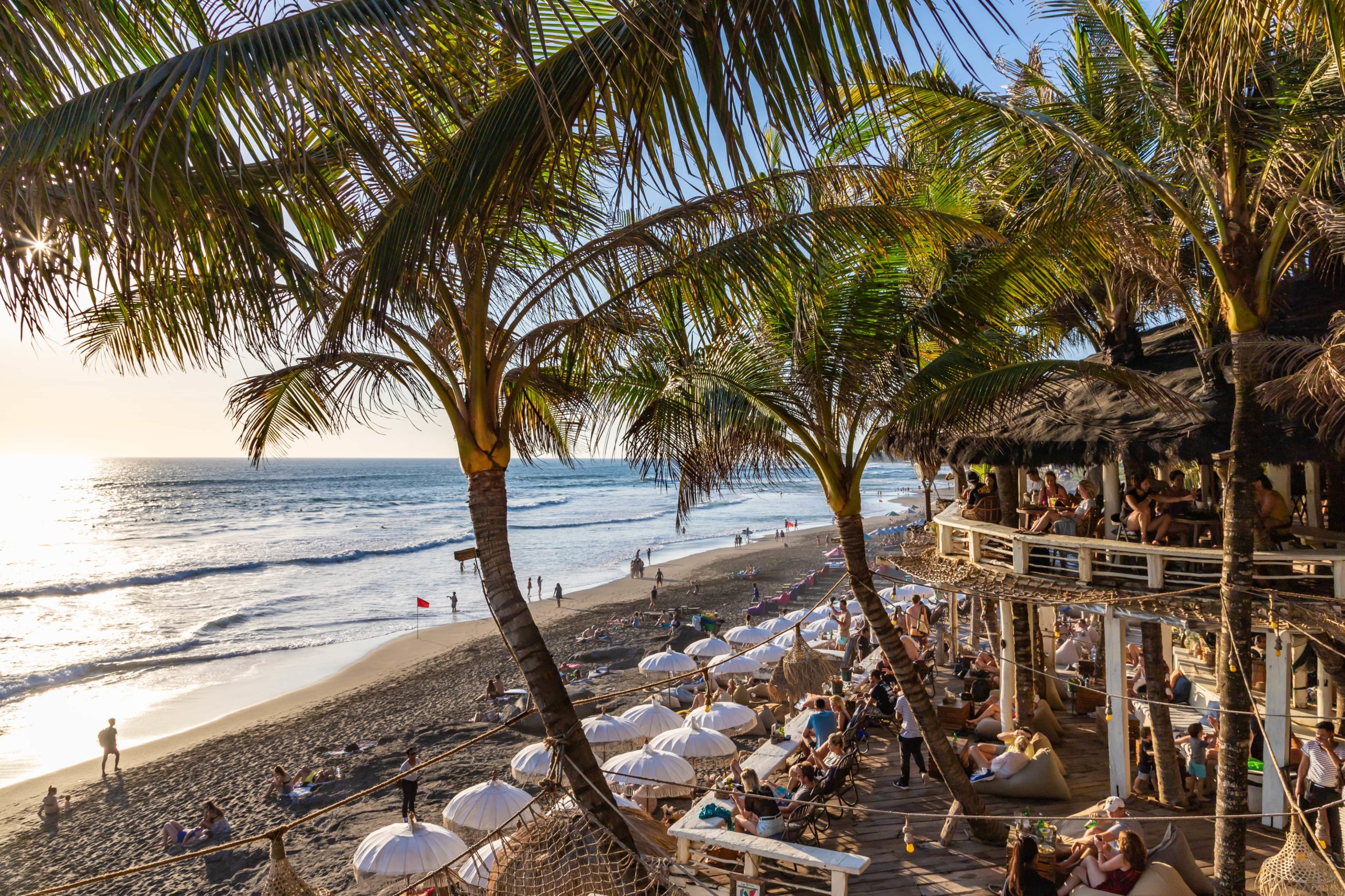 If you're looking for a popular spot that's easy to reach, Canggu never fails. Suitable for all levels of capability this busy spot can however get crowded in the summer months.
Many come to try their hand at breaks in one of three spots; Berewa Beach for rolling barrels, although there are rocky reefs so it's better suited to confident swimmers.
Batu Bolong is more suited to beginners with its kinder waves perfect for easing newbies into the waters.
And finally, Echo Beach; you've heard the name mentioned so many times it would be remiss not to come here. There are waves upon waves and three spots in succession to keep you entertained.
Also read: A Complete Guide to Surfing Canggu in Bali
Surfing Kuta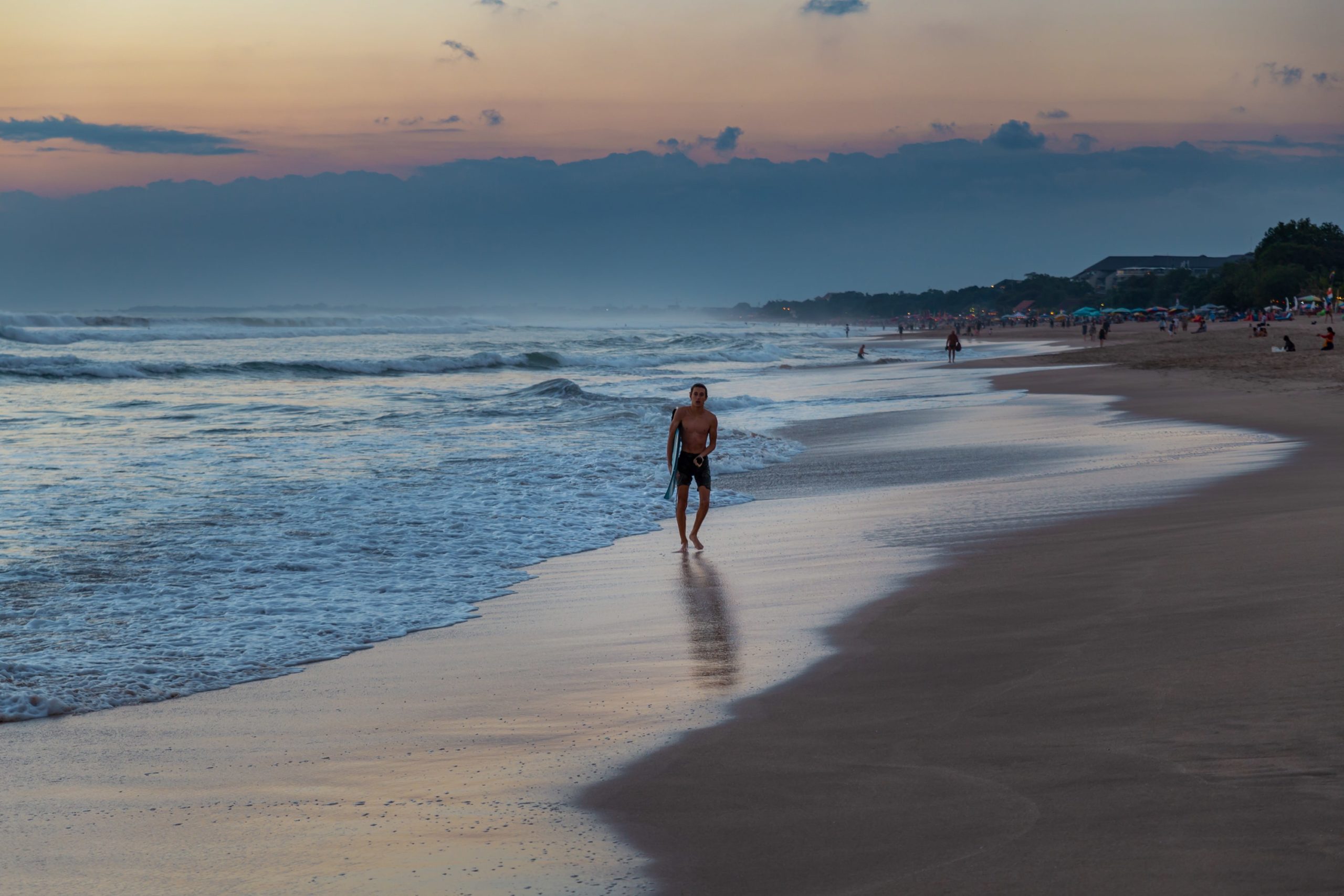 Further along the coast, Kuta's long stretch of white sand has long been a mecca for surfers, since the 1930s.
Locals and tourists intertwine, in this exposed spot that offers consistently reliable waves. Since they break along its 2km beachfront, there's plenty of room for everyone, making it a good place for learners.
Nearby Double Six Beach provides the perfect spot to unwind and chill during sunset.
Surfing Uluwatu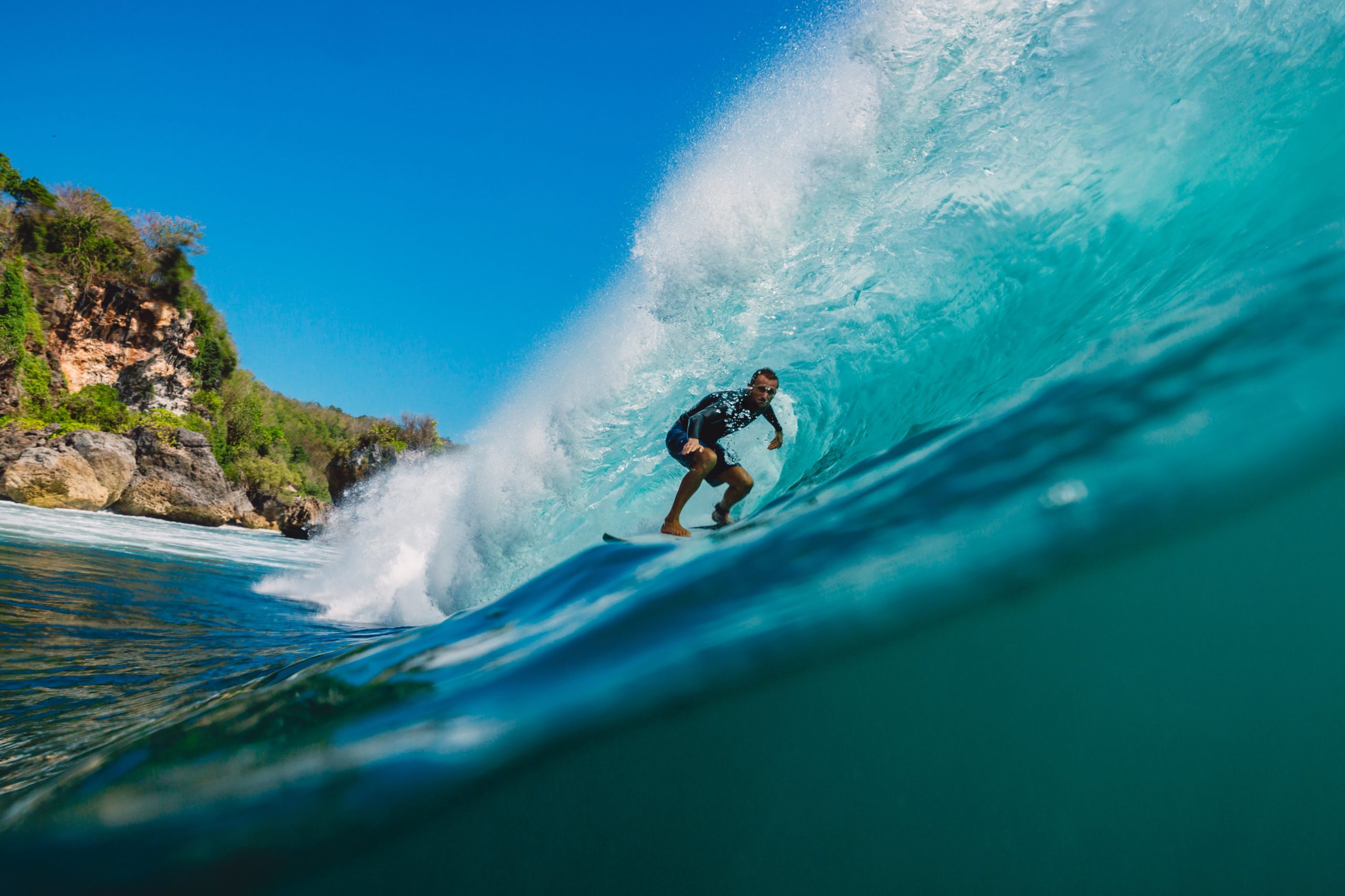 Made from the stuff of legends, Uluwatu underpins everything that surfing Bali is about. Big towering waves that, when ridden, offer a glimpse of the Hindu temple hovering in the backdrop. It's almost as if the Gods are inviting you in!
Located deep in the south of the island, Uluwatu benefits from its coastal position, hanging off the tip of the Bukit Peninsula. Waves can be large and unforgiving, so pros need only apply!
Also read: A Complete Guide to Surfing Uluwatu in Bali
Surfing for beginners in Bali
With its famous coral reef, there are plenty of hazardous spots dotted around the island. Therefore, beginners will benefit from taking lessons in one of the many surf schools available.
When surfing Bali for the first time, you'll find that Kuta is the best place for newcomers due to its gentler waves and overall conditions. Although you can find tons of surf schools up and down the beach, we recommend picking up a 2-hour lesson with one of the Kuta locals for $29.
Meanwhile, in Canggu, you can book a full day lesson with lunch and transport from your hotel for just $50.
Alternatively, if you want to try your luck in Uluwatu, Rapture Camps have an outpost with qualified instructors to ease you in. These start from around $11 for two-hour sessions.
Surfboard hire in Bali
There are plenty of places where you can hire surfboards in Bali.
Like most of the surf schools, Odyssey in Kuta offers body boards, short boards and long boards, which can be reserved online. These start from IDR 65,000 – that's less than $5.
Otherwise, it's easy to roll up to many of the surf shacks on Kuta Beach and hire kit, starting from IDR 50,000.
When in Canggu, Uluwatu, or Seminyak, there are plenty of Awayco outlets offering a good range of boards at competitive prices. Reservations can be made online here.
Bali Surf Camps
Whatever your budget, Bali has something for you. Go high-end luxe, or purse-friendly eco, there's no shortage of great places to stay. That said, Bali is a country of great contrast and as such does budget accommodation and high-end luxury best. Mid-range hotels are available, but not as easy to find.
For an absolute bargain when surfing Bali, the Sunny Surf Lodge in north Kuta gives you plenty to smile about! For less than $9 a night, you can live the surf dream, in this hotel that is basic, but perfect for resting your head. It's just a 30-minute walk to hit the shores of Batu Bolong, designed for those who love nothing more than to surf.
For a little more budget, at $24 a night, the Mote Surf Stay is a hidden gem. This is also the place to stay for surfers – you won't find any other kind of tourist here.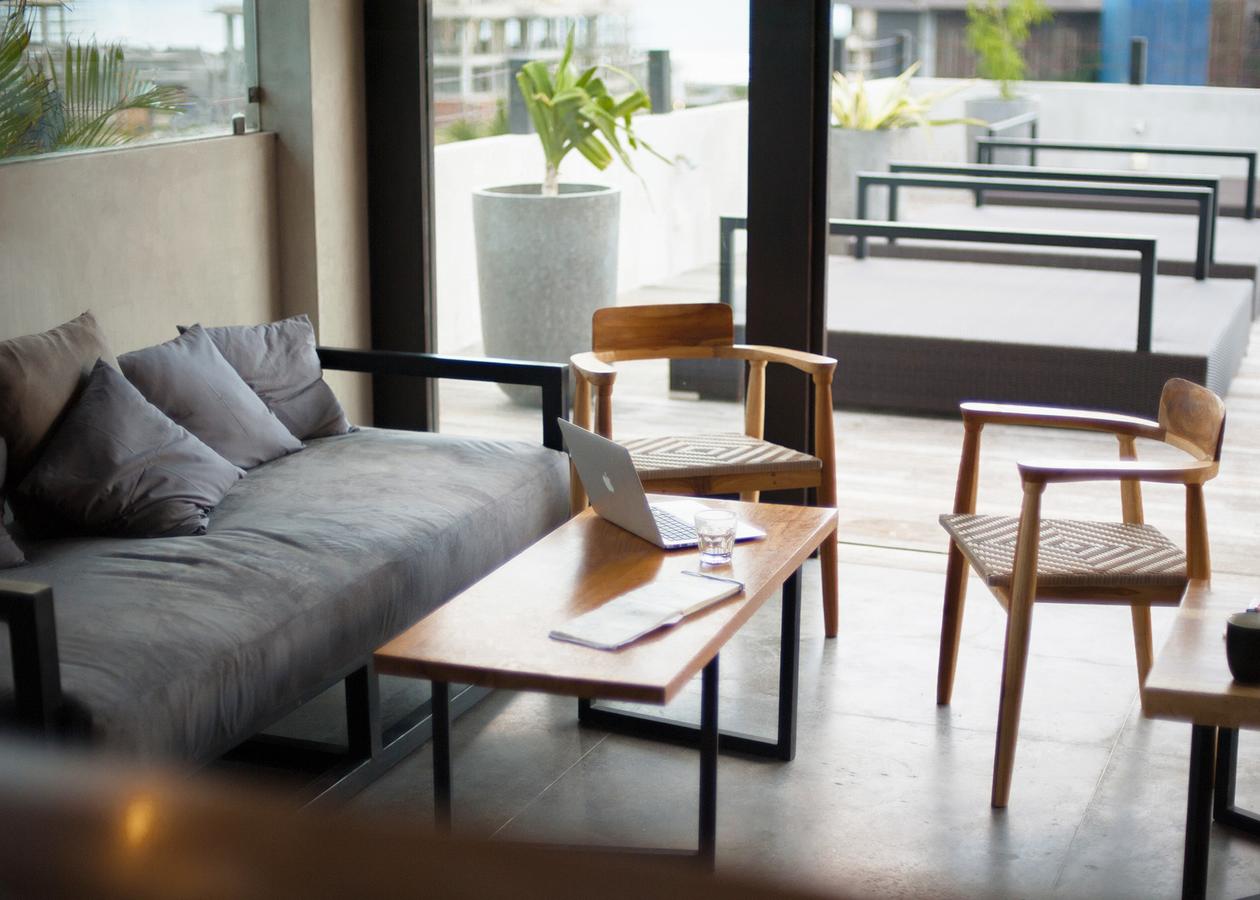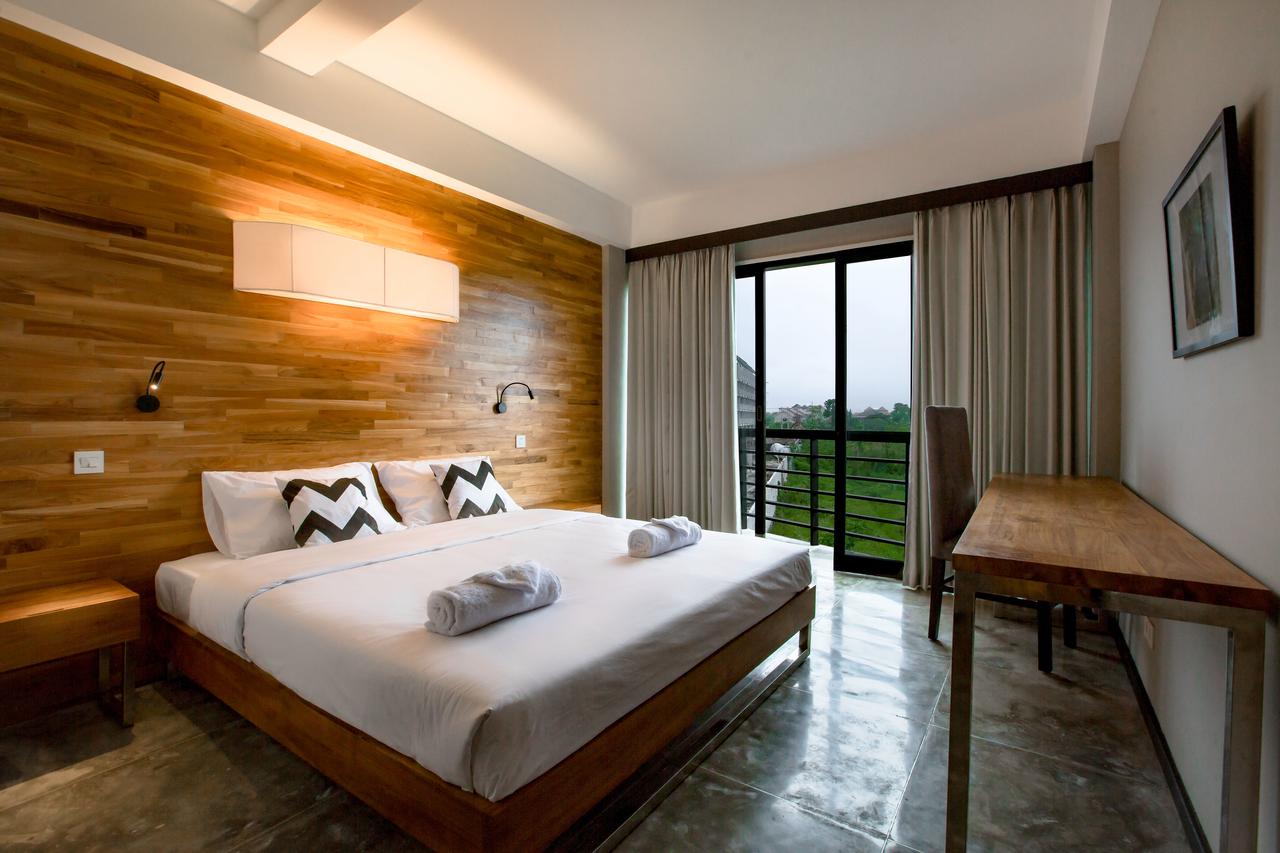 Mid-range hotels are hard to find. However, from $87 a night (including breakfast) The Surf Motel in Canggu is well located for those who like to party by night and surf by day…. and in that order! This clean modern dwelling also offers easy access to the local beach, ideal for catching waves, followed by cocktails.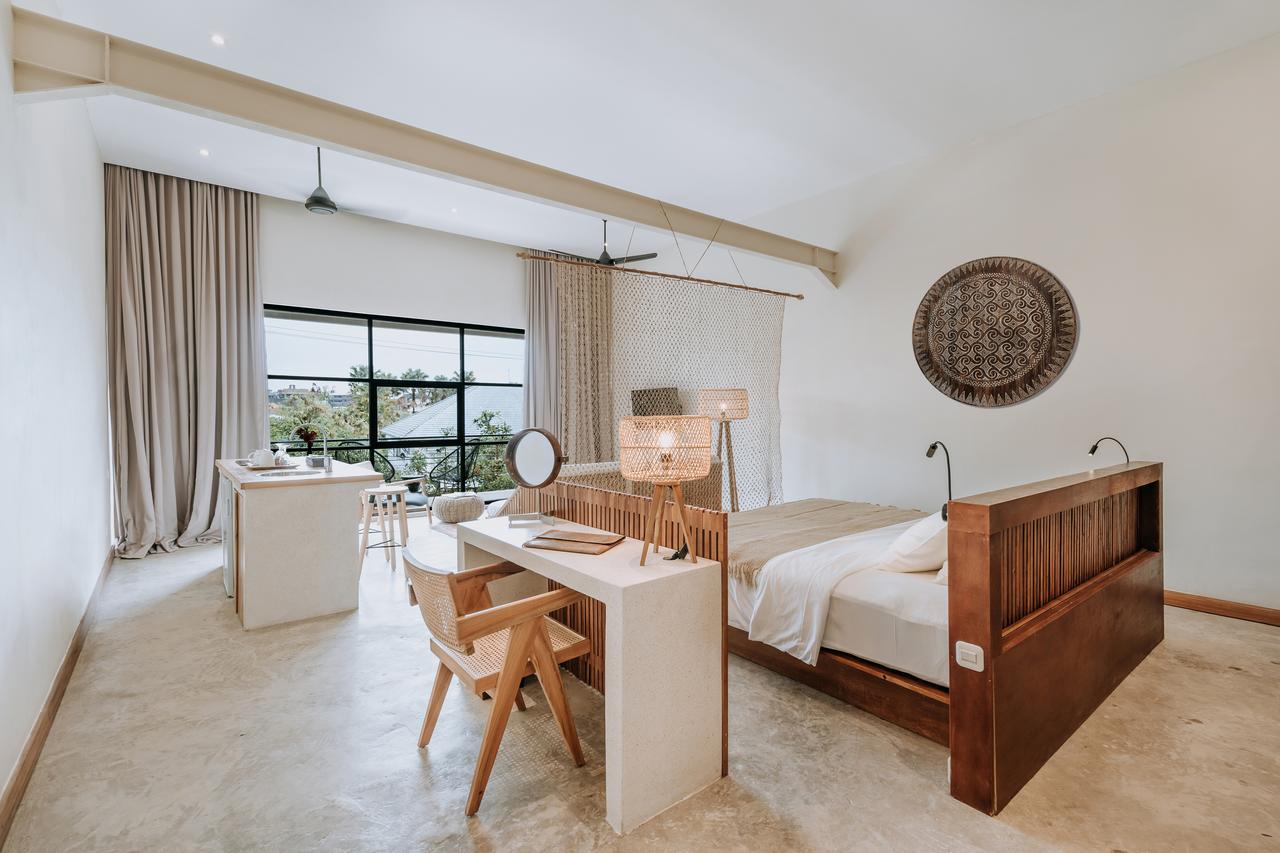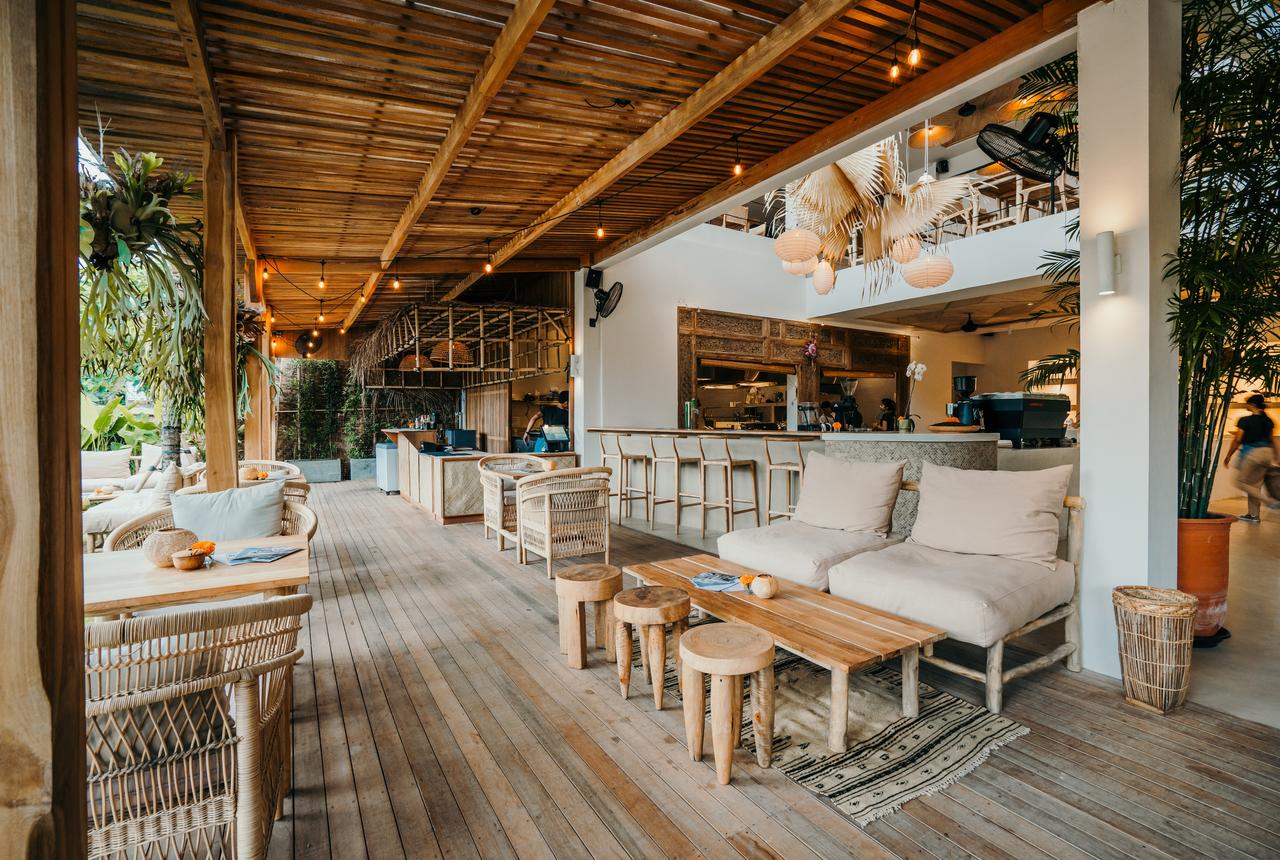 For all the trappings of five-star luxury, the irresistible collection of private villas at ZIN Canggu Resort & Villas will set you back $175 a night.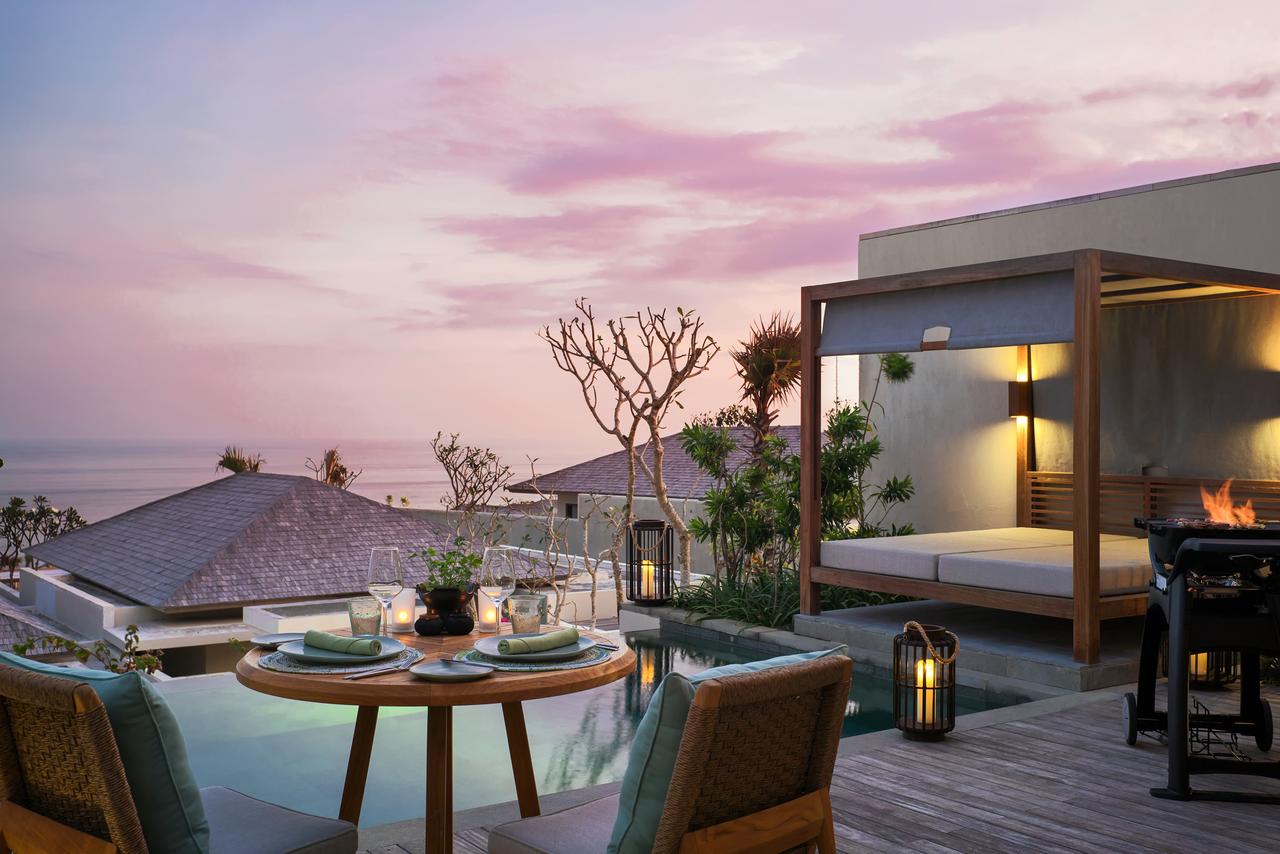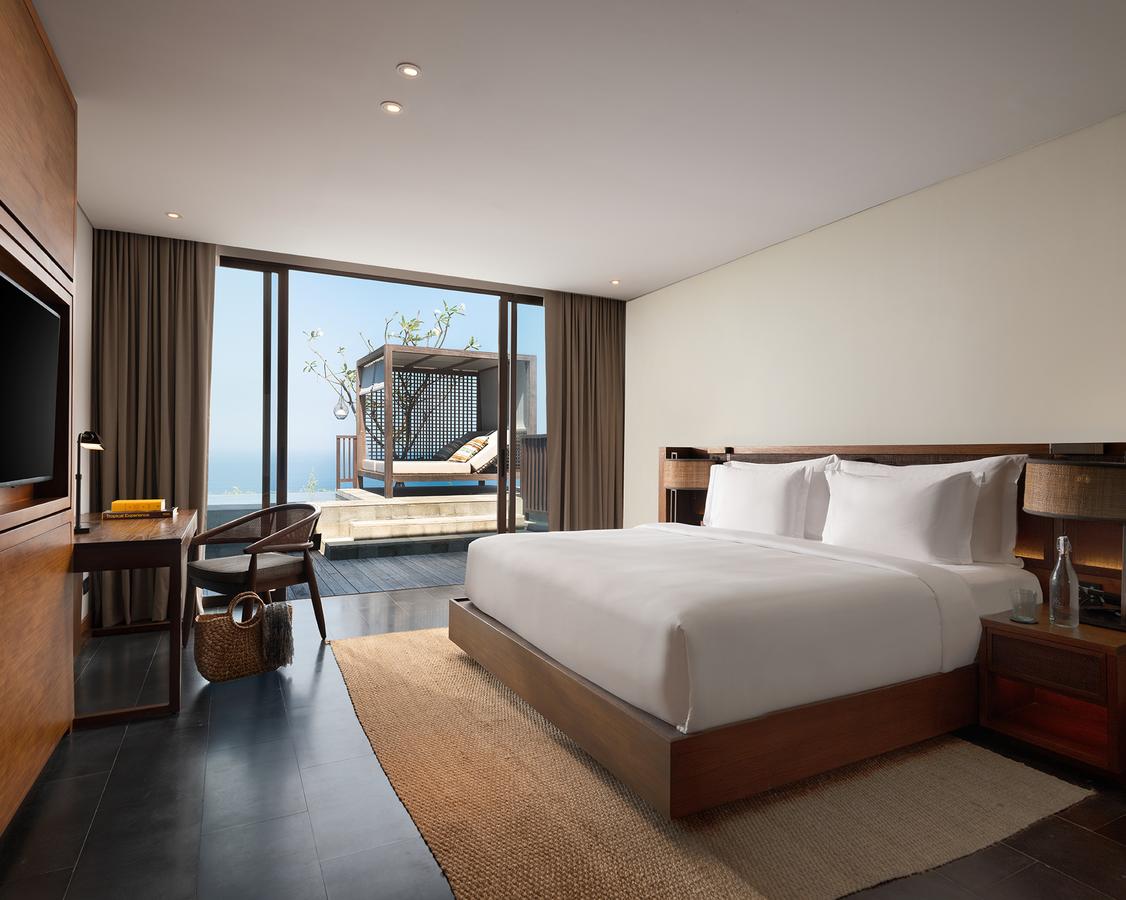 However, for some of the best hotels on the island, and for complete indulgence head to Uluwatu. Here you will find honeymoon haven, the Six Senses, and the ever-fashionable Bulgari which starts from $767 a night.
Also read: 10 of The Best Surf Camps in Bali
Where to eat in Bali
Local Balinese cuisine is known to be lively and delicious. Fresh ingredients are used with just the right touch of spice, paying homage to its Asian influence. This is best brought to life at Ulken in Canggu.
In keeping with the surf vibe, Shady Shack in Canggu is a popular spot for those on a health kick and is also vegetarian friendly.
Of course, being surrounded by so much water has its culinary advantages too. Seafood lovers should head to The Echo Beach Club for its catch of the day while looking out to sea. It's also a fun spot for after-hours fun too.
When you're ready for something more iconic, head to Potato Head in Seminyak. Contrary to its name, this is a luxurious spot seemingly for the beautiful people, matched with equally as palatable dishes!
Other activities in Bali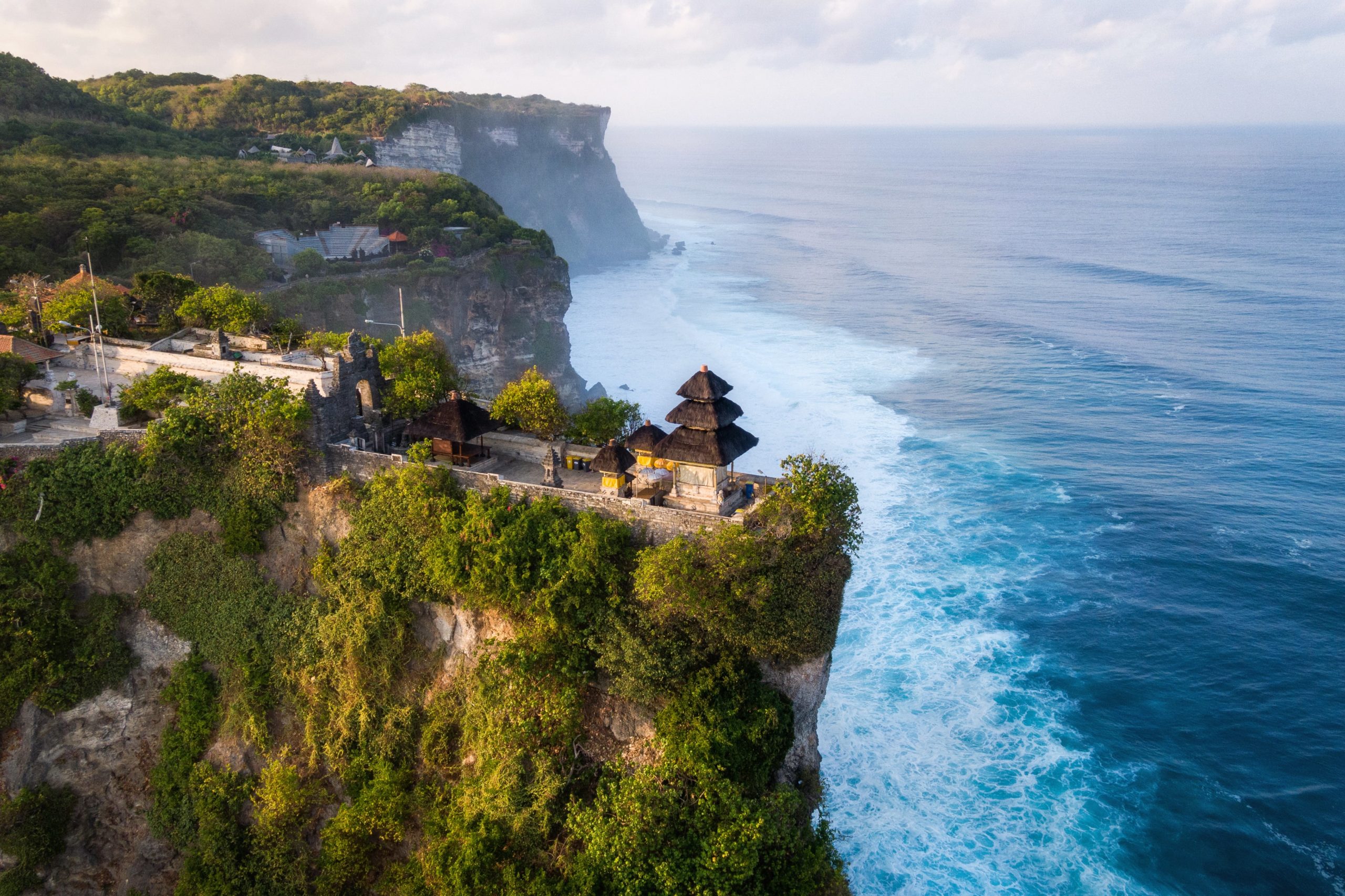 Even if you do just come for surfing Bali, there's so much culture to soak up. The local sights deserve at least one day out of your busy schedule.
You've seen it carving the ways, but there's nothing better than seeing the ancient Hindu temple of Uluwatu up close and personal. Perching on a cliff, this sacred site is said to be over 1,000 years old. The best time to come is before sunset, to experience the uniquely wonderful Kecak dance performed. It's one of several wonderful temples to visit, others include Ulun Danu Beratan and Besakih Temples.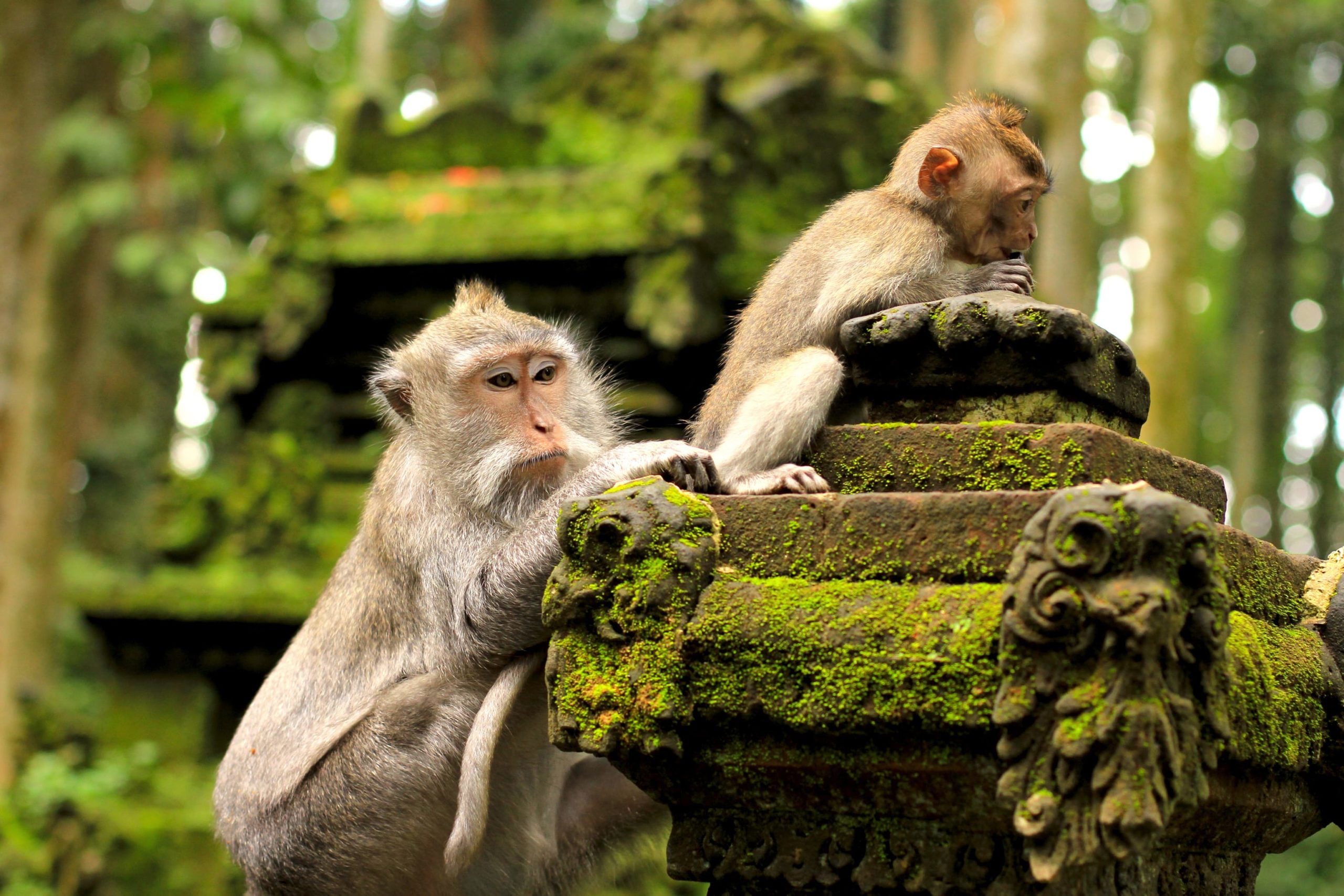 When it's time to swap shore for the jungle, Mandala Suci Wenara Wana (also known as the Monkey Forest) is a refuge for more than 700 monkeys. Nestled deep inland, this sanctuary is doing great work to protect the species as a notable conservation project. You can book a tour here alongside a visit to the instagram-famous jungle swing and the Ubud waterfall for $35 per person.
Finally, when in Bali (and indeed only in Bali) the Goa Gajah is a fascinating cave carved with elephants. Dating back to the 11th century, this archaeological site it a special place to visit and well worth the pilgrimage out to Bedulu Village.
Enjoyed our Essential Guide to Surfing in Bali? Check out all of our Surf Travel Guides here.