6 of The Best Surf Camps in Siargao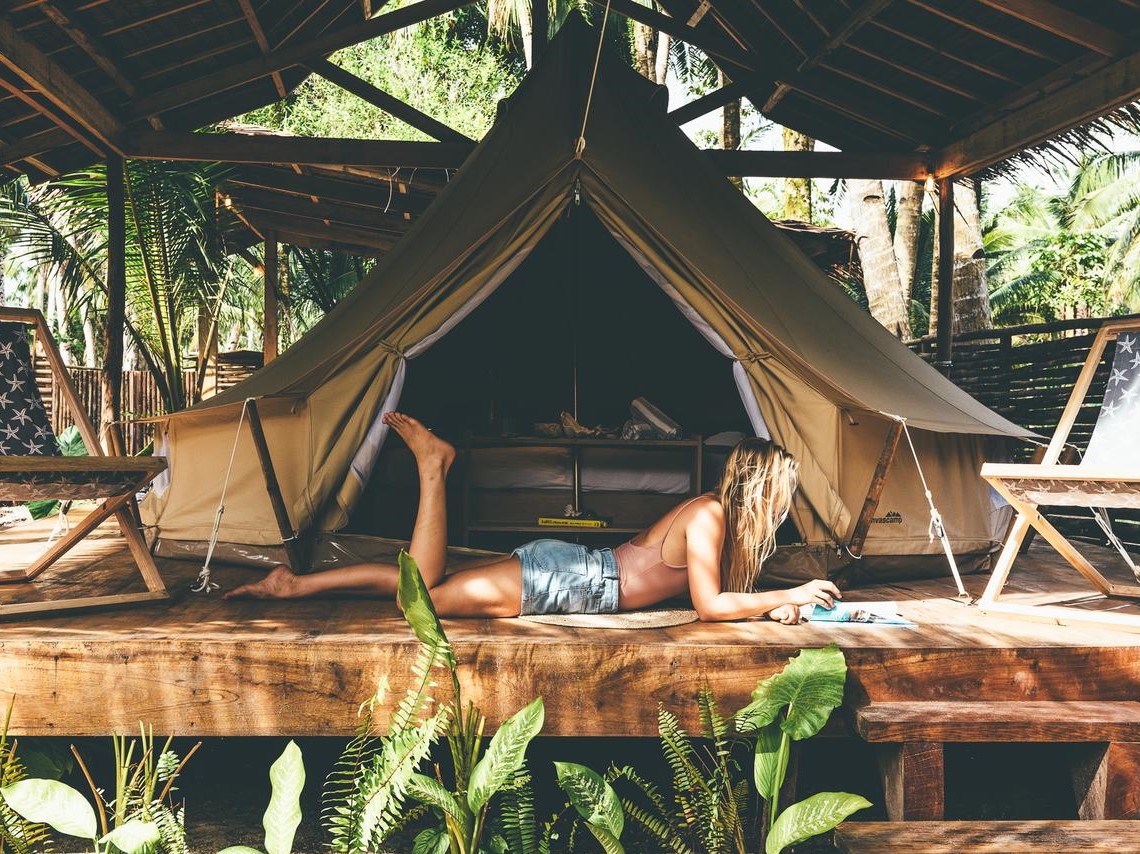 Disclaimer: This article contains affiliate links. We may receive a small commission if you make a purchase through one of these links. Please read our Affiliate Disclosure for more information.
This is our pick of the 6 Best Surf Camps in Siargao, The Philippines.
The Philipines is starting to really emerge as an exciting place to surf. Surf culture has only really opened up in the area in the last couple of decades, and prior to the late seventies, nobody really surfed. It wasn't until the crew of Apocalypse Now left their boards on Baler beach after the shoot that the locals ever tried their hand at surfing.
All over the archipelago, there are some fantastic surf-breaks, and the best thing is that they are currently relatively unknown. That means that you won't have to queue for ages for your spot on a wave, and you won't have to fight the crowds to hit the beach.
There are several top surfing spots to check out in the Philipines, with surf camps located in many of them. From the birthplace of surfing in the Philipines, Baler, through Cloud 9, the most famous wave found in the archipelago which can be ridden on Siargao Island. Then there is Zambales which is one of the more popular beaches attracting in surfers from Manila which is situated around three hours away.
Whether you are an experienced surfer who has enjoyed the best breaks the whole world over, or you are new to surfing and you're looking to learn, our selection of surf camps in Siargao offer a great place to surf, stay, and commune with like-minded people.
Siargao Island offers up a whole range of accommodation options at a variety of different prices. This means that whatever your budget is, you will be able to enjoy surfing on the numerous islands that make up the Philipines.
You'll never be too far from a host of options for your board hire or even surfing lessons if you need to take any. And, with bike and scooter hire, and lots of boats available to take you out to explore neighboring islands or even out to a hard to reach surf break, getting to where you need to be is no problem at all.
Siargao Island is packed with great surf camps that will allow you to surf, relax, and enjoy the beautiful surroundings. Here are six of the best surf camps Siargao has to offer.
Soultribe Beach Retreat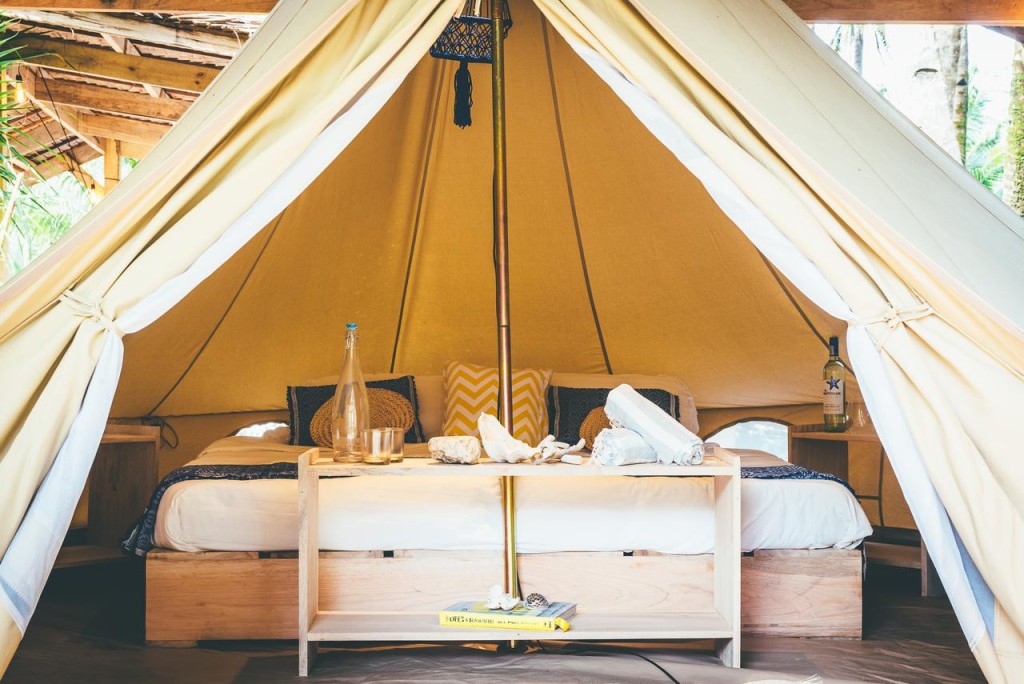 Soultribe Beach Retreat is situated on the island of Siargao where you will find some amazing surf including the famous Cloud 9, which features a perfect A-frame barrel with both left and right breaks. You can also check out Quiksilver which is a fast break, the right-hander, Tahiti, and Jacking Horse. There are waves suitable for all types of surfer including novices and pros, and there are a few great longboard haunts such as Daku, or the Little Pony wave just off Jacking Horse.
There are lots to do at Soultribe. When you are not catching a wave you could be relaxing on the beautiful white sands, or partaking in yoga, enjoying kitesurfing, or even horseback riding. You can also take day trips from the retreat out to a number of local islands or pools, you can even take a sunset cruise.
With a choice of luxury glamping in tents nestled among coconut trees right on the beachfront, or in cabanas situated just a few yards back, you will be able to enjoy the sounds of the ocean drifting you off to sleep at night.
Lamari Siargao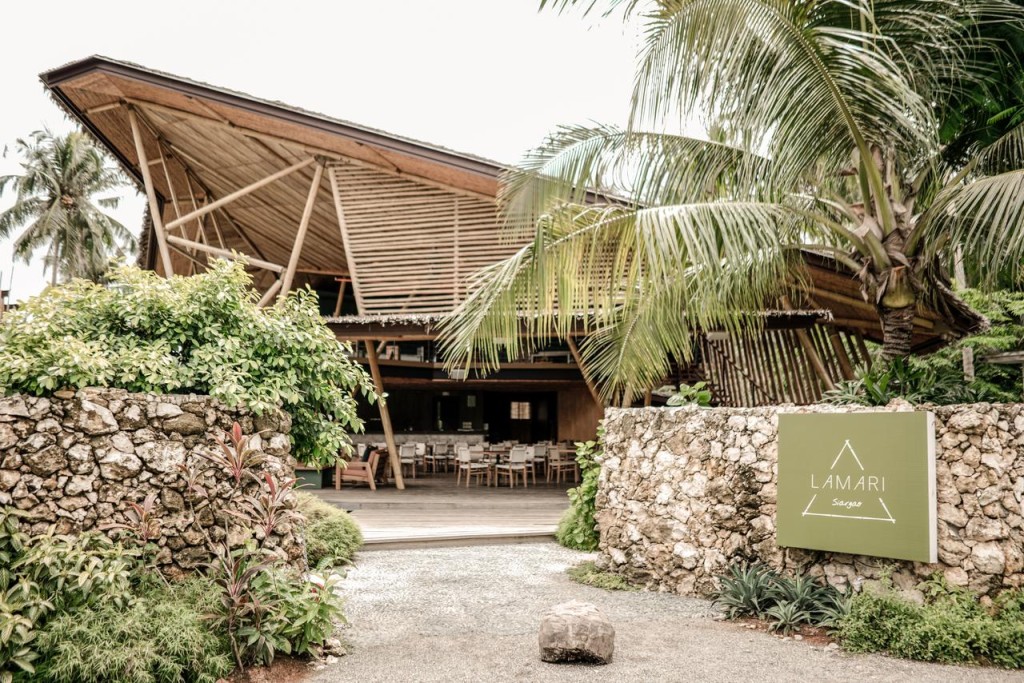 Also situated on the popular surfing haven of Siargao, Lamari Siargao Surf Camp is a boutique hotel and restaurant just a few minutes walk away from General Luna Beach making it very convenient for getting out to ride your waves when you want to. The joy of being so close to the beach is that you can easily check out what the waves are doing and judge the perfect time to get out and enjoy the waves and decide on whether it is best to just sit back and chill.
There is a wide range of activities available at the resort including massage, and a swimming pool. Being quite close to many of the local amenities, you can use the place as a great base to get the best out of the Siargao area.
Mao Mao surf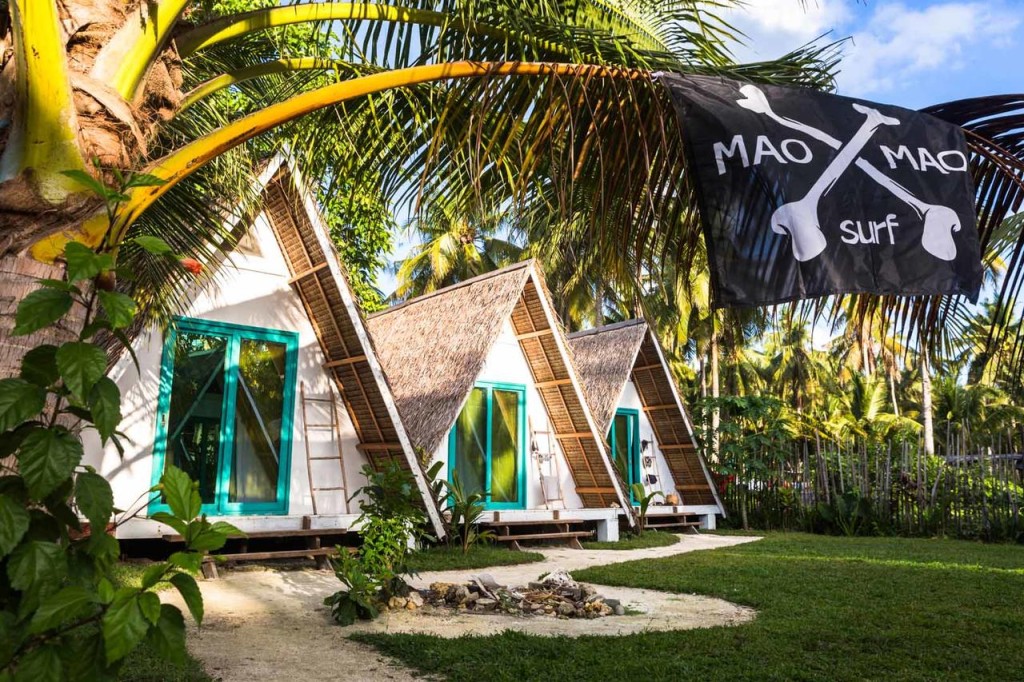 Again, situated very close to General Luna Beach, and only a short drive away from the great breaks at Cloud 9, Mao Mao Surf has everything that you will need from your surf camp in Siargao. With practical amenities such as WiFi, bicycle rental to help you get around the area.
Relax by the outdoor fireplace, or grab a drink from the bar, there is plenty to do here to unwind when you are not out riding waves. There is plenty of space to relax and chat with other surfers and exchange surfing tips over a beer or cocktail.
Lampara Siargao Boutique Hostel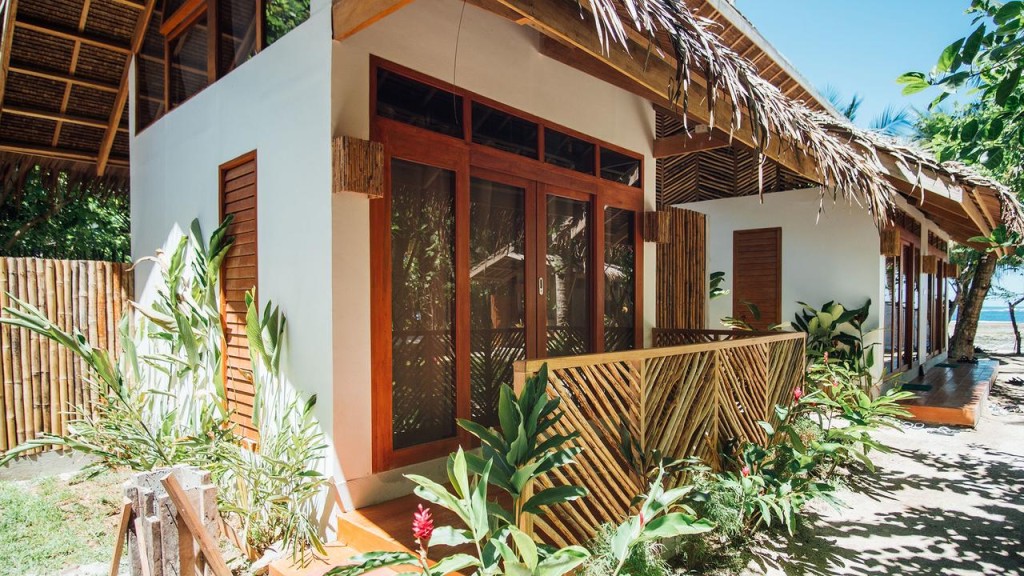 Lampara Siargao is a beachfront boutique hostel which is situated in Catangnan, General Luna. Again, this is a prime spot if you want to go and surf the fantastic Cloud 9 break.
The hostel is comprised of two mixed dorms that both sleep eight people in each. The dorms are fully air-conditioned and are clean. There are showers and toilets in each dorm. There are privacy curtains that will block out any lights from other guests bedside lamps or mobile devices. For a shared dorm, this gives you everything that you need for your stay. Although it is pretty basic, when you are there for some of the best surf in the world, you only need somewhere to lay your head at night.
There is a large communal space to where you will spend your time around other surfers too, so when you are back at the hostel, you can compare notes and make connections with visitors from all over the world, or just enjoy a board game.
There are all of the amenities that you need to be able to prepare your own meals, but there are occasional BBQ nights held at the hostel.
If you are looking for surfing lessons or need to rent a board, the staff at the hostel can help arrange that for you.
Punta Punta Surf Retreat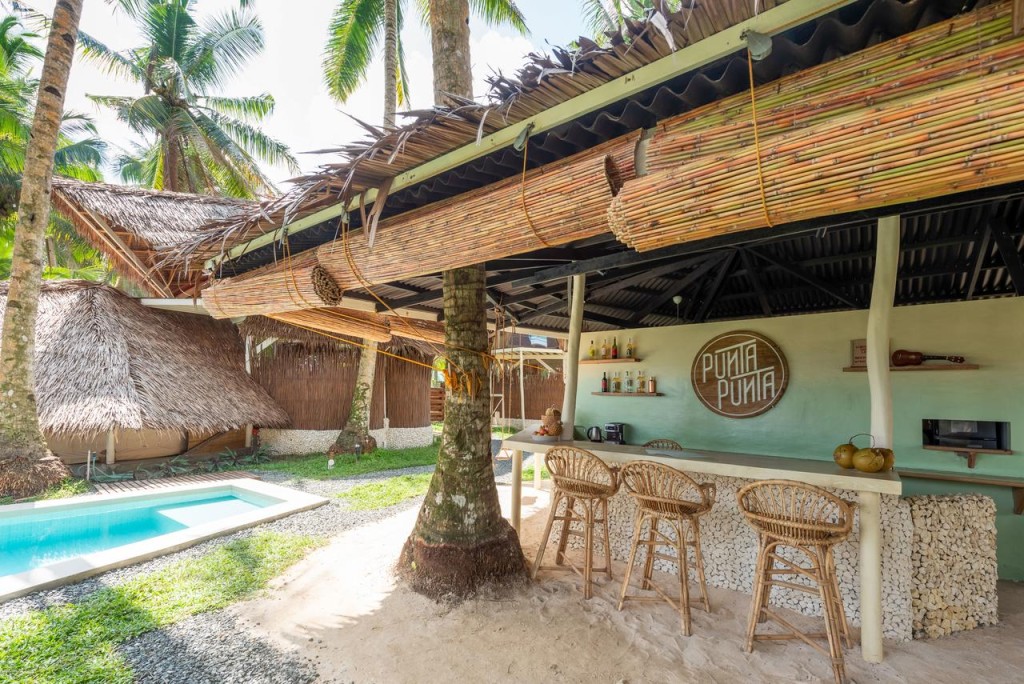 If learning to surf is your primary objective from your surf camp visit, then you will want to pick a retreat that offers great in-depth surfing lessons.
At Punta Punta Surf Retreat you will be able to get an introductory lesson on dry land before having a two-hour lesson in the water. However, if you are already pretty experienced at surfing you might want to opt for a fresher package that offers either additional lessons or you may wish to go on a private guided surf tour around the General Luna area.
All of the options will provide you with surfboard rental, snacks and drinks, and a boat transfer out to the break if needed. You could also opt to throw in some yoga classes, day trips to the north of the island, meals, island-hopping excursions and so much more.
As far as accommodation at Punta Punta is concerned, there is excellent glamping with ocean views, private balconies, with private bathrooms and open sky showers, along with powerful fans in every tent.
Makulay Siargao Resort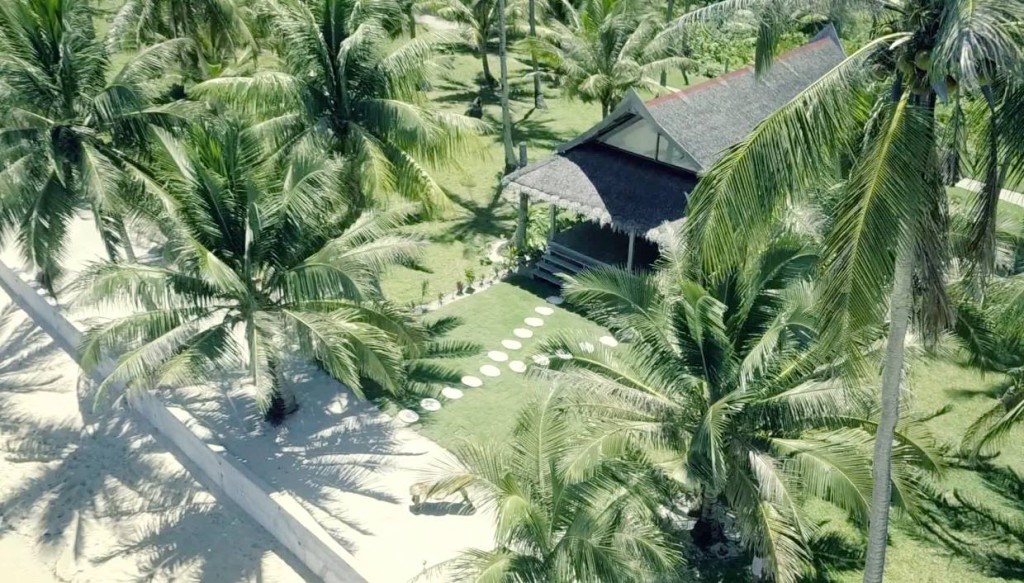 If you want a surf camp in Siargao that gets you a bit further away from the madding crowd, the Makulay Siargao Resort might be a great option for you. The Makulay Siargao Resort is located around about half an hour from General Luna beach meaning the area is less developed and overall much quieter. If it is a chilled out vibe that you are looking for, then sometimes it is best to find that further away from the main strip. You can still get down to rise the waves at Cloud 9, which is around about twenty minutes away on a scooter or taxi.
The Makulay Siargao Resort is made up of relaxing and stylish villas that built using in the local tradition. Everything is right there on the edge of a private beach so you can see, hear, and smell the sea from your accommodation. The resort is host to a large garden, a restaurant and a bar.
You can use the resort as a base to go off and enjoy island hopping or exploring the wider Siargao area in-depth. There are plenty of beaches close to the Makulay Siargao Resort that you can enjoy relaxing on or even try some other activities such as snorkelling.
The food at Makulay is fantastic and you'll find that the team are always very accommodating to their guests.
Conclusion
With lots of great places to stay and soak up the surf culture in Siargao, this may prove to be a very exciting prospect for your next surfing holiday. If you are looking for somewhere a bit different, away from the normal crowds that flock to the likes of Bali, Siargao Island may be one of the best-kept secrets in surfing.
Book yourself into the surf camp of your choice today and start looking forward to catching those immense waves when you get to enjoy the great surf that the Philippines has to offer.
Enjoyed 6 of The Best Surf Camps in Siargao? Take a look at our Complete Guide to Surfing Siargao here.