A Guide to Surfing Mirissa in Sri Lanka

Disclaimer: This article contains affiliate links. We may receive a small commission if you make a purchase through one of these links. Please read our Affiliate Disclosure for more information.
Thinking about surfing Mirissa in Sri Lanka?
This is our complete surf travel guide. Read for everything you need to know about surfing in Mirissa.
Mirissa is a small, quaint town located on Sri Lanka's southern coast. Situated within the Matara District, it's less than 100 miles from the bustling city of Colombo. Beloved for its nightlife and picturesque beach, it's one of the most visited locations across the country.
Although it's quite a popular place to visit, it's beach is often less crowded than that of nearby towns. Adorned with palm trees and boasting crystal clear water, it's often frequented by surfers from around the world.
How to get to Mirissa
When traveling to Mirissa, there are a few options in terms of airports. The largest and only international airport is Bandaranaike Airport, that's located within 35km of Colombo. Offering 100's of flights every day, you'll be able to reach Sri Lanka easily, no matter where you're located in the world.
Click here to search for flights to Sri Lanka.
Depending on your choice of flight, it can take anywhere from 6 to 30 hours – longer if you have to stop off along the way. Alternatively, the closest domestic airport to Mirissa is the Koggala Airport, situated around 14km away.
When traveling to Mirissa Bay, the most recommended way is by train, bus, car, or taxi from Bandaranaike.
Traveling to Mirissa by Train
The frequency of trains in Sri Lanka is quite low, but they are thought of as the quickest way to travel. If you're coming from Colombo, catch a train from Colombo Fort Station – one leaves every four hours.
Taking approximately 2 hours, it will cost you around INR 190 (just under $2) each way. Arriving at Weligama Station, you can then grab a cab to Mirissa – taking you about 6 minutes and costing you between INR 170 – 220 ($2.39-$3).
Traveling to Mirissa by Bus
Alternatively, you can catch a bus from Colombo (or another main city) to Mirissa. Dropping you off at the beach, you'll be able to get a cab or tuk-tuk to your hotel or walk if you've chosen accommodation within easy reach.
If traveling from Colombo, head to the Colombo Bastian Mawatha Bus Terminal. With buses running every 2 hours and costing INR 80 – 190 ($1.19 – $2.67) it will take you 5 hours to reach the town.
Traveling to Mirissa by Taxi
If you want to travel without other passengers, you can arrive at Mirissa via a private transfer or cab. Although this is the most expensive option, it's a popular one for tourists visiting Sri Lanka for the first time. Many also opt to use Uber – due to its trusted name and price guarantee.
How to get around Mirissa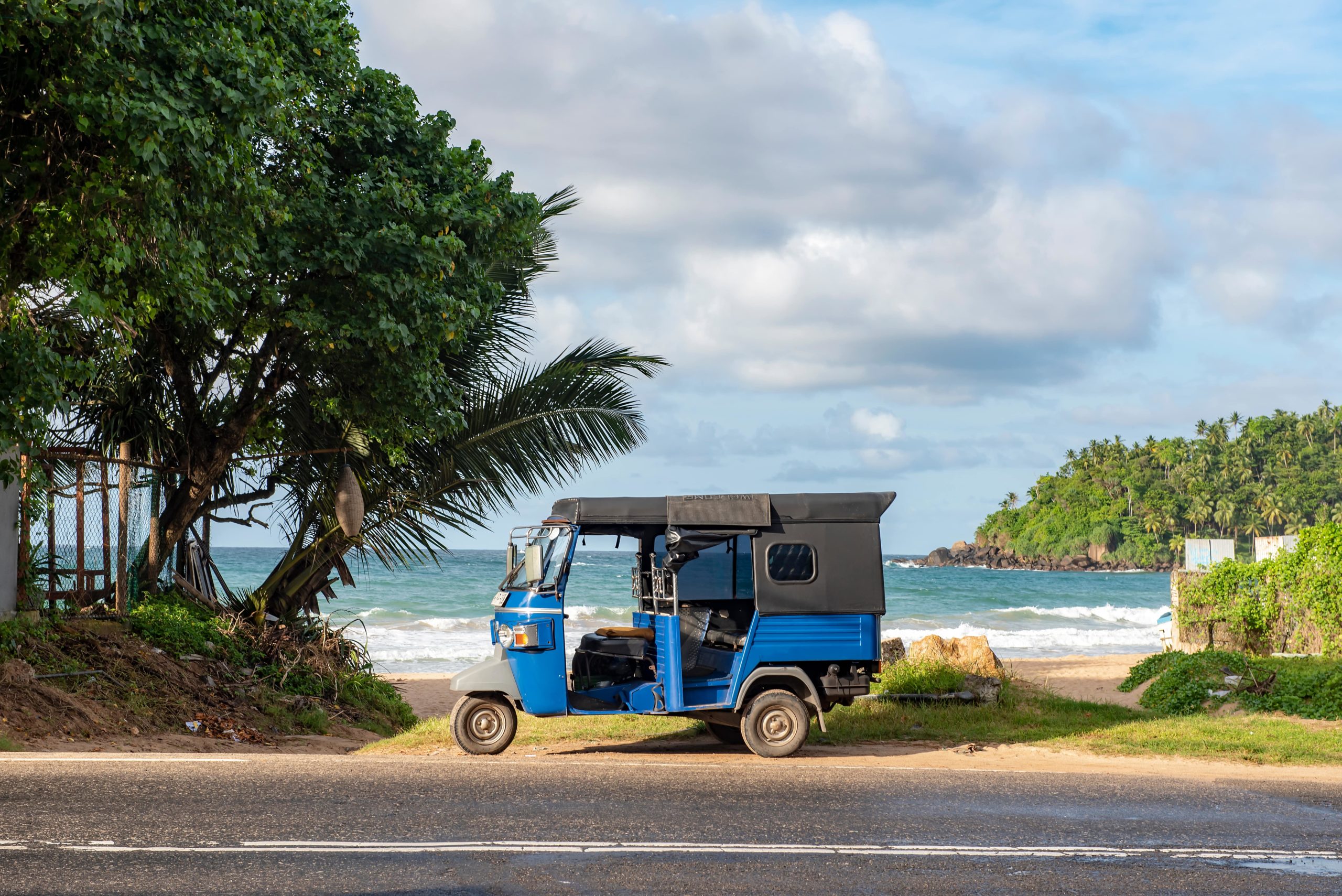 When it comes to getting around Mirissa, there are several affordable travel options to choose from. One of the most popular of which is by tuk-tuk. You can either hail a tuk-tuk from a local vendor when you want to travel around the town or rent your own for the duration of the trip.
Alternatively, you could board a bus that passes through the main road, rent a scooter or simply walk – as it's a small town, everywhere is easily accessible on foot.
The best time of year to surf in Mirissa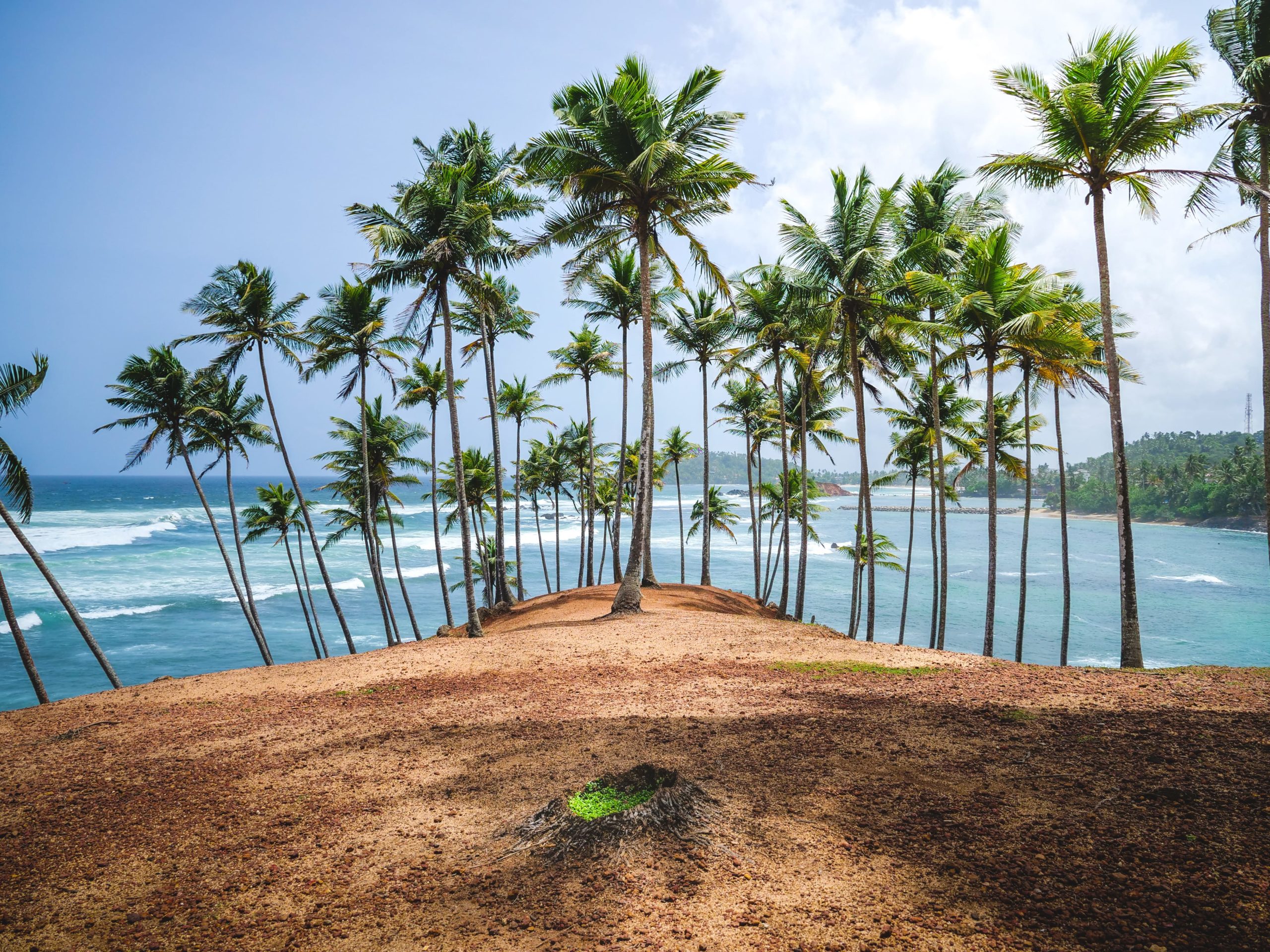 In southern Sri Lanka, the best time of the year to surf is between November and March when it's drier and a little cooler. However, with temperatures still reaching between 86-104 Fahrenheit, the best time to surf is in the morning or evening.
Offering an intermediate level of waves, the best height can be experienced during the early morning and late afternoon at Mirissa Bay. It's worth checking the forecast and sea levels before planning a day of surfing Mirissa ahead of time, however.
Surfing in Mirissa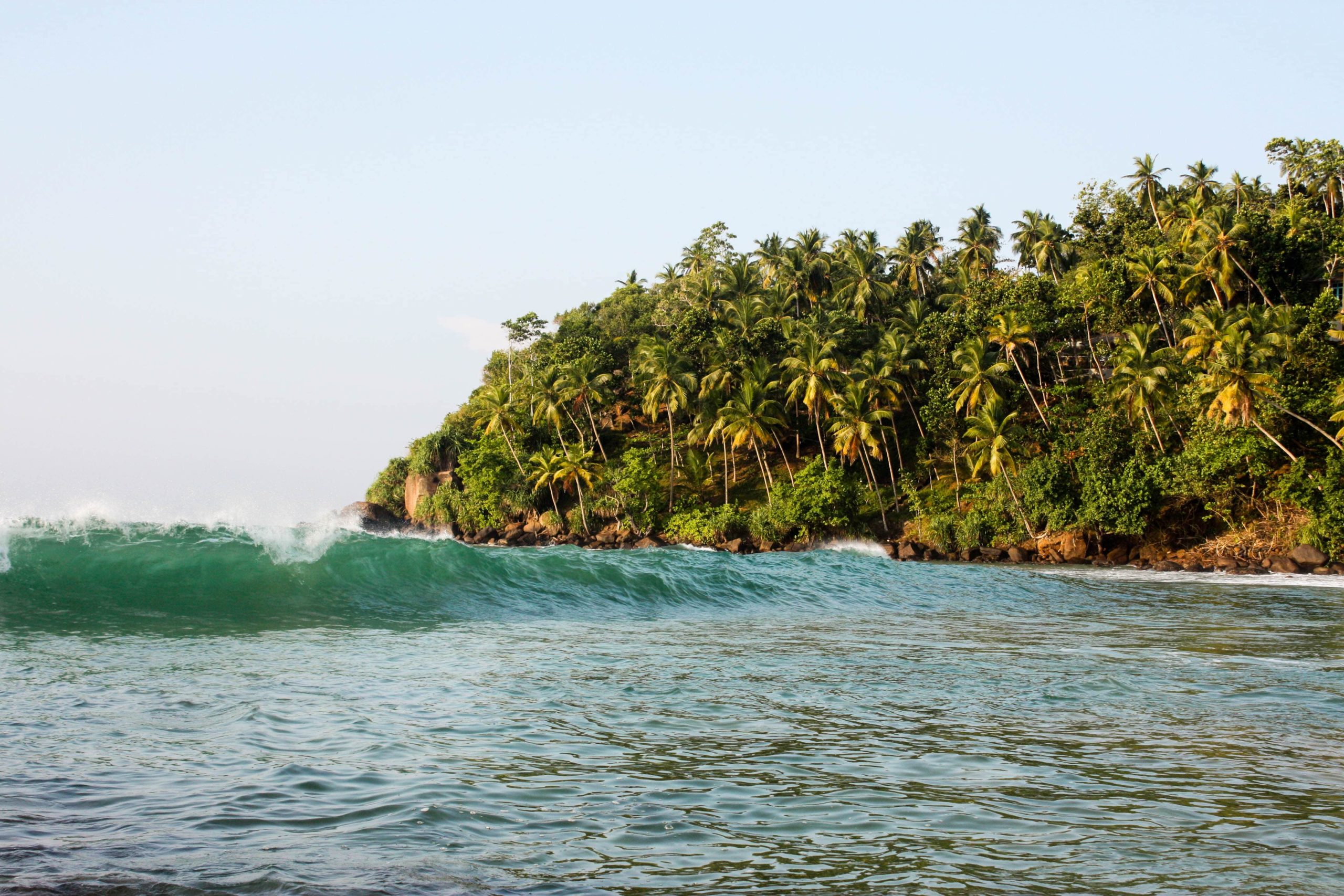 Renowned for its beautiful crescent shape, Mirissa offers a sandy beach with both left and right-hander waves. Ideal for skilled beginners and intermediate surfers that want to catch a reef break, the waves can reach up to 6ft.
Throughout Mirissa beach you can surf a low power, right-hander near the rocks and a left-hander closer to the harbor. Due to its smaller waves and protection from onshore wind, it's a good beach to build confidence for beginners or those intermediate surfers looking to improve their technique.
Surf Camps in Mirissa
There's no shortage of surf camps in Mirissa. Affordable and within easy reach of the beach, you can pick up a great deal when traveling to the Sri Lankan town.
If you're sticking to a budget, they have a host of hostels to choose from. One in particular which is popular because of its comfortable rooms and proximity to the beach (a 1-minute walk) is Hangover Hostels. Costing you approx. $31 a night, it's easily affordable and convenient.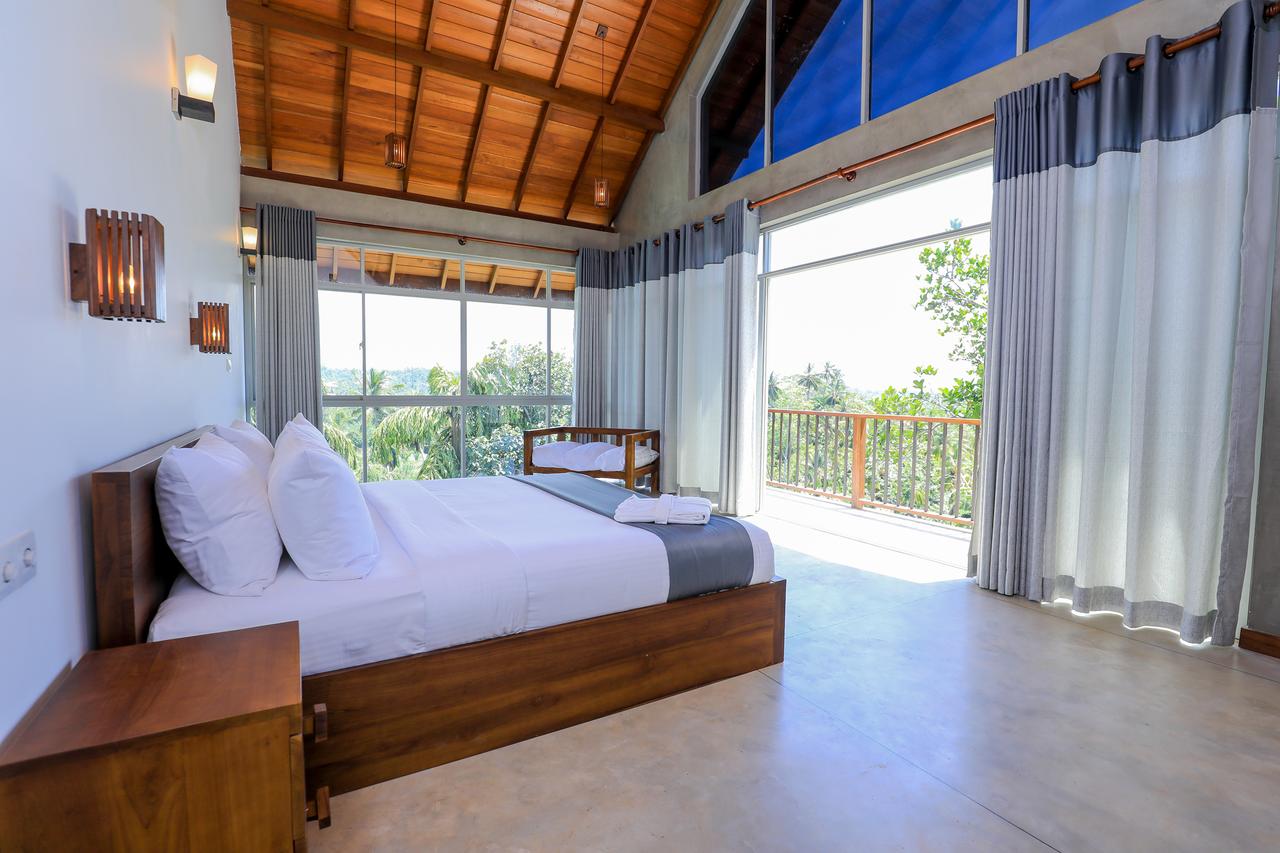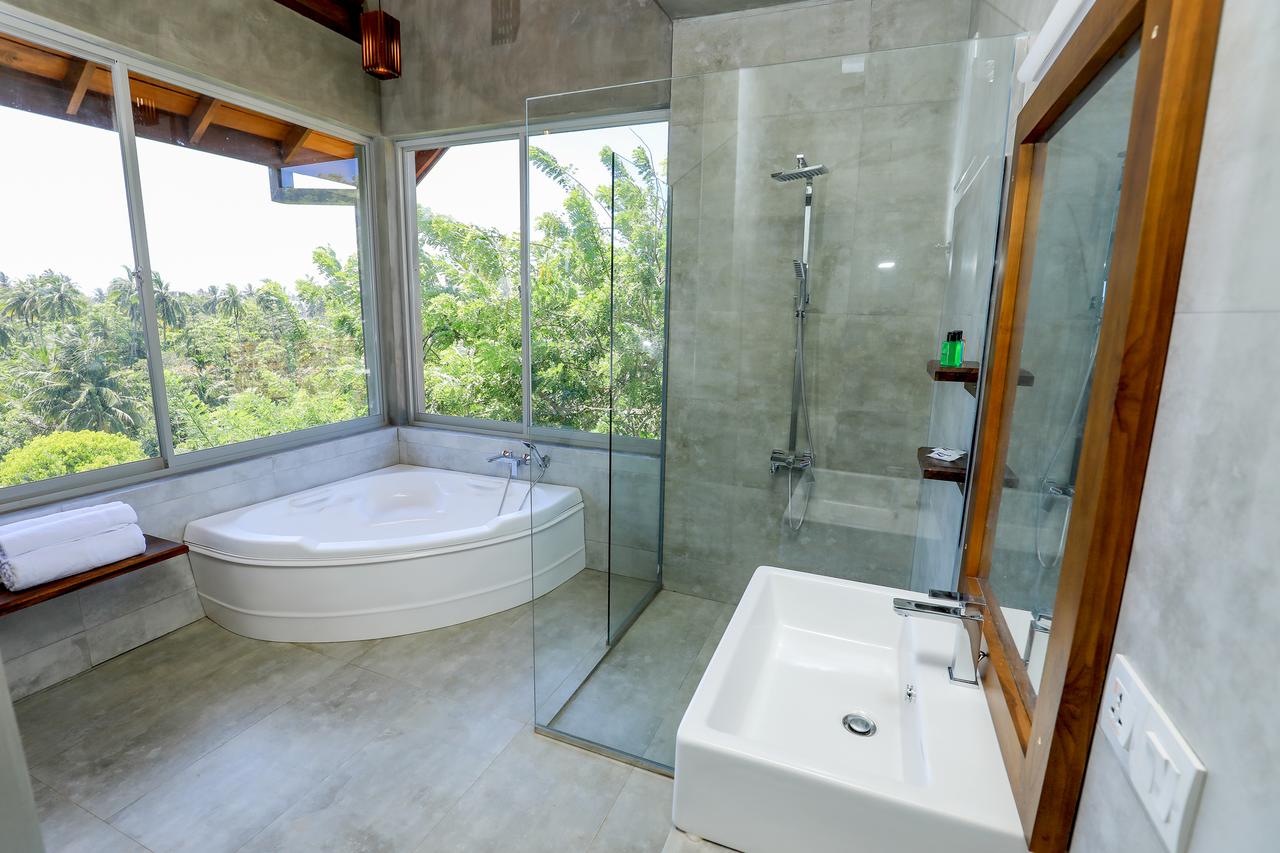 If you're looking for something a little more private, then the Somerset Mirissa is a great choice. Also situated within a 1-minute walk from the beach, it has spacious private bedrooms and incredible views of the area. Although it's more expensive at around $99 a night, the extra amenities make it worth it for many travelers.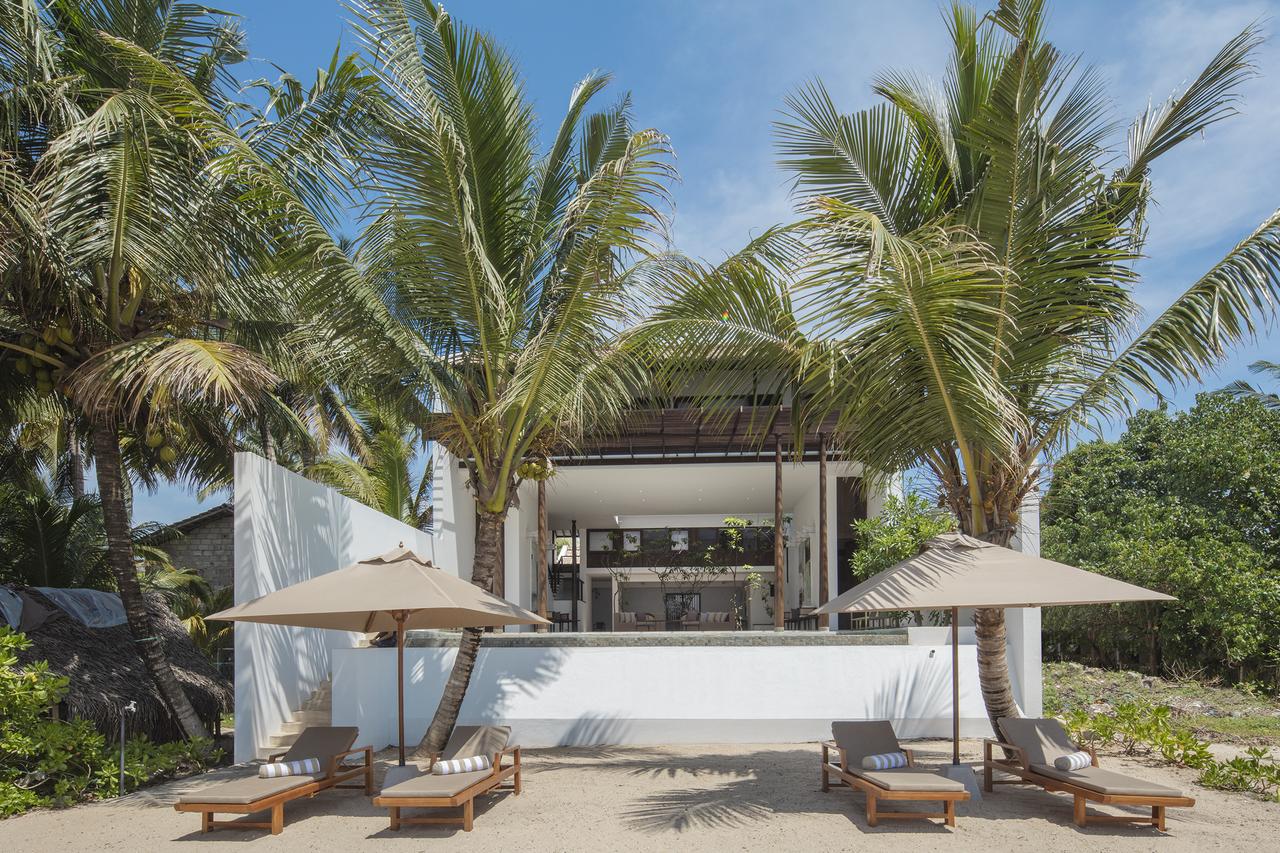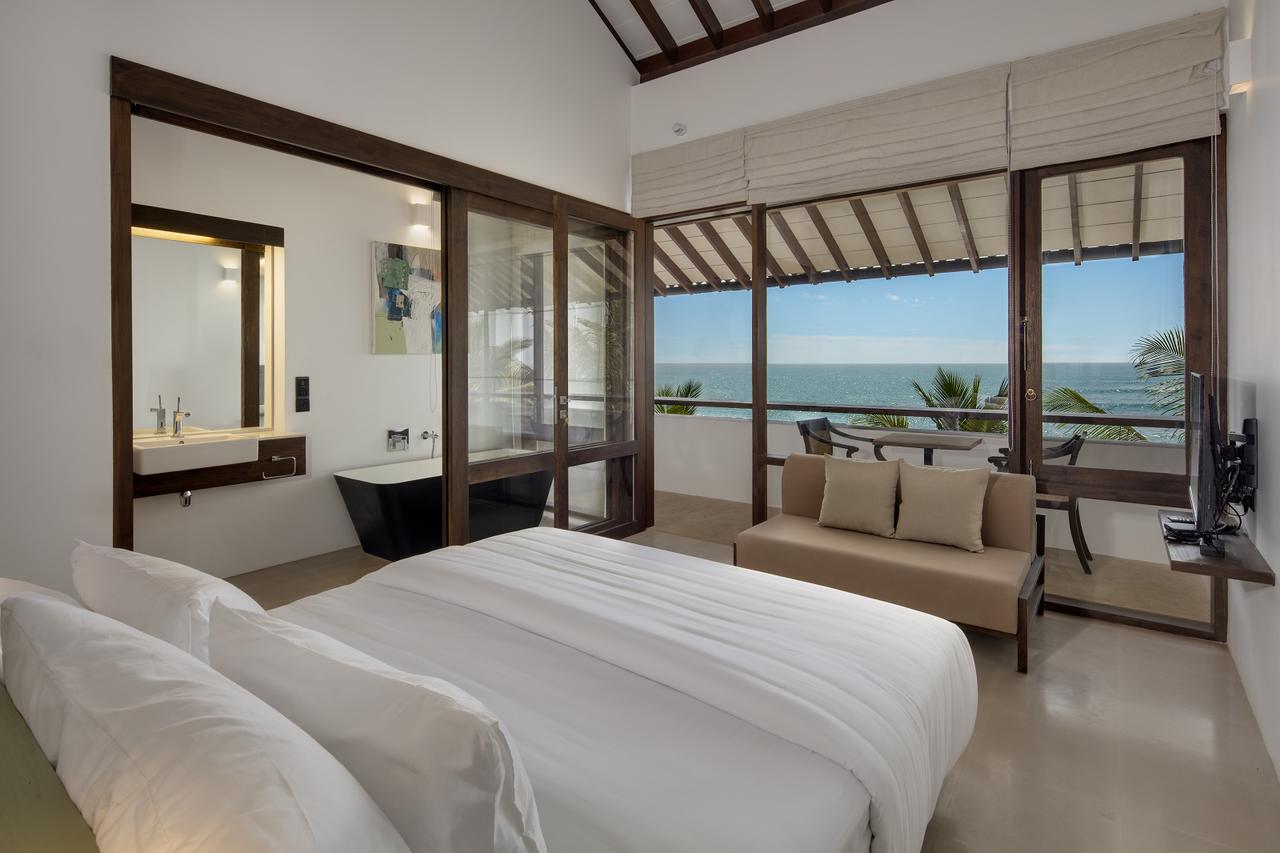 If you want an entire place to yourself when surfing Mirissa and you're willing to stretch your budget, book into Three Gables Boutique Villa. This luxury beachfront villa comes with your own personal chef, an infinity pool and a private beach, all for $328 a night.
Where to eat in Mirissa?
Mirissa has a variety of different cuisines on offer – from traditional Sri Lankan dishes to menus that are designed for a more international audience. This makes it a wonderful choice for those wanting to try local cuisine, or those wanting to stick to what they know.
When in Mirissa, be sure to check out Zephyr. A bustling restaurant and bar, it serves fresh seafood and delicious cocktails. Their extensive menu will not only suit everyone but is affordable – meaning that you can have a wonderful meal on the beach without it costing you the world.
For a more casual meal, you could opt for one of Mirissa's more relaxed eateries – such as O Mirissa Cafe and Bistro. From fresh fruit to healthy vegetable wraps, it's a great place to grab a bite to eat after a morning surfing the nearby waves.
Surf Lessons in Mirissa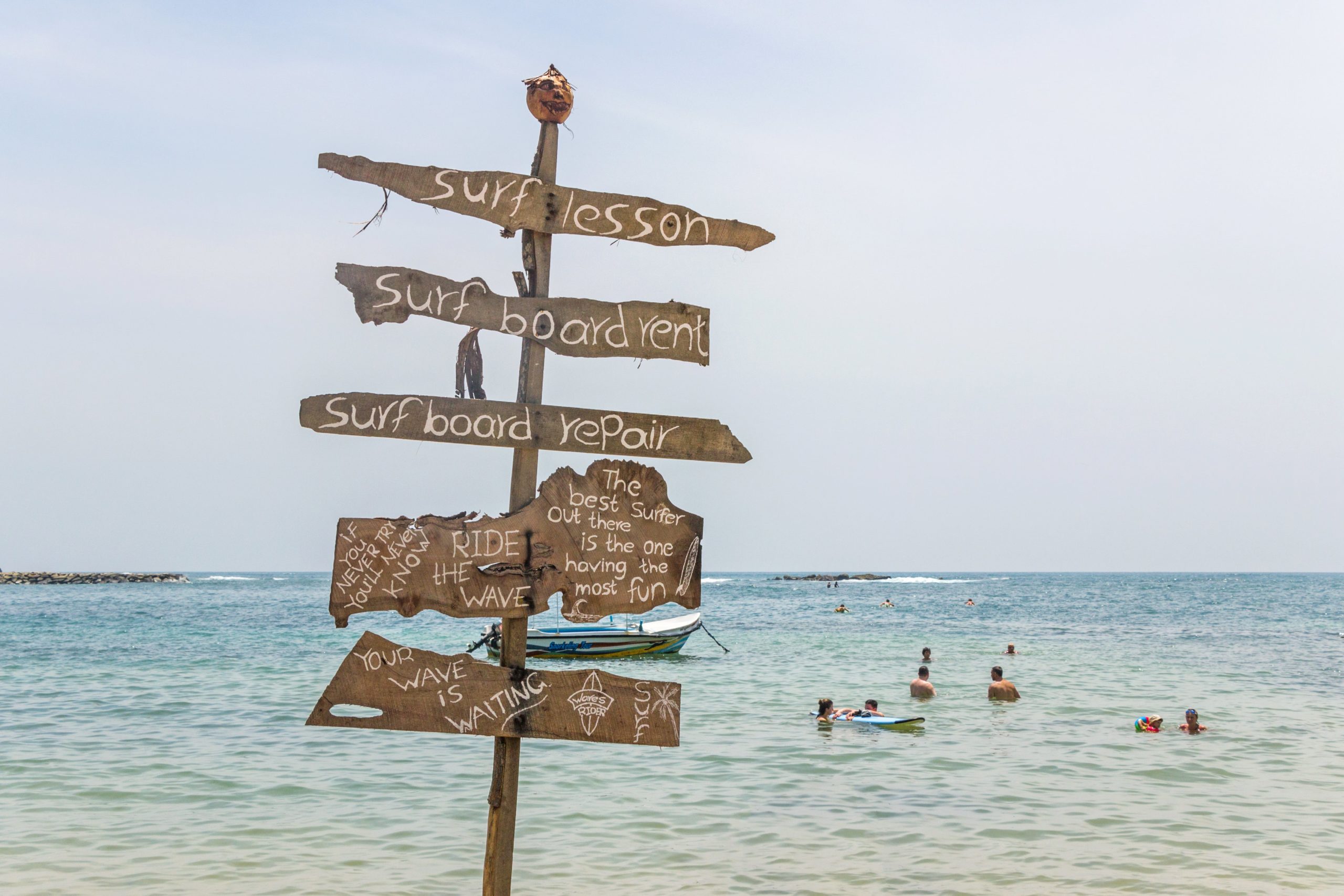 Although Mirissa is often considered an intermediate to advanced surf spot in southern Sri Lanka, there are surf schools that will teach those less familiar with the sport.
Geared towards beginners, Surf School with Ruwan offers individual lessons lasting approx. 2 hours as well as half-day courses and packages. Including transport and surfboard hire, this affordable surf school is ideal for tourists. Costing around $40 for three lessons, you can learn the basic techniques needed to take on the waves as well as beach/water theory.
Alternatively, if you're looking for a complete vacation package with surfing lessons included when surfing Mirissa, Surf & Yoga Mirissa is a popular option. Centrally located, they offer 7 night's accommodation (single occupancy) with 12 surf lessons for $675.
Surfboard hire in Mirissa
There are plenty of places across Mirissa in which you can hire surfboards from. One in particular that gets frequently good reviews is Mirissa Surf Lessons and Hire Center. Situated in the heart of Mirissa, it offers surfboards for hire for 300 LKR per hour ($4 or 117 INR) or 1000 per day (approx. $14 or 392 INR).
If you want to buy a wetsuit or other equipment when surfing Mirissa, there are also boutiques along the beach – such as Lazyride Surf Boutique that offers all the essentials for affordable prices.
Other Activities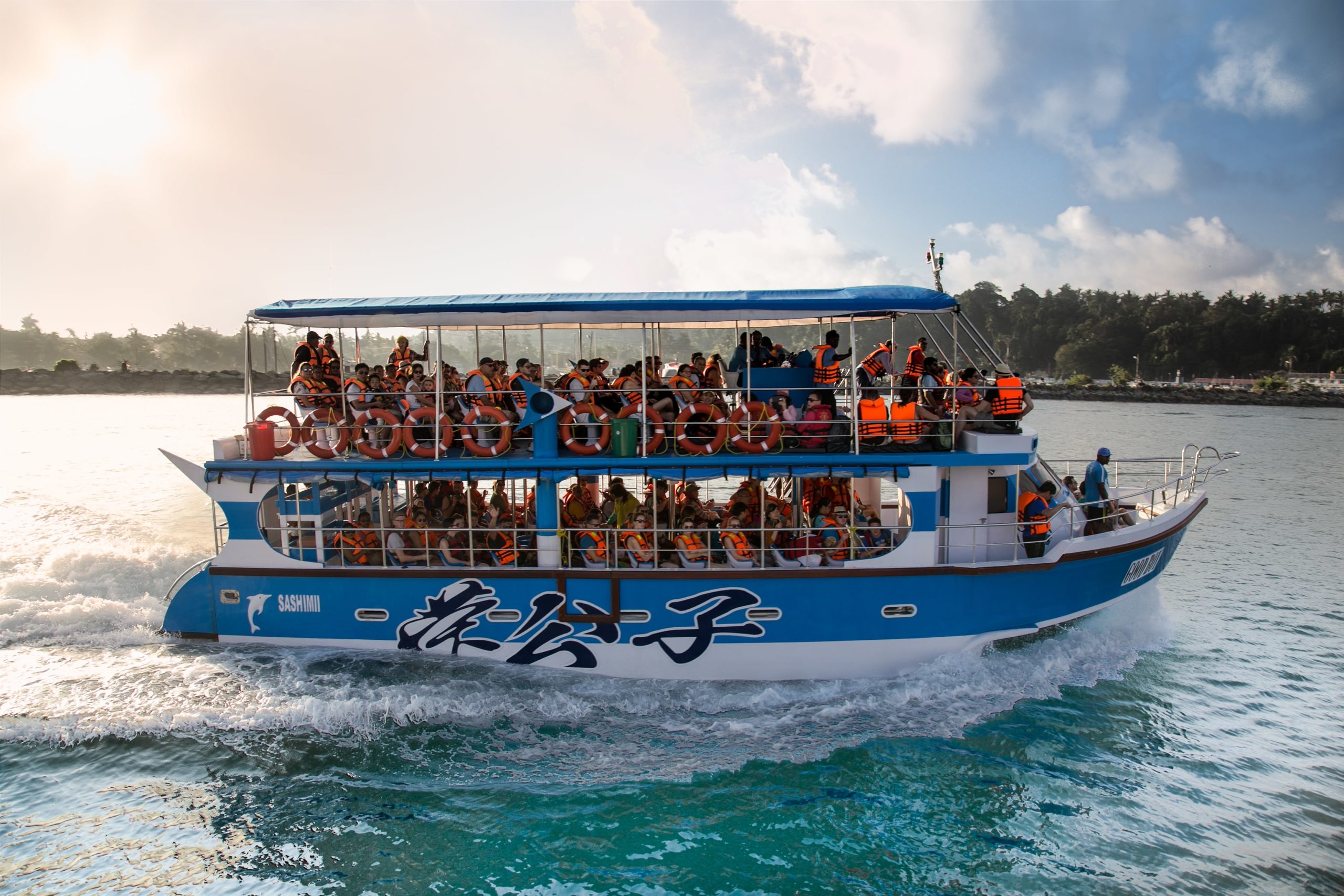 As well as fabulous surfing, Mirissa has a whole host of other activities that you can enjoy throughout your vacation.
An activity often chosen by tourists visiting the area is a whale watching tour. Across the town, there are lots of tour companies offering this – each suggesting that the best time of year to do so is from November to March. During a whale watching tour, you can see whales, turtles, and dolphins throughout the 3-4 hours you're out at sea. Costing from $25 to $40, it's a budget-friendly activity that's fun and relaxing.
If you fancy traveling a little further afield, book a tour to Galle Fort. Located just under 30 km from Mirissa, it was built in 1588 by the Portuguese. Full of history, beautiful viewpoints, and exciting shopping opportunities, it's a must for anyone visiting southern Sri Lanka. Costing 60 LKR (23 INR or 33 cents) by bus, it takes about an hour from the center of Mirissa.
Alternatively, you can see the incredible Sri Lankan elephants with a visit to the Elephant Transit Home. Located close to Udawalawe, it's a sanctuary that cares for rescued elephants and baby elephants. 2 hours from Mirissa, it's a popular excursion that's well worth the traveling.
Enjoyed our complete guide to surfing Mirissa in Sri Lanka? Check out all of our Surf Travel Guides here.