5 of the Best Surf Camps in Canggu

Disclaimer: This article contains affiliate links. We may receive a small commission if you make a purchase through one of these links. Please read our Affiliate Disclosure for more information.
This is our pick of the 5 Best Surf Camps in Canggu.
Embark on an unforgettable surfing adventure in the vibrant coastal town of Canggu, Bali. Known for its stunning beaches, world-class waves, and laid-back atmosphere, Canggu offers a dream destination for surf enthusiasts of all levels. In this article, we will explore 5 exceptional surf camps in Canggu, each offering expert coaching, prime surf breaks, and an immersive surfing experience.
A surf camp in Canggu is the perfect gateway to discovering the joy of surfing or further refining your skills on the board. Whether you're a beginner eager to catch your first wave or an experienced surfer seeking to conquer challenging breaks, these camps provide a supportive and inspiring environment to embrace the thrill of surfing.
The Best Time of Year to Learn to Surf in Canggu
Canggu enjoys consistent surf conditions throughout the year, making it an ideal destination for surfers of all levels. However, the best time to learn to surf in Canggu is during the dry season, which runs from April to October. During this period, the waves are generally smaller and more manageable, offering an excellent opportunity for beginners to learn and progress comfortably.
The Best Surf Camps in Canggu
Join us as we explore these 5 exceptional surf camps in Canggu, where you can immerse yourself in the beauty of Bali's coastline, experience incredible waves, and become part of the vibrant surf community. Whether you're seeking professional coaching, a memorable surf camp adventure, or a chance to soak in the breathtaking scenery of Canggu, these camps offer the perfect blend of excitement, relaxation, and unforgettable surf memories.
Get ready to paddle out, feel the power of the waves, and discover the incredible surfing opportunities that await you in Canggu.
Pelan Pelan Surf Camp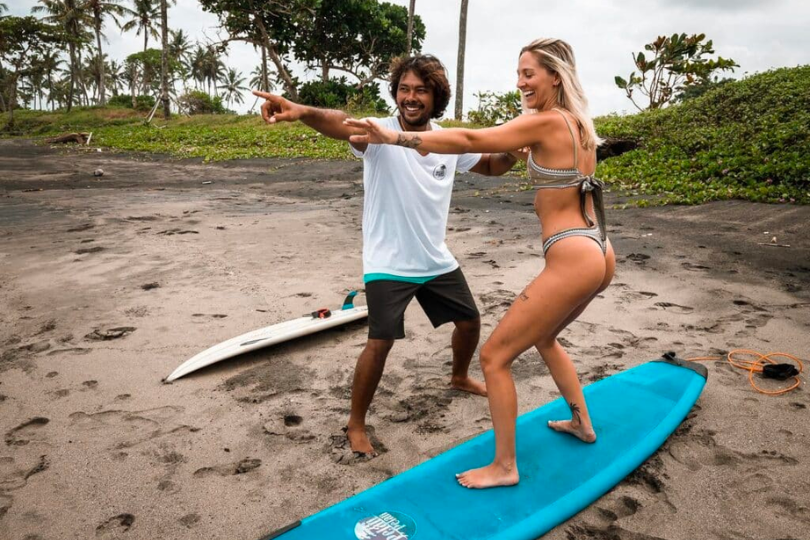 Pelan Pelan Surf Camp offers a comprehensive 8-day program that combines the thrill of surfing with the rejuvenation of yoga. Whether you're a solo traveler, a couple, or a group of friends, this camp caters to everyone. The surf lessons are tailored to your skill level, allowing you to progress at your own pace.
In addition to surf instruction, immerse yourself in daily yoga sessions that will help you find balance and strengthen your body. The camp also organizes exciting activities like traditional Balinese cooking classes and cultural excursions, allowing you to experience the local culture firsthand.
You can book an 8-day package with Pelan Pelan Surf Camp now starting from $864 per person.
In Da Surf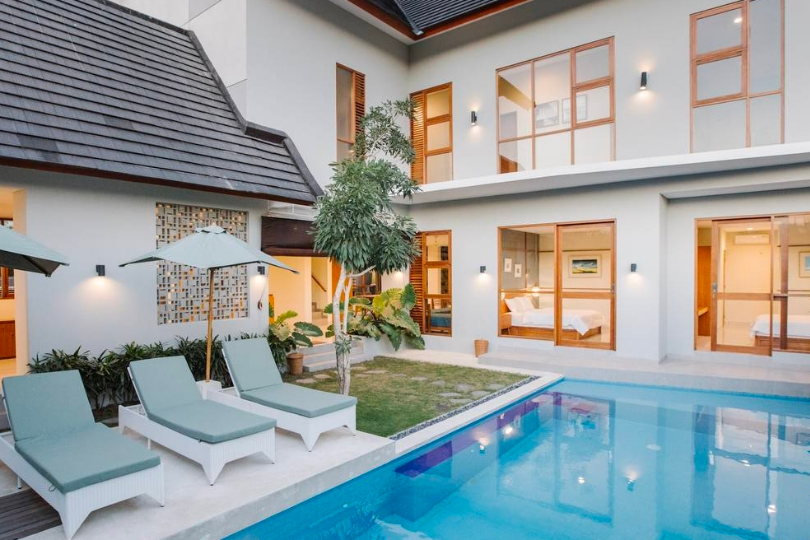 Nestled in the heart of Canggu, In Da Surf is a fantastic option for those seeking a comprehensive surf experience. This surf camp offers an 8-day program designed to cater to all skill levels, from beginners to advanced surfers. The camp provides personalized surf coaching, with experienced instructors guiding you through the fundamentals of surfing and helping you progress.
You'll have access to quality surf equipment throughout your stay. The comfortable accommodations and vibrant social atmosphere create a sense of community among fellow surfers, fostering friendships and unforgettable memories.
You can book an 8-day package with In Da Surf now starting from $476 per person.
Solid Surf and Yoga House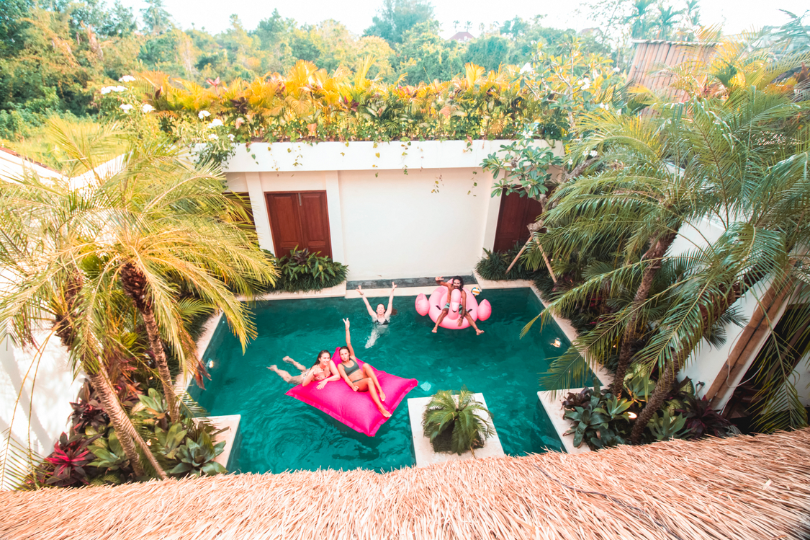 For those looking to combine the tranquility of yoga with the thrill of surfing, Solid Surf and Yoga House is the perfect choice. This surf camp offers a 7-day package that blends daily surf lessons with rejuvenating yoga sessions. Start your day with an invigorating yoga practice, followed by professional surf instruction in the pristine waters of Canggu.
The camp provides surfboards and equipment, ensuring you have everything you need for an incredible surf experience. The comfortable accommodation options cater to different preferences and budgets, and the camp's focus on holistic wellness creates a balanced and enriching surf retreat.
You can book a 7-day package with Solid Surf and Yoga House now starting from $530 per person.
Surf Yoga Bali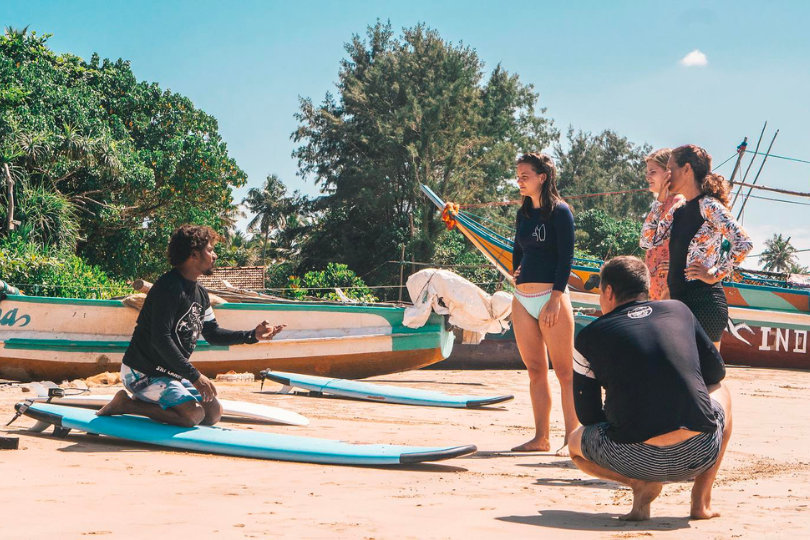 Surf Yoga Bali specializes in creating adventurous retreats that seamlessly blend the exhilaration of surfing with the serenity of yoga. Their 8-day program allows you to immerse yourself in both activities, offering a well-rounded experience. Enjoy daily surf lessons tailored to your skill level, complemented by energizing yoga sessions that help you find balance and flexibility.
The camp also organizes additional activities such as cultural excursions and local tours, allowing you to explore the wonders of Bali. With comfortable accommodations and a focus on providing an unforgettable adventure, Surf Yoga Bali is an excellent choice for those seeking a holistic surf camp experience.
You can book an 8-day package with Surf Yoga Bali now starting from $885 per person.
Serenity Eco Guesthouse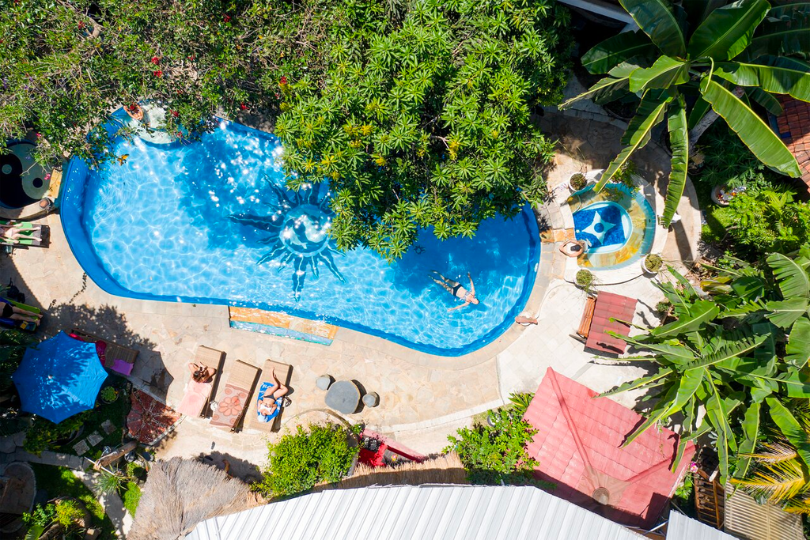 Serenity Eco Guesthouse offers a unique 4-day solo surf and yoga holiday in Bali. This camp caters to solo travelers looking to immerse themselves in the world of surfing and yoga. With personalized surf lessons, you'll receive one-on-one attention from experienced instructors, ensuring a tailored learning experience. The camp also offers rejuvenating yoga classes to help you find harmony and relaxation.
Serenity Eco Guesthouse provides comfortable accommodations and a peaceful environment, allowing you to unwind and connect with like-minded individuals. This surf camp is an ideal choice for solo adventurers seeking an enriching and fulfilling experience.
You can book a 4-day package with Serenity Eco Guesthouse now starting from $113 per person.
Surf Camps in Canggu
Embarking on a surf camp journey in Canggu, Bali, is an exhilarating opportunity to improve your surfing skills, connect with fellow surfers, and embrace the vibrant surf culture. Each of the highlighted surf camps offers a unique experience, blending surf instruction, accommodation, and additional activities to ensure an unforgettable surf adventure.
Choose the camp that resonates with your preferences and embark on an incredible journey to ride the waves in the tropical paradise of Canggu.
Enjoyed our guide to the 5 Best Surf Camps in Canggu? Be sure to check out our Guide to the Best Surf Camps in Bali here.