5 of the Best Surf Camps in Hawaii

Disclaimer: This article contains affiliate links. We may receive a small commission if you make a purchase through one of these links. Please read our Affiliate Disclosure for more information.
This is our pick of the 5 Best Surf Camps in Hawaii.
Learning to surf in Hawaii is an experience like no other. Not only can you find some of the best waves in the world, but you can also learn from experienced surfers who know all the secrets for riding them. The vibe at Hawaiian beaches and their warm water make for a truly unique learning environment that cannot be found anywhere else.
From Kauai to Big Island, wherever your surfing path takes you, the stunning views and tropical atmosphere will captivate you and keep you enthralled throughout your journey.
The Best Surf Camps in Hawaii
Whether you want to camp on the North Shore or stay in a luxurious resort at Waikiki, here are 5 of the best surf camps in Hawaii that offer all levels of instruction.
Go Nuts Hawaii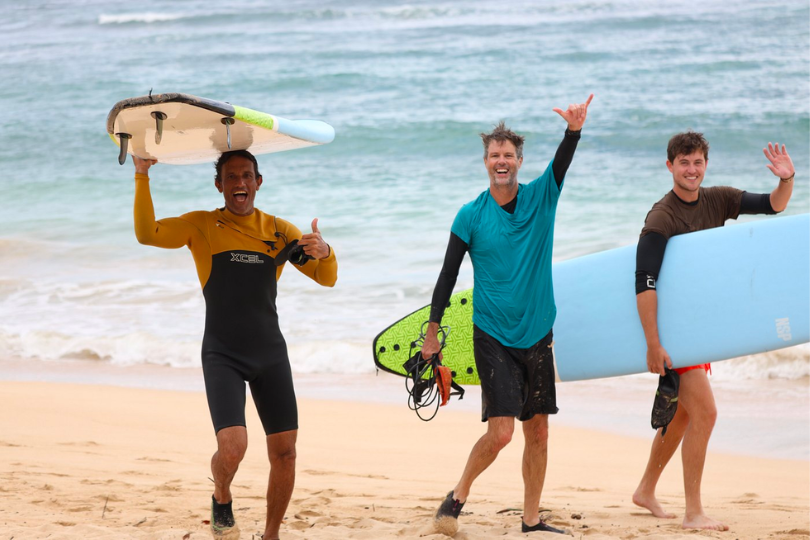 First on our list of the best surf camps in Hawaii is Go Nuts Hawaii.
Experience a surfer's dream with Go Nuts Hawaii Surf Camp, set on the famed North Shore of Oahu.
The 1-week surf camp with Go Nuts Hawaii includes everything you need to learn the basics of surfing, starting with daily lessons and equipment hire, as well as all meals and airport transfers. You'll stay in a traditional Hawaiian house nearby V-land beach – one of the most iconic, experienced surf spots in the world – putting you right at the heart of the action.
Perfect for beginners looking to make friends with other budding wave riders, this is an absolute must for those who want to explore Hawaii's stellar surf scene.
You can book a 1-week package with Go Nuts Hawaii now starting from $3995 per person.
Pata Sudaka Surf Camp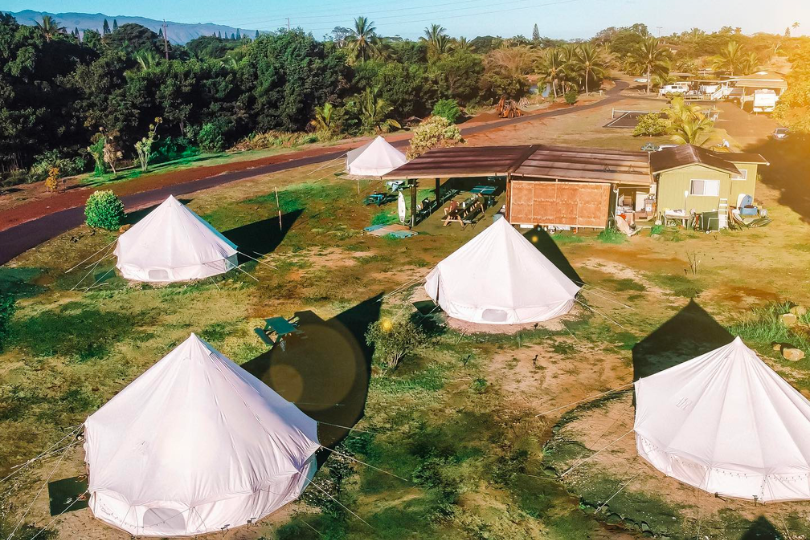 Escape to enchanting Hawaii with Pata Sudaka Surf Camp.
Located on the beautiful North Shore of Oahu, this 1-week surf camp experience is full of adventure and relaxation. Enjoy daily surf lessons, take part in the daily yoga classes, and join in on guided hikes around the island – there's something for everyone.
When night draws in, settle into the luxury glamping campsite, located 5 minutes away from Haleiwa. Unwind with a hammock, delight in delicious healthy meals or practice yoga out in the open air surrounded by tropical palms while you wait for your next day of surfing. With their small group settings, you'll make lifelong memories as you carve away all your worries with other like-minded people.
Don't miss out on this unforgettable opportunity – book your trip with Pata Sudaka today.
You can book a 1-week package with Pata Sudaka Surf Camp now starting from $2850 per person.
Haleiwa Surf and Yoga Retreats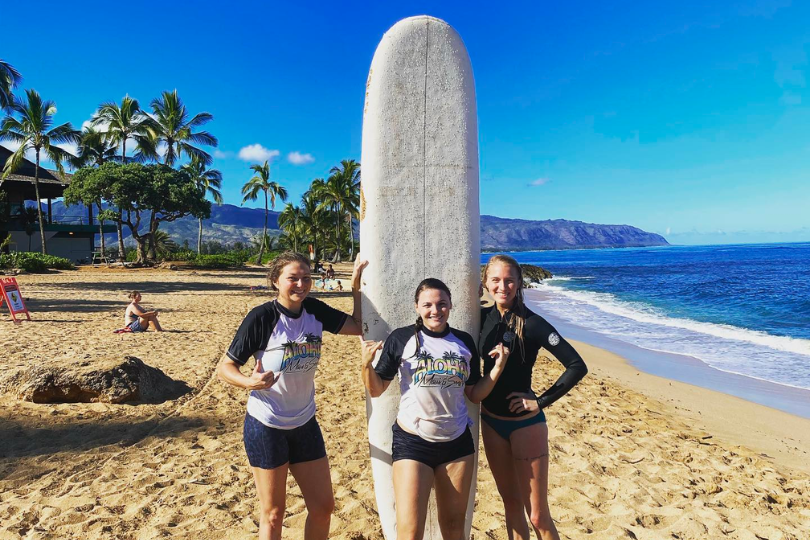 Immerse yourself in the ultimate surf and yoga experience with Haleiwa Surf and Yoga Retreats on the picturesque North Shore of Oahu.
The 5-day retreat includes daily surf lessons, yoga classes, board and wetsuit hire, airport transfers and 4 nights' accommodation in a traditional Hawaiin two-bedroom home – perfect for those seeking to escape the hustle and bustle.
With a maximum of 3 guests at a time, you'll be given personalised and undivided attention from your instructor. What's more, you'll also have access to cruiser bikes to explore charming beaches, eateries and stores only a short ride away.
Get ready to shred some waves while finding your inner peace at Haleiwa Surf and Yoga Retreats.
You can book a 5-day package with Haleiwa Surf and Yoga Retreats now starting from $1750 per person.
Maui Surf and Soul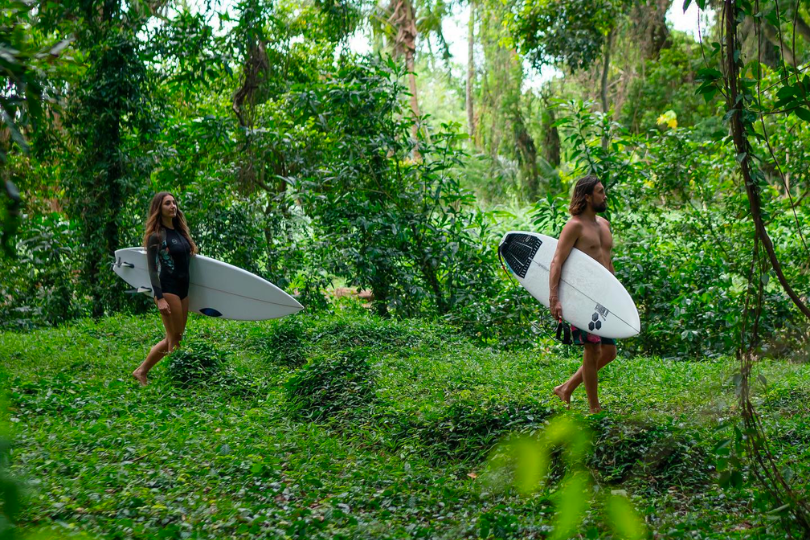 Maui Surf and Soul, located on the beautiful island of Maui in Hawaii, offers guests a unique couples experience.
Their special 7-day surf and yoga camp offers an unforgettable holistic adventure for two. You and your partner will receive daily surf lessons, beach yoga and meditation classes, as well as access to board and wet suit hire. Even better, your experience includes meals and accommodation in a private cottage with beautiful ocean views.
Through activities such as hiking, sound healing, heart-opening cacao ceremonies and couples tantric coaching, you'll get the chance to deepen your connection with yourself and your partner. It's the perfect romantic escape for an adventurous couple.
You can book a 1-week package with Maui Surf and Soul now starting from $4888 per couple.
Outrigger Waikiki Beachcomber Hotel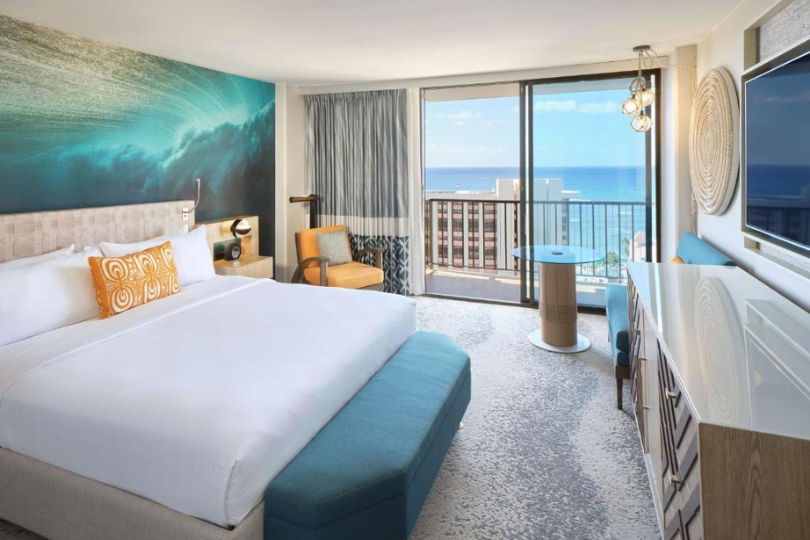 For a more relaxed and luxurious stay, the Outrigger Waikiki Beachcomber Hotel is your go-to destination in Hawaii.
Located right by the iconic Waikiki Beach, the Outrigger Waikiki Beachcomber Hotel is a modern paradise for surfers looking to start their day with the waves. Its contemporary rooms feature cozy tropical accents and come equipped with luxurious flatscreen TVs, complimentary wi-fi, balconies, minifridges and coffeemakers.
With direct beach access, you can rent a board from the resort and head out whenever it takes your fancy. For those after some professional instruction, Faith Surf School can provide daily lessons and equipment hire right on-site.
When you plan on taking a break from the waves, there's plenty to keep you occupied – from a beachfront eatery to an outdoor pool, you're sure to find something that suits your needs.
You can book a room at Outrigger Waikiki Beachcomber Hotel now starting from $328 per night.
5 of the Best Surf Camps in Hawaii
Hawaii is a surfer's paradise, offering an array of amazing surf camps for all levels and interests. Whether you're looking to learn the basics with Faith Surf School at Outrigger Waikiki Beach Resort or are seeking something more adventurous like Haleiwa Surf and Yoga Retreats on Oahu's North Shore, these 5 options provide unique experiences that will make your Hawaiian holiday even more special.
Each camp has its own charm and atmosphere – so no matter which one you choose, you're sure to create memories that will last a lifetime. With Hawaii's stunning scenery, perfect waves, and friendly locals, there really isn't any other destination quite like it in the world.