6 of the Best Surf Hotels in Waikiki

Disclaimer: This article contains affiliate links. We may receive a small commission if you make a purchase through one of these links. Please read our Affiliate Disclosure for more information.
This is our pick of the 6 Best Surf Hotels in Waikiki.
When it comes to finding the perfect surf hotel, Waikiki is hard to beat. Whether you're an experienced surfer or just starting out, there are plenty of great places to stay that offer easy access to some of the best waves in the world.
From luxury resorts with all the amenities to budget-friendly hotels close to local hotspots, this article will provide you with our selection of the 6 Best Surf Hotels in Waikiki so that you can have a truly unforgettable surf experience.
The Best Hotels for Surfers in Waikiki
When it comes to amazing surf hotels in Waikiki, nothing beats these 6 top-rated gems:
The Surfjack Hotel & Swim Club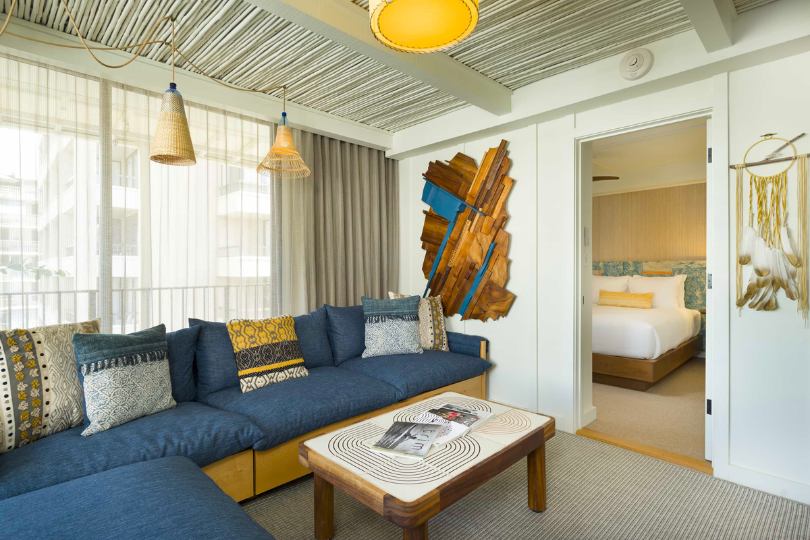 The Surfjack Hotel & Swim Club is the perfect choice for travelers looking to make the most of Waikiki's epic surfing scene. Located a convenient 10-minute walk from the beach, this contemporary hotel features private balconies and modern island decor. Rooms also come with all the amenities you'd expect, such as flat-screen televisions, Wi-Fi, minifridges, and designer toiletries.
Not to mention its accompanying renowned restaurant, boutique store, outdoor pool cabanas and luxe cocktail bar that can offer reinvigorating snacks and poolside movies. The resort fee also includes access to board games and towel rentals as well as your daily coffee.
Plus, the friendly front desk staff can organize surf lessons and help you find your ideal longboard for gliding around Waikiki's crystalline waters.
You can book a room at Surfjack Hotel & Swim Club now starting from $220 a night.
White Sands Hotel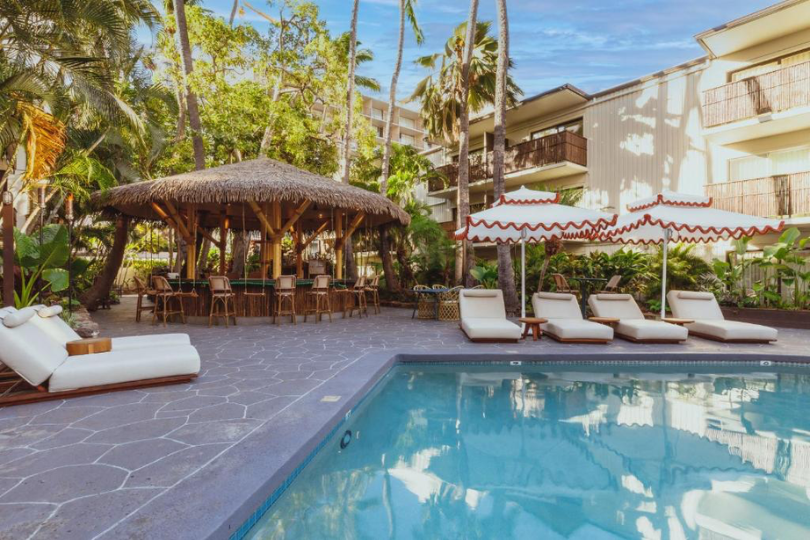 A renowned spot for surfers, the White Sands Hotel is a popular pick for beach-lovers on a budget. Just 7 minutes away from the blissful Waikiki Beach, visitors can take advantage of this oasis's convenient location to experience the waves up close. Unfussy rooms feature private balconies and 37-inch flat-screen TVs, complete with microwaves and minifridges to store snacks. The hotel also features an outdoor pool and BBQ set in a tropical courtyard for guests' pleasure.
Those wishing to get out on the water can arrange surf lessons as well as board rentals from the helpful front desk.
If you're searching for some seaside fun without breaking the bank, White Sands Hotel is your go-to destination in Honolulu.
You can book a room at White Sands Hotel now starting from $232 a night.
Kaimana Beach Hotel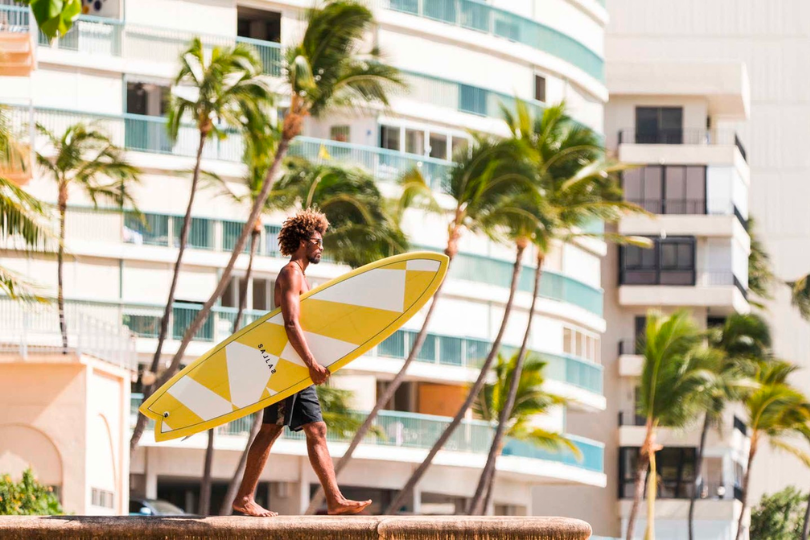 Kaimana Beach Hotel is the perfect destination for surfers looking to escape the crowds of Waikiki. Located right on Kaimana Beach, this boutique hotel offers everything a surfer needs for a beach getaway.
Rooms come with modern amenities like flat-screen TVs and free Wi-Fi, while upgraded rooms have sitting areas and gorgeous views of the ocean. What's more, the hotel has three restaurants, a fitness center, and direct beach access complete with complimentary beach towels.
And to make sure that you are catching the perfect waves, Kaimana Beach Hotel work with the nearby Kaimana Beach Surf Shop to give access to surf lessons and board rentals that cater to all levels of surfers. Whether it's your first surfing experience or your hundredth, this beachfront paradise is sure to give you an unforgettable stay in sunny Hawaii.
You can book a room at Kaimana Beach Hotel now starting from $289 a night.
Outrigger Waikiki Beachcomber Hotel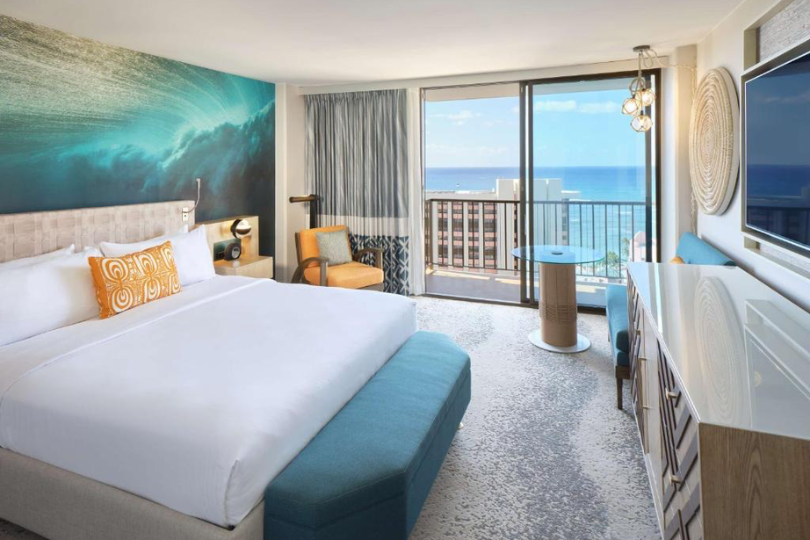 Located right by the iconic Waikiki Beach, the Outrigger Waikiki Beachcomber Hotel is a modern paradise for surfers looking to start their day with the waves. Its contemporary rooms feature cozy tropical accents and come equipped with luxurious flatscreen TVs, complimentary wi-fi, balconies, minifridges and coffeemakers.
There's an inviting Hawaiian restaurant as well as a fitness center, outdoor pool and access to surf lessons and board rentals organised by Faith Surf School – giving you everything you need for an unforgettable beach holiday.
You can book a room at Outrigger Waikiki Beachcomber Hotel now starting from $328 a night.
The Laylow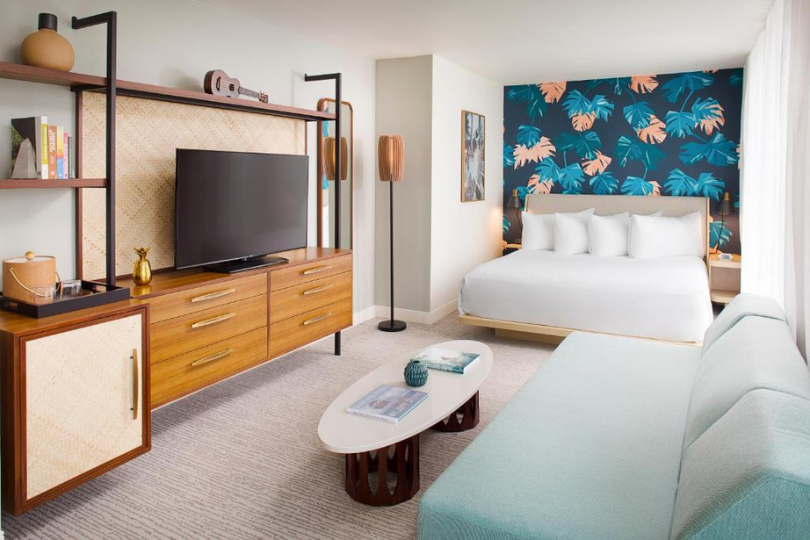 For the modern surfer, The Laylow Hotel in Waikiki is a stylish tour-de-force of mid-century design fused with island influences and located a mere 6-minute walk from Waikiki Beach. Enjoy airy rooms with balconies, tropical accents, and flat-screen TVs, plus upgraded rooms with breathtaking ocean views and pull-out sofas.
Amenities include a Hawaiian restaurant and bar, a coffee bar, an outdoor pool surrounded by lush landscaping, and a fitness room. Whether enjoying surf lessons or board rentals organized by the helpful front desk team, The Laylow is simply ideal for the low-key beach vacationer in need of sun and waves.
You can book a room at The Laylow Hotel now starting from $395 a night.
Alohilani Resort Waikiki Beach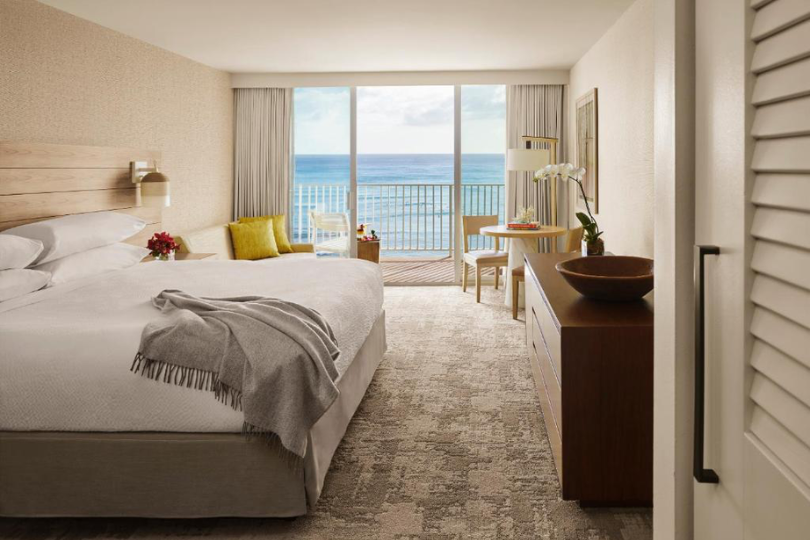 Located just steps away from world-renowned Waikiki Beach, Alohilani Resort offers modern luxury for the most fashionable of surfers. Featuring airy rooms and suites with private balconies, flat-screen TVs, minifridges, and tea and coffee making facilities, many also have stunning views of the ocean. Dining options are plentiful with two Asian restaurants, in addition to two bars and a relaxed eatery.
To help you make the most of your stay, the resort also provides an outdoor pool, a fitness center, tennis courts, and batting cages.
Surf lessons can be arranged with their partners at Massimo Sport Hawaii while board rentals are available onsite – everything you need for your perfect beach getaway.
You can book a room at Alohilani Resort now starting from $381 a night.
Waikiki Surf Hotels
Waikiki Beach offers something for everyone, from budget-friendly options to luxury resorts. Whether you're looking for an unpretentious spot with a private balcony or you want the full experience of a resort complete with surf lessons and board rentals, there are plenty of hotels in Waikiki that can meet your needs.
So if you're ready to catch some waves, these Waikiki Surf Hotels should provide everything necessary for getting out on the water and enjoying one of Hawaii's most iconic beaches.