Surfing Siargao in The Philippines

Disclaimer: This article contains affiliate links. We may receive a small commission if you make a purchase through one of these links. Please read our Affiliate Disclosure for more information.
Thinking about surfing Siargao in The Philippines?
This is our complete surf travel guide. Read for everything you need to know about surfing in Siargao.
Surfing in The Philippines is building a stellar reputation, and quickly becoming a go-to surf trip destination. The country consists of over 7,000 islands. Each one with crystal clear waters, white sand beaches, and more palms trees than you can count. So, it is no wonder that more and more tourists are flocking here every year.
Among those thousands of islands, is the small and unassuming island of Siargao, considered to be the surfing capital of The Philippines. It's incredible scenery, awesome waves and laidback surfer vibes, make it an instant favorite with anyone who visits.
Siargao Travel Essentials
Siargao has a small domestic airport with flights going in and out daily. However, if you're coming from outside of The Philippines, you'll first need to fly into either Manila or Cebu. These are the largest international airports in The Philippines. Once you arrive at either of these destinations, it's easy to catch a connecting flight to Siargao using airlines such as Cebu Pacific or Philippine Airlines.
The local currency is The Philippine Peso (php). 50php is equivalent to approximately $1. It's recommended that you exchange as much cash as possible before you arrive in Siargao. Exchange rates can be high and there are only three ATMs on the island, all located in Dapa, approximately 40 minutes away from the main tourist area. The ATMs are also known to frequently be out of service.
In The Philippines, the local language is Filipino or Tagalog, but English is widely spoken as most of the locals are first exposed to the English language in primary school.
When it comes to getting around the island, the most common method of transport is a habal-habal. The best way to explain a habal-habal is a long motorcycle where up to 3 people can hop on behind the driver. This is by far the cheapest way to get around, with short trips costing 20php ($0.5) per person.
You can also rent your own scooter for around 500php ($10) a day, which is a great way to get around and see the island for yourself. You can rent a car, but this can be quite expensive at 2500php ($50) a day.
Siargao Surf Season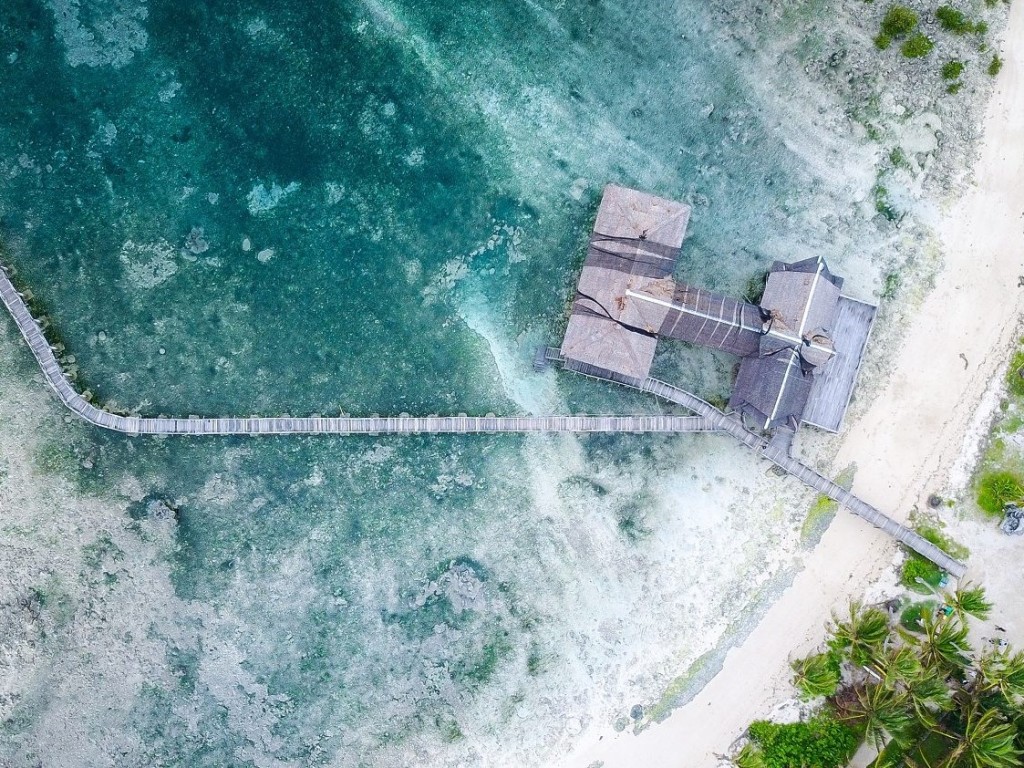 The best time for surfing Siargao is between September and March. Surf conditions are at their peak in September and October, when the Cloud 9 Surfing Cup takes place. But keep in mind, as the season moves into November, Siargao begins its rainy season. So whilst the swell is good in the winter months, there can be long periods of rain.
Conditions are completely flat May through to July, so do your best to avoid visiting in the summer months.
Surf Spots Siargao
As the "Surfing Capital of the Philippines," Siargao is home to some of the best waves in the world. With around a dozen surf spots to choose from, there's something for everyone.
The famous Cloud 9 can be a challenge for beginners, but advanced surfers will have a great time here. Probably the most popular surf spot in Siargao, the high reef break creates amazing barrels, and the waves are usually at least chest-high. There are several national and international surf competitions held here every year, but be warned, it can get pretty crowded.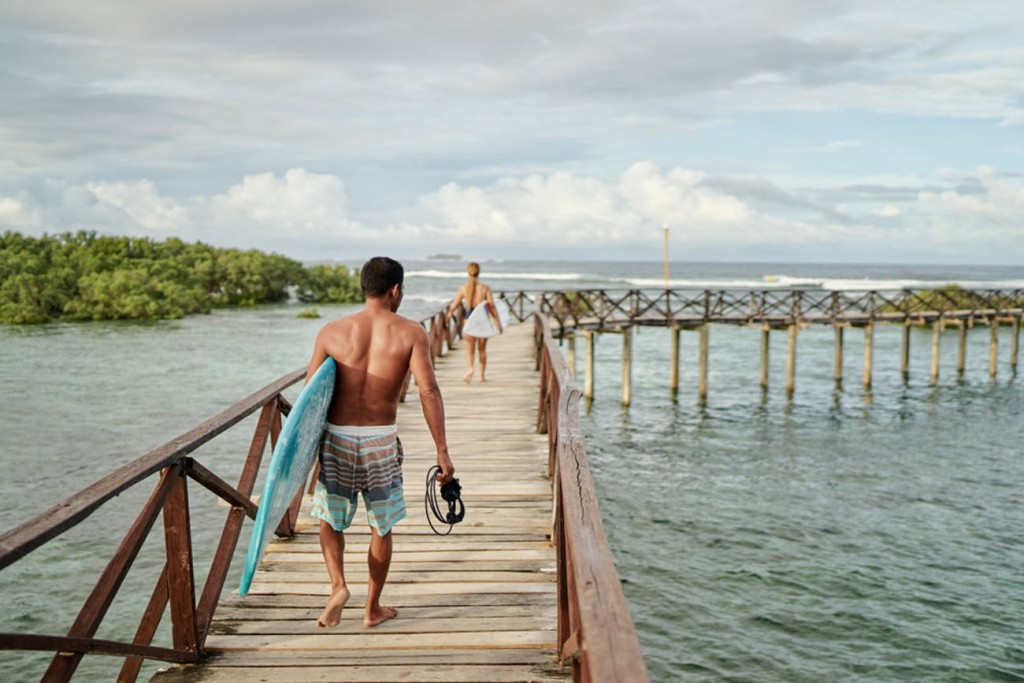 During peak season, the waves can be double overhead at Quicksilver. It is fast, but if you are quick enough, you can definitely get barrelled here. Not recommended for beginners. It can get crowded, especially during the peak surfing season.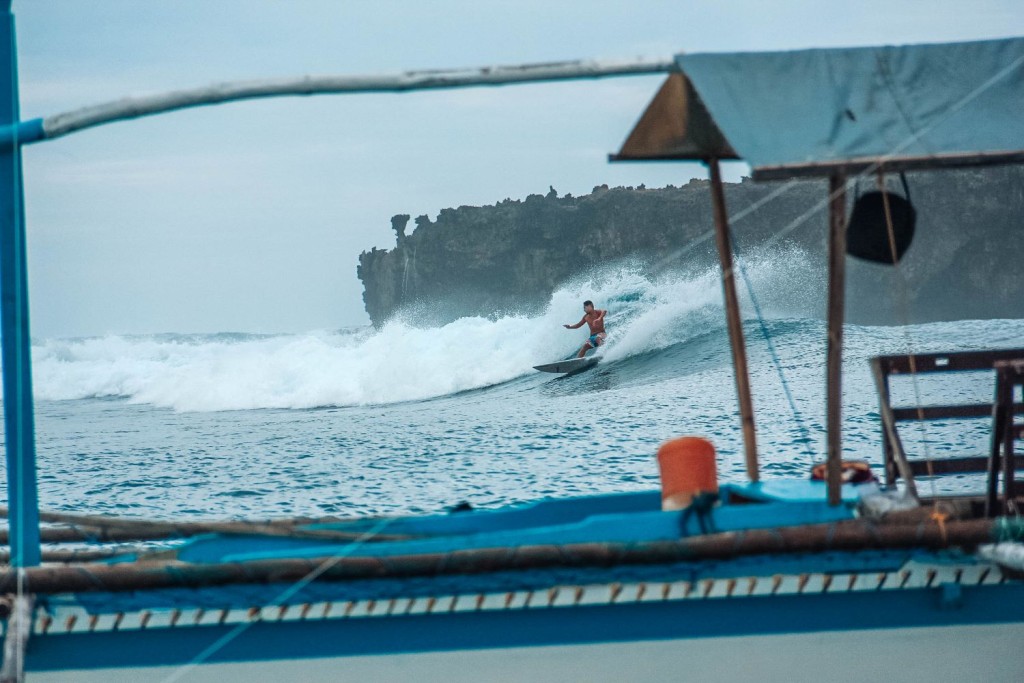 Stimpy's is considered to be one of the best and longest lefts in the world. A left-hander that is exploding on a shallow reef, it can have amazing barrels at low tide, although the swell is usually big enough at high tide too. You can get a 15 to 25 seconds ride here with ease, and you'll get an aerial view of the reef underneath the surface of the water.
At Rock Island, you'll find a soft-peeling right, it can hold double overhead, and it is great at low tide. The spot is not as crowded as others and is perfect for beginners learning their first turns.
Another great spot for beginners and improvers is Daku Reef. It can get quite crowded, but the spot offers consistent shoulder high waves and light winds, perfect for learning to surf.
Surf Camps in Siargao
There are accommodation options to suit all budgets in Siargao, from $10 a night hostels, to $200 a night villas. 99% of the surf camps in Siargao are located in General Luna. This is where you'll find the more popular surf spots like Cloud 9 and the tourist shops and restaurants.
If you're on a budget, The Avocado Tree Hostel in General Luna offers surfers a place to stay just 5 minutes from the world-renowned Cloud 9 surfing area. At $15 a night, it's also exceptional value.
Another popular option for surfers who don't mind sharing their space is the I Love Siargao Hostel. Just 5 minutes from the beach, you can expect super cozy accommodation and unlimited good vibes whilst surfing Siargao for just $12 a night.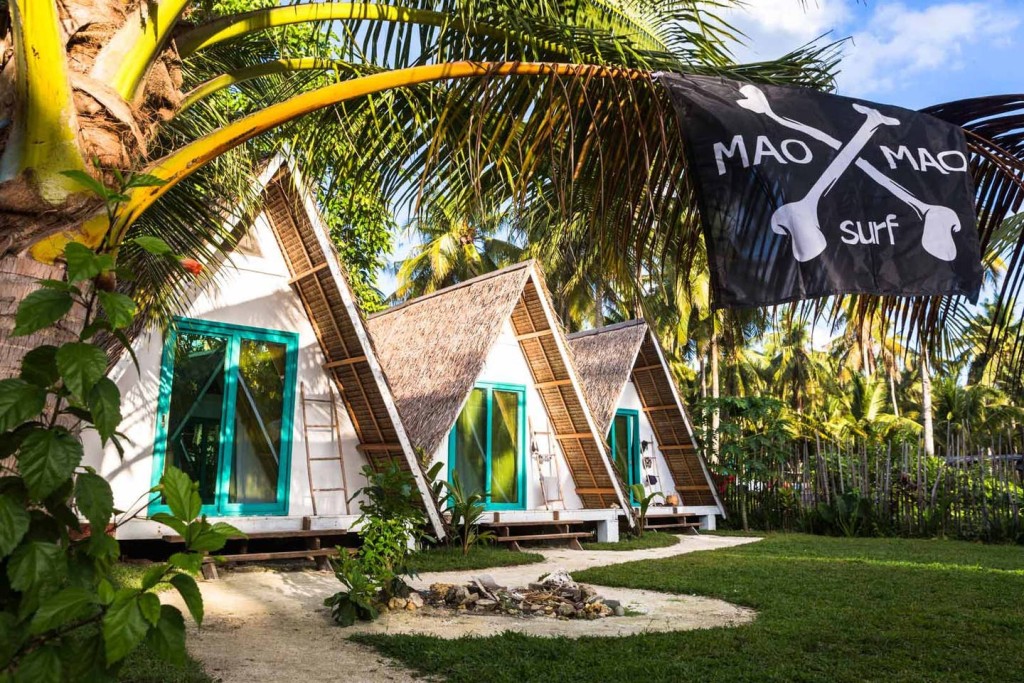 For something more private, there's a number of mid-priced boutique hotels dotted around. Mao Mao Siargao offers guests tiki-style huts right on the beach from $47 a night. And, well placed on the beachfront in General Luna, Lampara Siargao offers its guests a unique glamping experience from $52 a night.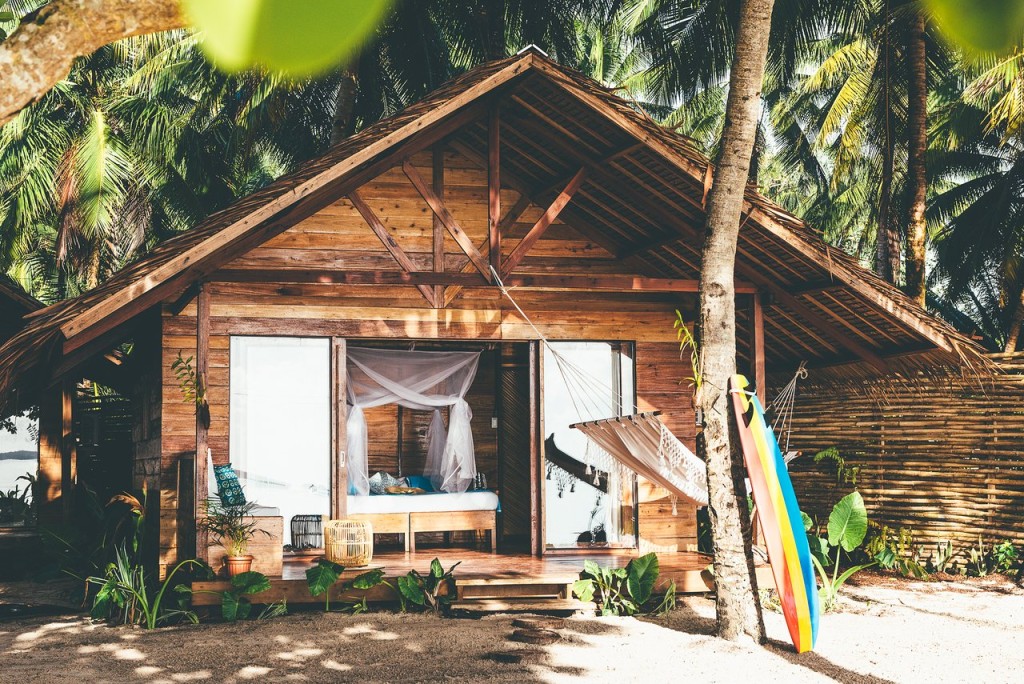 If you can stretch your budget a bit further, Soul Tribe Beach Retreat is worth looking at. The secluded resort is made up of six luxurious beach cabanas, each looking right out onto the surf. You can snap up a cabana here for $118 a night.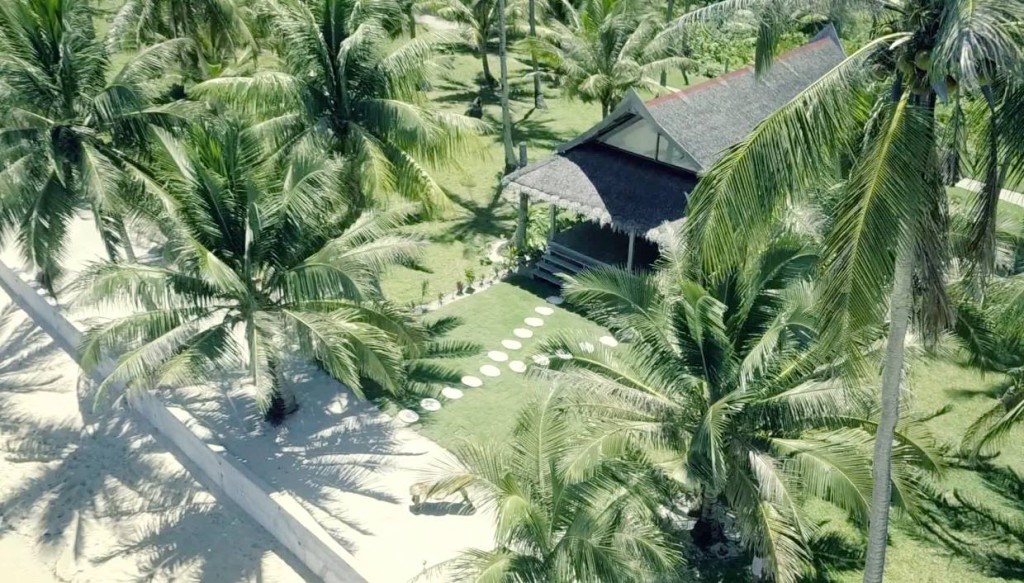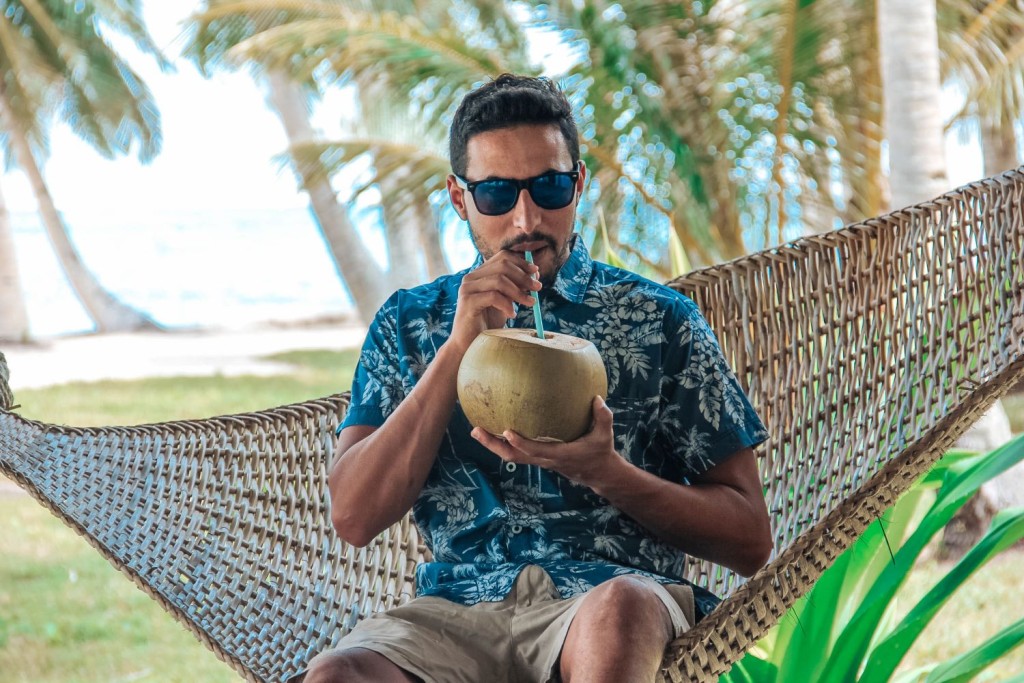 Finally, away from the hustle and bustle of General Luna, you'll find Makulay Resort, a small collection of luxury villas starting from $148 a night in the village of Santa Fe. You can expect complete tranquillity here as there's not much around, perfect for couples and those seeking authentic island vibes whilst surfing Siargao.
Also read: 6 of The Best Surf Camps in Siargao
Surf Lessons in Siargao
If you want to learn how to surf, Siargao is a great place to do it. There are plenty of surf schools on the island, and you can easily find an instructor through your hotel if you don't want to go out and find one on your own. At most hotels and surf shops in General Luna, you'll find lessons typically run from around 500php ($10) for an hour including board rental.
This video from Jojo Aquino gives great insight into getting surf lessons on Siargao island :
Surfboard Rentals in Siargao
If you need to rent surfing gear, there are plenty of surf shops to choose from. Viento Del Mar offers a 10% discount if you make a reservation for a surfboard online. Fat Lips shop has over 100 boards to choose from, starting from 350php ($7) a day. The awesome thing about Fat Lips? You can change your board as often as you'd like with any other board from the shop, without paying anything extra.
Where to eat in Siargao
You are spoilt for choice when it comes to restaurants in Siargao. You can find anything you want from tacos to organic almond milk lattes. Kermit, one of the most popular restaurants on the island, has been featured in countless blogs and magazines, mainly down to its incredible pizza.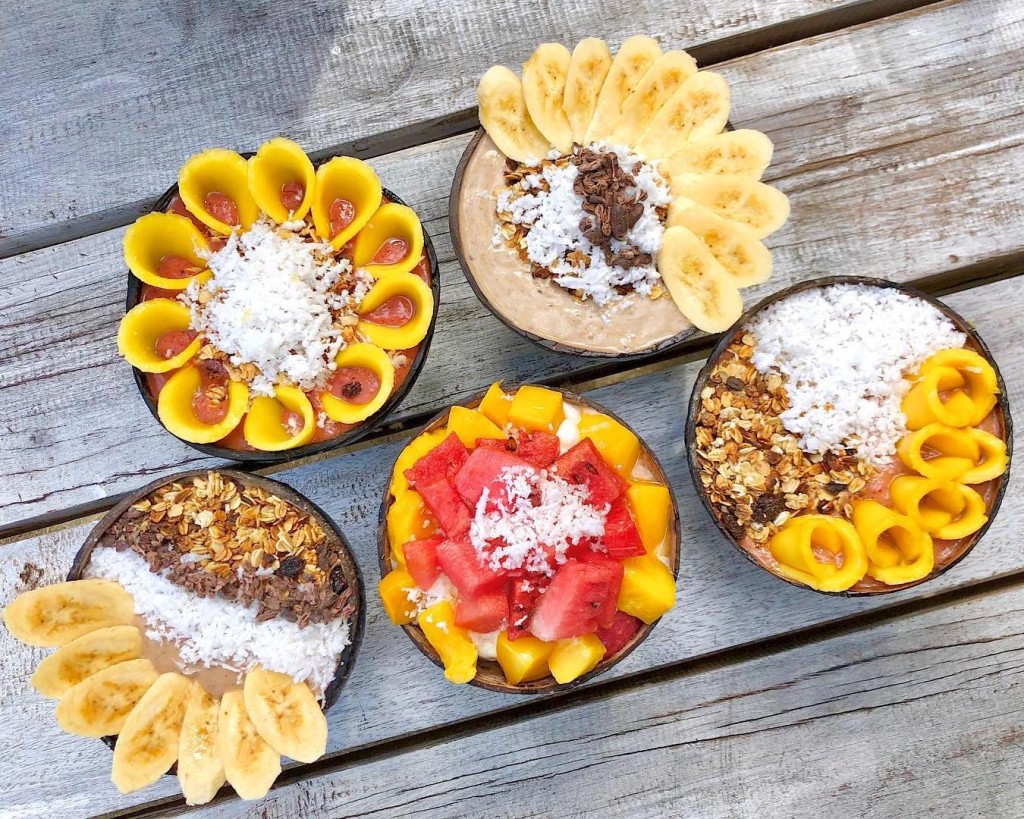 Shaka Siargao is known for its amazing smoothie bowls and dairy-free coffees. It's almost impossible not to share your order on Instagram. The small restaurant also offers up some great vegan and vegetarian options. Come here for the laid back vibes and friendly staff.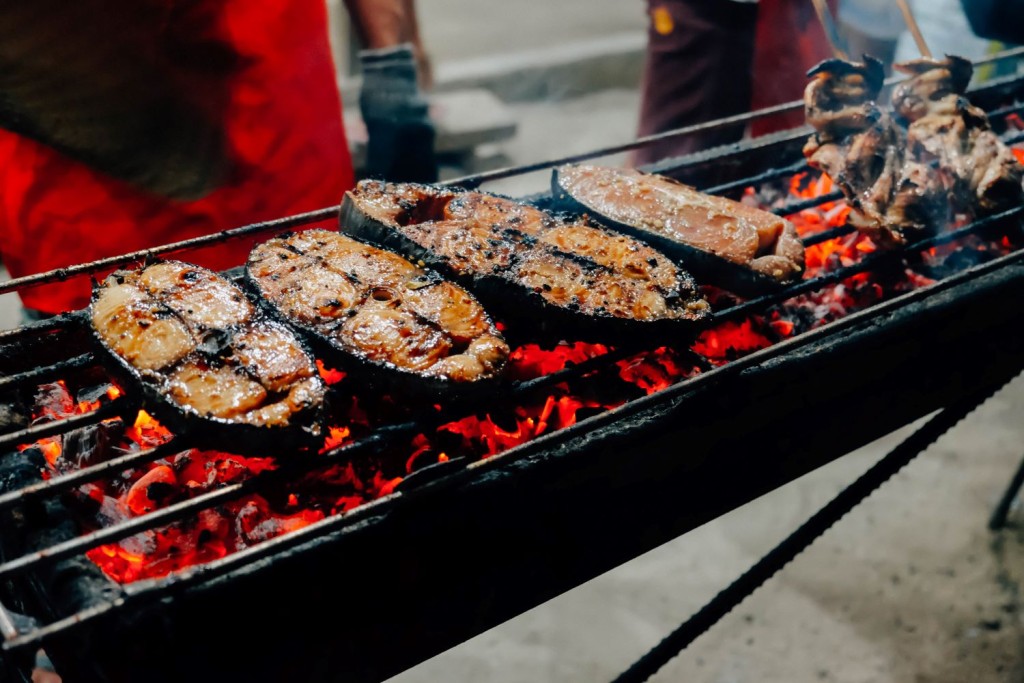 For a hearty dinner after a long day surfing, head to Mama's Grill. The open-air BBQ is an institution in General Luna. Here, you will find any grilled meat dish you can think of, as well as some tasty vegetarian options.
CEV Ceviche and Kinilaw offers excellent Philippino food, as well as plenty of international fast food options. You can enjoy a relaxed lunch here with a delicious meal and refreshing lemonade.
Other Activities in Siargao
There is so much more to do than just surfing Siargao. The island has some incredible sights, and as it only takes an hour to get from one side to the other, you can easily see it all in one trip.
First up is Sugba Lagoon. This place really has to be seen to be believed. It is a collection of crystal clear turquoise pools surrounded by mountains, just over an hour away from General Luna. You can spend the day here swimming in the lagoon, swan diving from the pontoon diving board, or exploring the area on a paddle board. You can book an organized tour to the lagoon for around 2000php ($40) per person.
Another sight not to be missed is the Mapupungko Rock Pools, a collection of naturally occurring tide pools, around 45 minutes north of General Luna. Do keep in mind that you can only visit at low tide, so plan your trip well and make sure you arrive in enough time to enjoy the pools. Make a day of it and visit both Sugba Lagoon and the Mapupungka Rock Pools on this local tour for $85 per person.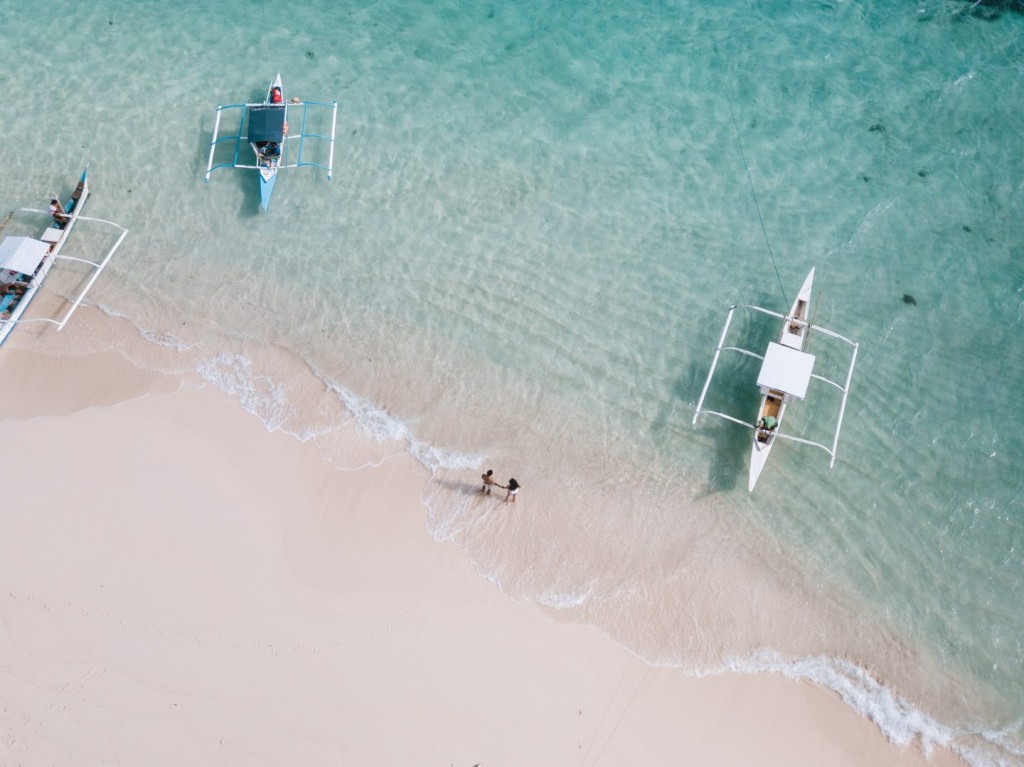 And no need to stay in Siargao, you can visit the neighboring islands on an island hopping tour. Most hotels offer island hopping as an add-on to your package so you can organize it with them directly. Or, if you prefer, you can book a tour with one of the local excursion companies around General Luna. Typically, on the tour you'll visit three islands; Naked island, Daku island & Guyam island. Prices vary depending on the hotel, but Kermit Surf Resort offers this excursion for 1000php ($20) per person including all transportation, drinks, and an island-style beach BBQ.
Enjoyed our Complete Guide to Surfing Siargao? Take a look at our other Surf Travel Guides here.