A Complete Guide to Surfing California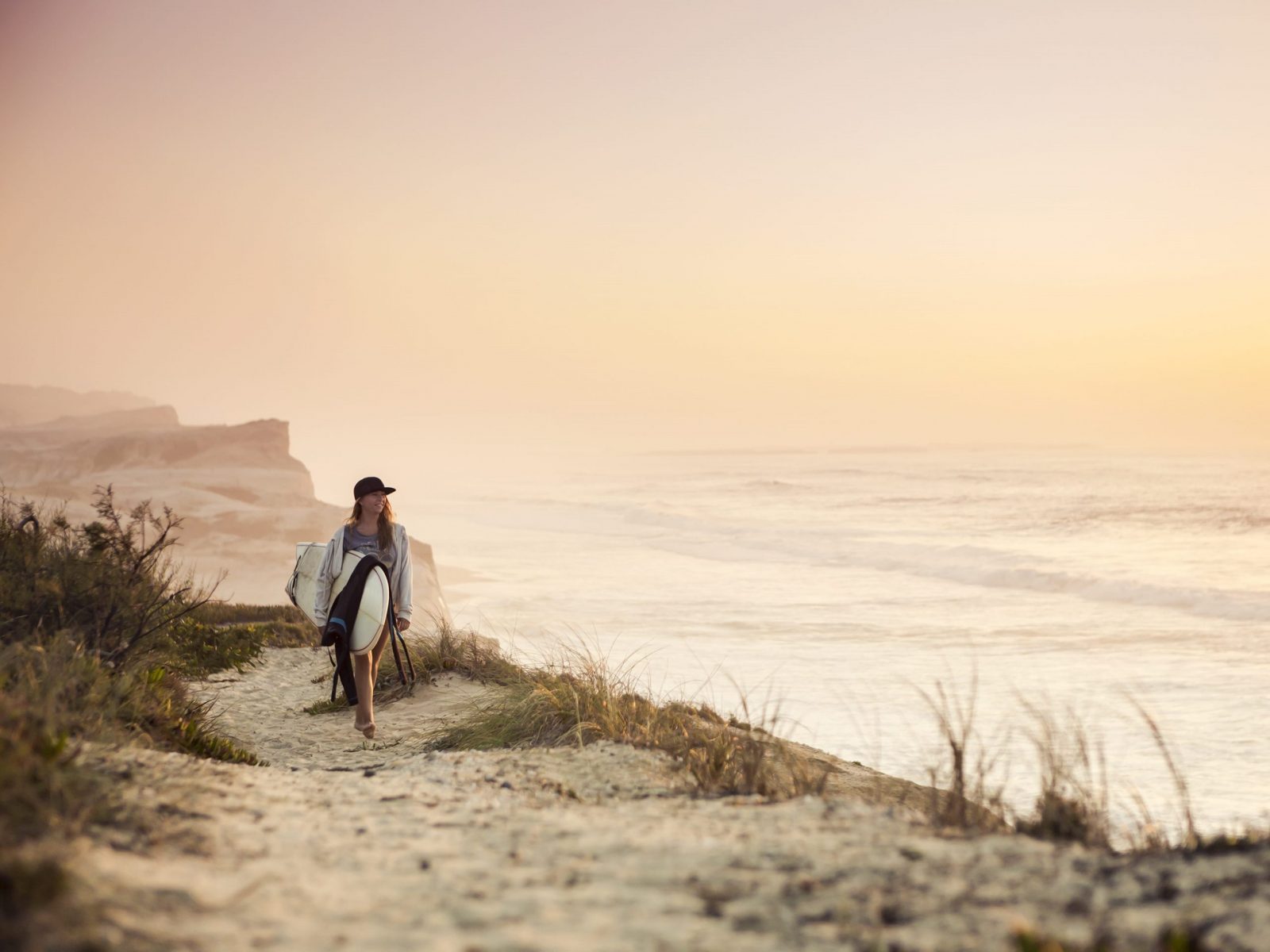 Disclaimer: This article contains affiliate links. We may receive a small commission if you make a purchase through one of these links. Please read our Affiliate Disclosure for more information.
Thinking about surfing California?
This is our complete surf travel guide. Read for everything you need to know about surfing California.
The sunshine stretch of 900 miles spanning from San Francisco to San Diego is best known as the golden state of California. The third-largest state in America is also one of the most famous for a number of reasons; Hollywood, Alcatraz, Disneyland, the Golden Gate Bridge, and of course, miles of pristine beaches with delicious waves.
It's no surprise then, that the home of skateboarding, the X-Games and Kelly Slater, is a mecca for action sports enthusiasts, including surfers.
So let's get into it!
Here's our Complete Guide to Surfing California.
What is the best time of year for surfing California?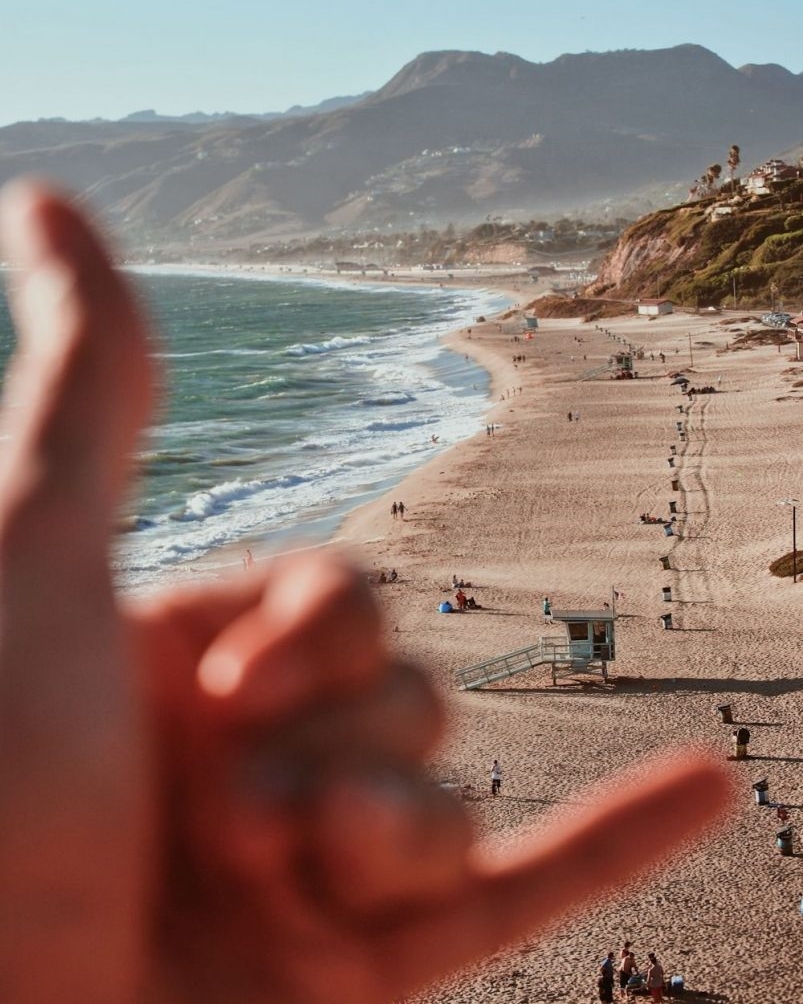 The best time of year for surfing in California depends on your skill level and personal preferences, as well as the specific surf spots you plan to visit. California offers surfable waves year-round, but the quality and size of the waves can vary greatly by season and location. Here's a general breakdown of the surfing seasons in California:
Fall (September to November):
Fall is often considered the best time for surfing in California. The water is still warm from the summer, and the swells become more consistent and powerful.
Southern California, including spots like Trestles and Malibu, tends to see larger swells generated by Southern Hemisphere storms during the fall.
Northern California also experiences good surf in the fall, with more frequent swells and offshore winds.
Winter (December to February):
Winter brings some of the biggest waves to California, especially along the Central and Northern coasts.
Mavericks in Northern California is known for its massive waves, but it's only suitable for experienced big wave surfers.
Southern California can have some good winter surf too, but the water is colder, and the waves can be more challenging.
Spring (March to May):
Spring offers a mix of conditions. In Southern California, the water starts warming up again, and there can be good swells.
Northern California can still see sizable waves in the early spring.
Summer (June to August):
Summer is generally the most popular time for tourists, but it's not always the best for surfing. The waves are typically smaller and less consistent during the summer months.
Beginners and longboarders may enjoy the calmer conditions, but experienced surfers may prefer other seasons for more substantial waves.
Keep in mind that California's coastline is extensive and diverse, so conditions can vary significantly from one region to another. Local knowledge is crucial for finding the best surf spots at any given time. Additionally, water temperature can vary greatly between Northern and Southern California, so you may need a wetsuit, especially in the colder months.
The Best Surf Towns in California
California has several coastal towns and cities that are known for their vibrant surf culture and proximity to great surf spots. These towns offer a mix of excellent waves, surf shops, laid-back atmospheres, and a strong sense of community among surfers.
To cover this expansive destination, we've carved it into three main areas; Northern California, Central California, and Southern California (SoCal).
Northern California
Along the rugged West Coast of Northern California, you'll discover a variety of surf spots. Areas such as Santa Cruz, Pacifica, and Half Moon Bay are renowned for their excellent waves. These are some of the most popular destinations for surfing in Northern California and cater to surfers of all levels.
Pacifica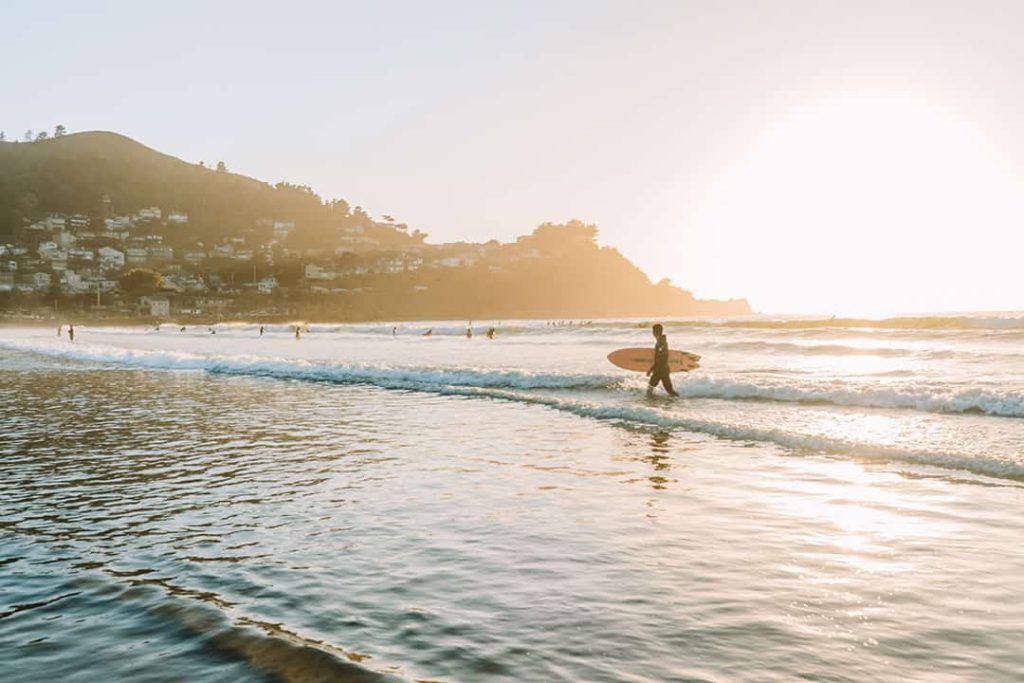 Located just south of San Francisco, Pacifica is known for its consistent surf. Linda Mar Beach is a popular spot that caters to both beginners and experienced surfers. The town's proximity to the Bay Area makes it a convenient destination for city dwellers seeking waves and a beachside escape.
Half Moon Bay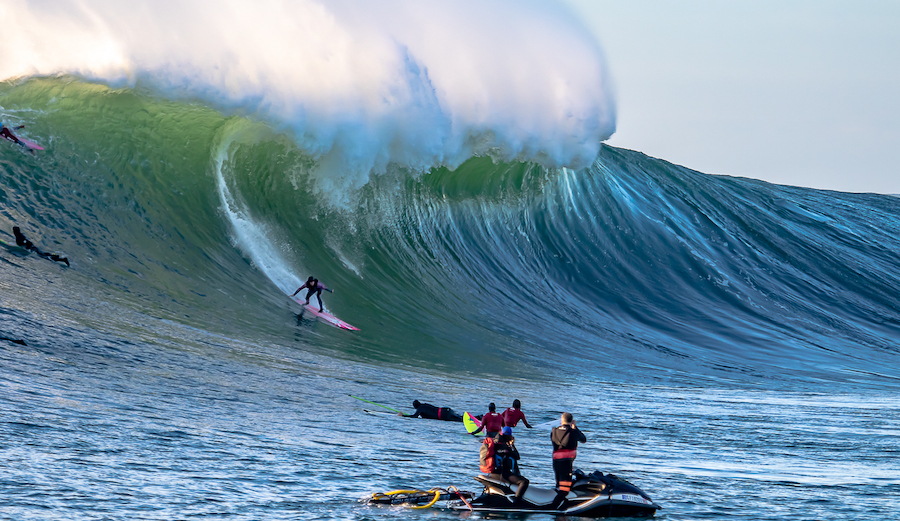 Half Moon Bay, situated south of San Francisco, is famous for Mavericks, one of the world's most challenging big wave surf spots. While Mavericks is reserved for experienced big wave surfers, the region also offers other surf breaks suitable for various skill levels.
Santa Cruz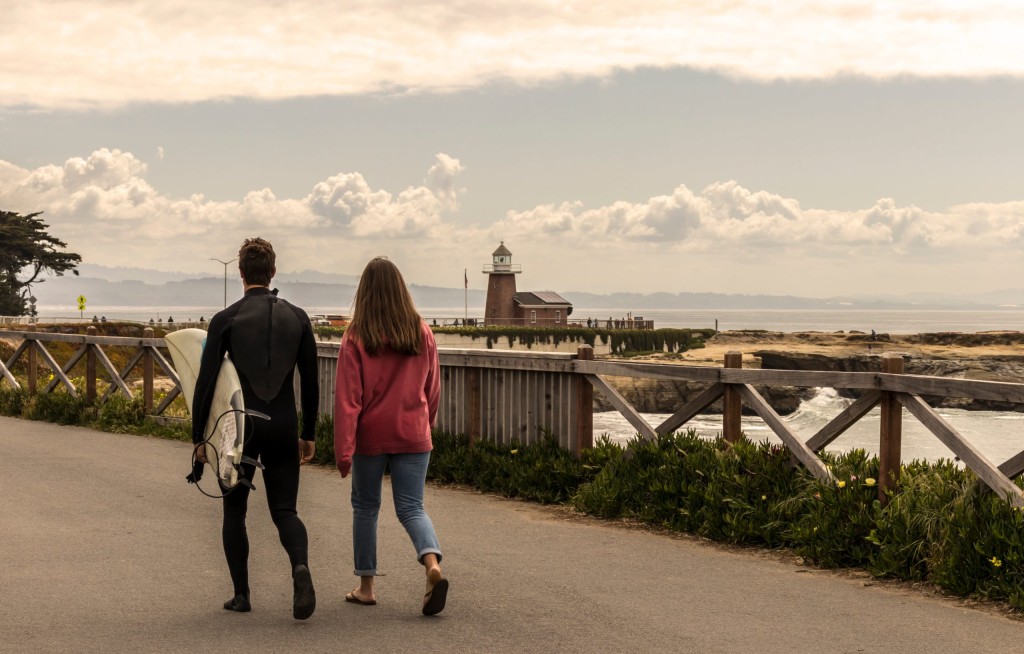 Santa Cruz, located along the northern coast of California, is often regarded as the quintessential surf town. It boasts a rich surfing history and a vibrant surf culture. With iconic surf breaks like Steamer Lane and Pleasure Point, Santa Cruz offers a variety of waves for surfers of all skill levels.
See also: A Complete Guide to Surfing Santa Cruz in California
Central California
In Central California, Santa Barbara, Ventura, and Pismo Beach offer plenty of opportunities for surfers looking to improve their skills. The waves here are typically smaller and more manageable, making Central California a great place for beginner and intermediate surfers to hone their abilities.
Santa Barbara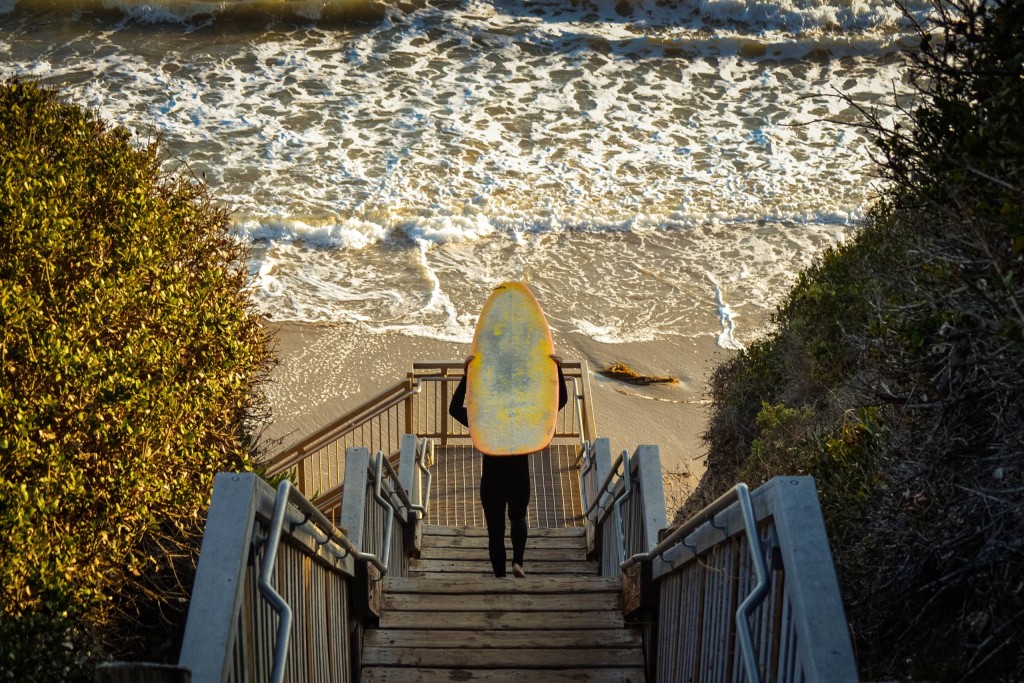 Santa Barbara, known for its Mediterranean climate and picturesque setting, offers a mix of surf spots, including the legendary Rincon and Leadbetter Beach. The town's surf culture is vibrant, and the local community embraces the surf lifestyle.
See also: A Complete Guide to Surfing Santa Barbara in California
Ventura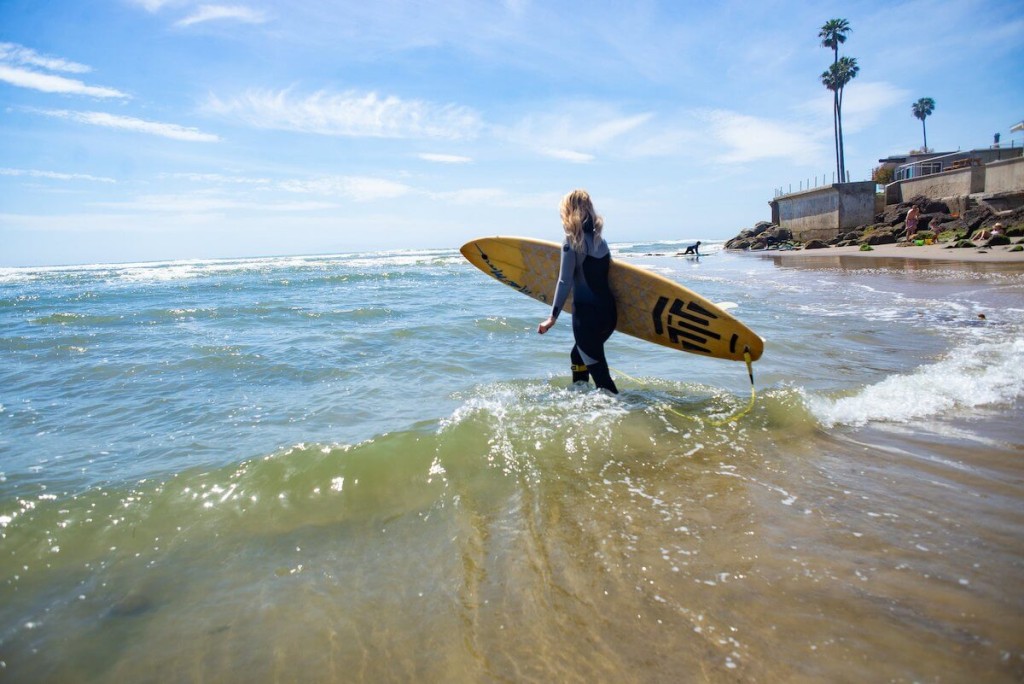 Ventura, situated between Los Angeles and Santa Barbara, boasts a variety of surf spots, including the famous C Street and Rincon Beach. The town has a long history of surf culture and offers a laid-back atmosphere, numerous surf shops, and a welcoming surf community.
Pismo Beach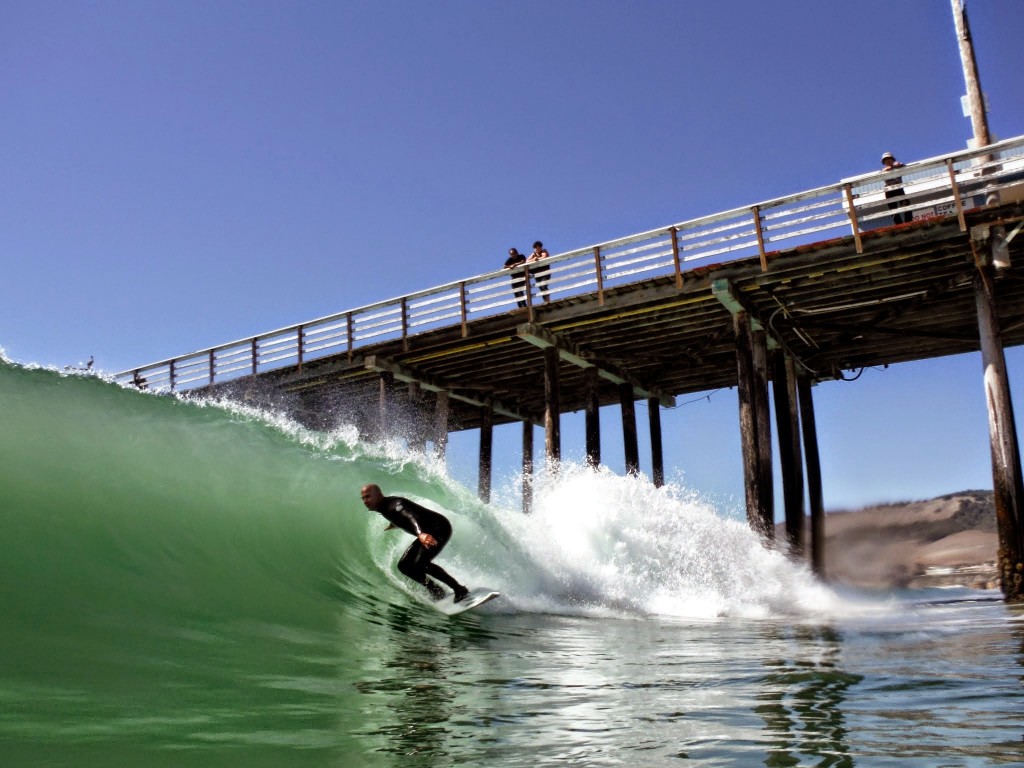 Pismo Beach, situated along California's Central Coast, is known for its beautiful sandy beaches and friendly surf scene. Pismo Beach Pier and the surrounding areas offer good waves for both beginner and intermediate surfers. The town's relaxed coastal atmosphere and oceanfront dining make it a delightful destination for surf enthusiasts.
Southern California
The South Coast of California is home to some of the best surf spots in the state. Locations such as Malibu, Huntington Beach, and Encinitas are beloved by surfers.
Whether you're riding the classic waves at Malibu's First Point, enjoying the vibrant surf culture of Huntington Beach, or exploring the beautiful breaks in Encinitas, Southern California offers a wealth of options for surfers of all levels.
Huntington Beach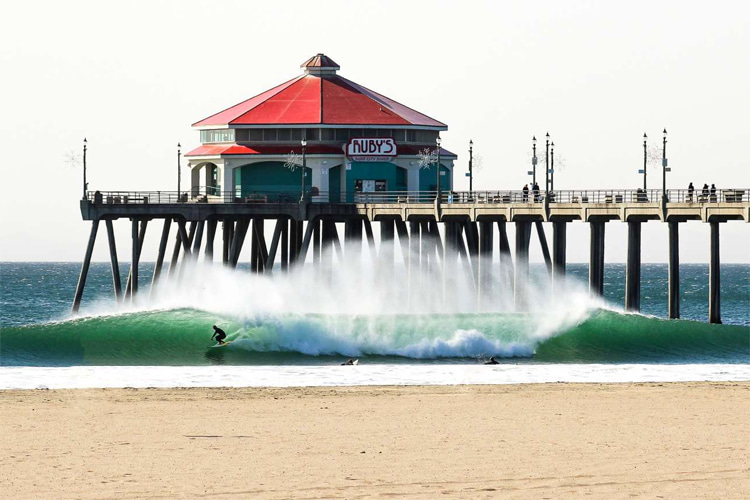 Known as "Surf City, USA," Huntington Beach is a beach town in Orange County that lives up to its name. The pier area is a hub for surfers, and it regularly hosts major surf competitions, including the US Open of Surfing. With a bustling surf scene, a range of surf shops, and a welcoming surf culture, Huntington Beach is a top destination for surf enthusiasts.
Encinitas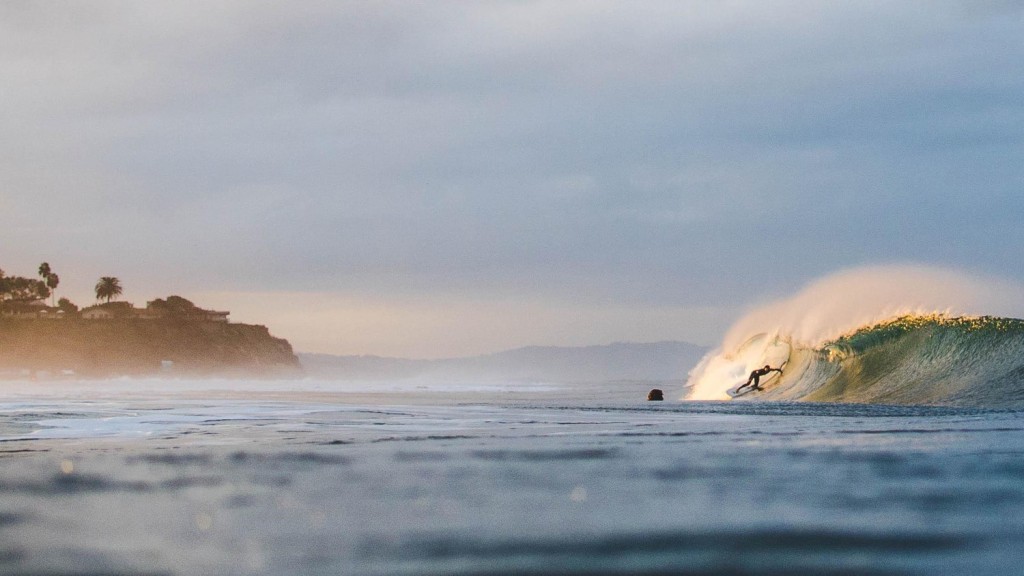 Situated in San Diego County, Encinitas is a charming coastal town known for its beautiful beaches and thriving surf scene. Moonlight Beach, Swami's, and Cardiff Reef are popular surf spots in the area. Encinitas exudes a laid-back, surf-centric vibe, with surf shops, surf schools, and a strong sense of community among surfers.
See also: A Complete Guide to Surfing Encinitas
Malibu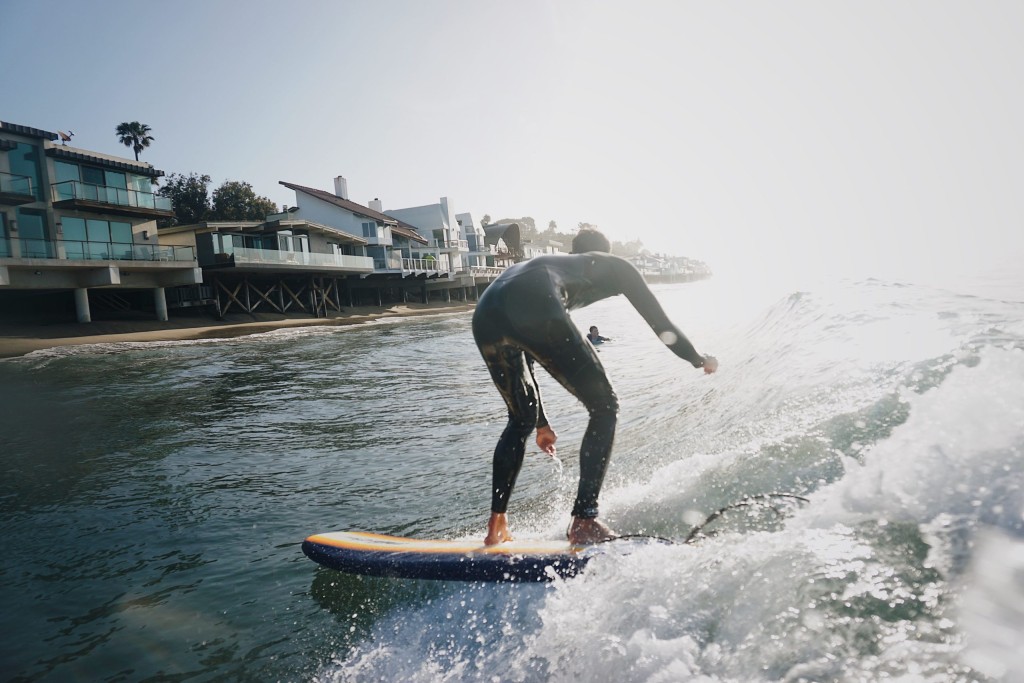 Malibu, nestled along the coastline of Southern California, is famous for its iconic First Point wave and is often considered a quintessential surf town. Surfers have been drawn to Malibu's classic point break for generations.
The town's relaxed beach-town atmosphere, stunning coastal views, and a deep-rooted surf culture make it a must-visit destination for surfers.
See also: A Complete Guide to Surfing Malibu
San Clemente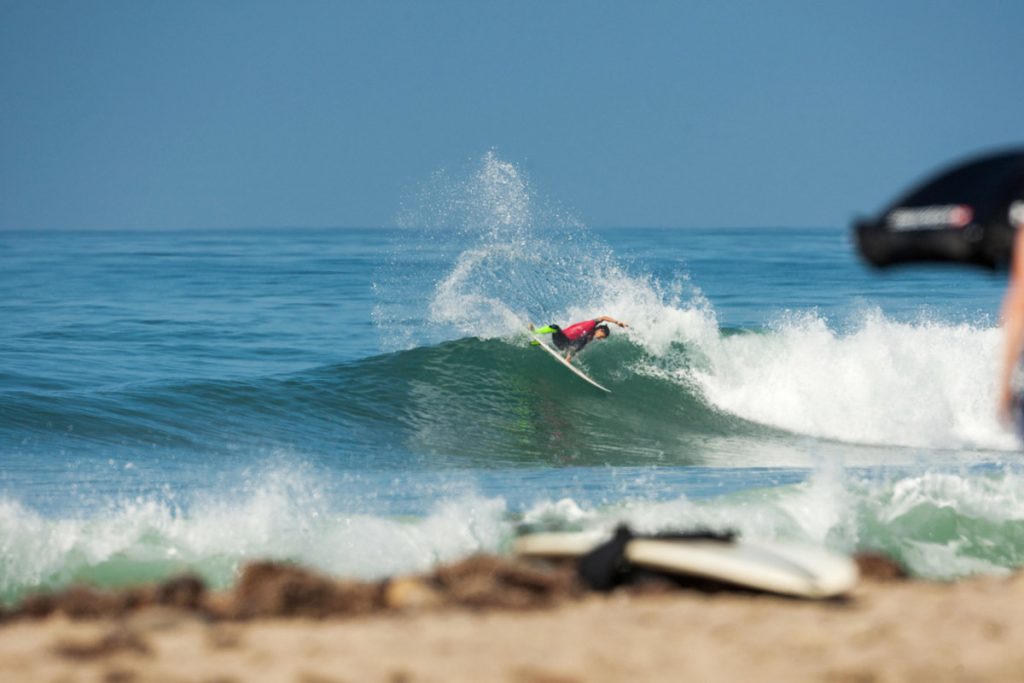 San Clemente, located in Orange County, is home to the renowned Trestles surf break, one of the world's most coveted waves. The town is deeply intertwined with surf culture, featuring a plethora of surf-related businesses and a tight-knit surf community. Its beautiful coastline and consistent surf make it a prime destination for wave riders of all levels.
Laguna Beach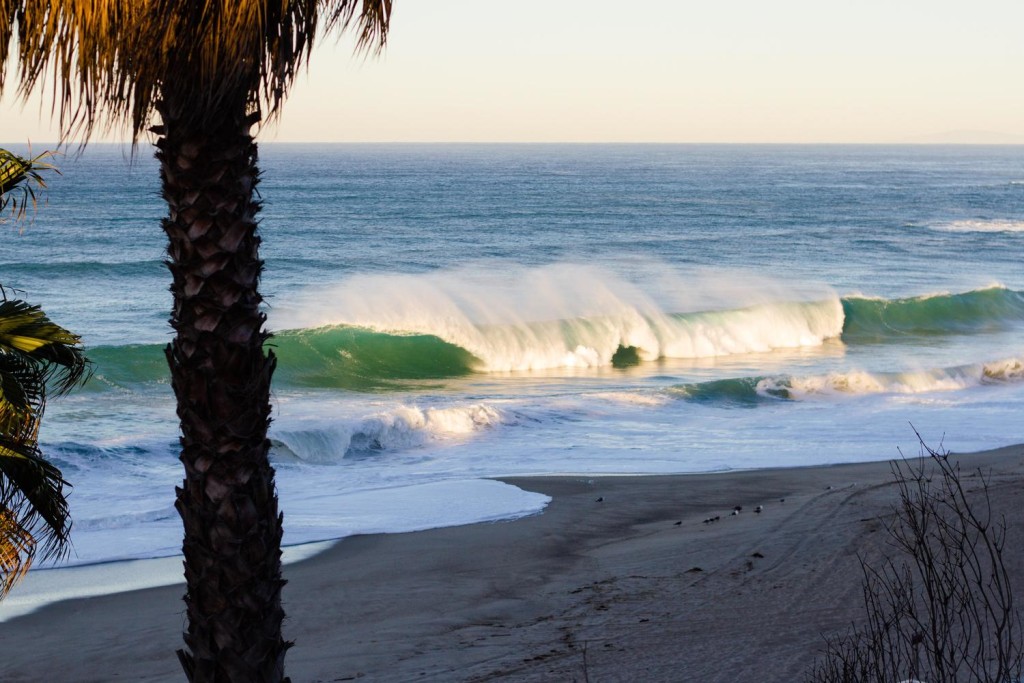 Laguna Beach, located in Orange County, is a picturesque town known for its scenic coves and vibrant art scene. The town features several surf spots, including Thalia Street Beach and Crescent Bay Beach, which offer diverse wave options. Laguna Beach combines natural beauty with a thriving surf culture.
See also: A Complete Guide to Surfing Laguna Beach
The Best Hotels for Surfers in California
California offers a wide range of hotels and accommodations for surfers, catering to different budgets and preferences. We've chosen a select few that offer easy access to surf spots, surfboard storage, and amenities that will enhance your surf experience.
Dream Inn Santa Cruz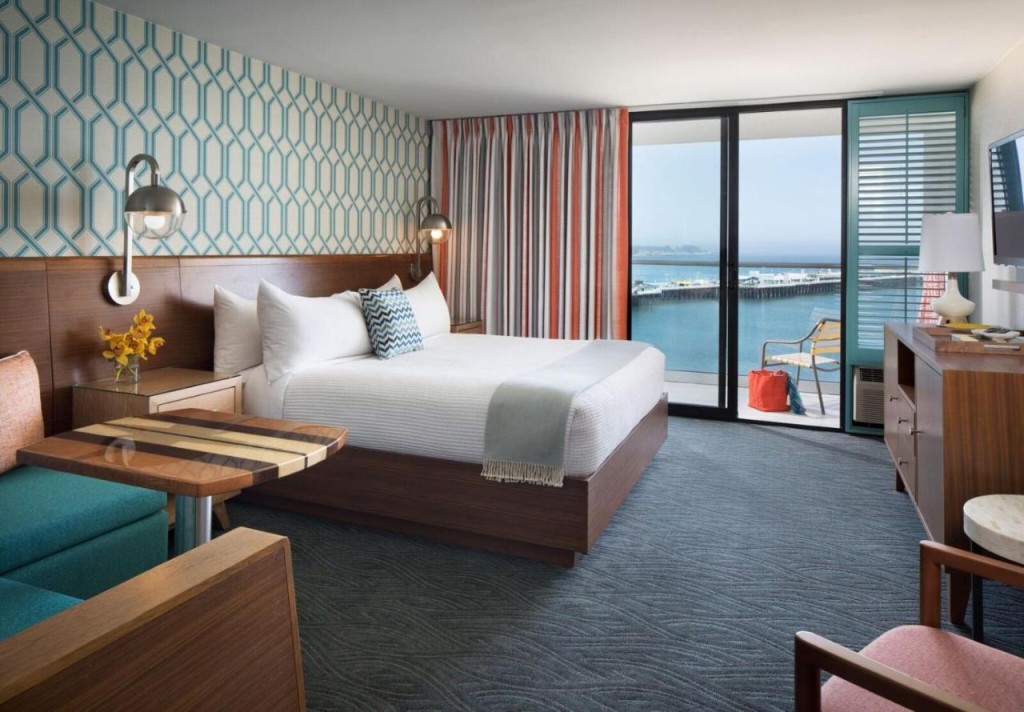 The Dream Inn in Santa Cruz is an aptly named hotel offering dreamy ocean views from its iconic location near the Santa Cruz Boardwalk.
This full-service hotel provides guests with scrumptious breakfasts and local seafood delights, complemented by an outdoor heated swimming pool, a hot tub, and a poolside bar. Its proximity to the beach allows for quick access to surfing, and the hotel offers secure surfboard storage.
Book a room now at The Dream Inn in Santa Cruz from $335 a night.
The Goodland, Santa Barbara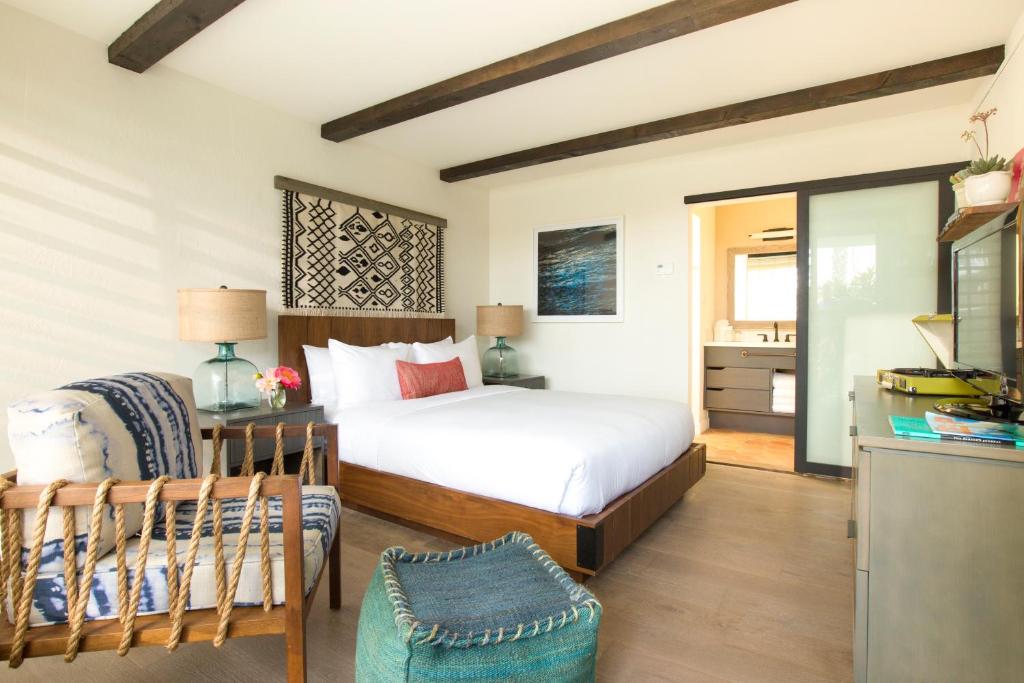 The Goodland Hotel in Santa Barbara offers a unique old-school surf lodge experience. It provides grand coastal and ocean views, community vibes, and plenty of evening parties. The vintage surf decor and throwback atmosphere contribute to its charm.
While not beachfront, many excellent spots are within a 20-minute bike ride. The hotel offers various amenities, including yoga mats, record players, and a 24-hour fitness center.
Book a room now at The Goodland Hotel, Santa Barbara from $173 a night.
The Surfrider, Malibu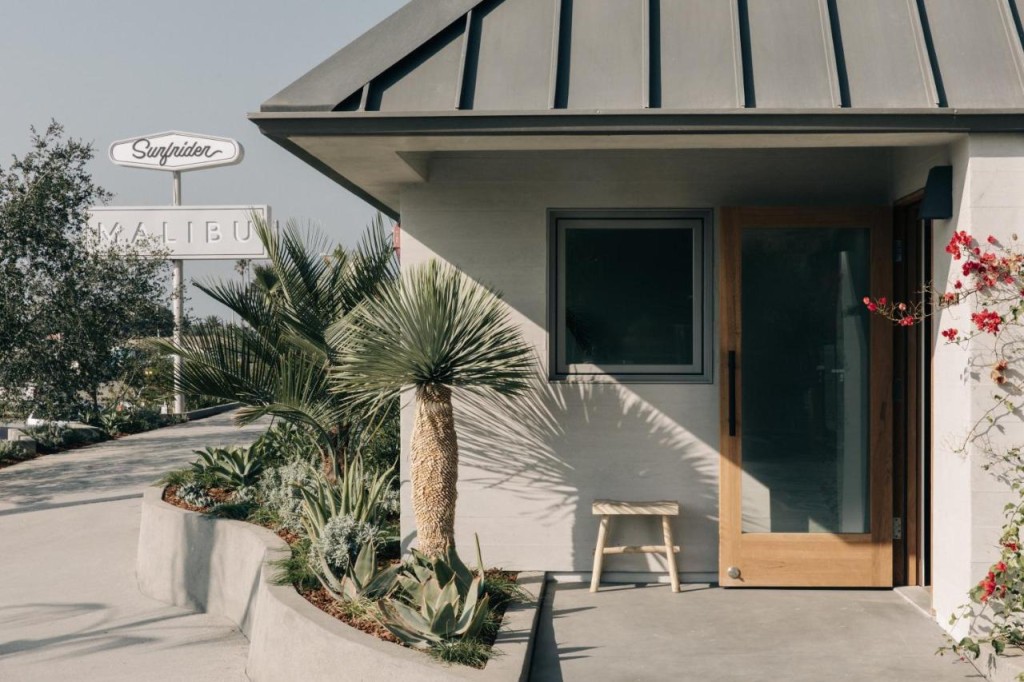 The Surfrider Hotel in Malibu is an exclusive and beautifully designed hotel with a strong focus on catering to surfers. With only twenty rooms, it offers excellent privacy and a sense of exclusivity. The hotel features a surf shed stocked with high-quality surf equipment, including boards, and provides outdoor hot water showers for post-surf cleaning.
What makes it exceptional is its proximity to the beach; it's just steps away, allowing surfers to easily access the waves. The owners are accommodating and willing to assist with any inquiries. Given its popularity, booking in advance is recommended.
Book a room now at The Surfrider Malibu from $389 a night.
Shorebreak Hotel, Huntington Beach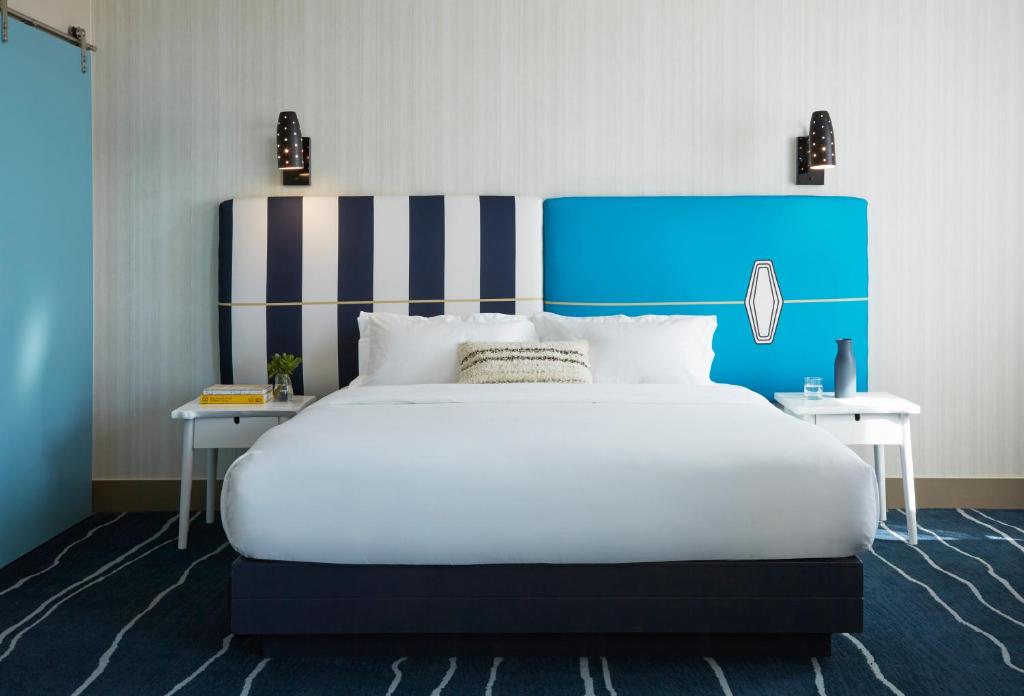 The Shorebreak Hotel in Huntington Beach offers an ideal base for those looking to immerse themselves in the heart of the California surfing scene. Located in the heart of Huntington Beach, the hotel provides easy access to nearby attractions such as the International Surfing Museum and the Surfing Walk of Fame.
Surf enthusiasts will appreciate the proximity to the waves, just steps away from the hotel. The interior is surf-themed, featuring exquisite artwork and vintage surfing items as decorations. Guests can enjoy complimentary bike and beach amenity rentals and receive a discount at the Rip Curl Shop.
Book a room now at The Shorebreak Hotel in Huntington Beach from $255 a night.
Laguna Beach House, Laguna Beach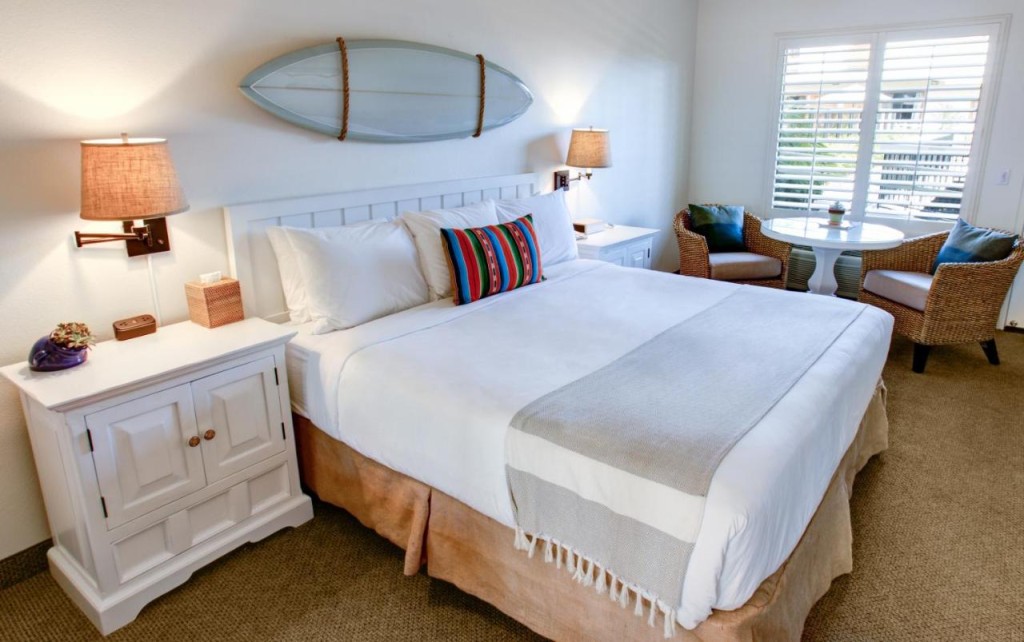 Laguna Beach House offers a perfect blend of vintage and chic decor with a '50s surf-themed atmosphere. Each room features a decorative surfboard above the bed, creating a unique and appealing ambiance. The hotel provides a beachfront location, just steps away from the shore, making it an excellent choice for surf enthusiasts.
A notable feature is the on-site surf-shaping by a local craftsman, allowing guests to have custom surfboards created. While the hotel doesn't provide boards, it offers ample storage space for surf equipment.
Book a room now at Laguna Beach House from $176 a night.
House of Trestles, San Clemente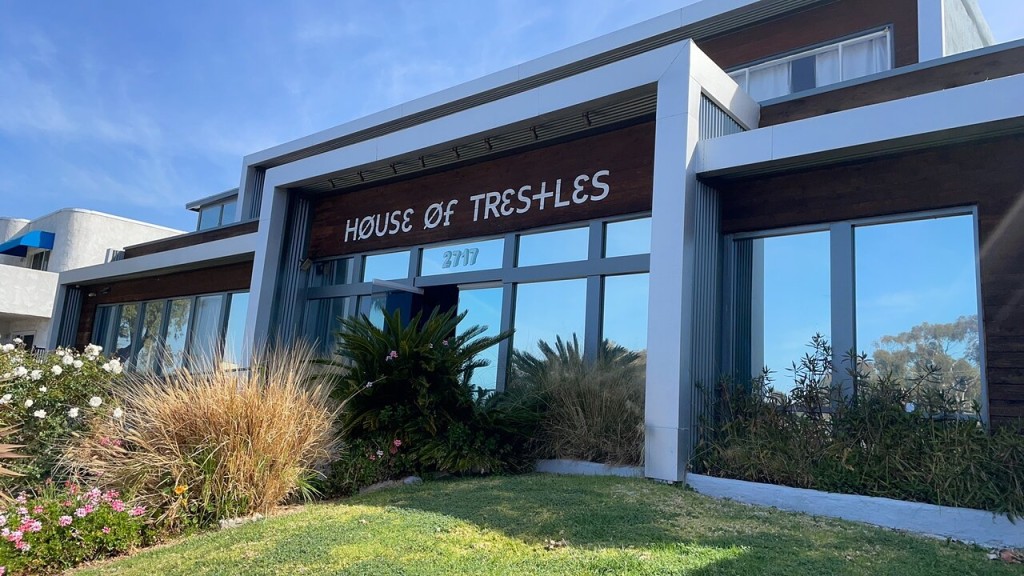 House of Trestles in San Clemente is a budget-friendly surf hostel known for fostering a sense of community among surfers. It offers shared accommodations, including private rooms, 3-bedroom penthouse suites, and bunk rooms, providing options for various preferences.
Guests have access to convenient on-site services such as surfboard rentals, surfing lessons, and electric beach cruisers with surf racks, offering easy access to numerous nearby surf beaches.
This hostel is an excellent choice for those seeking budget surf accommodations and a down-to-earth surfing experience.
Book a room now at House of Trestles in San Clemente from $28 a night.
Surfhouse, Encinitas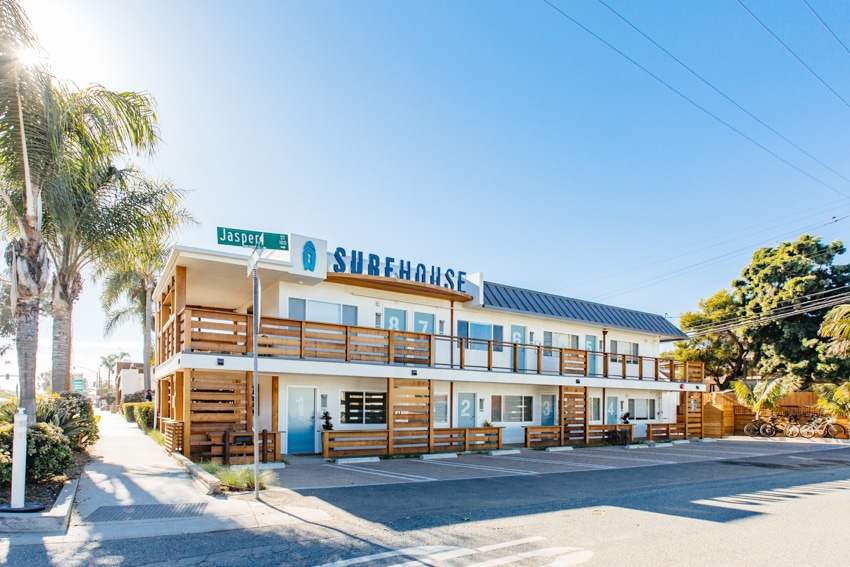 Surfhouse in Encinitas is a luxury motel with a strong emphasis on surfing. They offer outdoor showers for post-surf cleanup and ample board storage space. Guests can freely borrow beach bikes for easy transportation. With only eight exclusive rooms, booking well in advance is necessary to secure a spot.
Equipment rental is available, and guests receive discounts at local businesses. Each surf-themed room combines modern and vintage design elements, offering spaciousness, natural light, and numerous home comforts.
Book a room now at Surfhouse in Encinitas from $175 a night.
See also: 8 of The Best Hotels for Surfers in California
Surf Schools in California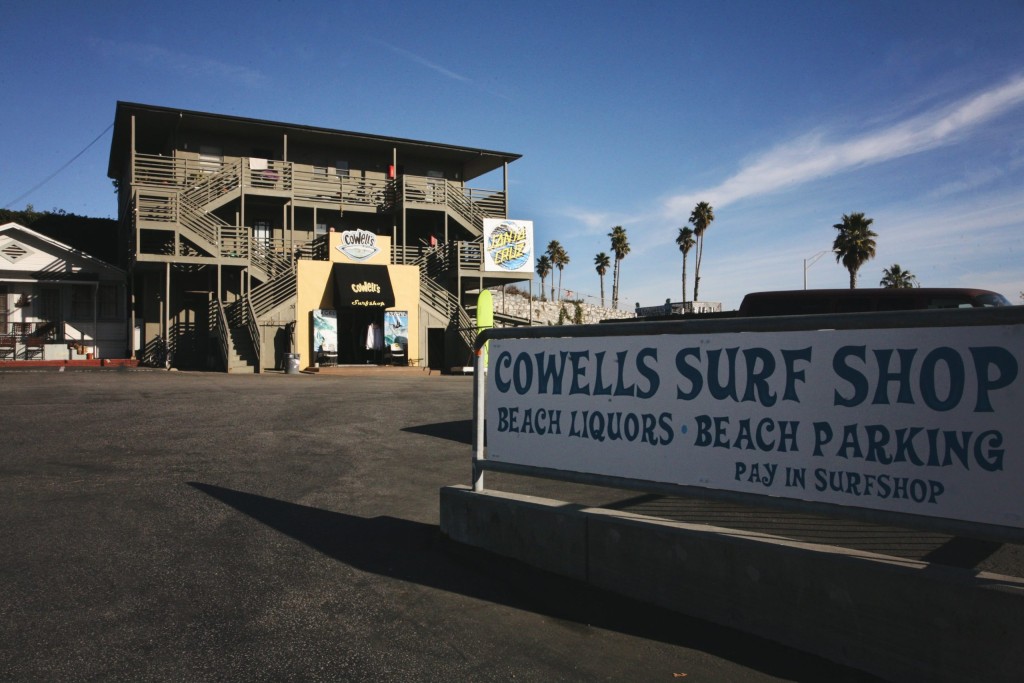 When surfing is declared the state sport, you know there's no shortage of schools for beginners.
If you're heading to the north for surfing California, you can book a beginner one-day class at Pacifica from $110, which provides a thorough induction to the sport.
In central California, Cowell's in Santa Cruz is a great place to learn the ropes. The local surf school offers a three-hour beginner lesson from $105, to get to grips with the basics.
Further south, Pismo Beach offers a welcoming place for learners to flourish, without any of the usual pretension. You can pick up a two-hour lesson here for $80 per person. Head down to Los Angeles and you'll be able to catch your first wave at one of California's most famous spots, during this introductory surfing class at Venice Beach.
And, down in San Diego, you can learn to surf at La Jolla Shores, a gentle spot, perfect for starting out, with lessons starting from $72 upward for an hour.
Surfboard Hire in California
There's really no shortage of options for kit hire when surfing California. With prices and stock being widely available, many visitors find this easier than hauling their own kit.
Northbound in San Francisco, the Aquashop offers surfboards for hire by the day from $25. While Salty's Supply in Patrick's Point has a host of wetsuits and boards at affordable rates.
On the Beach surf shop in Monterey County offers half and full-day hire for a range of goods, this includes wetsuits from $15.
Back in Los Angeles, if you're looking for longer rentals for surfing california, the Malibu Longboards school offers a surfboard and wetsuit for the week for just $99.  And, when in San Diego, the Surf Diva offers bargain rentals starting from $6 for a wetsuit.
Also, for Awayco members, you'll find more than 20 surfboard rental locations in California.
Travel Insurance for Surfing in California
Whether you're a seasoned pro or a beginner just catching your first waves, travel insurance should be at the top of your packing list.
Surfing can be an unpredictable sport, and accidents can happen even to the most experienced surfers. Travel insurance will protect you in case of any accidents or injuries, as well as lost or stolen equipment. It can also provide valuable assistance if your flight is delayed or cancelled.
So before you start surfing California, make sure you're covered by a good travel insurance policy (we recommend checking out Nomad Travel Insurance for Surfing).
Enjoyed our essential guide to surfing California? Check out all of our Surf Travel Guides here.