A Complete Guide to Surfing California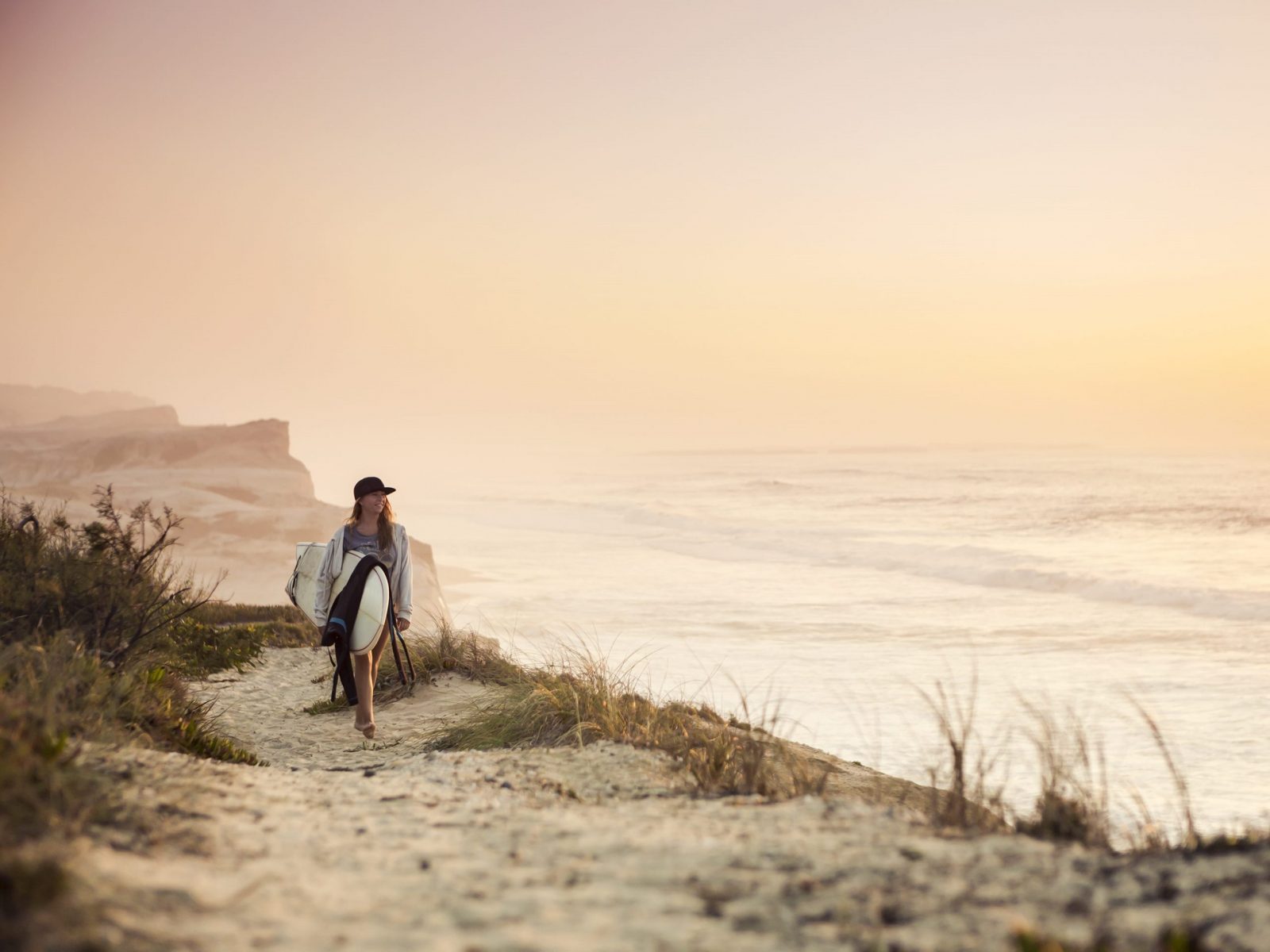 Disclaimer: This article contains affiliate links. We may receive a small commission if you make a purchase through one of these links. Please read our Affiliate Disclosure for more information.
Thinking about surfing California?
This is our complete surf travel guide. Read for everything you need to know about surfing in California.
The sunshine stretch of 900 miles spanning from San Francisco to San Diego is best known as the golden state of California. The third-largest state in America is also one of the most famous for a number of reasons; Hollywood, Alcatraz, Disneyland, the Golden Gate Bridge, and of course, miles of pristine beaches with delicious waves.
It's no surprise then, that the home of skateboarding, the X-Games and Kelly Slater, is a mecca for action sports enthusiasts, including surfers.
To cover this expansive destination, we've carved it into three main areas;
Northern California; San Francisco, San Jose, Greater Sacramento, and Santa Cruz.
Central California: San Luis and Monterey,
Southern California (SoCal): Los Angeles, Orange County, and San Diego.
California Travel Essentials
There are numerous flight routes into California, but Los Angeles International (LAX) is by far the best connected, as the fourth largest airport in the world. This is also the best airport for visiting southern California; although if you're traveling further down south, San Diego airport may be a better option.
Meanwhile, for central and northern California, there are two main airports with global connections; San Francisco international and Sacramento International.
When it comes to getting around California, you've heard the saying 'nobody walks in LA', this is in no small part to the huge car culture in the state. As such, there's plenty of car hire companies to use, a popular option for road-trippers.
However, don't be put off using the local transport. It is efficient and affordable, even if most locals use their cars. This includes buses and trains throughout the state, with the addition of the metro in Los Angeles and cable cars in San Francisco.
Expect to pay $1 to $3 for a single trip, with savings to be made using multi-day passes. For long journeys by coach, Greyhound buses are a nationwide favorite.
Taxis are easy to flag down in cities, although they are metered some accept credit cards. Uber and Lyft are popular options in the main hubs too.
Finally, if you plan to stay local, there are many bicycle hire shops to make the most of the blissful weather.
Surfing California
California is a year-round surfing destination with warm weather, although it gets typically hotter the further south you go.
There can be great variations too, for instance, San Francisco and the bay area is known for its changeable temperature, which can go from warm to cold in a single day. While San Diego is known for its consistently warm weather, with sunshine 266 days a year.
Generally speaking, summers are mild and dry, while winters can get colder and wet – offering prime conditions for surfing. Expect average daily temperatures of 70°F to 80°F.
Surfing California is more than a sport in these parts, it's a way of life – they even celebrate 'California Surfing Day' annually on 20 September!
Surfing Southern California
'SoCal' is all about the surf, making it a prime destination for pros. There are countless places to cover – too many to mention, but some unmissable spots include…
The all-action Orange County – home to some of the best surf spots in the entire state, suitable for all levels. These include the world-famous Huntington Beach, a mecca for surf, skate, and BMX, and home to the International Surfing Museum and annual World Surfing Champs. Expect waves of 12ft high if you come at the right time.
Newport Beach is a favorite for surfers and bodysurfers alike, while next door the infamous Lower Trestles (aka 'the Lowers') offers a notable point break for accomplished surfers. While Crescent Bay in Laguna Beach is another haunt known for its rugged coastline.
Also read: A Complete Guide to Surfing Laguna Beach
More than just a glamourous destination, Los Angeles delivers pristine beaches lined with palm trees and exercise enthusiasts. A-list haunt Malibu brings a laid-back vibe, with manageable waves suitable for groms and beginners. Further down in Venice Beach, this bustling spot is loaded with restaurants, cafes and exercise freaks in equal measure! Head to Venice Beach Breakwater for the waves.
Towards the Mexican border, the weather and waves heat up in Cardiff Reef, San Diego; a surfing stalwart since the 1940s. Friendly and charming, it welcomes surfers of all levels, making it a great spot for beginners. After hours, the city has plenty of bars and restaurants too.
Surfing Central California
With dramatic mountain peaks, swirling surf and a Spanish colonial legacy, Santa Barbara is a picturesque city attracting tourists for many reasons. One of these is Rincon – a classic point break with a fair share of swell, although not always consistent. Nonetheless, it has become somewhat of a legend around these parts and is even host to the Rincon Classic surf comp. Split into three parts, there's 'the indicator', 'the cove', and 'river mouth' for pros to take on.
Then there's Santa Cruz, better known as 'Surf City' for its unrelenting and unapologetic love of surf. Despite attracting the pros, there's plenty of room for novices too. Cowell's is a good place to start, offering sympathetic waves. Once graduated 'The Lane' (Steamer Lane) is loaded with reef breaks and pacific winds that only the experienced should brave.
Also read: A Complete Guide to Surfing Santa Cruz
With it, Monterey County brings consistent waves and a relaxed feel. Asilomar State Beach is popular with locals, for kayakers, bodyboarders and surfers co-existing amongst its friendly sea life – and there's plenty to spot as you paddle along. Similarly, Lovers Point is a great place for confident surfers.
Surfing Northern California
Big bridges, big hills, and of course big waves – San Francisco is the place to go big or go home.
The Pacific area, notably Ocean Beach delivers tough waves with varying swells that can be unforgiving
Not far away, surfers travel from waters afar to visit Mavericks in Half Moon Bay. This famous cold-water break conjures up monster waves for hardy surfers only! A notorious spot for big wave surfing, there's always something going on, whether it's the Mavericks Challenge Surf Content or the World Surf League.
Further up the coastline, serious surfers should head to Patrick's Point for gnarly waves. If adventure is your thing, Redwood National State Park is within driving distance too.
Surf Schools in California
When surfing is declared the state sport, you know there's no shortage of schools for beginners.
If you're heading to the north for surfing California, you can book a beginner one-day class at Pacifica from $110, which provides a thorough induction to the sport.
In central California, Cowell's in Santa Cruz is a great place to learn the ropes. The local surf school offers a three-hour beginner lesson from $105, to get to grips with the basics.
Further south, Pismo Beach offers a welcoming place for learners to flourish, without any of the usual pretension. You can pick up a two-hour lesson here for $80 per person. Head down to Los Angeles and you'll be able to catch your first wave at one of California's most famous spots, during this introductory surfing class at Venice Beach.
And, down in San Diego, you can learn to surf at La Jolla Shores, a gentle spot, perfect for starting out, with lessons starting from $72 upward for an hour.
California Surfboard Hire
There's really no shortage of options for kit hire when surfing California. With prices and stock being widely available, many visitors find this easier than hauling their own kit.
Northbound in San Francisco, the Aquashop offers surfboards for hire by the day from $25. While Salty's Supply in Patrick's Point has a host of wetsuits and boards at affordable rates.
On the Beach surf shop in Monterey County offers half and full-day hire for a range of goods, this includes wetsuits from $15.
Back in Los Angeles, if you're looking for longer rentals for surfing california, the Malibu Longboards school offers a surfboard and wetsuit for the week for just $99. And, when in San Diego, the Surf Diva offers bargain rentals starting from $6 for a wetsuit.
Also, for Awayco members, you'll find more than 20 surfboard rental locations in California.
Where to eat in California
Your body's a temple, right? That's just as well because California is one of the purveyors of clean living.
To the north, San Francisco is nothing short of a foodies paradise. Here you can find everything you're looking for and more. Nourish Café and The Plant Café Organic are just some of the 'greener' options, while Marlowe will astound you with its experimental menu, including brussel sprout fries and a beef and lamb burger, delish!
In central Cali, Santa Cruz has numerous hip hangouts, from Pleasure Pizza to Hula's Island Grill & Tiki Room – for guaranteed good times. In keeping with the theme, Hula's Island Grill in Monterey conjures up Hawaiian surf vibes all the way!
Dedicated to all things clean, Health Nut in Southern California delivers fresh produce from wraps to salads and is a firm favorite with the Kardashian clan. Fancy something well, fancy? Then head to Beverly Hills for five-star dining at Mastro's Steakhouse, or celebrity hangout Craig's in West Hollywood.
After a hard day of surfing, Kaju Tofu in Huntington Beach is the place to go, with plenty of vegan options.
Of course, tacos are a staple in these parts, so when in San Diego lookout for Taco Surf for hearty dishes, Baja Bay Surf & Taco in Ventura, not forgetting Surf City Fish Grill in Huntington, for more of the same.
Surf Camps in California
In California, you're spoilt for choice with everything from hipster hotels to cheap and easy motels, and all that's in between. Here are just a few of our top picks for where to stay when surfing California:
If you're on a budget, The Freehand Downtown in Los Angeles is a hotel-hostel hybrid affair with an ever-so cool clientele to liven it up. At $28 a night, it's also exceptional value.
With a name like Hotel Zephyr, action sports fans will be drawn to this mid-range arty hotel in Fisherman's Wharf in San Francisco. Within walking distance to the local beach, it's well placed for surfers, from $150 a night.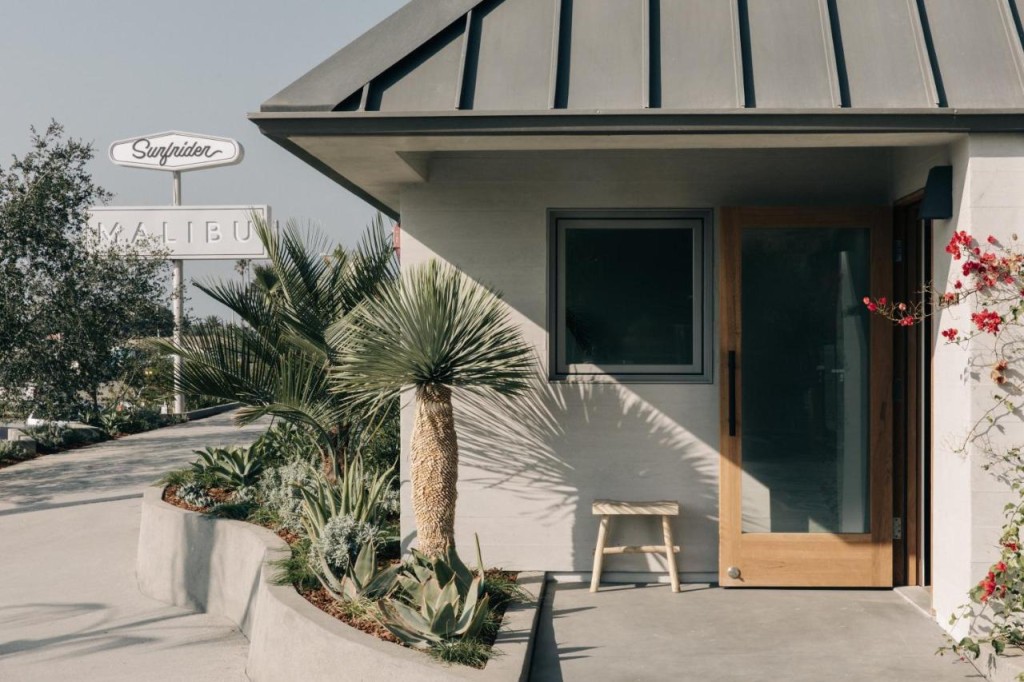 If money is no object, make sure to book yourself a room at The Surfrider. At $428 a night, this modern California Beach House is located opposite the famous Surfrider Beach in Malibu and is inspired by the picturesque Malibu landscape and rich heritage of California surf culture.
Further south, you'll find The Laguna Beach House. Pairing curated vintage pieces from the local area with vibrant pops of color, the Beach House channels old school Laguna with the look and feel of an open, airy surf cottage. You can book in here from $295 a night.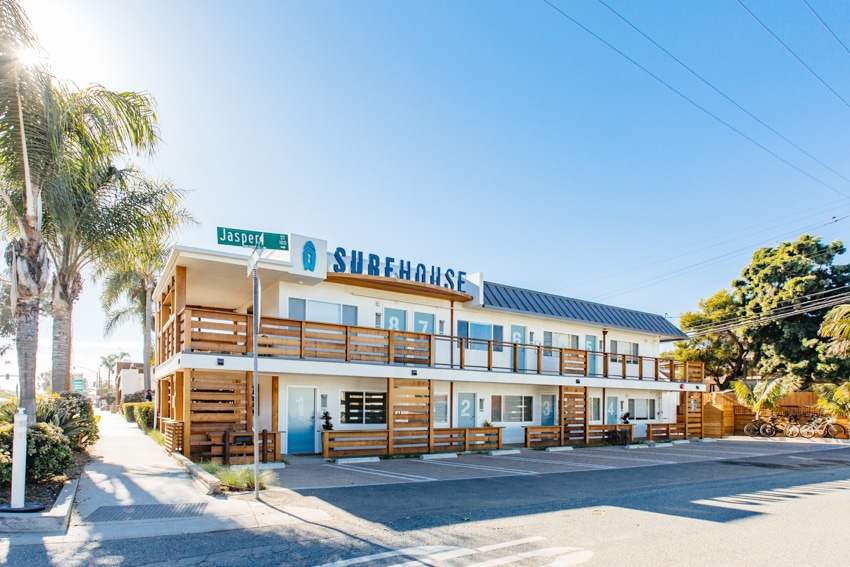 Finally, down in Encinitas, The Surfhouse is an upscale, modern boutique hotel offering eight thoughtfully designed rooms with beach-inspired décor and are all named after local iconic surf breaks. Rooms here typically go for $225 a night.
Also read: 8 of The Best Surf Camps in California
Enjoyed our essential guide to surfing California? Check out all of our Surf Travel Guides here.