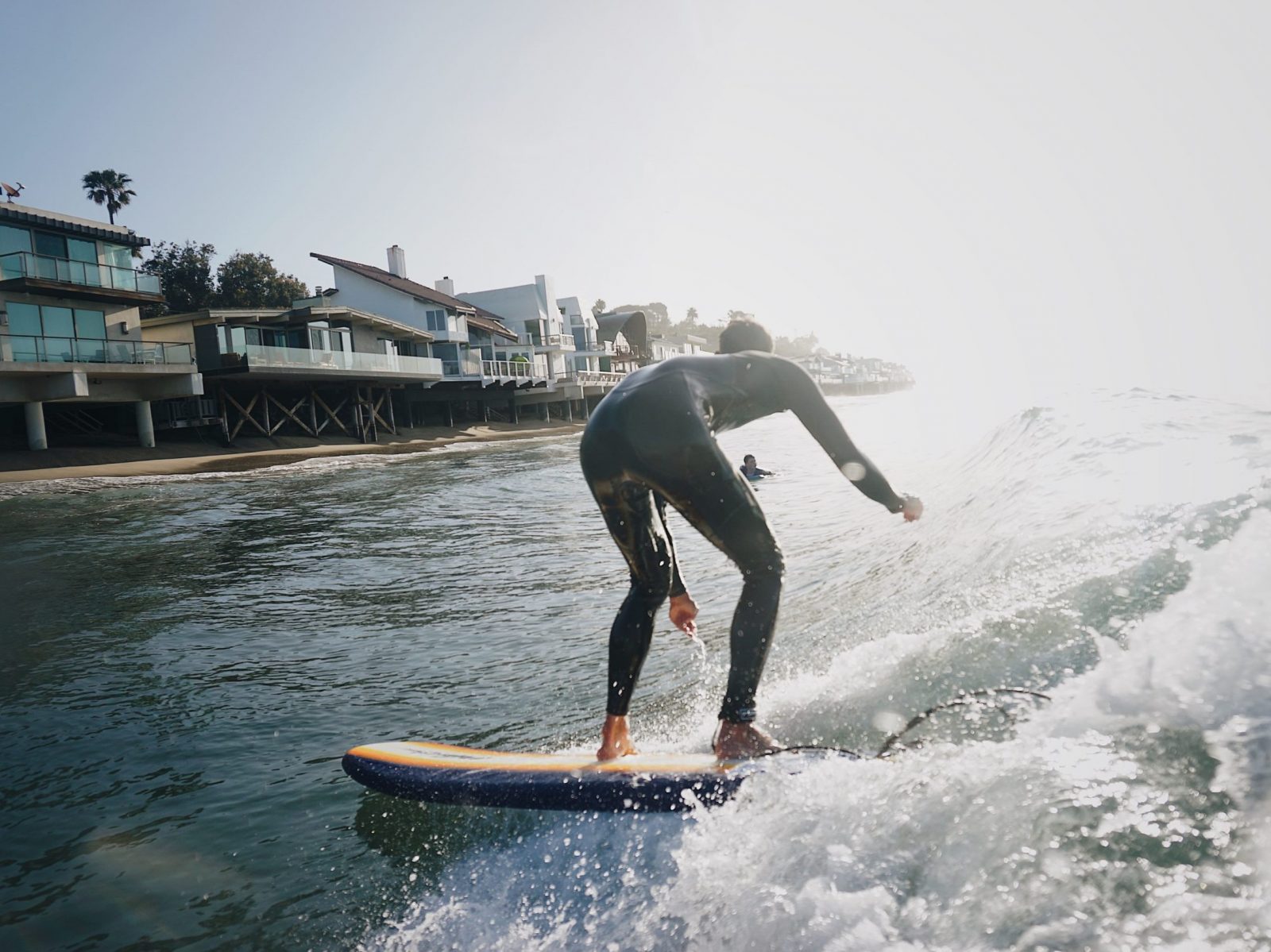 Disclaimer: This article contains affiliate links. We may receive a small commission if you make a purchase through one of these links. Please read our Affiliate Disclosure for more information.
This is our Complete Guide to Surfing Malibu in California.
The world-famous chilled-out Malibu coastline is situated just forty-five-minutes drive outside of Los Angeles. The area boasts some of the world's most beautiful white beaches, a laid-back vibe, celebrities on every corner, and plenty of sunshine.
But chilling in the sun with all the Hollywood A-listers is not what we're here for. Malibu is also home to some of the hottest surf spots in Southern California. Whether you have never been on a surfboard in your life, or if you were born on a longboard, there is something that is suitable for everyone at the many top Malibu surf spots. Here are the top spots in this SoCal surfing mecca and what you can expect during your visit to Malibu.
How to get to Malibu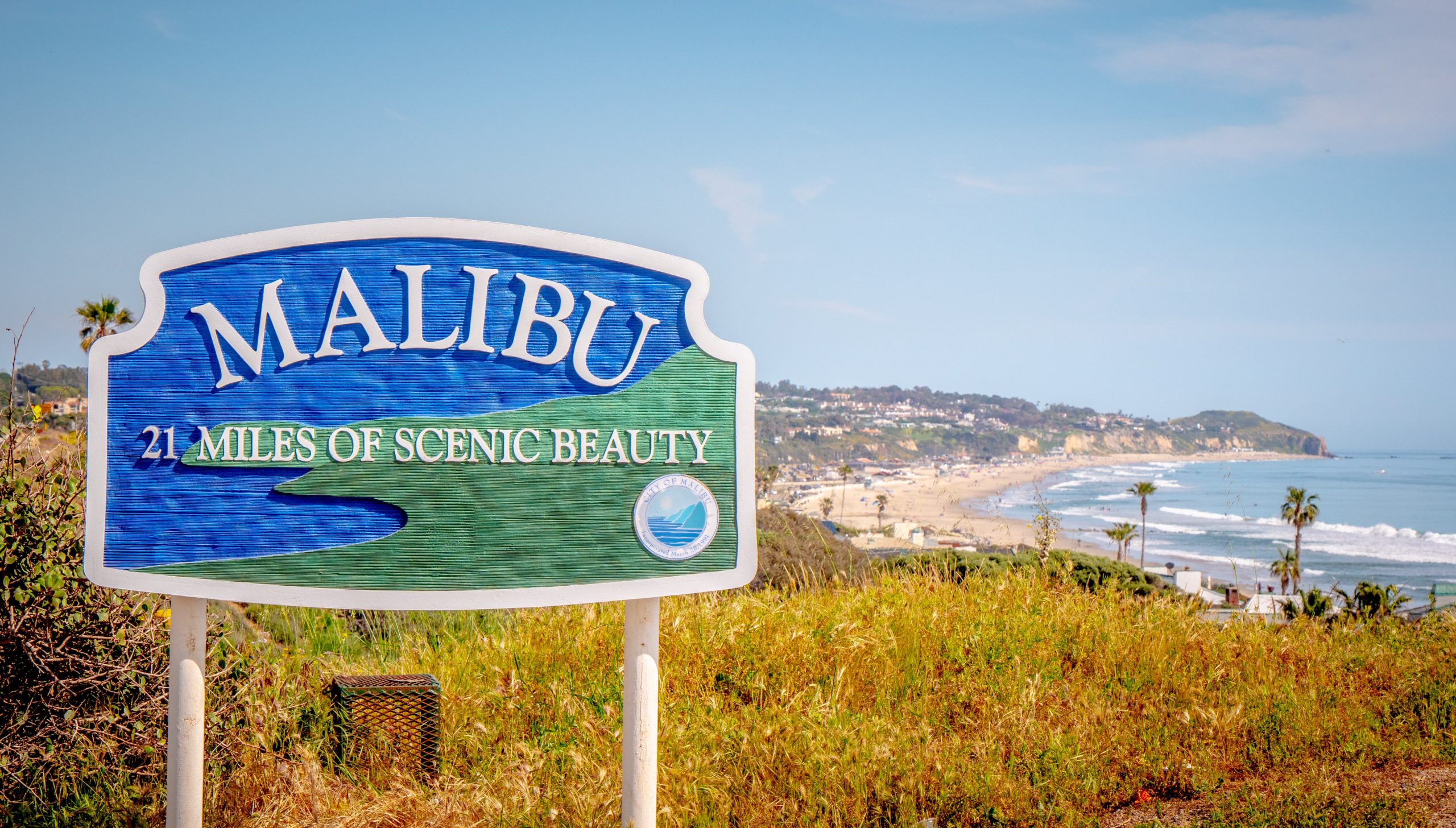 Malibu is situated 28 miles from Los Angeles. And, with Los Angeles International Airport within very easy reach of Malibu, this means you can fly there from just about anywhere in the world. Malibu is a very convenient drive from the bright lights of Los Angeles, the famous Hollywood Hills and the studio tours, Disneyland, as well as areas such as Santa Monica.
A short drive will also take you up to Silicon Valley, the heart of the world's tech industry. The proximity of all of these amazing destinations means that you are never going to be far from a film, TV, or music star, or even a tech entrepreneur looking to swap the office for a longboard.
In this prime real estate area, house prices are understandably pretty high and it is unlikely that there would ever be too much development due to the proximity of national parks, the coastal mountains, and the vocal celebrity campaigns about preserving the local environment. This means that Malibu gets to keep its relaxed small-town vibe without having to worry about everyone in the world moving in.
Summers are comfortable and warm, clear, and arid with average temperatures reaching around about the 76°F mark, but never exceeding 84°F.
If you are driving around Malibu, due to the popularity of the area, parking can be a bit hit and miss on many of the beaches, and arriving on a bus, or parking up early is advised.
Malibu surf spots
If you are planning on a trip to this Southern Californian gem, you'll want to know about all of the best opportunities for surfing Malibu. Here are the beaches that you must visit as well as some tips about which breaks are best surfed and at what level.
Topanga Beach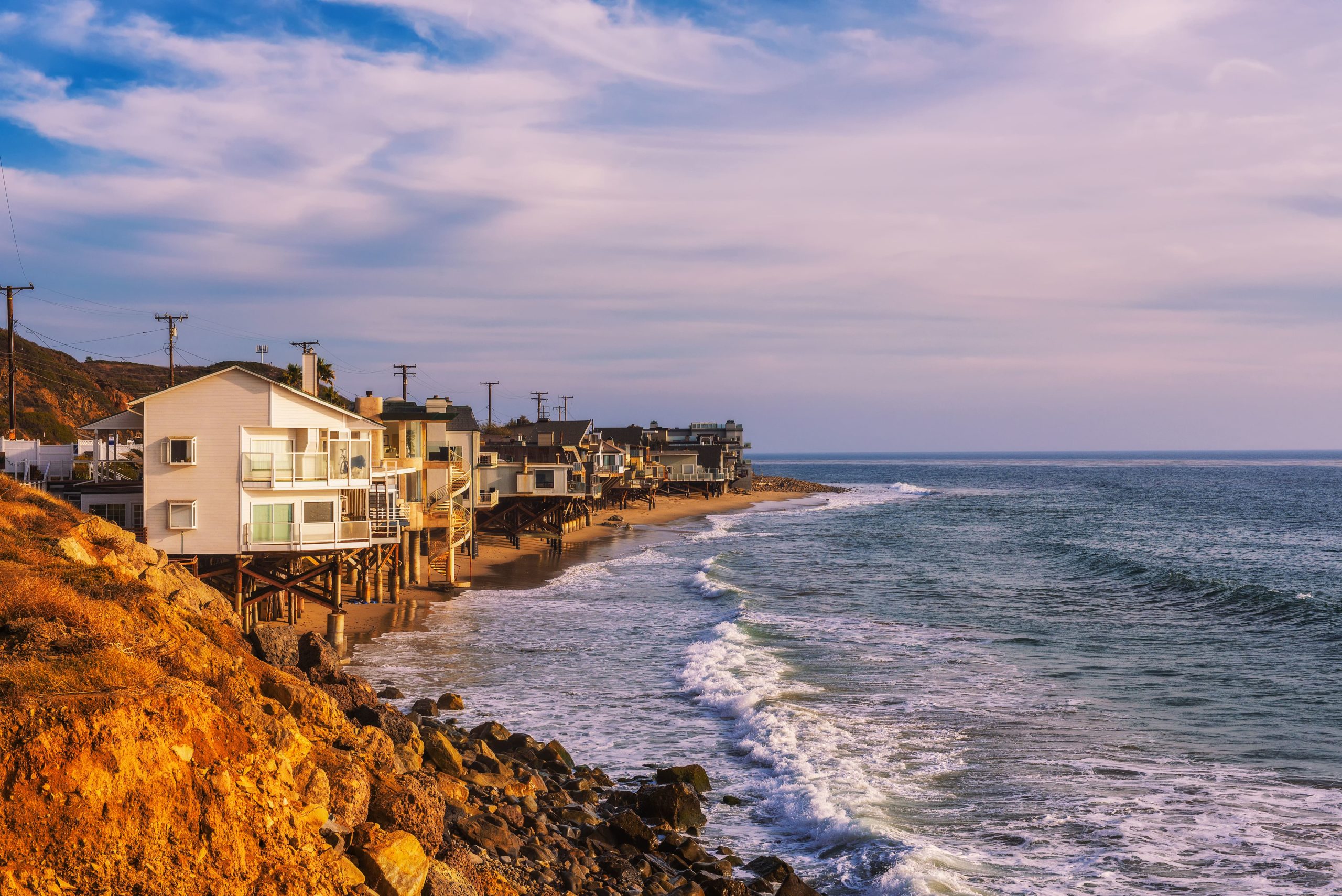 The first real beach that you get to as you arrive at in Malibu. Topanga Beach is just off Topanga Beach Drive near the Pacific Coast Highway. Whatever your current surfing ability, Topanga Beach is a great choice.
There is a real mix of different wave sizes, and if you are experienced you'll be pleased to hear that you can find up to a 10-foot swell over at Topanga Beach. Waves roll in over a mixture of both sand and rocky terrain and offer real potential for a very varied surf.
Topanga has a pretty consistent wave and as such is very popular. As with many other surfing hot spots, it really is vital that you arrive as early as possible. Not only will that mean that you are more likely o get a parking spot, but you'll also be able to get a good spot out in the water too.
Malibu Lagoon State Beach / Surfrider Beach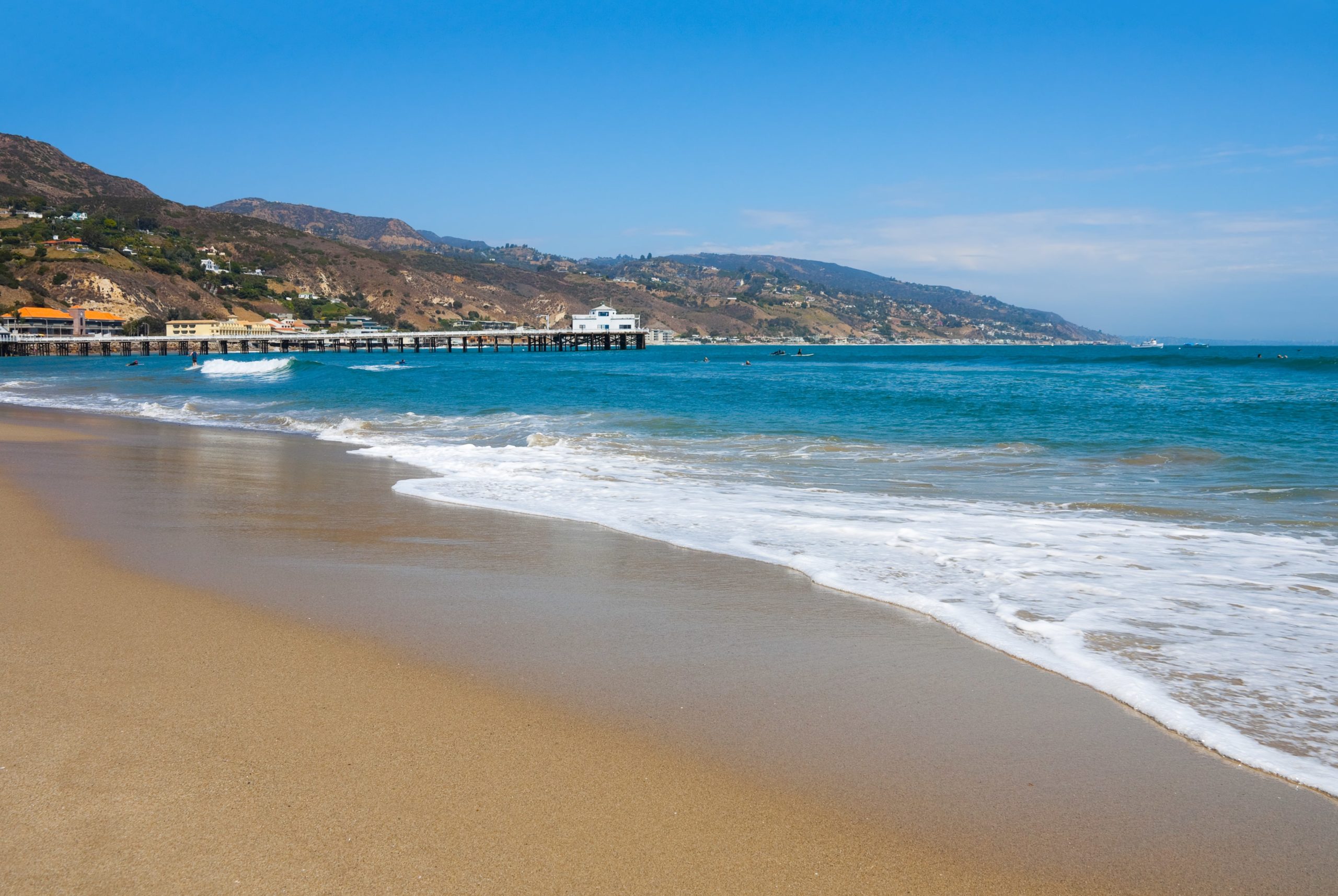 When you see Malibu Lagoon State Beach it will no doubt seem very familiar. Often known as 'Surfrider', the beach as been used as a filming location on so many scenes in classic surfing movies and in plenty of different TV series'. The wooden pier is one of the most recognizable landmarks and the beach provides great surf that is suitable for mixed ability surfers including first-timers.
Back in 2010, Surfrider Beach got a prestigious accolade when it was dedicated as the first-ever World Surfing Reserve.
There are three main areas that are surfed on Malibu Lagoon State Beach. First Point, Second Point, and you guessed it, Third Point.
First Point is a spot that is most commonly surfed by longboarders. At Second Point you will tend to find more advanced surfers. And you'll find both left and right waves if you surf at Third Point.
During the end of the summer, around August and September, the right conditions will mean that it is possible to surf the entire length of Surfrider beach. This is a spectacular length and offers a great thrill, and if the conditions are right when you go, it is worth a go.
On days when the swell at surfrider is at its highest, be prepared for there to be lots of crowds. Naturally, this famous beach can get pretty busy and you will again need to get there early to ensure you don't have to park miles away, and that you are not left standing watching others ride all the best waves.
For those wanting to learn to surf, there are a number of different companies that offer private lessons on Malibu Lagoon State Beach. You can book up this 2-hour lesson online for $80 per person.
If you need to hire a board or a wetsuit whilst you're surfing Malibu, you'll find that there are plenty of choices.
County Line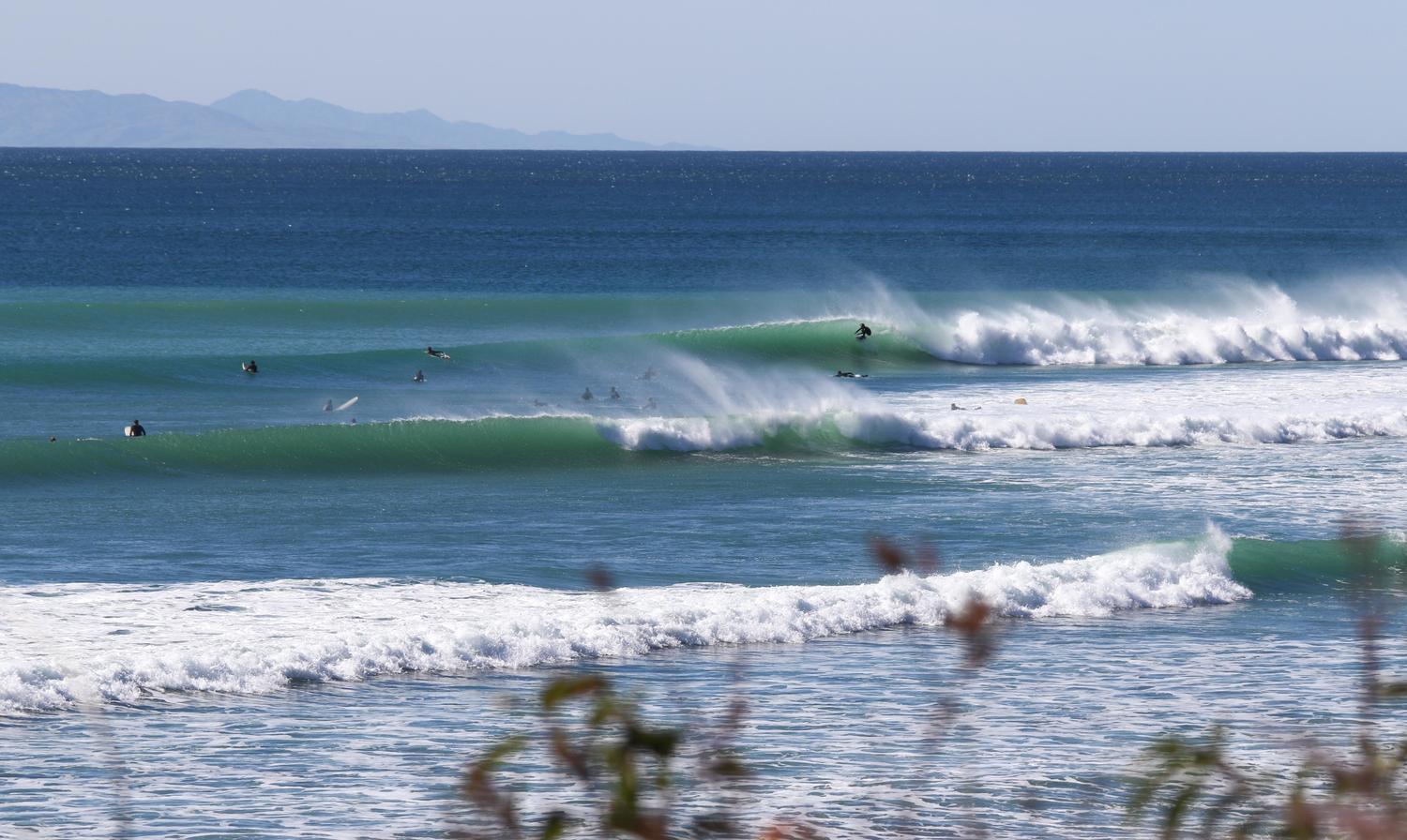 County Line is on the edge of the Malibu Zip-code and heading back down towards Los Angeles. If you are not familiar with the beach for its surfing, you will probably recognize its name from the Beach Boys classic hit 'Surfin USA', so you know its good if it gets a name check there. You'll also maybe recognize the beach from film and TV, and also Neptune's Net, a seafood restaurant which you should check out. The restaurant has been used as a scene in countless TV shows and movies, from The Fast and the Furious to Gossip Girl. It was also featured in the now classic Point Break.
But of course, County Line is a top spot for surfing and is home to Junior Surfing Contests. The long white beach has some very gentle waves that are perfect for beginners. There is plenty of room on this beach too, which means that you can wipe out without the worry of getting in someone else's way.
There are some more challenging waves out toward the edges of the beach, so if you are a bit more experienced, this is maybe where you will want to head.
It can often get a bit windy on this beach, especially in the afternoon. This beach is, therefore, best enjoyed in the morning. Be sure and set off as early as you can if you want to get the best out of your County Line surfing.
Zuma Beach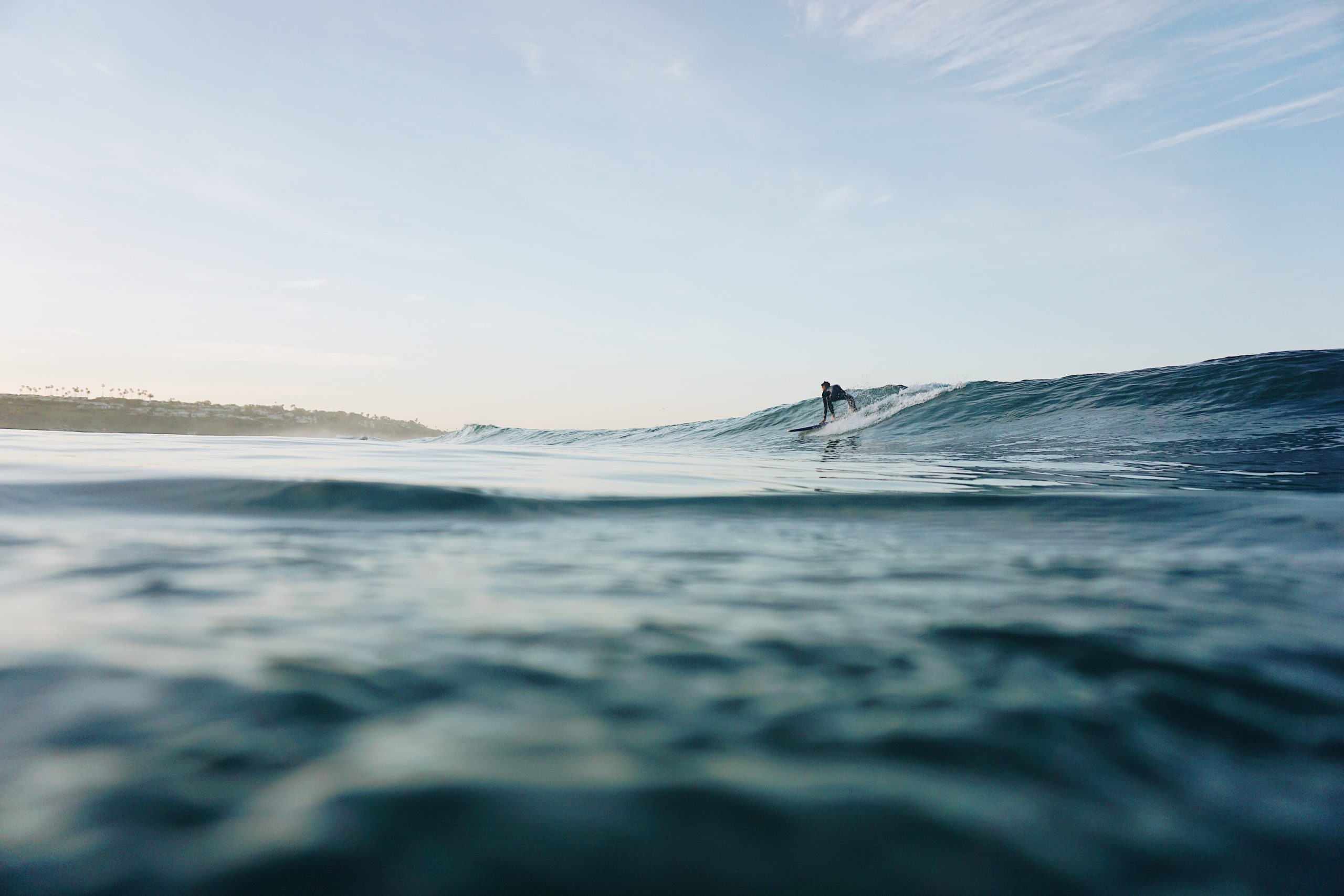 While Zuma Beach may be one of the quieter beaches on the Malibu coast, it boasts some of the most beautiful clear waters and is a great spot for surfers of every ability level. Situated at the Northern end of Malibu, Zuma Beach is known to be a top choice for all of the many surfing locals who will head there during the peak tourist season to avoid the crowds at the more popular beaches.
Zuma Beach is three-miles long, which is helpful in ensuring that it has a variety of different surfing that is suitable for all. If you head over to the southern end of Zuma beach, you will be met with a stretch called Westward or Drainpipes. If you are an experienced surfer, this is no doubt where you will want to go and try to catch the best waves that you can. It is up over at this end that Zuma Beach offers up some of the more dramatic beach breaks that Malibu has to offer, which are always much bigger than they appear.
Surfboard hire in Malibu
If you're looking to hire your gear when you're surfing Malibu, you'll find some fantastic rental shops to get your surf trip off to the best start.
Offering everything from surfboards to storage and post-surf showers, Traveler Surf Club Malibu has partnered with Awayco to offers its members an exclusive deal. On top of their selection of awesome hire boards, the first 4 days of your rental include a Traveler Club day pass. The day pass includes hot showers, lockers, coffee, tea, towel service, changing room, WiFi, and overall good vibes.
Find out how you can become an Awayco member here.
Zuma Jay's Surf Shop also offers affordable rentals that won't let you down. These guys have been around a long time – they're Malibu's oldest surf shop, serving the community for over 40 years, and as such can offer you the best advice for what kit you need to take out into the water. Also, with full-day rentals at just $20, you won't find a better deal in Malibu.
Surf Resorts in Malibu
You are, of course, going to need the ideal accommodation to keep you close to all those prime Malibu surf spots. Luckily, there are plenty of beachfront options that could see you close to the surf at all times.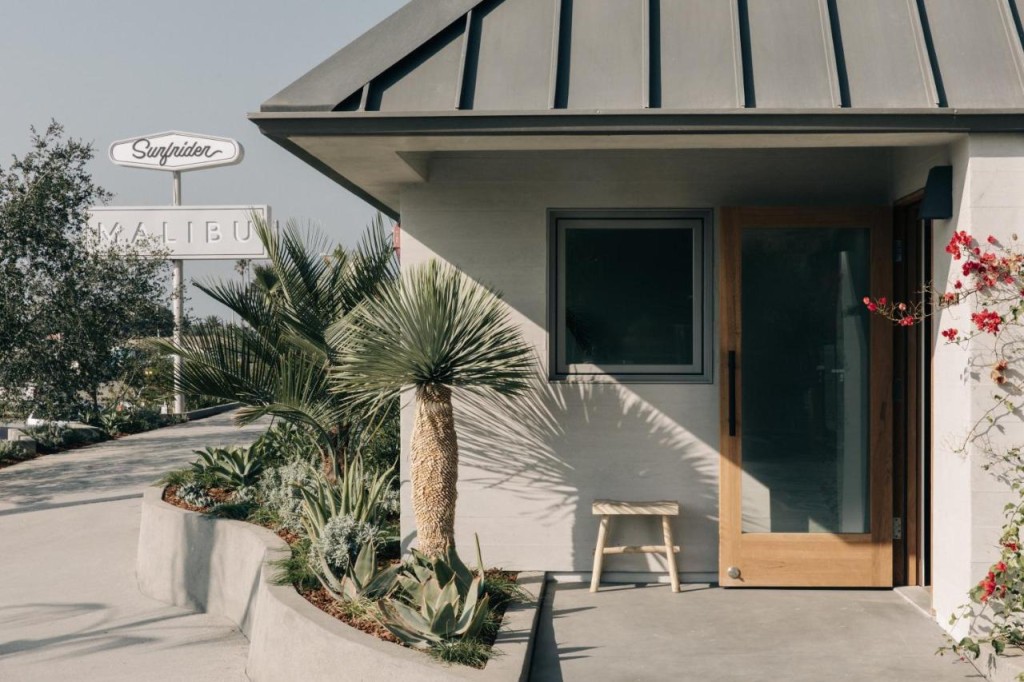 Located on the iconic Pacific Coast Highway, across the street from the world-famous Surfrider beach, The Surfrider is a modern California Beach House, inspired by the picturesque Malibu landscape and rich heritage of California surf culture.
The vibe here is a vision of the surfing life but with luxurious touches. The communal living room is made homey by delicious smelling candles, evocative coffee table books, and framed photographs.
Rooms are stylish and comfortable with buttery soft bedding and neutral tones, and the chic rooftop restaurant and bar provide a base where you might while away the whole day with a book and artisanal cocktails. The hotel is quite compact but each space has been lovingly thought out. Posters with surf-minded pledges such as 'Pray for Surf' remind you that the breaks here are among the best in the world.
You can book your stay now at The Surfrider from $389 a night.
For something more modest, though, there are also options like Malibu Country Inn at $217 a night and The M Malibu at $230 a night. Both options are close to the water, and mere minutes from the Malibu Pier.
Where to Eat in Malibu
After a long session surfing in Malibu, you'll need to pick up some hearty food nearby. You'll find plenty of options from relaxed beachfront cafes with fresh juices and acai bowls, to five-star dining at one of Malibu's notable A-list restaurants.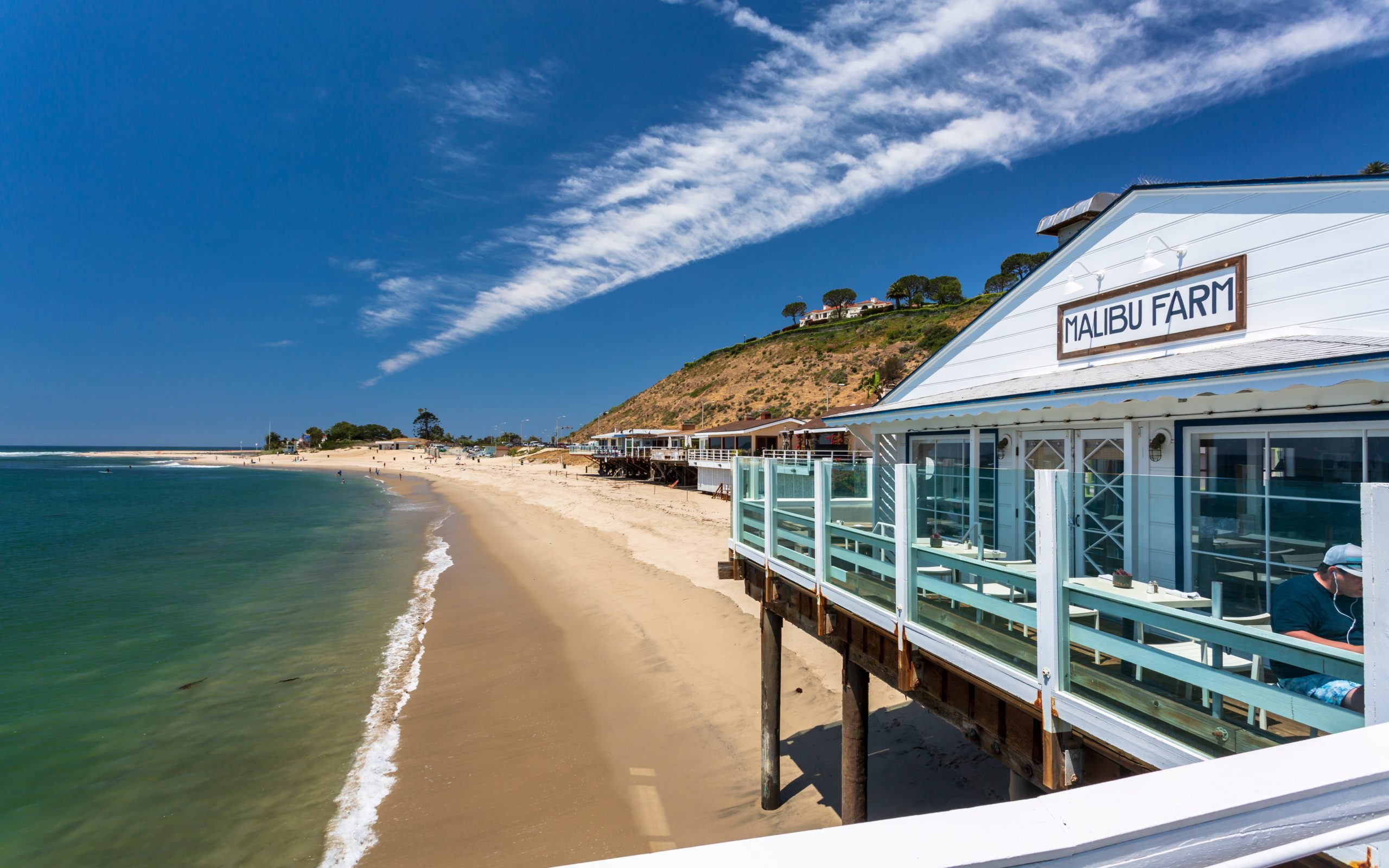 In keeping with the surf vibe, Malibu Farm is an absolute must for those on a health kick. Guests can choose from The Malibu Farm Restaurant; a full-service restaurant with a full bar and specialty cocktails. Or, The Malibu Farm Cafe; a more relaxed counter-service cafe, located at the end of Malibu pier, overlooking the Pacific Ocean.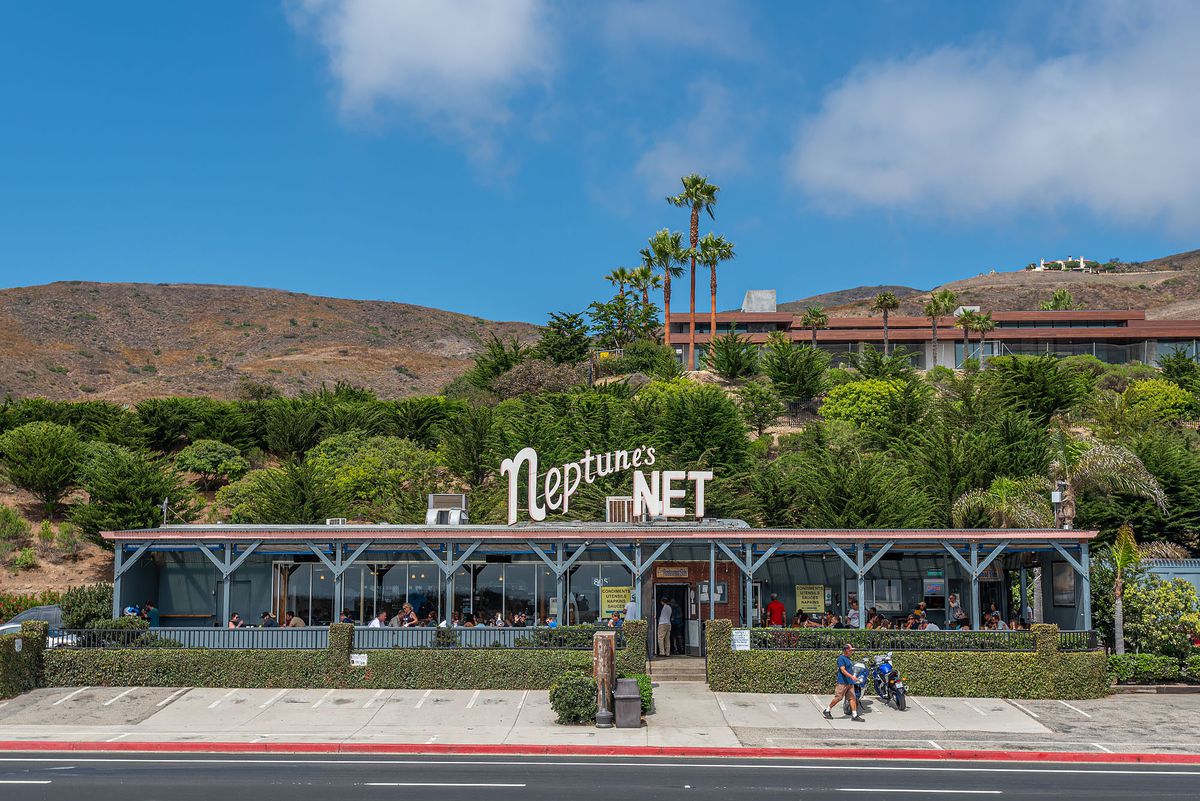 Of course, being surrounded by so much water has its culinary advantages too. Seafood lovers should head to Neptune's Net to enjoy its catch of the day alongside a nice cold beer.
When you're in the mood for something fancier, head to Nobu. This luxurious beachfront Japanese restaurant is seemingly reserved for the beautiful people but is matched with equally as palatable dishes.
Enjoyed our Complete Guide to Surfing Malibu? Check out all of our Surf Travel Guides here.