A Complete Guide to Surfing Oahu in Hawaii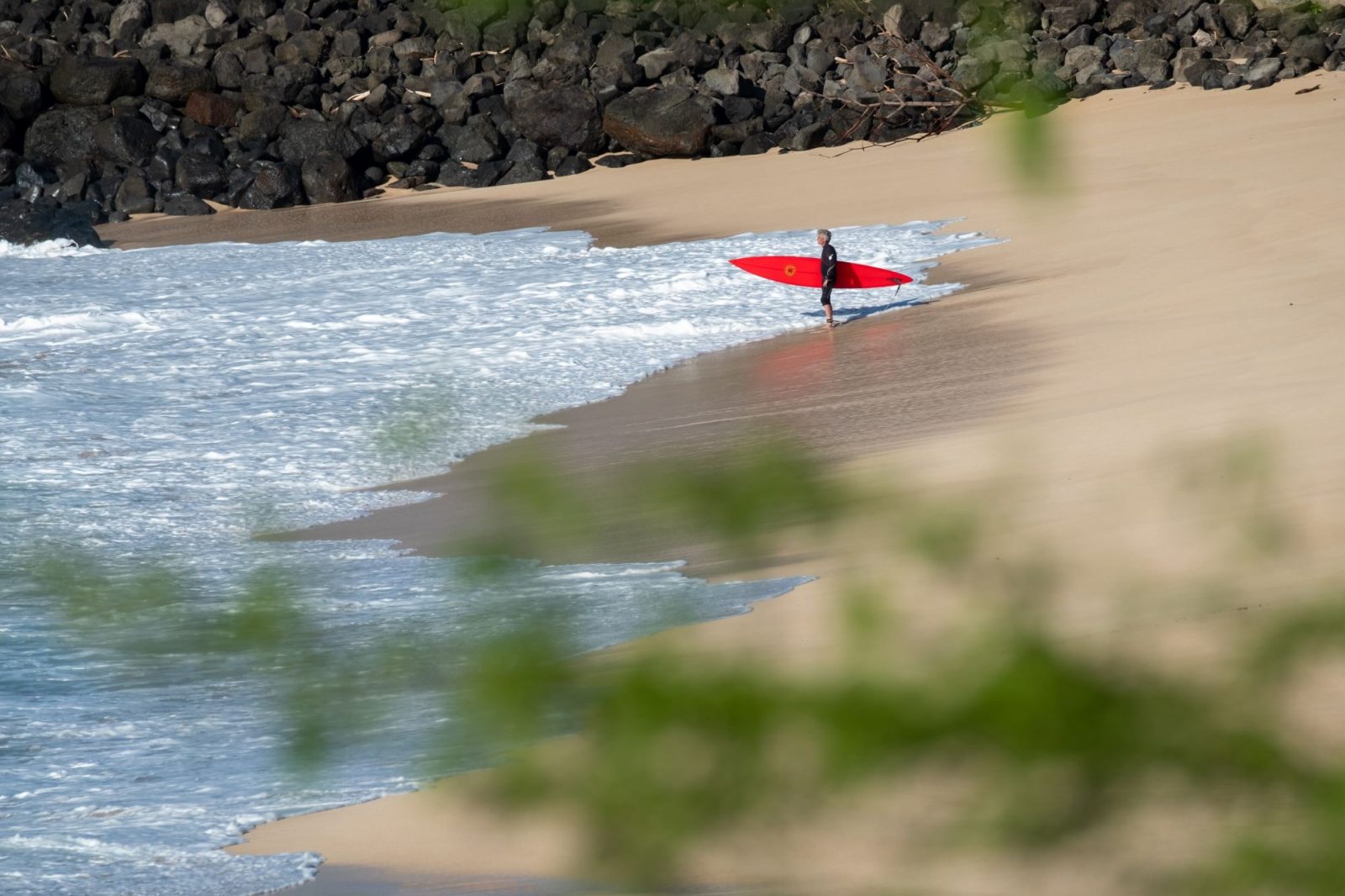 Disclaimer: This article contains affiliate links. We may receive a small commission if you make a purchase through one of these links. Please read our Affiliate Disclosure for more information.
Thinking about surfing Oahu in Hawaii?
This is our complete surf travel guide. Read for everything you need to know about surfing in Oahu.
The archipelago of islands in the Pacific Ocean, otherwise known as Hawaii need no introduction. Recognized the world over for big waves and its surfing origins, it remains one of the best destinations to carve waves, whatever your level.
Attracting some nine million visitors every year, there are eight major islands to discover; Hawaii (the Big Island), Kahoolawe, Kauai, Lanai, Maui, Molokai Niihau, and Oahu. Home to Pearl Harbour, Waikiki beach, and 597 square miles of breathtaking natural beauty, Oahu might just be the most famous.
Oahu Travel Essentials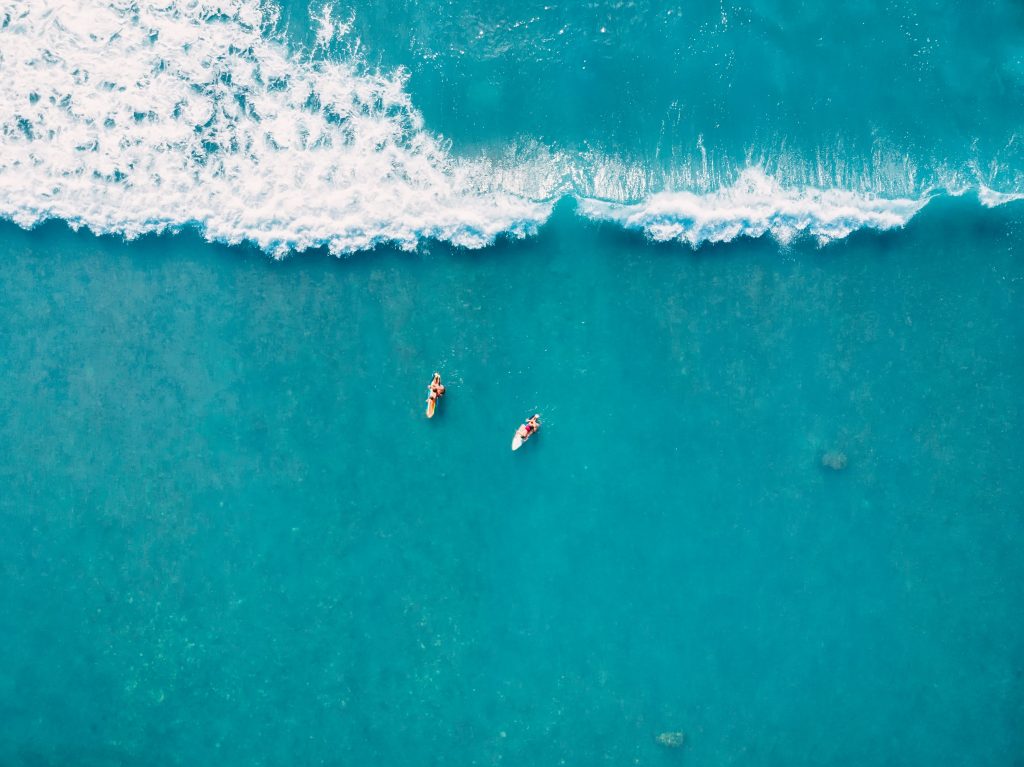 Recently rebranded from Honolulu airport, Daniel K. Inouye International is the major international hub on the island. As well as global flights, it provides connections to all other Hawaiian Islands too.
Click here to search for flights to Honolulu.
Being part of the United States of America, dollars are the most widely used currency throughout the islands. Well equipped for visitors, there are plenty of ATM's dotted around too.
There are two official languages on the islands, American-English and Hawaiian. The later was established in the early 1800s influenced by Polynesian language, however, English is the dominant language most widely spoken. On your travels, it's not uncommon to hear twangs of Pidgin too, this is a hybrid language derived from slang words reflecting everyday life and island culture. Other languages you might hear include Spanish, Tagalog, and Japanese, owing to the growing popularity of Latin, Philippines, and Japanese residents.
How to get around Oahu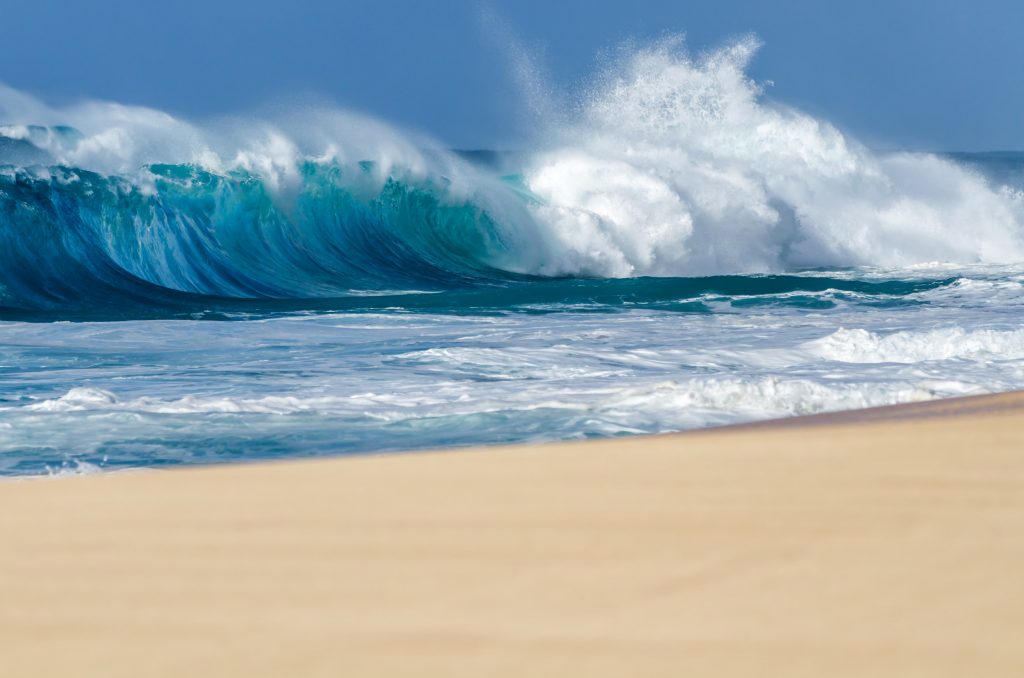 The island is well developed for getting around, with lots of public transport available. TheBus is one of the easiest (and cheapest) transportation modes, with more than 93 routes available to take. While bus passes are available, it's advisable to travel with cash to make life easy. A one-way fare is just $2.75, a one-day pass is $5.50, and children under five travel for free.
Waikiki is easy to navigate by foot, however, there's also the Waikiki Trolley, which offers a hop on and off service within this city. Taxis are expensive in Oahu, so if you chose to travel this way you may prefer to opt for Uber and Lyft. These will give you an indication of the cost before traveling, unlike those that are hailed.
Many visitors choose to rent a car when surfing Oahu since this can be the easiest way to reach the mountain peaks as well as hidden beaches at the same time.
Oahu Surf Season
One of the main reasons for Hawaii's popularity is its year-round surf. Benefiting from a 360-degree swell window and excellent conditions, there's always plenty of opportunities to catch some waves. Although there are two seasons – summer (kau) which runs from May to October and is slightly warmer, and winter (ho'oilo) from November to April – temperatures tend to remain consistent all-year-round. That said, for advanced surfers, winter is a better time to visit, offering more powerful waves for surfing Oahu. For those into big wave surfing, there's also plenty of major tournaments taking place.
Oahu Surf Spots
Best experienced in winter when the pressure is low, the Seven Mile Miracle on the North Shore is widely regarded as a paradise for surf aficionados. Spanning from Sunset Beach to Haleiwa Beach Park, it covers famous peaks like Rockpile and Monster Munch, with 36 different surf spots to behold. It is best reserved for those with some experience surfing Oahu.
For stunning settings and a local feel, Ala Moana Bowls serves up sizeable waves, sometimes gaining up to 12 feet. As such, it's best reserved for professionals or those of accomplished standard. A popular go-to destination for the after-work crowd, bring along a shortboard for the high-performance conditions.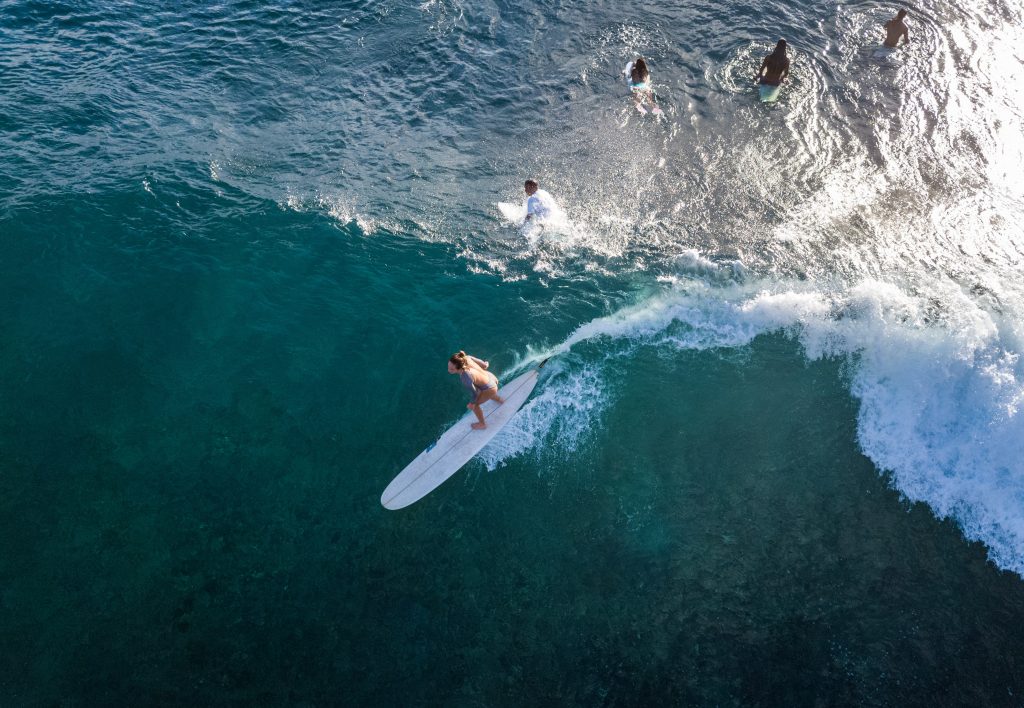 You can't go surfing in Oahu and not visit the mecca that is Waikiki. This is a great spot for beginners, with plenty of surf schools and kit for hire. The curved shoreline certainly attracts tourists, vying for the best positions, but this takes nothing from the awesome conditions. Magical at sunset, coloring the water a perfect shade of pink, it's a box-ticking experience if nothing else.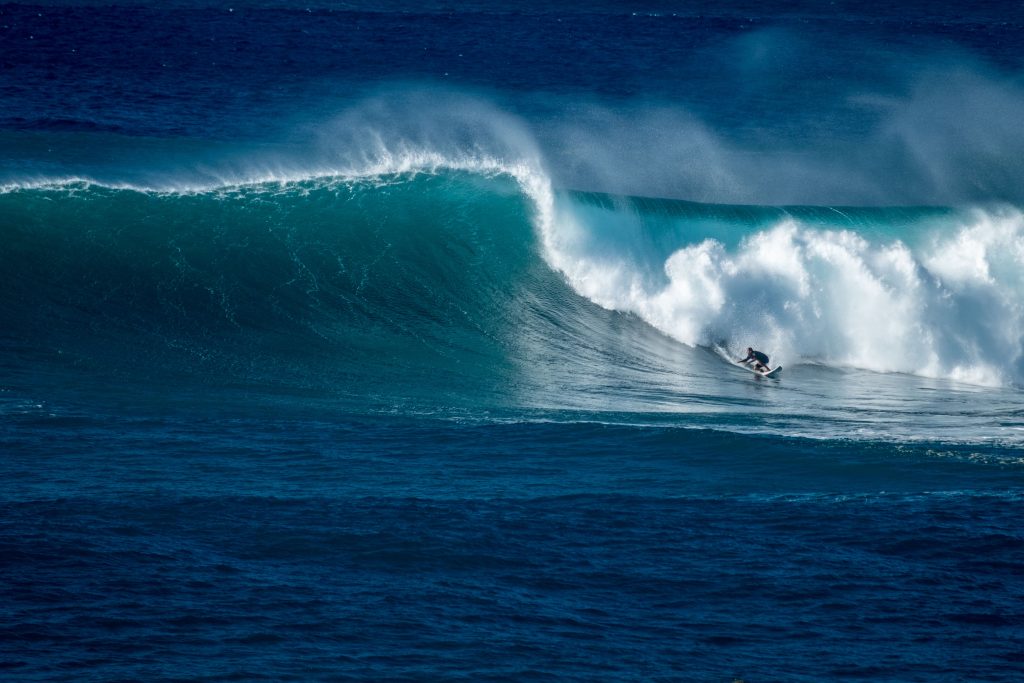 Not for the fainthearted, Pipeline is the place to come in winter for notoriously big waves charging at you with force. Its giant tubes are great for adrenaline junkies, breaking just before reaching the shore. Professionals and those with a strong constitution need only come! Famous for the Vans World Cup of Surfing and other notable comps, the North Shore of Sunset Beach is a popular spot for accomplished surfers. Many come to soak up the spirit of aloha with gigantic waves in the wintertime.
Surf Resorts Oahu
There's no shortage of hotels, private lodgings, and residencies when surfing Oahu. There's plenty of budget rooms for those hoping to surf and drop, as well as high-end hotels for those looking for a more luxurious surf trip – finding something in the middle is more challenging.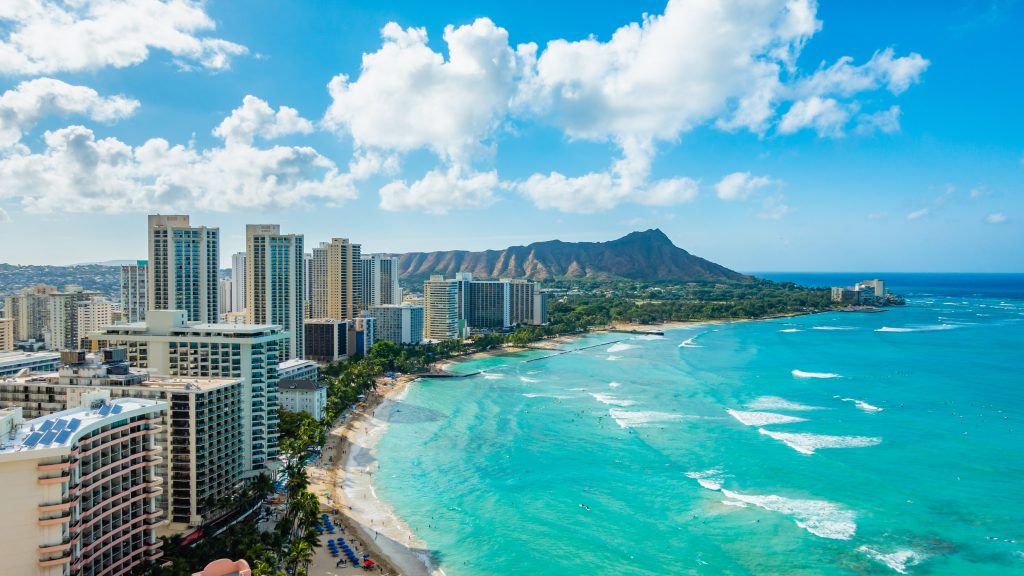 There are five distinct regions, each with their own appeal. Waikiki is a popular tourist spot with a family-friendly feel to it, also home to the world-famous Waikiki beach. Diamond Head is equally as busy, but with a more local feel to it, also a great spot for those learning to surf. Then there's the North Shore – the playground for surfing Oahu with cool laidback vibes. The West Side is good for those wanting peace and tranquillity, while Ala Moana is known for its shopping facilities and outdoor sports of all kinds.
If you're willing to share your space, the Backpackers Vacation Inn & Hostel is worth considering. Based on the North Shore, it attracts many a surfer with dorms from $30 a night.
More centrally located, the Polynesian Hostel Beach Club offers a clean and bright space for around $35 a night in the bustling neighborhood of Waikiki.
Mid-range digs are harder to find in Hawaii, book in advance and you might just snap up a room at the three-star Aqua Ohia Waikiki for $125, smack bang in the middle of Waikiki beach.
For something less cozy and more private, there's a number of mid-priced hotels dotted around the island. At the heart of the North Shore, Little Studio by the Sea is available from $155 a night, including the use of bikes and WiFi at no extra charge.
Well placed in Honolulu, the Courtyard by Mariott offers comfortable rooms in a premium location for those wishing to explore the wider area, for approximately $177 a night.
If you can stretch your budget a bit further, a room at the aptly named Surfjack Hotel & Swim Club usually goes for $248 a night. You can expect a party vibe here, with Instagram worthy backdrops everywhere you turn.
And, if you don't mind hanging out with honeymooners whilst surfing Oahu, the Four Seasons at Ko Olina is one of the best five-star hotels on the island. Soak up the beauty of the local lagoons and peaks, for around $578 a night.
Oahu Surf Schools
There can be no greater accolade than saying you first learned to surf in Hawaii! As the home of the sport, there are plenty of places to pick up a board and learn to paddle. Geared towards the many tourists that visit, Waikiki Beach is a great place to start.
There's plenty of experienced surf tutors available for lessons, along with surfboard hire too. Waikiki Beach Services offer group classes from $75 per person, and it's wise to book in advance. Alternatively, you can learn to surf amidst the famous swells on the North Shore at Haleiwa Beach Park from $85 per person.
Surfboard Hire in Oahu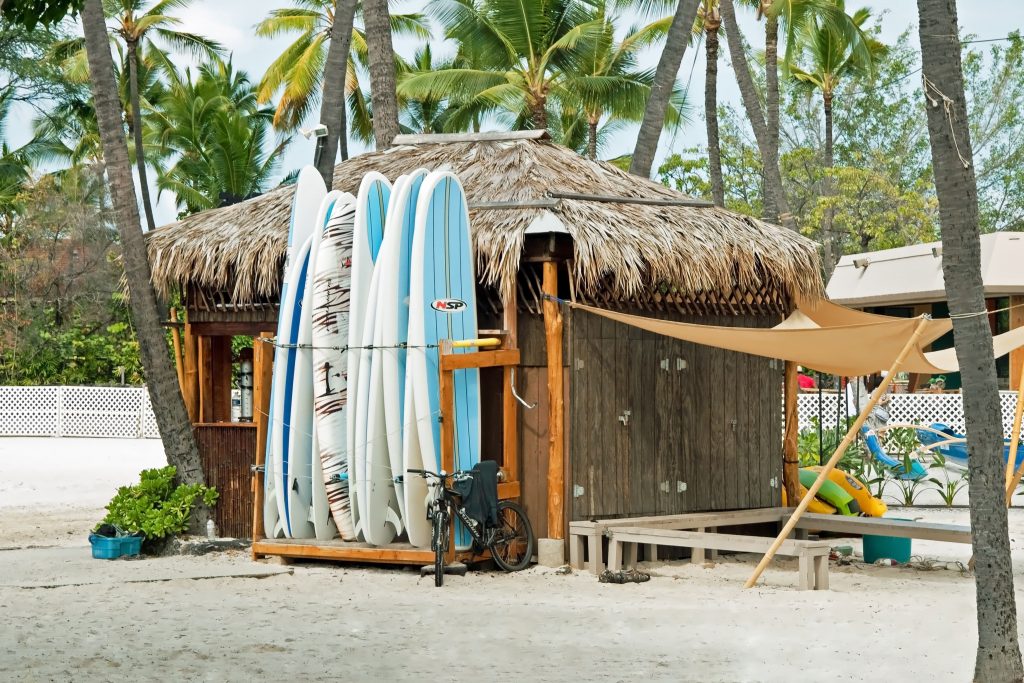 You're never too far from a surf spot in Oahu, meaning that there's plenty of boards and wetsuits for hire. In Haleiwa on the popular North Shore, Surf N Sea offer an extensive range of kit for hire, including longboard, surfboards, and bodyboards, starting from $5 an hour. Meanwhile, the appropriately named Big Wave Dave is the place to go if you're in Honolulu, with similar prices.
Where to eat in Oahu
When in Honolulu, be sure to stop by Helena's Hawaiian food. This eatery has been serving local favorites since 1964. Somewhat of an institution, diners come here for the kalu pig, with is delicious smoky pulled pork flavor.
If you're passing by Kaliua during brunch, then head to Over Easy, this is a popular breakfast spot offering classics with a Hawaiian twist. While on the North Shore, the Beet Box Café offers delicious healthy produce and an exclusively vegetarian menu.
But for sunset drinks, it's all about Haleiwa Joe's in the stunning harbor. Finally, celebrity haunt 'The Pig and the Lady' is a firm favorite with President Obama who is one of its many famous visitors. Offering a fusion of flavors, it's one of the most popular spots in Honolulu's Chinatown area.
Other Activities in Oahu
Sure, the surf is unmissable and the beaches are stunning, but there's much more to Oahu than meets the eye. From famous landmarks to its unique Polynesian culture, here are a few spots worthy of a detour on your visit to the island.
You studied it at school, you've read the books and seen the films. A visit to Pearl Harbour National Memorial is worthy of your time to remember the many fallen heroes that laid down their lives during World War II. As one of the most popular tourist sights on the island, it's worth reserving tickets in advance.
The dormant volcanic tuff cone at Diamond Head is simply jaw-dropping to visit. This huge crater offers breath-taking views and can be accessed by tour bus, or on your own. There's plenty of visitors that dare the 2-hour hike, although it's not advisable since it's particularly steep. It costs $1 to enter, or $5 by car.
Deep in the Honolulu Watershed Forest Reserve, Manoa Falls is a popular hiking area that is incredibly picturesque. Discover the 150-foot waterfall and wonderful flora and fauna, just make sure you've had the right vaccinations first, as this is a tropical setting.
For the adrenaline junkies, you can take a ride on an open-door helicopter for unobstructed views of the island. You'll Start by soaring over Honolulu Harbor, the Aloha Tower, Magic Island, Keehi Lagoon, and Ala Moana Beach Park, then head towards the greener side of Oahu, which includes waterfalls, mountains, and verdant valleys.
Enjoyed our complete guide to surfing Oahu in Hawaii? Check out all of our Surf Travel Guides here.